This is the second in a series of posts that are based on interesting and important masks from the James and Jane Urmston collection of Mexican dance masks. I am using this collection as a springboard for exploration of Mexican mask traditions. Today's masks led me to the town of Xico, Veracruz.
The Urmstons are in the process of selling their collection. Because the collection is actively for sale, I can not guarantee that a particular mask will remain unsold by the time it appears on this site, although many in today's post are available at this writing.You are advised to act promptly to pursue any mask that does interest you. Note that I have no commercial interest in these sales; I am simply relishing the opportunity to share this collection with interested collectors, whether to purchase or simply to learn from. You may contact the Urmstons at urmston@verizon.net.
For many years I have been aware of masks from Veracruz that are painted with distinctive red and white designs, in many variations. Little seemed available in published books to explain these masks, but recent You Tube™ videos provide a great deal of information. Here is one of these red and white masks, from the Urmston collection.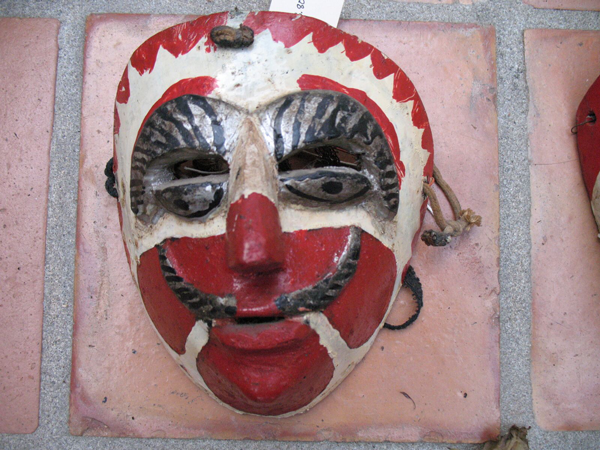 I confess that I always imagined that such masks were worn by Payasos (clowns), but the Urmstons informed me that these are Santiago masks, and this was confirmed by recent videos.