In Changing Faces: Mexican Masks in Transition, an important reference from 1985 that was edited by Lori Jacobson and Donald E. Fritz, I saw my first Moros Chinos (Chinese Moors or Curly Headed Moors) masks on pages 21-24 (plates 2, 3, 4, 5, 6, and 7). There was great variety among these six masks, but just one of them (#4) was seen by the editors and their panel of experts as possibly decorative: the rest appeared to be authentic. There was also a dance photo with two Moros Chinos dancers wearing such masks in Mochitlán, Guerrero, on page 10. I was immediately fascinated by these masks, because some had eyebrows, mustaches, and beards that were rectangular in shape, as if geometric or cubist. I had obtained the book in the fall of 1987 and I immediately spotted certain masks, such as the Moros Chinos, that I hoped to find someday. In fact it took me 10 years to even find one of this type that I liked.
Here is a good dance photo from Mochitlán, Guerrero. I didn't find a corresponding video.
https://www.google.com/search?q=moros+chinos+danza+de+Mochitl%C3%A1n+Guerrero&tbm=isch&tbo=u&source=univ&sa=X&ved=0ahUKEwiwzaj-q6HaAhUlmuAKHYsmC7IQsAQIKw&biw=1737&bih=1212#imgrc=lZCCJhwJC9sBZM:
I purchased this rather diminutive Moro Chino mask from Jaled Muyaes and Estela Ogazón in July of 1997. The town of origin was not documented. The six masks in the Changing Faces book were all about 8 to 10 inches tall and about 5 or 6 inches wide while this one is just 6¾ inches in height, 5¼ inches wide, and 3½ inches in overall depth, as if it was made to be worn by a child. In sharp contrast to these dimensions, there are two Moros Chinos masks in Donald Cordry's book (page 37, plate 42) that are 38 cm tall (about 15 inches). I have always regarded those as decorative, not only because of the size, but also because they don't even appear to have vision openings that would allow the wearer to see.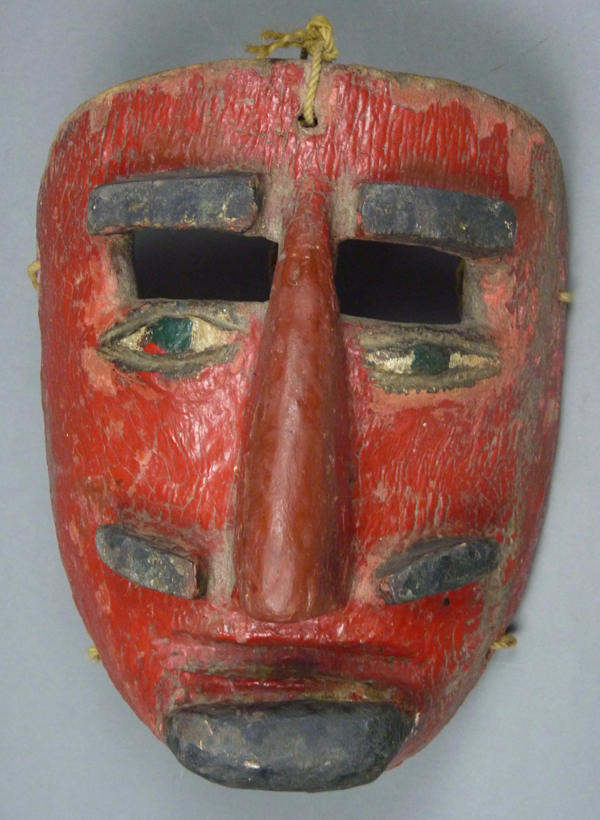 This is a classic Moros Chinos mask in the geometric style, and it is obviously old and worn. I really like this mask!