As you may know, I welcome mask photos from viewers, and periodically I have featured these submissions on this site. Today it is my pleasure to introduce you to a collection of masks that were gathered by James and Jane Urmston in the 1970s, when they were living in Mexico. The Urmstons have been selling their collection, mask by mask, and I will include masks that are for sale along with others that have already been sold. Because the collection is actively for sale, I can not guarantee that a particular mask will remain unsold by the time it appears on this site, and you are advised to act promptly to pursue any mask that does interest you. Note that I have no commercial interest in these sales; I am simply relishing the opportunity to share this collection with interested collectors, whether to purchase or simply to learn from. You may contact the Urmstons at urmston@verizon.net.
Today's subject is "body masks," sculptures that were made to be worn around the waist of a dancer. We will examine several Santiago horses from the Sierra de Puebla, the mountainous area of Puebla and Veracruz that was the subject of my book (Mexican Masks and Puppets), and two dance Caiman sculptures plus a Mermaid from the Mexican state of Guerrero. As of this writing, all five body masks are for sale.
I will begin with a smaller dance horse that was collected in the Mexican state of Puebla in 1978. As I explained in my book, such a horse was worn by the Santiago dancer in either the dance of the Santiagueros or in a variation called the Hormegas.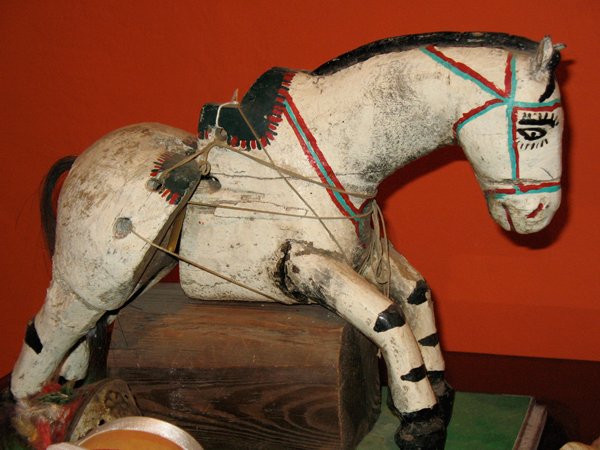 This style is tied to the dancer's waist with ropes. One can see the holes in the rear section where ropes would have extended to corresponding holes in the front section; the lower hole in the front section is broken.
Donald Cordry included a drawing of a virtually identical design in two of his publications—"Costumes and Textiles of the Aztec Indians of the Cuetzalan Region, Puebla, Mexico (1940, pages 13 to 15)  and Mexican Masks (1980, page 150, plate 196). Here is my drawing, after that from Cordry, to illustrate the similarity between these two horses. To make this comparison you will need to mentally rearrange the parts of the Urmston horse so that the two halves meet along a perpendicular line.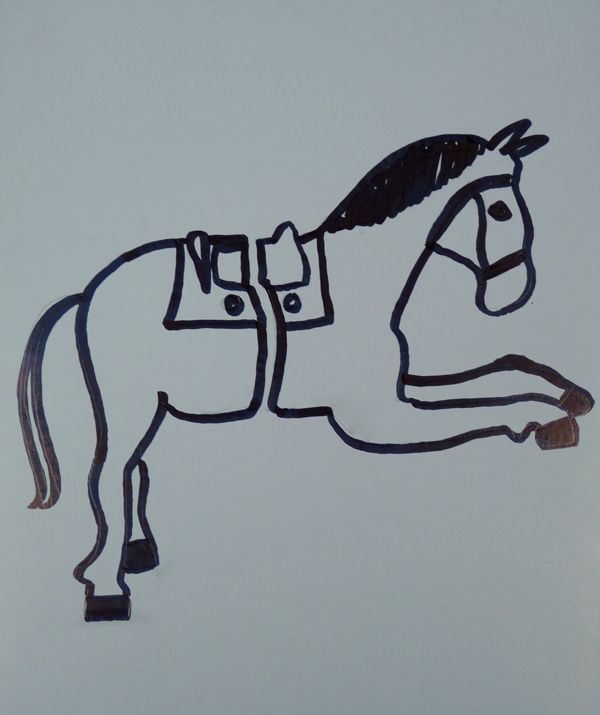 In addition to the method of connection between front and back, the Urmston horse and that in Cordry's drawing share another unusual design feature, as both horses are depicted with vertical back legs while the front legs are extended forward as if the horses are rearing. In my experience, it is far more common to see these Santiago horses in a galloping position—the front legs extending forward and the rear legs extending behind the rest of the horse. Another common variation depicts a standing horse with all four legs vertical.
In his 1940 article, Donald Cordry explained the horse in his drawing. He and his wife had traveled to a remote town, Cuetzalan, in the state of Puebla. There they heard of these dance horses that were worn by Santiago (an image of Saint James the Apostle) in the Dance of the Santiagueros. The Indians refused to let them see any of these horses. They seemed to revere these wooden figures as if they were living saints. Cordry attempted to commission the carving of one of these horses, but he had to content himself with a miniature model that was made for him by an unnamed local carver; that is the horse in the drawing.
Isn't this interesting? In 1940 Cordry wasn't even allowed to see one of these horses, but only a miniature model, and by 1978 the Urmstons bought a horse just like the model and probably by the same carver as the hidden original. Maybe they bought one of the hidden originals.
The plot thickens, because I have a Santiago horse in my collection that is almost identical to the Urmston horse and the one in Cordry's drawing, and it has been identified as the work of a known carver, Benito Juárez Figueroa, who was active in 1940 near Cuetzalan, Puebla. My horse only differs from the other two in the method of joining the two parts of the horse, while the legs of all three horses are in virtually the same unusual position. Here is my horse, which dates to about 1970. I think it likely that Benito Juárez was the carver of the Urmston horse and the model drawn by Cordry.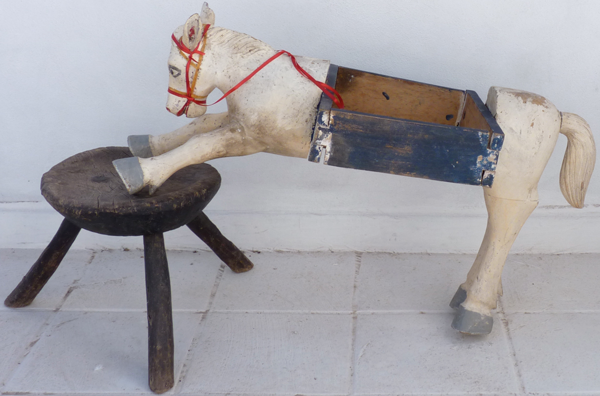 Furthermore, the Urmstons have or had two masks in their collection that were probably carved by Benito Juárez Figueroa—a Santiaguero and a Negrito, so they were clearly in a position to buy other of his carvings. I will include photos of those masks here and you can compare them to virtually identical masks in my book if you like (on pages 87-88 and 141). Here are two views of the Santiaguero mask (which has already been sold).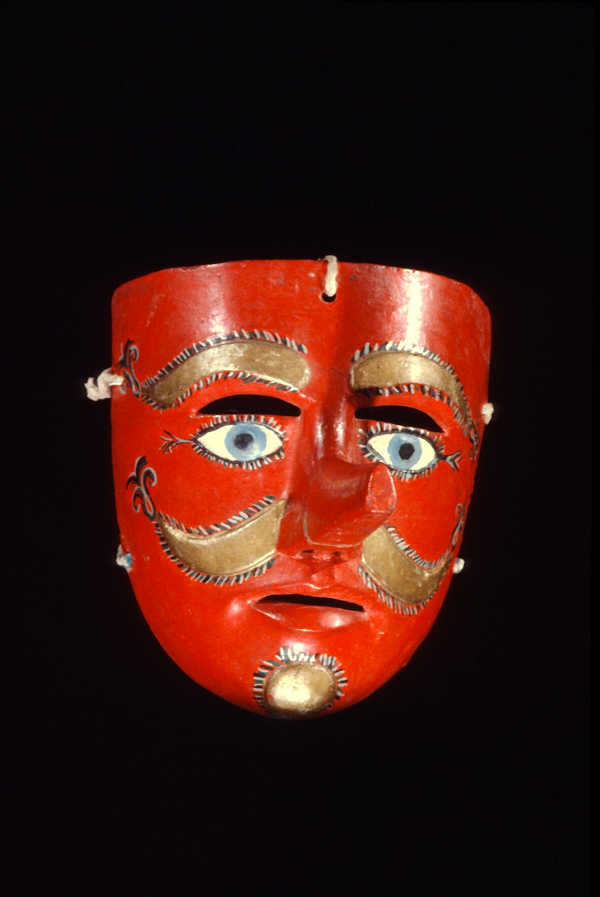 The slab of wood for the carving of the mask was extended with a glued block to permit the long nose and then the mask was carved. In these photos one can see the glued joint.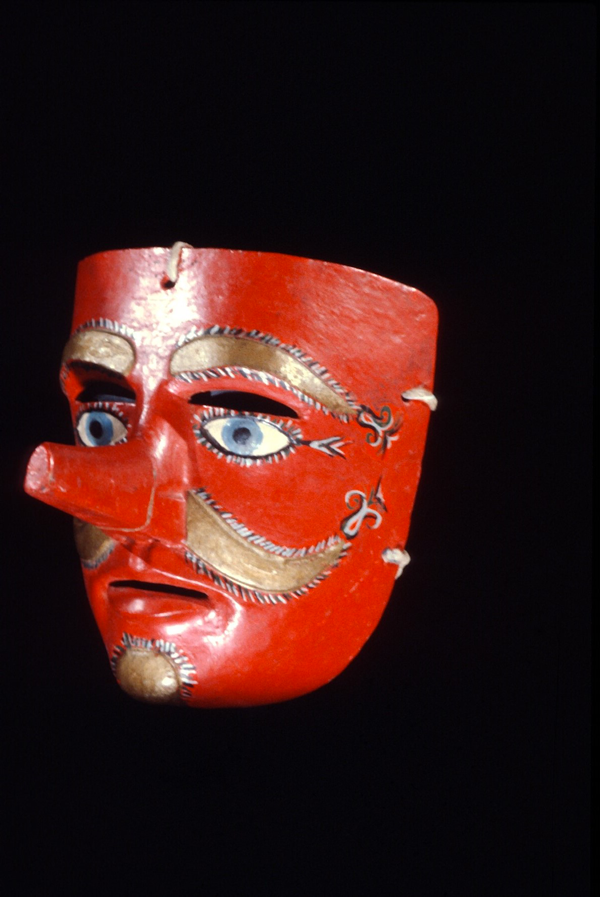 And here is the Negrito, which, as of this writing, was still for sale. I have a number of nearly identical Negrito masks in my collection and I feel certain that they were all carved by Benito Juarez.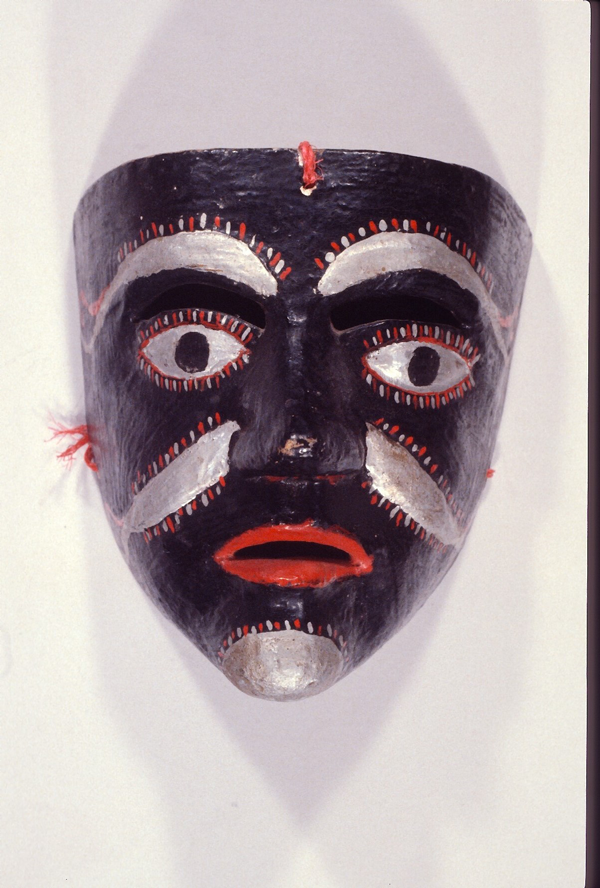 Returning to the dance horses, I want to add that although this rearing posture is uncommon in these horses, it makes perfect sense if one knows the related legend (described more fully in my book on page 60)—After Christ was crucified, James the Apostle blamed Pontius Pilate, sought him out, and directed his horse to trample Pilate to death under his front hooves. This is, of course, not a story from the Bible, and stands in sharp contrast to Biblical accounts in which Christ prohibits such acts of violence and revenge.  At any rate, these horses are depicted in an appropriate position to kill Pontius Pilate.
The Urmstons have a second and larger Santiago horse that they collected in the state of Puebla in 1975. This horse has one of the common designs, all four legs are vertical and all four feet are in a position to stand on the ground, however the construction of this horse is far different from any other horse that I have seen. Here is that horse, supporting the other.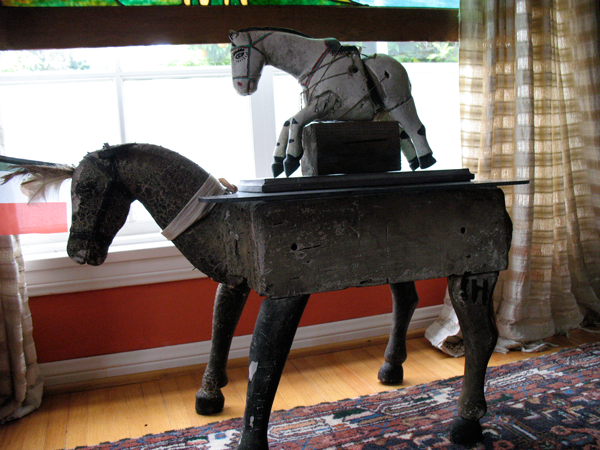 In my Benito Juárez horse a rectangular wooden box connects the two halves, whereas in this case a rectangular box forms the entire body of the horse, the legs are mounted at the four corners, and a comical rump addition is mounted on the rear board. This will be more clearly seen in the photos that follow.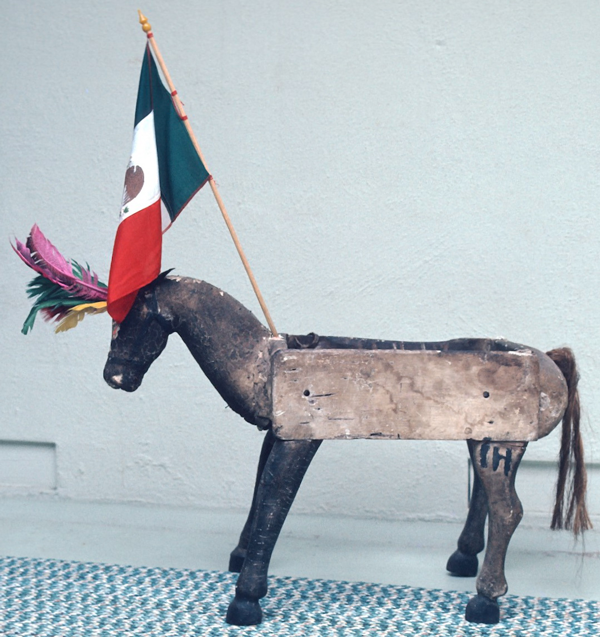 On the right one sees the horse's rump attachment. The holes on the sides are for the attachment of ropes that pass over the dancer's shoulders to support the horse at waist level.
Extensions of the four legs literally form the four corners of the rectangle and the four boards are joined by their connection to or through these vertical corner pieces.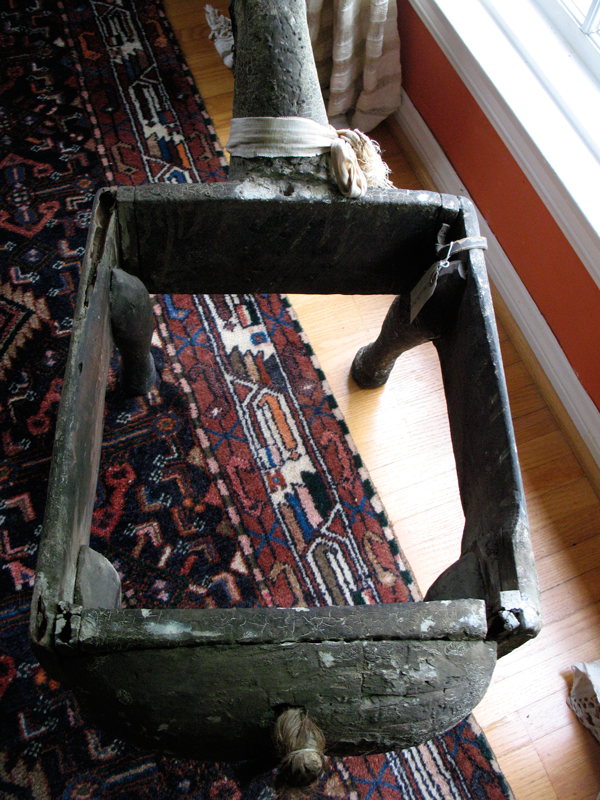 This is a terrific Santiago horse, with obvious age and wear.
In Donald Cordry's book, Mexican Masks, there are a variety of additional body masks. Some that depict mermaids and dragons are usually assumed to be invented (or "decorative"). There are others that depict alligators or caiman figures. Although many of these may have been churned out for sale to tourists, there is also evidence that some of these Caiman body masks have been used in dances. In an earlier post I included a video that showed one of these Caiman body masks in action; the dancer cracked his long rubber tail like a whip. I will repeat that link here.
https://www.youtube.com/watch?v=_Aa0fQE4JB4
Here is another video showing this type.
https://www.youtube.com/watch?v=ZVouv5cMqts
The Urmstons have two of the more elaborate and ambiguous Caiman body masks that may have been either traditionally used or made for tourists. They also have a Sirena (Mermaid). According to Donald Cordry, these masks are only made in Tetela del Rio, Guerrero, a village on the Rio Balsas. But a search of the internet failed to reveal any evidence of mermaid or caiman masks in that place. Unfortunately, this is not surprising, as it is typical for the decorative masks in Cordry's book to be falsely attributed to a real or invented place. However, in Ruth Lechuga's book—Máscaras Tradicionales de México (1991 , page 42)—there is a 1980 dance photo from Chapa, Guerrero that includes one of these elaborate Caiman body masks and another dancer who wears a mermaid's tail, to demonstrate that it can not be automatically assumed that this type of carving is decorative. The Urmston examples include the liberal use of Pochote spines that one does find on other decorative body masks, but these are also present on Lechuga's dance example. Here is the first.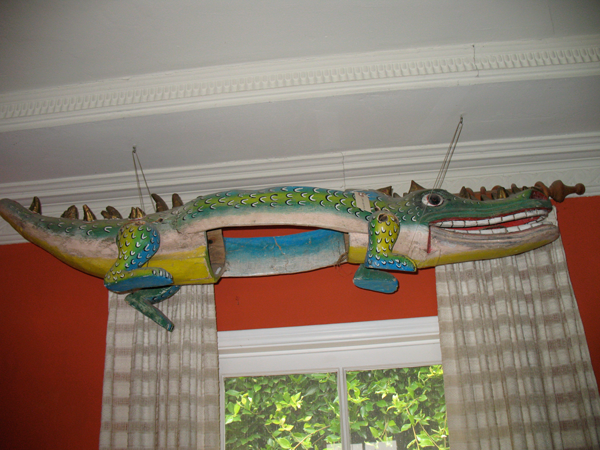 And here is the second. Both resemble the one in Lechuga's dance photo.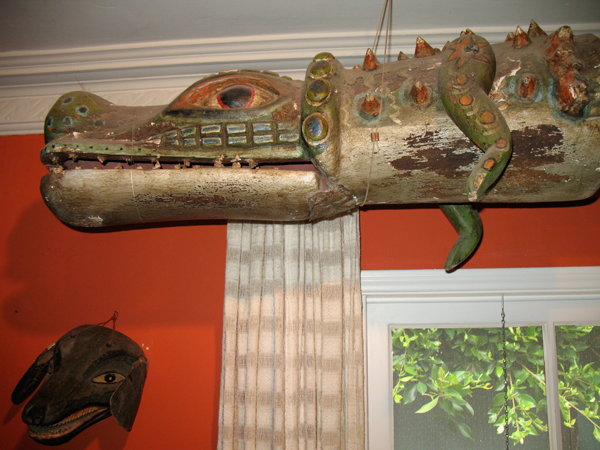 The pochote spines are obvious in these photos.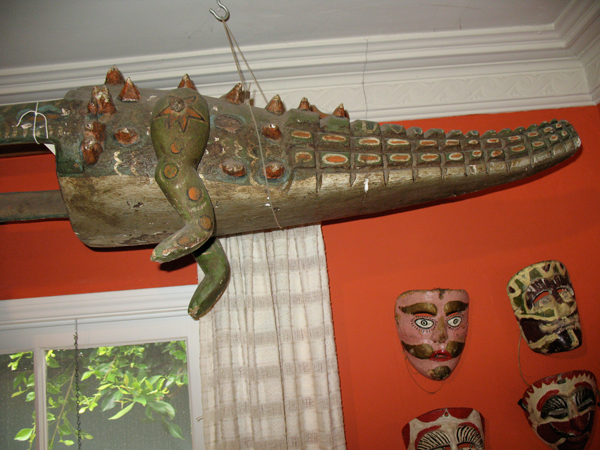 Here is a link to a dance video that does show such Caiman, Sirena, and also fish dancers in action, in Chapa or Teleoapan, Guerrero!
https://www.youtube.com/watch?v=VoGRI3QPI
A second video shows a Caiman body mask that seems a hybrid form. In this example the Pescadores (fishermen) wear black masks that have a cigarette dangling from one corner of the mouth.
https://www.youtube.com/watch?v=FvSzfAXu9mc
There is no Pescador in the Urmston collection, so I will include one from my collection that I bought from Robin and Barbara Cleaver in 1994.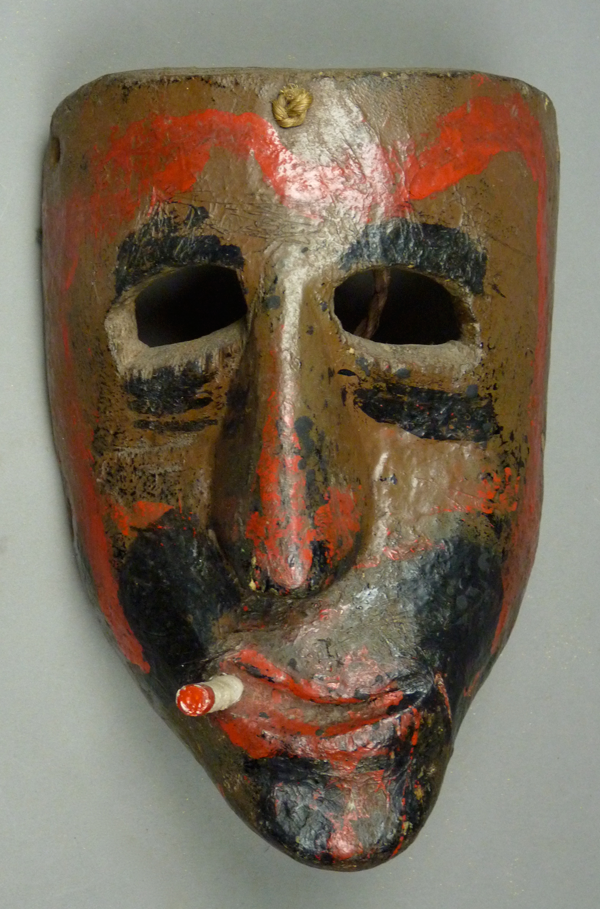 Note the asymmetry of this mask and the wonderful shape of the mouth.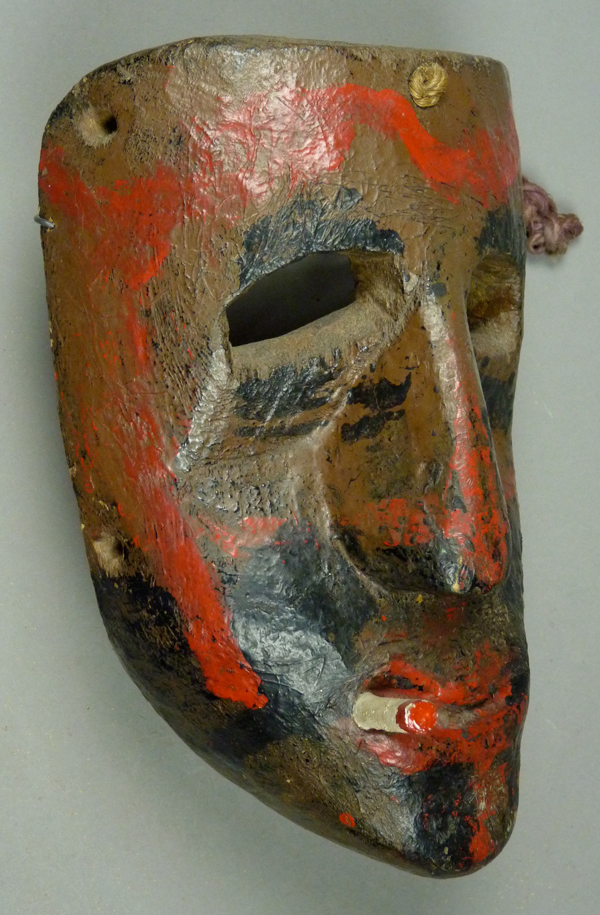 This comic old mask probably dates from the 1960s.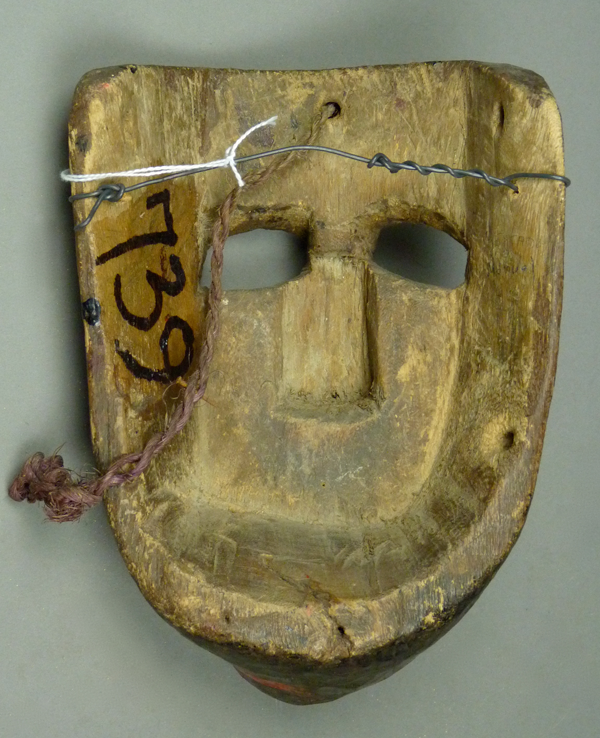 Note the old number from the 1981 UNAM  show in Mexico City; this mask was formerly in the collection of Jaled Muyaes and Estela Ogazón.
Finally, here is the Sirena (mermaid). The Urmston's have converted this body mask into a lamp, but actually the carving was not altered or damaged to assemble this device.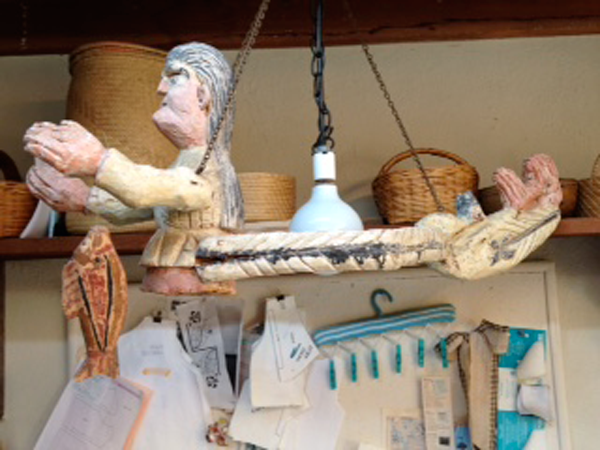 Note that this mermaid is not at all like those that have been labeled as decorative, in that this one is rather homely and unexciting, while others, such as the one in Cordry's book (1980, page 244, plate 203), and another in Changing Faces: Mexican Masks in Transition (1985, page 86, plate 131), portray  beautiful female faces and torsos, with prominent exposed breasts. Another difference is that the others have horizontal torsos, while the Urmston mermaid has an upright (vertical) torso
In summary,the available evidence supports the possibility that these Caiman body masks might have been danced, but it fails to lift the Sirena from the uncertain category.
I hope that you have enjoyed seeing these remarkable body masks. Next week I will tell you something about three of the masks on the wall below the second caiman's tail. These are Santiago masks from Xico, Veracruz.