Continuing my discussion about masks from the Urmston collection, today I will present a variety of masks from the Mexican state of Veracruz. The Urmstons have been selling their collection, mask by mask, and today I will include many masks that are for sale. Because the Urmston collection is actively for sale, I can not guarantee that a particular mask will remain unsold by the time it appears on this site, and you are advised to act promptly to pursue any mask that does interest you. Note again that I have no commercial interest in these sales; I am simply relishing the opportunity to share this collection with interested collectors, whether to purchase or simply to learn from. You may contact the Urmstons at urmston@verizon.net.
I will begin with a group of masks with male faces and interesting mustaches. All four are for sale at this time. The first has a mustache that has a corkscrew shape. This mask represents a Moor, from the Danza de los Moros y Cristianos.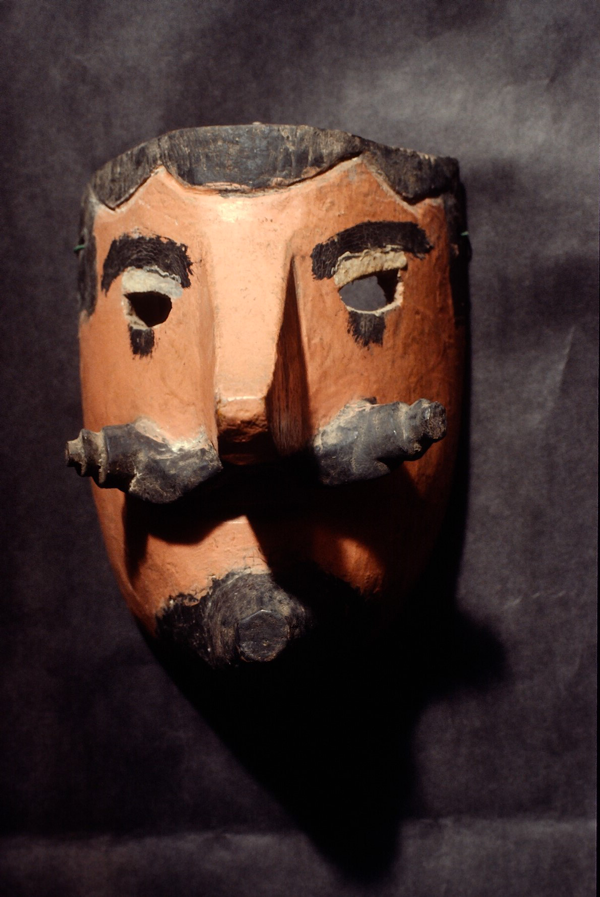 The second is another Moor with a more primitive corkscrew mustache along with a pyramid shaped nose.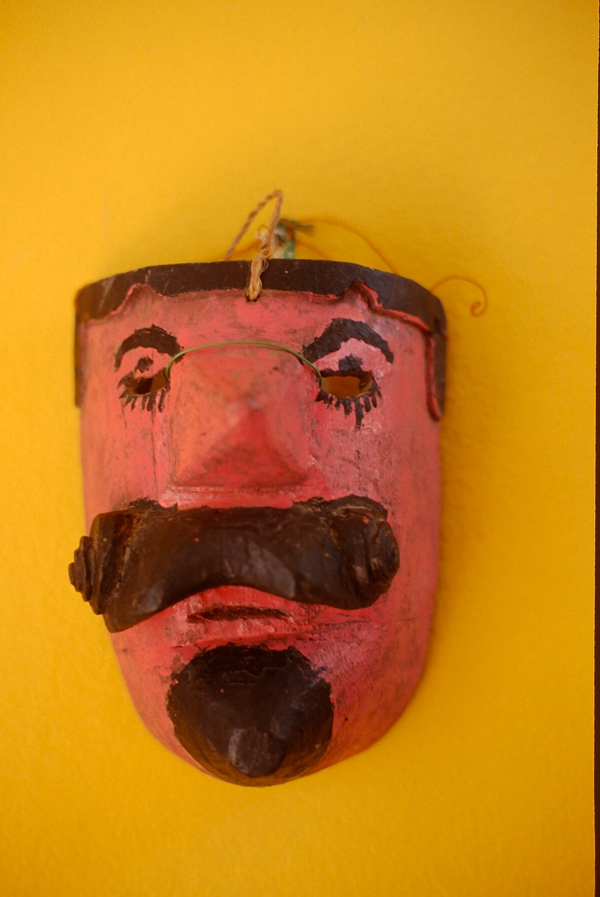 The third mask of a Moor has the usual relief carved hairline seen in Puebla and Veracruz, along with a relief carved mustache.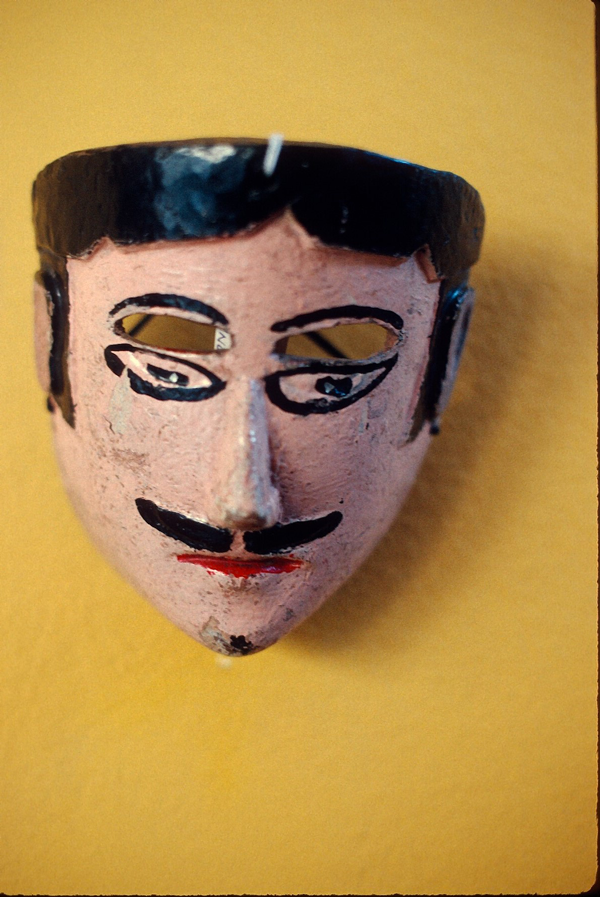 The fourth, which I suppose is yet another Moor, is a typical mask from Carpinteros, Veracruz with the elaborate hair and mustache that is favored there.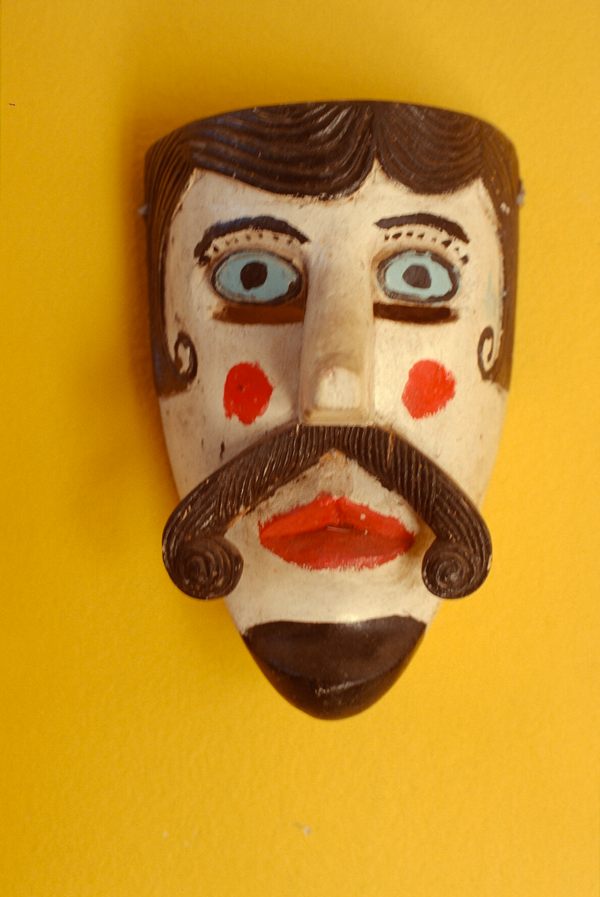 Next you will see a group of animal and bird masks from Veracruz. I will start with two bird masks that are typical of that style from Carpinteros in the 1970s. These two masks have already been sold.
I suspect that this one represents a chicken, but the wooden comb on the forehead has been lost.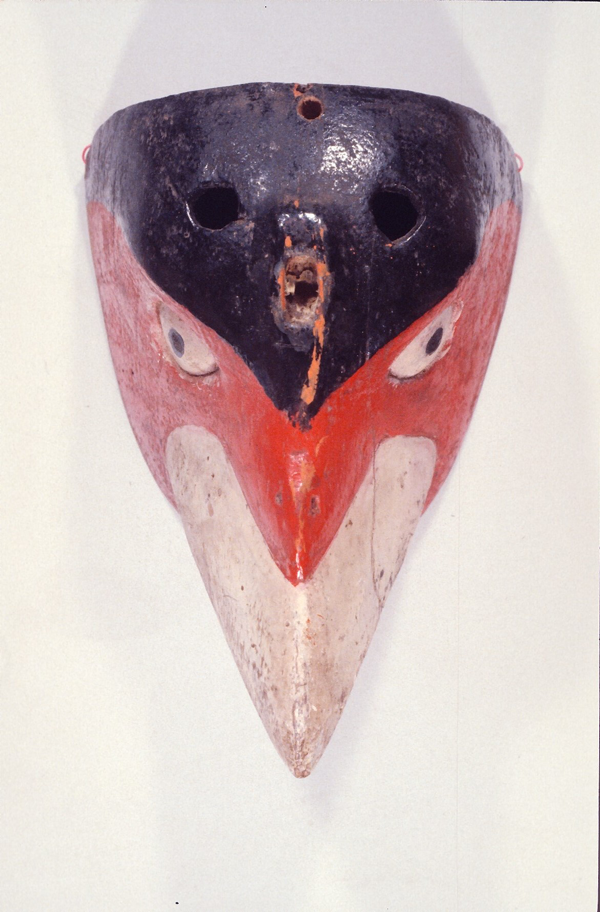 The second bird mask represents a parrot. The vision openings on this mask are the most typical type for animal masks made in Carpiteros—slits above the eyes. Sometimes these slits are crescent shaped and more narrow.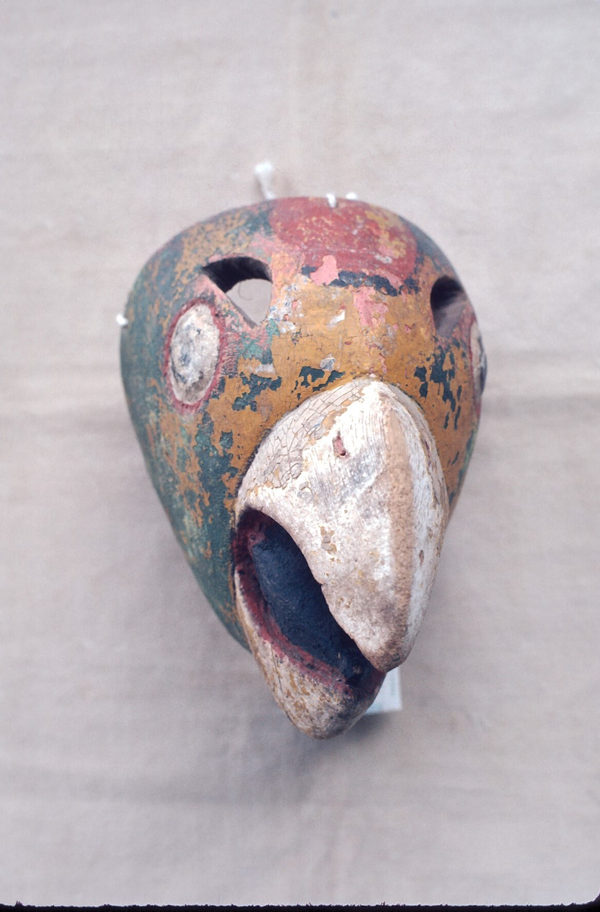 A deer mask from Carpinteros follows; it too has already been sold. Isn't it handsome?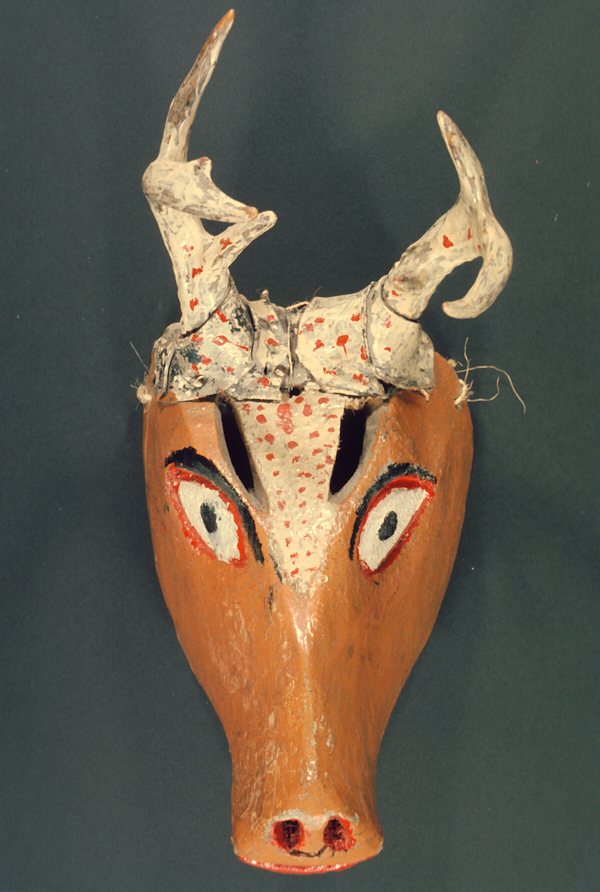 We see another variation of the Carpinteros vision slit design.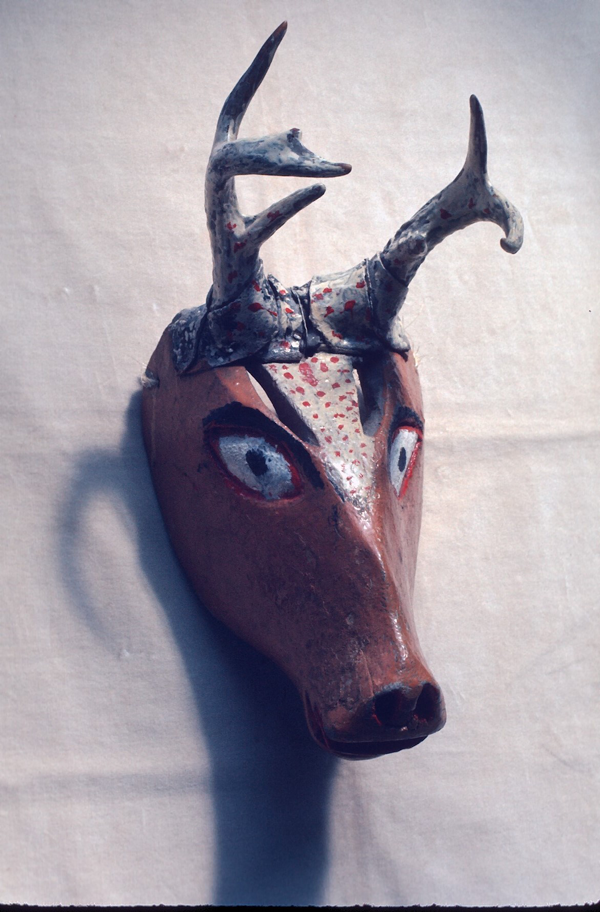 Next a goat from the same area, also already sold.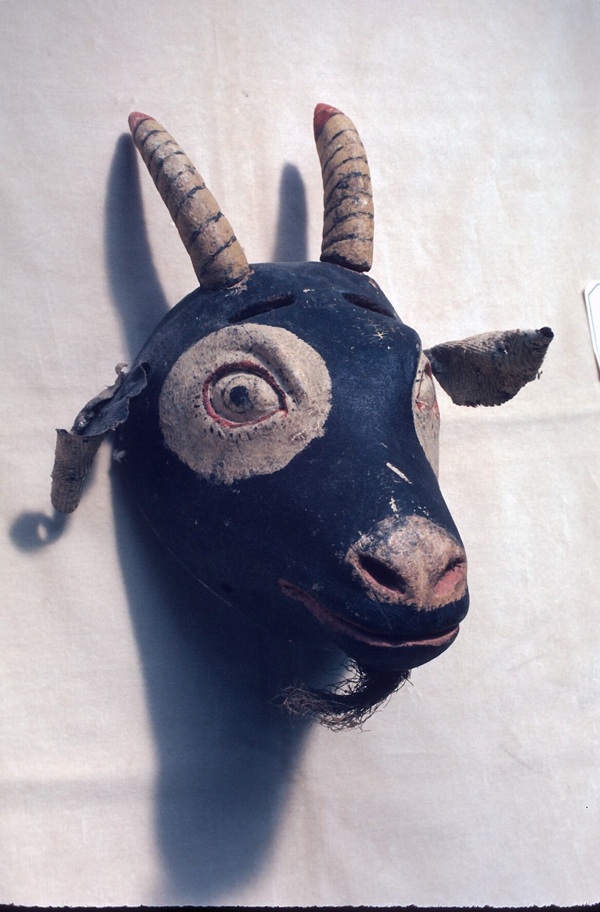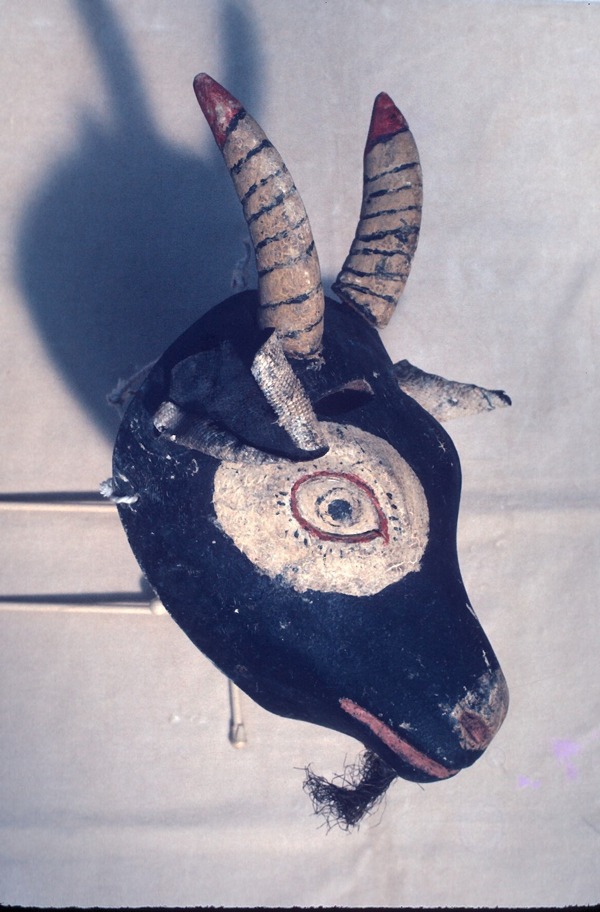 I will complete this animal mask portion with three masks that were still available at this writing. The first is a very nice mask of a goat.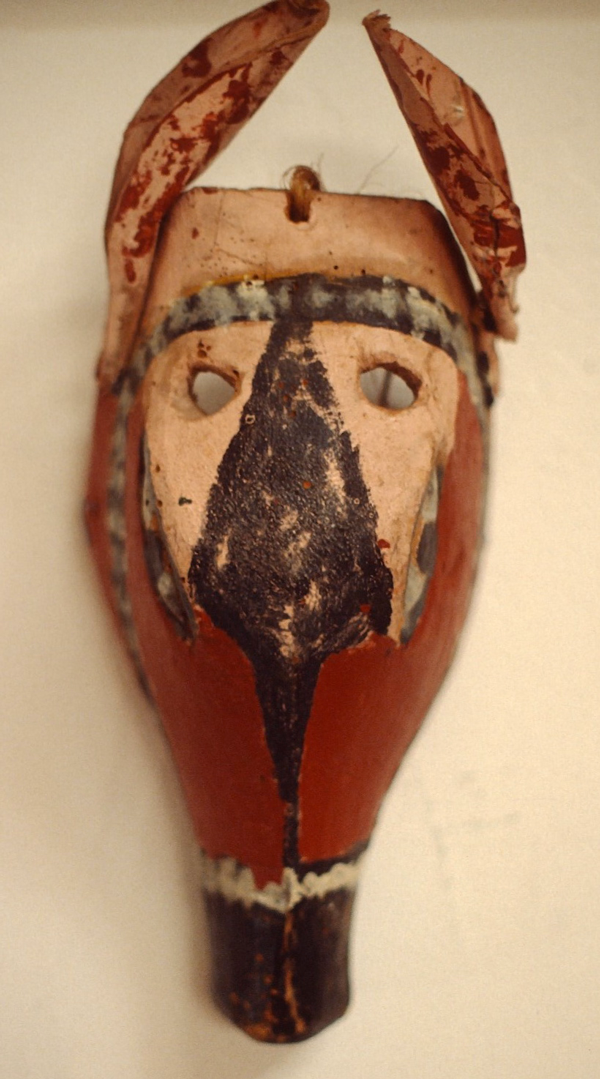 The next is a Monkey or Gorilla, with a patch of hide attached to his nose. This is a primitive carving but I believe that it would be highly effective in a dance.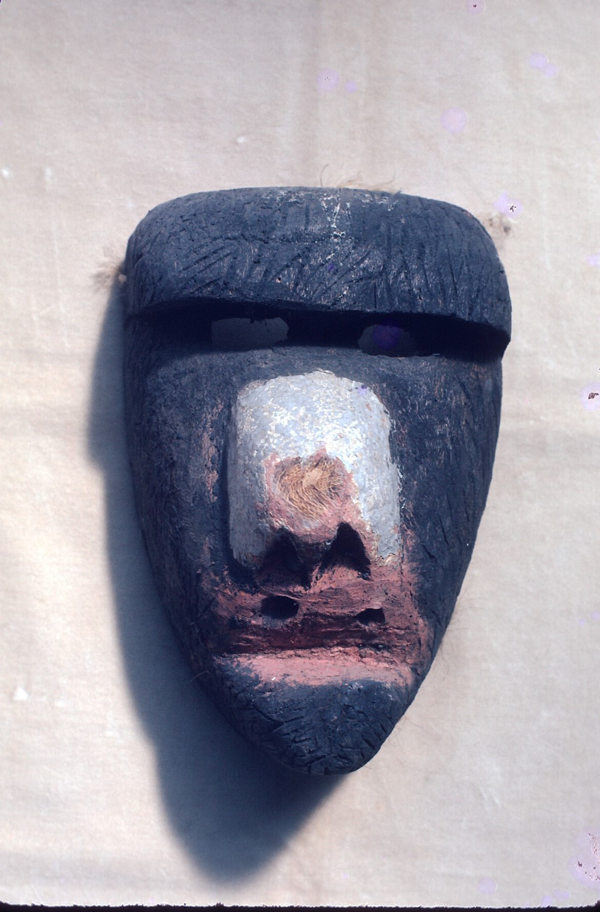 The last of these animal masks is a nicely carved dog that I suppose comes from Alta Lucero or Carpinteros, Veracruz. I really like this mask.
I will end with two Mojica masks. The first is currently available.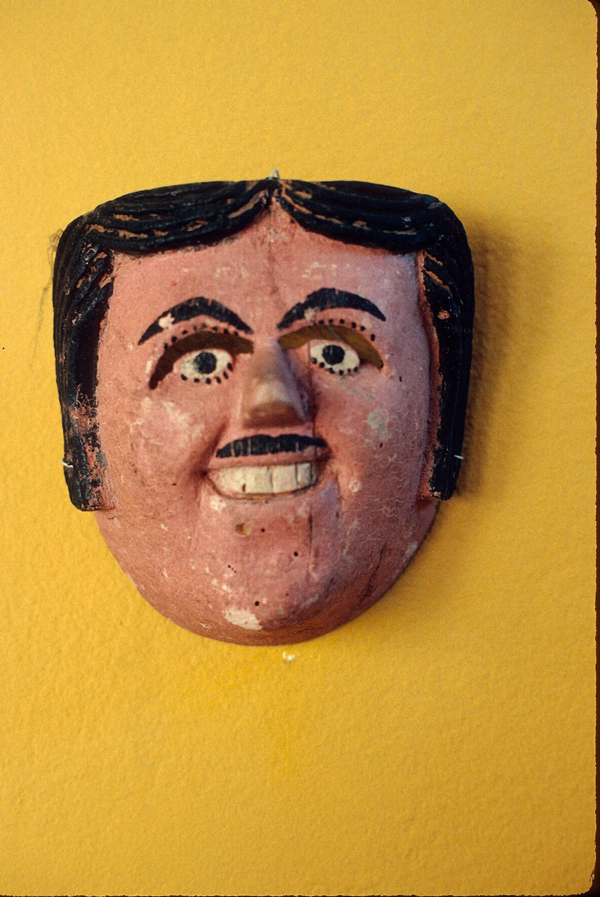 Mojicas apparently represent Malinche, the Indian woman who became the mistress and interpretor for Hernán Cortéz. Because she is regarded as a traitor to the Indians of Mexico, she is often portrayed disrespectfully with a mustache. More generally, the Mojica masks are distinguished by their elaborately carved hair.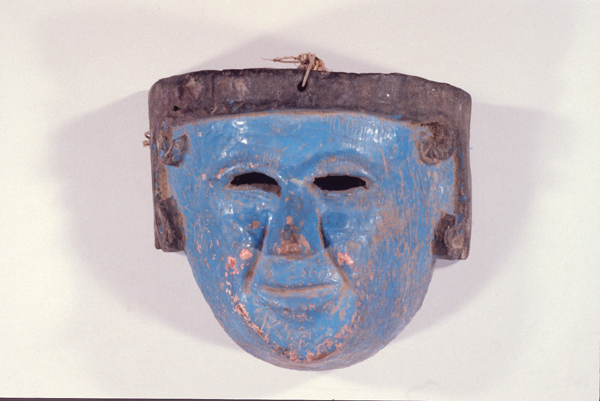 The second Mojica is unusual for her blue face, but one can see that she was previously painted pink. This is a classic example, with an expressively carved face and the double curls. This mask has been sold.
I hope that you enjoyed seeing thes masks from Veracruz. Next week I will show Carnival bull masks from the Urmston collection.