This will be the final post that focuses on the Mexican masks in the James and Jane Urmston collection. Today's many masks, from various Mexican states and dances, were chosen because they are genuine, high quality, danced, and almost all were still for sale (a few interesting masks that are already sold will find a place in later posts). I remind you that the Urmstons have been selling their collection, mask by mask, so I can not guarantee that a particular mask will remain unsold by the time it appears on this site. I have no commercial interest in these sales, rather I am simply relishing the opportunity to share these masks with interested collectors, whether to purchase or simply to learn from. You may contact the Urmstons at urmston@verizon.net.
I will begin with two Female Huehue or Tejonero masks from the Sierra de Puebla; both are well-carved and highly attractive.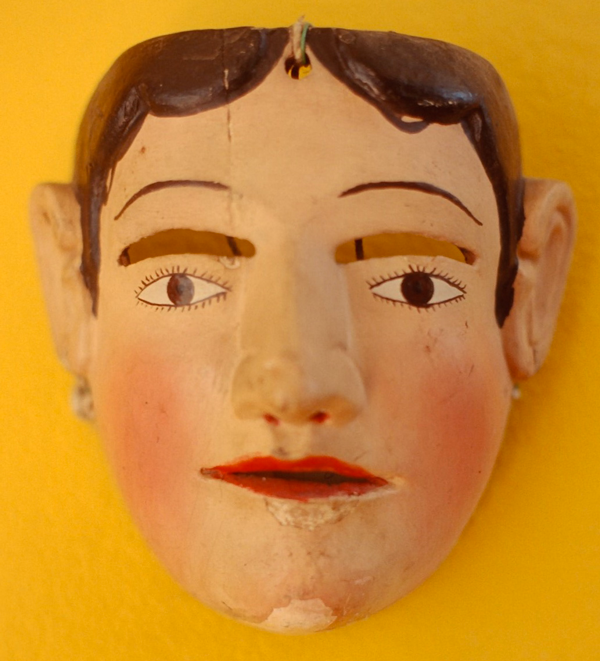 Based on design details such as the shaping of the ears and face, I believe that this first mask was carved by Benito Juárez Figueroa.
The second female has a known ear design, but the carver of this design has not been identified.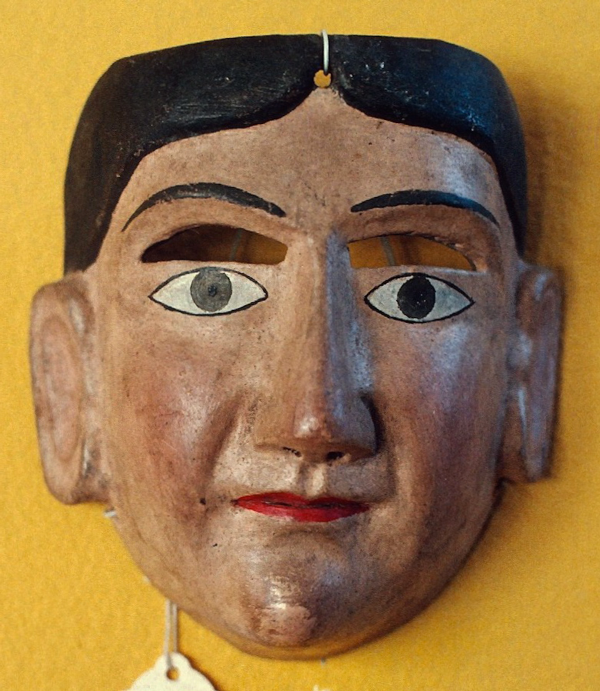 Both female masks were carved by master carvers.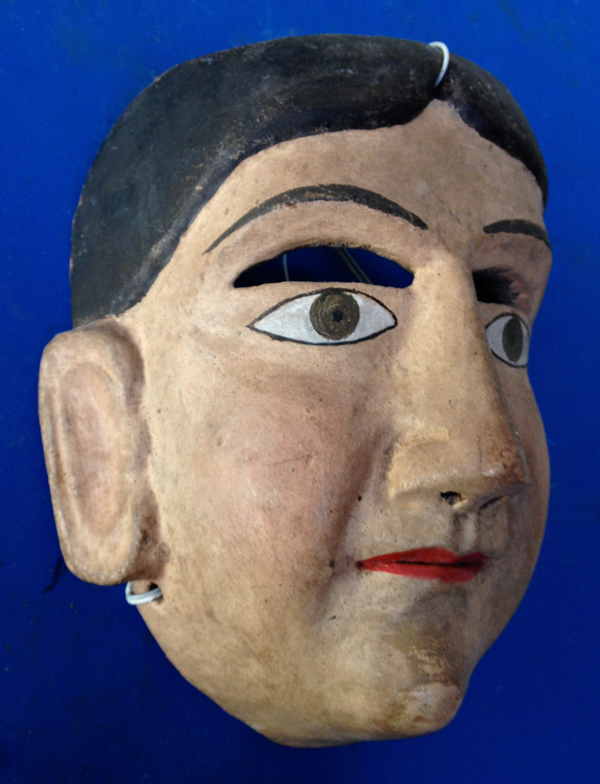 This is an excellent female Huehue mask.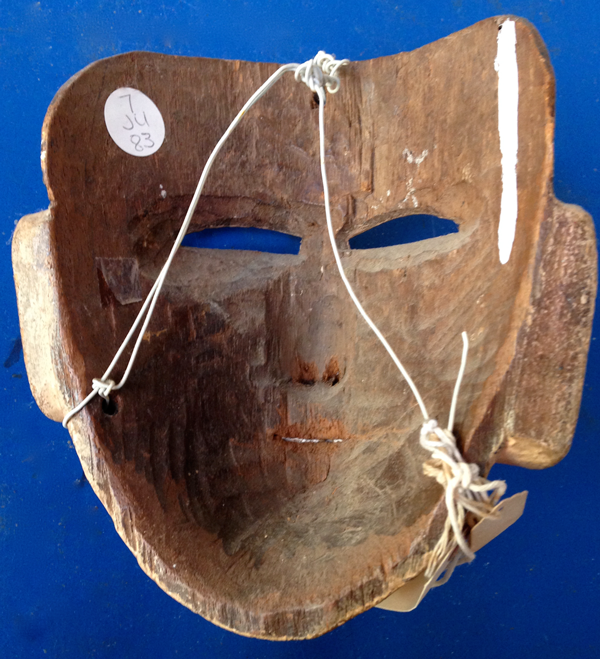 The back of the second female mask demonstrates obvious wear.
Next I will show a Santiaguero mask that is classic for Cuetzalan, in the Sierra de Puebla, followed by a similar mask that may be from another part of Puebla.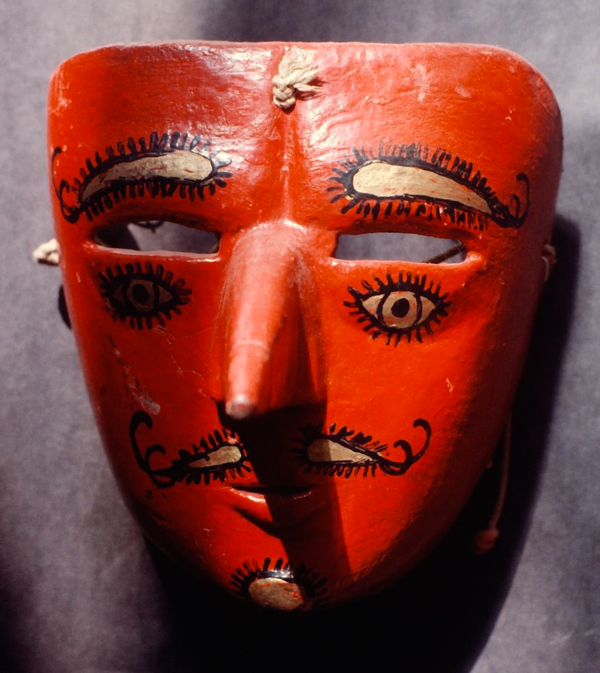 Based on design details of the face and back, I would say that this mask was probably carved by  Ernesto Tóral Hilario, from San Miguel Tzinacapan, Puebla, a small community just outside of Cuetzalan.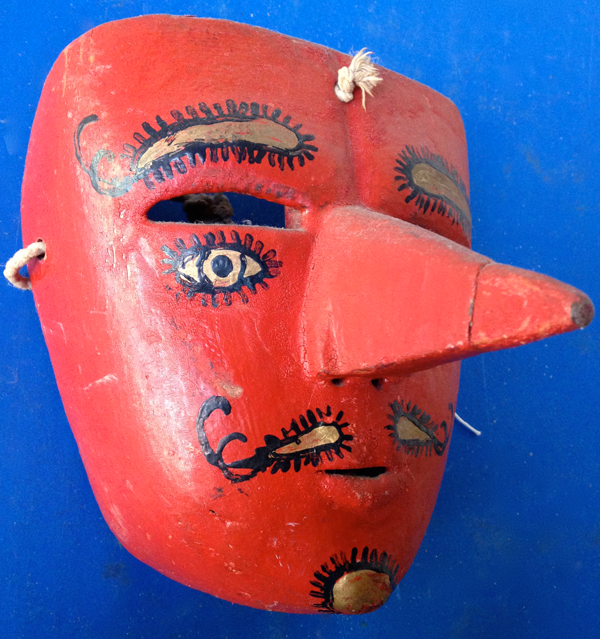 Because such a mask requires a thick piece of wood, it is common for the mask maker to glue a piece to accommodate the long nose.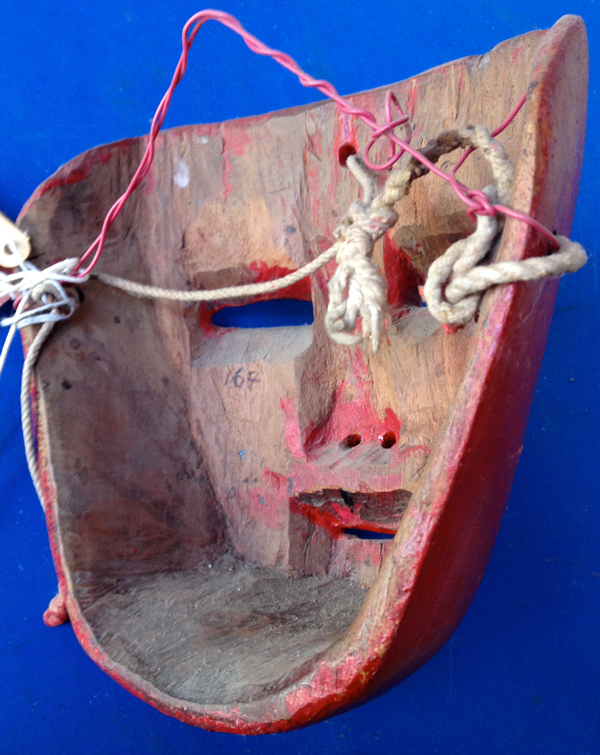 Ernesto made it a point to carve hollow spots on the backs of his masks in order to make them more comfortable for a dancer; this back is typical of his work. This santiaguero mask has staining from moderate use.
The mask that follows may have been worn by another Santiaguero, but this is an unusual design and I have never seen another one like this. Although understated, this mask is very interesting due to the abstract quality of the mustache.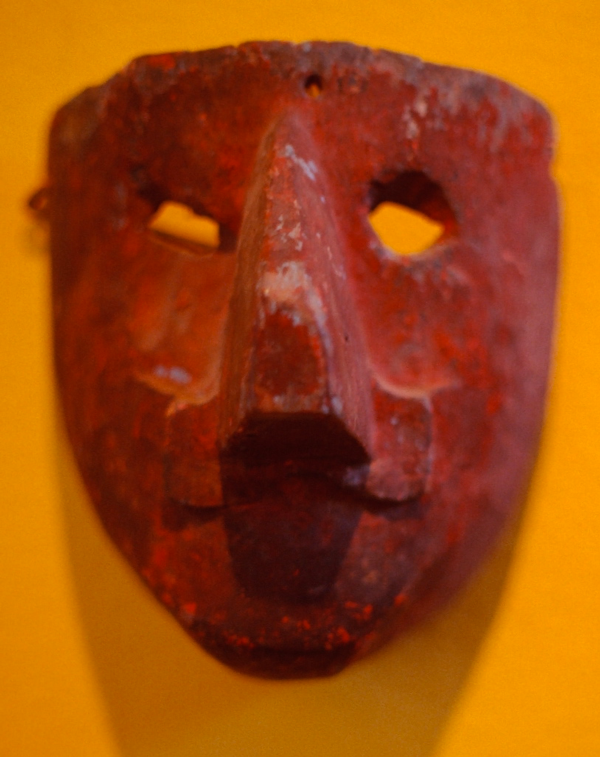 Staying with masks from the state of Puebla, here is a leather mask that is used in the Carnaval (Mardi Gras) dances in Huejotzingo, Puebla.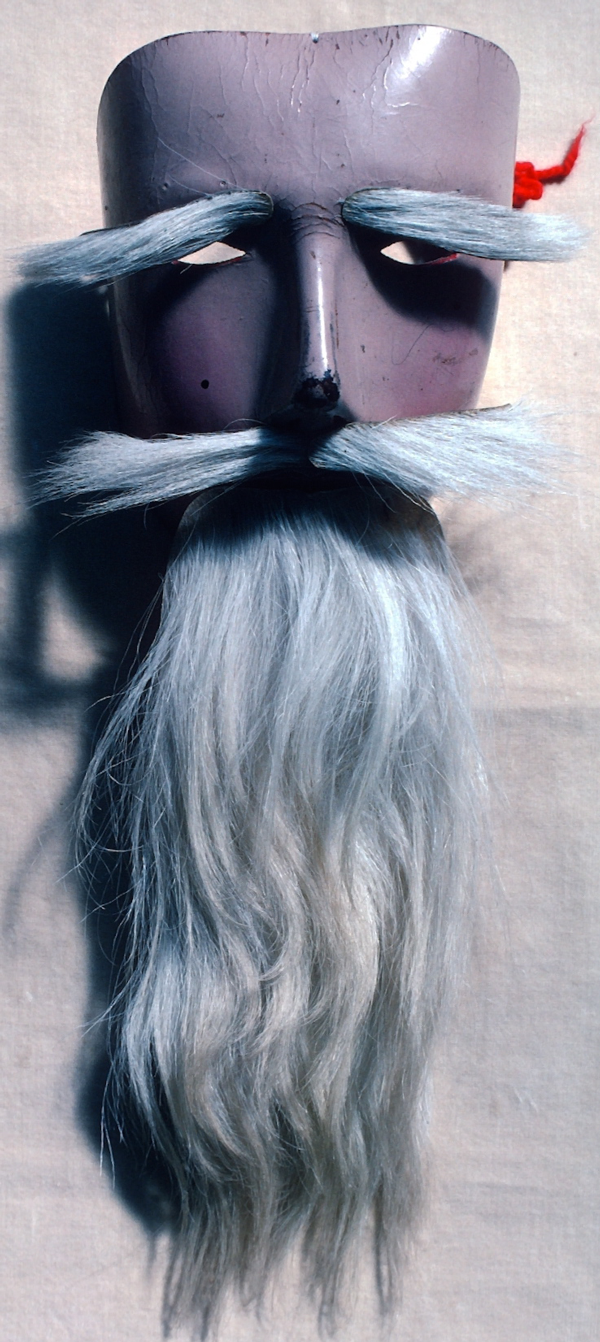 Then here is one more wooden mask from Puebla; it is crudely carved but a terrific primitive, although I am uncertain of the character it represents. In a future post I will show Santiaguero masks from the Veracruz that have similar applied facial hair, so perhaps this is a Santiaguero mask.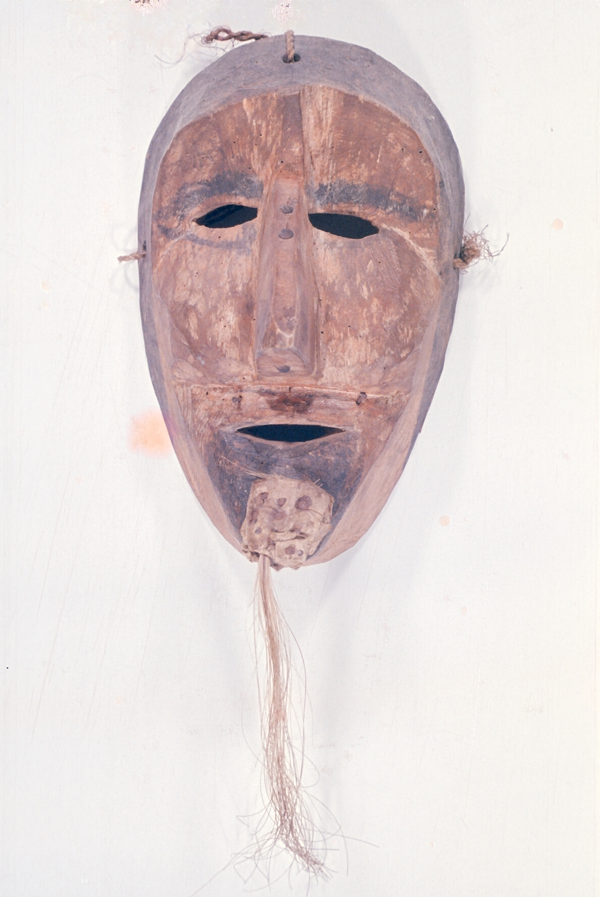 This mask is not carefully finished, but it is a bold strong carving.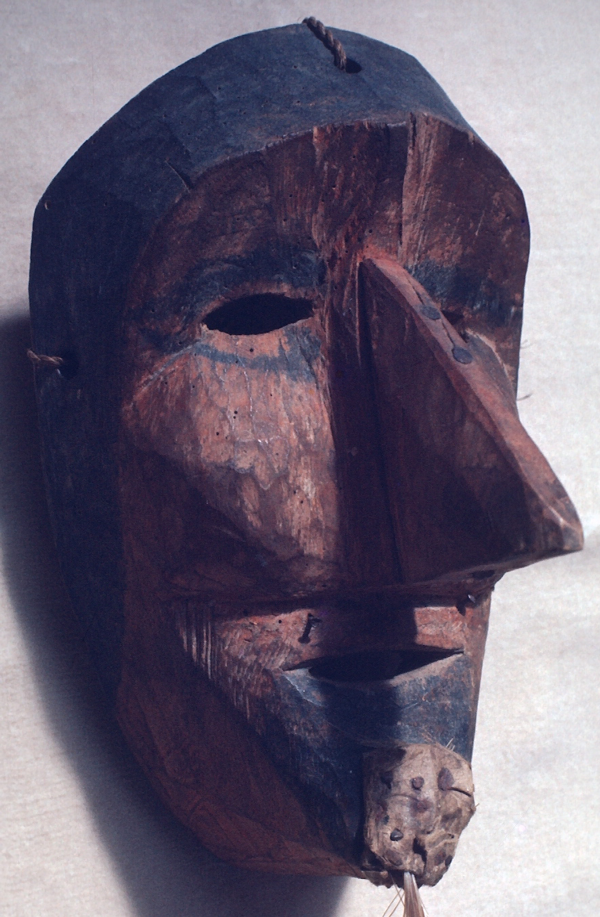 The nails above the mouth held a mustache made from horse tail.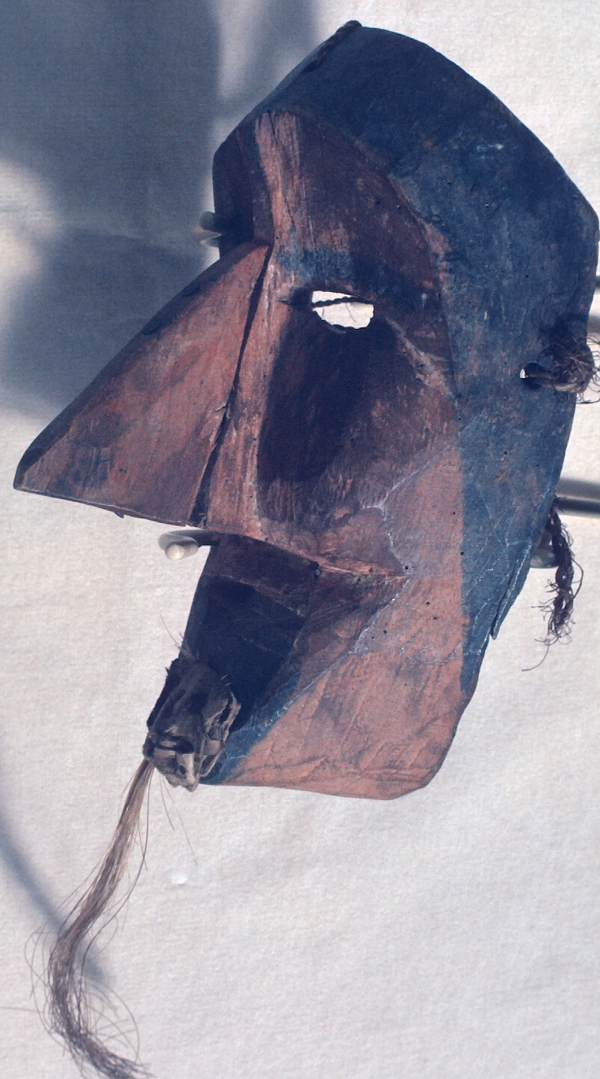 Note the sculpting of the cheek.
From the Mexican state of Michoacán, here is a Hermitaño (religious hermit) from the Pastorela (Shepherd's Play). These hermits are cast as spiritual clowns, who lead the shepherds to Bethlehem by dispensing spiritual guidance laced with jokes.
The Urmstons had several of the over-sized Guerrero masks with elaborate beards that are so prominently displayed in Cordry's Mexican Masks book. Some collectors disparage these as decorative masks while others value them as folk art. I will show you the one that remains unsold.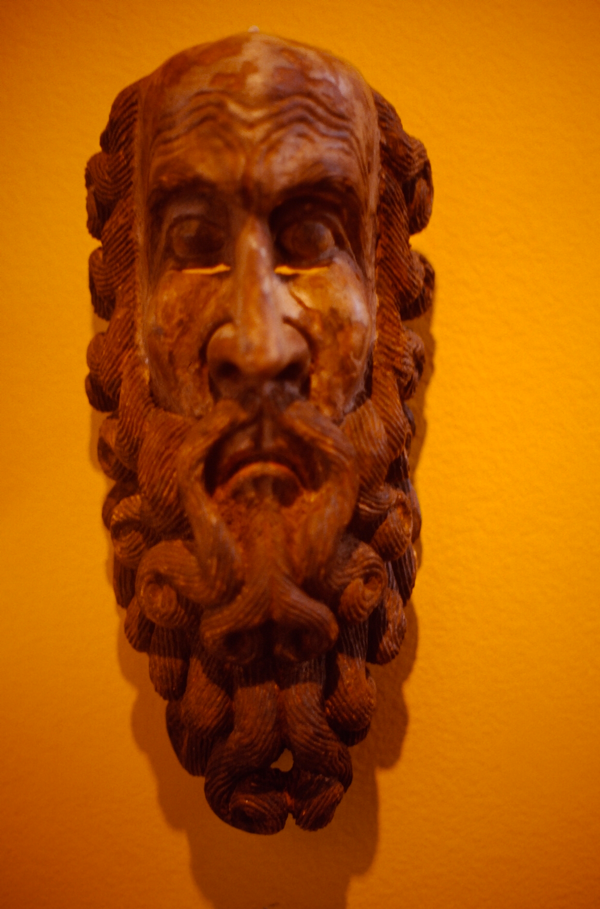 Another mask from Guerrero also resembles one in Cordry's book, but this one is a documented traditional design. This is an animal Diablo.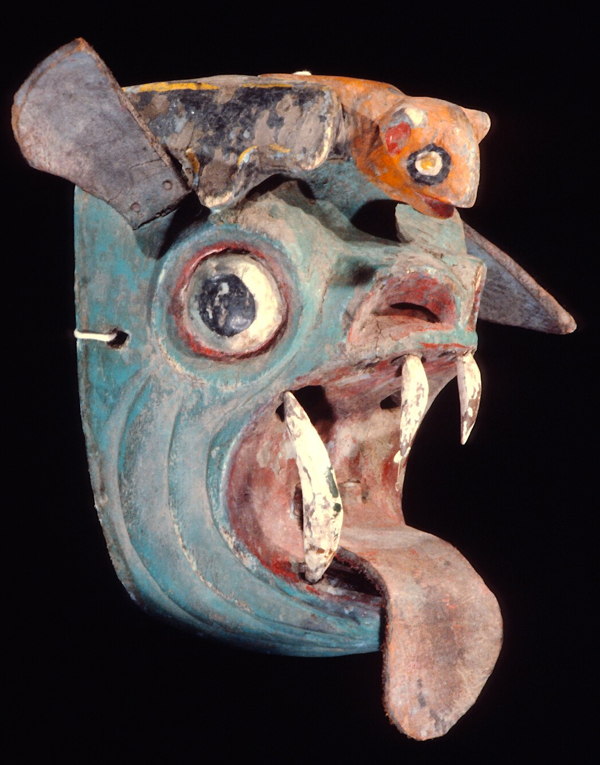 Helmut Hamm has sent me a link to a video showing the dance where such masks performed.
https://www.youtube.com/watch?v=mI0mtDyyv6c
I will end this post with three masks from an unusual dance from the Mexican state of Oaxaca; two of the masks has been sold but the Bride may still be available. The first is not well illuminated, but this masked dance is so rare that I included it anyway.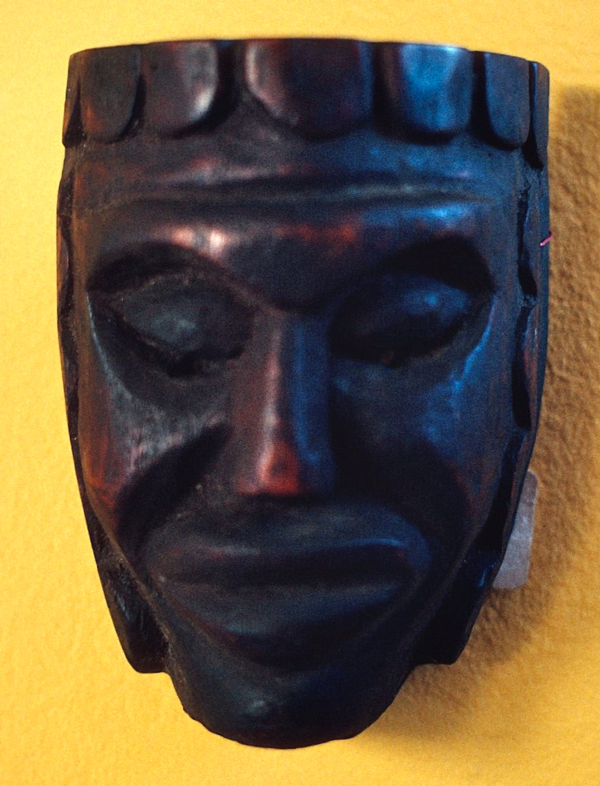 I really like the second mask with the red face, because of the stylized hairline.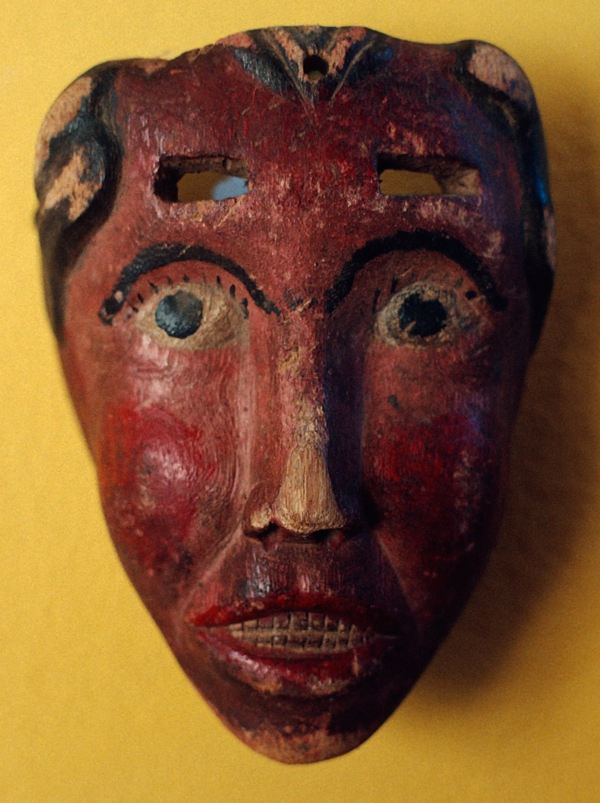 This is not a friendly face, but interesting and well carved. I'd like to know more about this mask.
The last of the three represents the Bride.
This is the Dance of the Turkey. My research reveals that this is a well known dance that is customary at weddings in highland Mixtec towns in Oaxaca, but usually the dancers don't wear masks. However, the Urmstons were told that these masks were worn in that dance in an unnamed town. The link that follows is of an unmasked Turkey dance in Oaxaca.
https://www.youtube.com/watch?v=n4GGRrTmjqE
Here is a link to another version of the dance where one of the dancers carries a sheep, while another carries a turkey! In general, the dancers carry real or symbolic gifts for the newlyweds.
https://www.youtube.com/watch?v=n4GGRrTmjqE
I hope that you have enjoyed seeing these masks from the Urmston Collection. I have enjoyed the opportunity to learn about areas and masks that were previously not so familiar.
Having introduced Mojíca masks from the Urmston collection in an earlier post, I will show many more of these masks, from my collection, over the next three weeks.