Janet Brody Esser was the editor of a superlative book about Mexican dance masks—Behind the Mask in Mexico (1988). In that volume she authored a chapter about dances and masks in the Mexican state of Michoacán that feature dance personages called Negritos, or "Blackmen" (pages 106-141). In my post of September 18, 2017 I included a mask from that dance of a Negrita, a female mask with a black face. In today's post some of the masks have unquestionably male faces, while others cause one to wonder about the intended gender. I will start with a pair of Blackman masks in the style of Cherán, Michoacán. I purchased this pair from Jaled Muyaes and Estela Ogazón in 1998.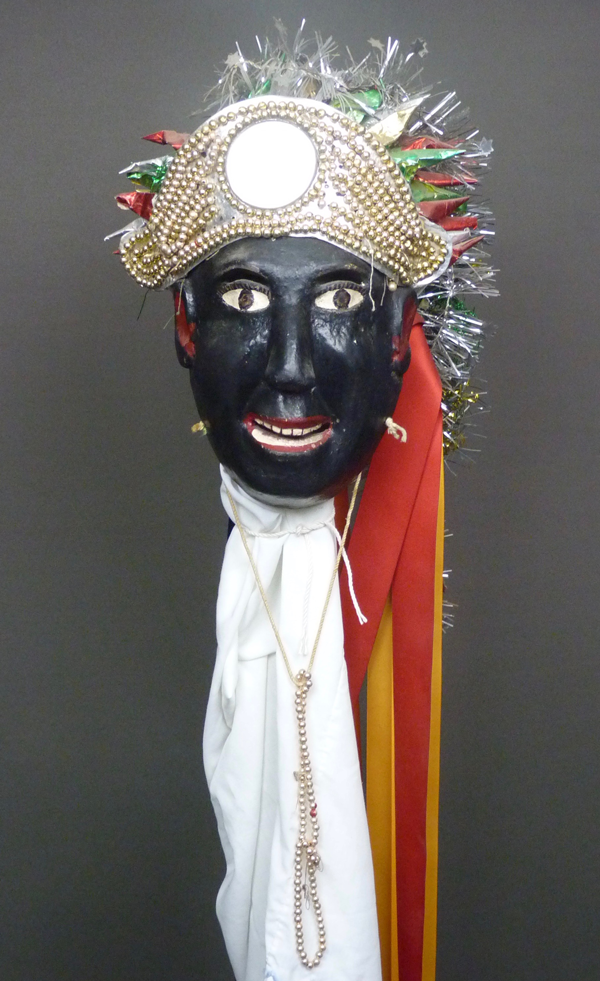 The front piece of the headdress is made of metal, probably recycled tin. A mirror and strings of yellow beads are mounted on this plate. The plate itself is attached to the crown of a woven straw hat that is covered with cloth, and decorated with small cones of colored foil. Tinsel and ribbons hang from this headdress.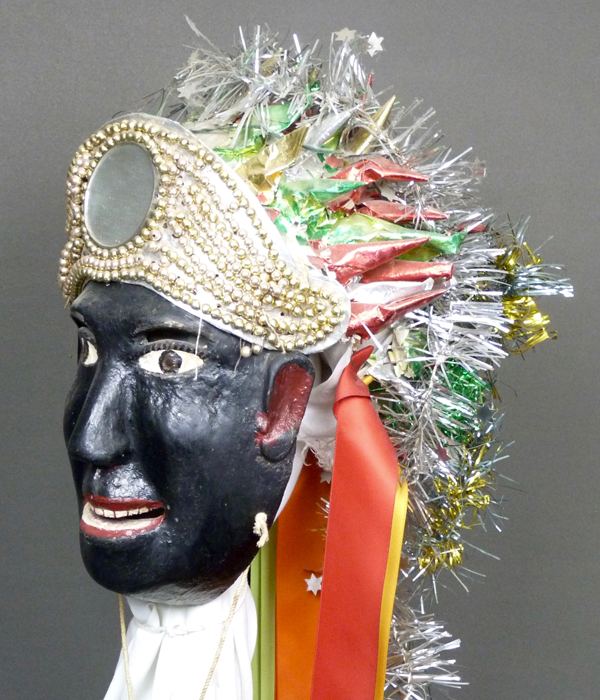 Some of the male Blackman masks, such as those from Cherán, have relief carved ears, but only some of those have pierced ears and earrings. It is unclear whether the presence or absence of piercings or earrings indicates anything about a mask's gender.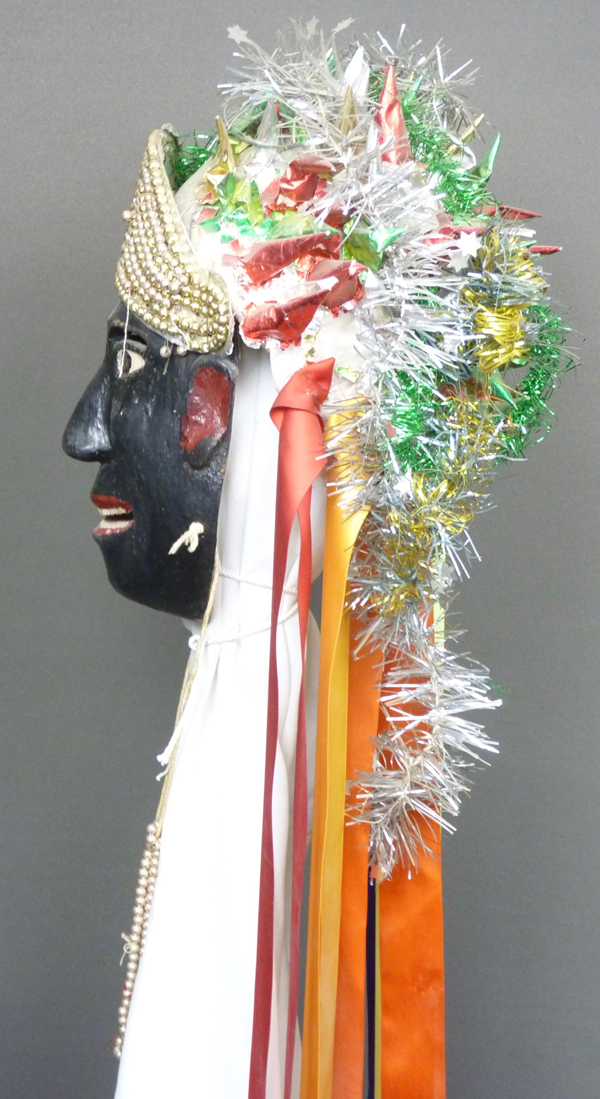 Some Blackman masks have open mouths and exposed teeth, while others have closed lips.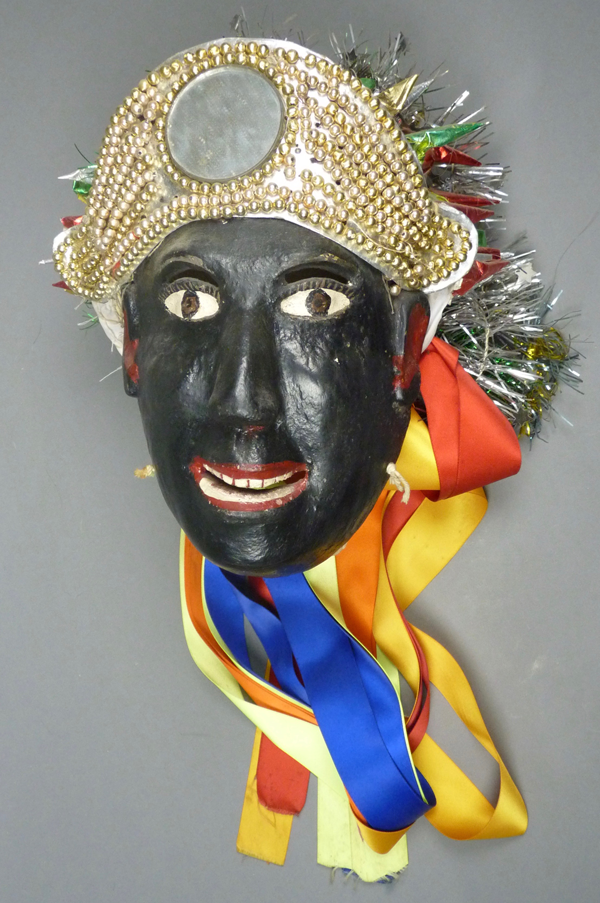 The ribbons on these masks usually hang nearly to the floor.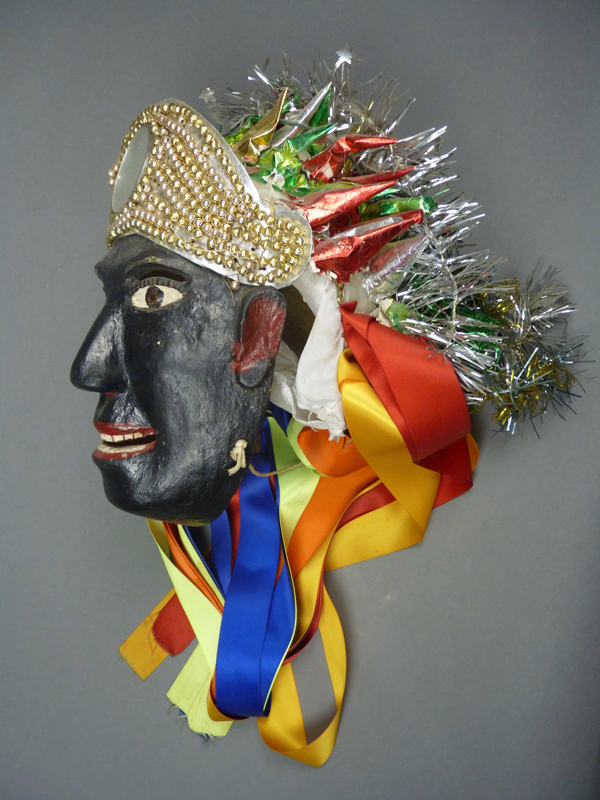 This mask is 8 inches tall, 6 inches wide, and 4 inches deep.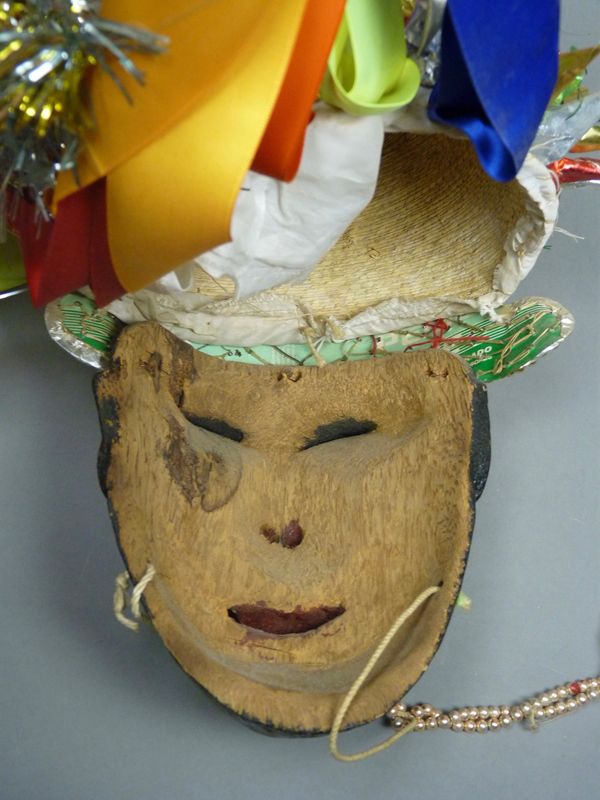 This mask has moderate staining from use.
Here is another, nearly identical mask.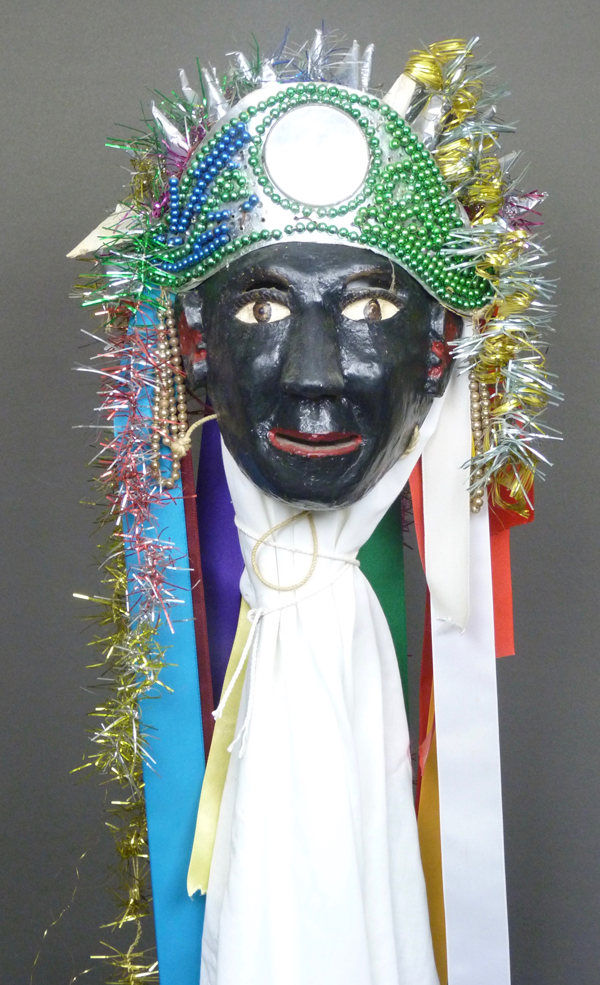 It is clearly by the same hand as the first. Only the mouths and the beads are different.
The paper cones on the headdress are particularly easy to see in these photos.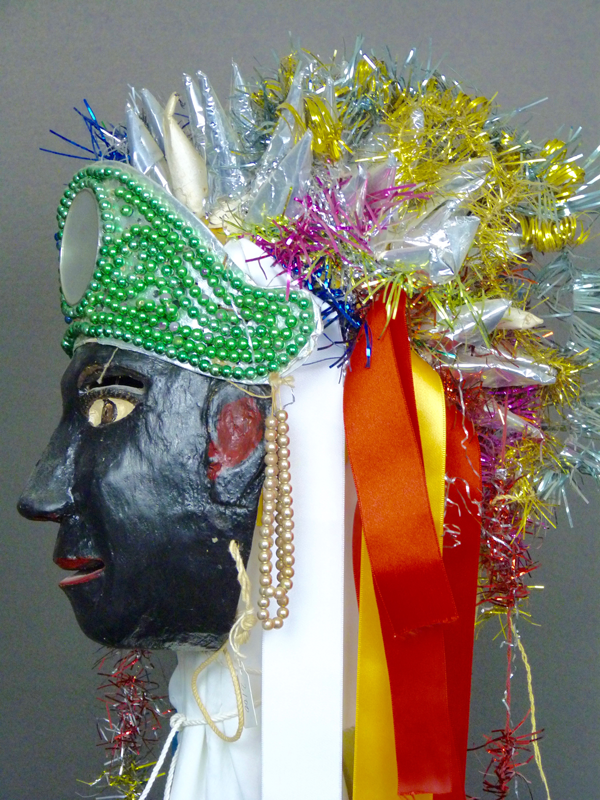 The ears on this mask and the last are not pierced.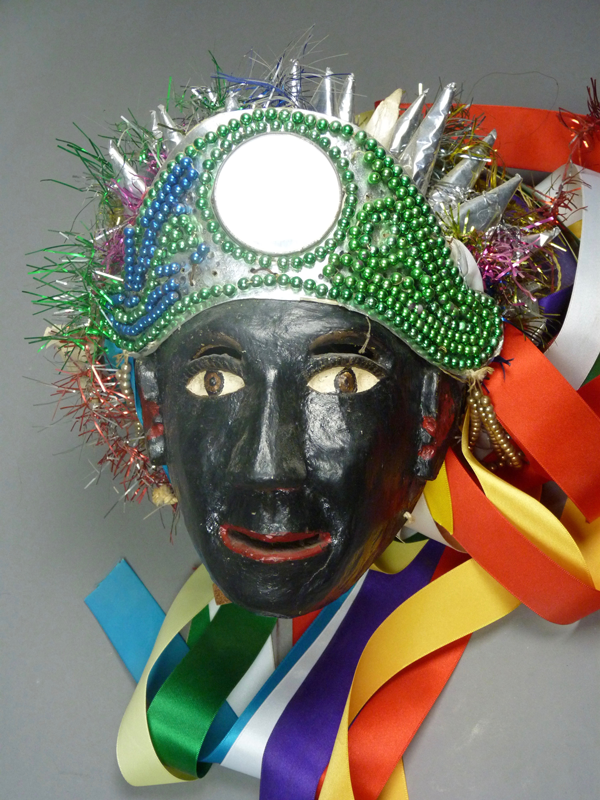 This mask has an open mouth but lacks teeth.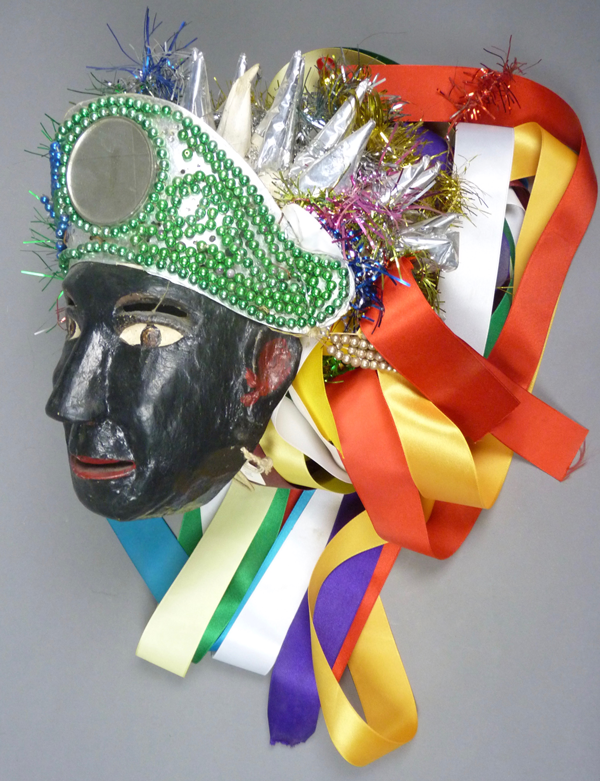 This mask is 7 inches tall, 6 inches wide, and 3½ inches deep.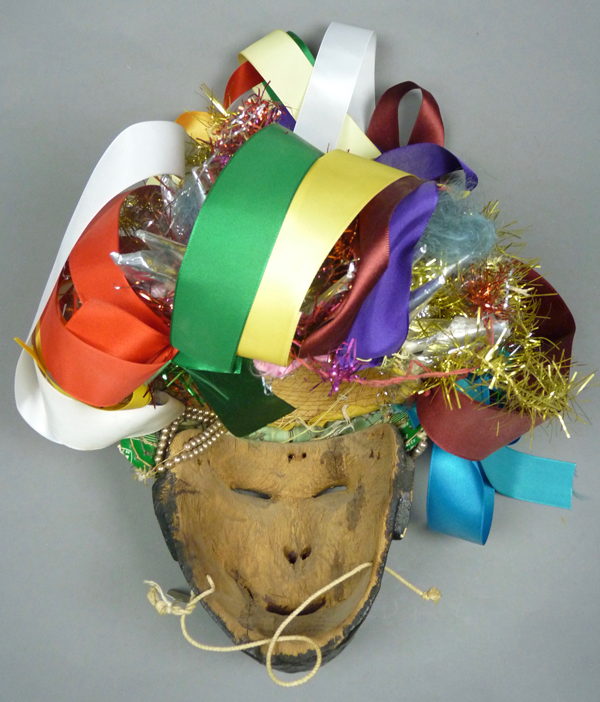 The back of this mask is heavily stained from use.
Here is a YouTube™ video of Blackmen dancing in Cherán, Michoacán.
https://www.youtube.com/watch?v=3q2_uY8Epio
In Mexico Negrito masks are worn in a variety of dances. In some cases the Negrito dancers portray beautiful or noble characters, while other dances feature clowns with black masks. In her chapter about the Blackman dances in Michoacán (1988, pp 107-141), Janet Brody Esser emphasizes the special nature of these dance figures. "Blackmen are known in the Tarascan language as turía or turíacha, which is said by some Tarascans also to mean principal beings who control the air. While the Tarascan word turí means 'black,' it also has the implication of catrin (elegant, urbane). Acha means "man" or "lord" and acha turi, although literally black lord, is translated into Spanish as hombre que no es indígena, that is to say, a non-Indian." This is certainly mysterious, and one wonders whether the Blackmen represent pre-hispanic gods.
A Child's Negrito mask follows. The headdress is in a similar style.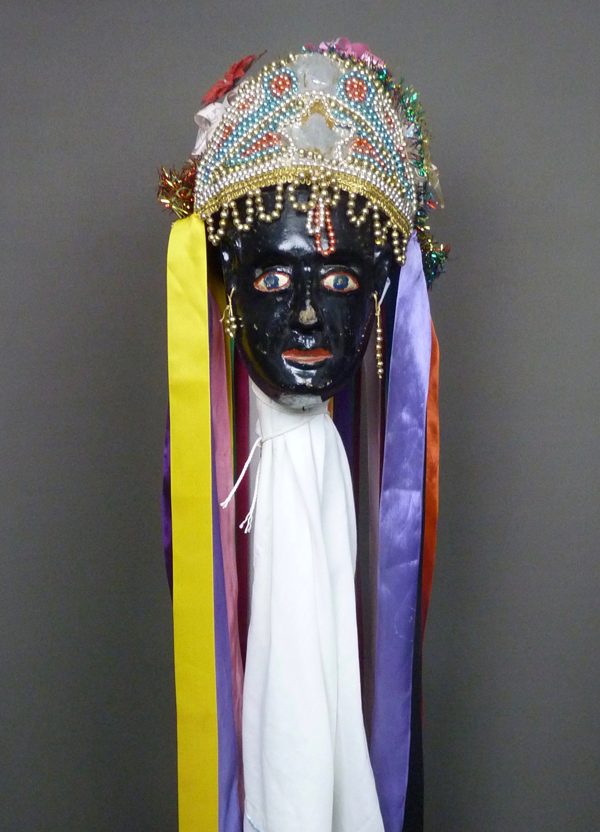 The front plate of this headdress is made from cardboard and covered with silver foil.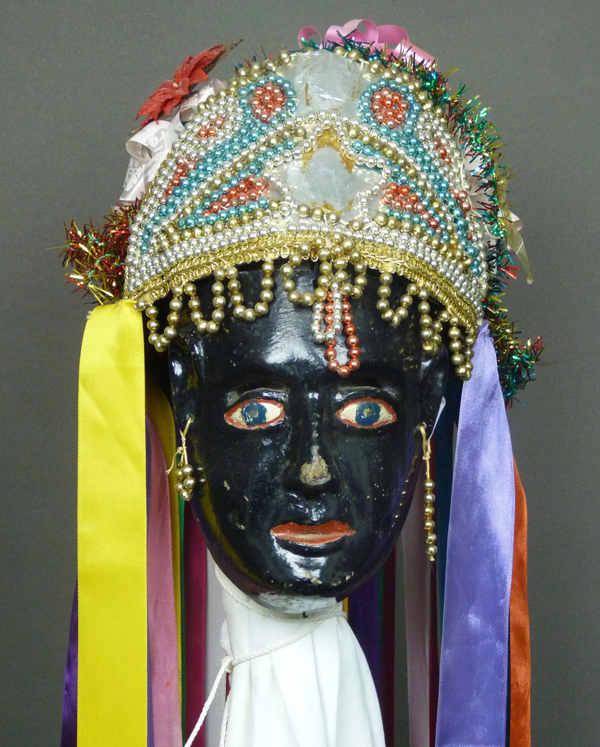 This is one of those masks that leads one to wonder about gender—was this originally a male or a female face?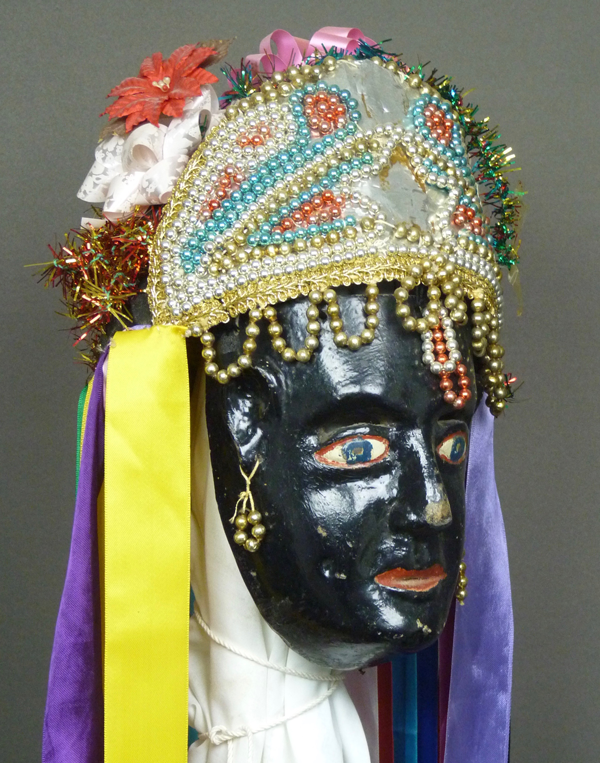 The ears are pierced and there are earrings.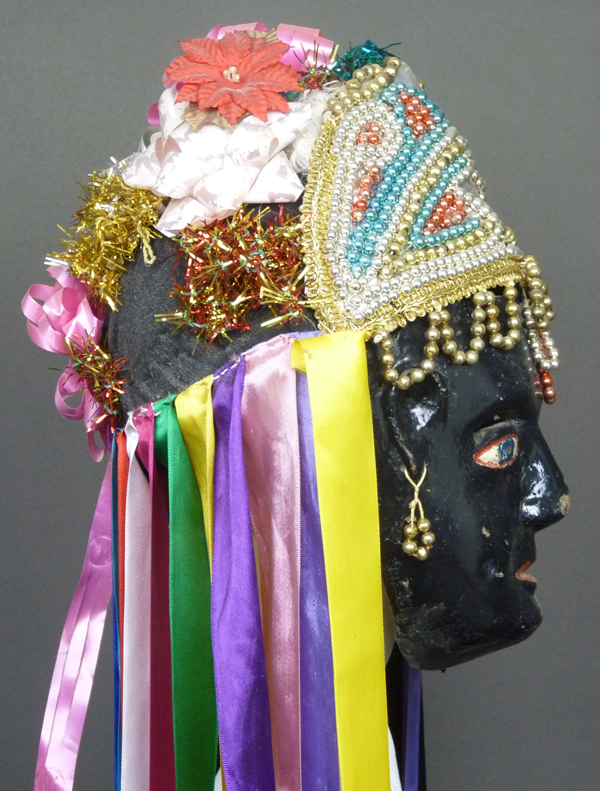 The lips seem feminine.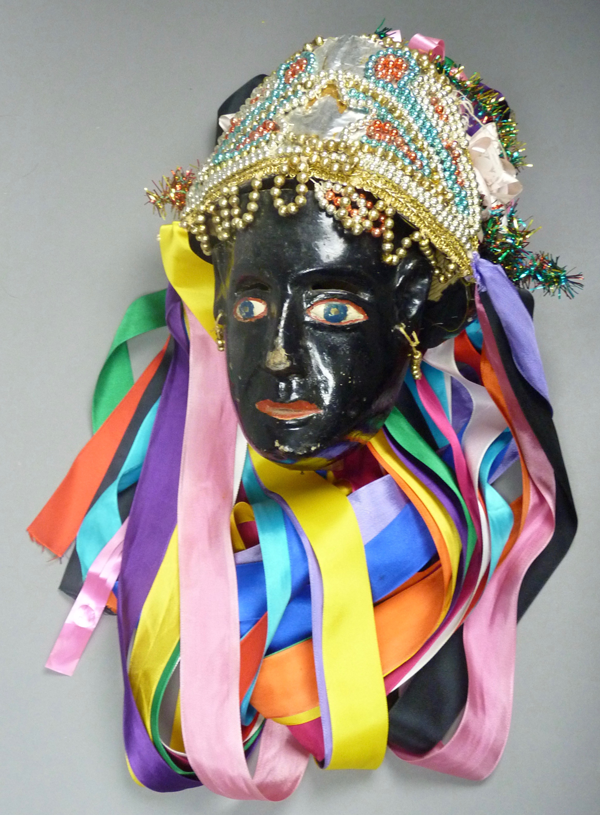 Ribbon bows dominate the headdress design, behind the front plate.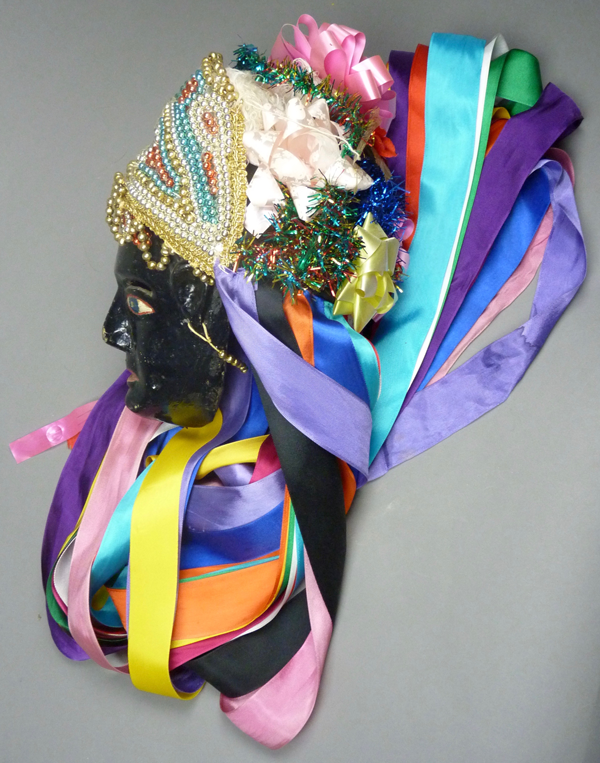 This mask is 6 inches tall, 6 inches wide, and 3½ inches deep.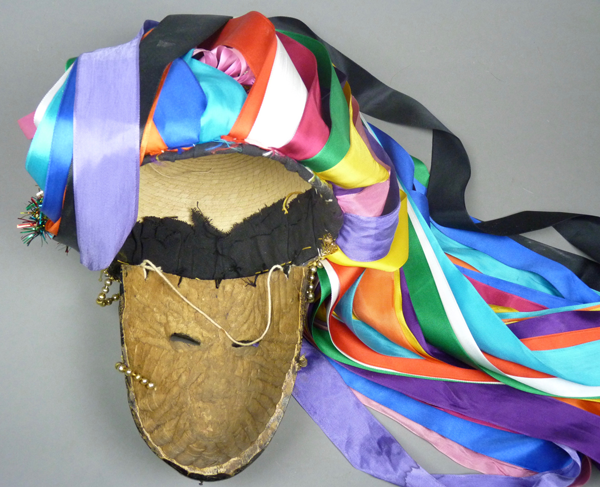 The back has moderate staining from use.
I purchased the next Negrito from Joshua Baer of Santa Fe, New Mexico in 1995. He had gotten it from Joe Carr, also of Santa Fe, in 1978. The mask was reportedly from Patzcuaro, Michoacan.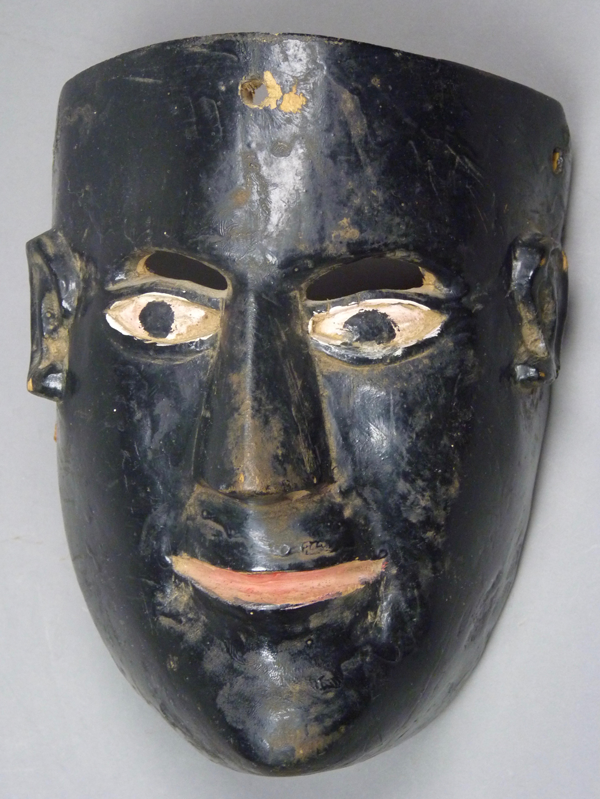 The ears are delicately carved.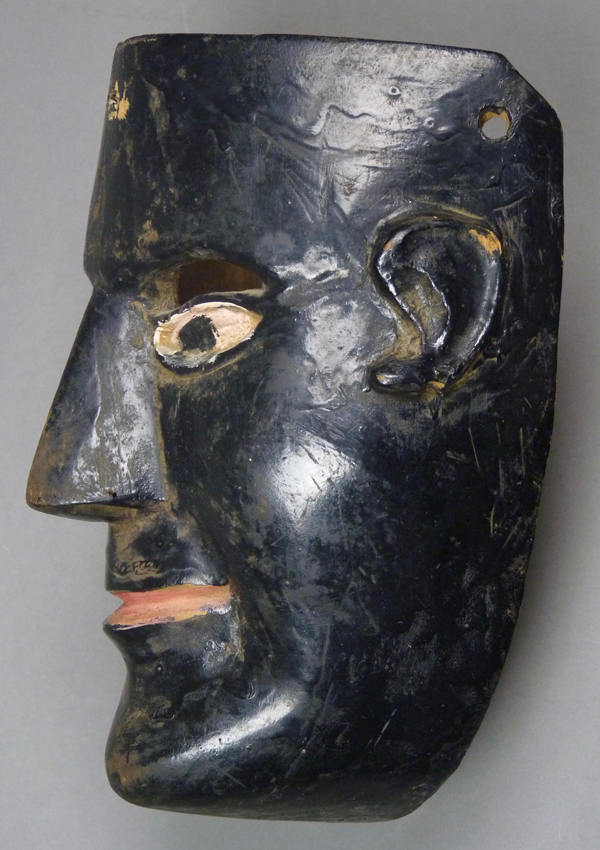 The ears are pierced for earrings.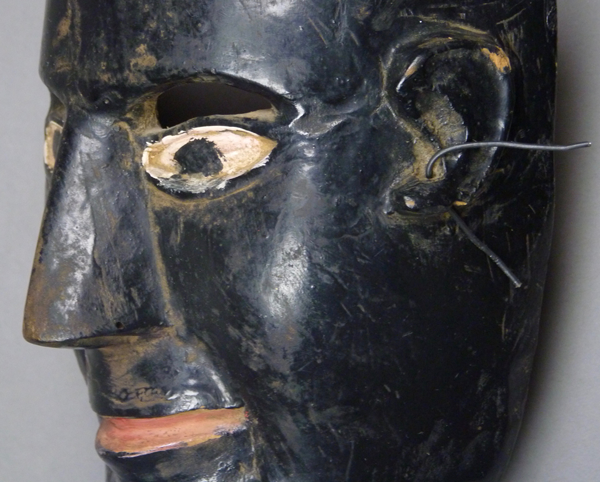 Again I wonder if this mask depicts a male or a female.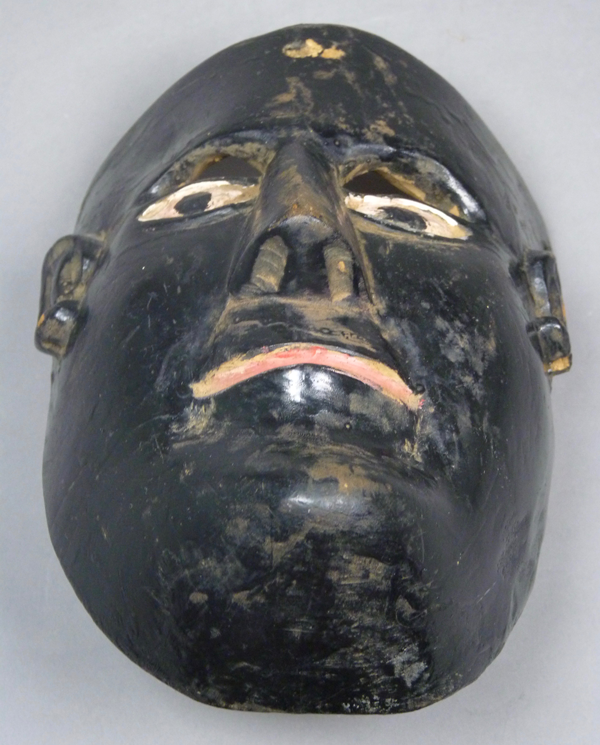 This mask is 8 inches tall, 6 inches wide, and 3½ inches deep.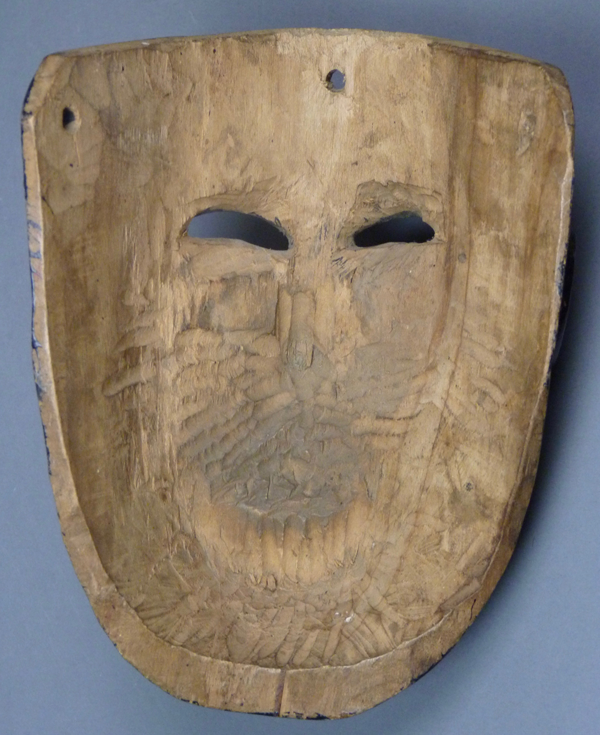 The back of this mask demonstrates moderate staining from use.
Next week I will show additional Negrito masks.