Last week I discussed a group of Diablo masks from the Mexican state of Guerrero that were typical of the area around Tixtla. Today I will present additional Diablo masks from Guerrero that demonstrate other styles.
In the catalogue prepared by María Teresa Sepúlveda Herrera listing the masks from Guerrero in the collection of the National Museum of Anthropology, in Mexico City, there is a trio of masks that resemble one another. These are masks #101, 102, and 103 (pages 169 to 172), which were collected in Apaxtla and Cuetzala de Progresso, two neighboring towns east of Taxco, Guerrero. According to the Calendario de Fiesta Populares (1988, 83), there are many dances in Apaxtla, of which only one includes a Devil, the dance of the Tres Potencias (described in my post of 9/22/2014). The information for Cuetzala is less specific. I am assuming that all three of these masks were used in the Tres Potencias dance. I will begin with a mask that most closely resembles #101, the one from Apaxtla.
I obtained my similar mask from the Craft and Folk Museum, in Los Angeles, in 1995. It was said to have been collected in Tlapa, Guerrero, a town to the east of the two just mentioned. The Tres Potencias dance also occurs in that town, according to the Calendario (1988, 89). Of the devil masks in my collection from Guerrero, this is certainly my favorite; it is majestic.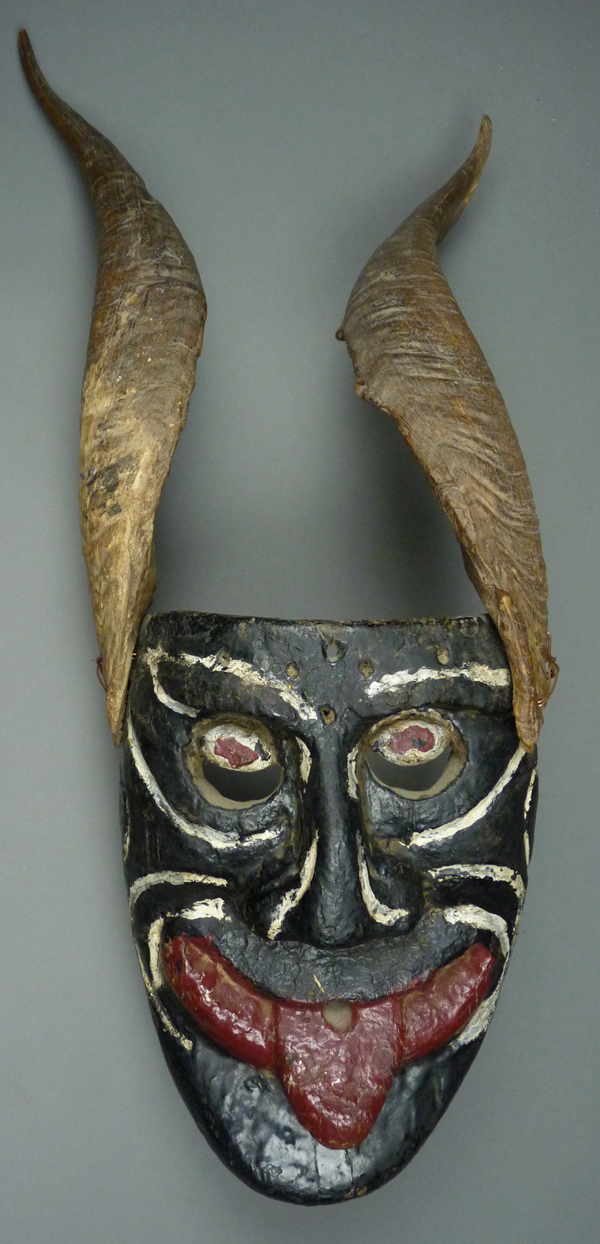 This mask measures 21 inches from tip of horns to tip of chin; it is 9½ inches in height without the horns, 6 inches wide, and 4½ inches deep.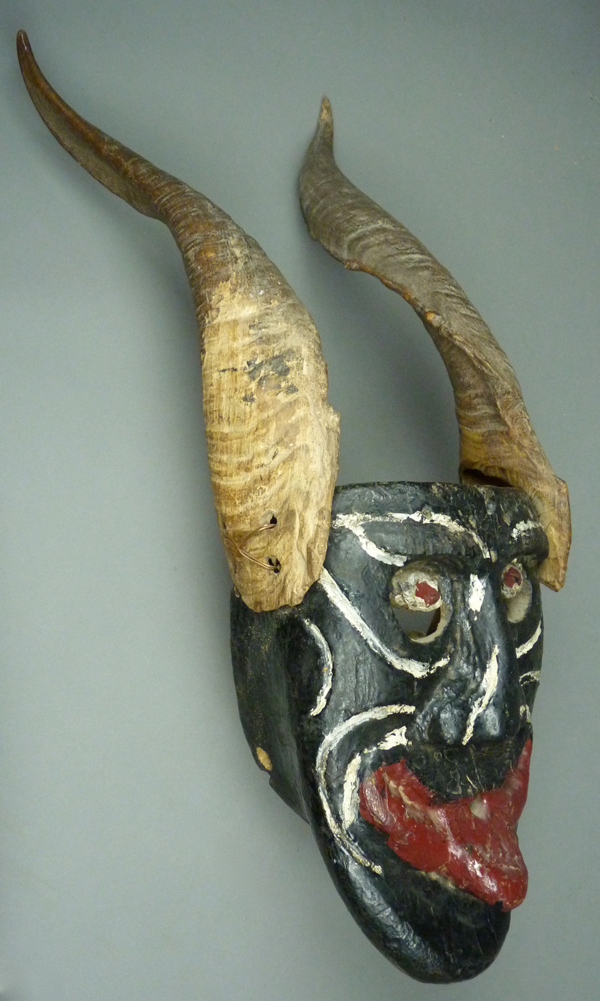 When I first received this mask, the horns had been removed. It was obvious that they had been lashed to the face with something like sisal twine or leather thongs and that these lashings had eventually failed. I chose to reattach the horns with copper wire. Now I think that I should have used binder twine.
This mask from Tlapa shows evidence of heavy use.
I got the next mask from Jaled Muyaes in 1997. It was said to be from the Tres Potencias dance, but the town of origin was unknown. As it happens, this mask also resembles the trio in the museum catalogue and it is most like #102, from Cuetzala de Progresso.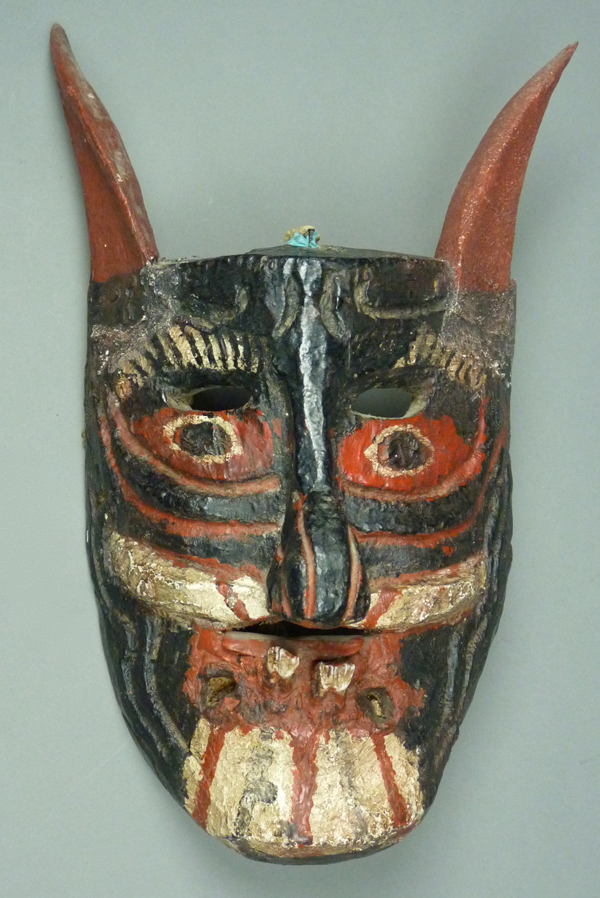 Including the horns, this mask is 13 inches tall. Without the horns, the mask is 9 inches tall, 6½ inches wide, and 4 inches deep. These goat horns are attached with nails. There are two empty sockets near the teeth, where there might have once been fangs.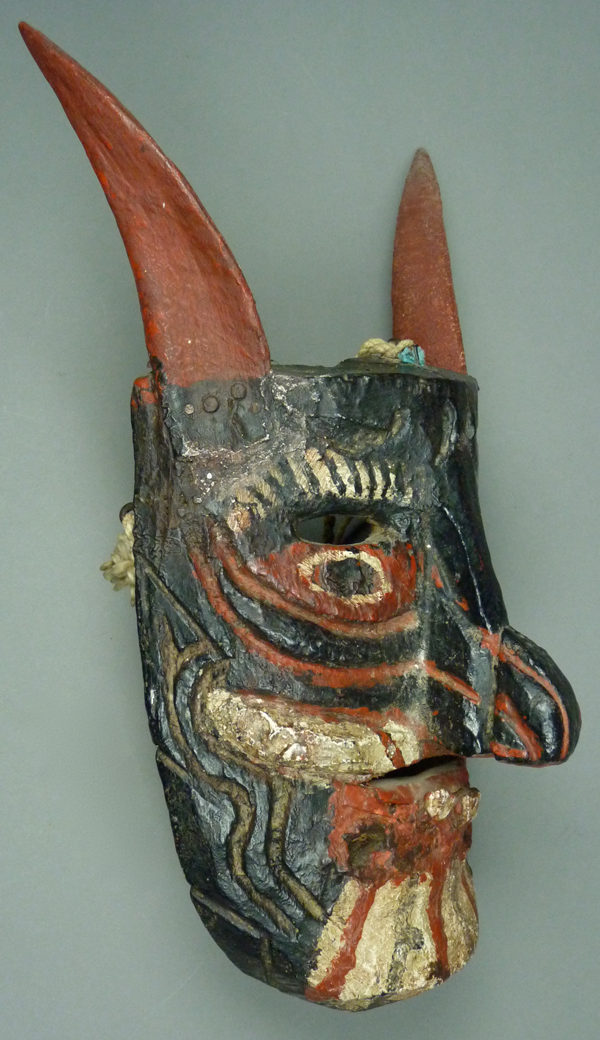 At some point the nose split off and was reattached.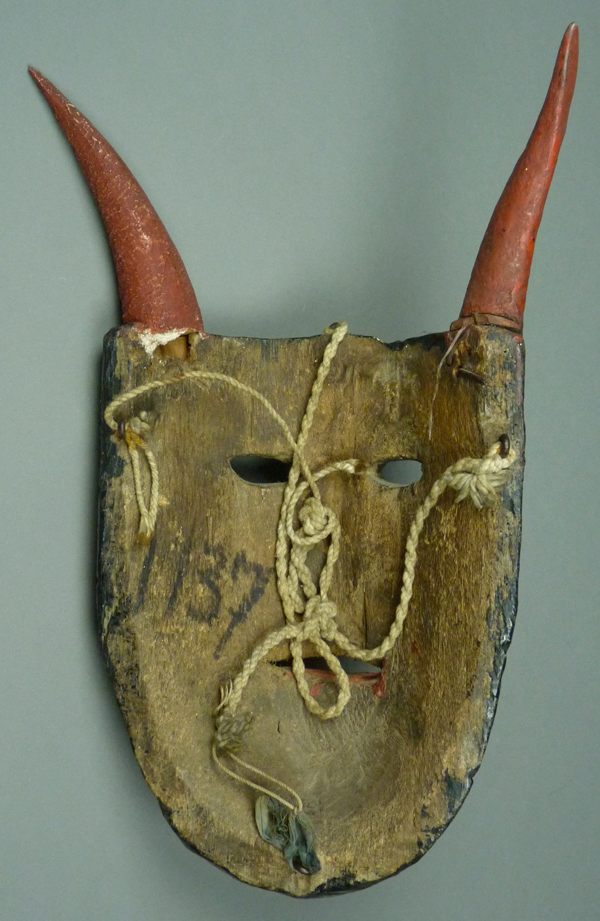 This is yet another mask from the collection of Jaled Muyaes and Estela Ogazon that has a number painted on the back to mark its history of use in the mask show of 1981 in Mexico City.
The third mask in this series is somewhat different from the last two. I purchased this mask from Spencer Throckmorton in 1996. It was found in Chilpancingo, Guerrero, and was attributed to the Tres Potencias dance. However, according to Santano González Villalobos (2005, pages 34 to 37), writing in Danzas y Bailes Tradicionales del estado de Guerrero, there is a Danza de Diablos in Chilpancingo that features a corps of about twelve devils, led by the Diablo Mayor (chief devil) and a diabla (a male dancer wearing the face of a woman). Those devils usually wear masks with goat or deer horns.The Calendario de Fiestas Populares (1988, 85) indicates that the Danza de los Diablos is performed on December 24 each year, but makes no mention of the Tres Potencias dance. So my third mask was probably used in the Danza de los Diablos.
In her book, Ruth Lechuga (1991, 62) included a photo of Diablos and Diablas participating in the dance of the Diablos in Petlacala, Guerrero, a town near Apaxtla and Cuetzala de Progresso. She showed another photo, this one of the dance of the Diablos in Petlacapa, Guerrero, a small town near Tlapa, in her essay about Guerrero masks in Esser's book (1988, pages 220-221 ).
Here is an internet photo of the Danza de Diablos in an unstated town in Guerrero. Note the Diabla mask, a female face with the ears of a goat and wearing a headdress with deer horns.
http://i.guerrero.gob.mx/uploads/2011/03/diablos.jpg
This third mask has carved wooden horns that are attached to the mask with nails. It has a dramatic hooked nose. Both the ears and the tongue have been carved in relief.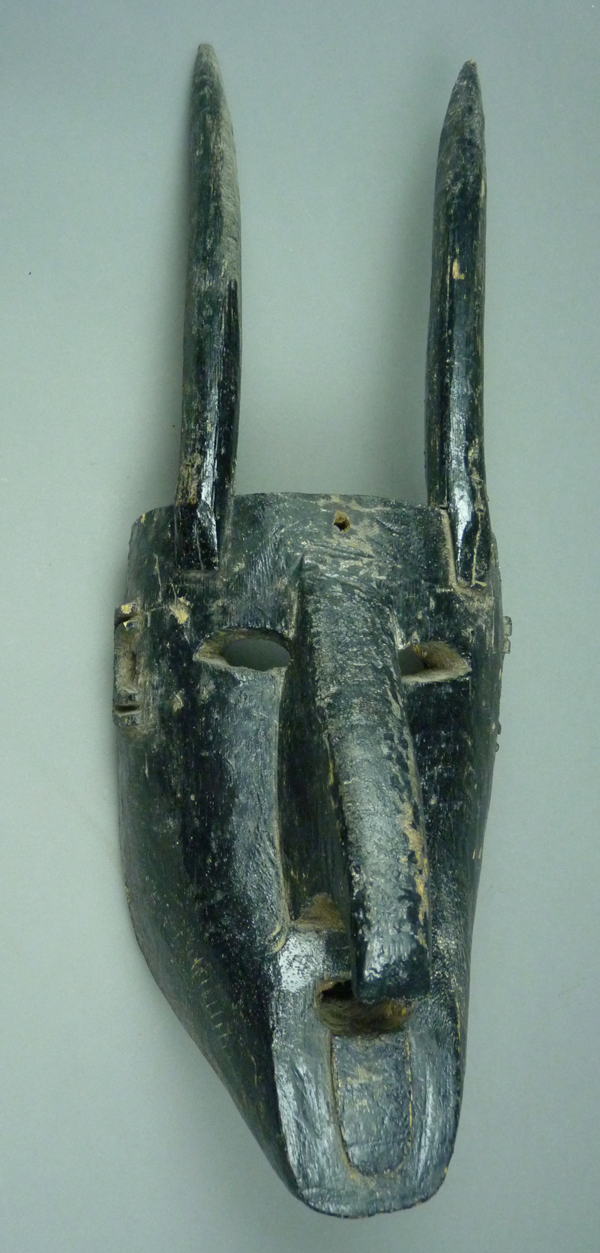 This mask is 19 inches tall, including the horns. The mask itself is 10 inches tall, 6 inches wide, and 6 inches deep.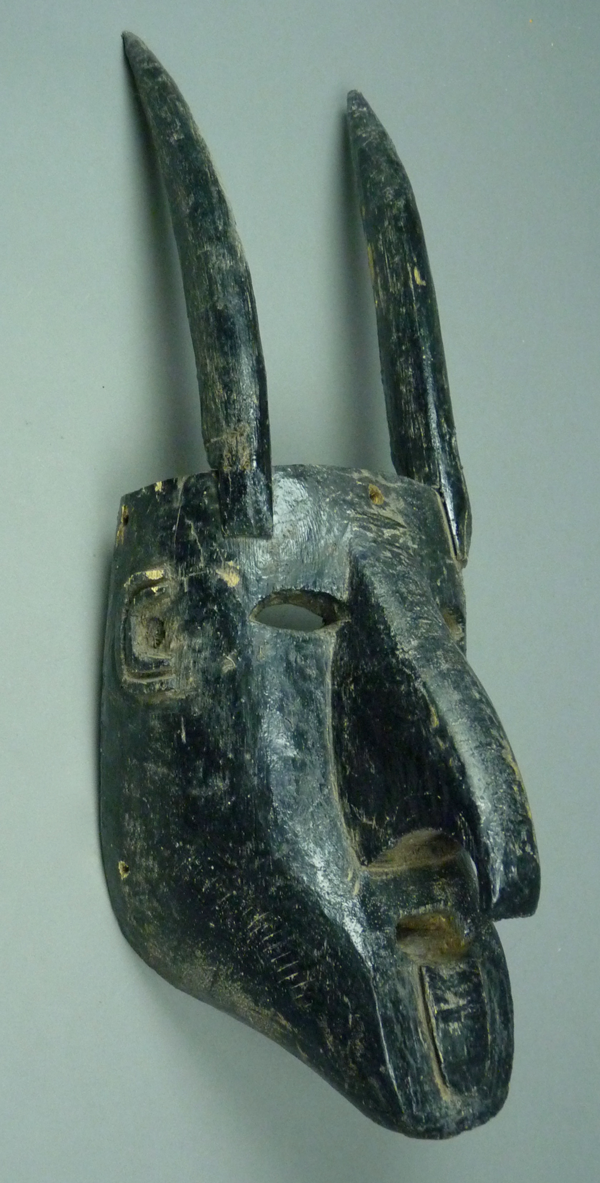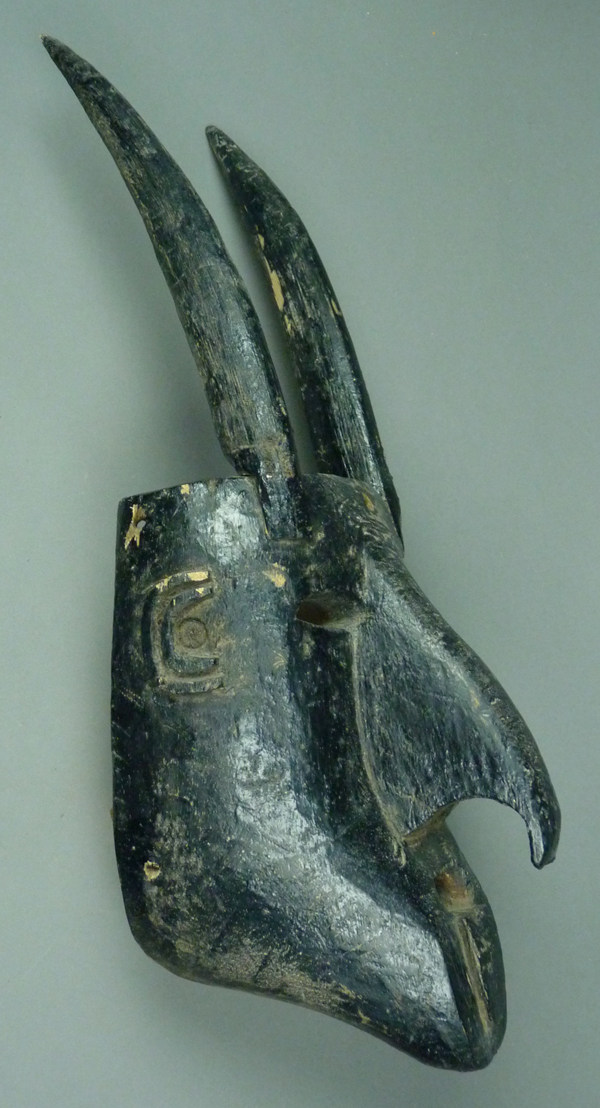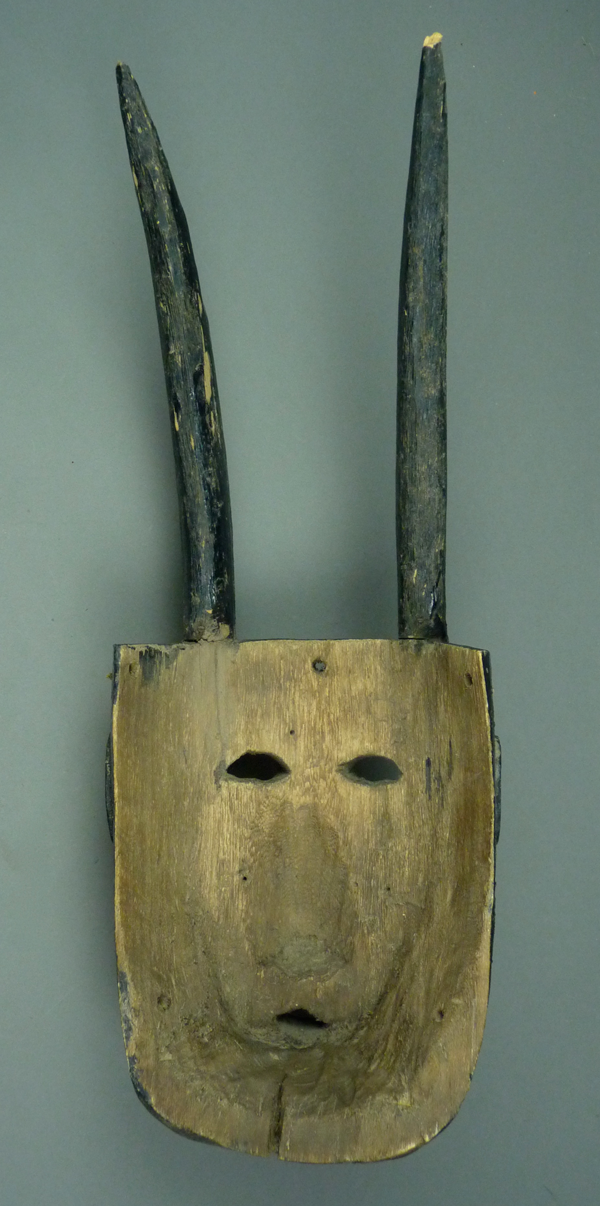 The hooked nose mask has good evidence of wear.
I found the fourth mask on EBay™ in 2004. It has a typical devil's face, but the horns have been lost. There are nail holes on the upper corners that would have  secured the horns to the mask. It has an applied leather tongue like masks 102 and 103 in the museum catalogue, except that this tongue is forked. I feel certain that this is a Diablo mask from Guerrero.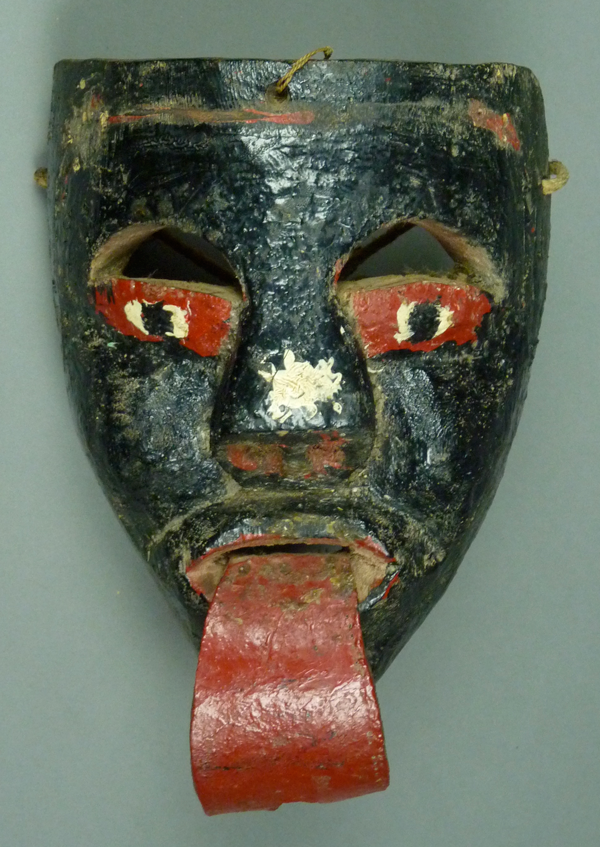 This diablo is smaller than the first three, with height of 7½ inches, width of 6inches, and depth of 3 inches.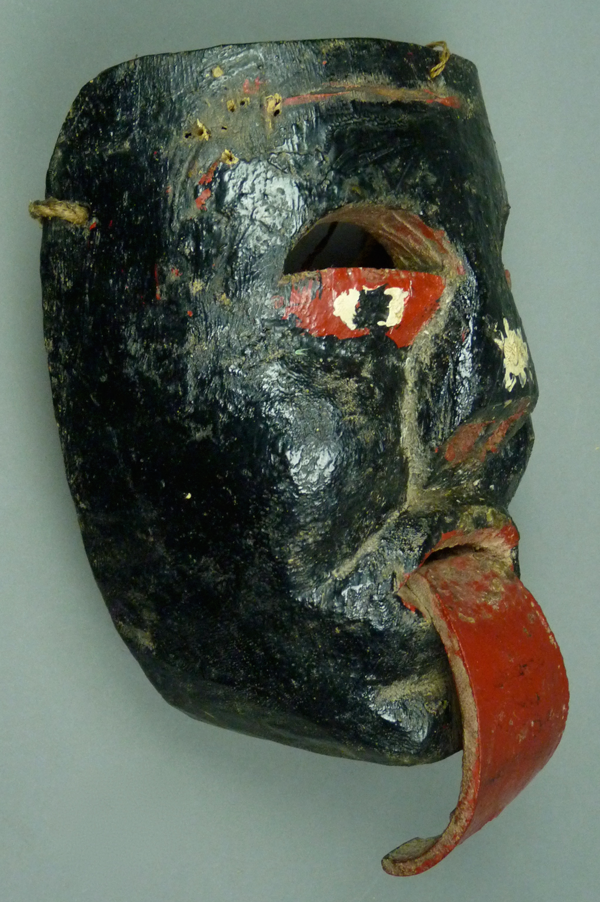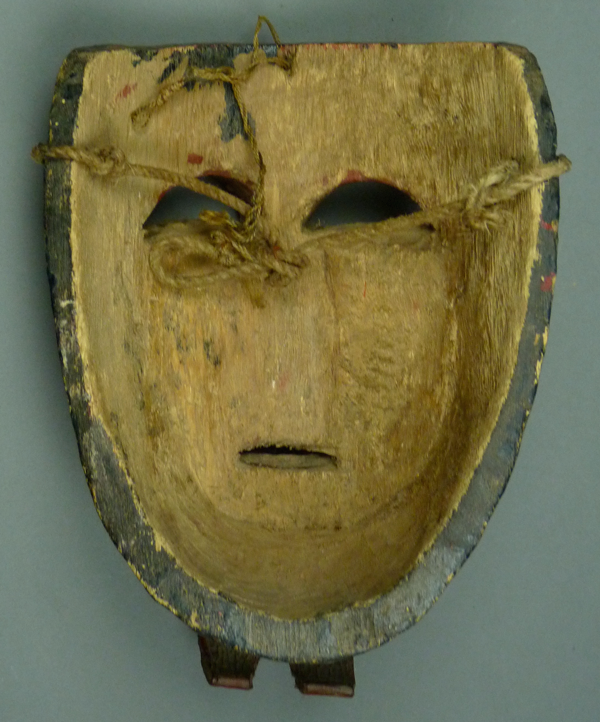 The back of this mask has moderate wear. You can see the forked tongue from this angle.
The fifth mask in this series was also found on EBay, but five years later in 2009. It was said to have come from an estate, and lacked any provenance. I have always assumed that it came from Guerrero, but I have never been able to find a similar mask in any reference. If a reader can tell me anything about this mask, I would be most appreciative.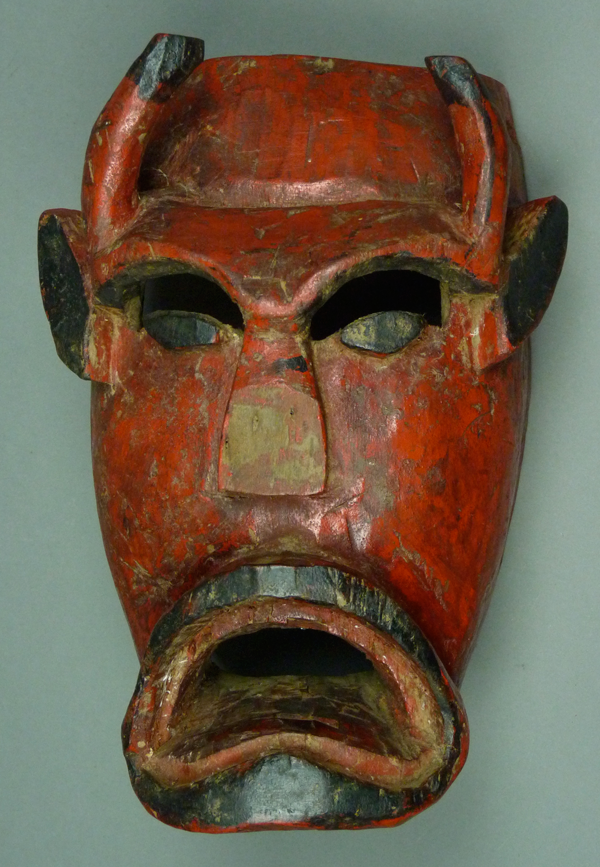 This mask is 9 inches tall, 6 inches wide, and 4 inches deep. It was carved from a hard wood that is dense and heavy. There may have been an extension that was glued onto the end of the nose, but if so it has fallen off. The eyes are carved in relief, as are the ears and the horns. The mask has a snouted, frowning mouth.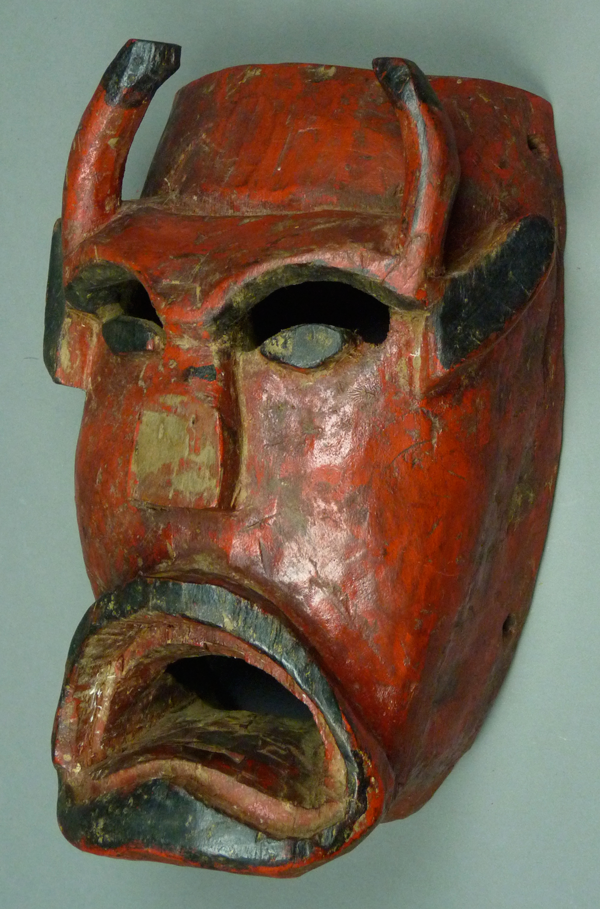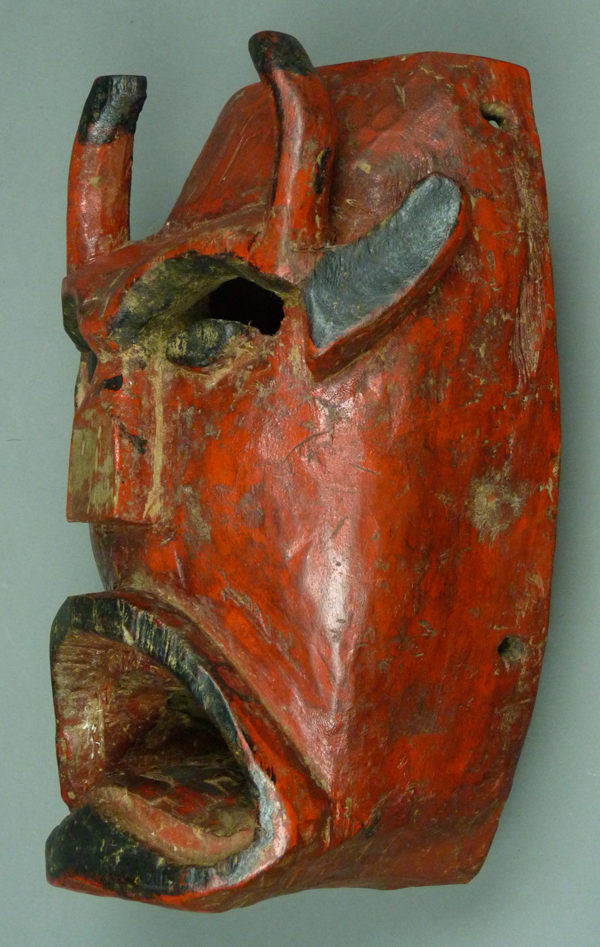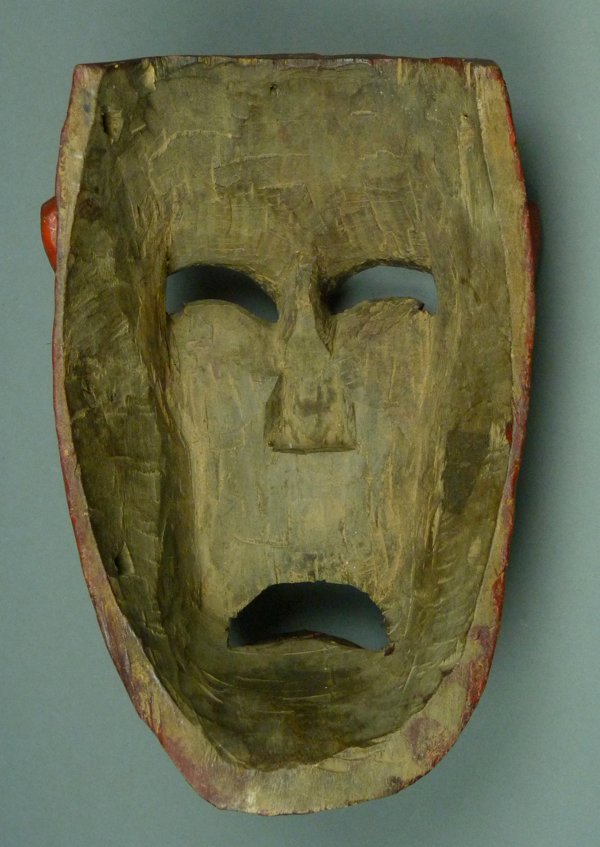 The back demonstrates good wear. There are two holes for straps on each side, and a much smaller hole in the middle of the forehead that is of the size to hold a wire.
My goal in the last three posts has been to demonstrate that the authentic masks from the Mexican state of Guerrero are interesting and impressive. Next week I will continue in this vein by showing traditional Tigre (jaguar) masks from Guerrero.