This week I am introducing you more fully to another excellent and prolific Rio Mayo maskmaker, Bonifacio Balmea Sauzemea, of Guayparín, municipio of Etchajoa, Sonora, who is sometimes erroneously referred to as Bonifacio Valenzuela. I had inadvertently included one of Bonifacio's masks from another collection in my post of September 10, 2018, thinking that it was a mask carved by Pancho Parra. Bonifacio's masks often resemble those of Pancho Parra, so much so that one commonly finds masks in major collections that were made by one of these carvers but misidentified as the work of the other. I will start with a trio of masks by this artist that I purchased from Tom Kolaz in 1998.
This one was said to date from the 1960s. It has what I call "almond shaped " eyes, which are commonly seen on Bonifacio's masks, but alternating with other eye designs, and all these options are to be found on the masks of other Rio Mayo carvers. The rims of these particular eyes are painted but not elevated (not carved in relief).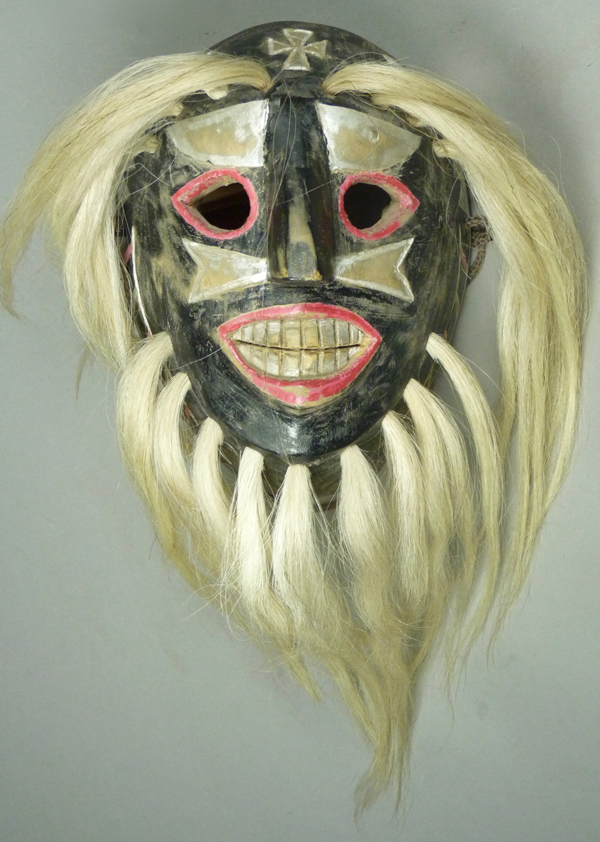 Bonifacio also chooses from a number of mouth designs. I will call this one a "pointed grin," when comparing it to his other favorites. Mouths with either flat or curved upper lips and pointed ends are characteristic for this carver, and one could call them auxiliary identifiers, but they too are sufficiently generic that they don't distinguish one carver from another.