Over recent years, I always thought that I had included all the Calavera (skull) masks from my collection in one early post or another, but the problem was that they didn't all fit together for inclusion in a particular post. I have now discovered that some were displayed, while a number of others never made it into their respective slots, so they remain for me to gather in some new posts. For instance, here is one of four Diablo masks from the Mexican State of Guerrero that were supposed to have had their own group post about four years ago. That foursome will finally appear today. Others from The State of Mexico, Veracruz, and Hidalgo that were also omitted will be in next week's post.
I obtained this first mask from the Santa Fe shop of Joe Carr in March, 1992. It was said to have been used in La Danza de los Siete Vicios in Guerrero.  Joe had always told his friends that this was the one mask in his collection that he would never sell, but later he apparently sold them all to raise needed funds.
I am reading the date on the forehead as 1971. Maybe the mask was repainted then. It is probably much older, but the date of its carving is undocumented.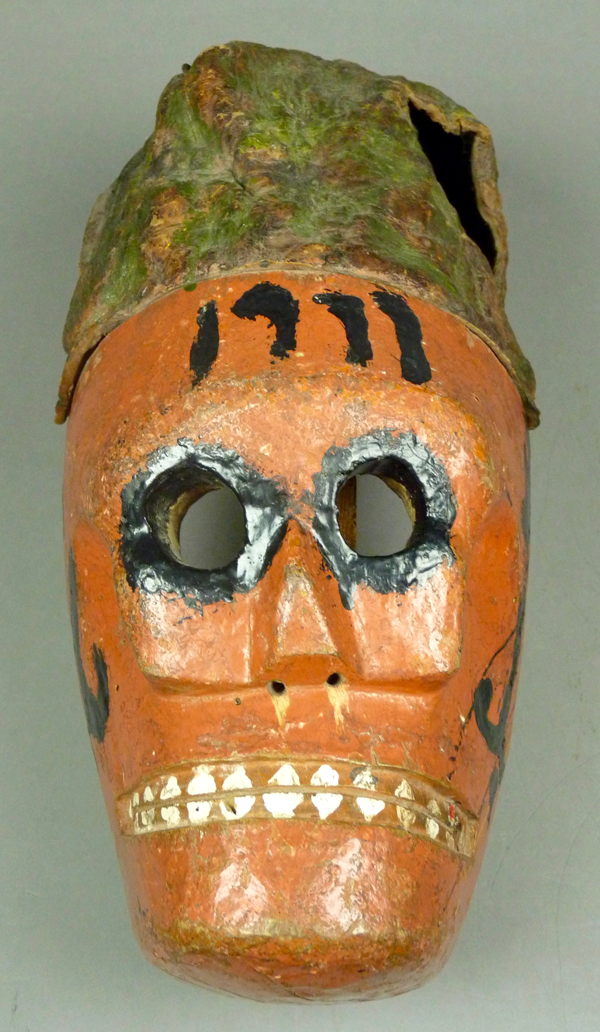 I particularly like the manner of painting of the teeth.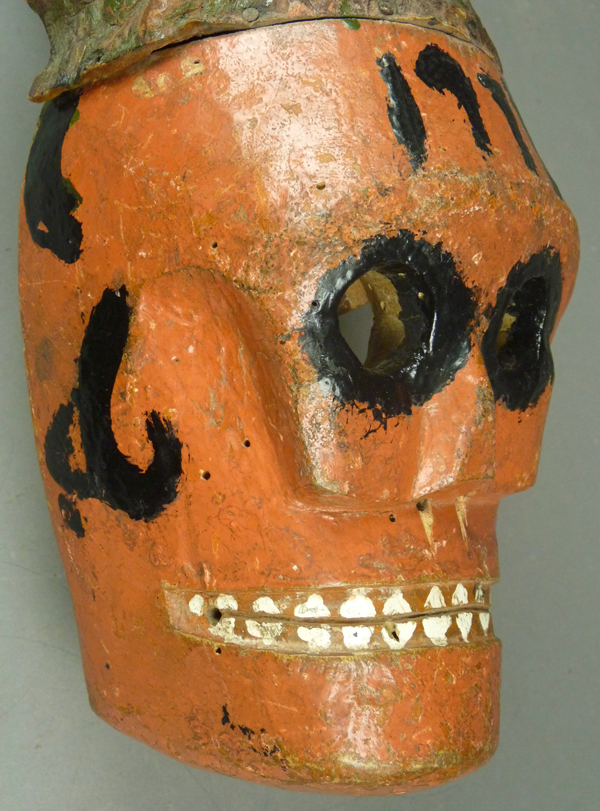 The leather cowl is particularly ancient. Probably this was originally a flap of sheepskin that has long ago been attacked by moths,  or it may have been painted leather.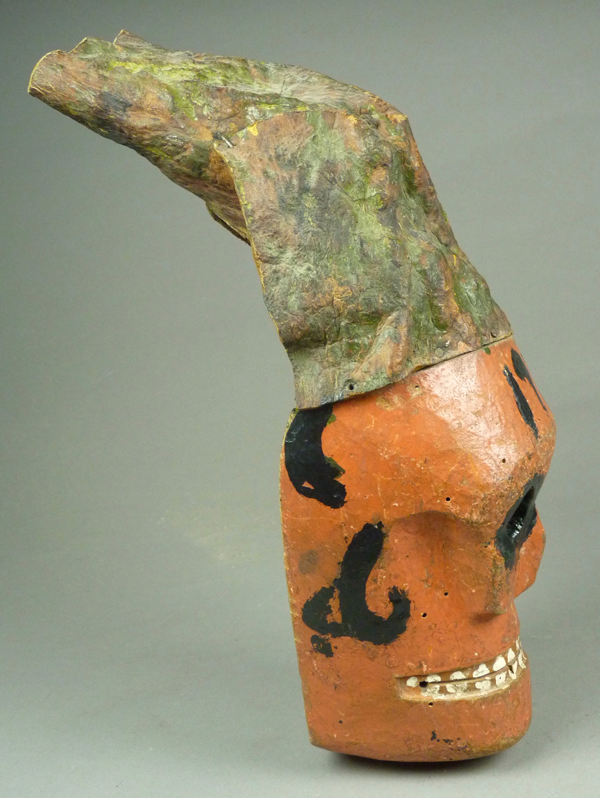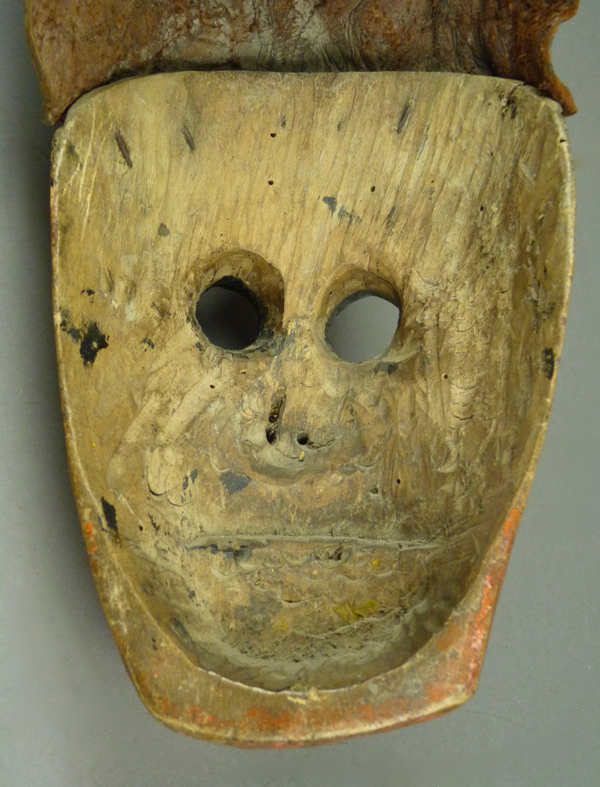 The back is heavily stained from use, particularly at the chin.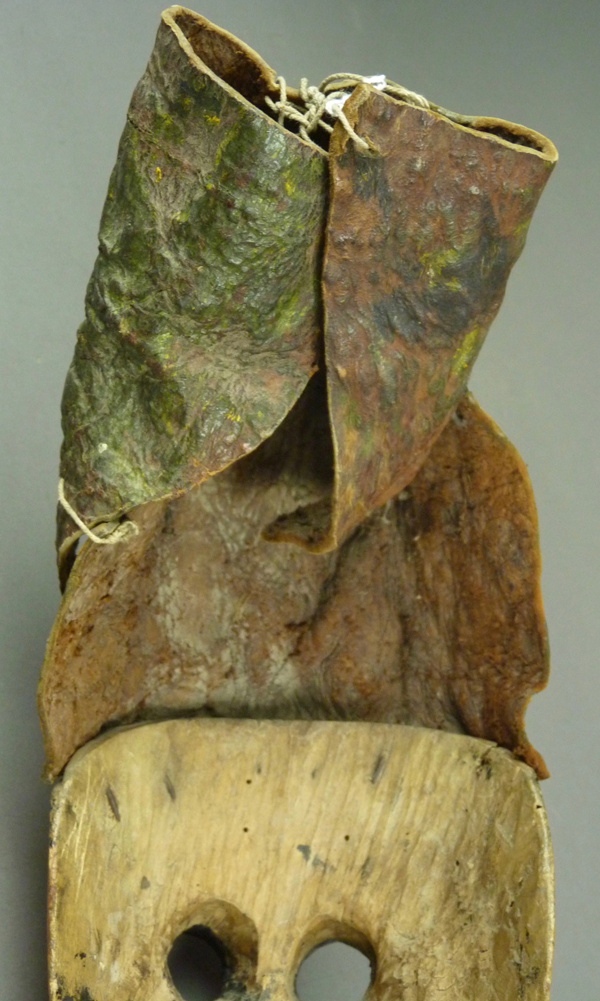 This mask is 7¾ inches tall, 5¾ inches wide, and 3½ inches deep, not including the leather piece on top. It is 13 inches tall, if one includes the folded over leather cowl.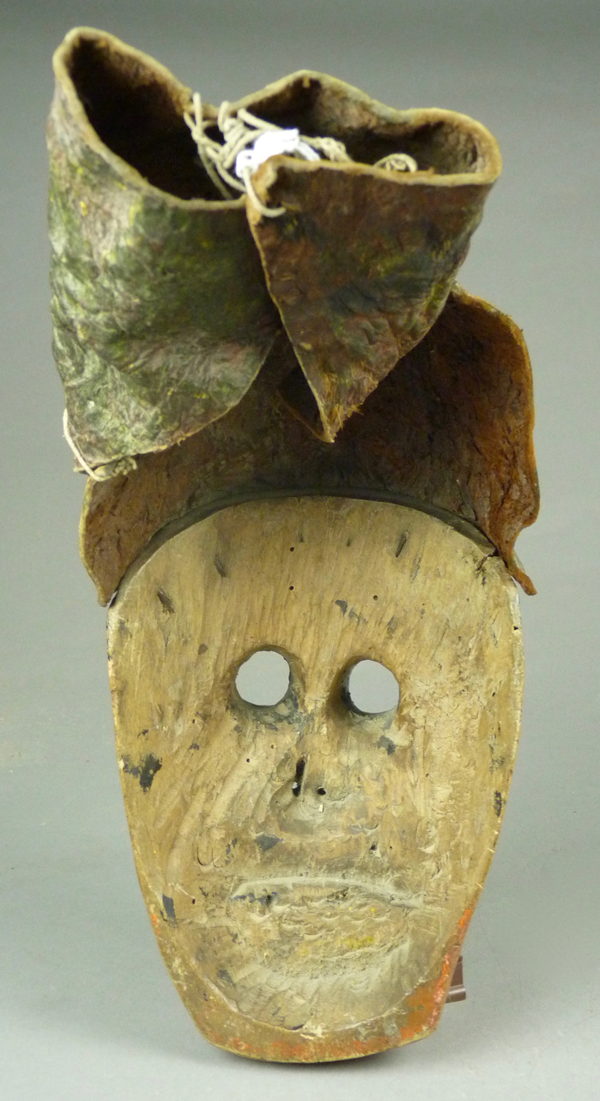 A masterpiece.
I have indeed posted about Mexican dance dramas that did include masks of Death. For example. on August 18, 2014, in a discussion that highlighted areas of excellence in Donald Cordry's Mexican Masks book, I included a Black Calavera Mask from my collection that was worn by a Judio during Semana Santa (Holy Week) in San Luis Potosí,
https://mexicandancemasks.com/?p=444#more-444
and on March 30, 2015, I posted about that mask and three others that danced as Judios or Fariseos during Semana Santa in San Luis Potosí.
https://mexicandancemasks.com/?p=2464#more-2464
In a post published on September 1, 2014, I introduced you to a fiesta from the Mixteca Alta that was performed during the Day of the Dead/ All Souls. Masked dancers portraying Spirits of the Dead danced from house to house, and if there was a recently deceased person's body on view in a particular house at that time, a Calavera mask was displayed near the body during the dancers' visit. This was a hand-held mask, rather than one worn on the face (as were some of the others in the same group). It is very beautiful so I feel compelled to include it in this overview. The link will allow you to see additional views, along with photos of the other four masks, which are also old, worn, and equally spectacular.
https://mexicandancemasks.com/?p=185#more-185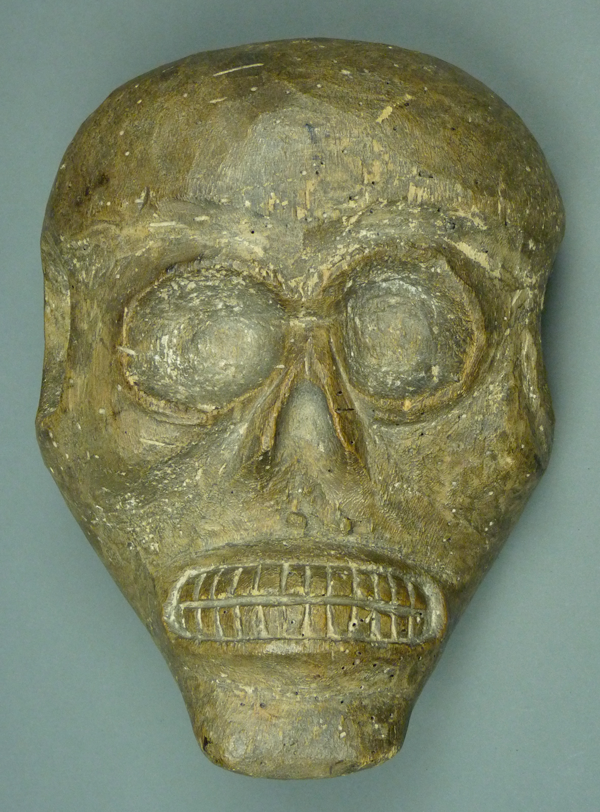 This mask is 8½ inches tall, 6¼ inches wide, and 3 inches deep.
On February 1, 2016, discussing the Moors and Christians/ Santiagueros performance in Naolinco, Veracruz, I included a group of masks worn by so-called Negrito dancers ("Dark Ones"), whose name does not refer to skin color, but to the idea that these masked dancers represent malevolent spirits from the dark world of the unsettled dead; two of these were Calavera Masks. Almost all of those Negrito masks had been carved and signed by LMR (Lino Mora Rivera), of Naolinco.
https://mexicandancemasks.com/?p=5622#more-5622
Now, having listed almost all of the skull masks that have already been presented on this blog ( there were a few Pascola masks with skull faces), I will show you the other three Calavera masks from Guerrero.
_________________________________________________________________________________________________________
I purchased this mask from Jaled Muyaes and Estela Ogazón of Mexico City in February, 1997. They had probably collected it in the field in the 1960s or 70s, as it was one from their collection that appeared in their "Máscaras" mask show of May 1981, in Mexico City.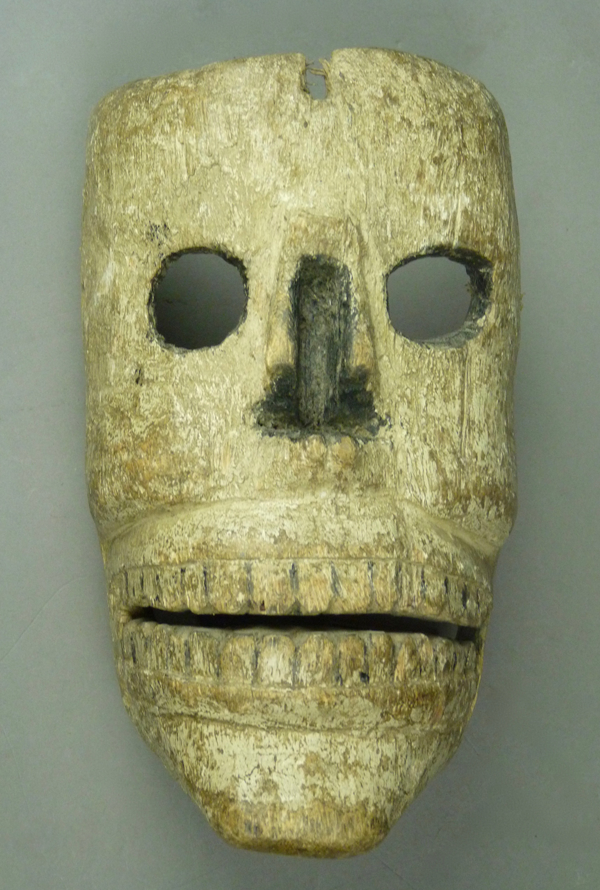 This is another old skull mask with remarkable patina. I find the manner of carving of the nose particularly interesting.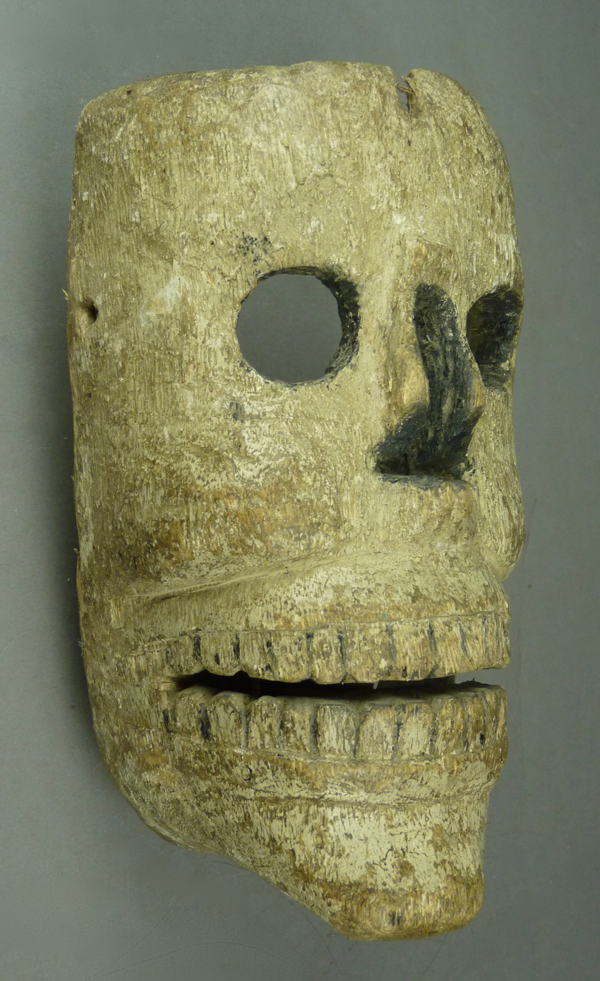 The teeth are stylized and there is a bold jutting chin.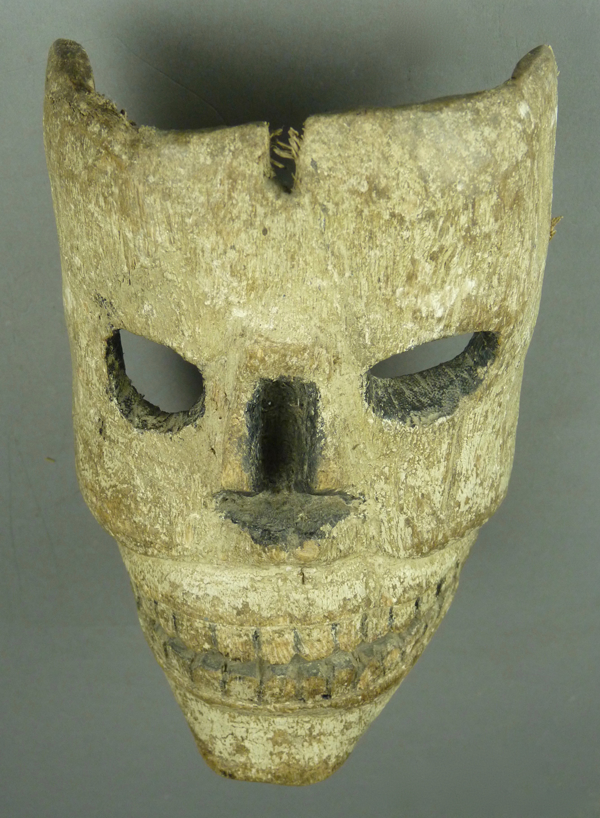 The strap hole at the top has broken open after long hard use. The top edge has an informal profile.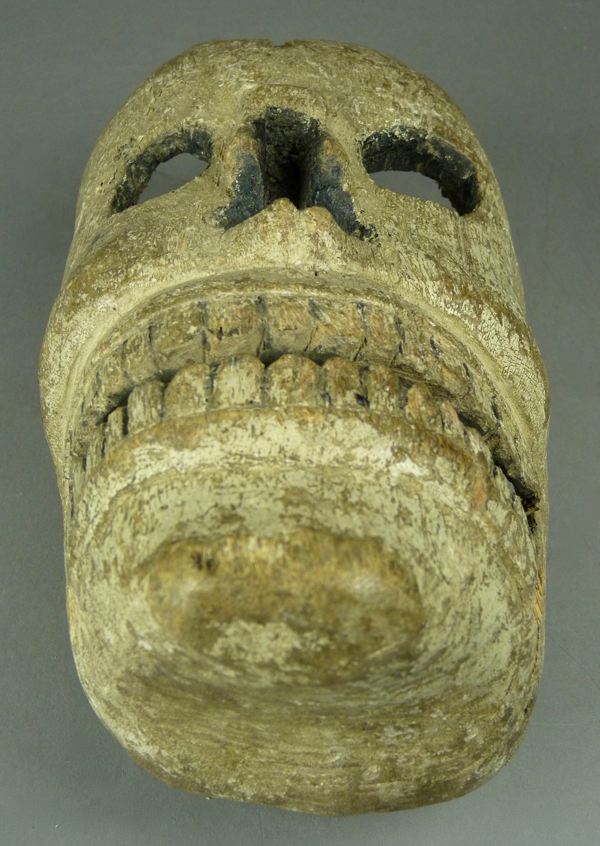 Look at the wear on the knob of the chin.
This mask is 8 inches tall, 4¾ inches wide, and 3½ inches deep.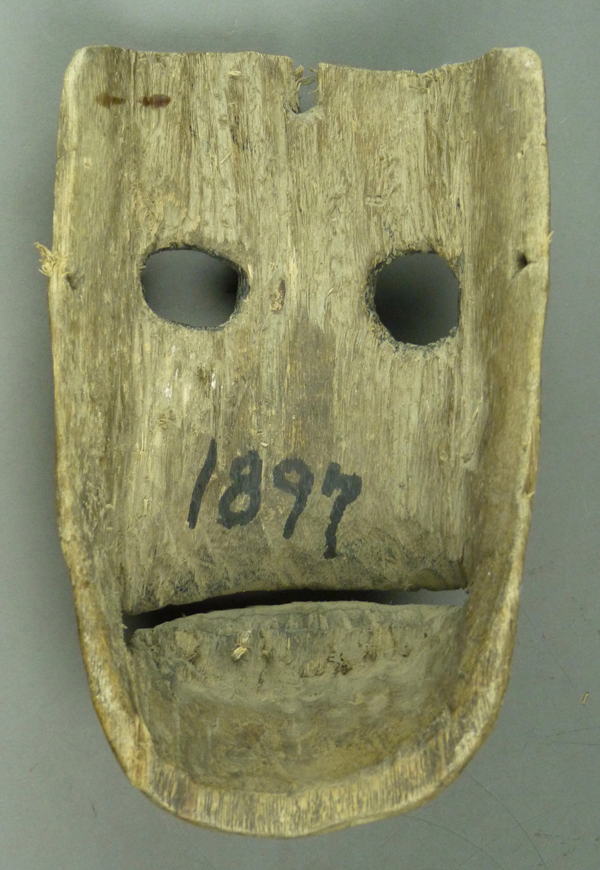 As Jaled once explained to me, the number "1897" does not refer to a date, or a collection number, rather such numbers were applied to organize the masks for the 1981 show.
The back is particularly darkly stained on the chin.
I purchased this third Calavera mask  from Robin and Barbara Cleaver in April, 1995. It was reportedly used in the Danza de los Siete Vicios, in Guerrero.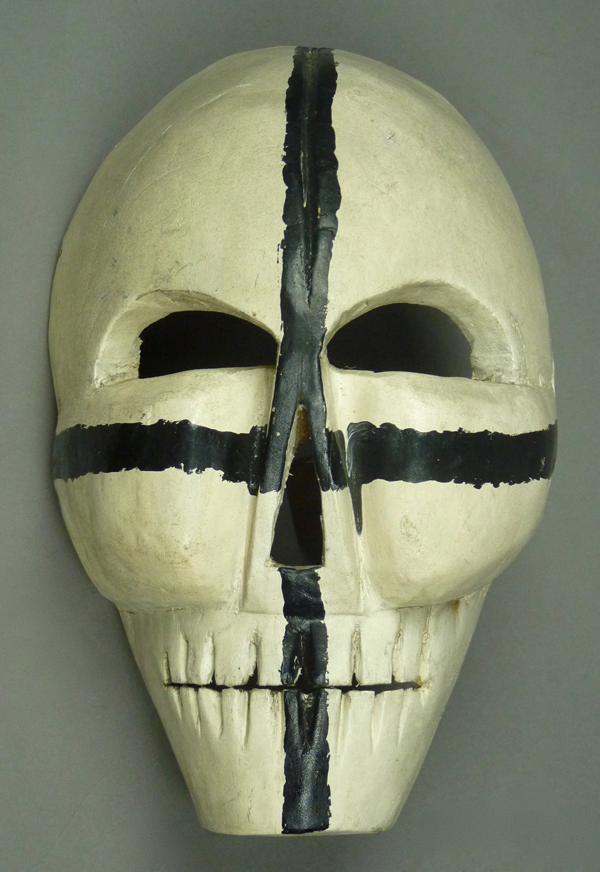 The tiny holes for a hanging wire at the level of the temples marks this as a mask that had earlier been in the collection of Jaled Muyaes and Estela Ogazón, who drilled such holes on many of their masks.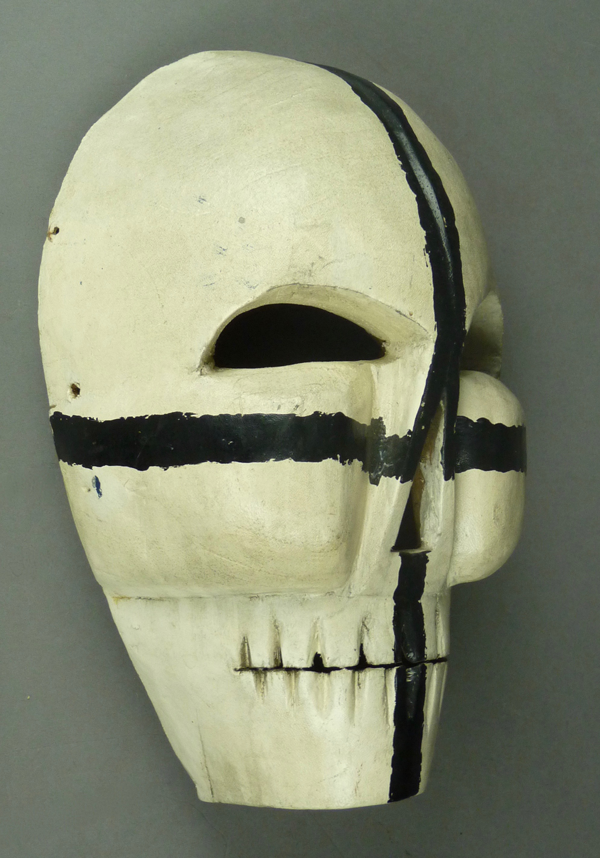 The black cross centered on the face is of course a particularly dramatic touch. It could indicate, I suppose, that the mask depicted a  fallen clergyman. A Saint, in contrast, is usually depicted with a human face.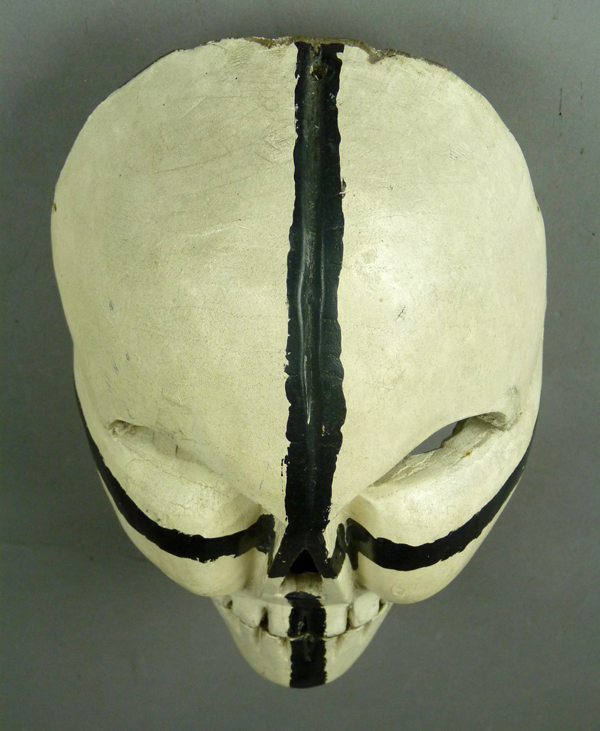 Look how the cross follows the contours of the face!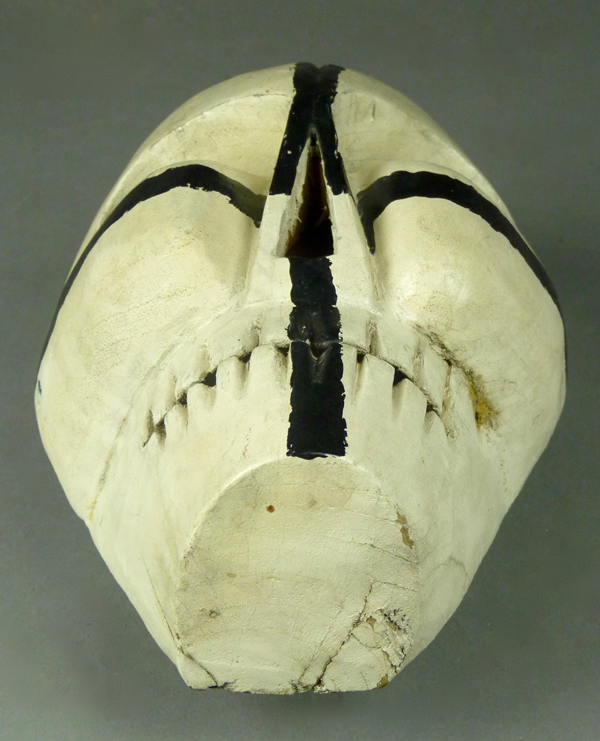 This mask is 9 inches tall, 6 inches wide, and 3 inches deep.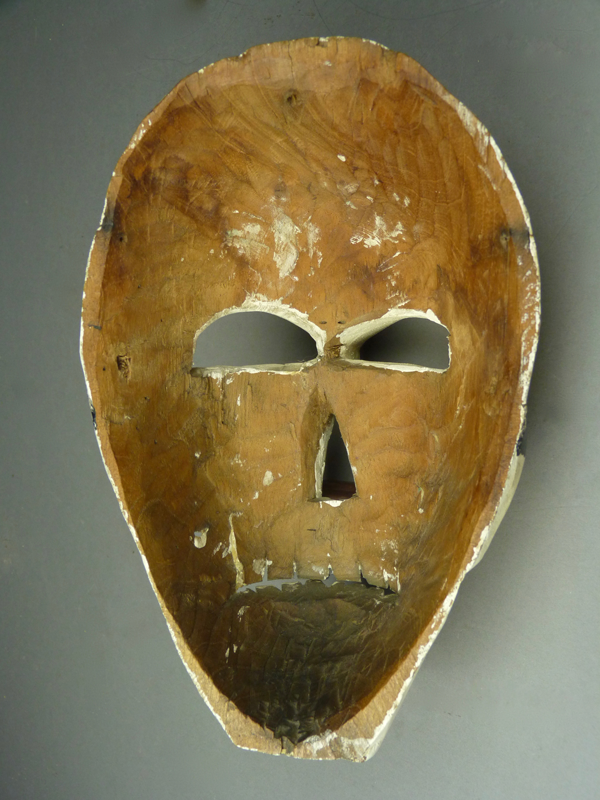 At first glance, one is not so impressed by the staining of the back. Then one notices that only the rim is more darkly stained, particularly at the chin. This is differential staining, which results from contact with the wearer's skin and sweat.
The last of the four Calavera masks may be the best of the lot, although my initial reaction was to question its authenticity; it seemed too good to be true. On examination, this is another mask with remarkable patina. It came to me with essentially no provenance, but it is obviously in the style of Guerrero skull masks.
The rims of the eyes were once painted black.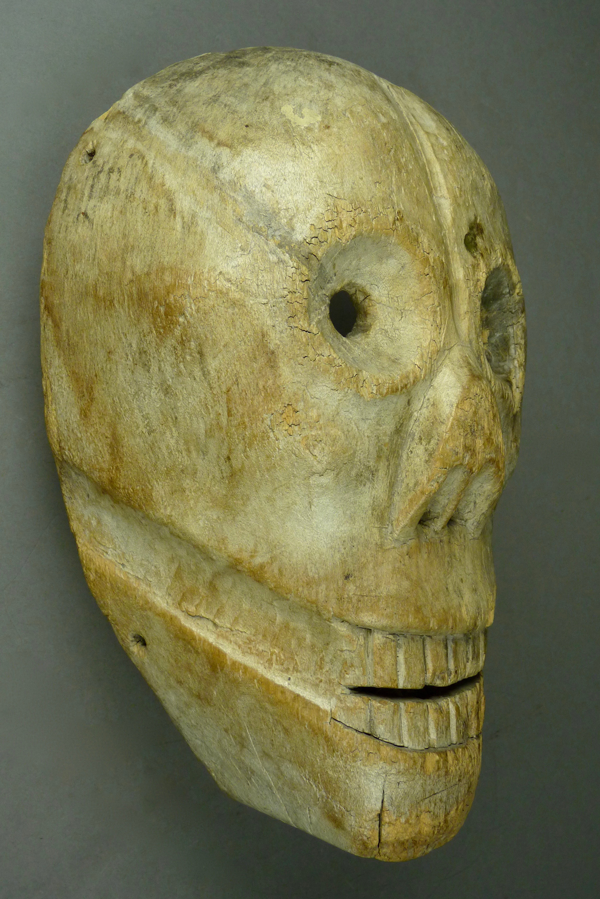 The nose is beautifully shaped.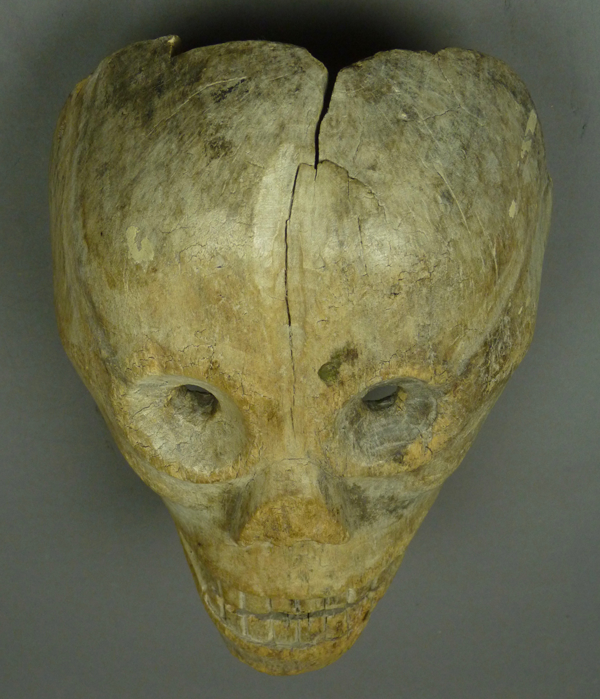 Fortunately the upper and lower crack systems don't converge. The top has a broken edge and the chin is split.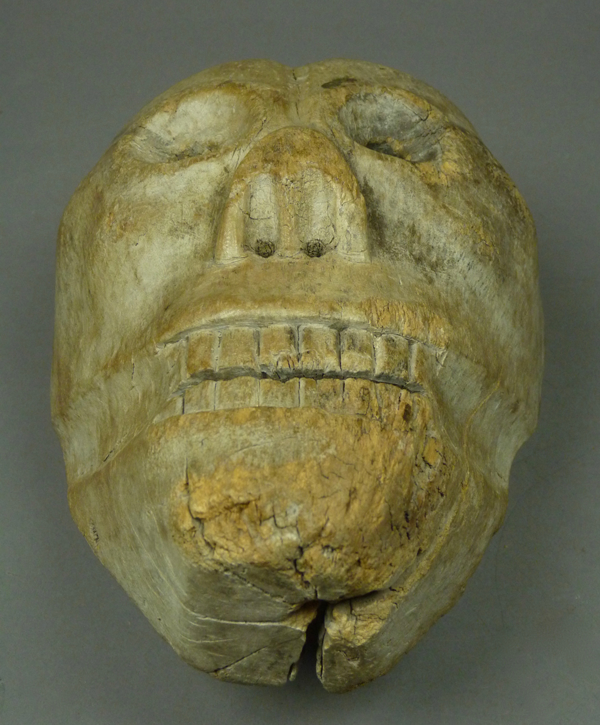 This mask is 11 inches tall, 7¾ inches wide, and 3¾ inches deep.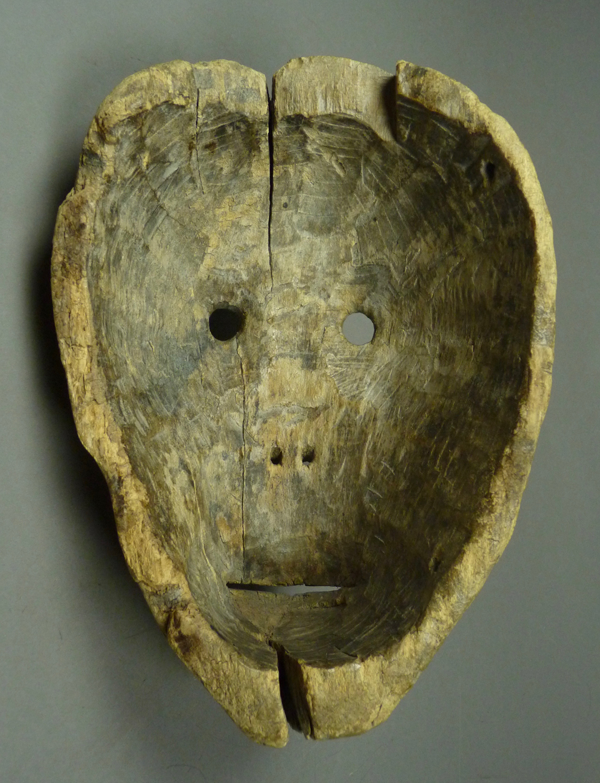 This mask demonstrates extreme wear and staining from long use on the front and on the back.
Next week we will examine more skull masks.
Bryan Stevens