In Donald Cordry's book—Mexican Masks (1980, page 26, figure 29)—we see nine Carnival masks from the Mexican State of Tlaxcala, three of leather, while the other six were finely carved from wood. The dance figure who wears such a mask is often referred to as a Catrin, a word that means  "dandy." The wearer(s) can also be called a Paragüero (umbrella holder) or a Cuadrilla (gang or crew). Under such names the wearers of these masks dance during Carnaval.
Three of the wooden masks in Figure 29 had eyelids that could be opened or shut by the dancer pulling a string. On page 104, plate 147 of Cordry's book, we find a photo of Carlos Reyes Acoltzi, of Tlatempan, Tlaxcala, with two of his sons, taken in 1971. The caption for that image states that Carlos was a santero, a carver of saints, and a mascarero as well (mask carver). Carlos had carved four of the wooden masks shown in figure 29, including the three with mechanical eyelids.
The religious orders in Mexico, such as the Dominicans, the Augustinians, and the Jesuits, trained Indians in their congregations to be the artisans and craftsmen. Thus Indians were taught to create the wooden statues portraying God, Angels, Devils, and the European Christian saints for display in their churches. It was natural for these santeros to become the makers of dance masks used in religious fiestas, and for those carvers to create masks with the beautiful faces of the saints or the dreadful faces of the Diablos. This practice continues to the present day, and I provided several examples of Santeros who were also mask makers in my book—Mexican Masks and Puppets: Master Carvers of the Sierra de Puebla.
Today we will look at six of these beautiful Catrin masks. I will begin with a pair that appeared in my post of August 18, 2014, to illustrate the level of quality of the traditional masks in Cordry's book (in contrast to other masks there that were invented, falsely labeled, and therefor "decorative"). I had purchased these masks from Robin and Barbara Cleaver in 2000. They believed that the two were carved in the 1930s or 1940s, and that their doll's eye movements had been imported from Germany in the 1930s.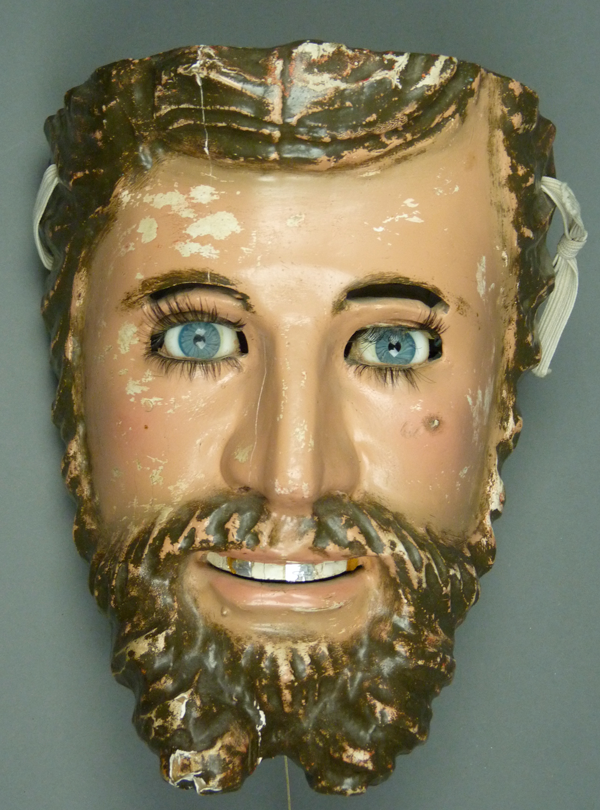 These Catrin masks have the beautiful faces of saints. The paint on the face of this mask is obviously worn. If the string that hangs under the beard is pulled, then the eyelids will close.