Janet Brody Esser studied the masks and dances of this region of Michoacán during the period from 1970 to 1975. Her doctoral dissertation on this research, Winter Ceremonial Masks of the Tarascan Sierra, Michoacan, Mexico, was published by University Microfilms in 1978 in two volumes. A book based on this research followed in 1984—Máscaras Ceremoniales de los Tarascos de la Sierra de Michoacán, published by the Instituto Nacional Indigenista, in Mexico City. The advantage of the latter book is that it includes many of the same photos as those in the PhD thesis, but because these are printed rather than photocopied, they are better images. In these volumes Esser described a variety of related traditions, which reflected local customs and individual carvers. The masks in today's post will illustrate some aspects of this variety. One focus of Esser's research was on the masks of the Viejos, or Curpites (Esser 1978, pp. 60-134; 1984, pp. 57-121).
When Dinah Gaston visited Zacán, Michoacán in the 1990s. she met an elderly carver there, Alejandro Sanchez Mercado Senior. She purchased masks that were made by Señor Sanchez Mercado for the Curpites dance and subsequently danced. Later she sold those masks to me, one by one over a period of six years. They are of interest because they look fairly different from those of Nuevo San Juan Parangaricutiro. At some point she bought several much older Tarépiti masks that had been repainted as Negritos/Blackmen, and I bought one of those. In the Máscaras Purepechas Catálogo 2002 survey there are masks by Alfredo Sánchez Mercado of Zacán, who may be the son of Alejandro.
Here is the trio of masks that were purchased directly from the carver, Alejandro Sanchez Mercado Senior, by Dinah Gaston. I took this photo to demonstrate the disparity in their sizes. Maringuilla (on the viewer's left) is so small in comparison to the Curpite (on the viewer's right).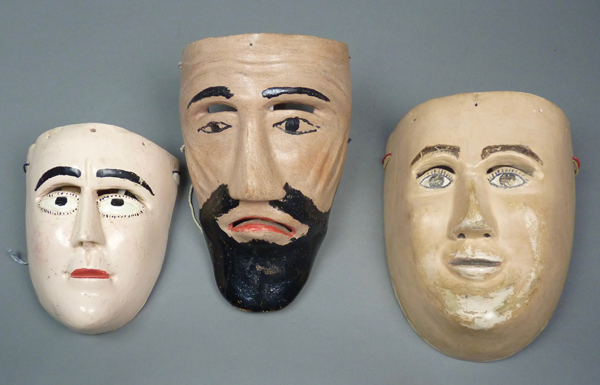 Here is Tarépiti, or Grandfather. Note how different he looks, compared to the comparable masks from Nuevo San Juan. I bought this mask from Dinah Gaston in 2006. She had held him in her personal collection for years, out of affection for this elderly carver.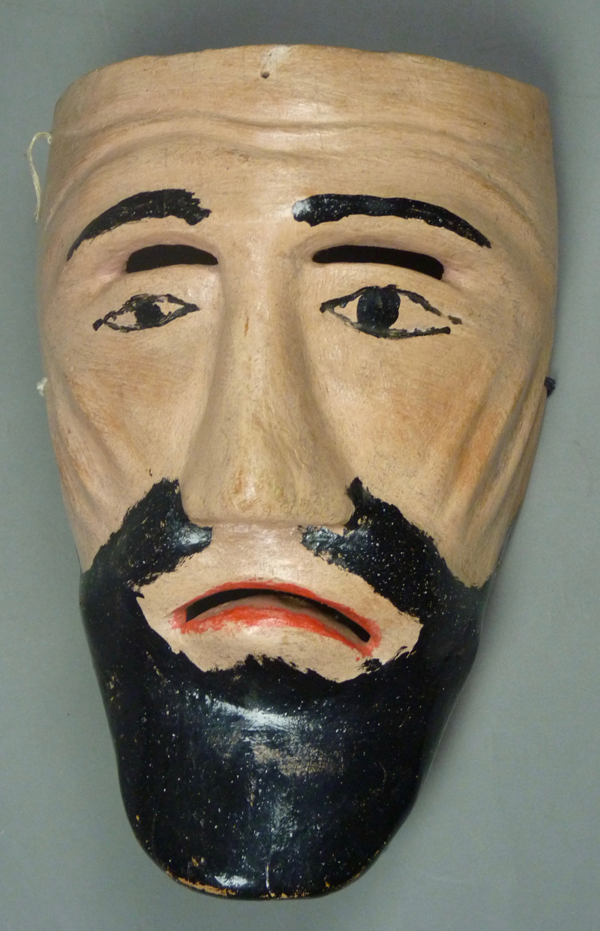 Look how wrinkled and somber this mask is.