Donald Cordry introduced many  collectors to Archareo (archer)masks in his well known book, Mexican Masks (1981, pp 232-4). The Archareos perform a variation of the Conquest dance, which is of course itself modeled on the Moros y Cristianos. All these dances have the common theme of Spanish Christians versus some opponent, such as Moorish outsiders or indigenous peoples.
Victor José Moya Rubio included two Archareo traditional wooden masks and headdresses, one from Colotepec and the other from Pueblo Viejo, in Máscaras: La Otra Cara de México/ Masks: The Other Face of Mexico, Plates 54 and 55, on page 63. He also showed Archareo masks from San Martin Teotihuacan, in the State of Mexico, where Santiago wears a mask cast in lead and the Archareos wear masks made from painted and folded felt hats. A beautiful Archareo mask with headdress from Pueblo Viejo, Guerrero decorates the cover of El Tierra y El Paraíso, a catalogue of masks in the collection of Rafael Coronel (1993, pp. 20-21). In Changing Faces: Mexican Masks in Transition,on page 69 (plate 102) there is a classic Red-faced Archareo mask that has been paired with the white headdress of Santiago or one of the Christians (provenance unknown), and on page 59 there is another of those Santiago masks cast in metal. These metal masks include headdress elements that are part of the casting. Here  is a link to a photo of a mask in this metal style. This mask, however, is virtually identical to another in Mask Arts of Mexico, by Ruth Lechuga and Chloë Sayer, plate 96 on page 69, which the authors state is constructed from fiberglass and resin, plus tin for the headdress.
https://www.flickr.com/photos/citlali/7658503434
Today I will share three traditional wooden Archareo masks like the one from "Cacalotepec" in Cordry, the ones from Pueblo Viejo in  La Tierra y El Paraíso, and those in Moya Rubio's book, along with three headdresses. These masks and headdresses were collected in Guerrero by a picker or "runner" for Robin and Barbara Cleaver. I am uncertain whether the runner had recorded which mask went with which headdress. It seems obvious that the white "Christian" masks would have been worn with white headdresses bearing a cross and the red Moro masks would be worn with other headdresses that lacked a cross. It only later became apparent to me that there was variety in the white masks and their headdresses.
In May, 1988, Robin and Barbara Cleaver had sold me a handsome pair of Archareo masks, one a white faced Christian mask with a headdress topped by a cross, and the other a maroon mask with no cross on the headdress. Here is the white mask.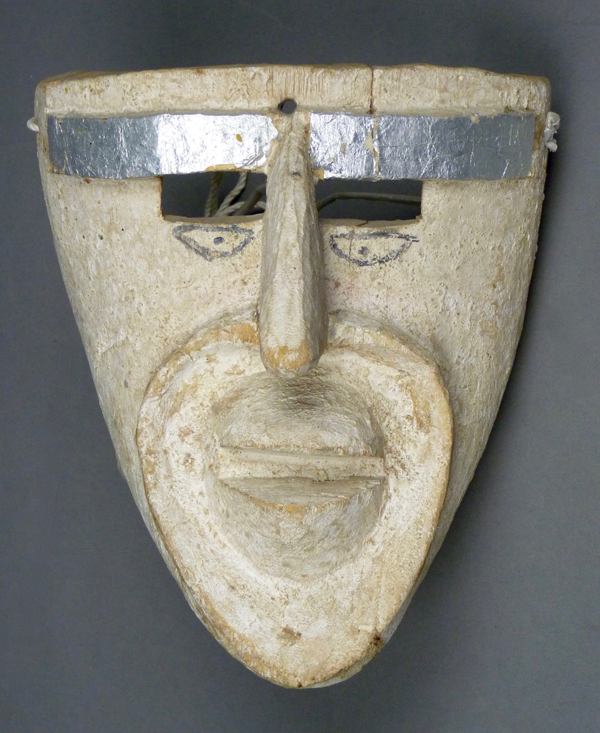 In the years that followed, I compared this mask to a few other Archareo Christian masks from this area, and realized that mine was unusual, in that it had an oval goatee that framed the usual snouted mouth. Indeed, it has an elegant abstract goatee; I never saw another one like it, over nearly 30 years time. I concluded that this mask, bearded among so many that are beardless, might represent Santiago. To state this in another way, Mexican Santiago masks in general usually have beards, while most Archareo masks do not.