Last week I  began with a Moro mask from the Mexican State of Puebla that had a black face, followed by other Moros y Cristianos masks that were not black, and apparently depicted Christian figures. All four had similar features. One of those was apparently worn by a Christian figure in a variant of the Danza de Moros y Cristianos, called "El Misterio de los Negros." The black-faced mask was not explicitly identified with that dance, although it could easily have been used with the other one. In the course of my writing about these masks, I realized that I owned a group of three Black Moor masks from neighboring states that also appeared to have been used in El Misterio de los Negros. None of these are from Puebla, but from Veracruz, Guerrero, and the State of Mexico. I must confess that my information about the existence of this dance drama is limited. The first of today's masks is specifically labeled on the back as being from this dance, and Jaled Muyaes told me of others, although he said nothing about this dance in his published writings about masks.
I bought this one in 2008 from the estate of my friend, Gary Collison. Although the tag said it was from Guerrero, this is the mask with writing on the back that identifies it as a mask from El Mysterio de los Negros, Veracruz. It is a handsome elegant mask.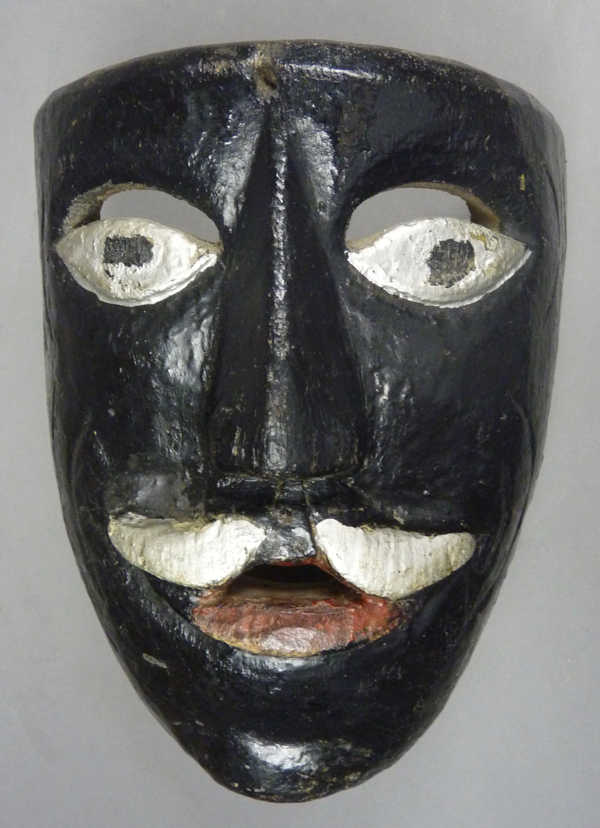 The face has a very simple design.