Today will end my discussion of Moro masks from the State of Mexico. I'll begin with a mask I meant to include in last week's post, but it was hidden in a box; I could picture it in my mind's eye and finally I found it, after I had given up all hope! This mask will be followed by a threesome that was found in Apatlaco, in the Municipio of Amecameca, Estado de Mexico. Unfortunately I was unable to find any YouTube™ videos that included masks like these in Apatlaco, Amecameca, or in el Estado de Mexico. Yet here they are, variations on what was undoubtedly an established design, decades ago. I bought the trio from René Bustamante, one by one, in 1994. He was of the opinion that they dated to the 1940s or 50s.
Here is my lost and found Moro. Although I bought this from Robin and Barbara Cleaver in 1994, it had earlier been in the collection of Jaled Muyaes and Estela Ogazón, and probably they sold it to the Cleavers. It came with little information, simply "a Moro from the State of Mexico." It is old, probably circa 1950 or earlier, but the age is difficult to estimate with precision because it is glazed with the residue of some solvent or varnish, probably applied by Jaled to treat an insect infestation. It is marked with a number from the 1981 mask show in Mexico city.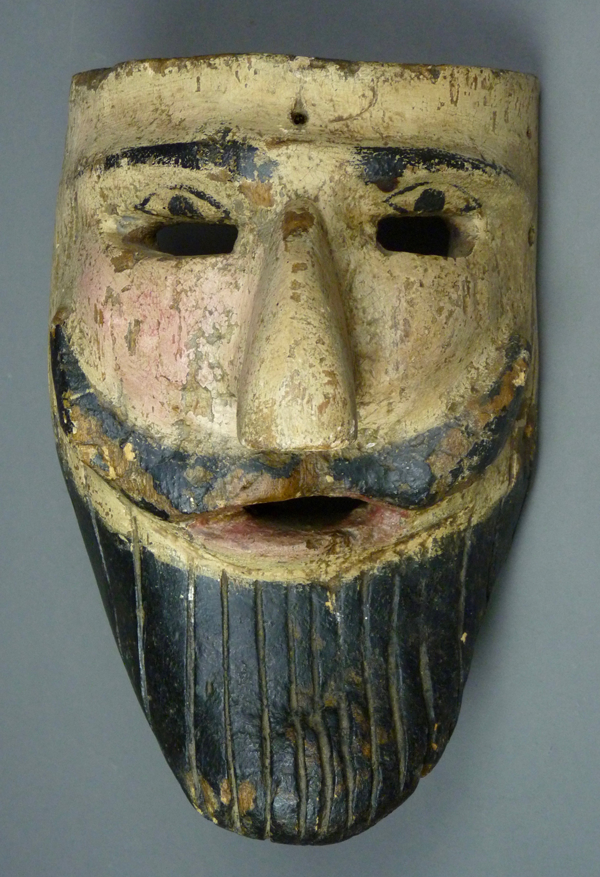 This mask is unusual for the shelf over the brows.