Last week I showed you an old mask that I recently found on Etsy™. Actually I found two masks there, and today's post will feature the second from the same dealer. This one is essentially a duplicate of an unusual female mask that I included last year in my post of May 21, 2018. They only differ in their paint or patina, but since they are so old and rare, it gives me great pleasure to look at them side by side.
Here is a link to the May 21, 2018 post: https://mexicandancemasks.com/?p=12143
And here, to refresh your memory, are the three masks featured in that post, all from the Danza de los Negros in towns within or near the Municipio of Chichiquila, Puebla. This dance. "Los Negros," is a local variation of La Danza de los Santiagueros, itself an offshoot of the Moros y Cristianos Dance that was imported from Spain by the Conquistadors. As I have explained at length in my book—Masks and Puppets: Master Carvers of the Sierra de Puebla—the Santiagueros Dance is fascinating because it pretends to depict conflict between Christians and the Pilatos, the enemies of Christ, when it seems to covertly function as a prayer for the "true Christians (the Indians of the Americas) to defeat the Spanish conquerors, who are accused of being false Christians. Such a hidden script is usually hinted at by some inconsistency, and we will find such evidence in this Negros dance.
The first mask was worn by Santiago or a Santiaguero.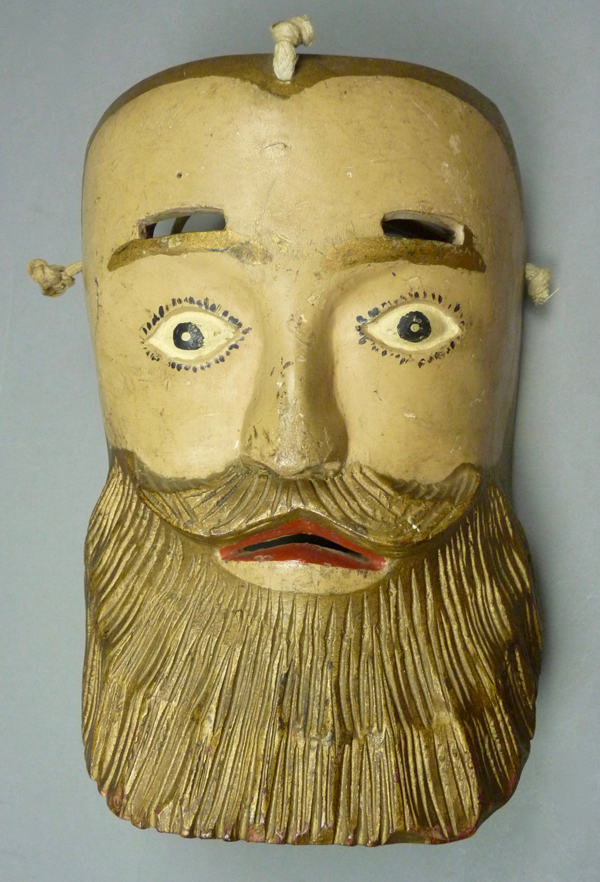 I am including the back views of all these masks to remind you that the backs are nearly identical to one another in design. This suggests that all four of today's masks were carved by the same carver.