Many older Pastorela Diablo masks from other areas of Michoacán are larger than those we have examined thus far. Furthermore, the Pastorela Diablos from Guanajuato are also generally larger, more or less on the same scale. Some of these larger Diablo masks are characterized by prominent intertwined snakes that are wrapped around the entire face of the mask. Over the next few weeks I will show a number of these larger masks from Michoacán and Guanajuato, at least three each week.
The first mask was collected in San Nicolás Obispo, a town in the Municipio of Morelia.  Morelia, the county seat of that municipio, is a Spanish colonial city in northern Michoacán. All three of today's masks come from this northern area, where there are few Tarascan Indians and the inhabitants are mostly Mestizos. The Pastorela performance was introduced by missionaries from Spain, supported by Spanish settlers, and adopted by the Tarascan Indians. It is paradoxical that such Spanish traditions are sometimes maintained most strongly by Mexican Indians, while the Pastorela has remained popular in Michoacán's Mestizo communities as well. Unfortunately I have not found video recordings of the Pastorela in these northern towns.
I purchased this mask from the Cavin-Morris Gallery (in Manhattan) in 1995. I feel certain that it was carved in the mid-20th century, and probably collected in the field circa 1970. A pair of rather large snakes loop around the face. Vision openings for the dancer are tucked unobtrusively between the oversized carved and painted eyes. One of the snakes does double duty as the devil's nose.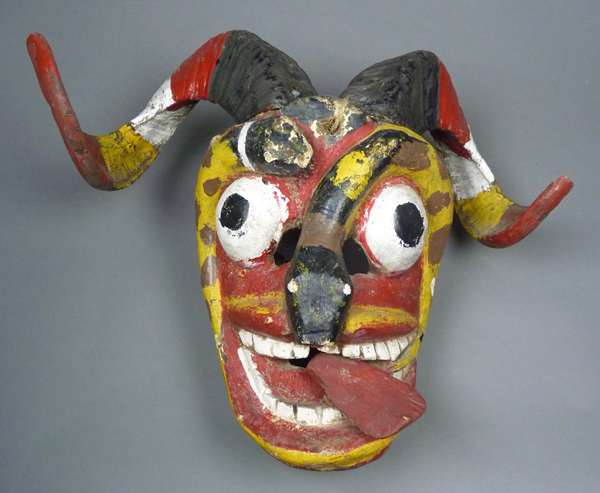 The tongue on this mask is a separate wooden element that is nailed to the lower jaw.