For several months we have examined Mayo masks from lowland villages along the Rio Mayo, in Sonora. Then I took a break from Mayo masks to discuss some recent acquisitions or discoveries. Now we will spend two weeks with masks from a village that is also on the Rio Mayo, but much further to the Northeast in a mountainous region.  The masks in this week's post were made in Vado Cuate, a small town North of the City of Alamos. I will start with four masks from Vado Cuate that I obtained from Tom Kolaz in 2005. The carver, Luciano Valenzuela, is a Mayo Indian, his wife is Guarijío (or Warijío), and the masks are used by both Mayo and Guarijího Pascola dancers. The latter Indians live over the border from Sonora, in Chihuahua.
These masks are carefully carved, they are carefully fitted with hair bundles that are held by pegs, and they are painted with bright colors in an informal manner. They don't appear to be painted for artistic excellence, but to achieve a functional effect—to be suitable for a Pascola to wear during a fiesta. All four of these masks were danced during a fiesta in December 2004, and then they were purchased by a collector. Here is the first.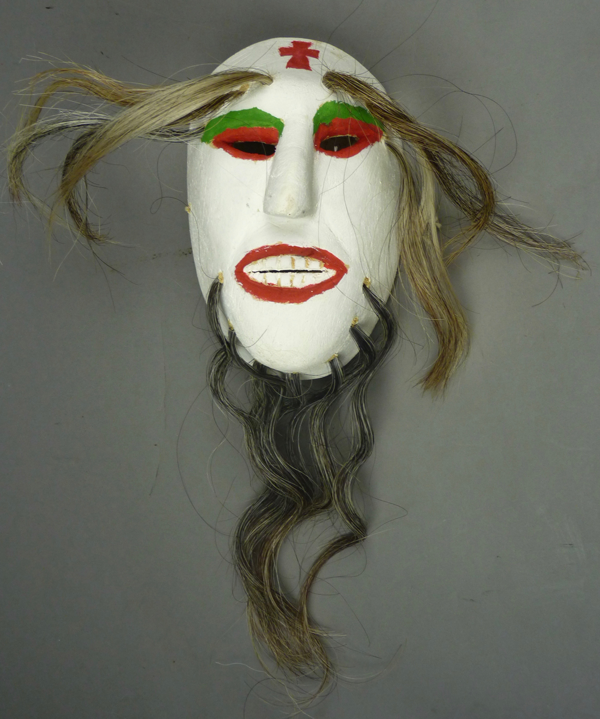 Some of these masks lack a rim design, nor do they have any other decoration, such as painted wedges on the cheeks. This one simply has a Maltese cross painted on the forehead.