In last week's post I showed a group of Feo masks from a Toritos dance in Paso Ancho, Michoacán, including one with an outrageously oversized nose that I purchased in 1987. I included a recent video of Paso Ancho Feos misbehaving, to demonstrate that one of those dancers wore a mask with just such a nose. Today I will show three more masks from Paso Ancho with oversized phallic noses—a trio of Feos. I consider these masks to be fabulous, so I was overjoyed to be able to buy them from Kelly Mechling (in New Orleans), back in 1994. He had obtained them from Jaled Muyaes and Estela Ogazón. Jaled actually had a photo hanging in his living room that was taken by some famous photographer, which showed him (Jaled) looking at one of these phallic masks that was displayed on a wall.
Then I will follow with two clown masks from nearby Charo, Michoacán that were used in a similar dance in that town—El Viejo y El Toro (the Old Man and the Bull). Estela Ogazón had included a photo of such a Viejo mask in her book, Máscaras (1981, plate 34), and documented the name of the dance. Although one does find contemporary videos on YouTube™ of elaborate straw mat bulls in Charo, one does not find videos that show these latter masks in current use. They are apparently no longer in fashion.
Here is the first of the trio of phallic Feos.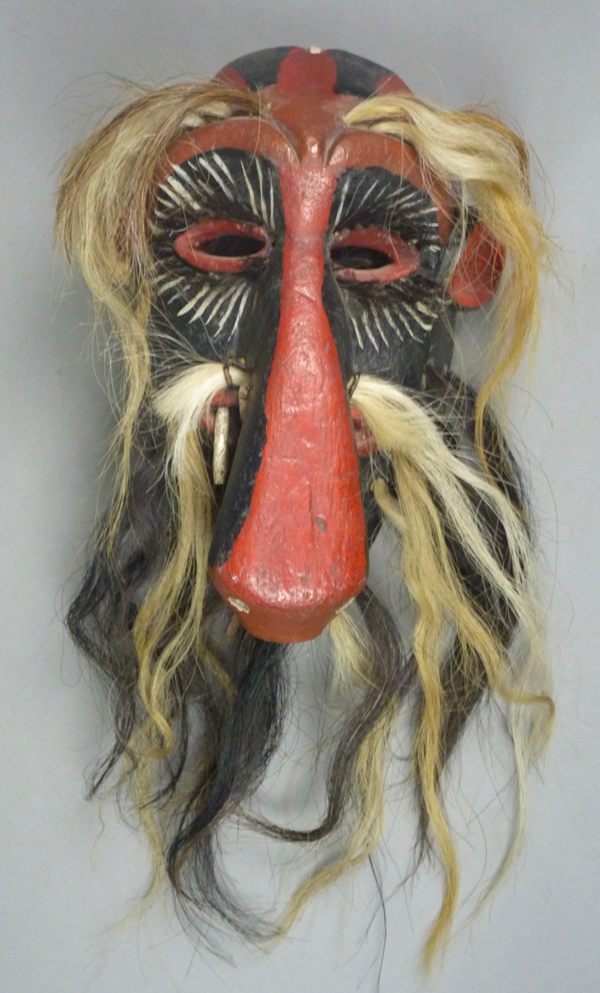 The nose has the form of a snake.