Lagos de Moreno is a colonial city in the northeast corner of the Mexican state of Jalisco. It lies near the border between Jalisco and Guanajuato. So these masks and those from the last month or so all reflect a regional Pastorela tradition. Of course today's masks also reveal how such a tradition can have a variety of expressions, from one town to the next and from one carver to another. I do not know the name of the carver of today's masks, but he certainly has a distinctive and impressive style; I would call him a great master. There are some additional Diablo masks by this hand in the book by Bill LeVasseur—A Catalogue of Another Face of Mexico Mask Museum—a devil on page 116 with the face of an unknown creature and a wonderful ape-faced devil on page 121. Today's masks, three Diablos and an Hermitaño, were collected in Lagos de Moreno by Jaled Muyaes and Estela Ogazon, and I believe that they probably collected Bill's devils there at around the same time, or perhaps he found them there himself. I purchased this set of masks from them in July of 1998. The first is a typical mask of a human faced devil, and it probably represents Satan.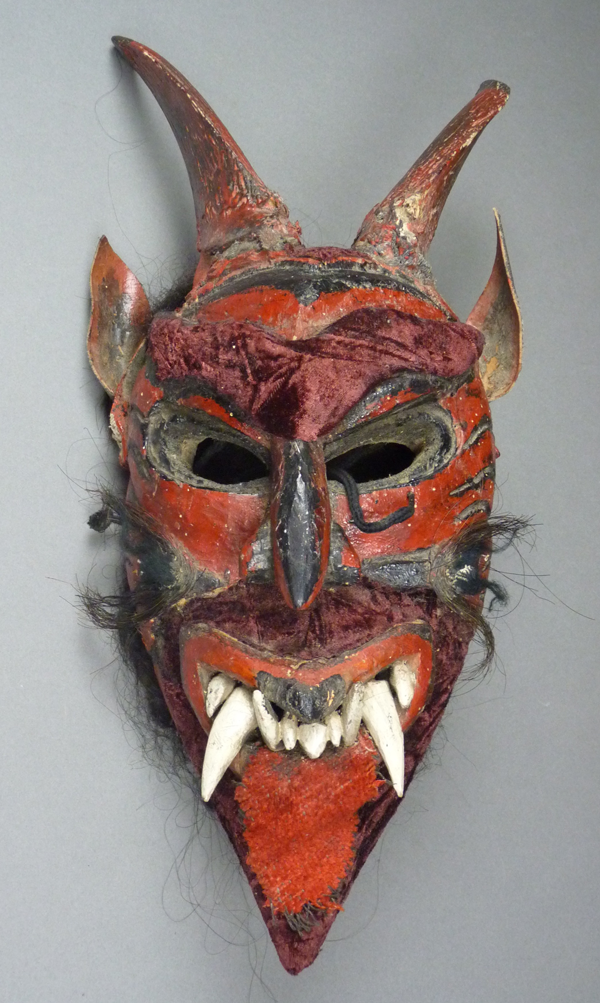 Magenta colored velvet has been applied over the eyebrows, above the upper lip, and over the chin. There is also a cloth tongue. There are goat horns and pointed leather ears.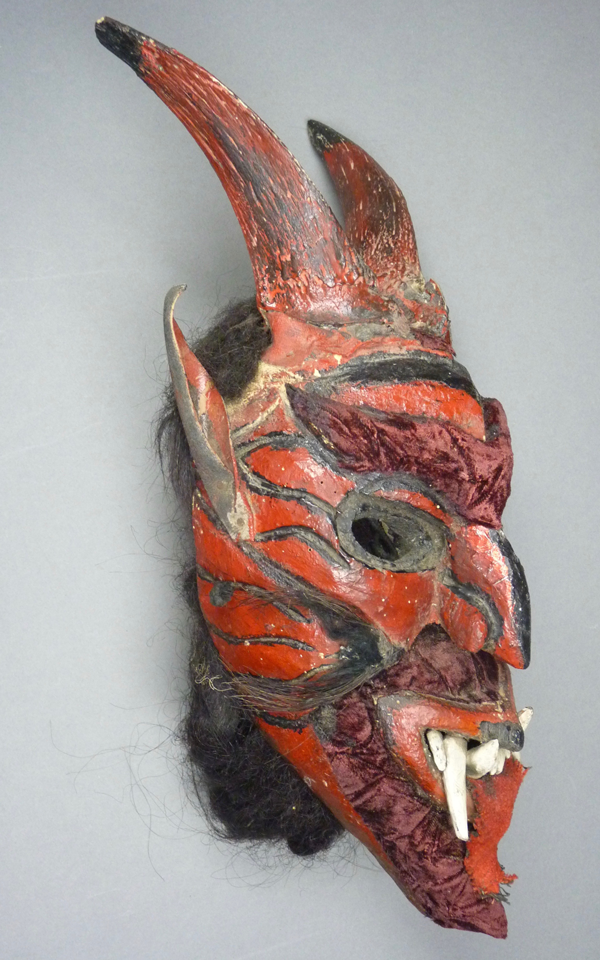 This mask has an attached black wig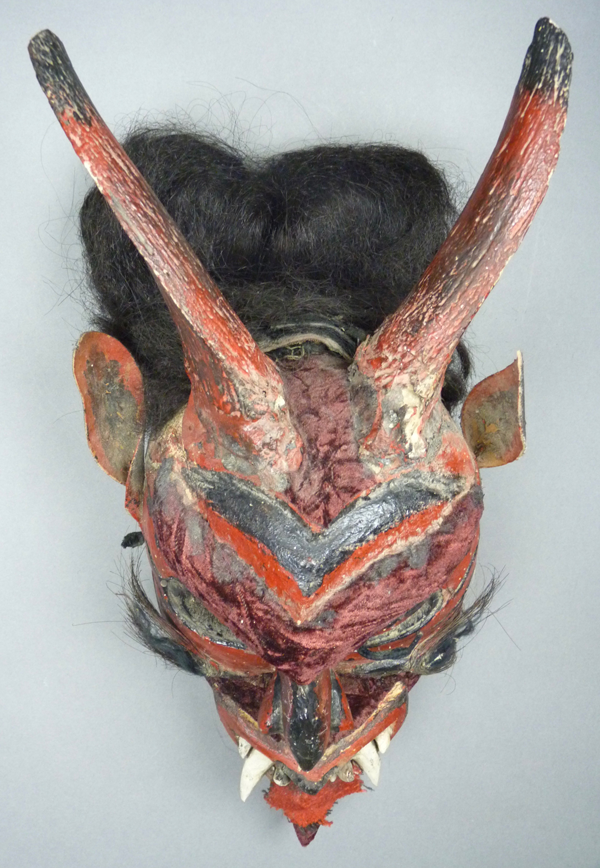 By now you have probably noticed that Mexican Diablo masks often have prominent fangs.
I particularly like the dramatic nose on this Diablo mask.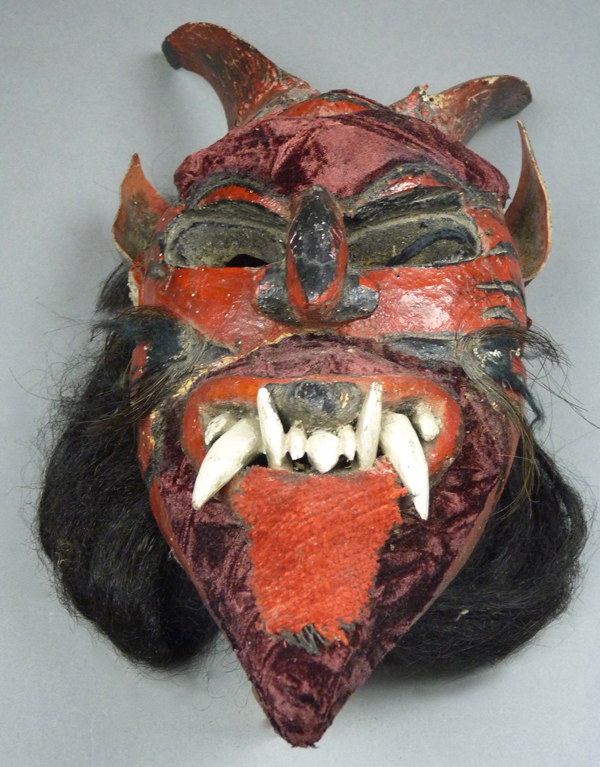 Here is a back view to show the inside of the wig.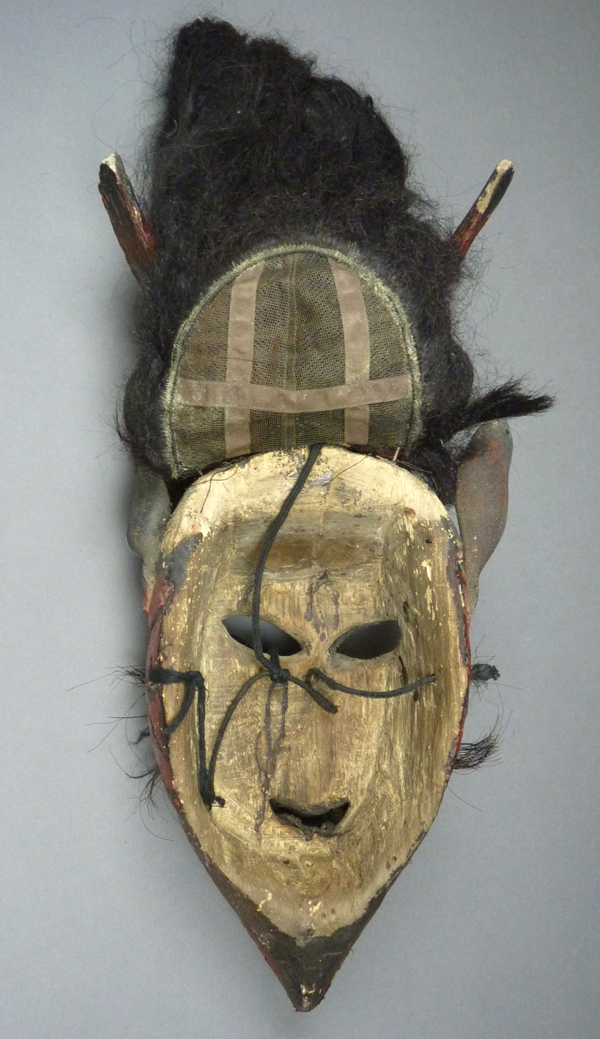 This mask is 13 inches tall, 6½ inches wide, and 4½ inches deep, not counting the horns. With the horns this mask is 19½ inches tall.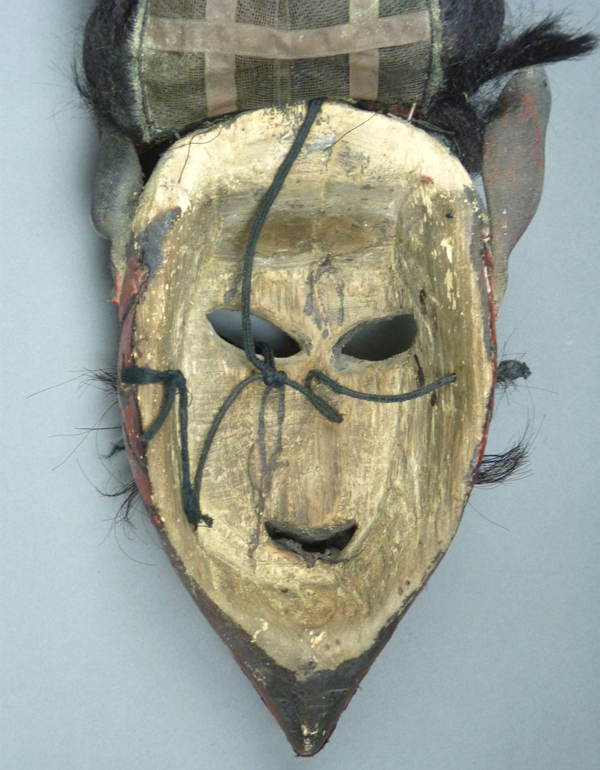 The back is stained from considerable use.
The second mask in this group depicts a Bull-faced Diablo. It has these triangular hooded brows that we will find on some of the other Pastorela Diablo masks from this place, such as the two in Bill LeVassseur's book.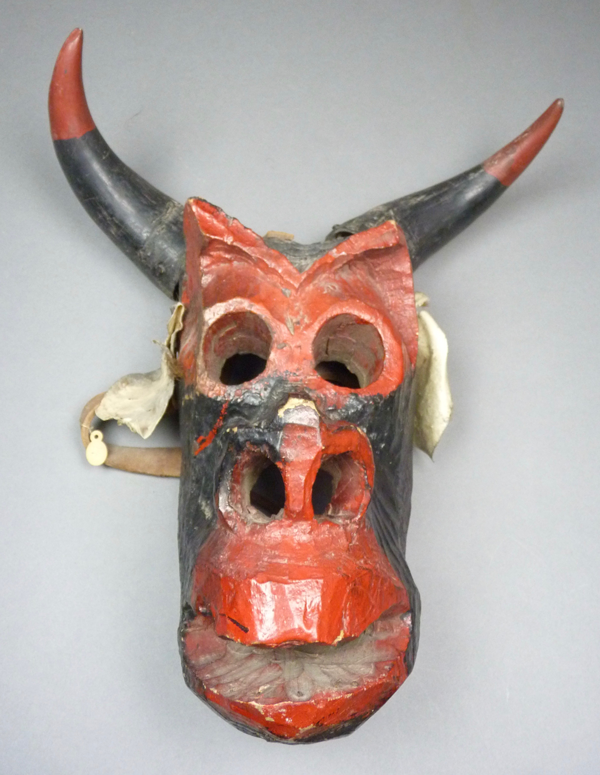 This carver does not seem to strive for delicate features or a fine finish, but I like his masks for their rough powerful appearance.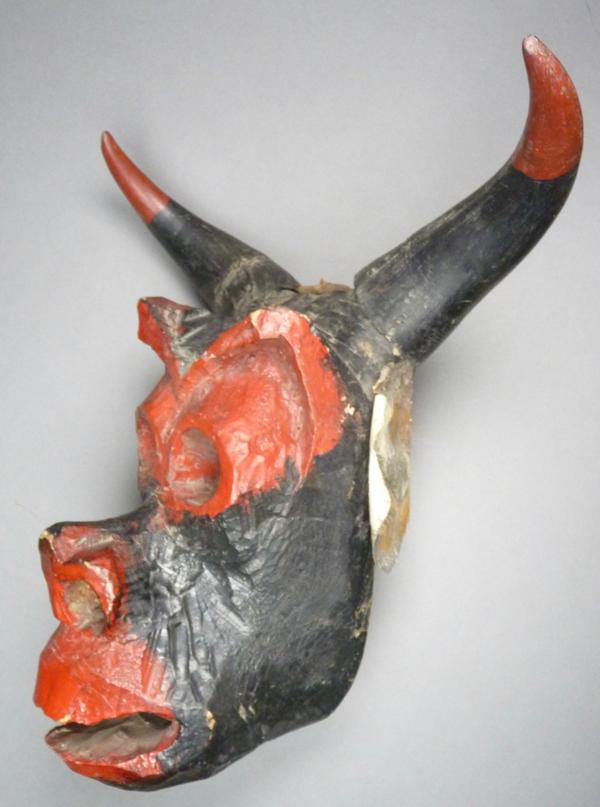 One can barely see several old nail-heads on the lower lip. These suggest that this mask probably once had an attached tongue of cloth or leather.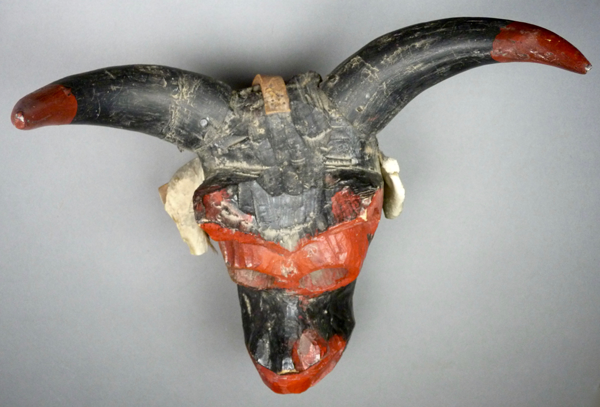 The triangular brows are particularly obvious in the next photo.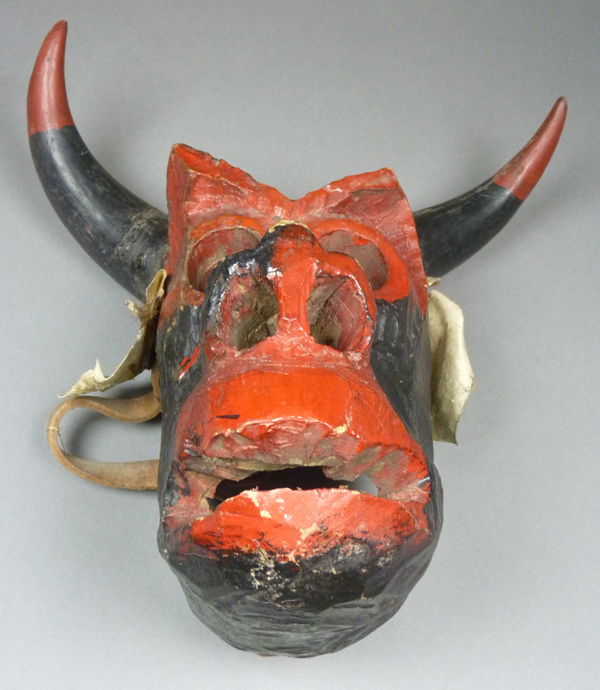 This mask is 13 inches tall, 6½ inches wide, and 6½ inches deep, not counting the horns. With the horns this mask is 18 inches tall and there is a 14 inch span between the tips of the horns.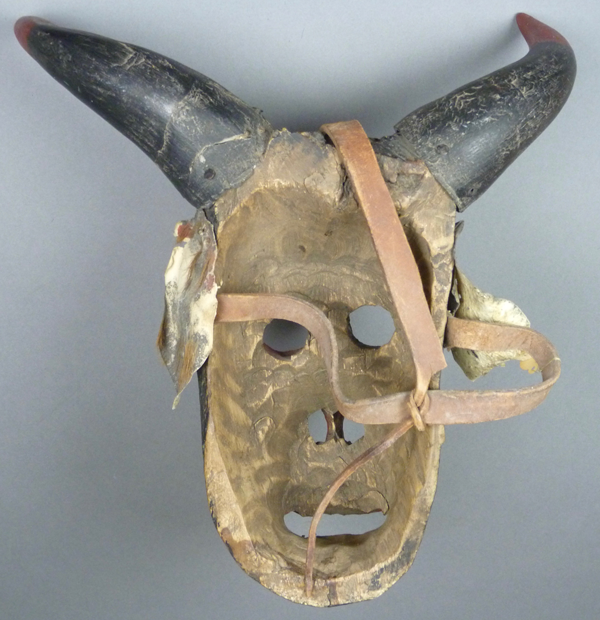 This mask has a leather strap. The back is worn.
The third mask is very large and heavy. It was undoubtedly worn by a major character in the performance. These goat horns are massive.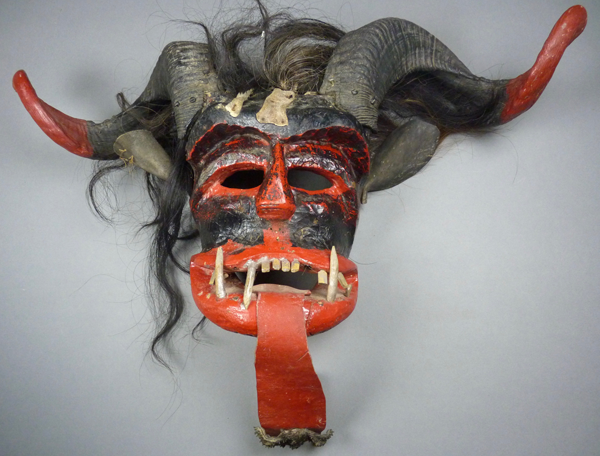 This mask has those triangular brows. The mouth is very broad and full. A rubber spider is attached to the long drooping tongue.
This is a splendid mask, so expressive and menacing.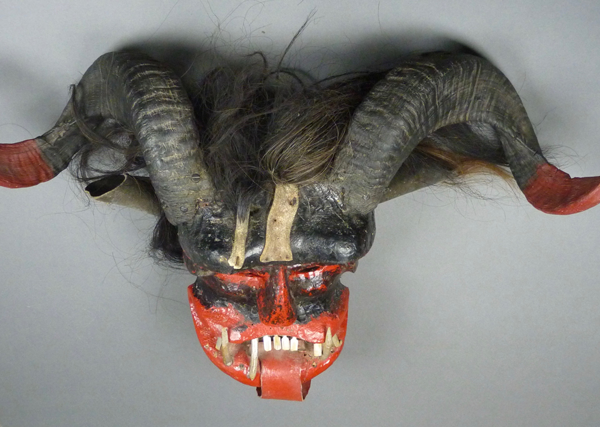 The strips of hide that supplied hair on the forehead have shed most of their fibers.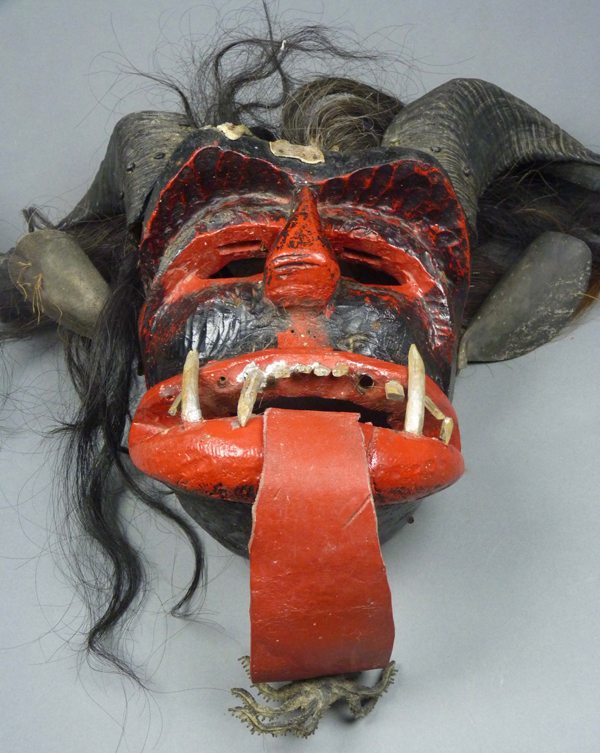 Look at this large mouth.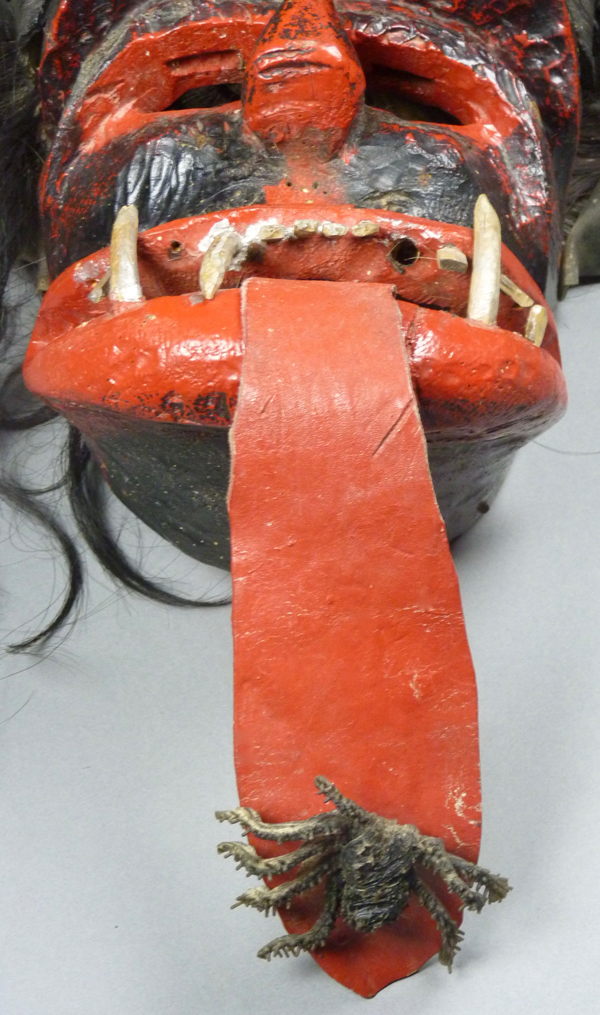 This mask is 12 inches tall, 9½ inches wide, and 7½ inches deep, not counting the horns. With the horns this mask is 16 inches tall and 30 inches wide!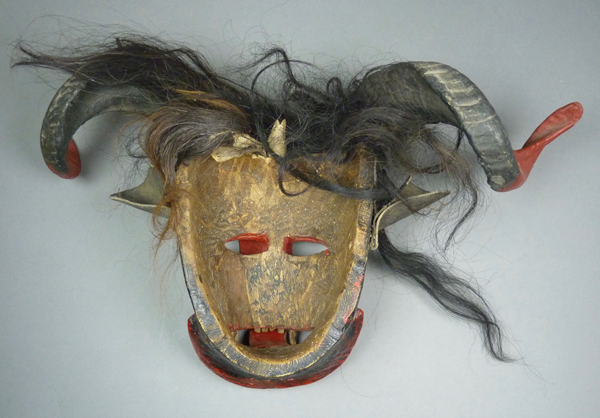 The back demonstrates remarkable staining from use.
The last mask in this set is an Hermitaño (a religious hermit). In contrast to the Diablos, this mask has a humorous benign face. Patches of hide provide hair for this mask's eyebrows and mustache, the beard is made from sisal, and a wig of cotton fibers completes his coiffure. The strap of this mask was made with rubber from recycled inner tubes, and several rubber strap ends are visible in this frontal view.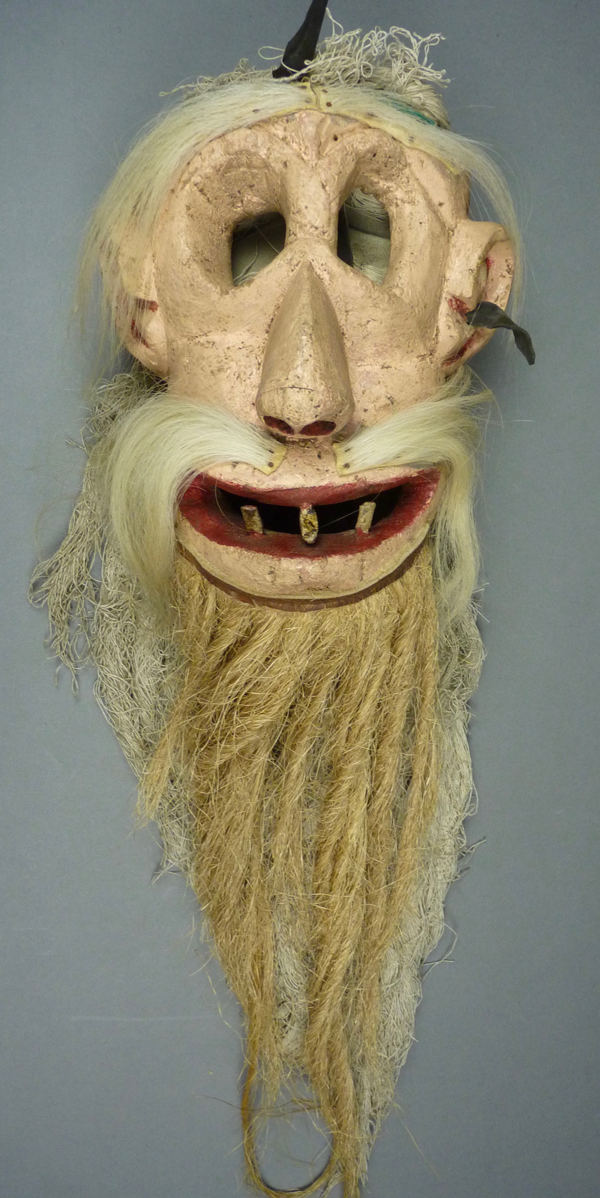 This friar has elaborately carved ears and a very large nose. The Hermitaño character in the Pastorela serves as a religious guide for the shepherds, but he is also a clown.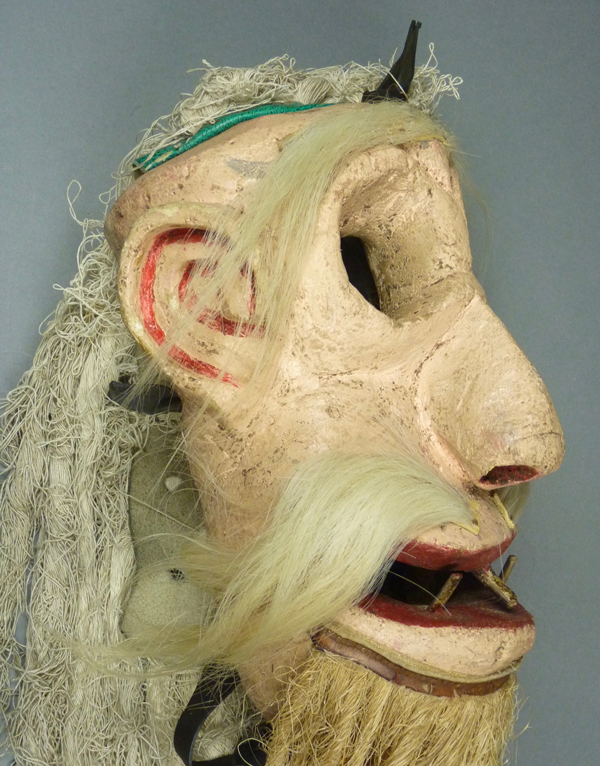 This hermit has a shock of cotton hair, which is mounted on a flap of turquoise leather.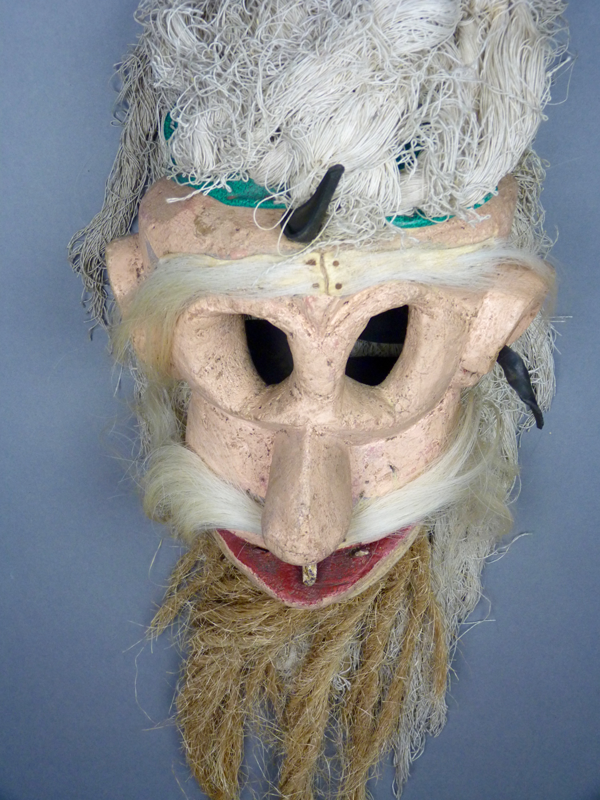 The Hermitaño has quite a wide mouth too.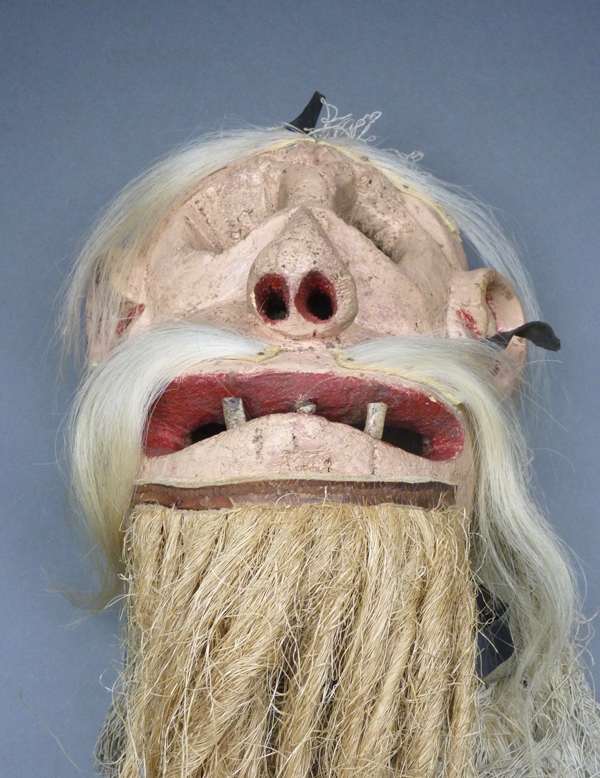 This mask is 10½ inches tall, 8 inches wide, and 5 inches deep, not counting all of his hairy parts.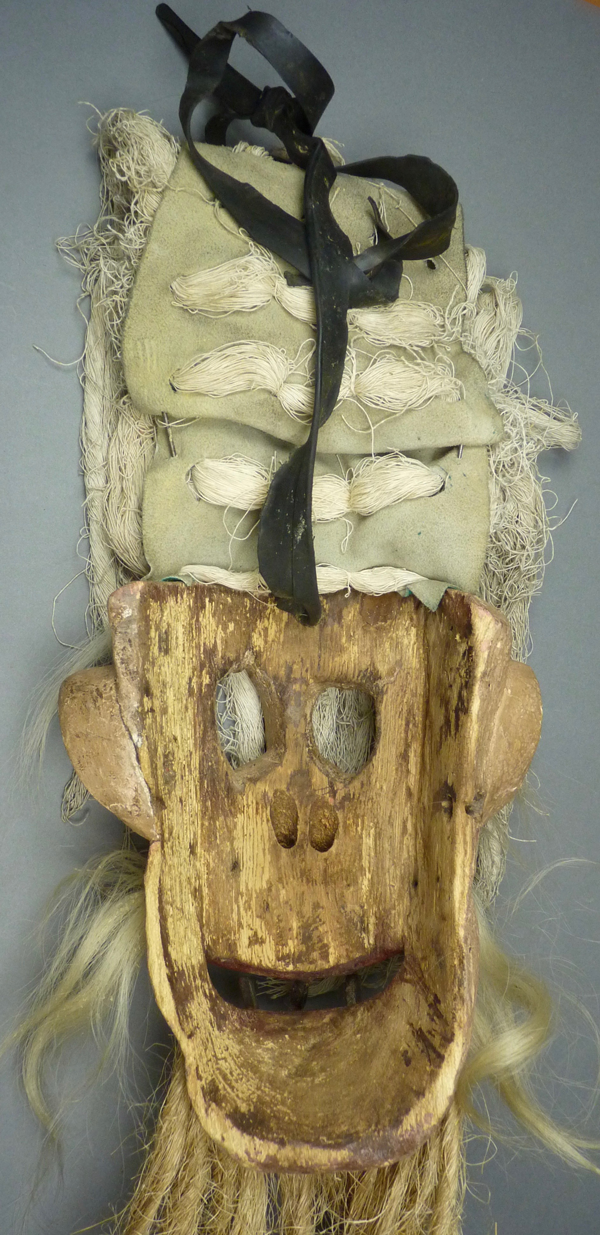 In this photo one can see how the wig was constructed. Also visible are the rubber straps.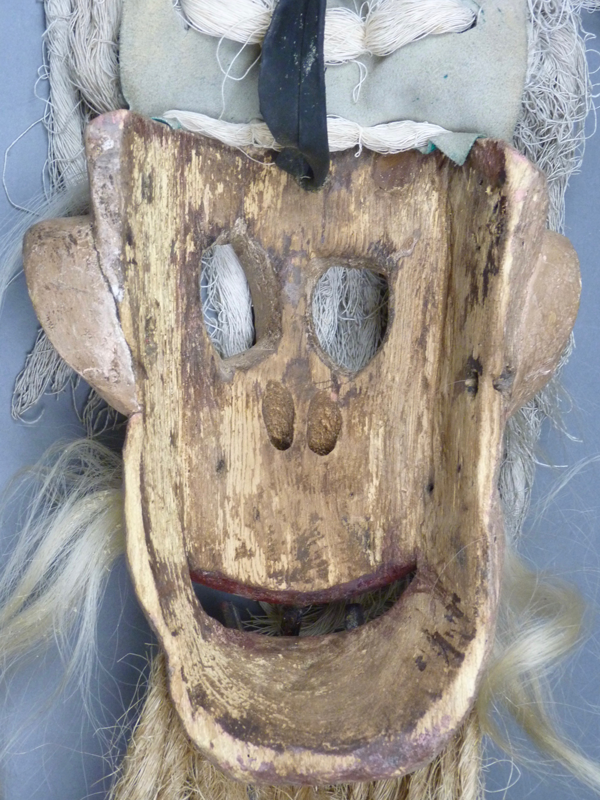 Here is another heavily worn back.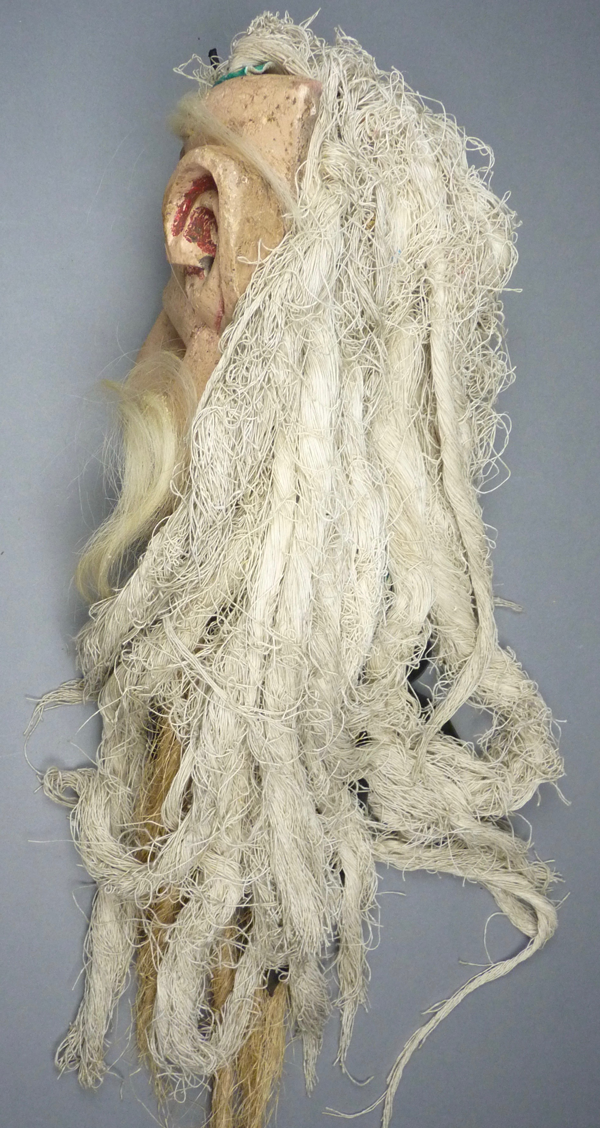 Finally, here is a rear view to show the appearance of the cotton wig.
Next week I will discuss a few other masks for the Pastorela performance in Michoacán and Guanajuato