Today, in my continuing series of posts about dance masks from the Mexican state of Michoacán, I will present Perro (dog) masks from Cuanajo, a Purépecha town near Patzcuaro, Michoacán. In that town there was a local tradition in the mid-20th century of dancers wearing dog masks during Carnaval (Mardi Gras). This was apparently a custom that later died out, because contemporary YouTube™ videos of Carnaval there don't seem to reveal any dancers portraying dogs. In her book, Tigers, Devils, and the Dance of Life: Masks of Mexico (1999, page 88), Barbara Mauldin included a photo of two of these Perro masks from Cuanajo that date to about 1965. I will show you three more from my collection.
I purchased this mask and the next from Robin and Barbara Cleaver, of Santa Fe, in 1987. Indeed, these were among my very first Mexican masks.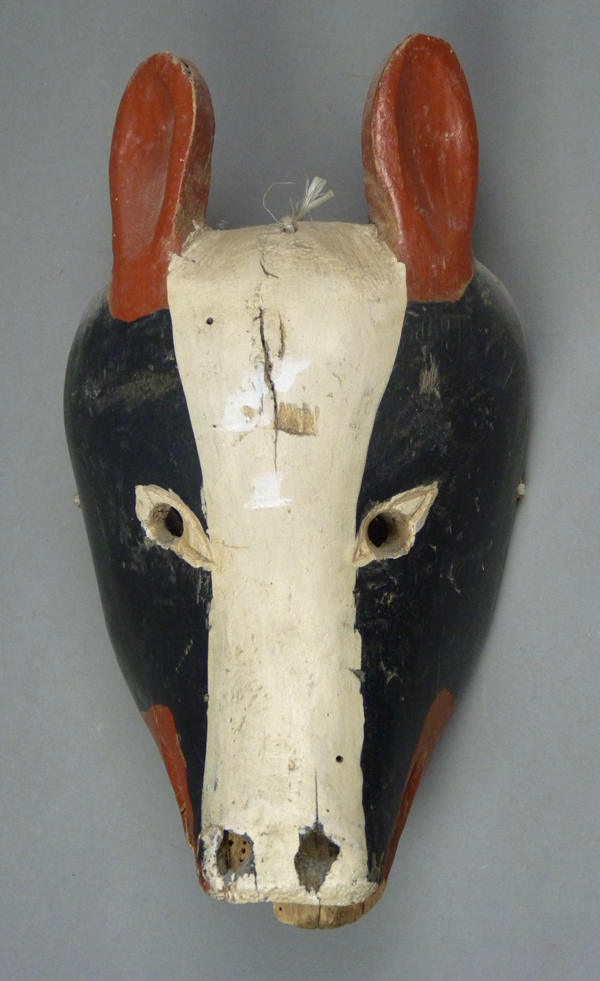 A distinctive design aspect of the Cuanajo dogs is their ears. These three also have virtually the same dimensions.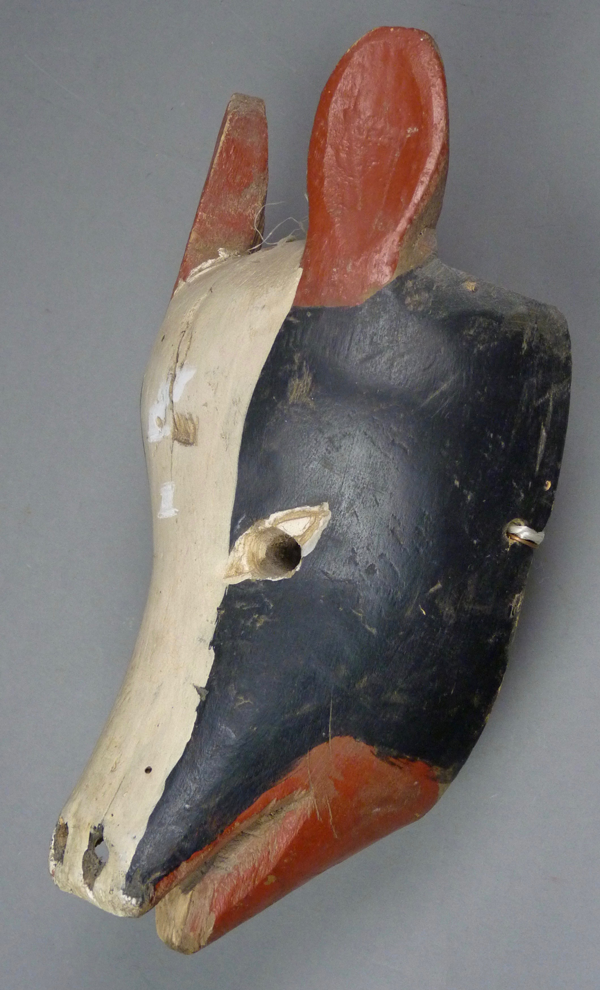 There is greater variation in the design of their eyes.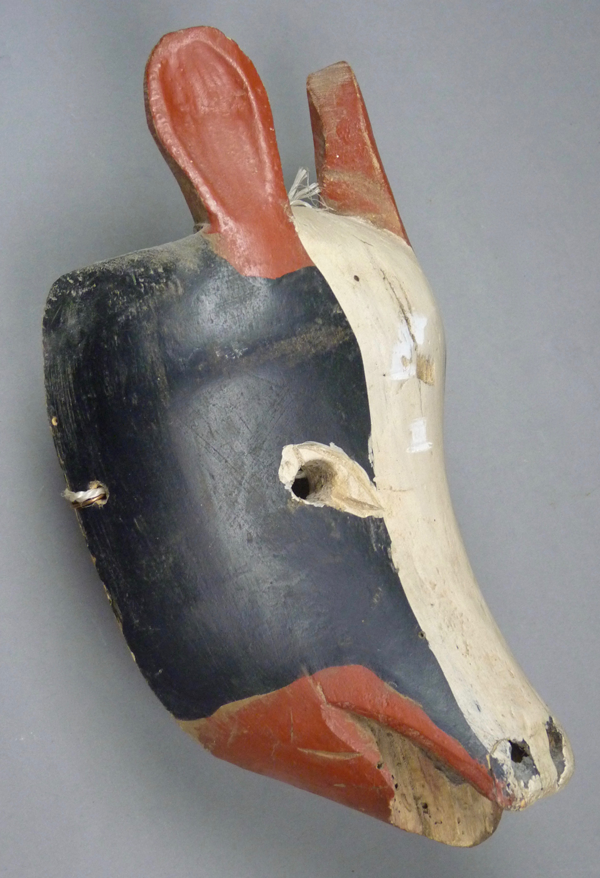 The right side of the mouth is broken.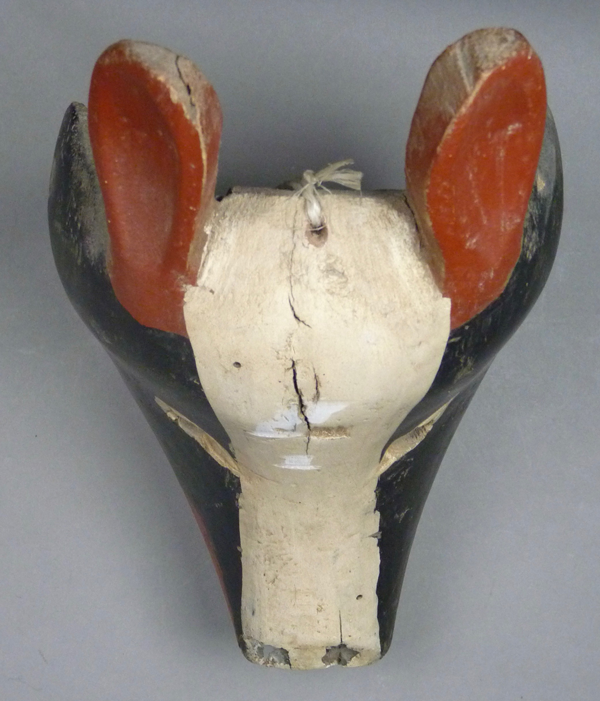 This mask is 10 inches tall, 6 inches wide, and 3½ inches deep.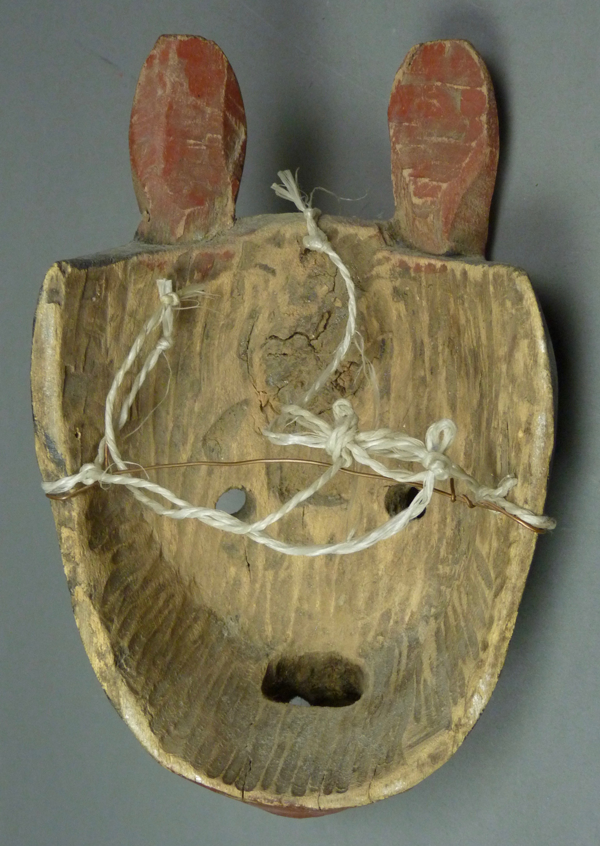 The back is heavily stained from use.
Here is the second Perro that I purchased in 1987.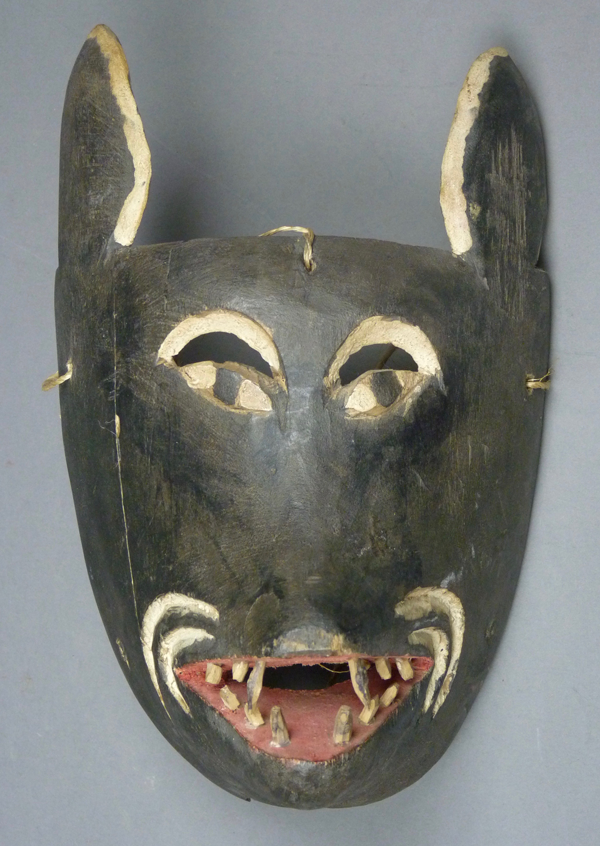 This one had split in two and was glued back together.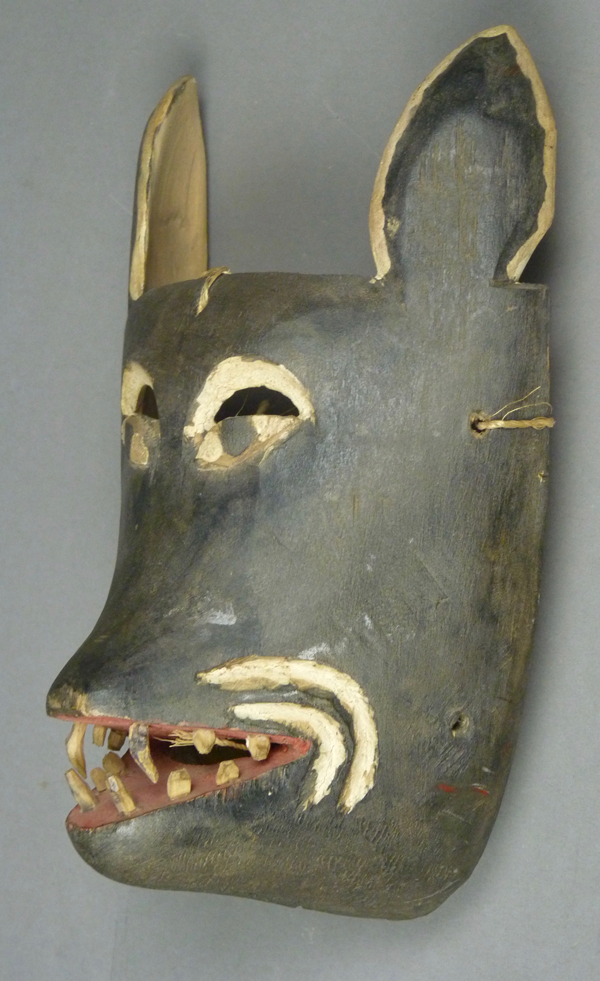 The wooden teeth give this dog a mean expression.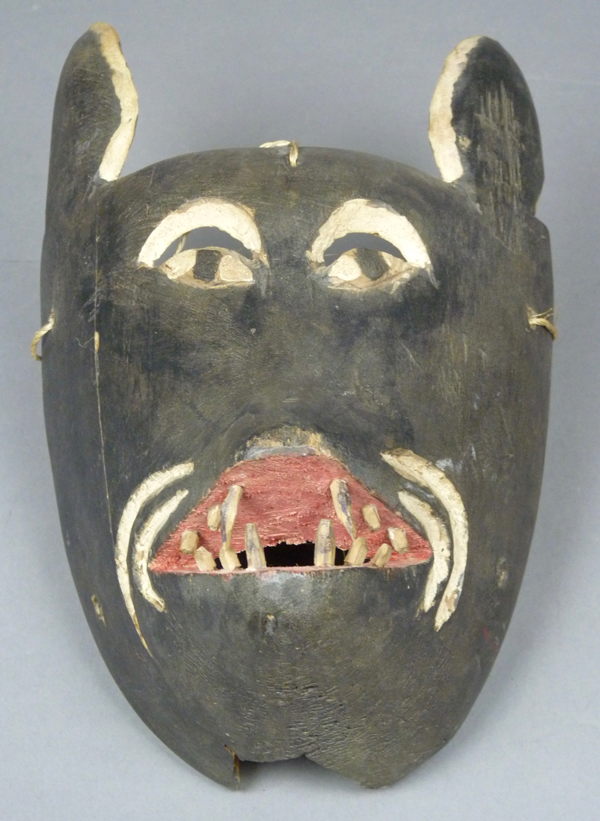 This mask is 9 inches tall, 6 inches wide, and 3½ inches deep.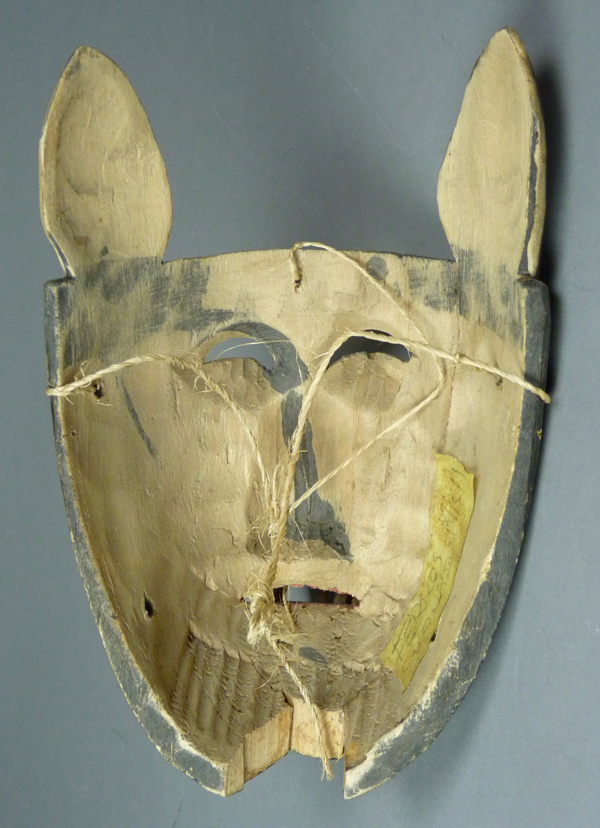 On an ancient piece of masking tape are these words—"Perros/ Cuanajo/Mich.). This mask was lightly danced. When this mask was split or shattered, the chin was not fully repaired.
With these two masks displayed on the walls of my house, I quickly recognized the next mask when it was offered without provenance  on EBay™ in 2003—another Perro from Cuanajo, Michoacán.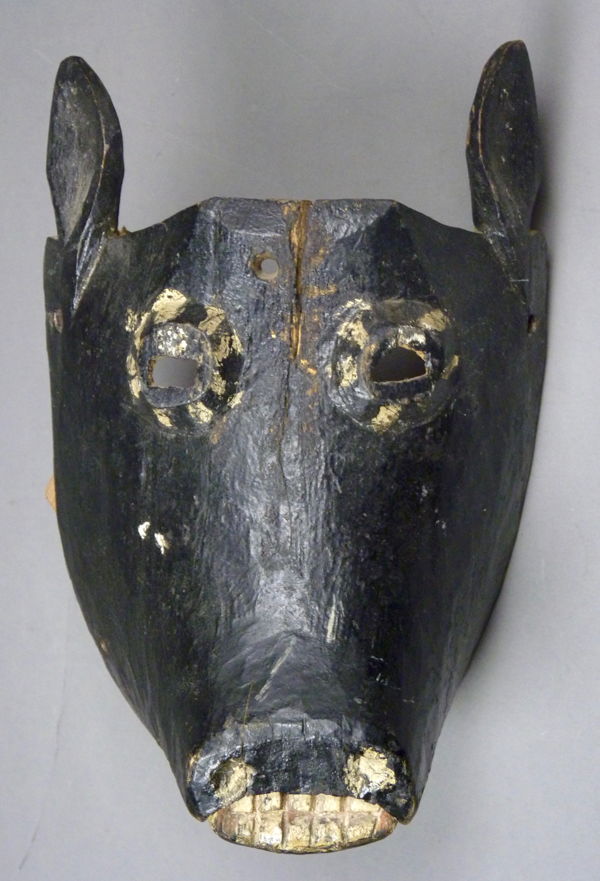 There is so much to like about this vivid mask. I really admire the striped eyes and the toothy mouth.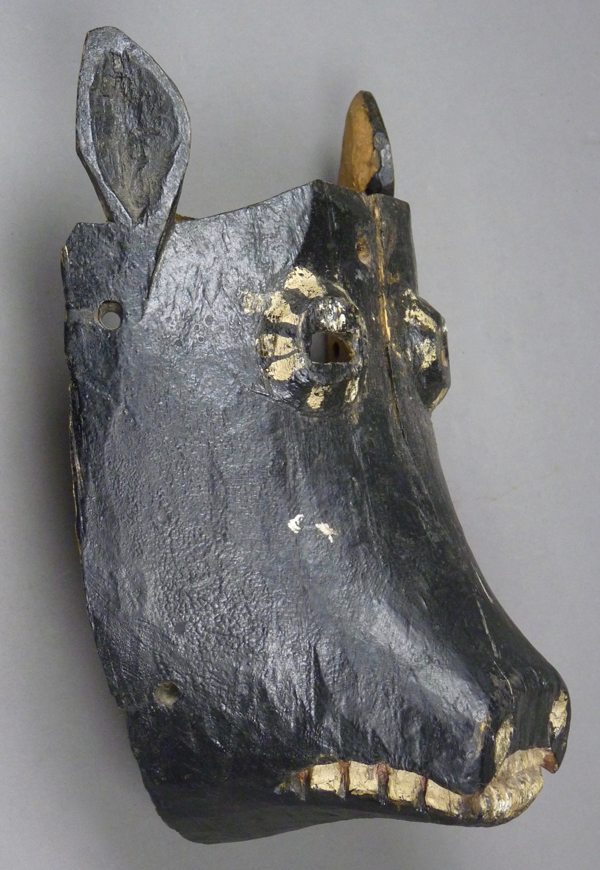 This mask is 9 inches tall, 6½ inches wide, and 3¼ inches deep.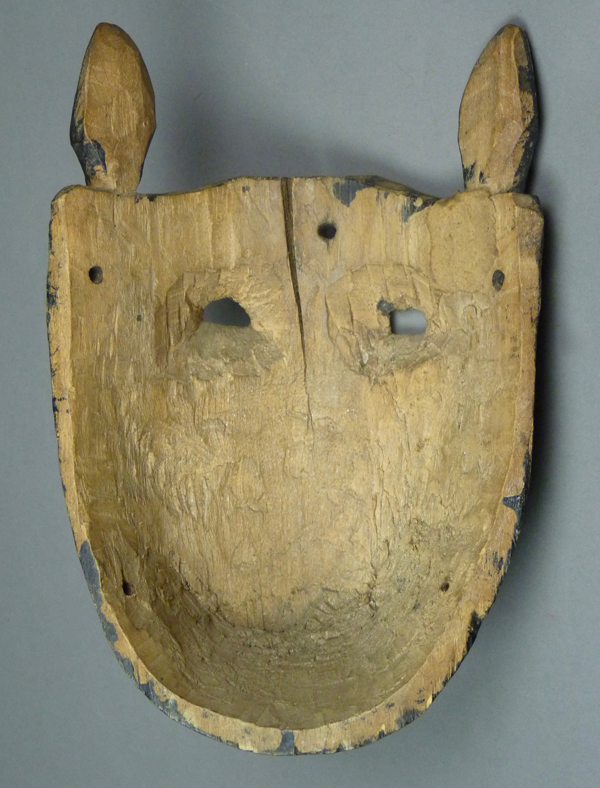 This mask too is heavily stained from use.
I hope that you enjoyed seeing these now uncommon masks. Next week I will shift from Michoacán back to Guanajuato, to resume discussion of the Torito dance. While today's post was brief, next week's will be lengthy.