Last week I introduced Tlaololero masks that are typical of this dance, and this week I will show a few more of those.
On page 243 of his book—Mexican Masks—Donald Cordy included a typical Tlacololero mask that had been collected in Ayutla, Guerrero. It was 29 cm. tall (about 11 inches). On page 103 of that book Cordry shared a photo that was taken in 1972 of Ruperto Abrahán, a maskmaker in Tixtla, with two Tlacololero masks in this style that he had carved, and on page 101 there is a photo of carver Cruz Teodoro (Guerrero, 1931) with another of these. In the Agenda 1998 datebook that was published by Estela Ogazón we find a stained rather than painted example from Chichihualco that measured just over 13 inches in height.
On the other hand, on page 173 Cordry also included photos of six Tlacololero masks from Almolonga, Guerrero that he described as more finely carved and in his opinion older. These masks are remarkable in appearance because their faces are divided into zones that are painted in contrasting colors. Also they are larger than expected—about 14 or 15 inches tall. Jaled Muyaes told me that he regarded those masks as decorative and inauthentic (see posts of August 2014—https://mexicandancemasks.com/?m=201408).
Here is a mask in this style that I purchased from Jaled Muyaes and Estela Ogazón in 2001. Like most of the masks in today's post, this one came with little provenance, just the name of the dance and the state of Guerrero. However the style of painting, with the three red lines over the nose and flanking the eyes, suggests that this is a mask from Tixtla, and probably from one of the Abrahán family of carvers. This one is 12 inches tall.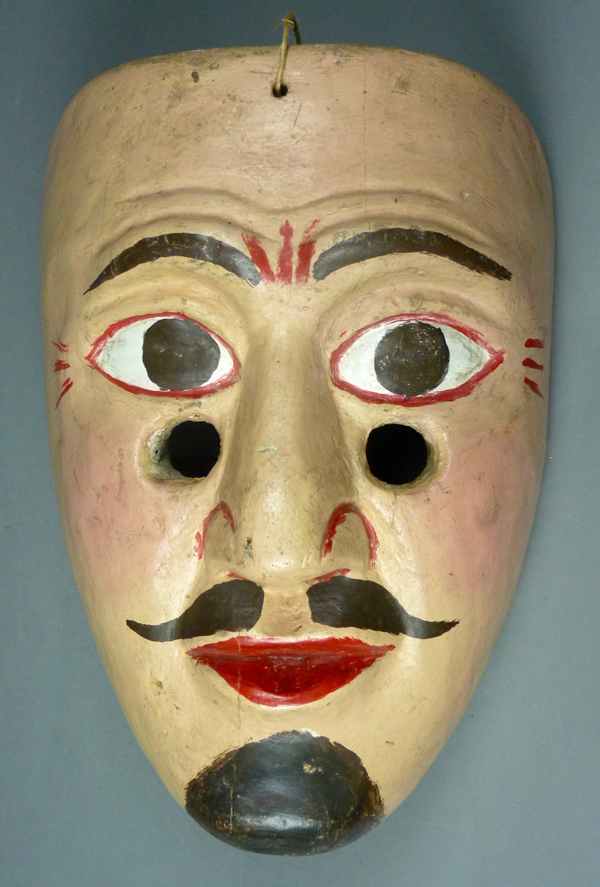 This mask was carefully carved but with a simple design.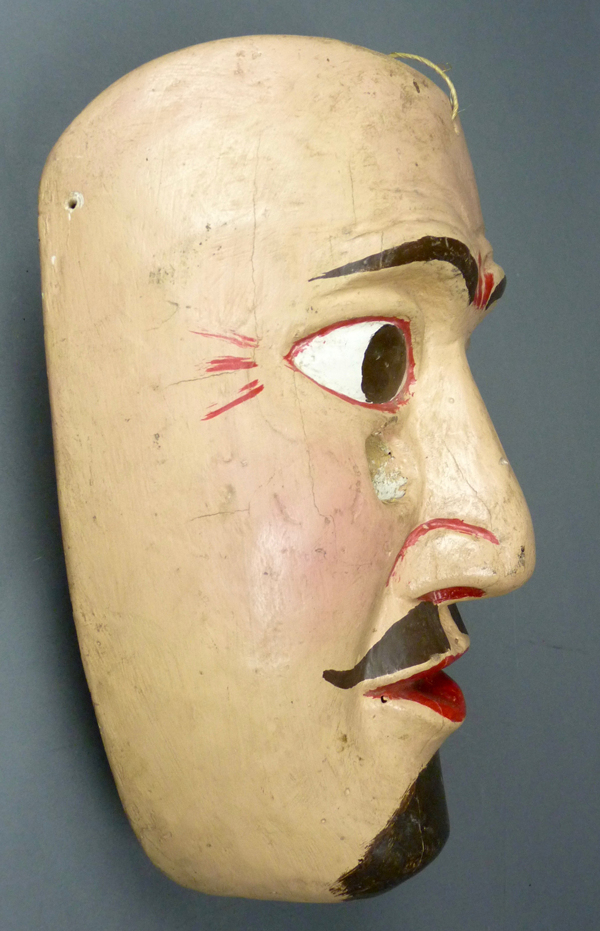 This mask is 12 inches tall, 8½ inches wide, and 4¼ inches deep.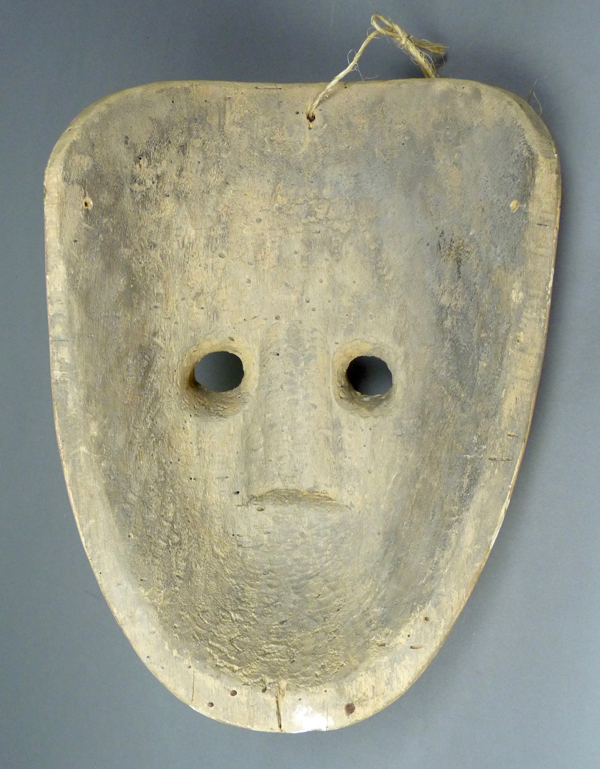 This mask lacked holes for a strap, as is also the case for two other masks that follow. The small holes at the corners were probably drilled by Jaled to attach a hanging wire. All of these do have a hole at the top of the forehead. The back has heavy staining from use. It is not unusual in Mexico for masks to be tied to the face with a bandana, while the hole at the top could attach the mask to a headdress that also supported the mask.
Here is a contemporary YouTube™ video from Tixtla. These dancers are wearing the modern style masks that seem to have become generic in Guerrero.
https://www.youtube.com/watch?v=mliZQ-kX5iU
The second mask resembles the first by having vision slits under the eyes, and located more or less midway between the chin and the top. The height of this mask is 10 inches.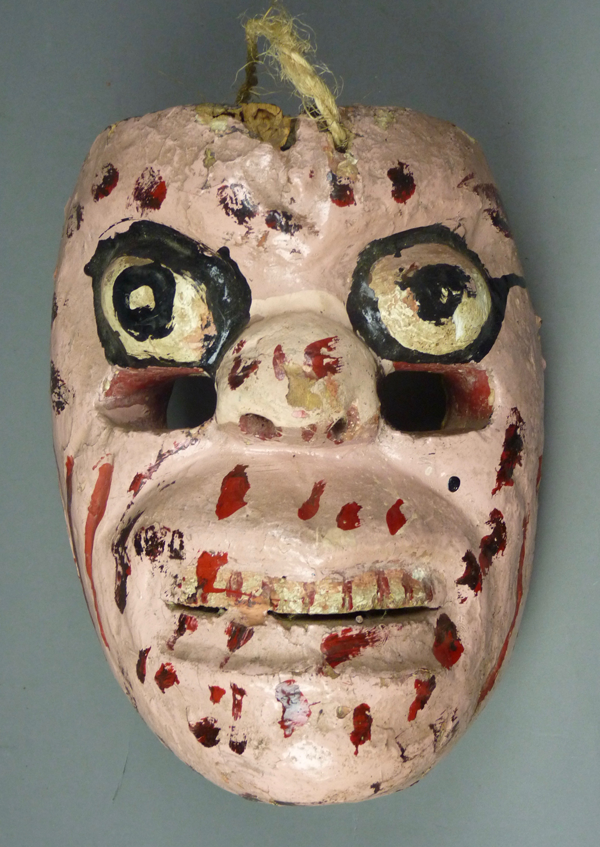 Is this meant to be the face of a human or some animal? A dancer wearing this mask would be a wild looking character.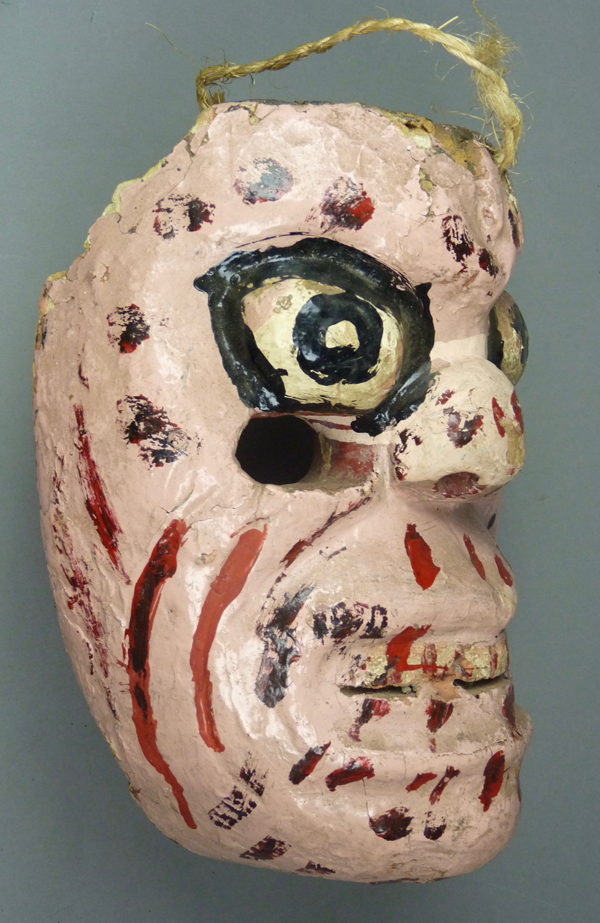 This mask is 10 inches tall, 7½ inches wide, and 4 inches deep.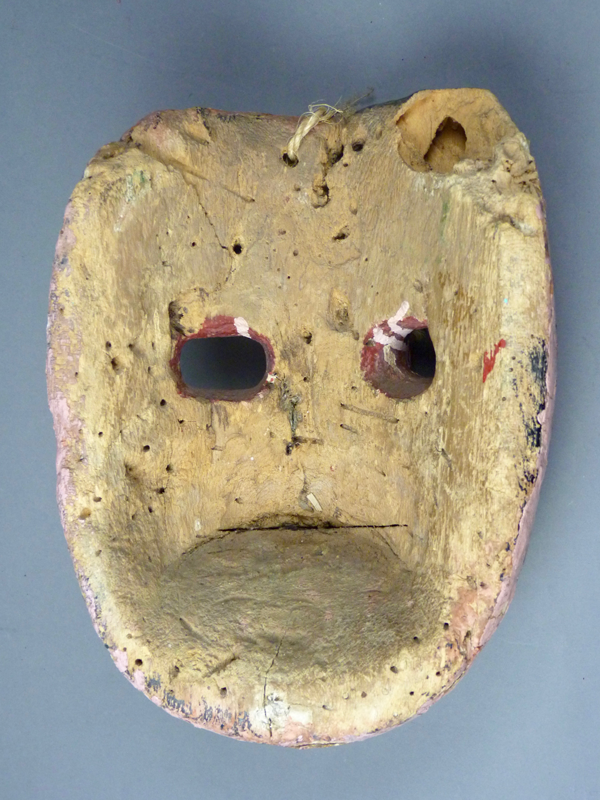 The back demonstrates obvious wear. There has been an earlier infestation with wood boring insects and we can see that the mask has a hollow spot at the upper right hand corner, where the wood has been eaten away. The mouth opening was obviously cut with a saw.
The third Tlacololero mask resembles the first two in the presence of a strap hole at the top accompanied by absence of strap holes on the sides. It is 9 inches tall, nearly the same height as the second. On the other hand, it is much more dramatically carved than the other two.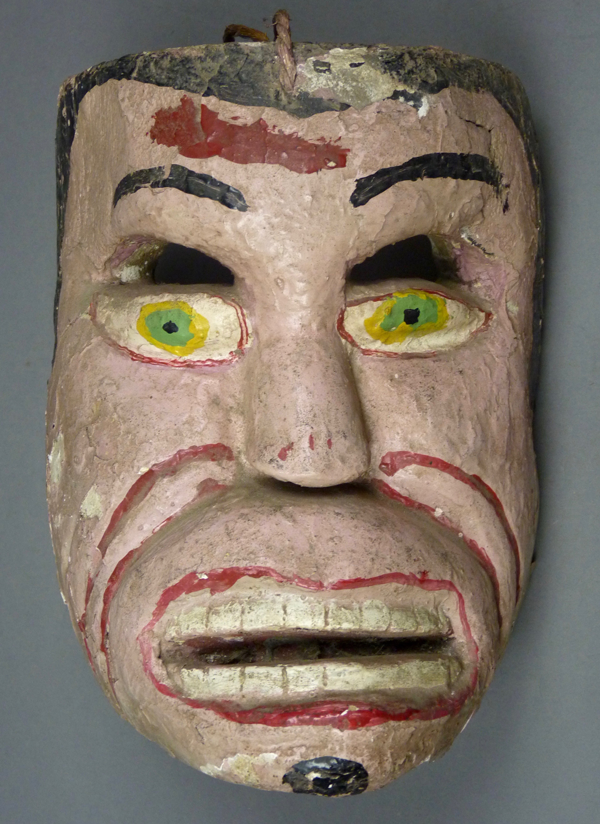 Green and yellow eyes give this mask an eerie touch.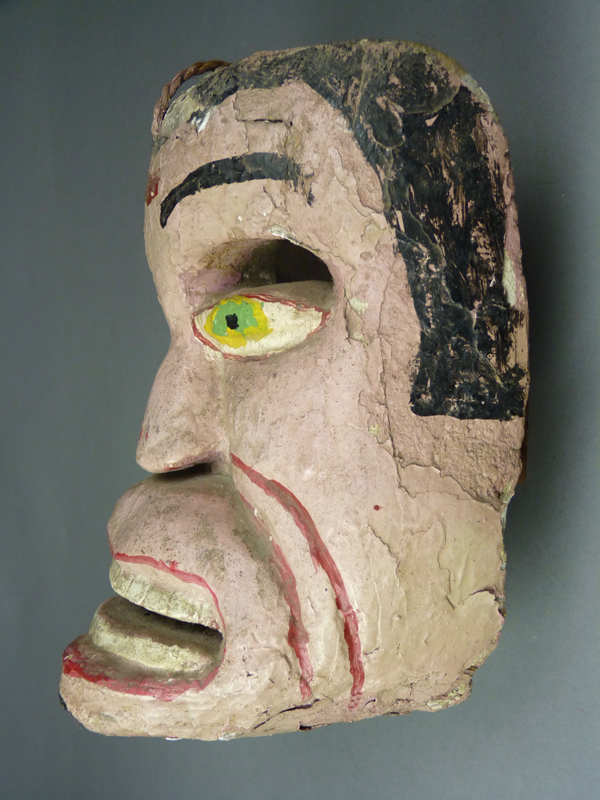 This mask is 9 inches tall, 7 inches wide, and 4¾ inches deep. It is the paint that is cracked, and not the wood.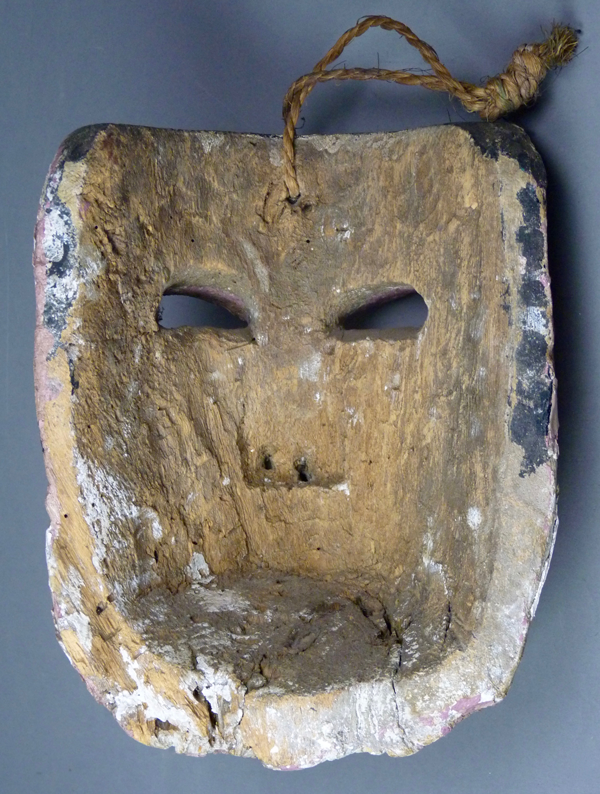 The back was roughly carved but does demonstrate significant staining from use.
This brown faced mask seems more conventional than the last two. It is just 8½ inches tall.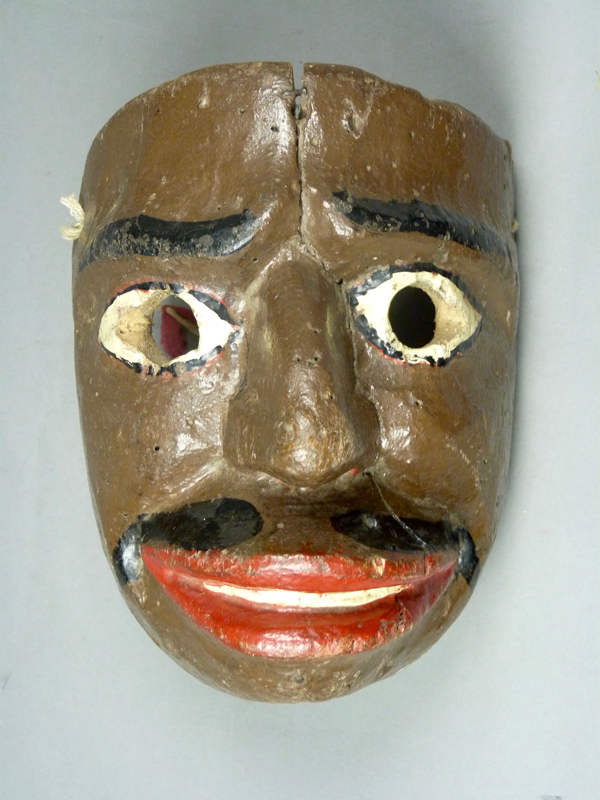 It has conventional holes for straps (strings).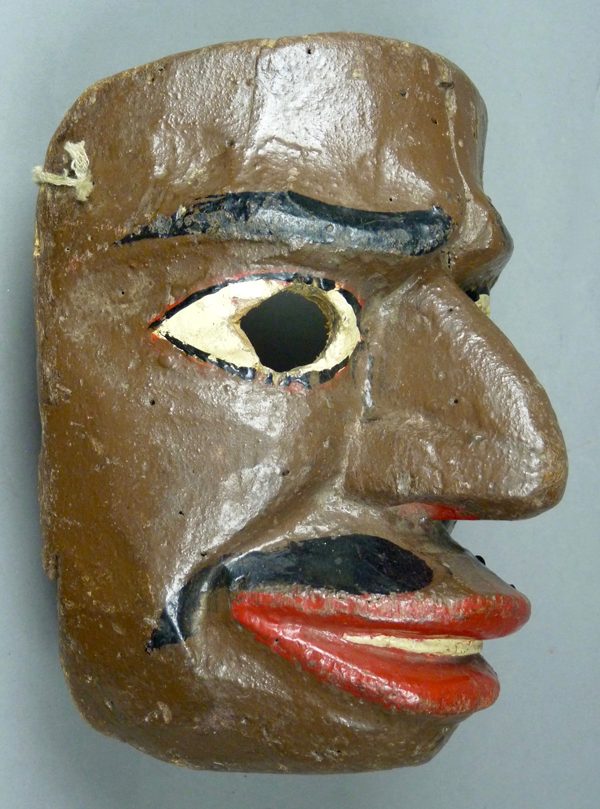 This mask is 8½ inches tall, 6¼ inches wide, and 4½ inches deep.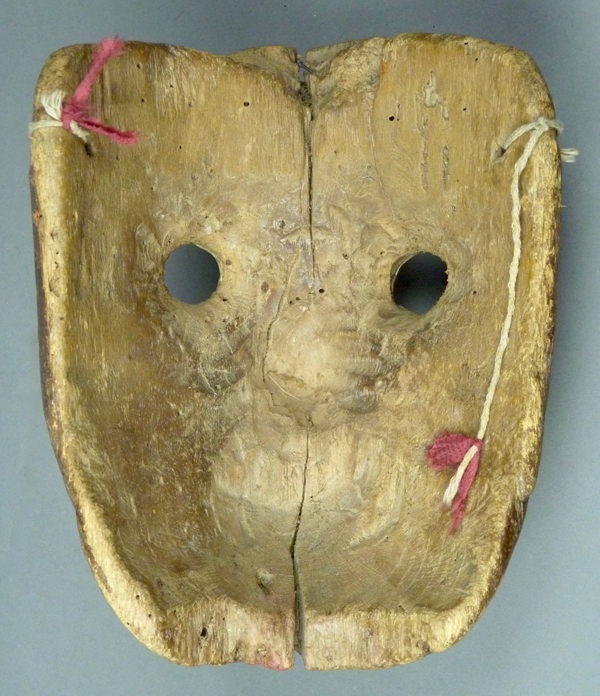 The back is worn.
The last of this group of Tlacololero masks is 9 Inches tall, not counting the hair that represents a goatee.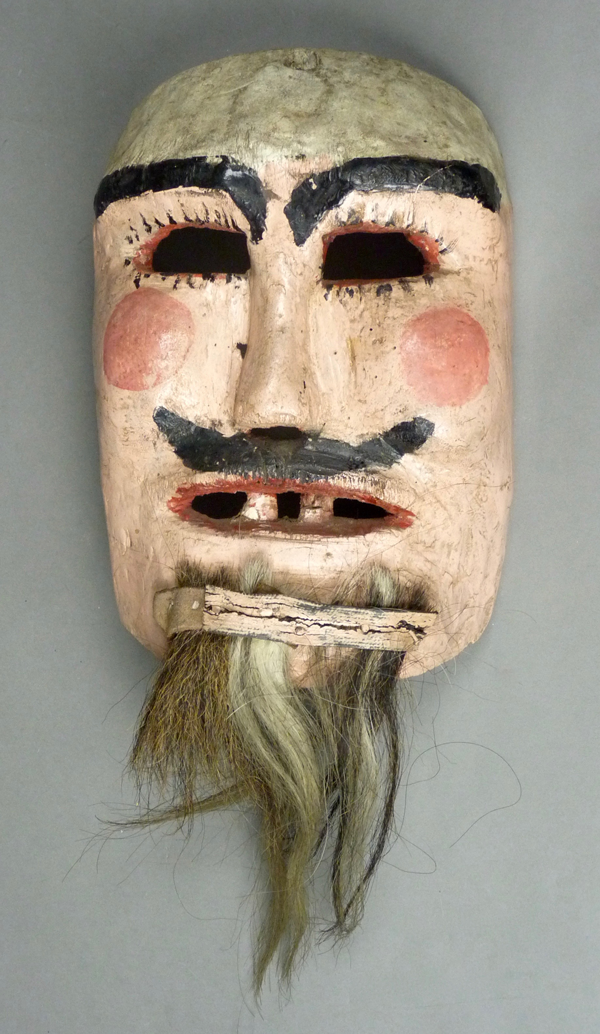 It has large holes on the top and sides for straps.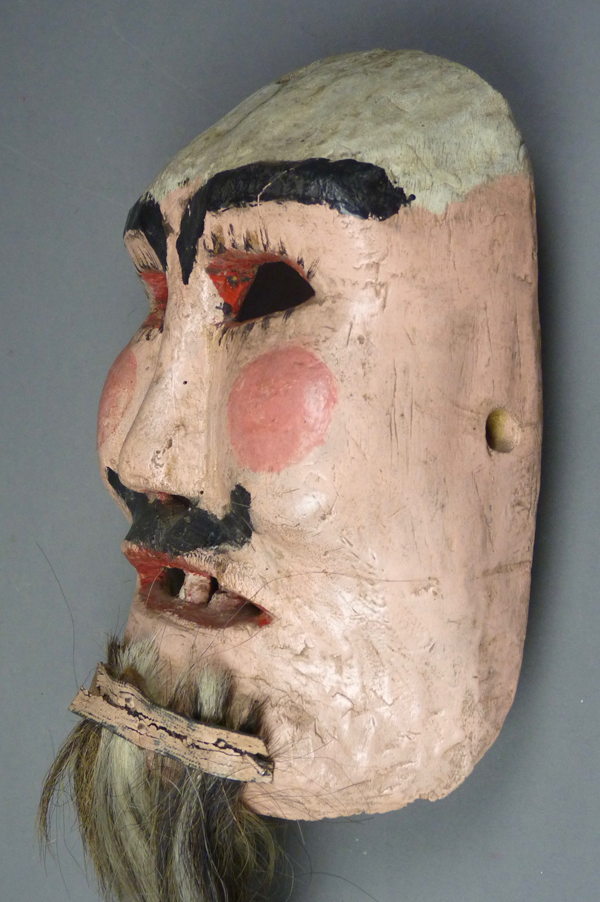 The hair for the beard is attached with two nailed on strips of leather. This mask is 9 inches tall, 6 inches wide, and 2½ inches deep.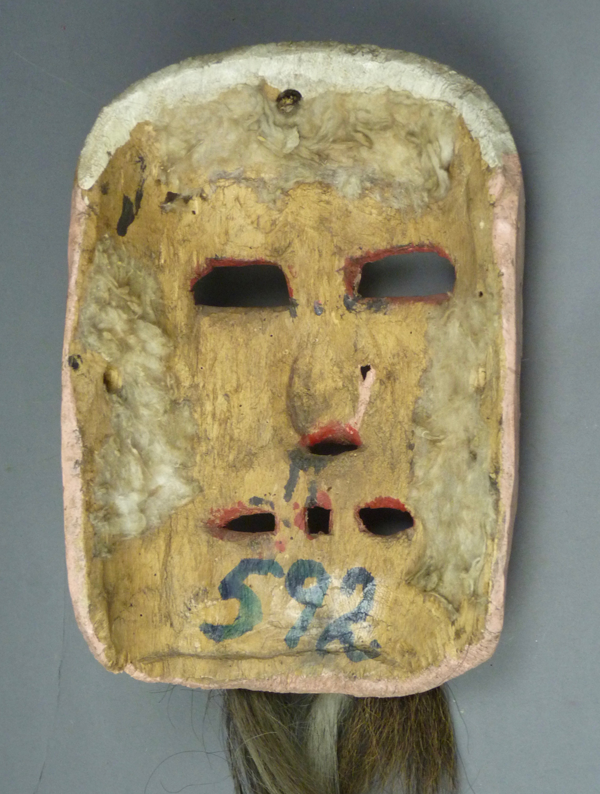 Cotton was glued to the back for comfort. There is evidence of mild to moderate wear. The number reflects the participation of this mask in the 1981 show in Mexico City.
Next week we will examine some unusual Tlacololero masks.
Bryan Stevens