Today I will begin with two Tigre masks that are small by current Guerrero standards. When I bought these masks it was my impression that they were used in la región Tlapaneca, an area within the Costa Chica of Guerrero that is the traditional home of the Tlapaneco Indians. The Costa Chica, or "little coast," refers to portions of the Mexican states of Guerrero and Oaxaca that border on the Pacific ocean. Amusgos, Mixtecos, and Nahuas also inhabit this coastal area. Masks of this scale that depict other wild animals such as badgers, coaties, and wolves have also been collected in this region. I had originally assumed that these animal masks were invariably used in regional versions of the Tecuanes dance, but further research suggests that they are often absent from that dance, and that they also appear in their own dance—el danza de los Tejones—in the absence of the jaguar.  Although the literal meaning of tejón is "badger," its meaning is sometimes generalized to include other wild animals. The evidence for their appearance in the Tejón dance comes from the adjacent territory of the Amusgo Indians, where one finds similar animal masks, either dancing with more normal sized Tigre masks in the danza del Tigre y los Tlaminques (the Jaguar and the Townspeople), or alone in La Danza de los Tejones. I don't even know whether the masks in today's post are still used in the Tlapaneca, because there is so little printed or photographic documentation about this variant of the dance. The principal municipios (counties) occupied by the Tlapanecos include those of Acatepec, Atlixtac, San Luis Acatlán, and Zapotitlán Tablas, while there are smaller populations in Atlamajalcingo del Monte, Metlatonoc, Tlapa de Comonfort, Ayutla, and Acapulco. The bottom line is that there have been many local variations of the danza de los Tecuanes and the danza de los Tigres, however with television, cell phones, YouTube™, and broader travel within the area, it would seem that a more generic form is emerging. The masks in today's post may reflect a local tradition that is no longer active versus the possibility that it survives in some isolated areas.
Here is a Tigre mask that I purchased in 1971, in Santa Fe, New Mexico. It has painted spots. Soon after I bought it I noticed that it was shedding fine sawdust, a sign of infestation by powder post beetles or a similar wood chewing insect. I was told to dip the mask in Woodlife™, a wood preservative, in order to halt the infestation. One ear was severely damaged while the other (the left ear) remains more intact to demonstrate its form. For more on the subject of dealing with insect infestation, see the FAQ section.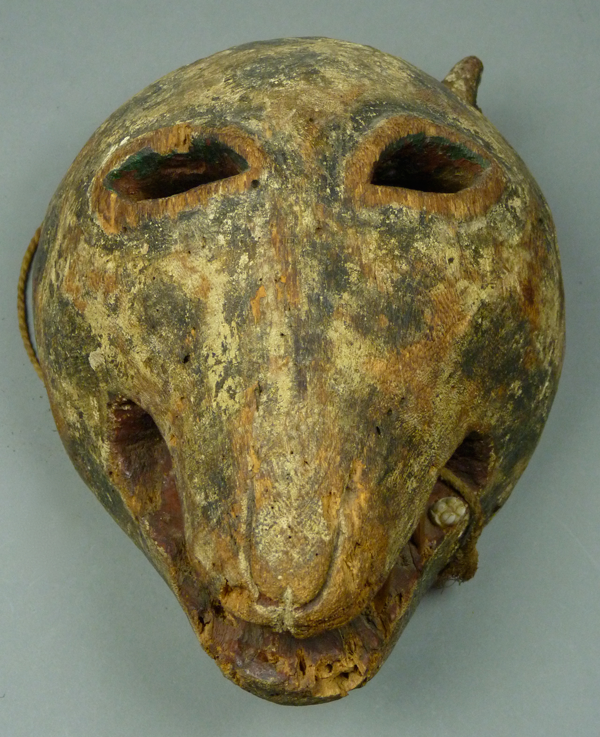 This mask is 9 inches tall, 6½ inches wide, and 5 inches deep.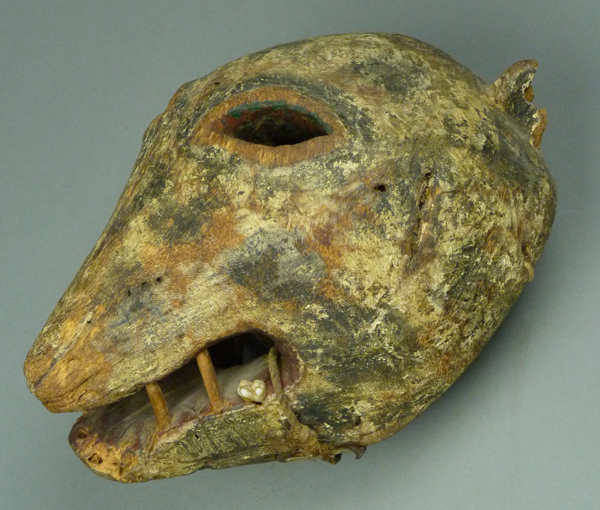 From this angle one can get an idea of the ear design, despite the damage.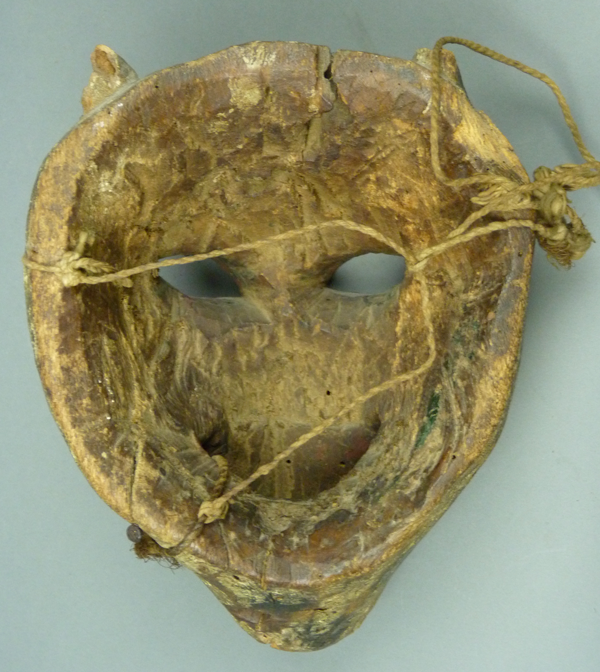 The Woodlife treatment made the patina darker, but even before that treatment the back was rather dark from prolonged use.
I am uncertain whether the second mask was meant to depict a wolf or a jaguar. Because this mask has a more elaborate form than several obvious wolf masks to follow, with a broad blunt nose, I believe that it is a Tigre (jaguar) mask. It has applied fur on the forehead and chin. Nails have been inserted in the upper and lower jaws to imitate teeth. You may have already noticed a typical feature of these animal masks, that the eyes are all of the same shape. This seems to be a regional feature.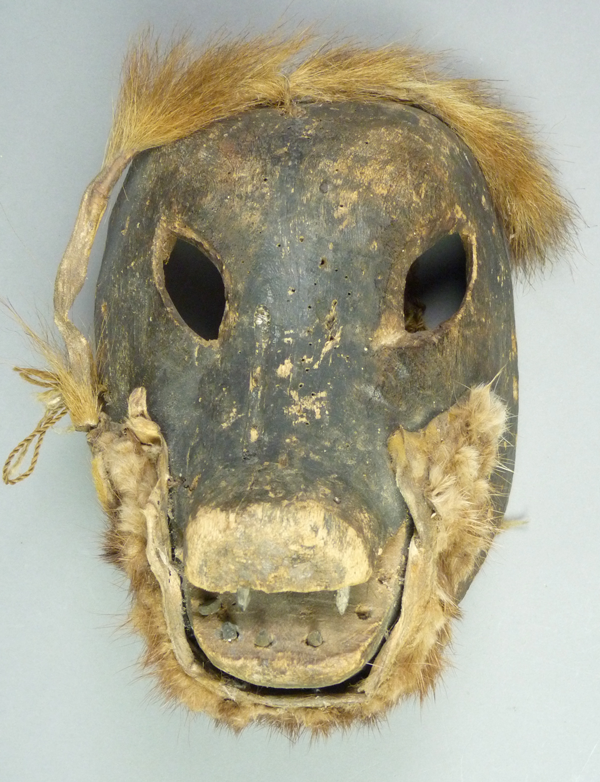 This mask is 8 inches tall, 5½ inches wide, and 4½ inches deep.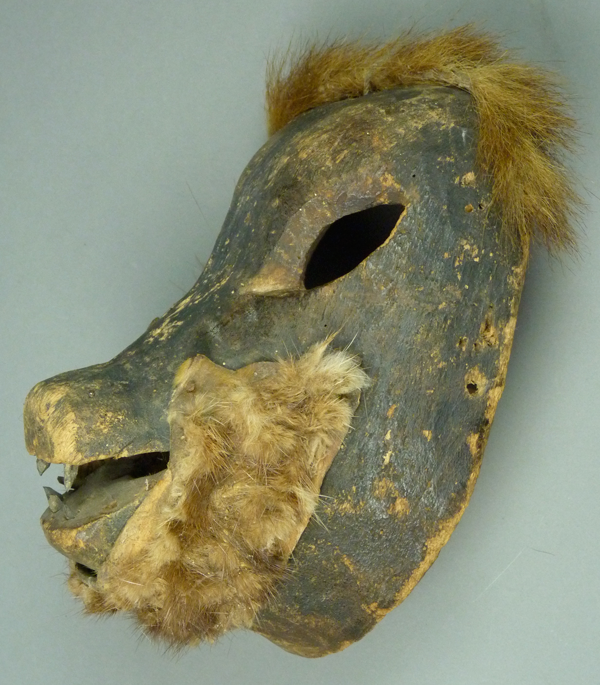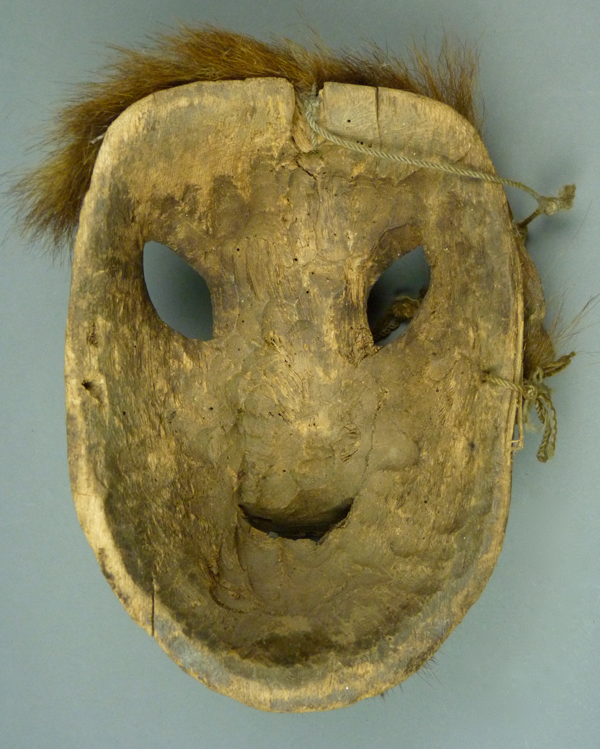 The patina on the back of this mask is dark from extended use.
The next two masks depict wolves.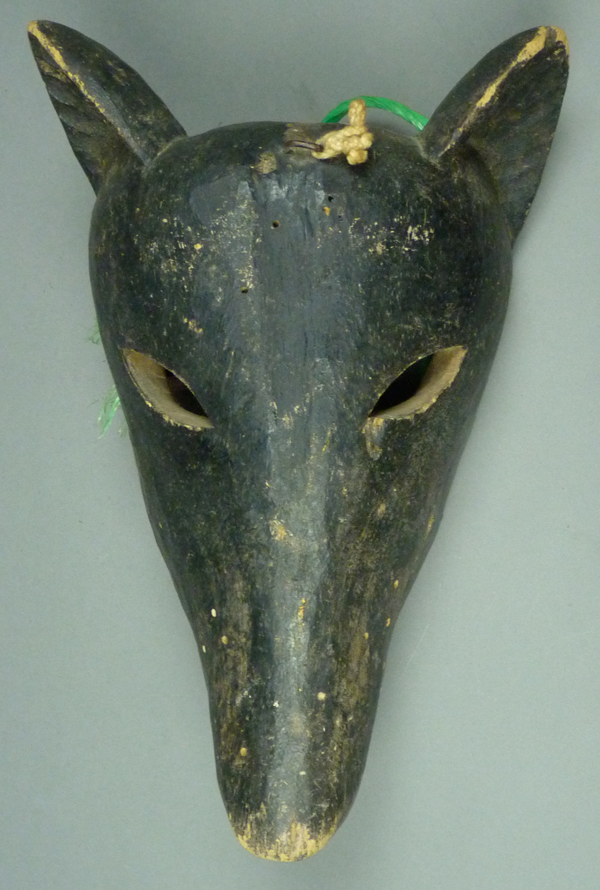 This mask is 9 inches tall, 6½ inches wide, and 3½ inches deep.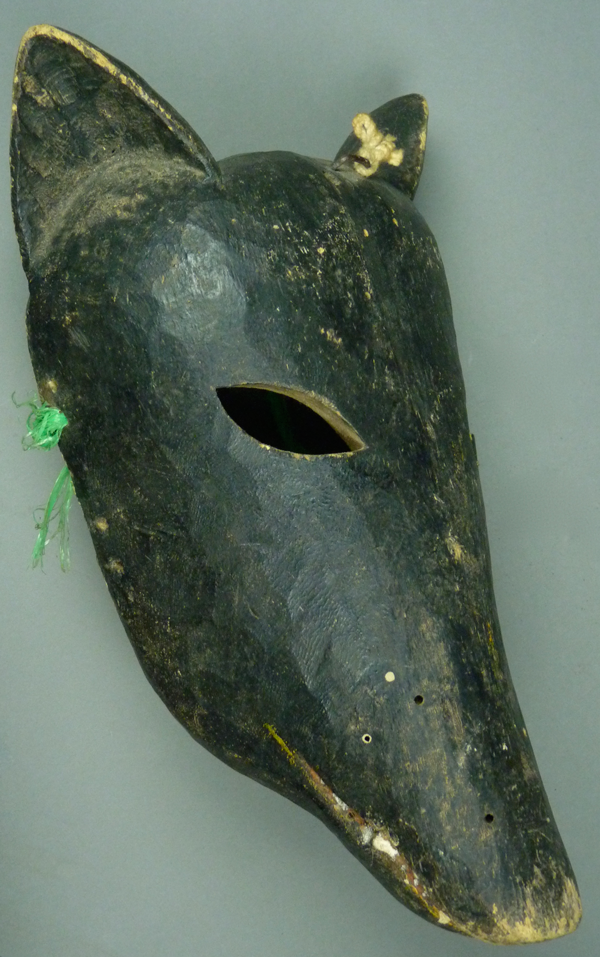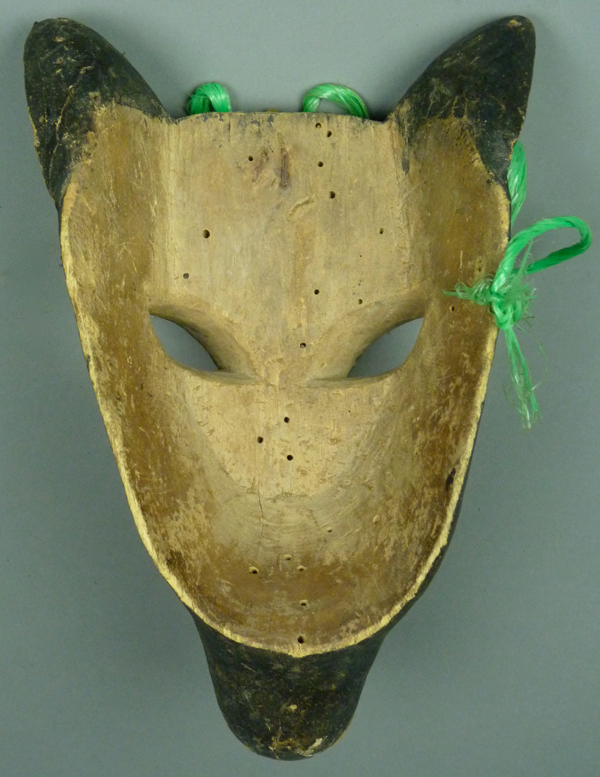 The pinholes on the back of this mask probably reflect that the mask was carved from wood that had been previously infested.
Here is the second wolf.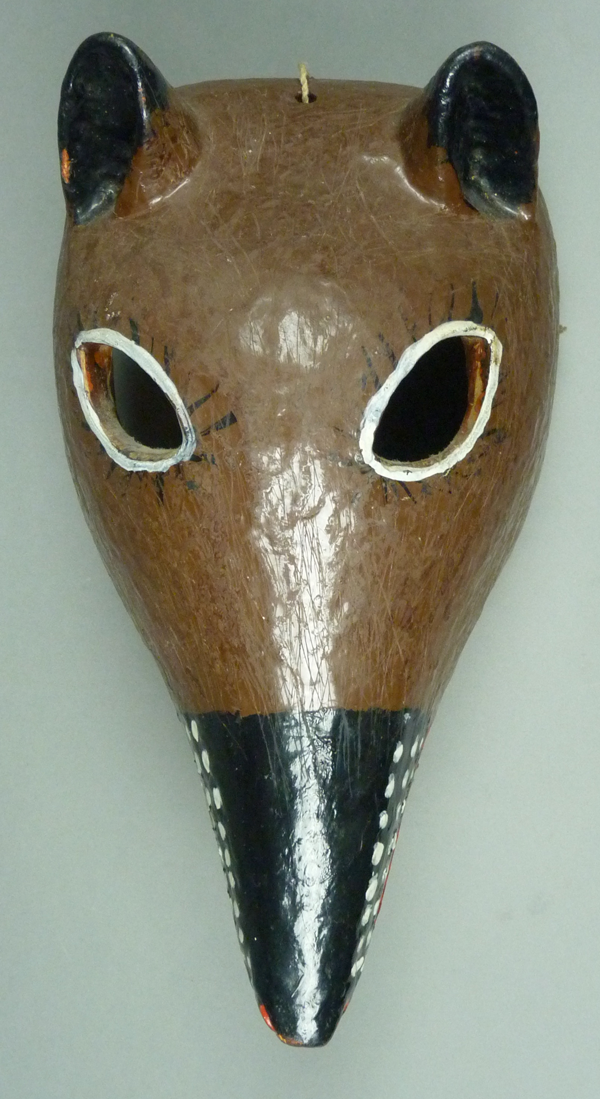 This mask is 10 inches tall, 6 inches wide, and 5 inches deep.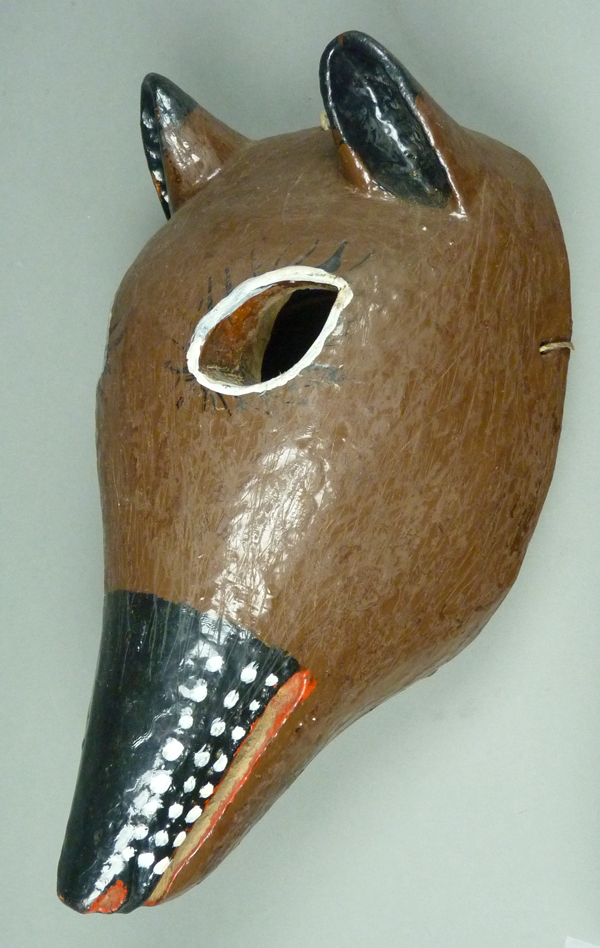 The ears on this wolf mask have the shape that the spotted jaguars ears once had, although those ears were smaller than these.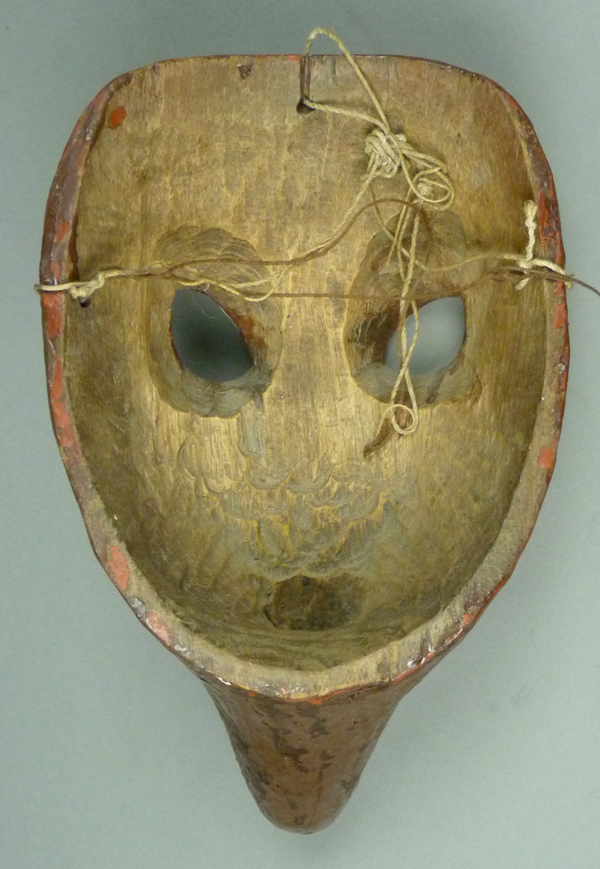 This dramatic striped mask represents a badger or some related animal.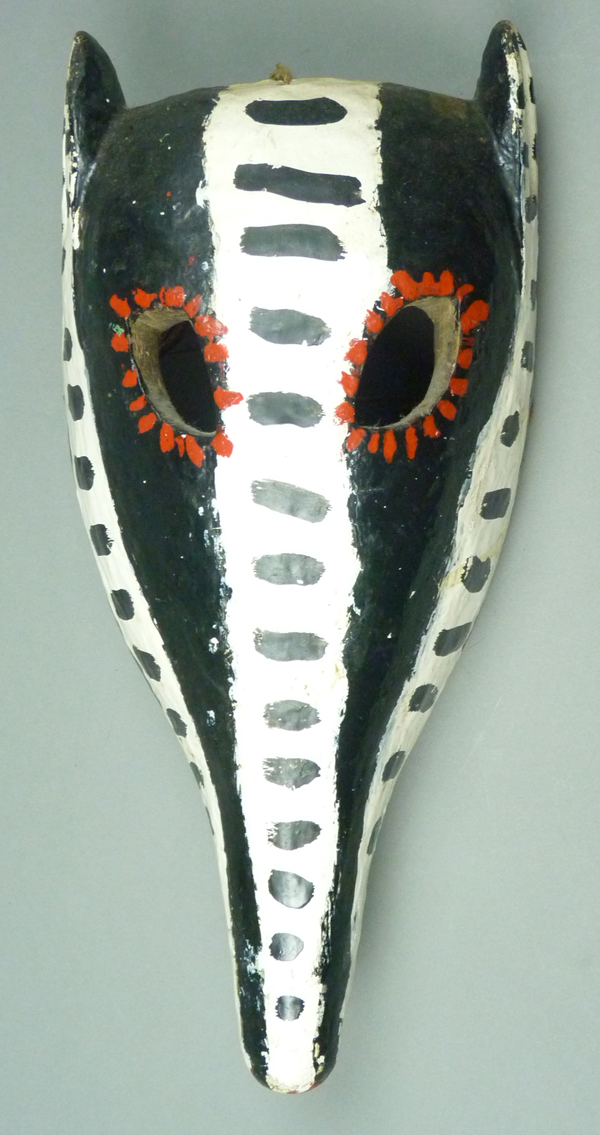 This mask is 12 inches tall, 6 inches wide, and 3¼ inches deep.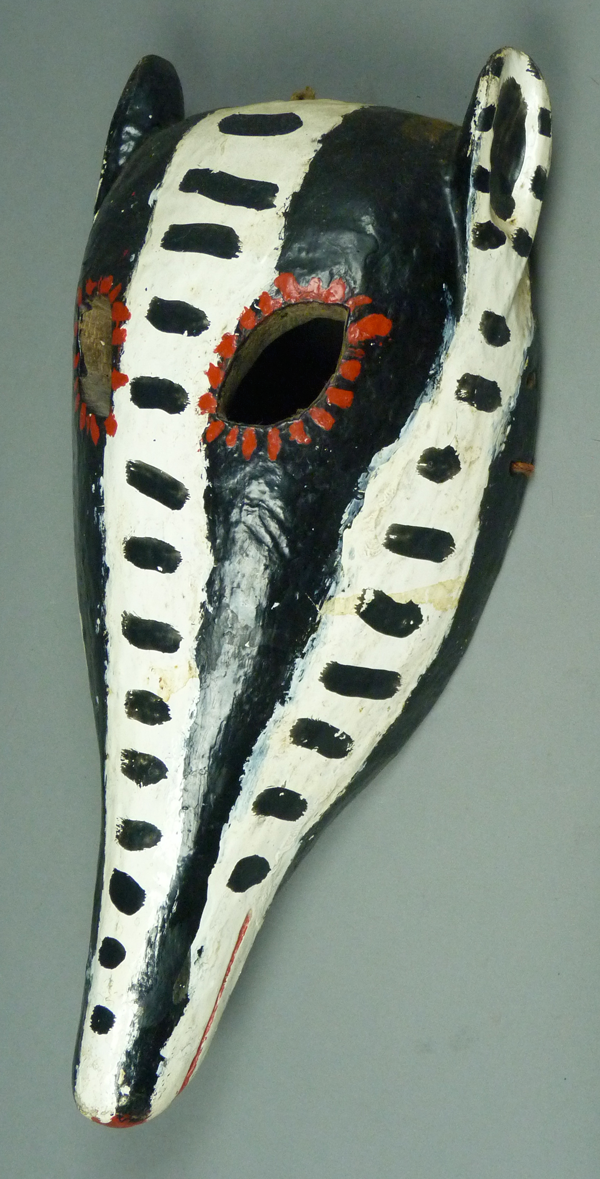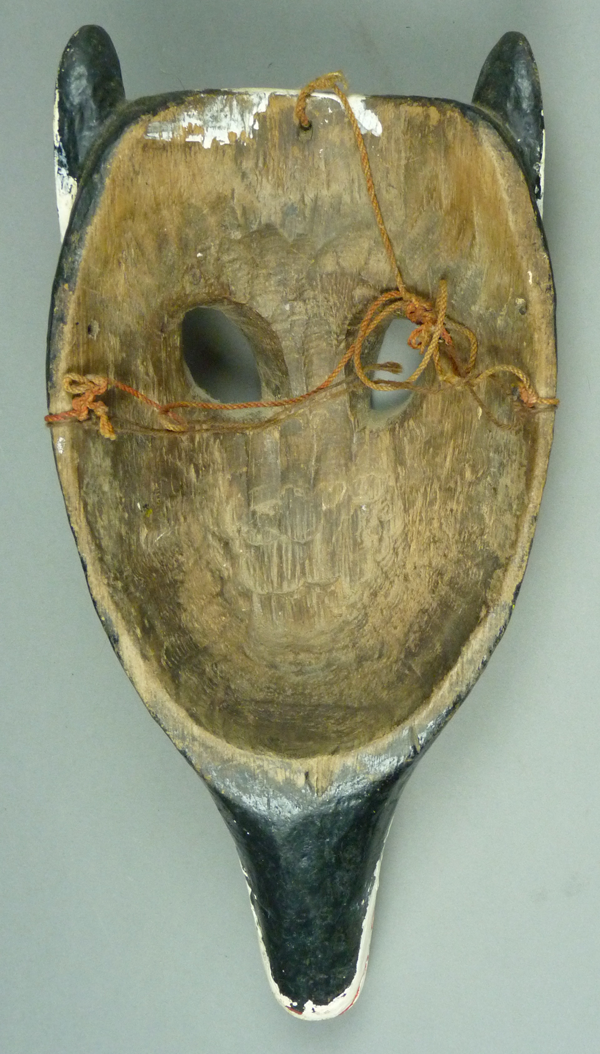 The next mask has a very long nose; perhaps it represents a coati.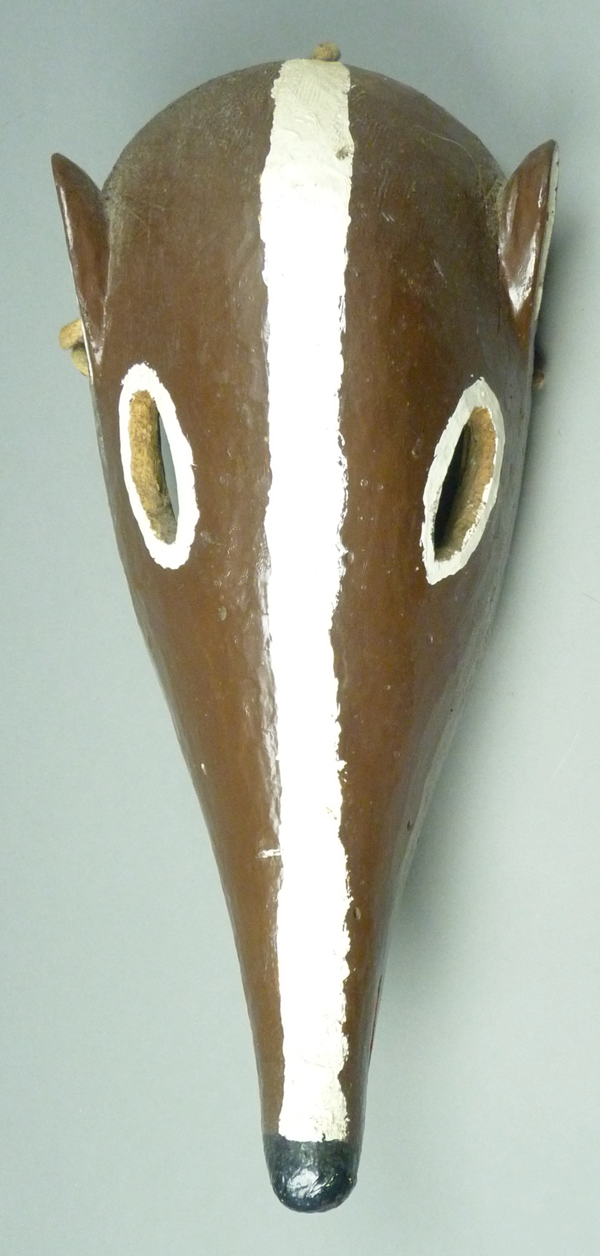 This mask is 15inches tall, 7 inches wide, and 6 inches deep.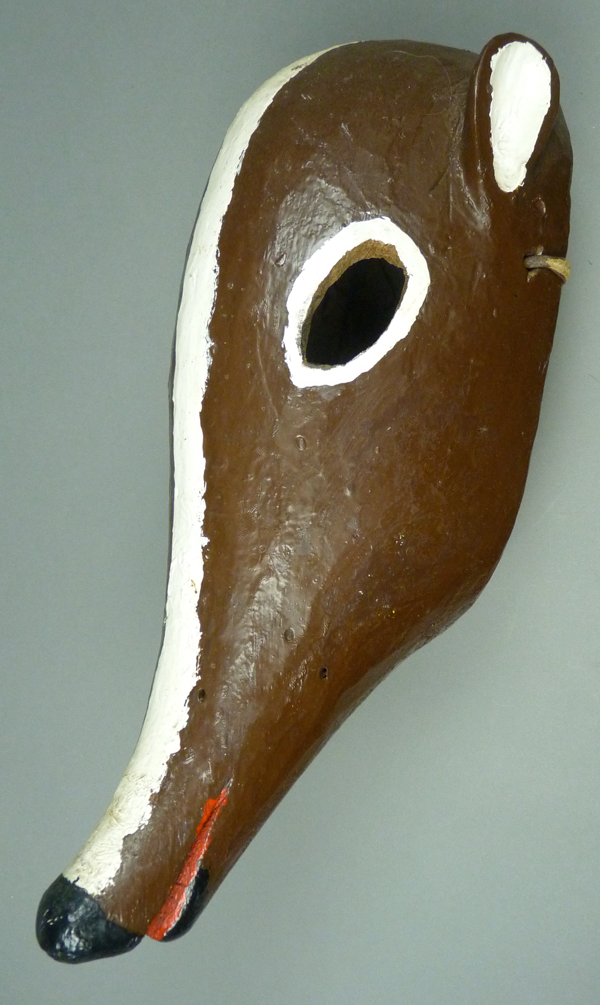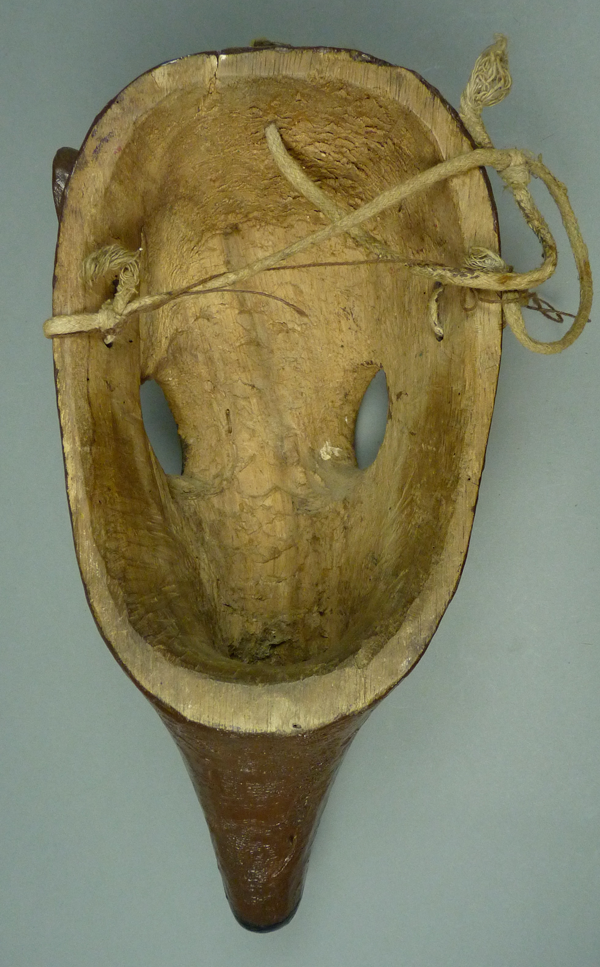 The last two masks are smaller . I don't know which animal is meant to be portrayed by this mask. I like the contrast between the vision openings and the carved eyes.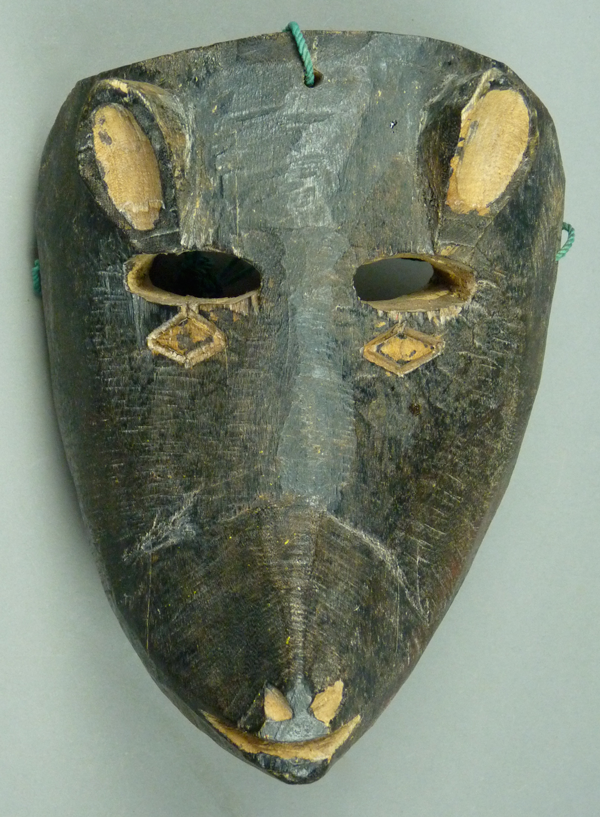 This mask is 7 inches tall, 5 inches wide, and 4 inches deep.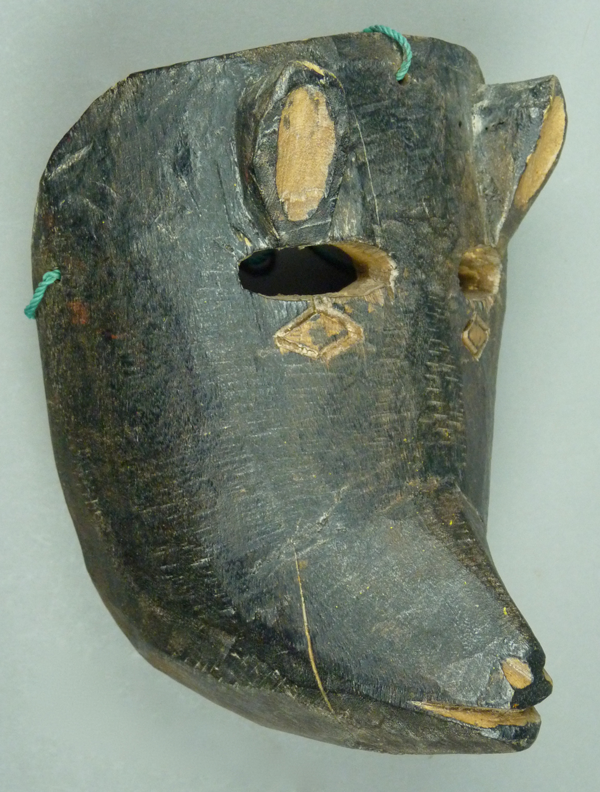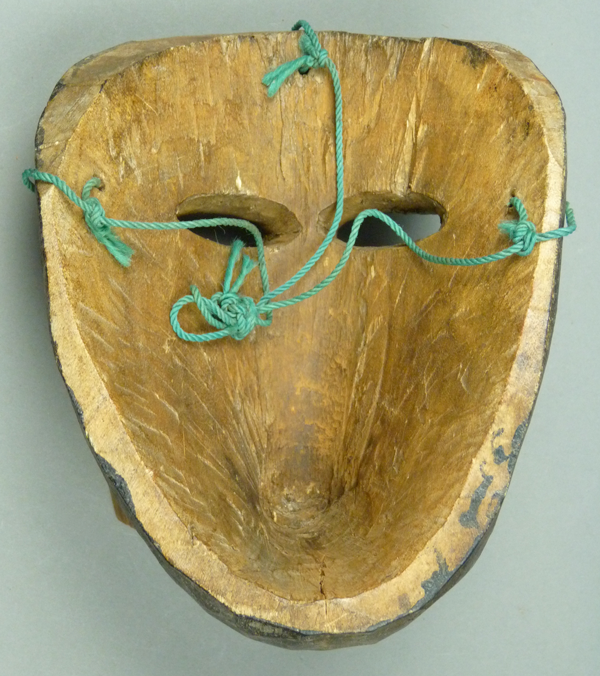 The stripes on this smaller mask make one think again of a badger.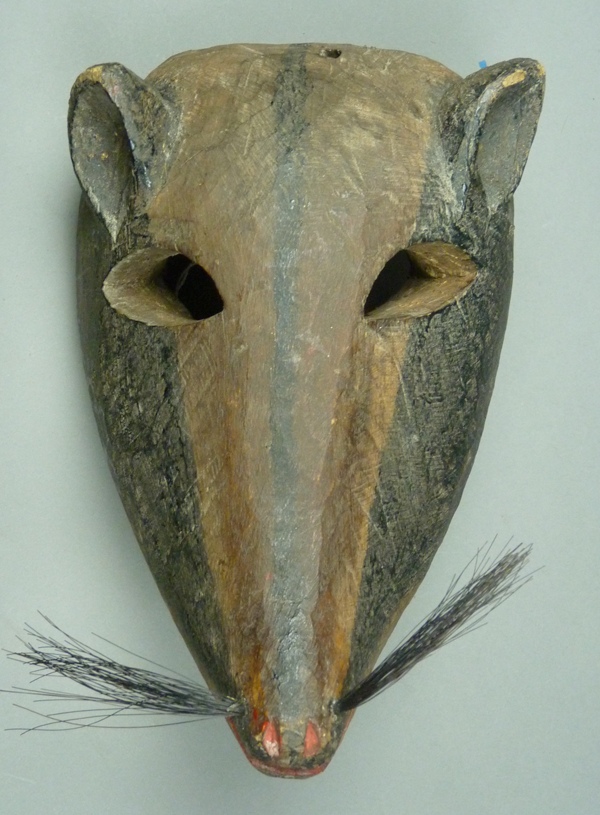 This mask is 8inches tall, 5½ inches wide, and 5 inches deep.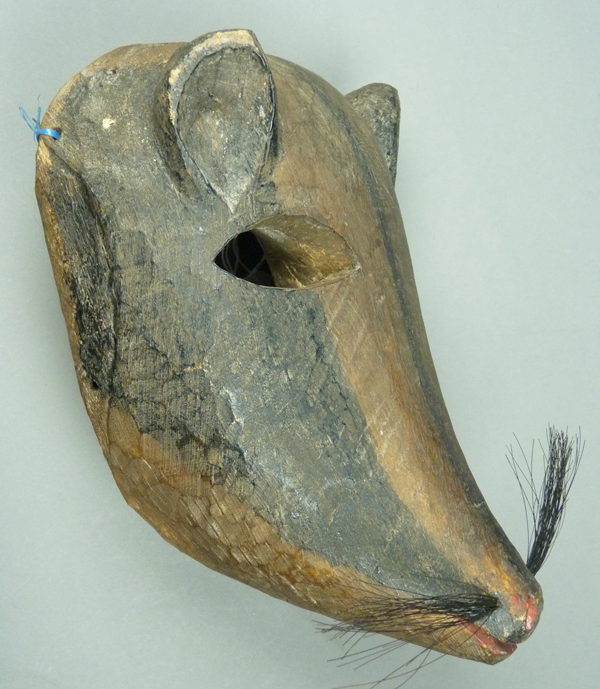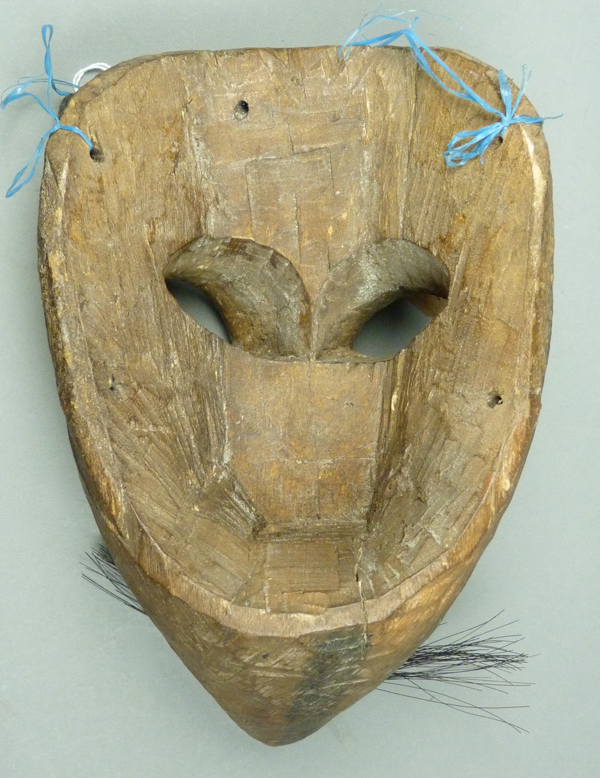 In next weeks' post I will discuss the Tigre masks and related dances of the Amusgos Indians.