Today I want to introduce you to the masks of Pablo Pacheco of Rincon Aliso, Sinaloa.
Tom Kolaz obtained this mask from a runner in Sinaloa in 2009, and sold it to me in 2010. By that time Pablo was deceased. The mask had been made circa 1980. The initial owner, Concepción Ontiveros, had been given this mask by a relative as a gift. He was a teacher by day, and a Pascola during fiestas. Although he was the usual wearer of the mask, he also taught his pupils to dance as Pascolas, and he allowed them to wear it sometimes, when they were dancing.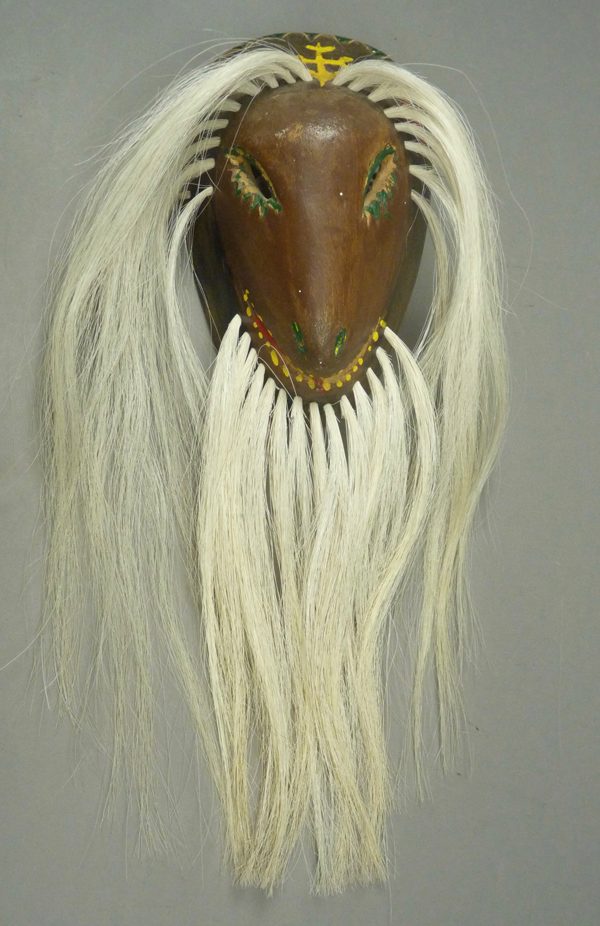 This mask has the long hair that is favored by Sinaloa Pascola dancers. It has wonderful patina.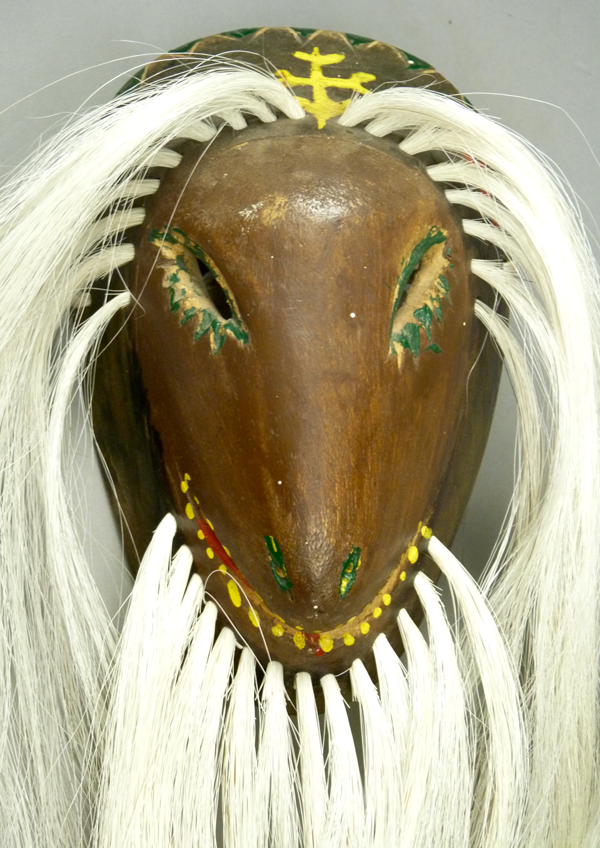 This mask has an unusual forehead cross. One commonly finds such elaborate crosses on Pablo's masks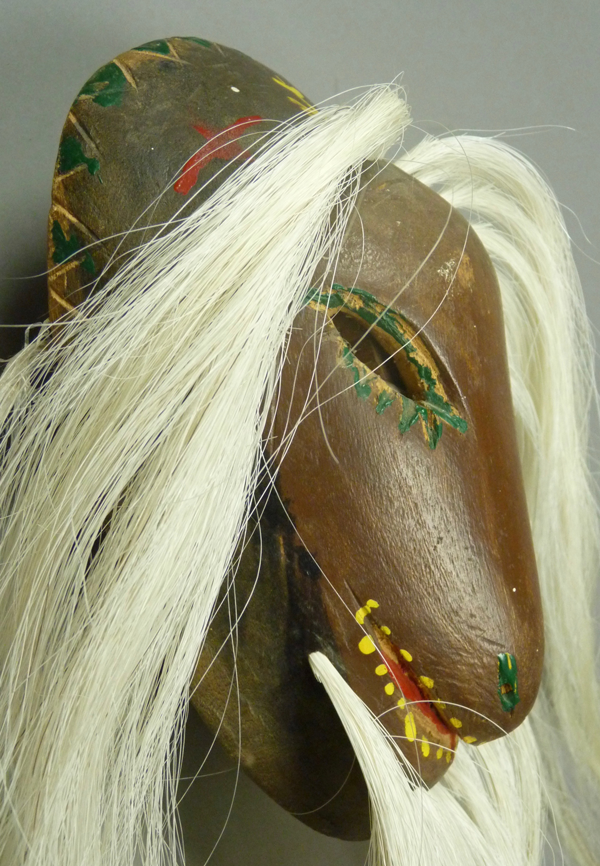 There are carved notches along the bottom edge of the openings for vision. His more recent masks had painted lower lashes rather than ones that were carved.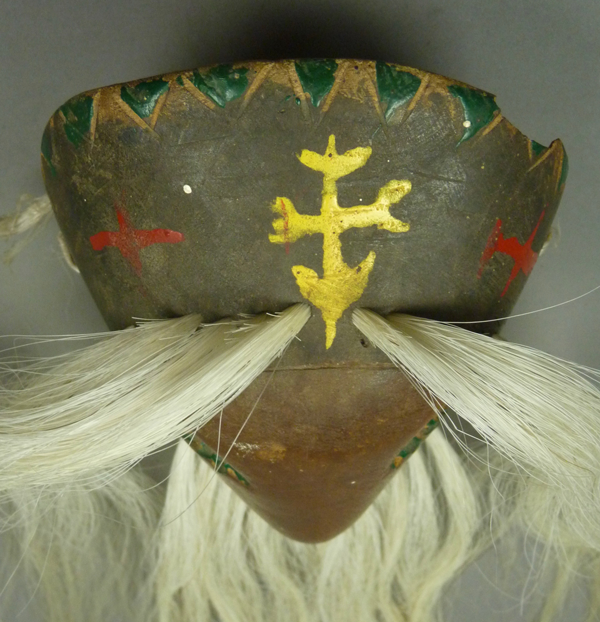 The carved rim design extends around the upper part of the mask, but goes no lower than the eyes.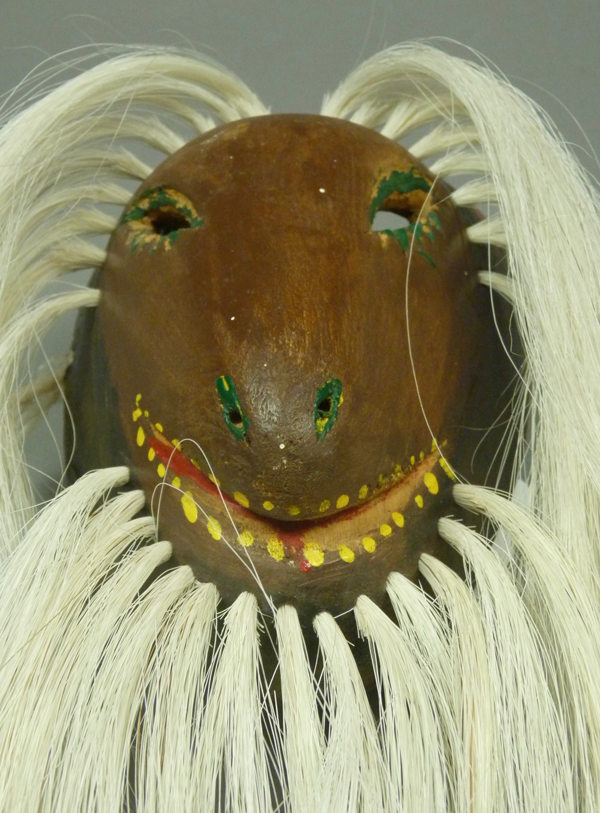 This mask is 8 inches tall, 5¼ inches wide, and 3 inches deep.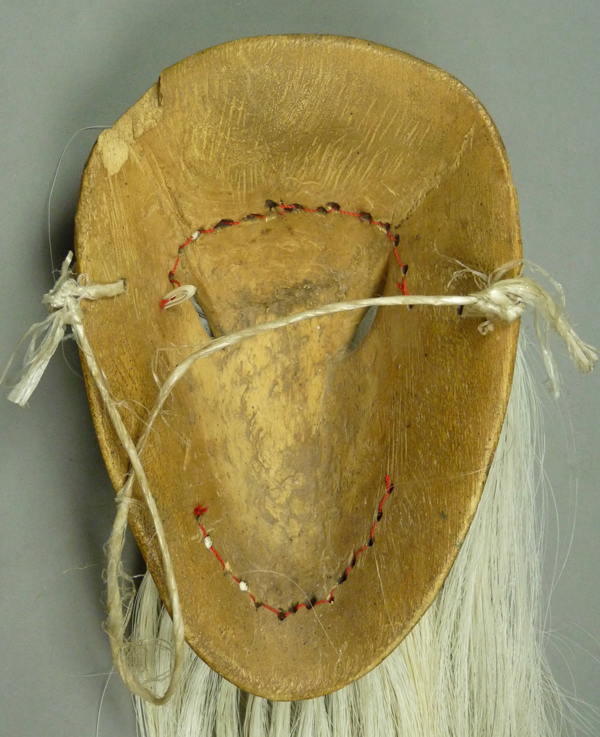 The back is darkly stained from use, more so than you would think from this photo.
The next mask was carved and danced by Pablo in 1988, then collected by Tom Kolaz  later that year. I purchased it from Tom Kolaz in 1998.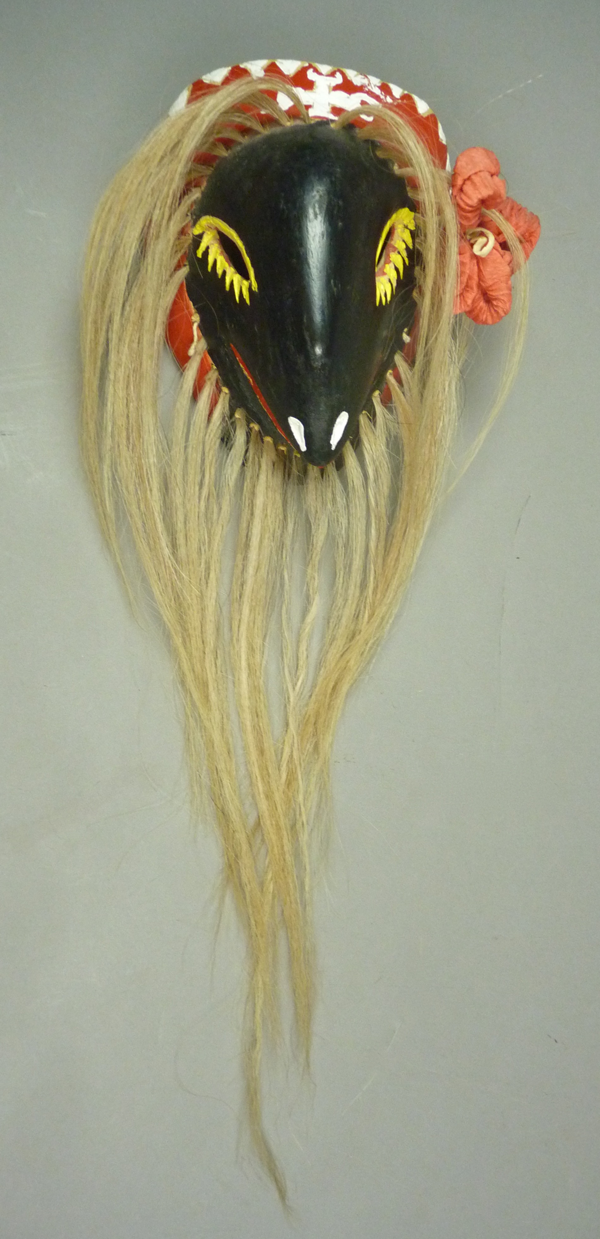 This mask, which depicts a goat, has an interesting and unusual profile.
Here is another of those unusual forehead crosses.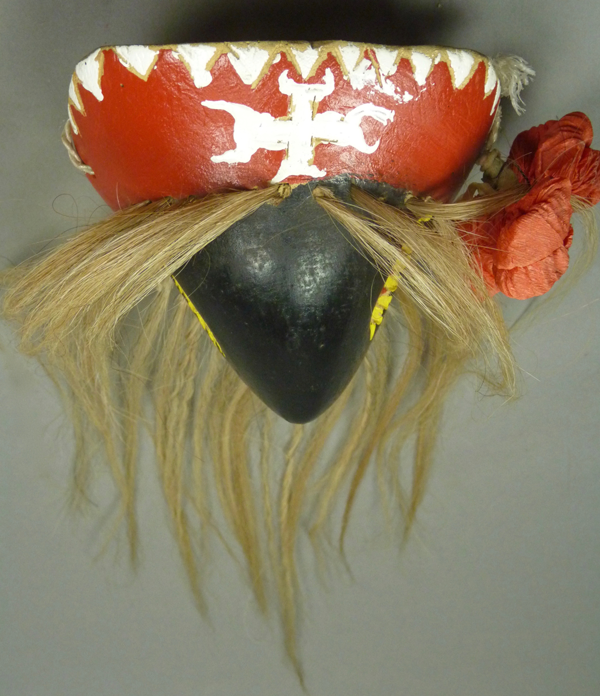 It is really apparent in these photos that Pablo secures the hair bundles in place with wooden pegs (PLUS string).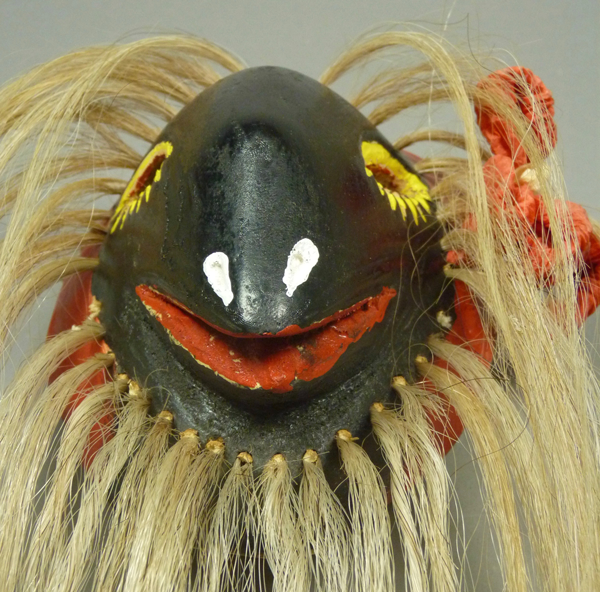 This mask is 7¼ inches tall, 5 5/8 inches wide, and 3½ inches deep.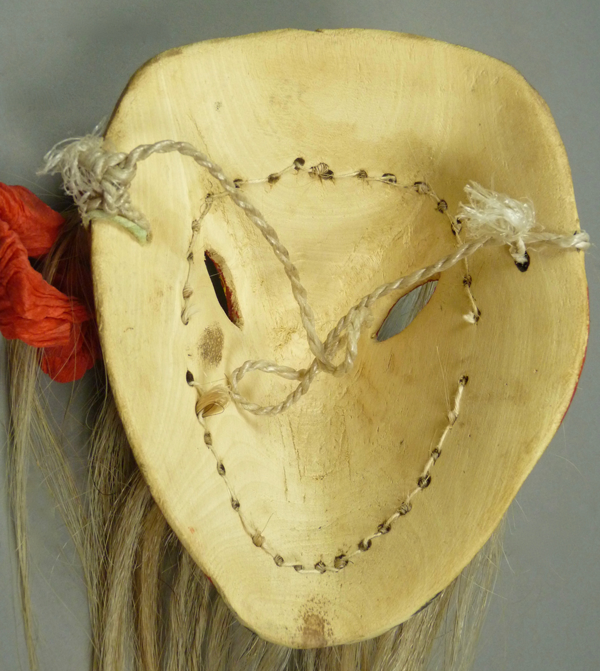 This mask was not heavily danced.
I bought the third Goat Pascola mask from Joe Tuzz, on EBay, in August, 2016. On the back it is also marked February, 1989, as if it was collected then.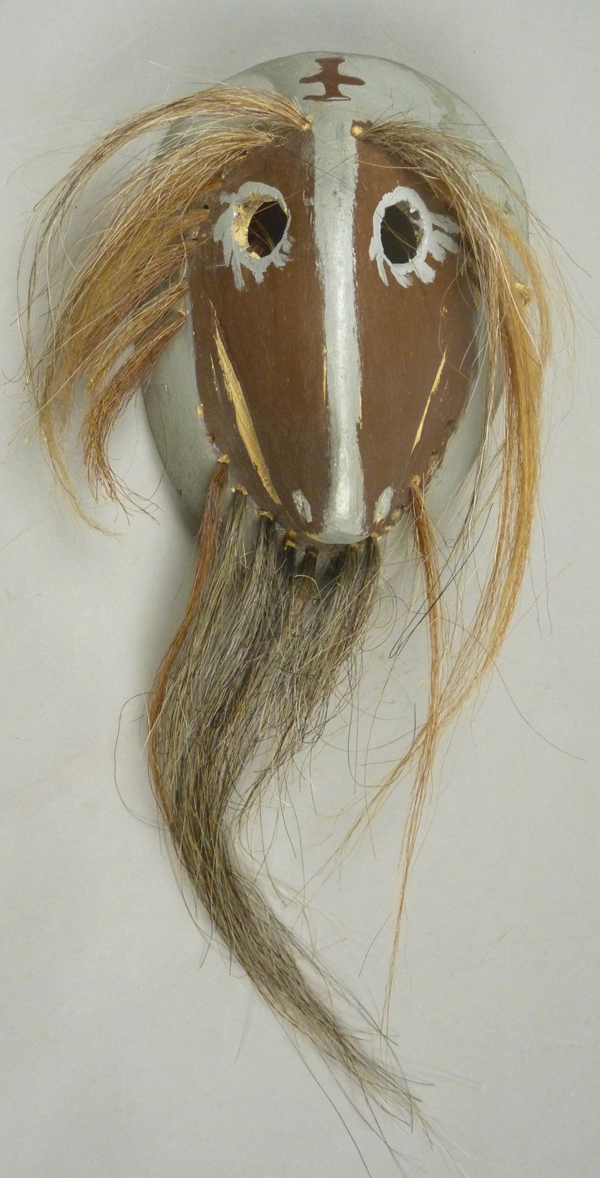 This mask is small, as if a child's mask. The round vision openings are unusual for Pablo.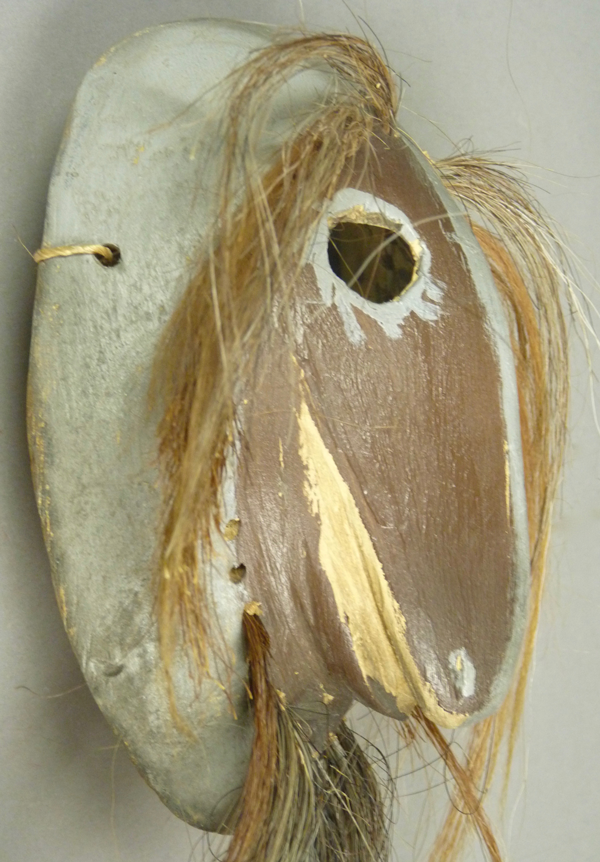 The simplicity of design of this mask is common for Pablo's later masks. Barney Burns and Mahina Drees collected many masks like this in a variety of colors and color combinations, but all shaped like this one.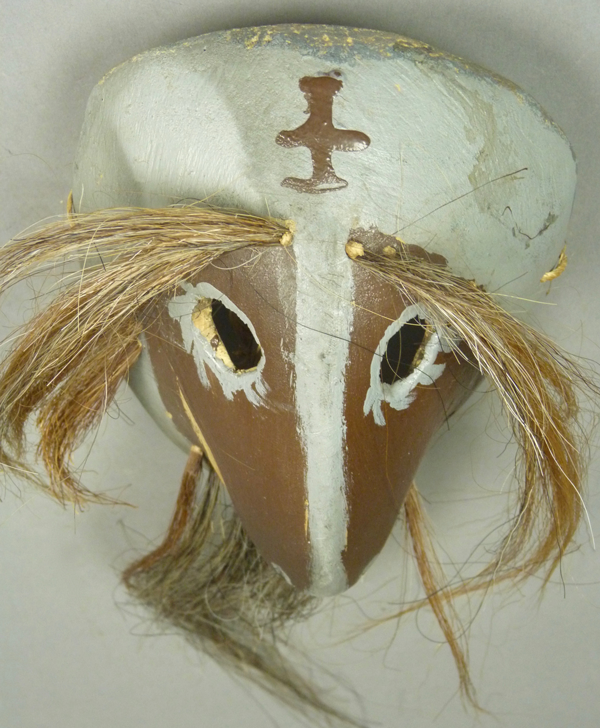 The cross is very unadorned on this mask. The usual eyelashes are painted on the lower edges of these eyes, but not carved.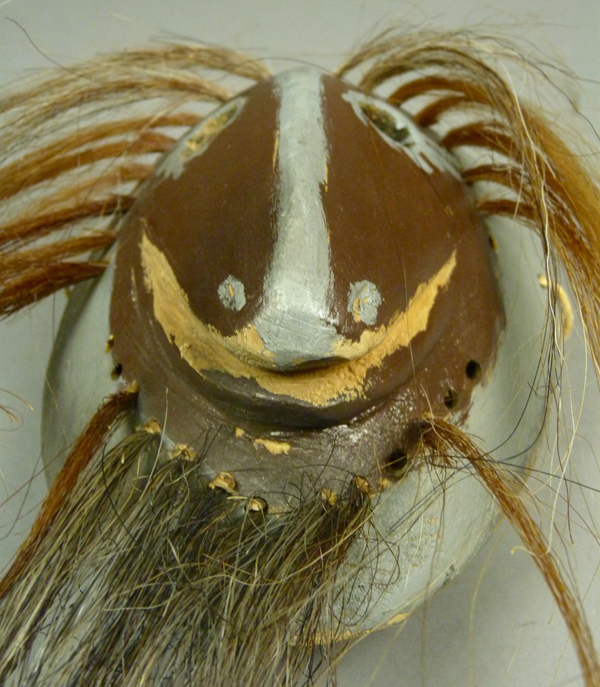 This mask is 7 inches tall, 5 inches wide, and 2½ inches deep.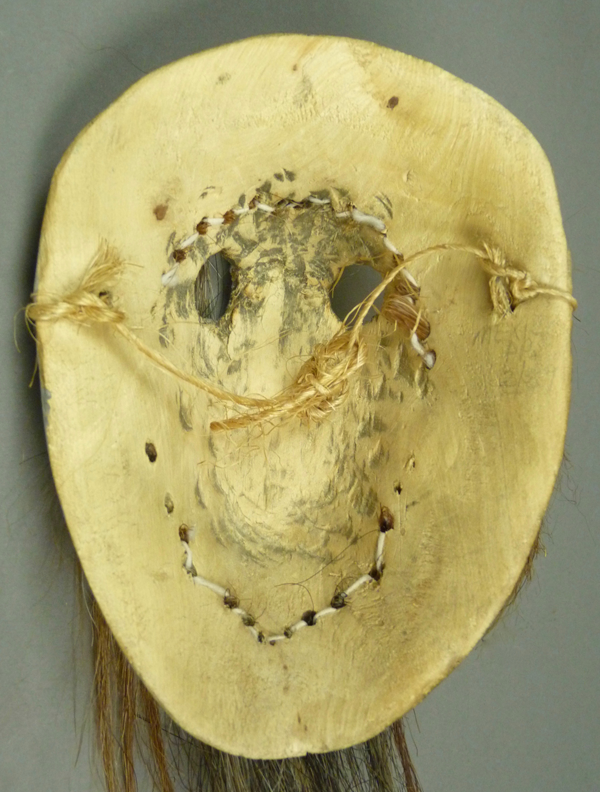 There is mild staining from use.
The last of these masks has a human face, and most of Pablo's human faced masks look just like this one.

I bought this mask from Dinah Gaston in June of 2000. It is dated January 15, 1994 on the back, when it was purchased in El Fuerte, Sinaloa.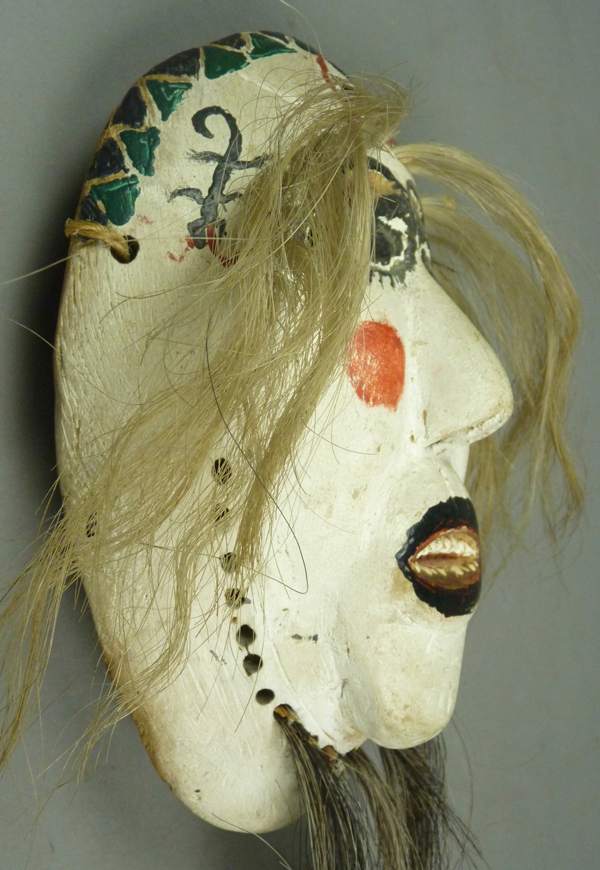 Pablo's usual forehead cross is flanked by a scorpion and a lizard.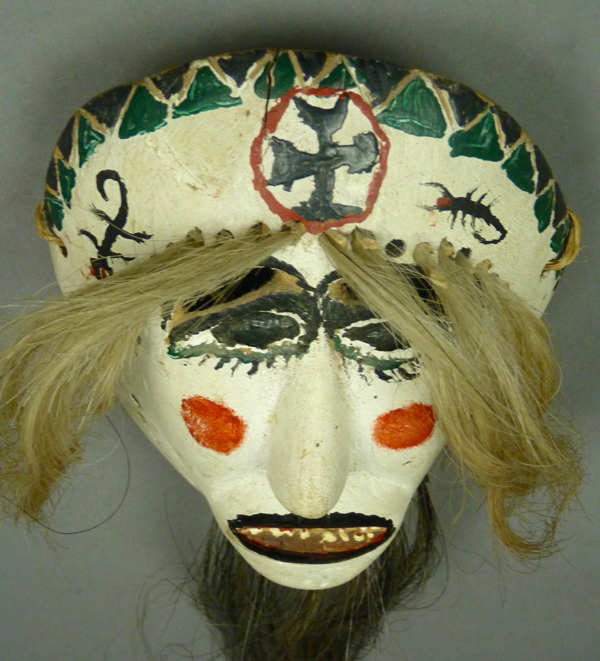 This mask originally had many pegged hair bundles, but some have been lost.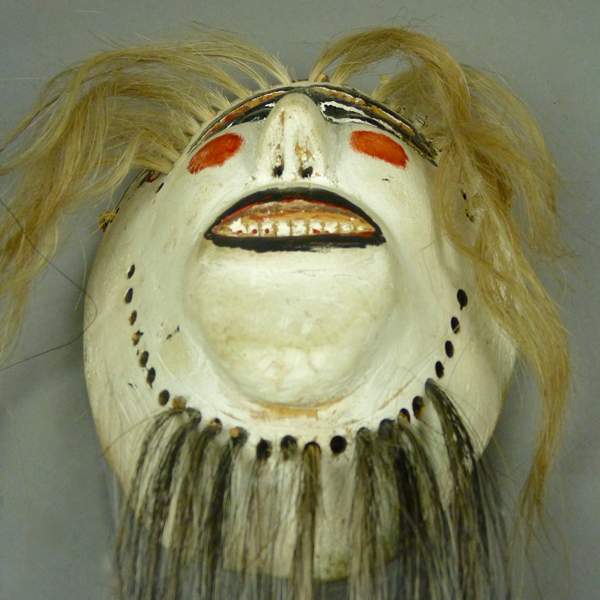 This mask is 8½ inches tall, 6 inches wide, and 3¼ inches deep.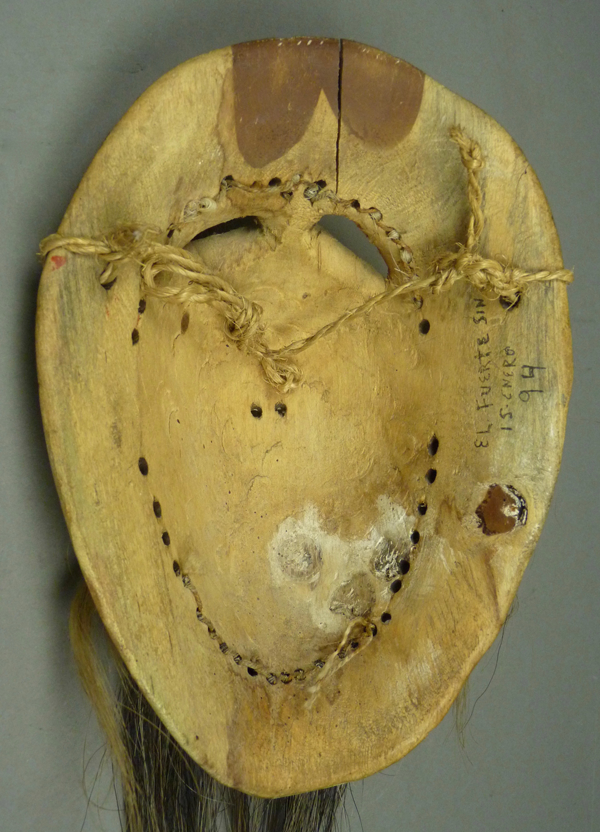 The back is moderately stained from use.
Today all the masks are from my collection. Next week we will examine a few more of Pablo's masks from the collection of Barney Burns and Mahina Drees.
Bryan Stevens