I purchased my first Pascola masks in March, 1988. Both were Mayo. These had been collected in Mexico by Roberto Ruiz, and I bought them from Robin and Barbara Cleaver, of Santa Fe, New Mexico. One of these was said to have been carved by Andres Valenzuela, but after my recent study of the Mayo masks in the collection of Barney Burns  and Mahina Drees, I realized that the actual carver was Rosario Cabanio, from Camajoa, Sinaloa. It had been danced for three years. Today I will start with that mask from my collection, following it with four more from the collection of Barney and Mahina.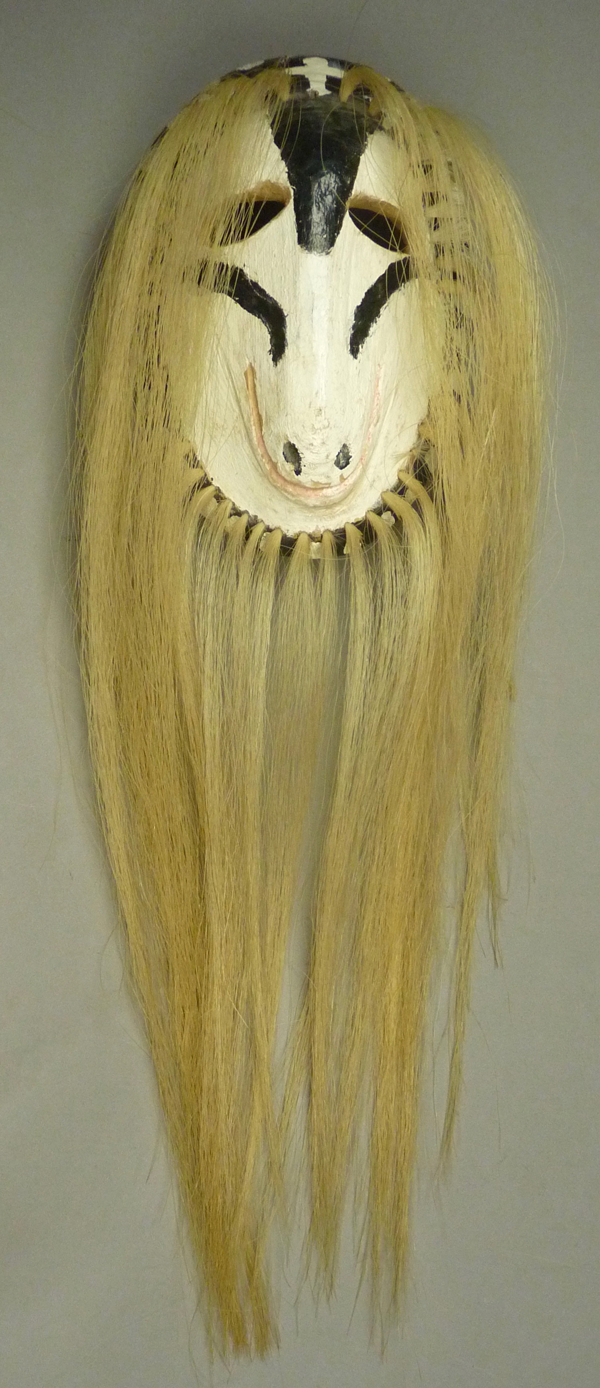 This is another Sinaloa Pascola mask that retains its original long hair.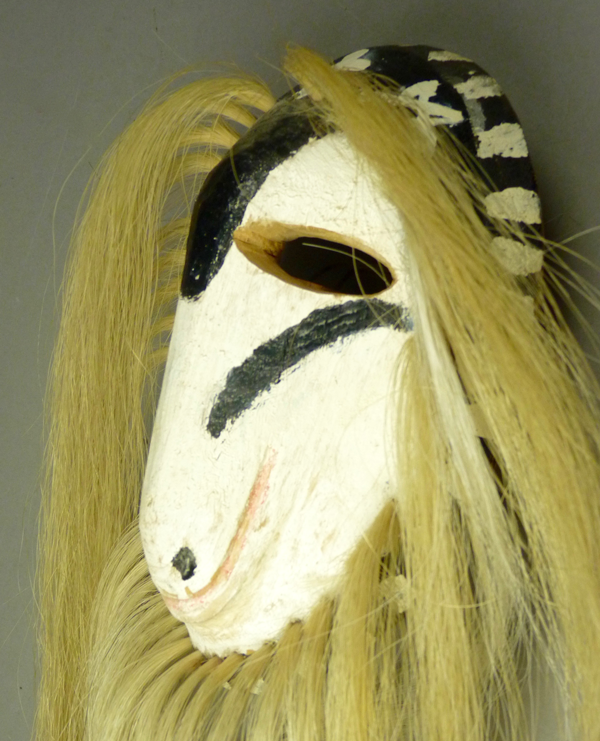 By now you will have seen how commonly the Sinaloa mask makers place flowers , stars, or other designs next to the forehead cross. At one time I thought that this combination might define a single carver, but now I realize that it defines this region.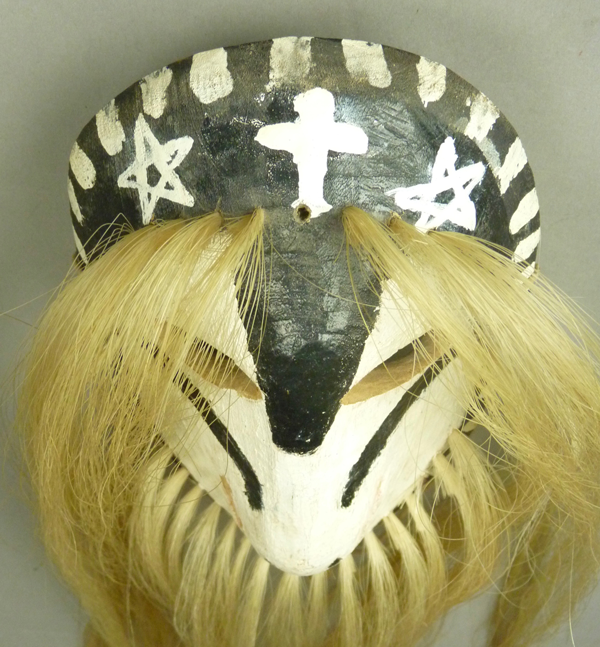 There is a very simple rim design that extends all the way around the rim of the mask. This too is generic for the region.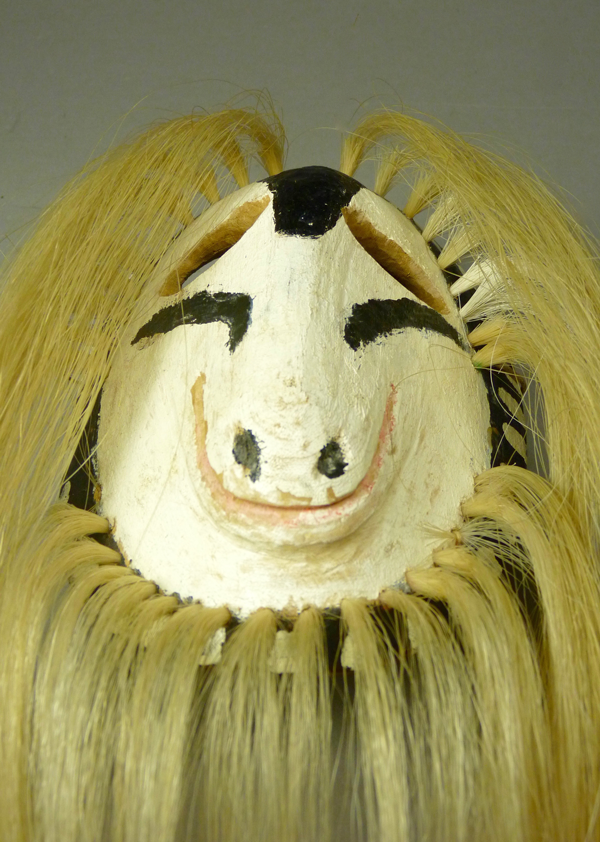 This mask is 7½ inches tall, 5¼ inches wide, and 2½ inches deep.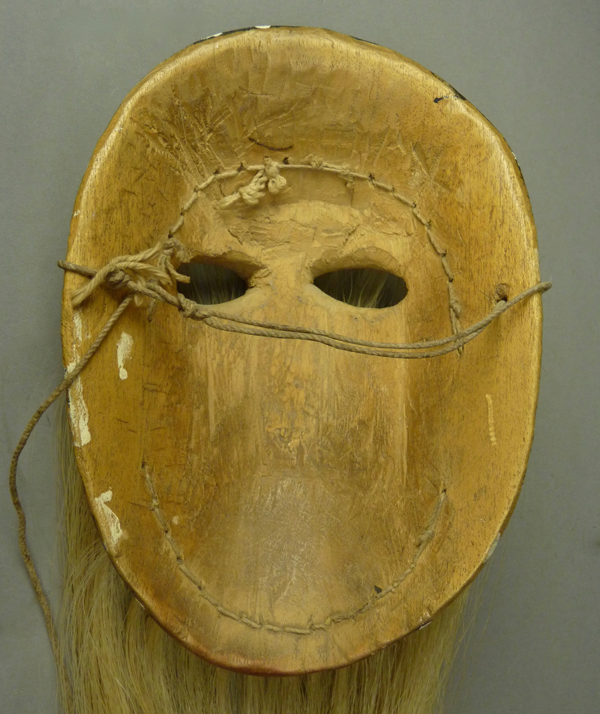 The back of this mask is darkly stained after just three years of use. This suggests that it was a dancer's favorite mask, and so he used it in many fiestas throughout the annual fiesta cycle.
The second mask was collected in 1990 after having been danced for 9 years. The carver was Rosario Cabanio of Camajoa, Sinaloa.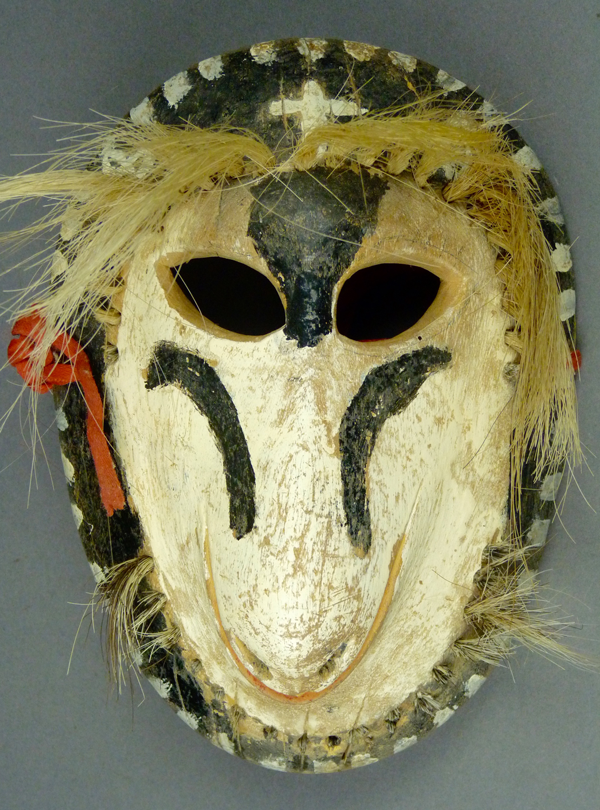 This mask is nearly identical to the one I bought in 1986.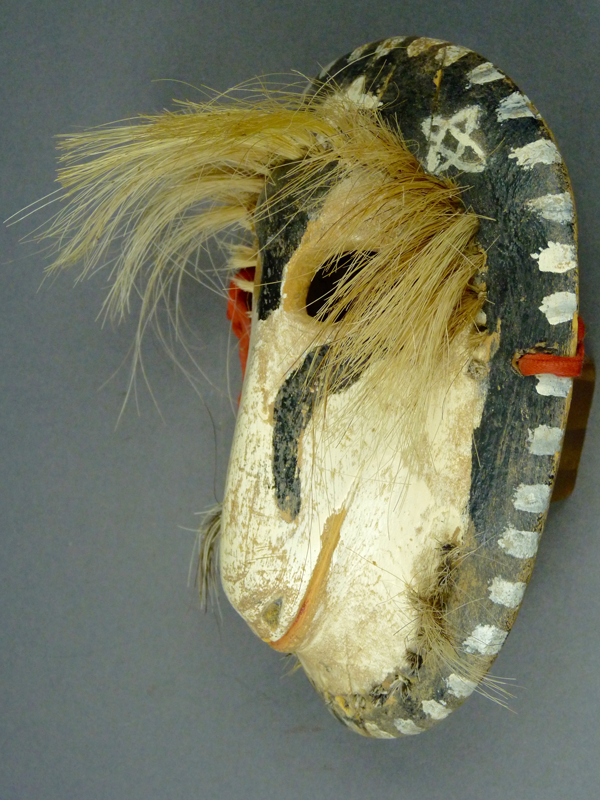 You have seen these stars before on one of the masks of José Mopay.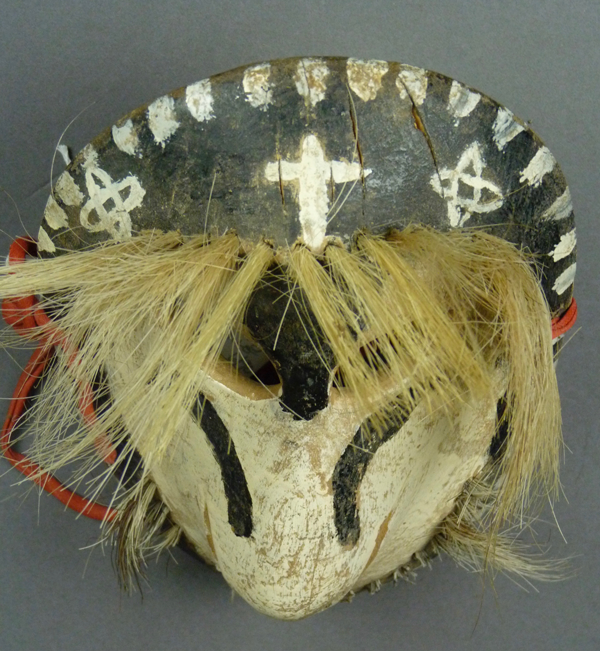 This mask has such a worn patina.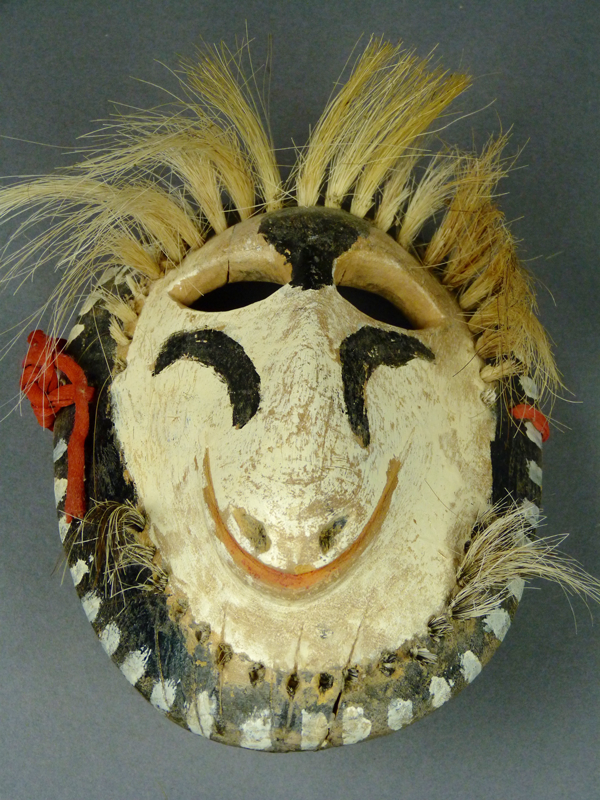 I didn't measure these masks, but they are similar to the first in size.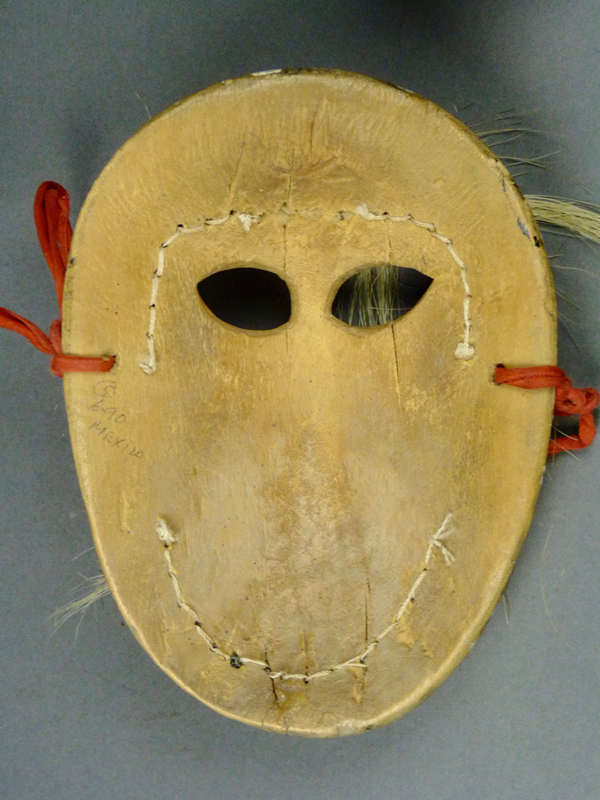 This back has moderate staining from use.
The third mask was also collected in 1990, but as an anonymous object.It is obviously the work of of Rosario Cabanio.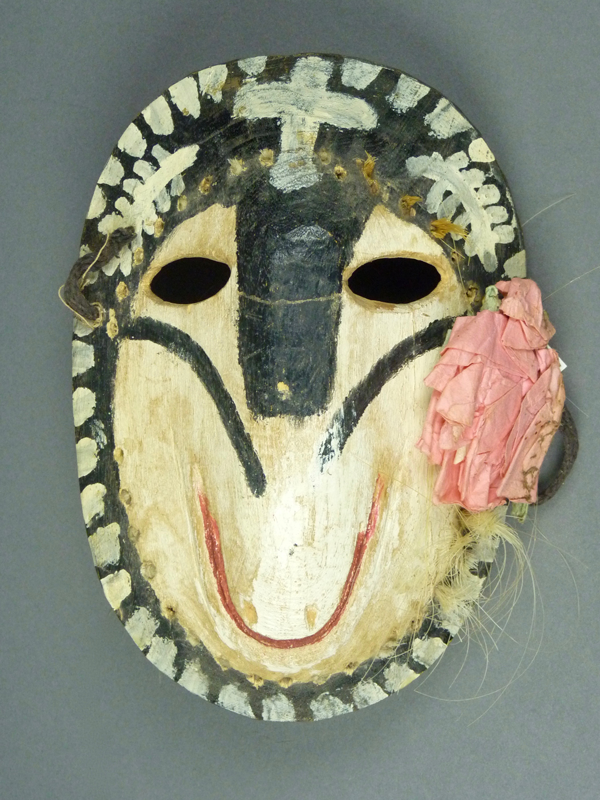 This mask has branches flanking the forehead cross, another variation that you have seen on the masks if another carver (Guillermo Valenzuela).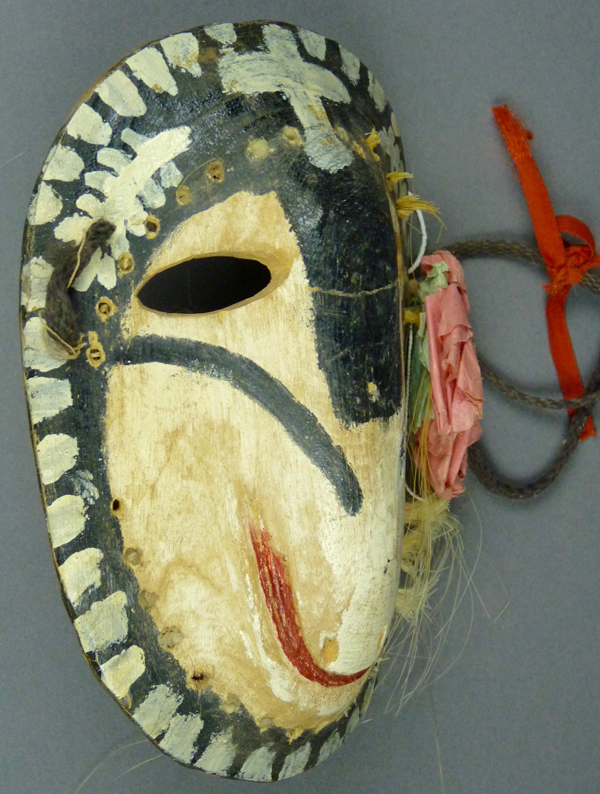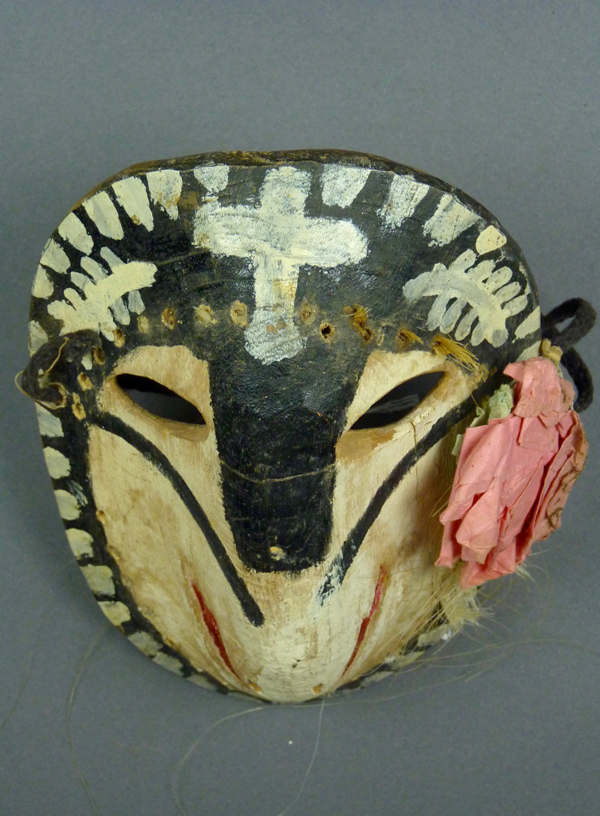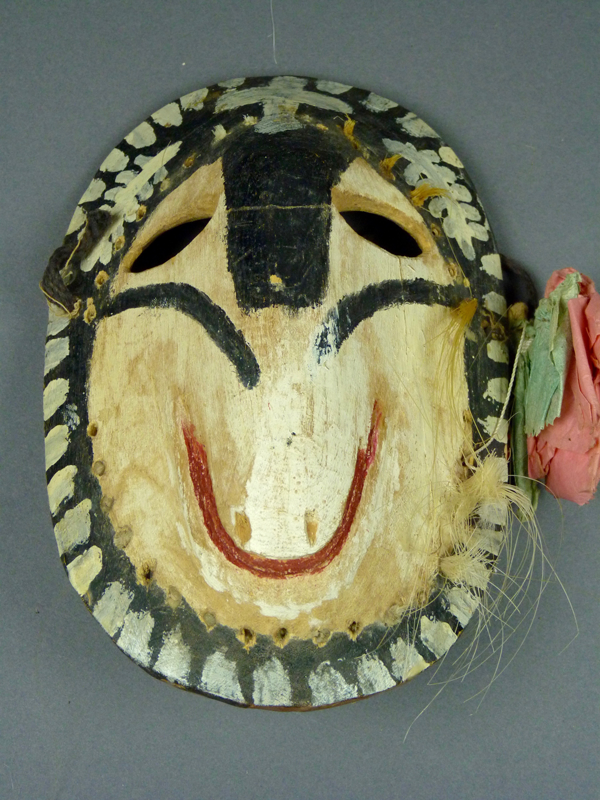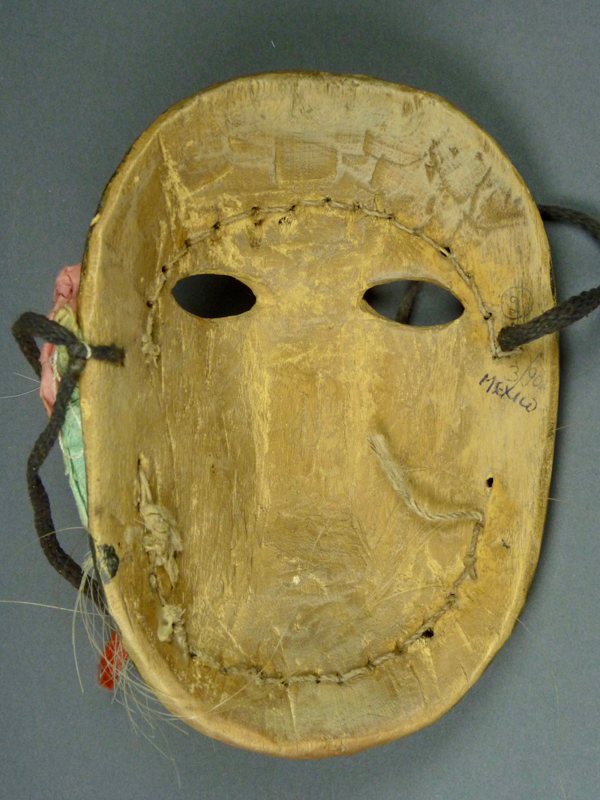 This mask too has a back that is stained from considerable dancing.
557/557 This mask came without any provenance, and at first glance I was ready to attribute it to Guillermo Valenzuela. However Tom Kolaz has another like it that was made by Rosario Cabanillas (or Rosario Cabanio). Those two (Guillermo and Rosario) seem to have overlapping styles.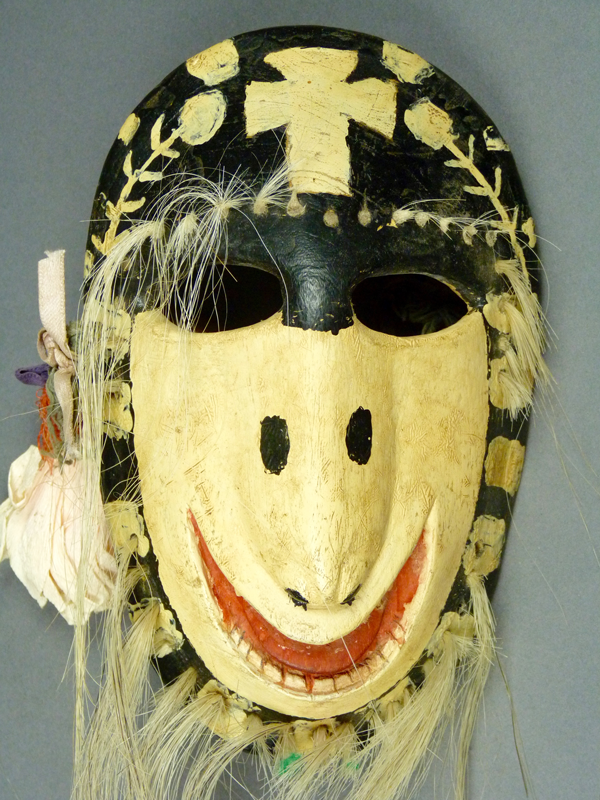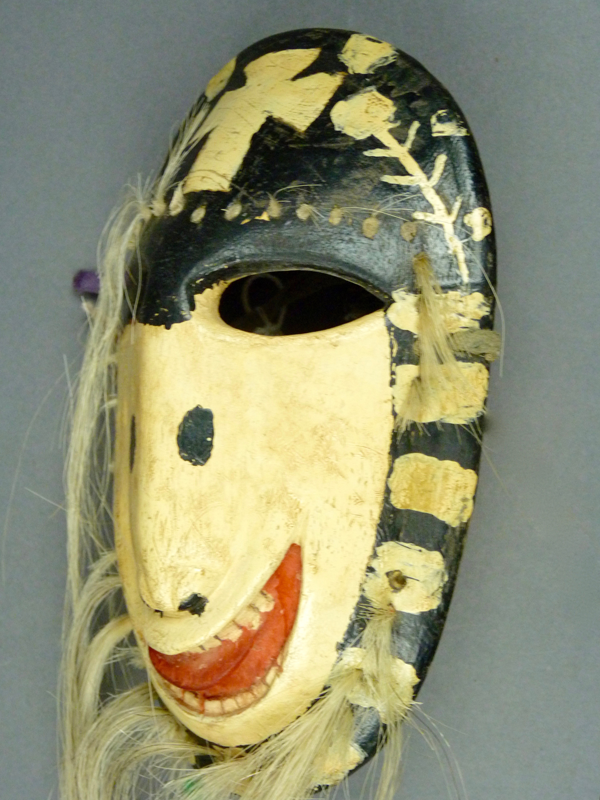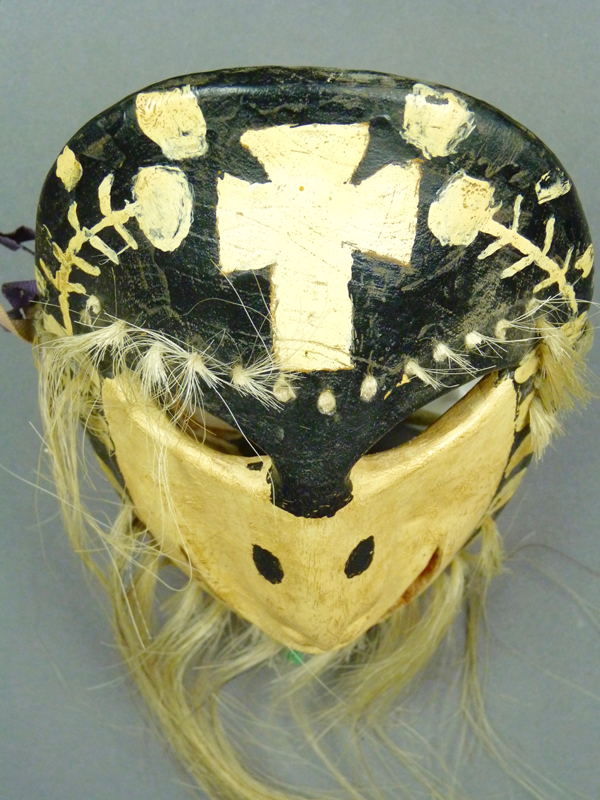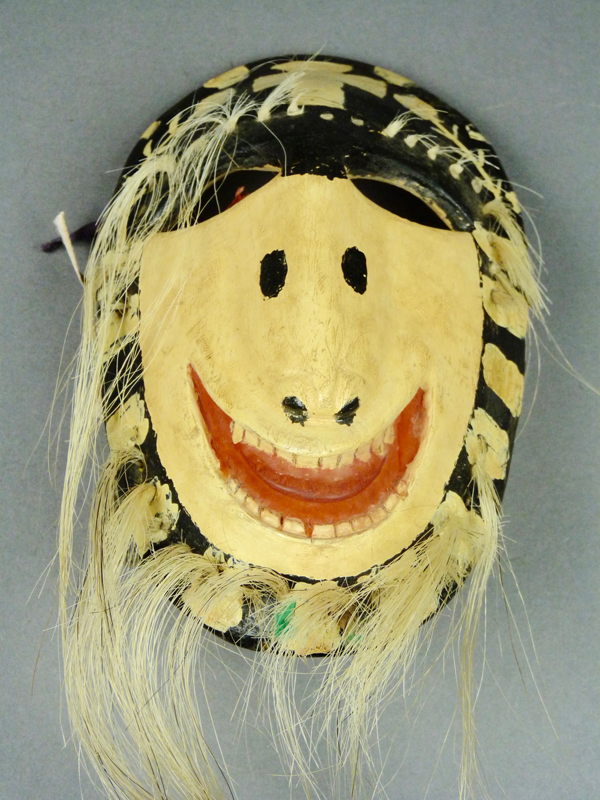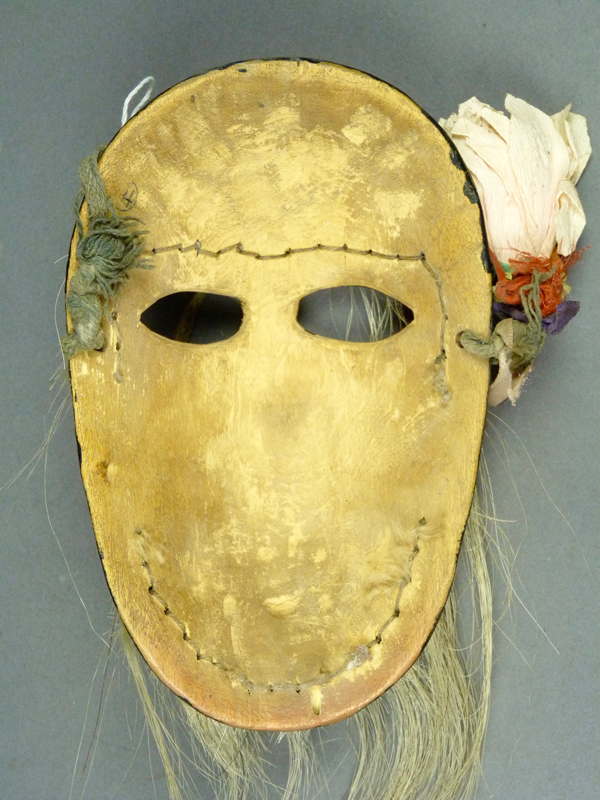 Here is yet another danced back.
602/606 The last mask, c0llected in 1987 after having been danced for 1 year, was identified at the time of collection as the work of Rosario Cavanes (Rosario Cabanio).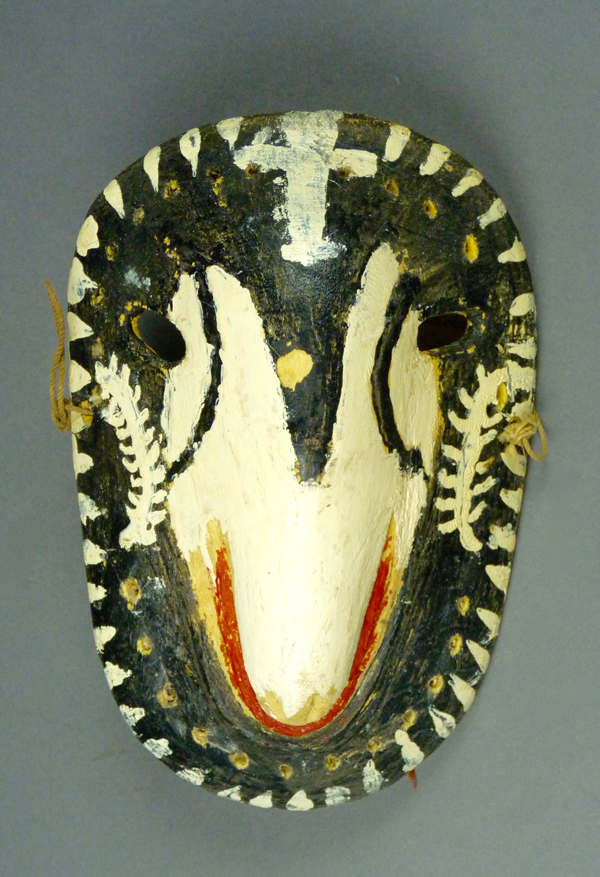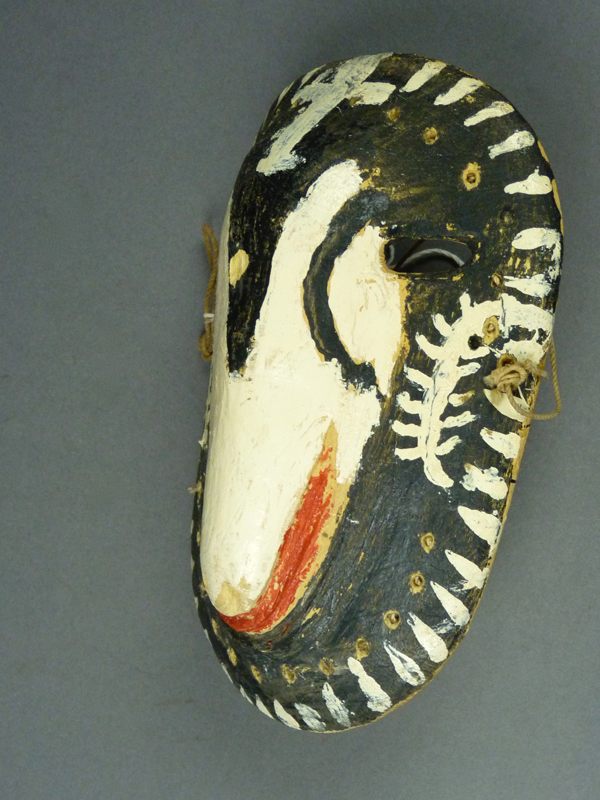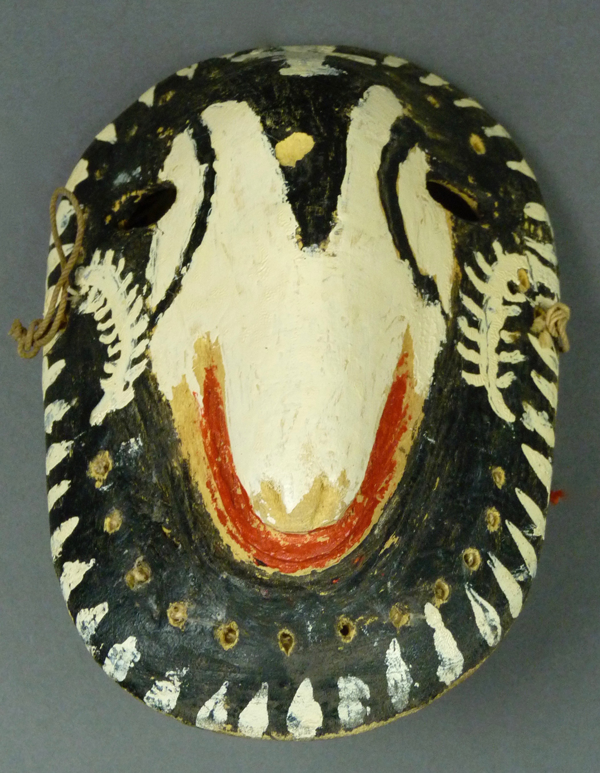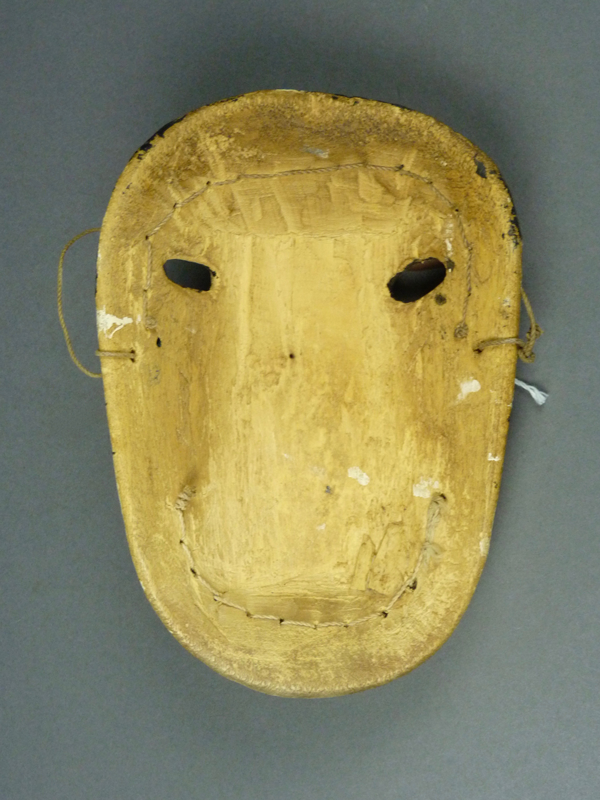 It too has been danced.
Next week we will look at Mayo Pascola Masks by Justiniano Bacasequa
Bryan Stevens