In 1989, Barney Burns and Mahina Drees collected approximately 20 Mayo Pascola masks that had been carved by Francisco "Poncho" Acacia Estrella, who was living at la Divisa, a small town in the Municipio of El Fuerte in Sinaloa. I have no evidence that they bought any other masks by this carver, either in earlier years or later. At any rate, when I photographed their collection in 2016, they still had 16 of Francisco's masks that they had collected in 1989. All of those masks had been danced. Evidently Tom Kolaz had earlier purchased two of the masks from this group, for when he sold them to me in 1998, those masks still had tags and labels that had been written by Mahina in 1989. In 2001 I bought a third mask by Pancho from the shop at the Arizona State Museum, and it too had a tag and notations in Mahina's hand. All three of my masks had been danced. Today I will show my trio by this carver, and then I will throw in five more from those that remained in the collection of Barney and Mahina in 2016. Hopefully there are a few more masks by this carver in other hands.
This is one of the pair that I purchased from Tom Kolaz in 1998. It appears to be a Perro (dog) mask. Poncho's animal Pascola masks are mysterious, as the labels do not identify the animal represented, and one is left to speculate—dog, pig, or mystery animal?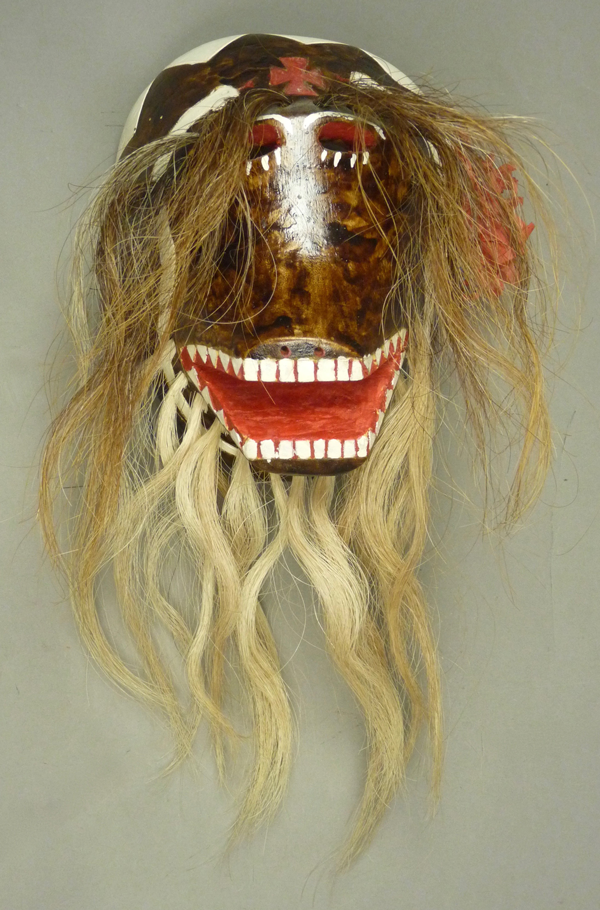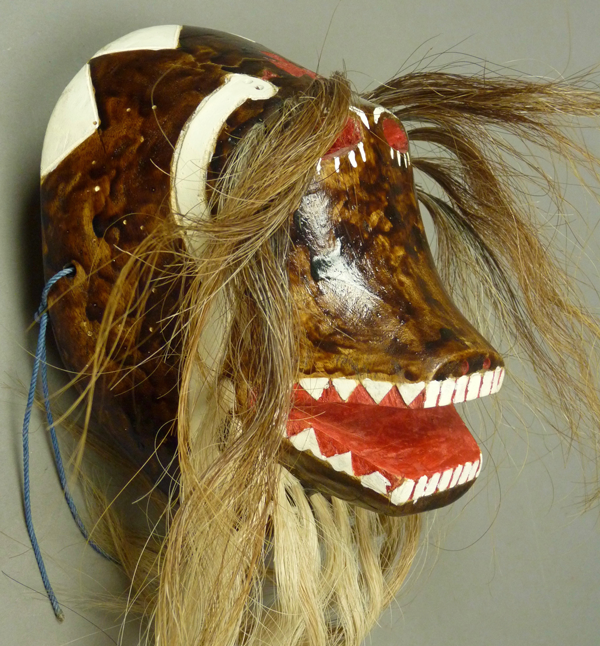 Many of Poncho's masks have snakes on either side of the forehead cross. The cross is usually recessed. The paper flower was said to have been worn by the dancer, tied to his topknot.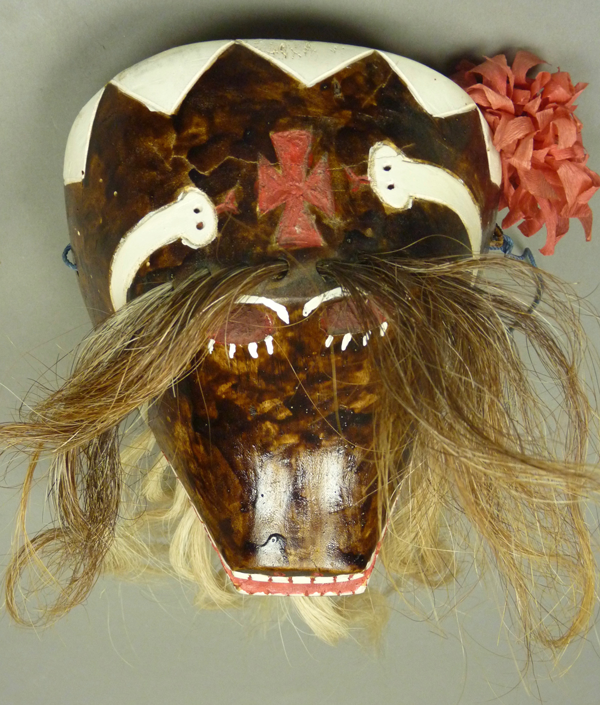 The mouths of these masks often look like they were cut by a saw.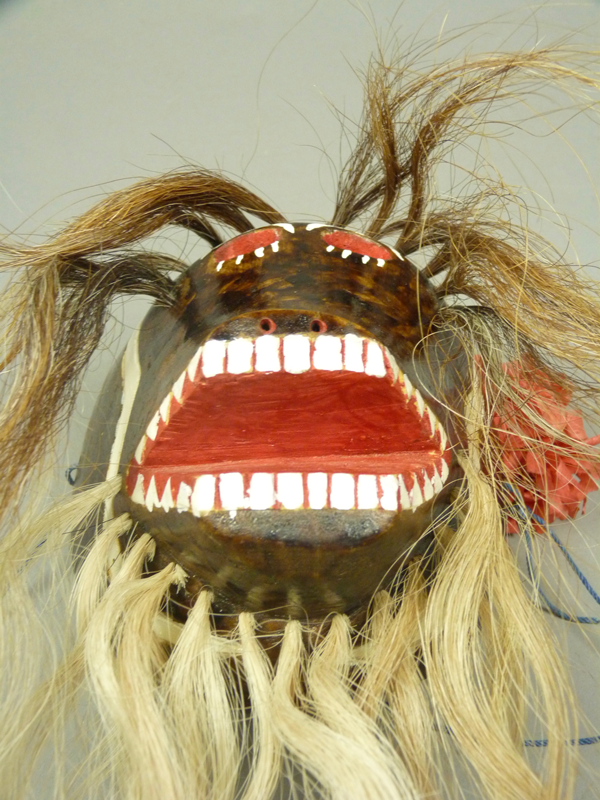 This mask is 7¼ inches tall, 6 inches wide, and 4 inches deep.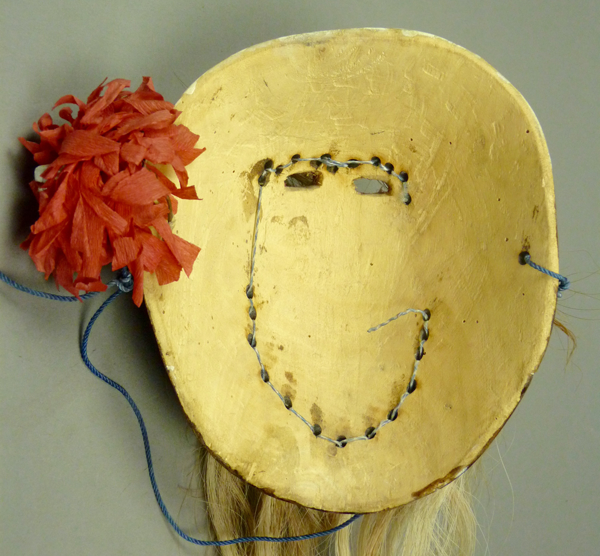 There is mild staining from use.
The second mask has a human face. It looks somewhat like the human faced masks of  Pablo Pacheco.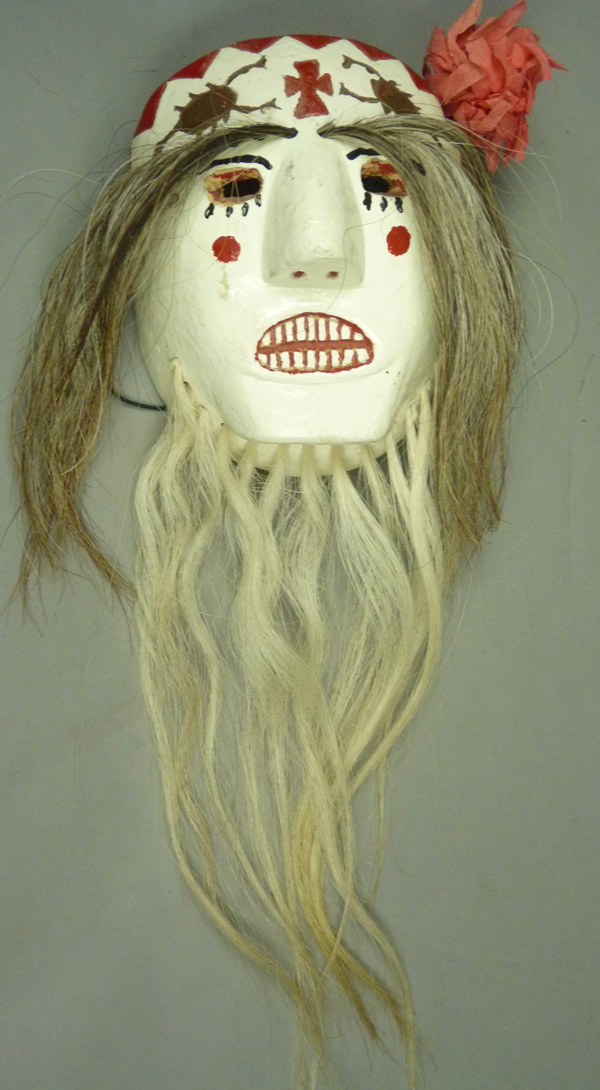 However the square jaw is distinctly different from Pacheco masks.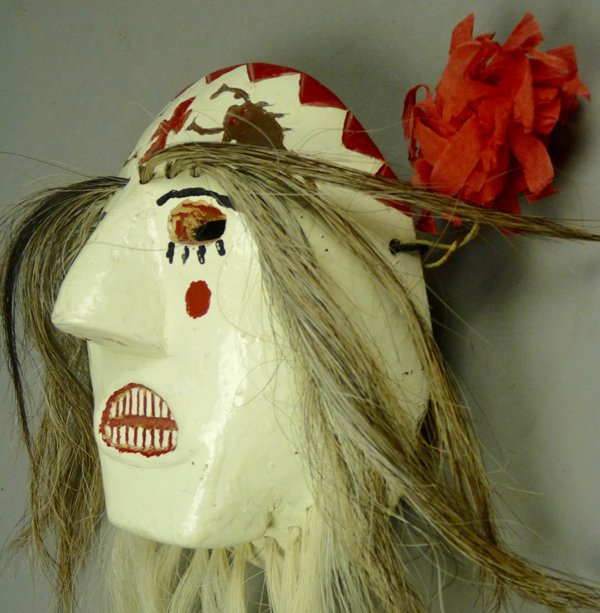 Certainly the scorpions make one think of Pacheco's masks.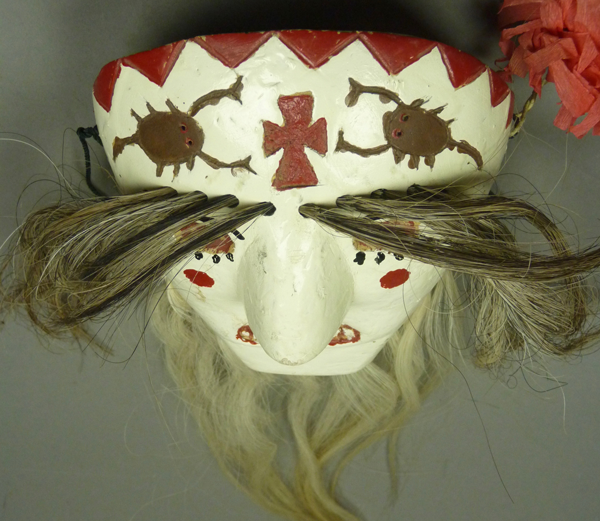 The hair bundles on Poncho's masks are not pegged.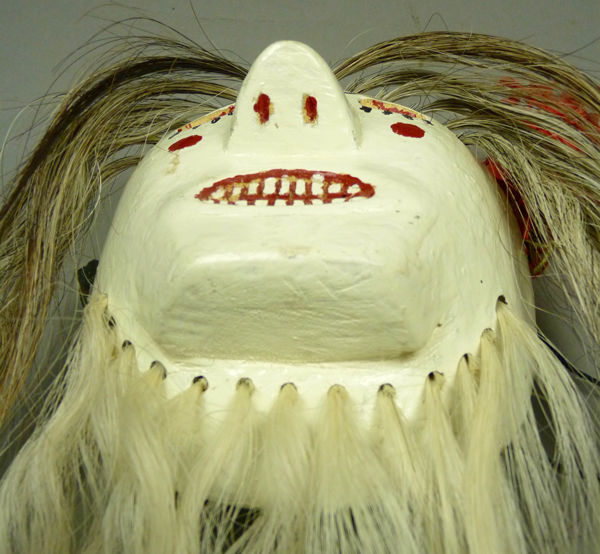 This mask is 7 3/8 inches tall, 5¼ inches wide, and 3¼ inches deep.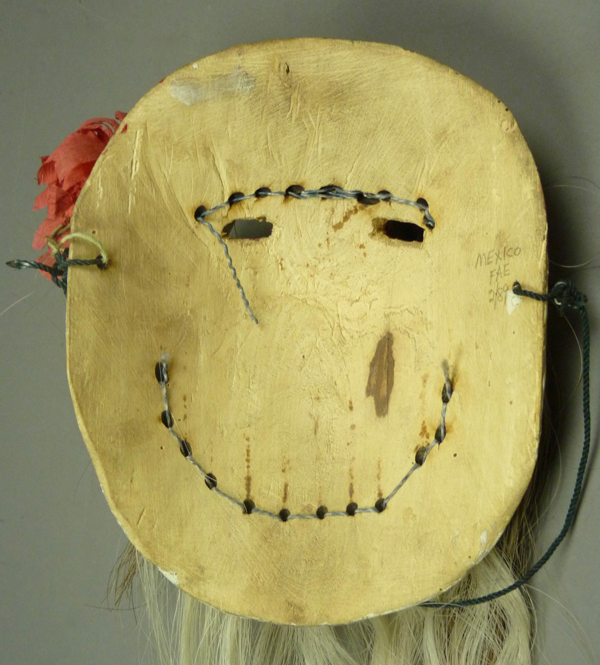 This is another lightly danced back.
Third in line is the mask that I bought at the Arizona State Museum store in 2002.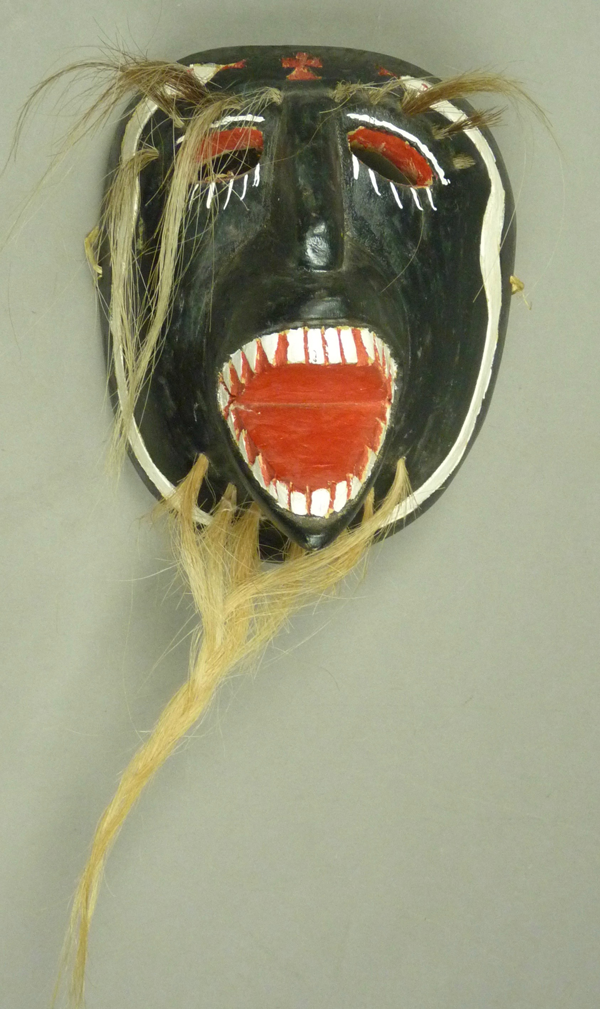 This is another mysterious mask that apparently represents a dog.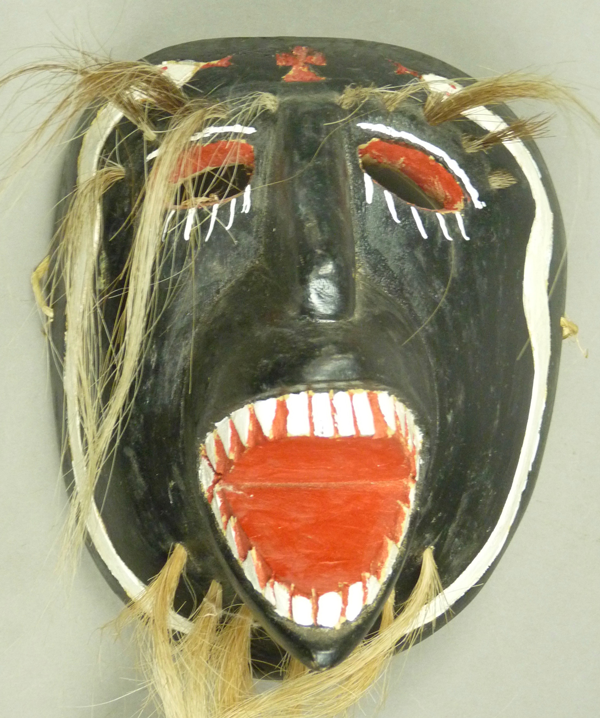 Such nasal bridges are part of the puzzle.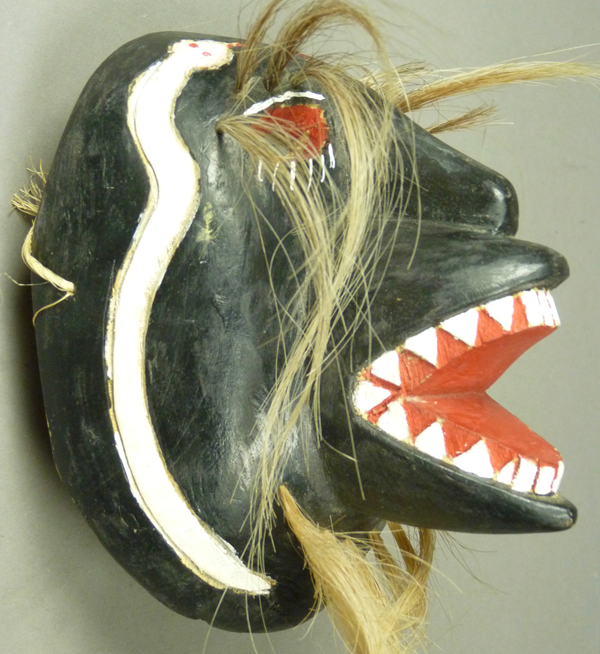 There are those snakes again.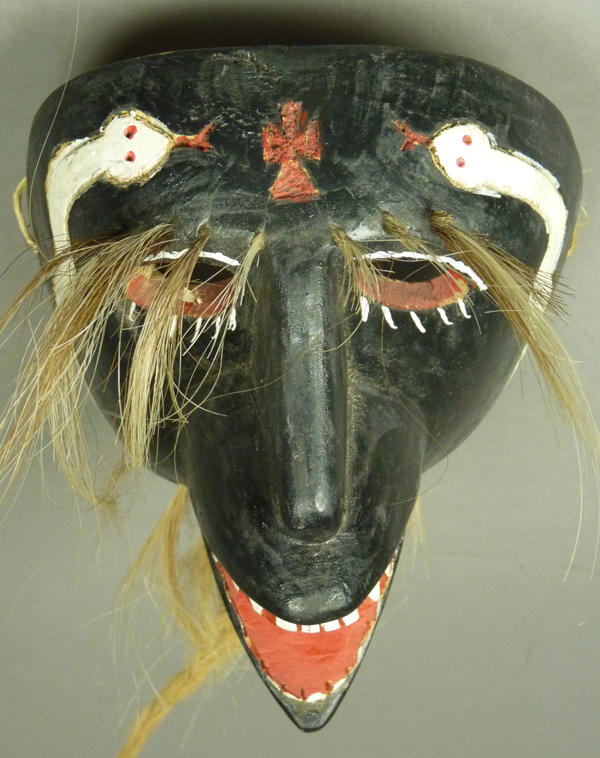 The tails of the snkes nearly meet under the chin.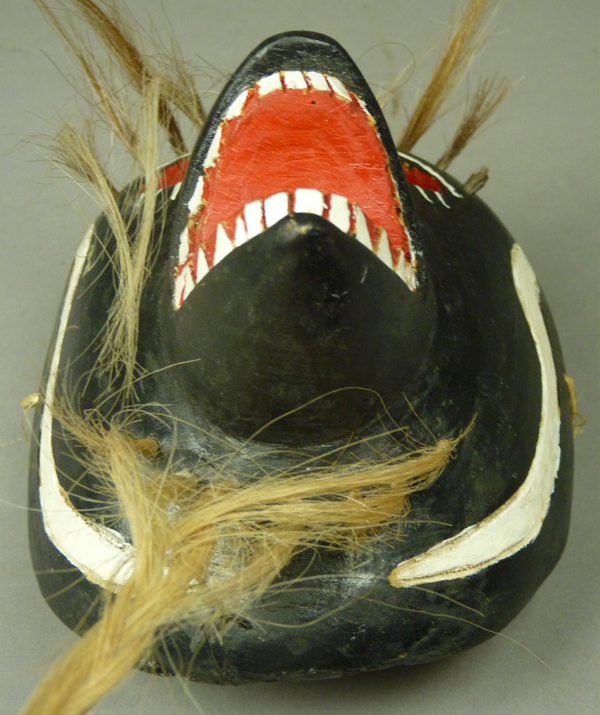 This mask is 6¾ inches tall, 5½ inches wide, and 4 inches deep.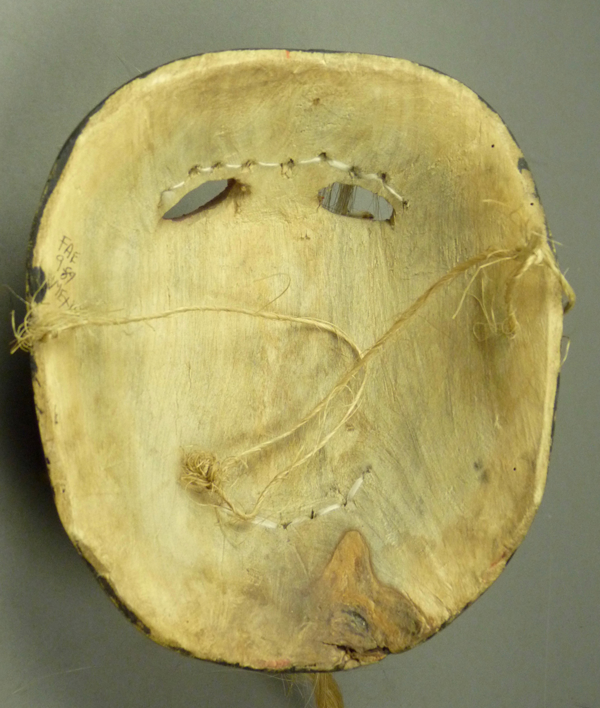 The back of this mask too is lightly soiled. FAE marks the mask as having been carved by Francisco Acacia Estrella.
Examples follow from the collection of Barney Burns and Mahina Drees, all collected in 1989. They resemble those we have already seen.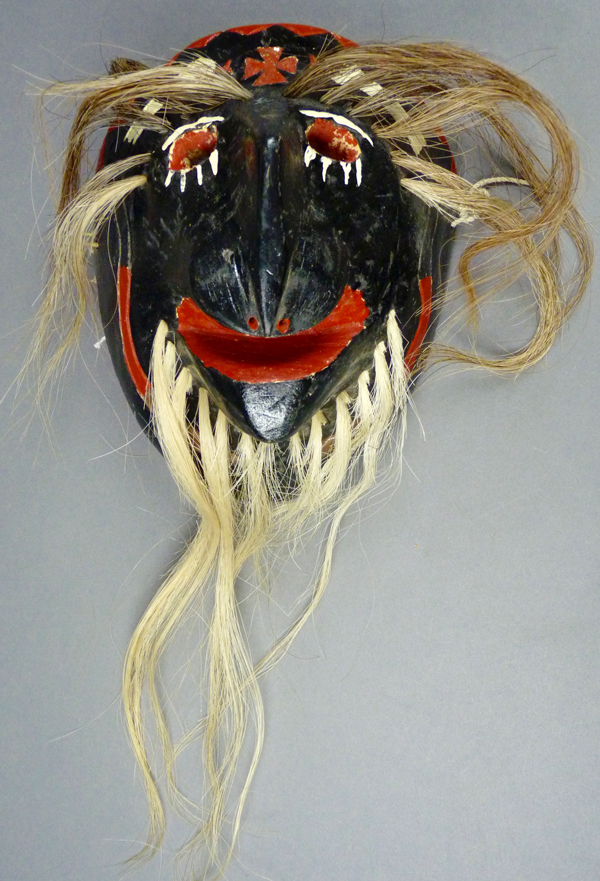 This is a particularly strange nasal bridge.  Several other masks by Poncho in the collection of Barney and Mahina also have this strange nose.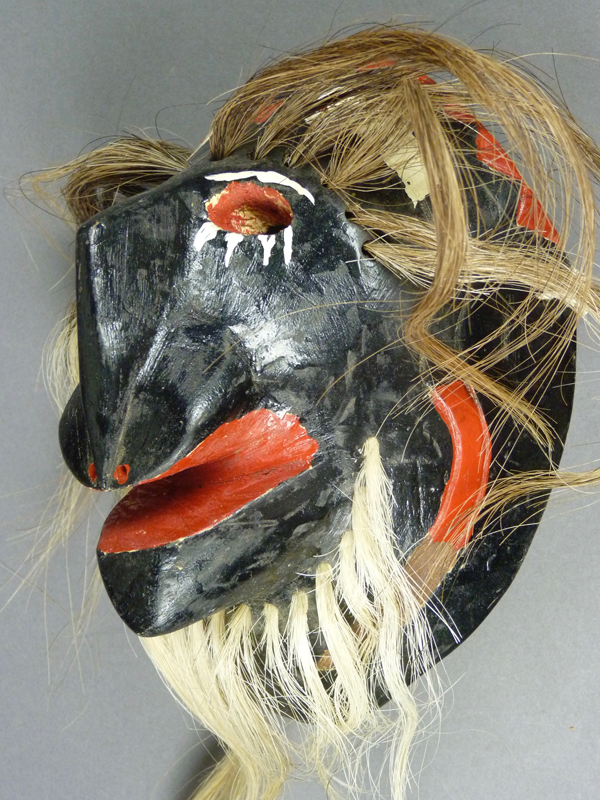 The snakes persist.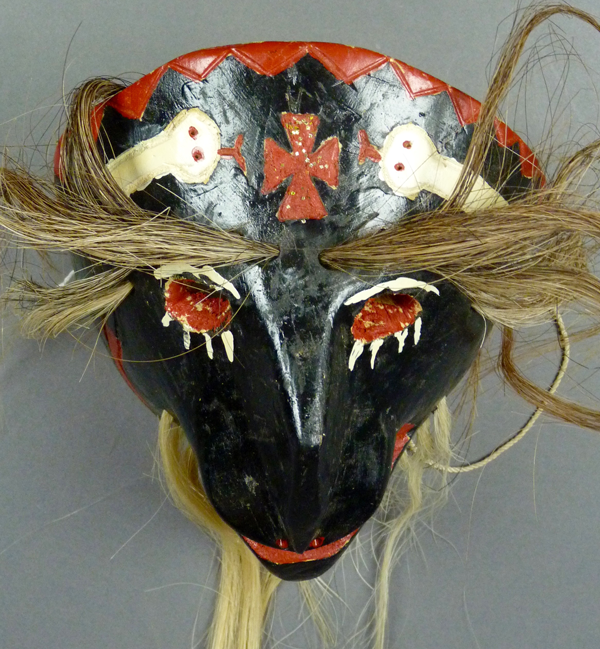 This mouth has a particularly interesting shape.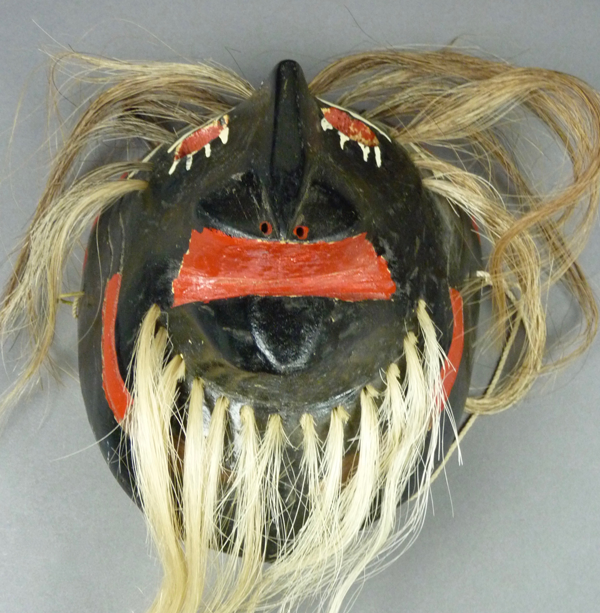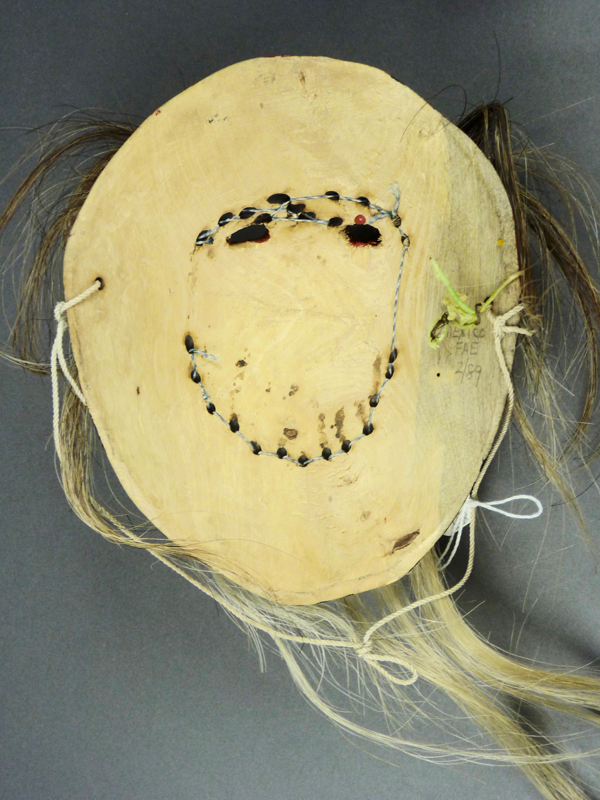 We see the usual documentation on the back—FAE 2/89.
The next mask resembles the first of mine, but the nose looks like that of a pig.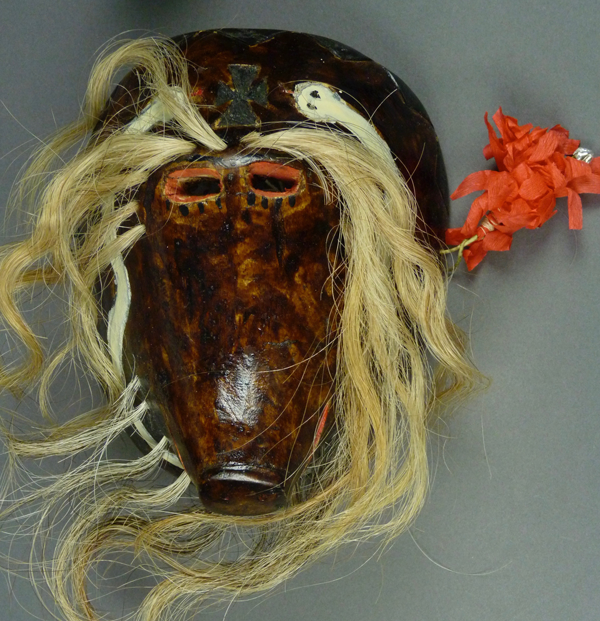 Otherwise we see familiar features.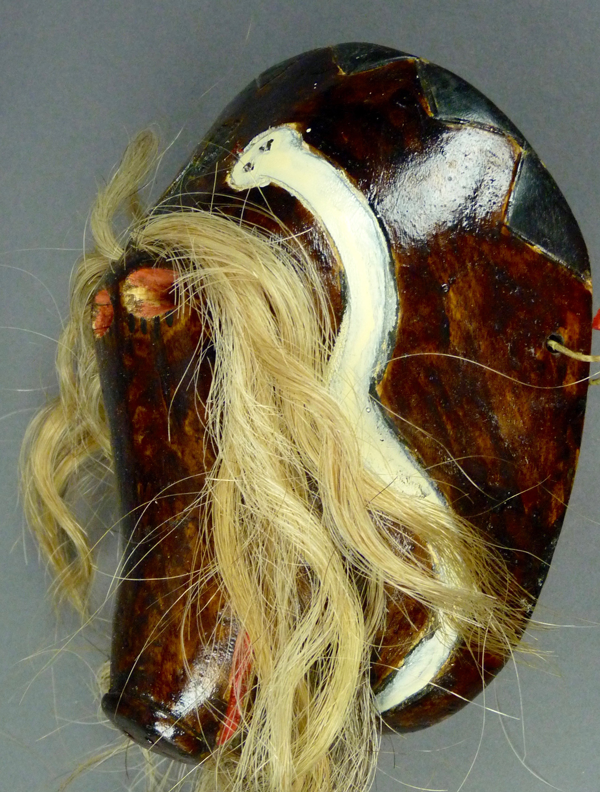 The forehead cross is recessed.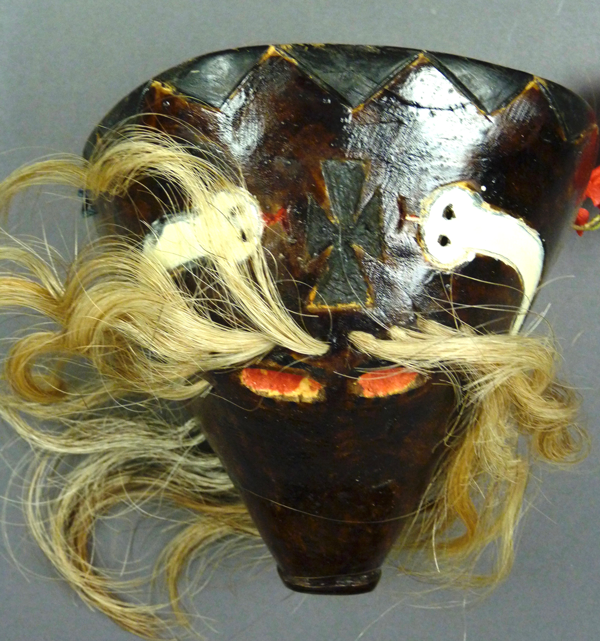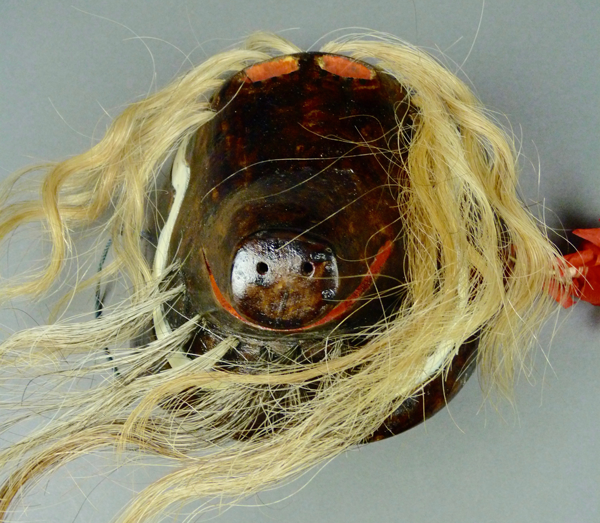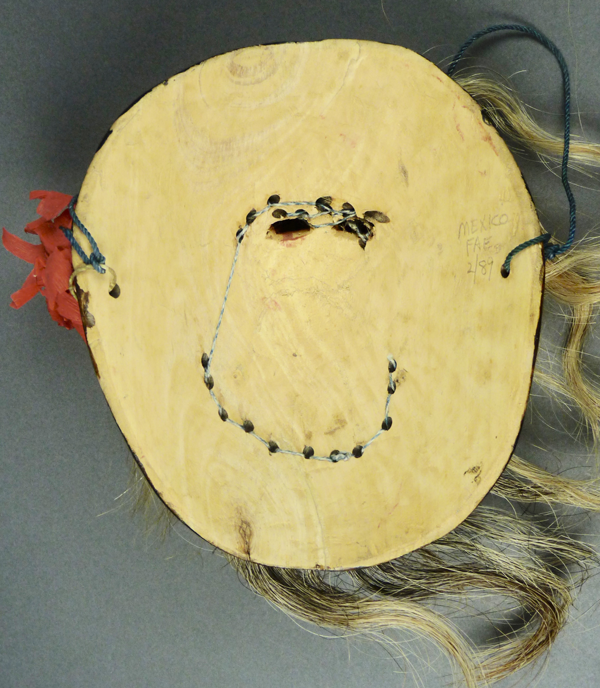 There is minimal soiling from use.
Next is another dog.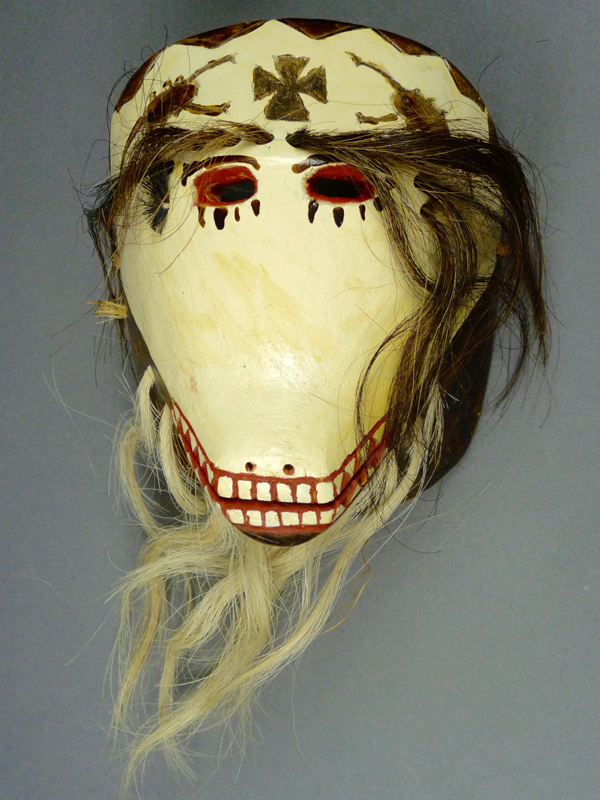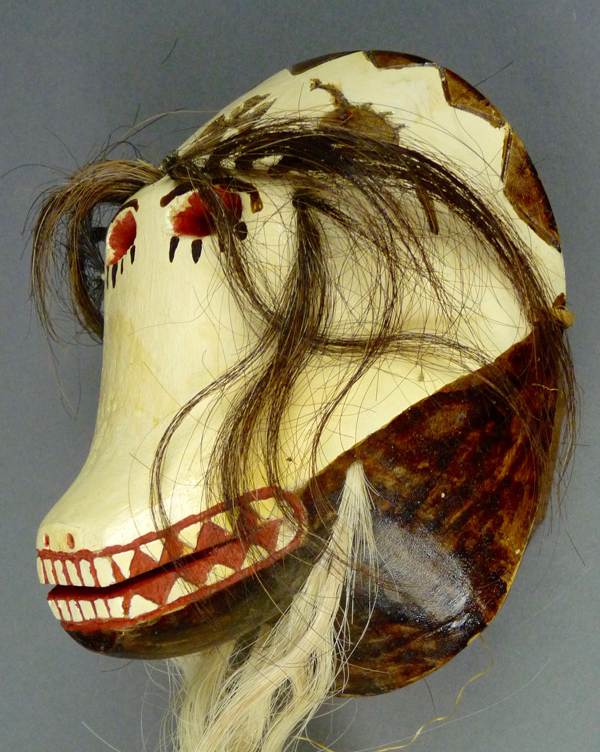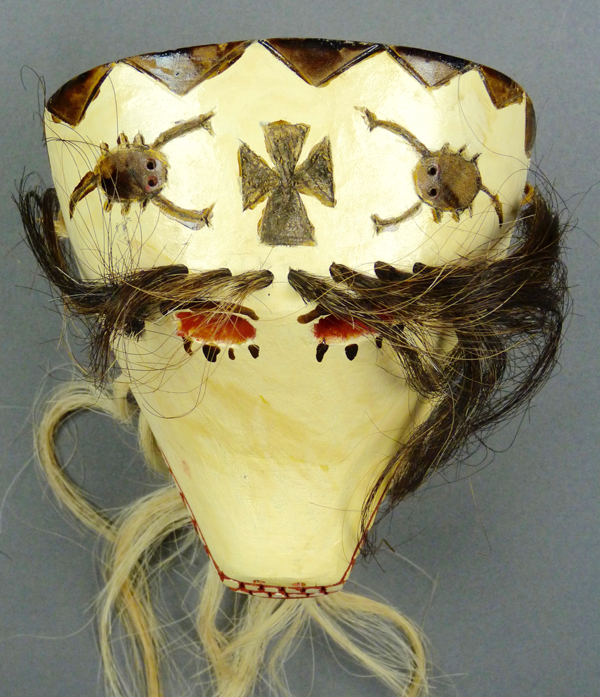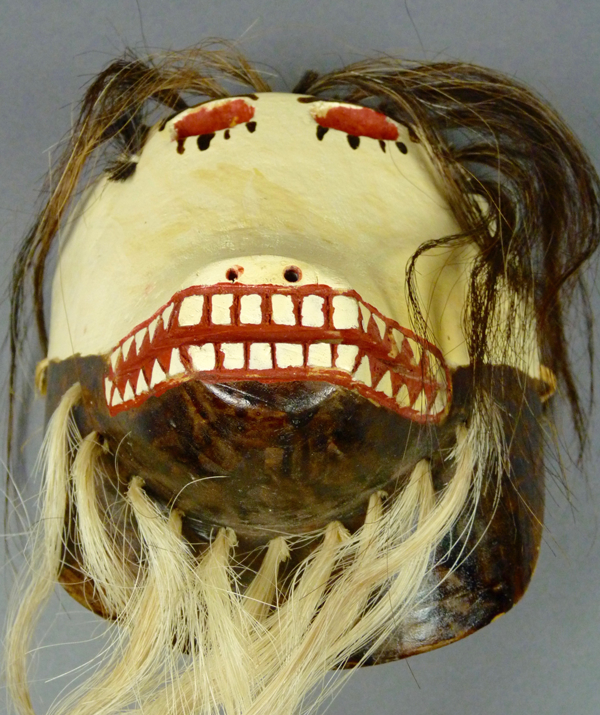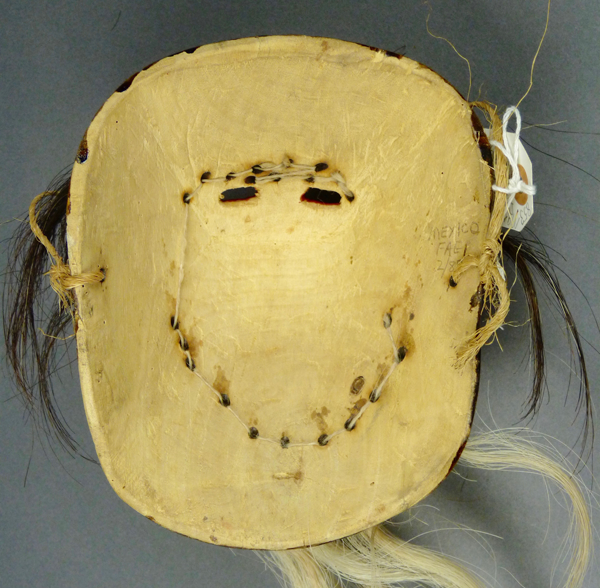 Again there is mild soiling.
I include another human faced mask to illustrate how similar it is to the one you saw earlier.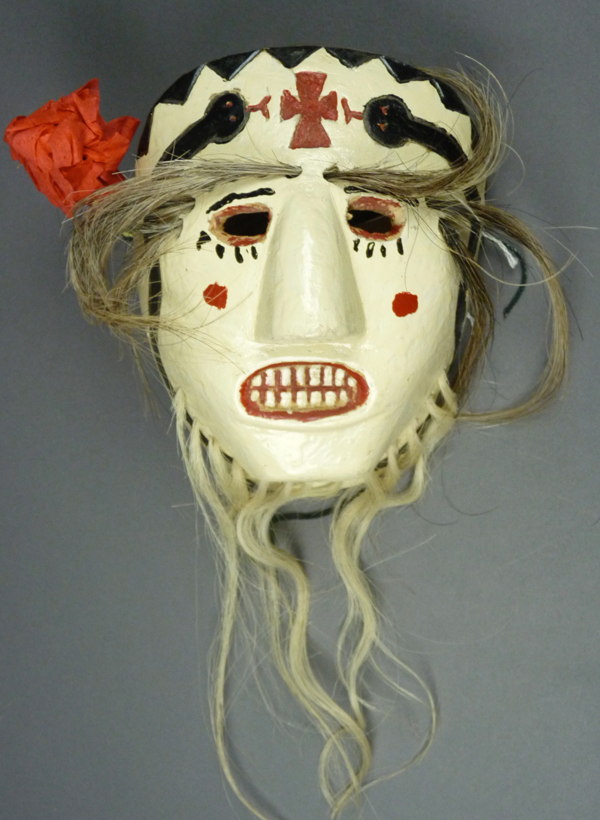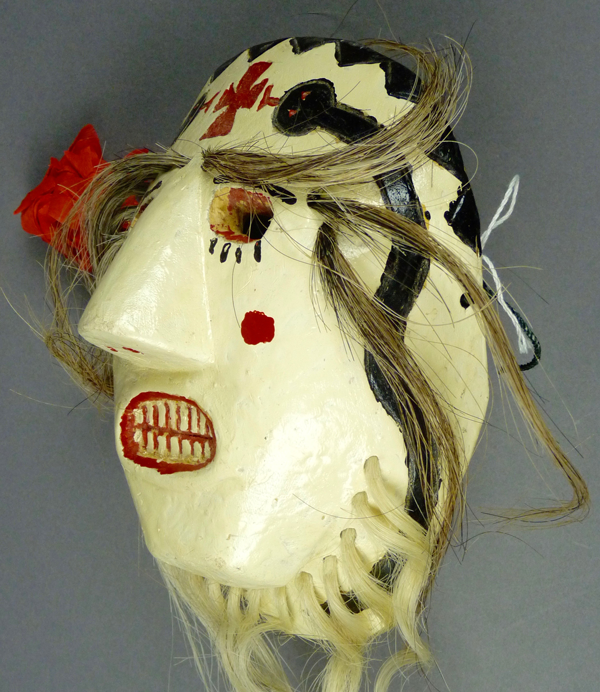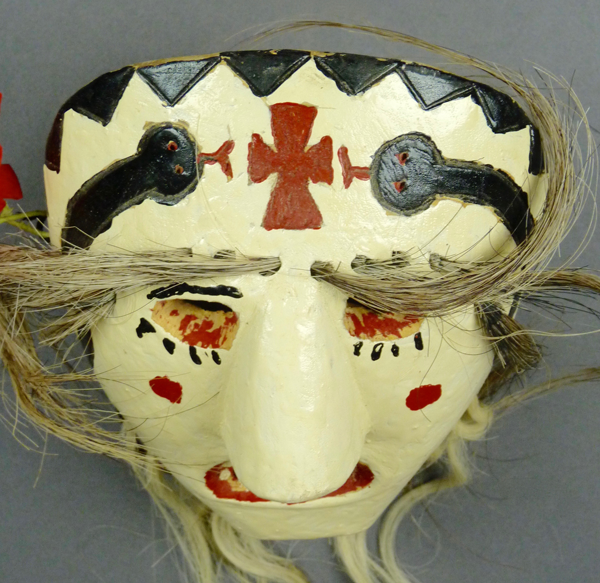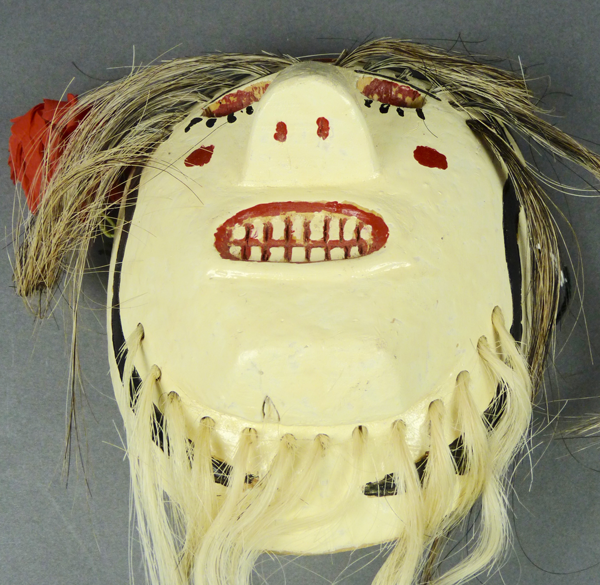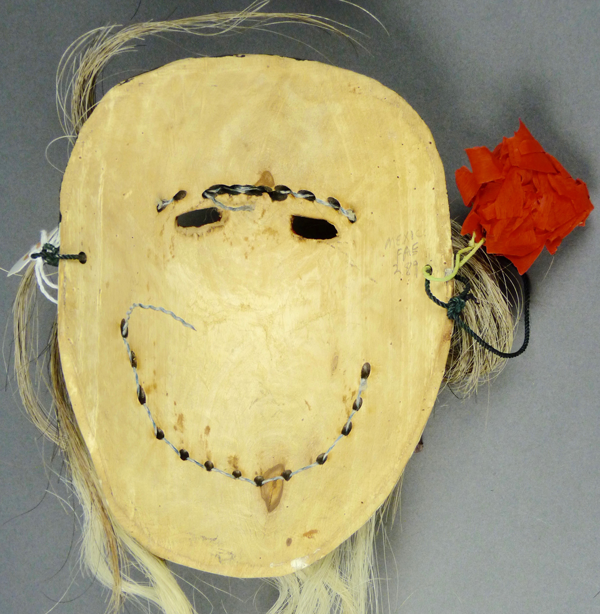 This is another lightly used mask.
We end with a mask that has a devil's face. There is just one devil by Poncho in Barney and Mahina's collection.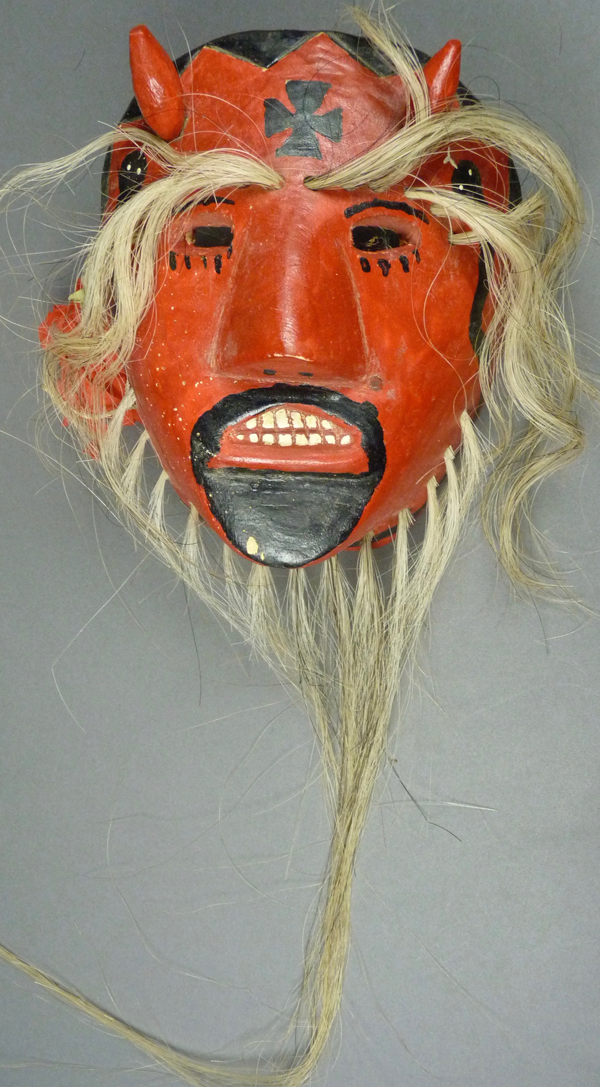 The Jesuit missionaries taught (and believed) that the native Pascola dancer served  the devil.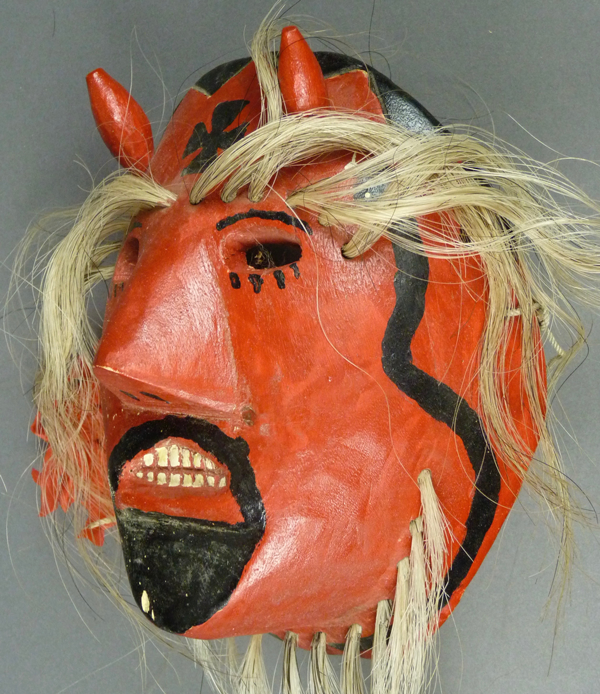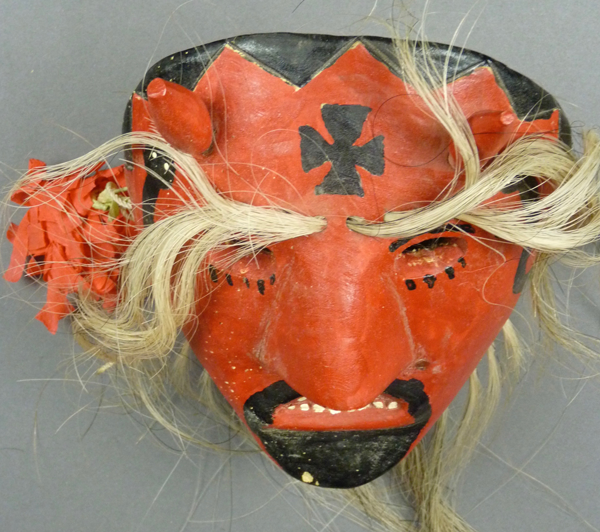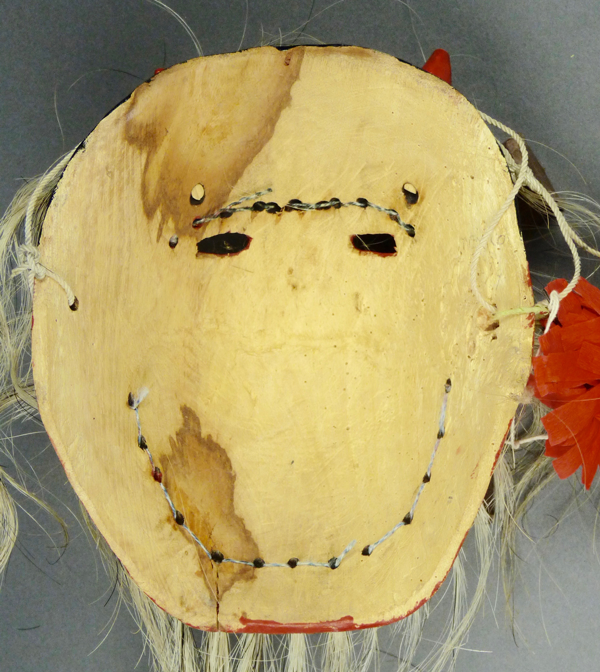 Again, this mask was very lightly used.
Next week we will examine the masks of Guadalupe Vadon Ochoa.
Bryan Stevens