This is the third installment of a ten week series about dance masks from Guatemala. On September 21, 2015, I will return to discussion about Mexican dance masks. During this detour to Guatemala, this site may attract new visitors with a special interest in Guatemalan masks. I invite you to identify yourselves, using the Contact Me pull-down menu at the right end of the menu bar across the top, so that I can at least collect a list for future reference. There may be someone out there who would like to blog on that subject and, if so, I would make the list available to them or I could publish their site here.
In the area of Nahuala, Guatemala there is the Patzcar dance, which does not closely resemble dances found in Mexico, although it reminds one of the Feos (uglies) in Michoacán, masked dancers who explicitly demonstrate bad or inappropriate behavior. Similarly, in Ritual Humor in Highland Chiapas, Victoria Bricker described the "Grandfathers," masked dancers in Chamula whose behavior was deliberately clumsy and ill considered. In the Patzcar dance there is a Patrón (a European who is the landowner or overseer, the "Boss") and his wife, La Patrona; they wear masks that are formal and distinctive. Those masks are usually painted but occasionally stained. Here is a classic Patrón mask, with swirling relief carved eyebrows. We saw similar eyebrows on a Patron mask from Suchiapa Chiapas that was used in the Parachicos dance (see my 6/29/2015 post).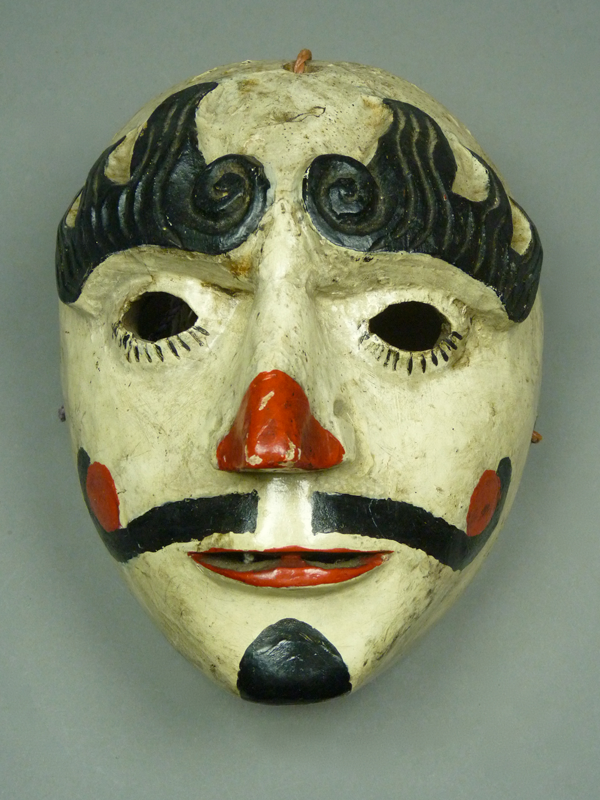 I purchased this mask from the Cavin Morris Gallery in 1994. It had been collected in Nahuala.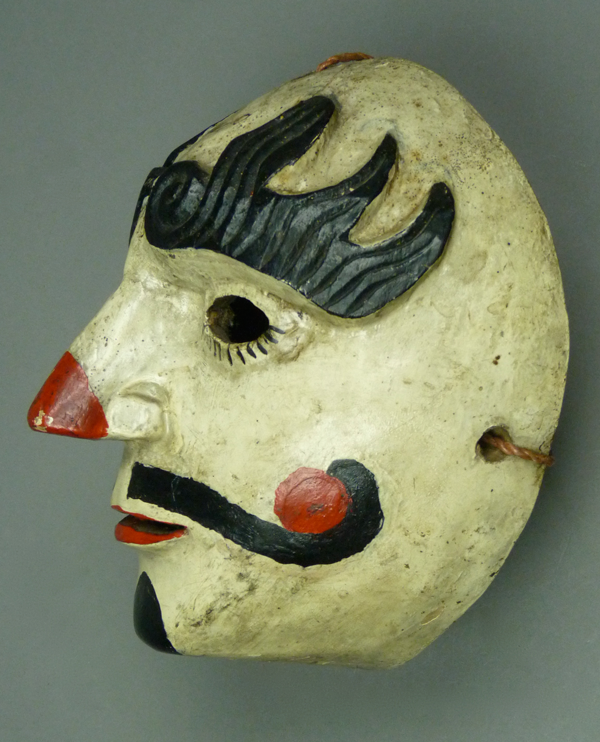 This mask is 8 inches tall, 6 inches wide, and 4½ inches deep.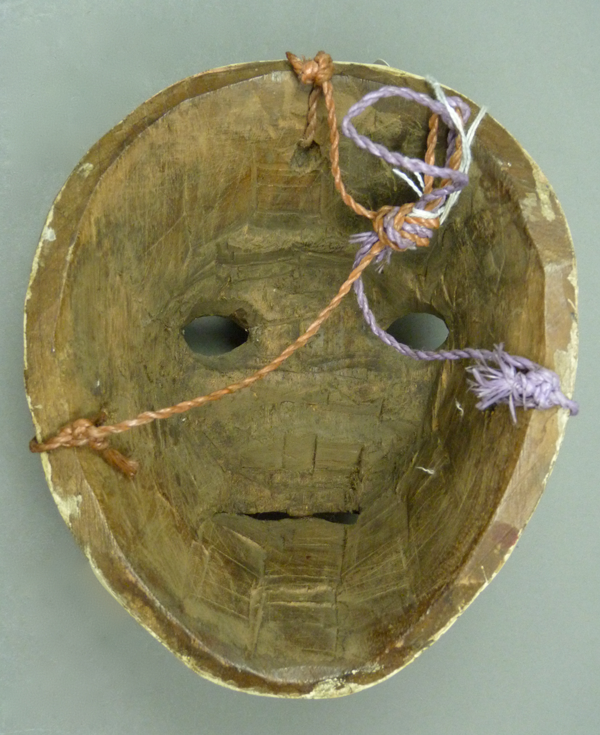 The back demonstrates moderate wear.
A small Torito (bull) mask also figures in the Patzcar dance; the Patrón plays the bullfighter. Here is one of those Torito masks. I bought it from Jean Duffy in 2001.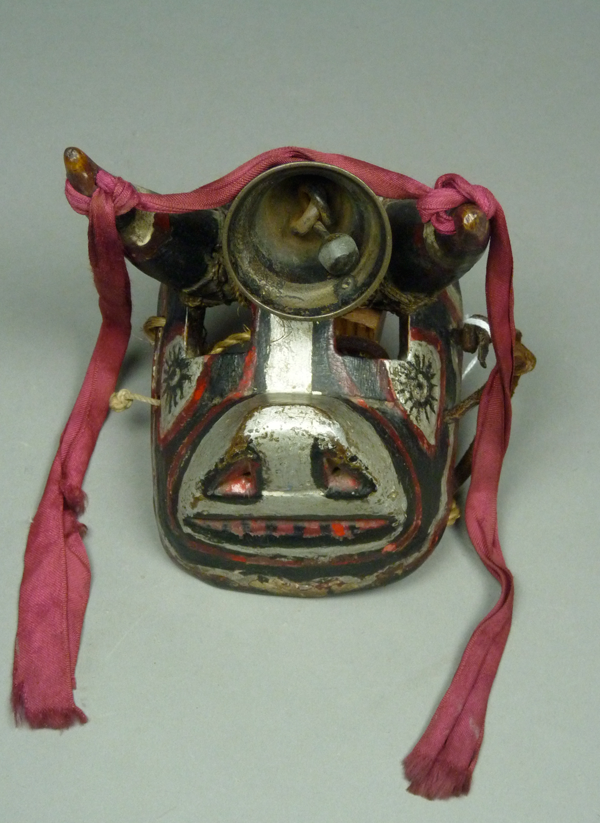 These Torito masks are small but they have heavy brass bells. The height is 5¼ inches, the width is 4¼ without the horns, 5 inches across the horn tips, and the overall depth is 3½ inches.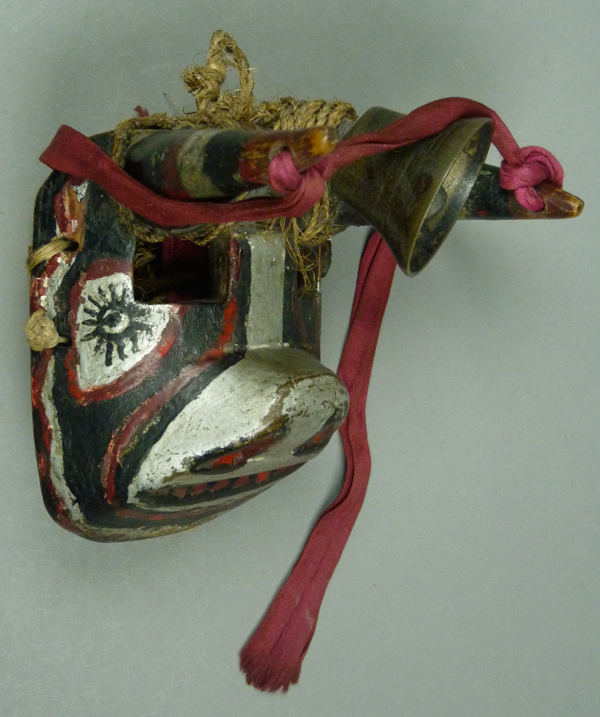 The bell is large for such a small mask. It is 2¼ inches tall and 2 inches in diameter across the base.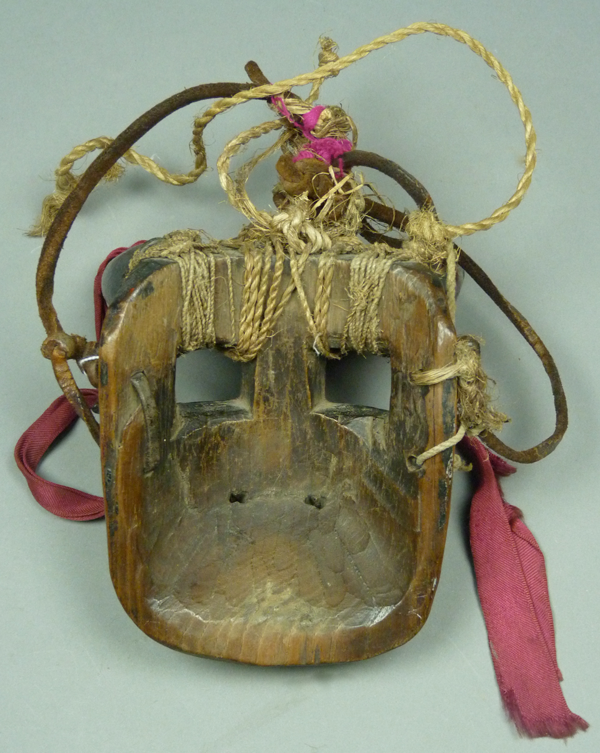 This mask is old and worn.
There are other characters who are called Gracejos (jokers) or Mox (fools), and their masks are generally stained or unpainted, more crudely carved, and they vary in their designs. There are a few other Guatemalan dances where one might find stained or unpainted masks, although the majority of Guatemalan masks are not only painted, but elaborately painted. In the dance, the Graceos or Mox attempt to carry off the Patrona. In the process they pretend to molest "her" (a man invariably plays this role), she declines their "courtship" overtures, and the dance ends with the Gracejos ritually whipping one another, as if in penance. Thus the Patzcar dance appears to share with dances in Chiapas and other Mexican states the purpose of moral teaching. I will show Gracejos and Mox masks in next week's post.
In contrast, here is typical Patrona mask, but it has been converted to a Patrón by the mere addition of a bit of black paint. Despite this alteration, we can readily see the central topknot of hair on this mask that marks the Patrona.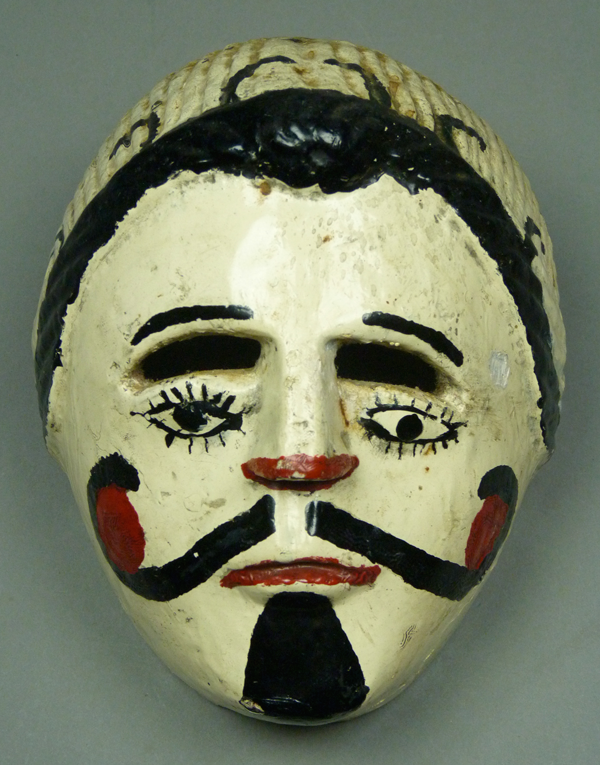 I purchased this mask from Spencer Throckmorton in 1994. Spencer reported his understanding that the face of this mask represents the sun. As a young man Spencer had lived in Guatemala for several years and I believe that the masks in his collection were mostly collected during that time. Spencer sold me this mask from the wall of his kitchen (it was obviously a favorite)! Note that although this mask lacks the swirling eyebrows of the first mask, similar painted lines were added in the process of converting this mask from female to male; Spencer was apparently saying that the swirling lines represent the rays of the sun. If this is so, then the Patrón is a god, the Patrona may be a goddess, and the Gracejos may represent balancing forces or intrusive mortals, as was the situation with the Greek gods of antiquity.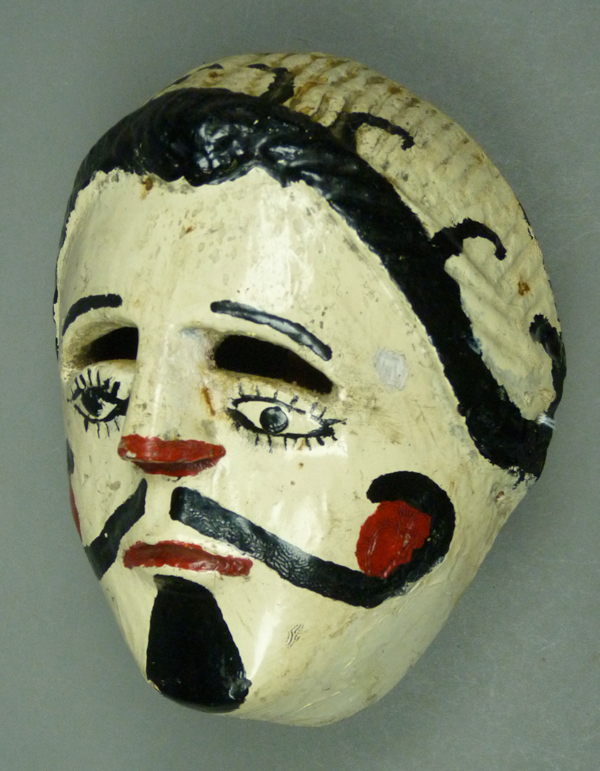 Here we see more of the female hairline of this mask. Male or female, this is a wonderful old mask. It is 7¼ inches tall, 5¾ inches wide, and 3½ inches deep.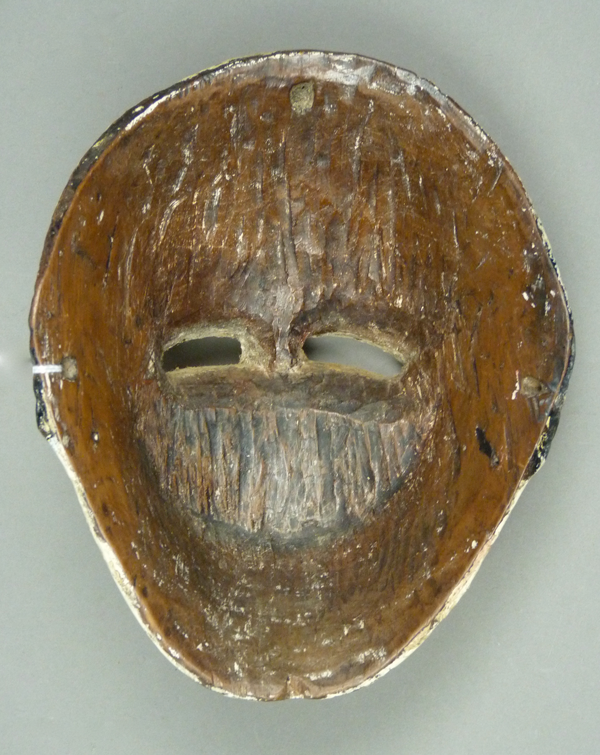 This mask is very old and worn, and must date to the early 20th century.
Here is a third Patrón mask. This one lacks the the typical swirling eyebrows. But note the hair's arrangement in V-shaped rays. A pattern is emerging for the Patrón masks; they are marked by disguised rays of light, black instead of yellow, white, or gold.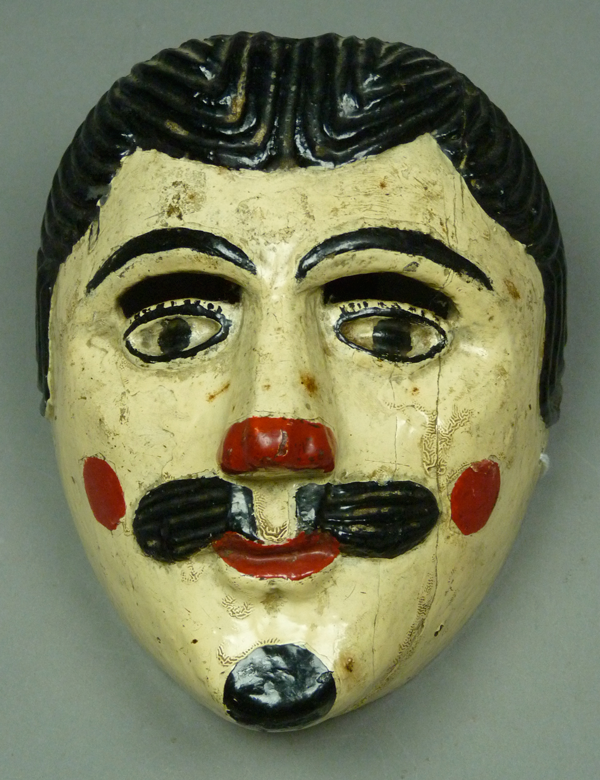 I purchased this mask from Spencer Throckmorton in 1995.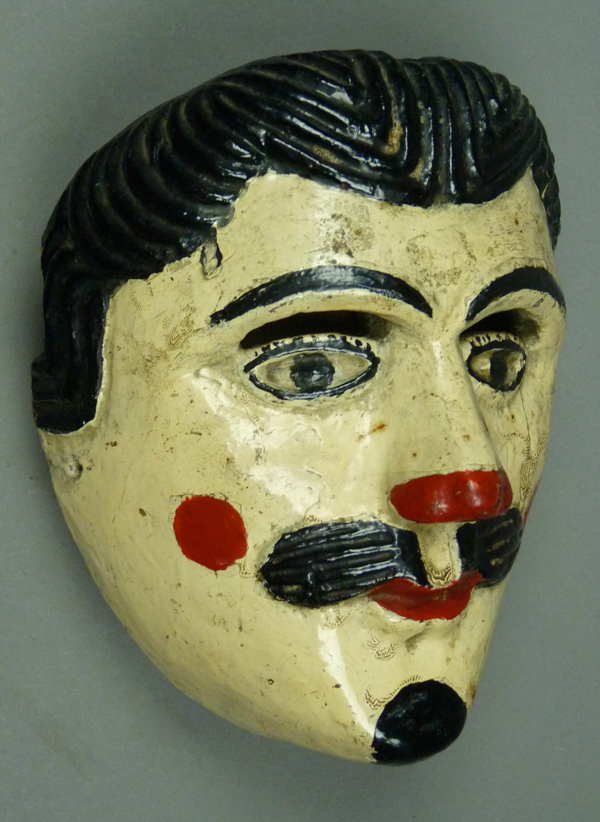 This mask is 6¼ inches tall, 5¼ inches wide, and 3½ inches deep.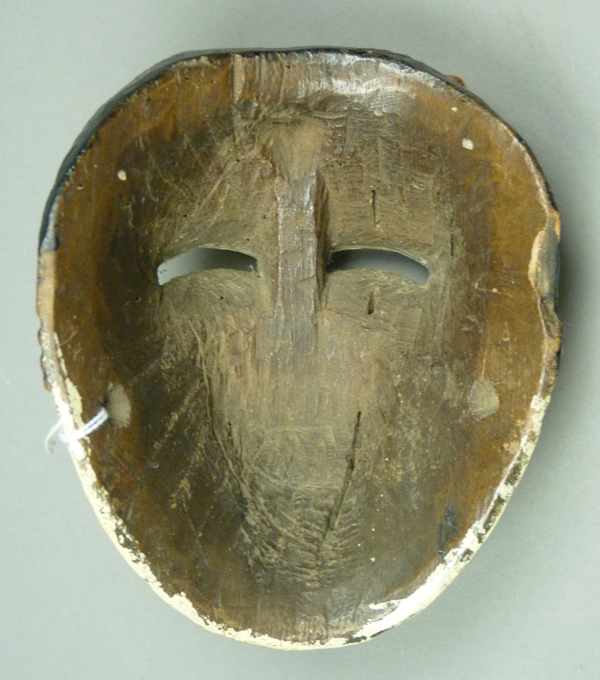 This mask has had significant use.
Here is a typical Patrona mask. As we saw earlier, the Patrona usually has a curled knot of hair on the middle of her forehead.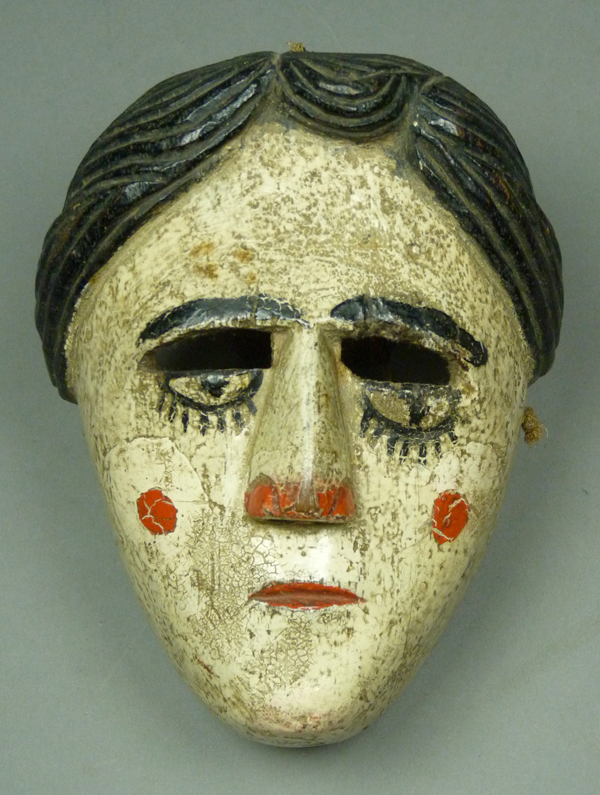 I purchased this mask from Maya Jones, a folk art dealer in Madrid, New Mexico in 1996.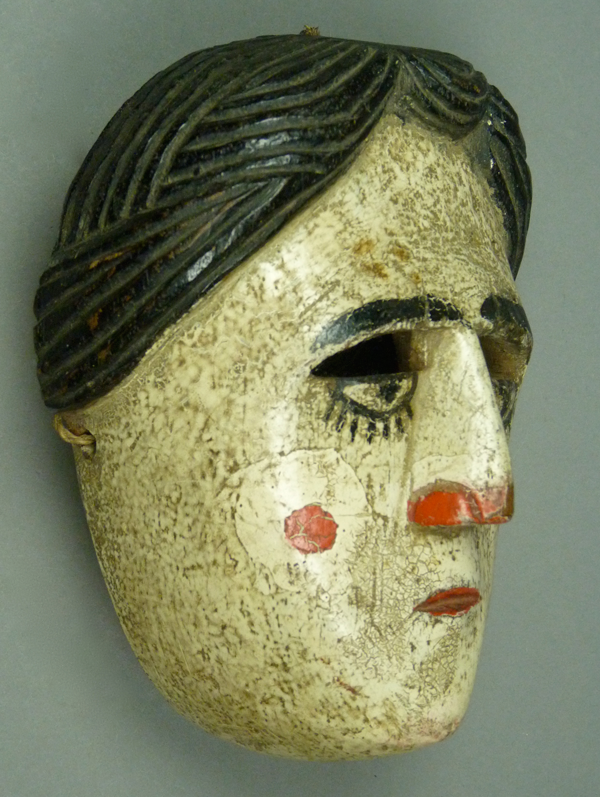 This mask is 6¾ inches tall, 5 inches wide, and 3 inches deep.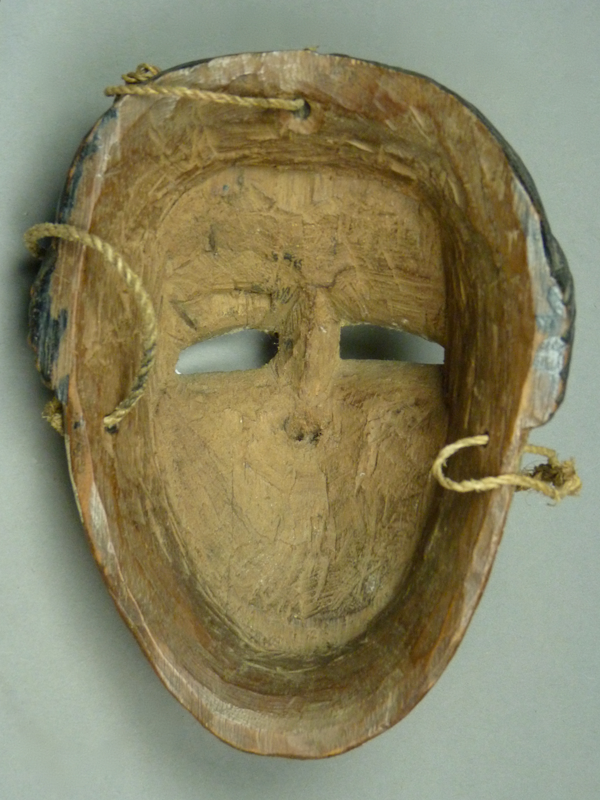 This Patrona mask has had moderate use. This back demonstrates differential staining, by which I mean that the areas of wood with the greatest skin contact were more darkly stained, while deeper surfaces with little skin contact were hardly stained at all. Such variation is what one expects to see on a danced mask. The actual pattern of staining will vary, as it results from the interaction between the face of an individual dancer or dancers and the contours of a specific mask.
I will end this post with Patrón and Patrona masks that were stained or painted red instead of white; I'll begin with a matching pair. I bought the male mask from Spencer Throckmorton in 1996 and the Patrona mask from the Cavin Morris Gallery in 1995. Apparently this mask pair split up upon their arrival in New York City and it greatly pleased me to reunite them. Joel E. Brown (pp. 270-274) has observed that the Patrón and Patrona masks that are painted or stained a darker color instead of white typically have carved furrows on their brows to suggest a frown. You will see that feature on these masks. Despite the color difference, their identity is clear. I suspect that they represent an Indian Patrón and Patrona.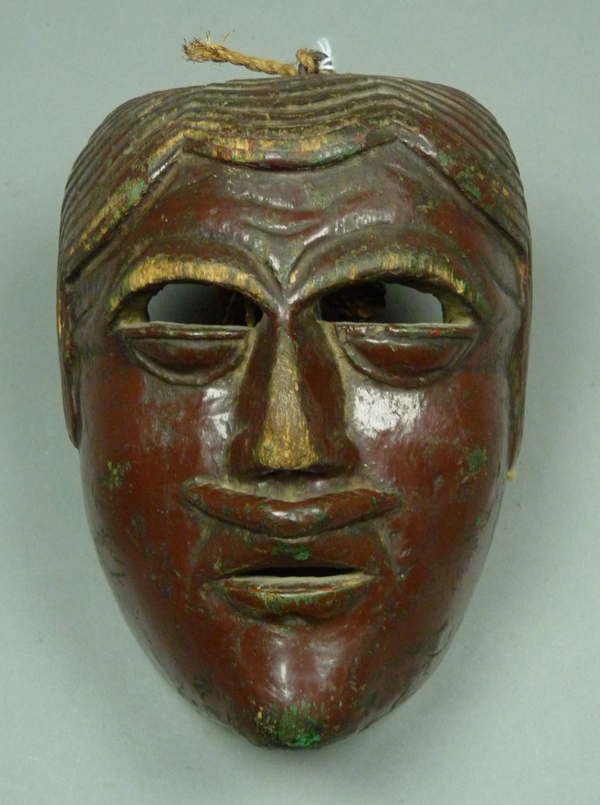 The frown over the Patrón's eyes looks like a flying gull.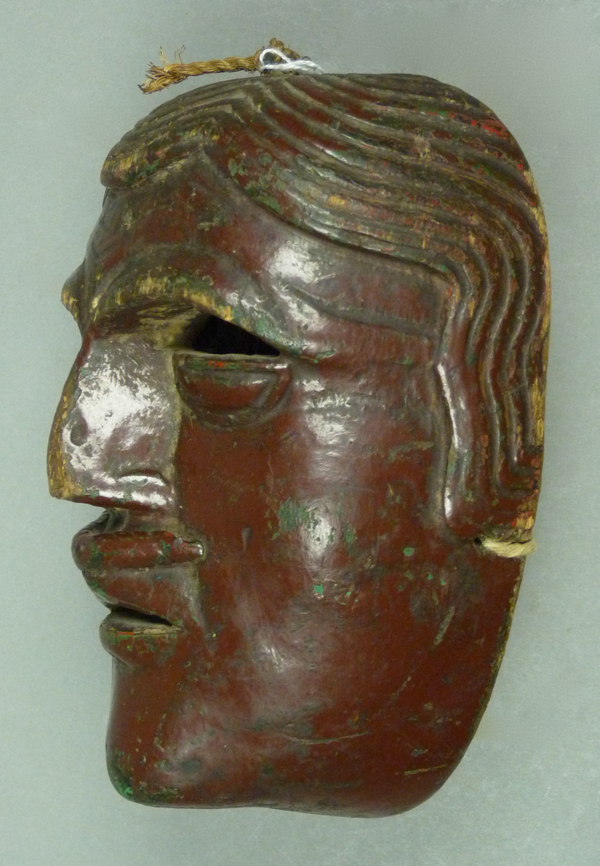 This mask is 6½ inches tall, 5¾ inches wide, and 3 inches deep.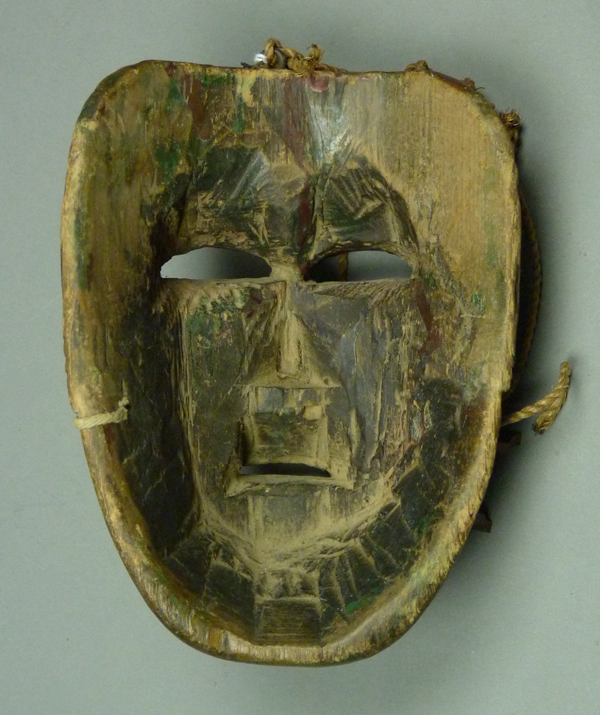 The back of the Patrón mask is heavily worn.
Here is the matching Patrona. Her eyes and her frown match those of the Patrón.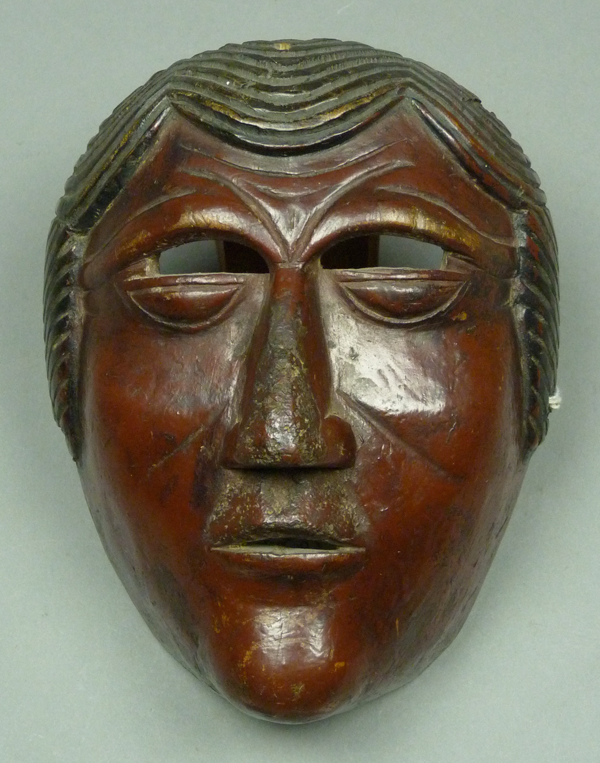 The hair on this couple is impressively carved.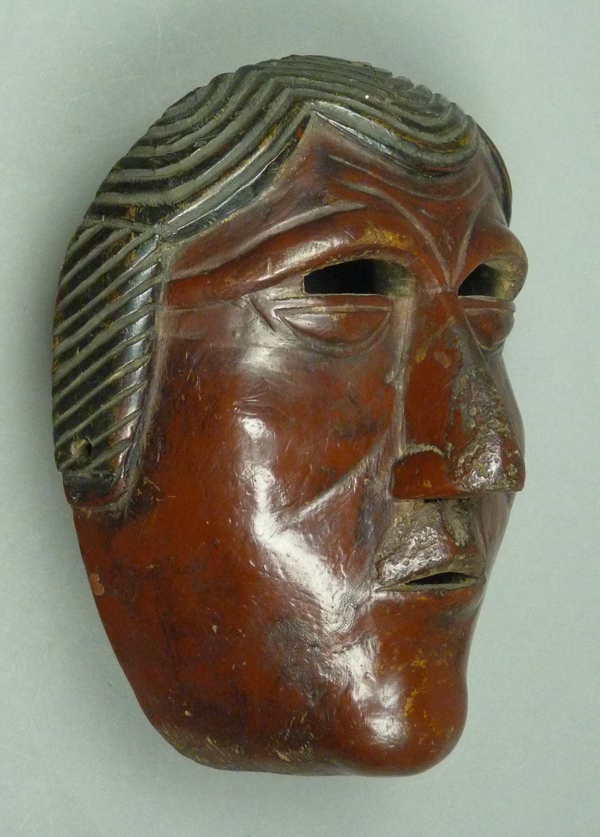 This mask is 6½ inches tall, 5 inches wide, and 2¾ inches deep.
The back of the Patrona mask seems a bit less worn.
I bought the next mask from a Los Angeles dealer in 1999. It was said to be a Moro. However, when I showed it to Joel Brown he mentioned the Gracejos (Patzcar) dance. Examining the mask from that perspective, I noticed two details—a carved V-shaped frown on the forehead and hair that was carefully carved as rays framed within a V; the hair from this mask closely resembles the hair on the third Patrón mask in this post. I believe that this is another Patrón, and a very animated one at that.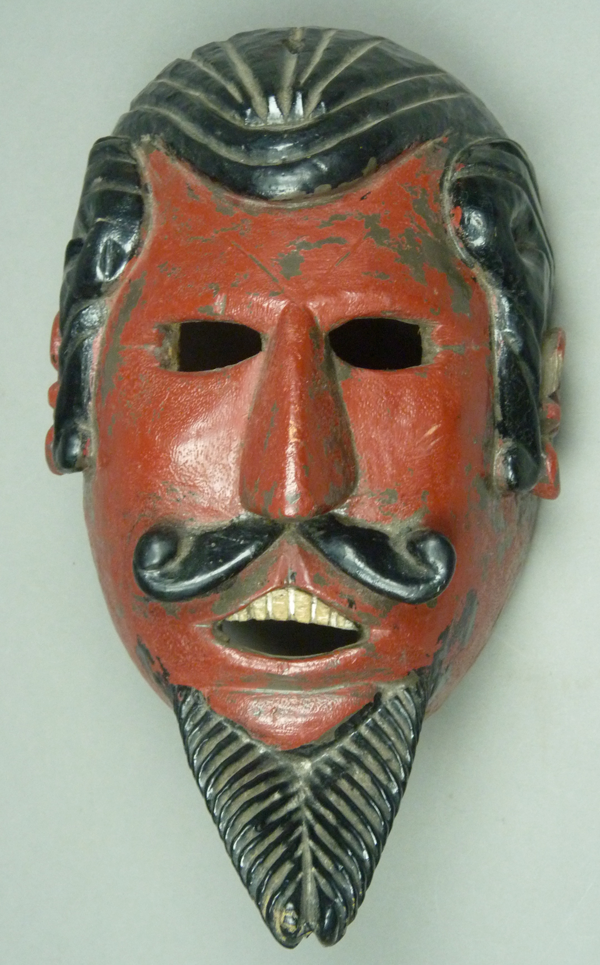 The details of this mask are stylishly carved; look at the sideburns, the cheeks, the mustache, and the mouth. I would like to see more of this carver's work.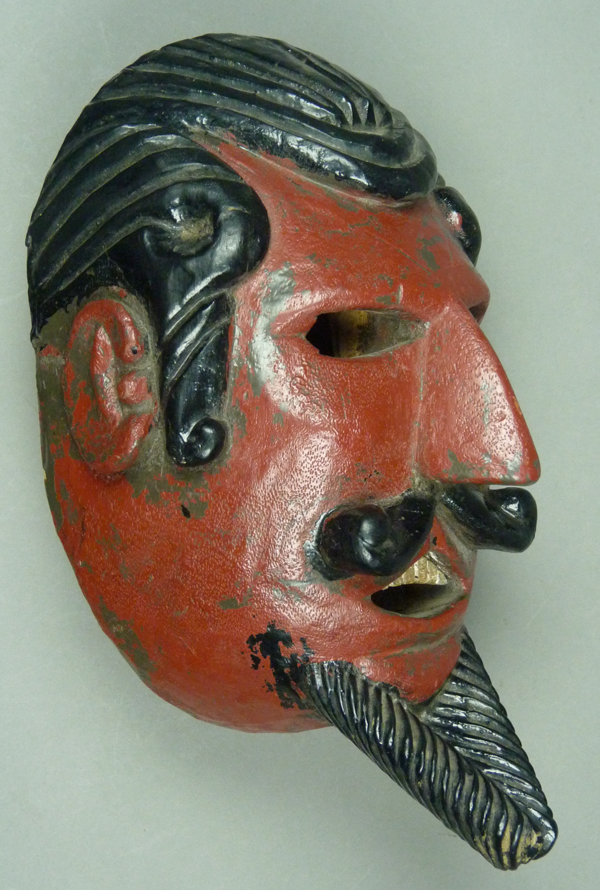 This mask is 9½ inches tall, 5½ inches wide, and 4¼ inches deep.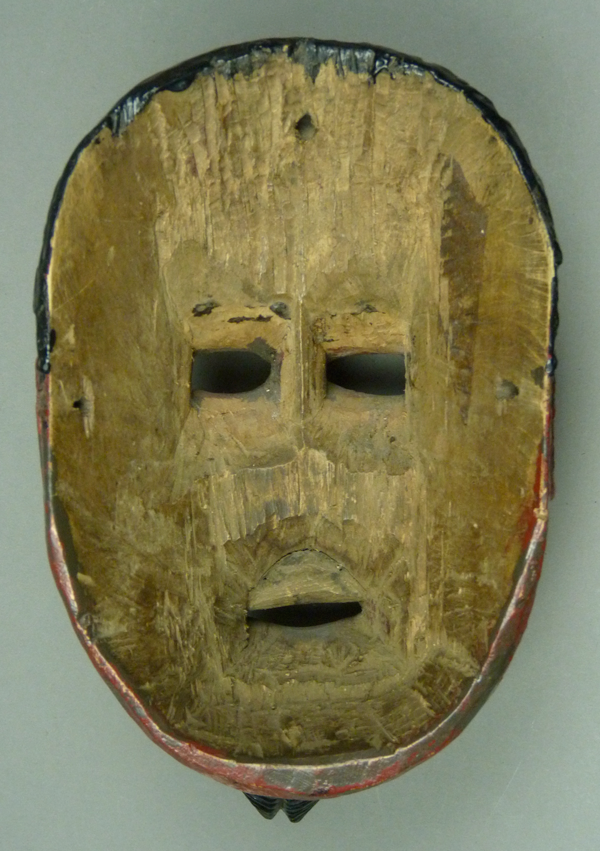 The back demonstrates evidence of significant wear.
The last of these is a female mask that is stained instead of painted. I wonder whether this is a Patrona or a female Mox mask. I am leaning towards the former due to the deep furrow over the eyes. On the other hand, Brown (Volume 1, 2008, pages 264 and 267) does show a female Mox dancer wearing a skirt.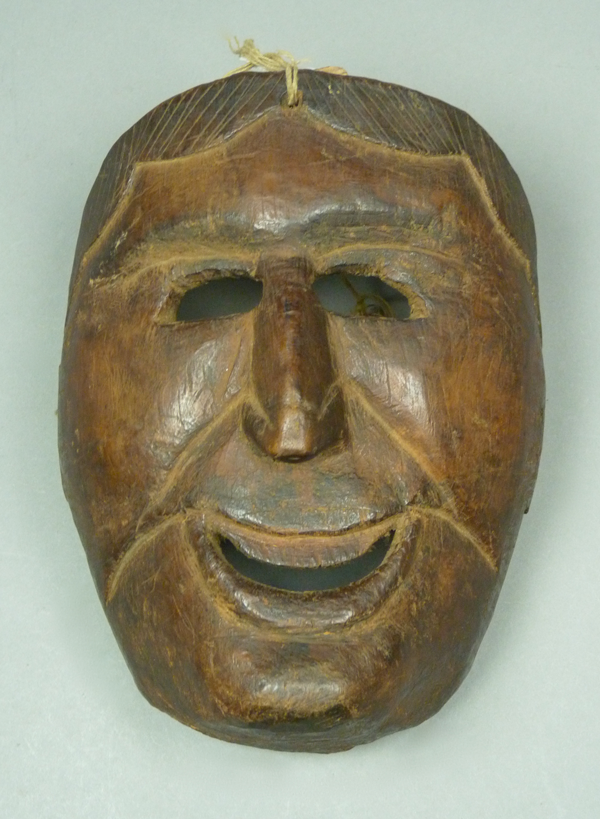 This may be too jolly to be a Patrona, and it is certainly jolly enough to be a Mox or Gracejos mask.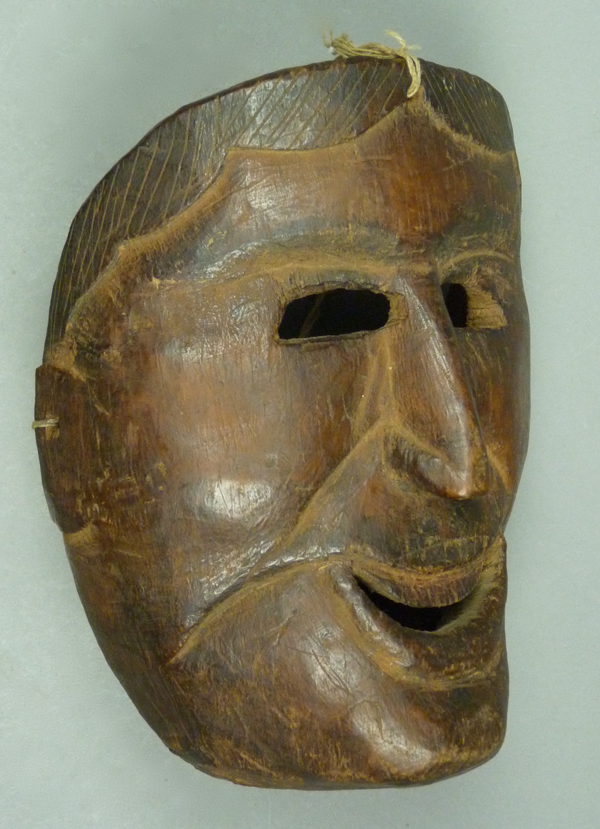 This mask is 8 inches tall, 6 inches wide, and 3 inches deep.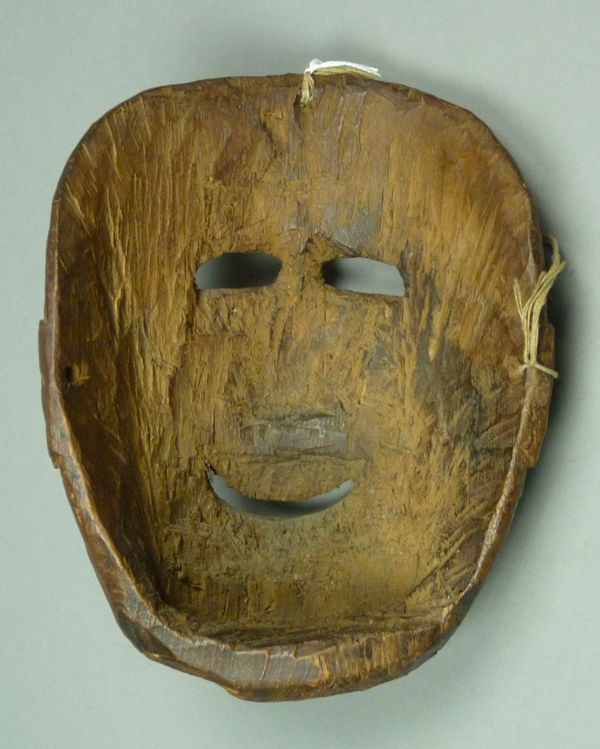 The back is crudely carved but worn.
I hope that you have enjoyed seeing these Patrón and Patrona masks, along with a possible Mox. Next week we will examine additional masks that are likely to have been worn by Gracejos and Mox figures in the Patzcar dance.