This is the fourth in a series of posts inspired by masks from the James and Jane Urmston collection. Today we will look at some masks that dance during Carnaval in Veracruz towns such as Alta Lucero and Tuzamapan. Jaled Muyaes and Estela Ogazón called these Moros de Carnaval (Carnival Moors).The Urmstons had just three of these masks, but those three were visually striking. They were apparently purchased in Naolinco, Veracruz, but I am assuming that they were actually used in Alta Lucero or Tuzamapan. The Urmstons have been selling their collection and all three of their Carnaval Moros were purchased and then offered for resale on the Colonial Arts site, where just one remains. In that listing the mask is called a "Card Faced Mask." Here is a link to that site.
http://colonialarts.com/collections/masks?page=1
I will show all three of the Urmston masks along with five more Carnaval Moros from my collection that were found in Tuzamapan, in order to provide a relatively broad survey of this type. According to the Mascaras Mexicanas website,
https://mascarasmexicanas.wordpress.com/2015/02/14/enamorados-tuzamapan/
these masks can also be called Enamorados (essentially "lovers") in Tuzamapan, Veracruz. That makes sense since many of these masks (but not all) have hearts painted on their faces and one of mine apparently includes the name of the dancer's beloved.
I might as well begin with the mask that is currently for sale by Colonial Arts. This photo and the two that follow are courtesy of the Urmstons.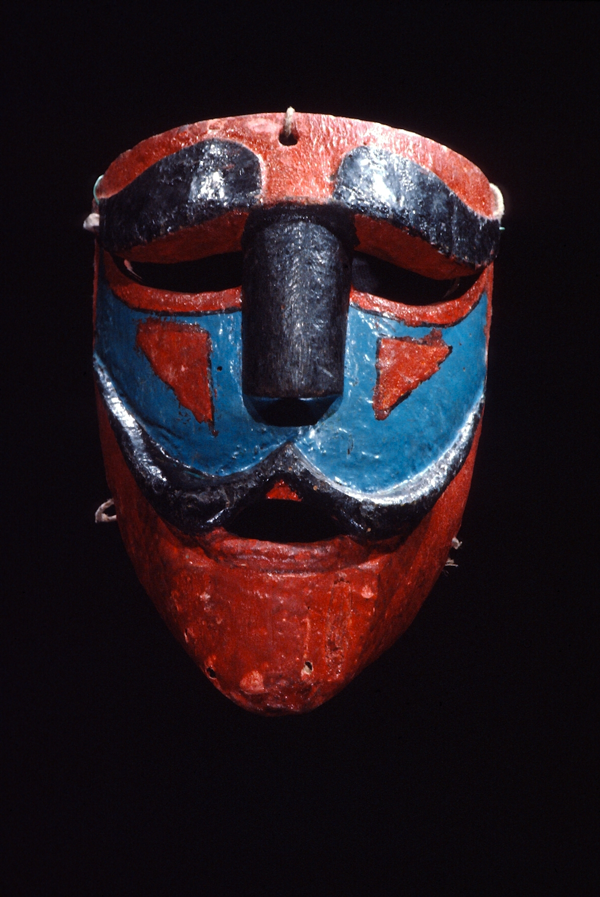 Isn't this a splendid mask, with its relief-carved brows and mustache framed in these bright colors.
The second of these emphasizes the Enamorados aspect with its prominent blue heart, and one can see additional symbols to support the "card-faced" concept.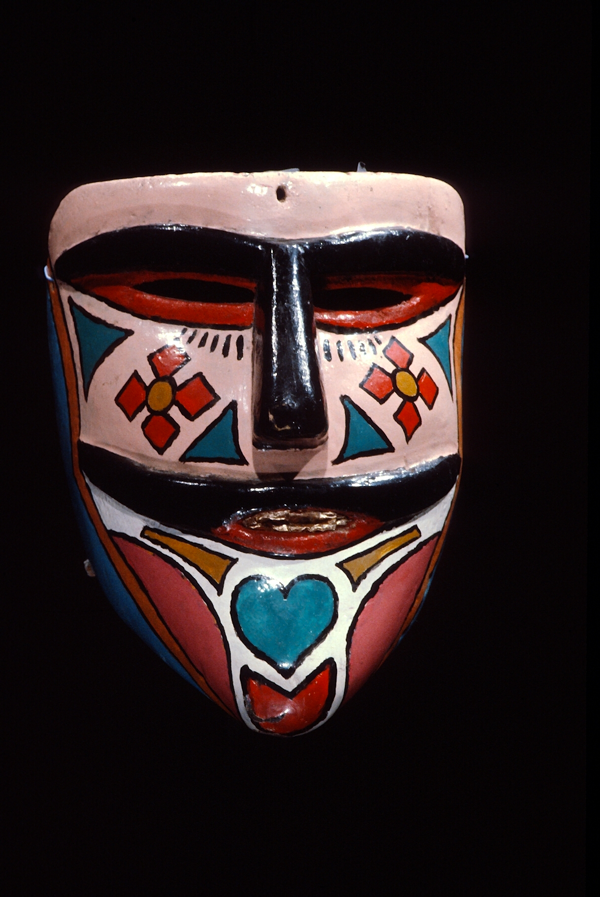 The last of the Urmston Moros is the most handsome of them all, although it lacks hearts or other symbols from playing cards.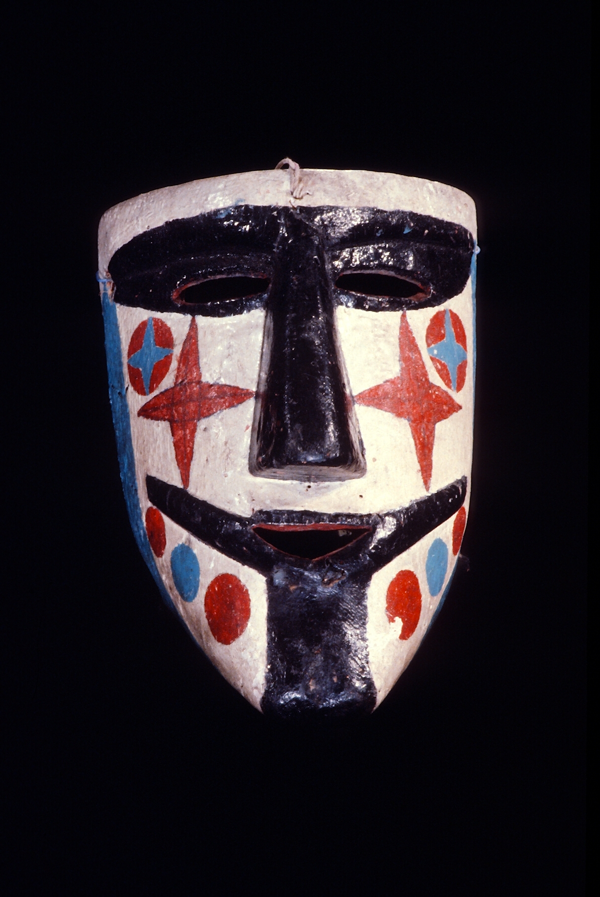 Now I will show some You Tube™ video links from Tuzamapan. I did not find any videos from Alta Lucero that highlighted this style of mask.
The first is particularly interesting because it includes some old photos from about 30 years ago that emphasize the importence of the Carnaval Moro mask style at that time. It is brief, and quickly followed by other offerings, at which point you may return to this blog by using the back arrow (←).
https://www.youtube.com/watch?v=OWKtTtGMNbk
In sharp contrast, the second video from Tuzamapan demonstrates the variety of masks in present use. If one watches carefully it will be apparent that the Moros masks are still popular, although in the minority. In this video, the dancers wearing these masks tend to have elaborate headdresses.
https://www.youtube.com/watch?v=ipw5WZKgK44
Next I will show a Carnival Moor mask from the collection of Helmut Hamm, a collector who lives in Berlin, Germany. This is quite a handsome example with a variety of designs and colors.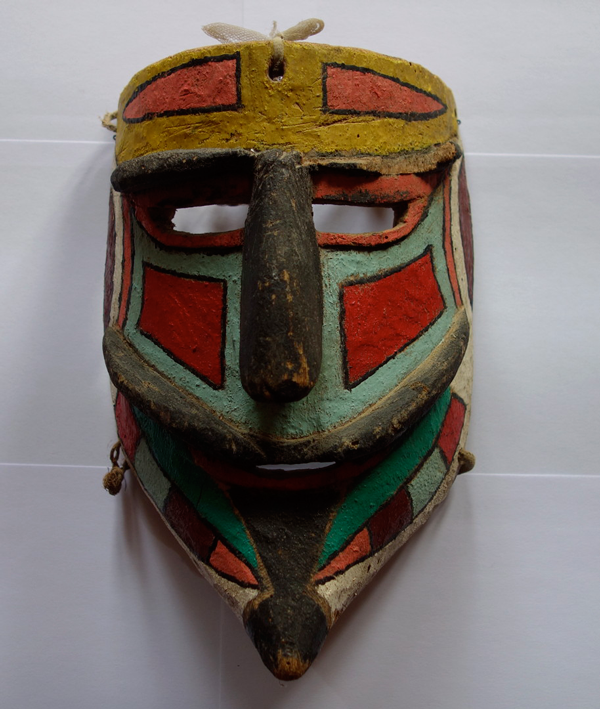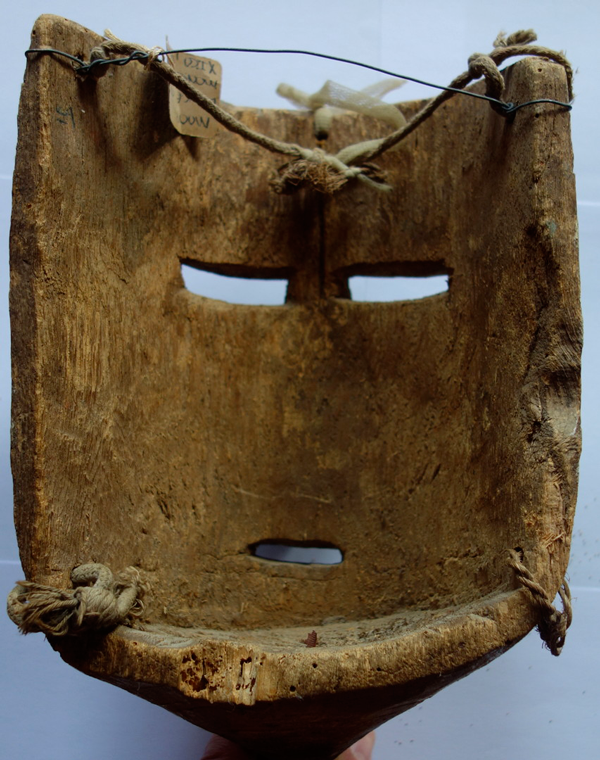 The back of this mask is obviously old and worn.
Now I will show you five of my Carnaval Moros or Enamorados masks from Tuzamapan. This one and the three others with painted hearts were obtained from Jaled Muyaes and Estela Ogazón in the period from 1997 until 2005.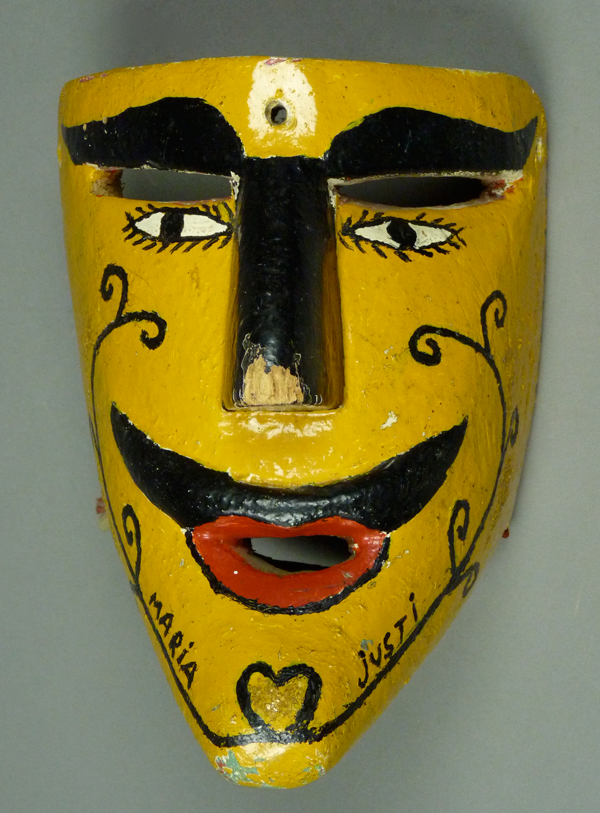 This one appears to pay homage to a girlfriend.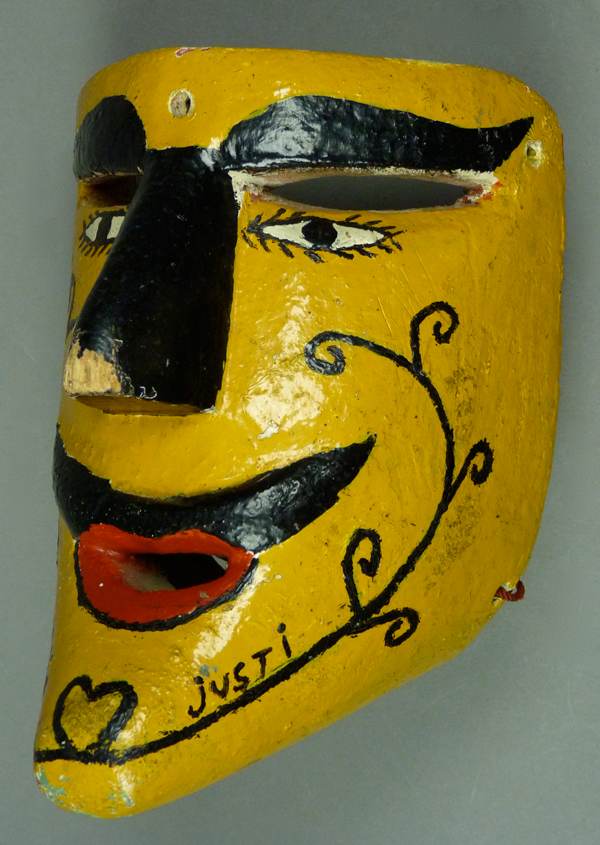 This mask is 8 inches tall, 5¾ inches wide, and 5 inches deep.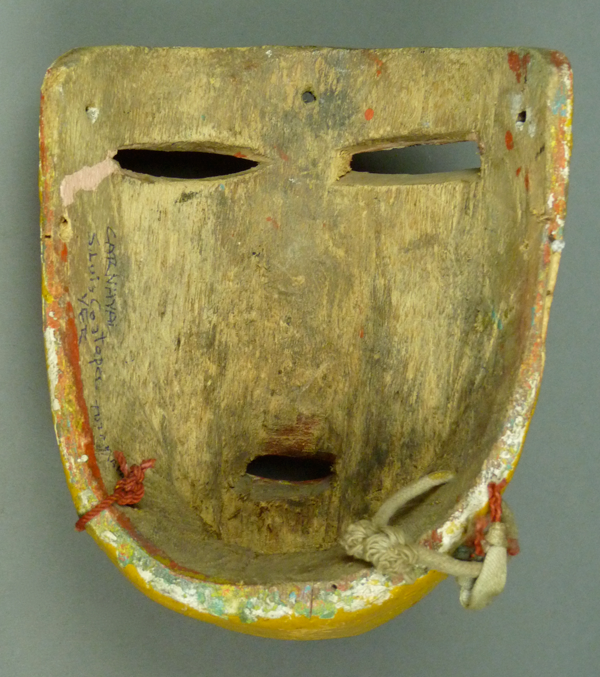 A note on the back states that this mask came from the village of San Luis Coatapec in the Municipio of Tuzamapan, Veracruz.
Here is a link to dancing in San Luis Tuzamapan, perhaps the same place. In the opening scenes of the video, dancers with elaborate headdresses cross the space in front of the camera. They are wearing Carnaval Moros masks. You will be able to see this if you stop the motion. This video is also interesting because it shows the people erecting a fiesta facade on the church.
https://www.youtube.com/watch?v=ElHRDoPgpKU
The second mask is painted with a vivid color combination.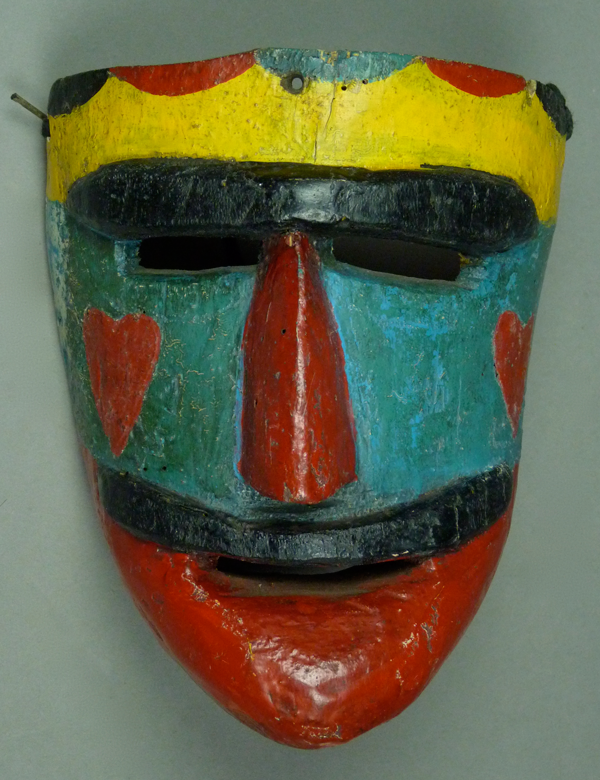 The pinholes on the face reflect past infestation with boring insects. The lighter color on the right edge of this mask marks a plaster repair that was necessitated by damage from the insects.  Jaled Muyaes told me that he treated the infestation by immersing the mask in turpentine and then he made the repair. It was certainly a mask worth saving.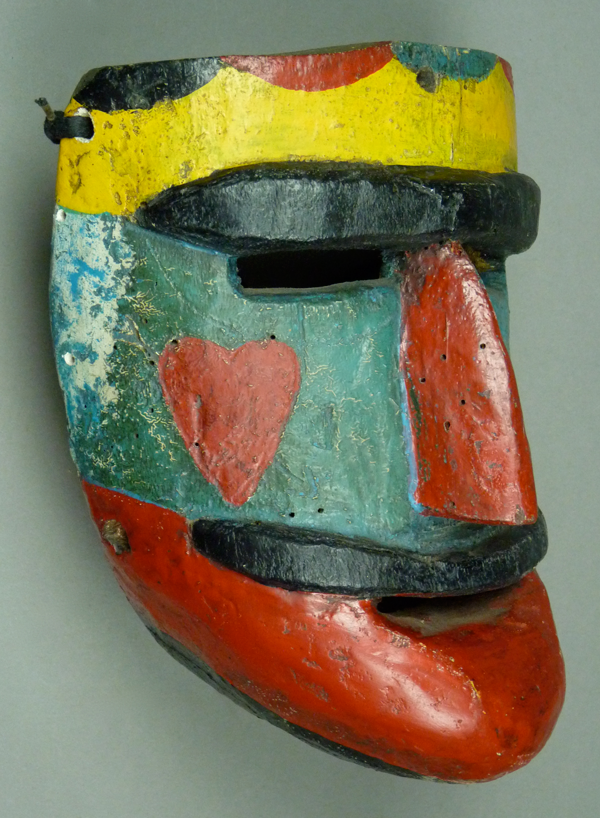 This mask is 7½ inches tall, 6¼ inches wide, and 4½ inches deep.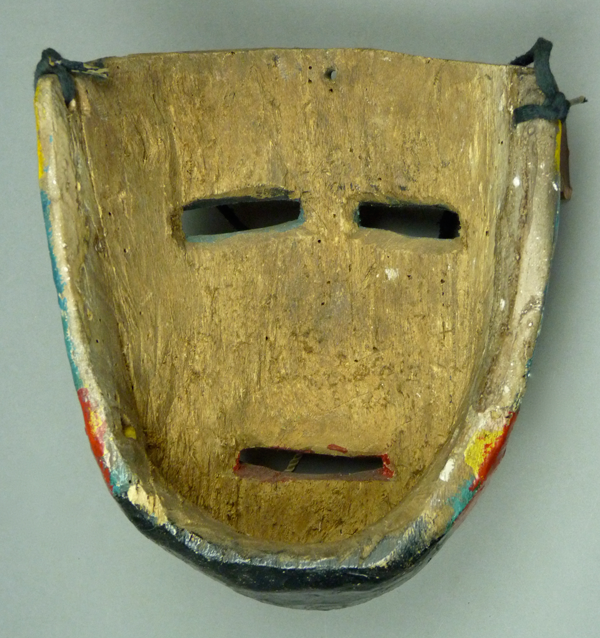 In this case the dark color of the back resulted from the treatment with turpentine.
This next mask has metallic paint, probably automobile paint.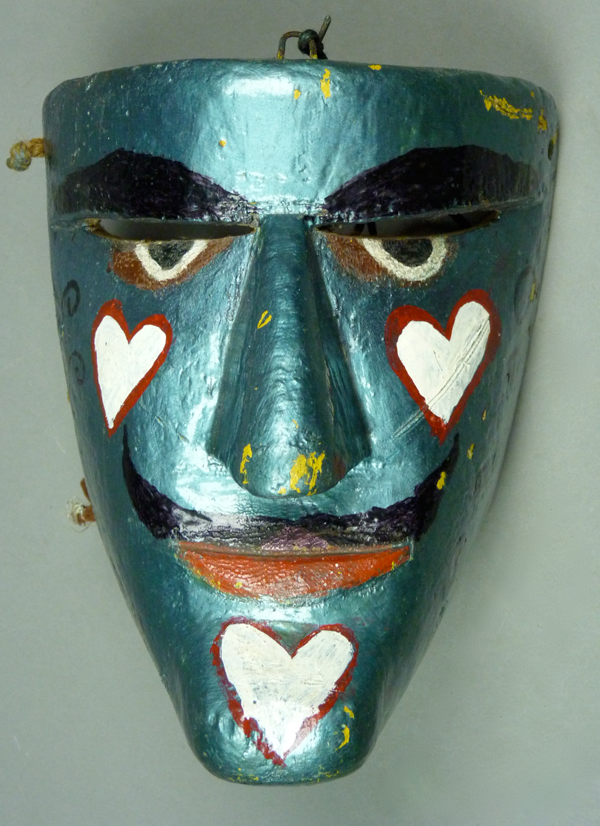 It used to be yellow and was repainted in Turquoise. There are three hearts.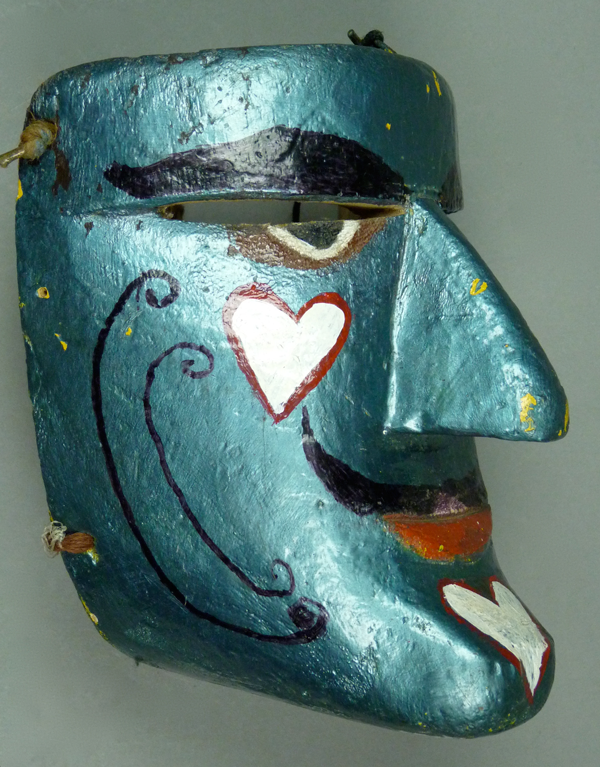 This mask is 7 inches tall, 5¾ inches wide, and 4½ inches deep.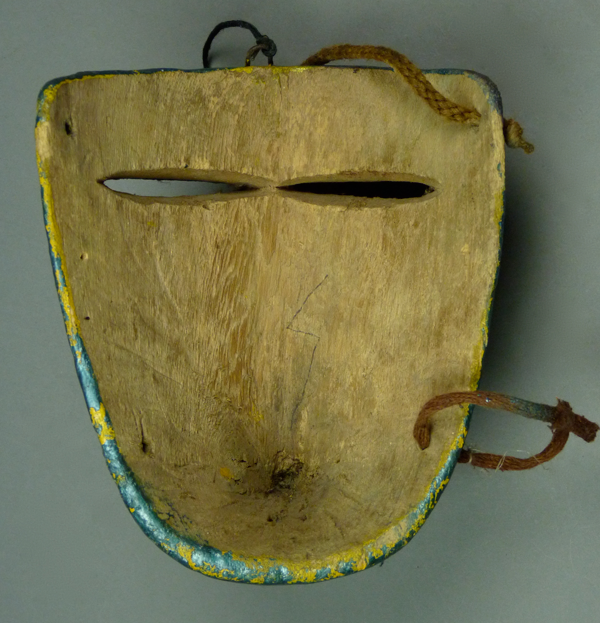 The back of the turquoise mask is undamaged and demonstrates moderate use.
The following mask is very well carved, but lacks hearts. It was originally collected by Jaled Muyaes and Estela Ogazón, but I purchased it in 1998 from the Phoenix Gallery in Georgetown (Washington DC).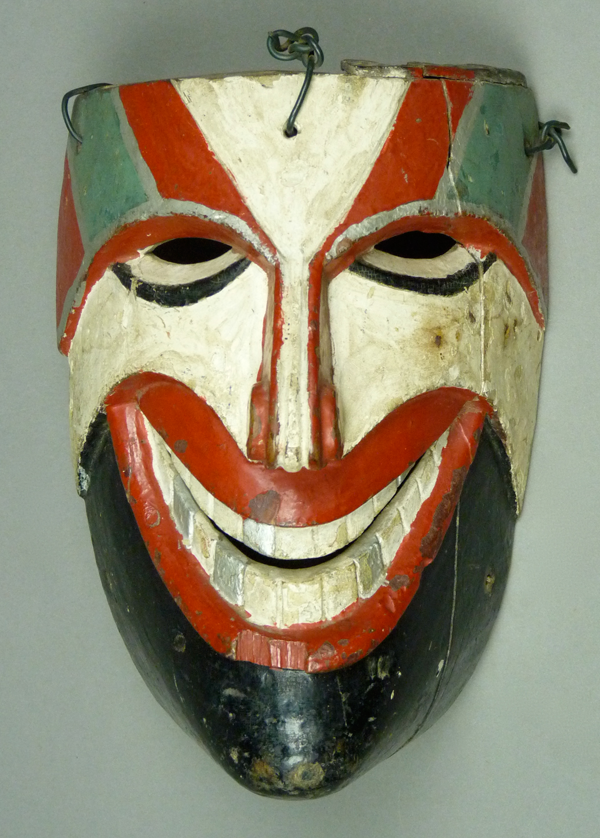 I particularly like the carving of the nose. The design of this mask is abstract and memorable.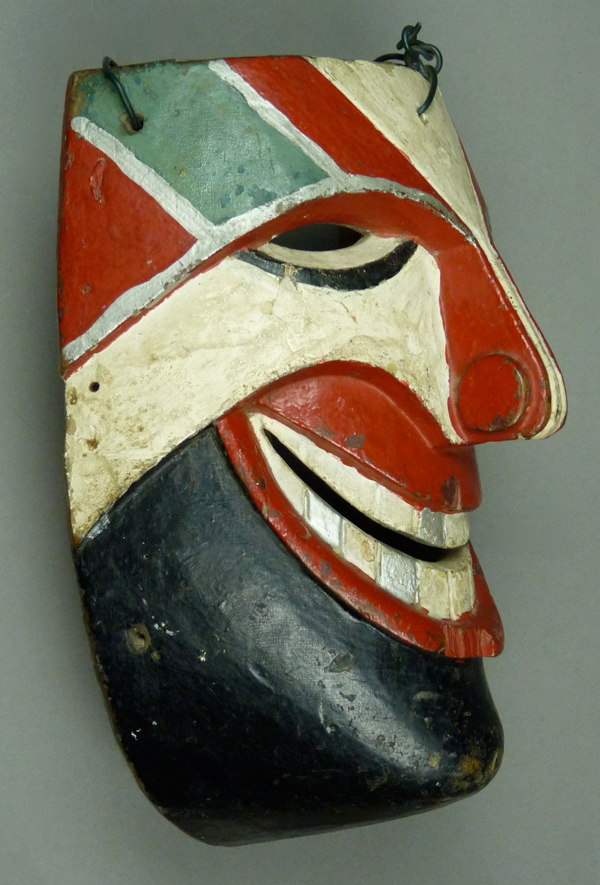 This mask is 8 inches tall, 5½ inches wide, and 3½ inches deep.
The back of the abstract mask shows old repairs to manage a split. At the top a piece of leather is nailed across the split and further down a second leather strap has fallen off, leaving just the tacks. Lower down the split has been glued.
The last of these masks has been decorated with paint and glitter.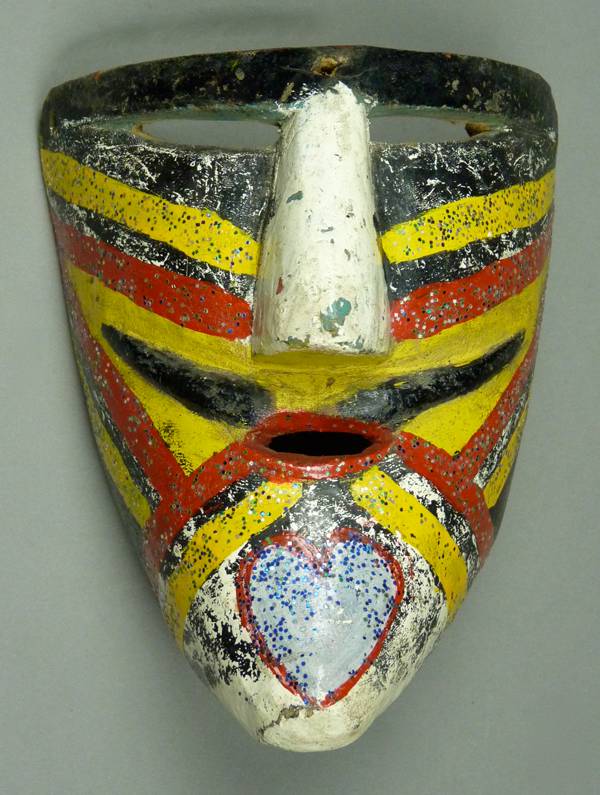 There is a heart on the chin.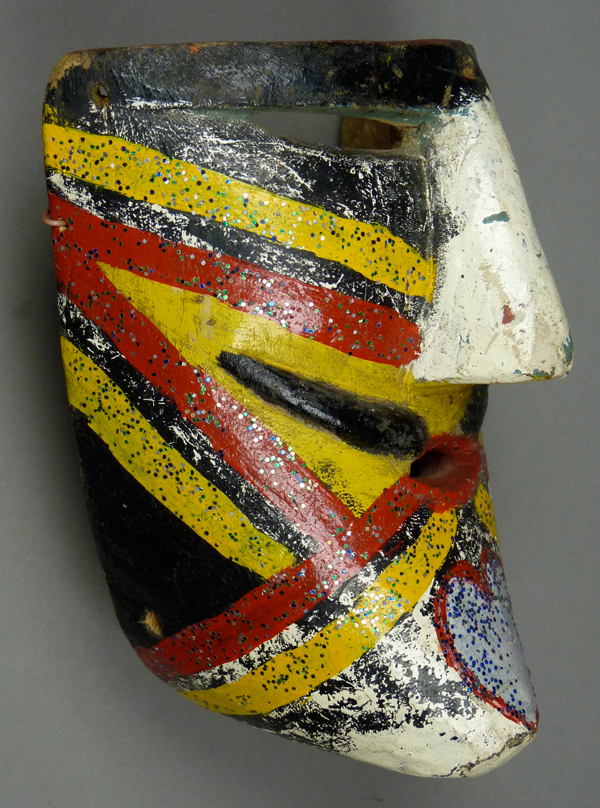 This mask is 7½ inches tall, 6 inches wide, and 4 inches deep.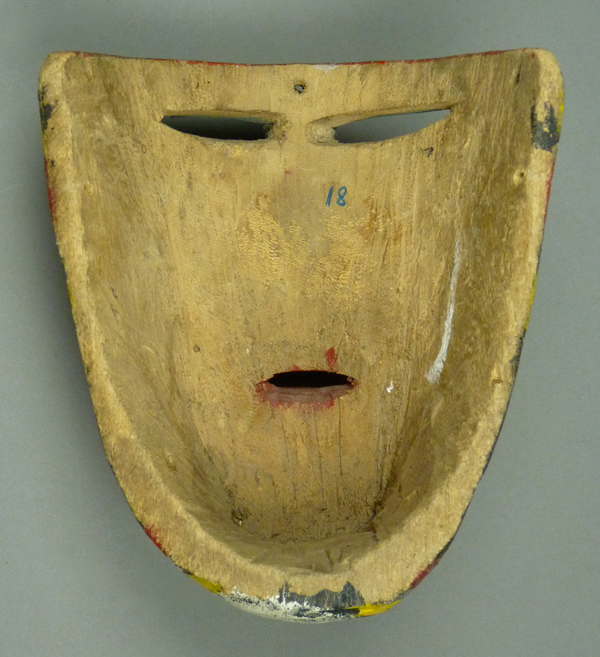 The back demonstrates good wear.
I hope that you have enjoyed seeing these Carnival Moor masks. Next week I will discuss Catrin masks from the Mexican state of Tlaxcala.