One of the goals during my recent review of the Urmston collection was to learn from masks that were relatively unfamiliar to me. One  discovery was that the class of Azteca masks may be broader than I had imagined. Briefly, Azteca masks are but one specialized subset of masks from the Danza de la Conquista. You have seen other varieties of masks from the Conquest dance in recent posts.
Azteca masks have been presented or described in popular books, such as Mexican Masks (Donald Cordry 1981, page 51, Plate 66), Máscaras (Estela Ogazón 1981, page 89) and Tigers, Devils, And the Dance of Life: Masks of Mexico (Barbara Mauldin 1999). These masks portray a Spanish (Caucasian) face that is in contact with a symbolic representation of an Indian enemy; the wearer essentially personifies both sides of the conflict between Nahua (Aztec) Indians and Spanish Conquistadors. In the most usual style, which I will soon illustrate, the tongue of the mask cradles an opposing Indian warrior, but there may be an animal or what appears to be a map of an enemy territory instead.  Cordry believed that these masks came from the Mexican State of Hidalgo. Here is a link that shows the photo of two of these masks in Cordry's book, for the benefit of those who don't have that book. I am sorry that this image of the Azteca masks (on the lower right) is so small.
http://pictures.abebooks.com/FLAMINGOBOOKSEPHEMERA/md/md15792885323_5.jpg
Barbara Mauldin consulted Jaled Muyaes and Estela Ogazón and repeated their report that these were masks from Veracruz. She included a dance photo taken by Estela Ogazón in 1991, in  Atistace, Veracruz, with this caption—"Conquista masqueraders participating in Carnival celebrations."  That photo (on page 33) shows two dancers, one wearing what appears to be a conventional Azteca mask of a Conquistador encountering an Indian while the other wears a truly unusual Azteca mask. As you will see, the latter is a wickedly amusing example in which the mask's tongue appears to support a Mermaid's breast! I had purchased that mask from Kelly Mecheling of New Orleans in 1995, several years before it appeared in Mauldin's book, and Kelly had obtained the mask from Jaled Muyaes and Estela Ogazón. I might as well begin with that mask.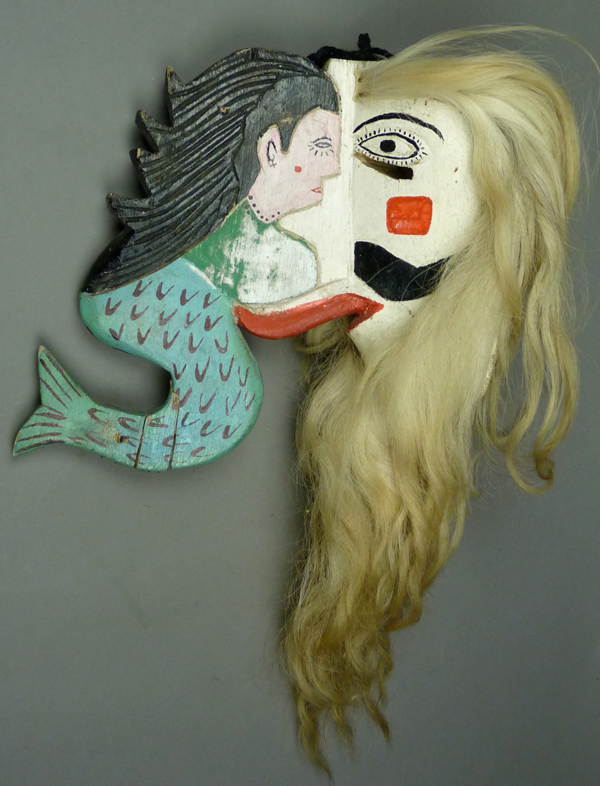 Isn't this a shocking motif for a dance mask, even though almost anything goes during Carnival. One is tempted to think that this is a fantasy creation, with no connection to an actual performance, but the photo in Mauldin's book shows it in action. In the photo, the mermaid's tail appears to be intact, but at some point in the interim it had split and required repair.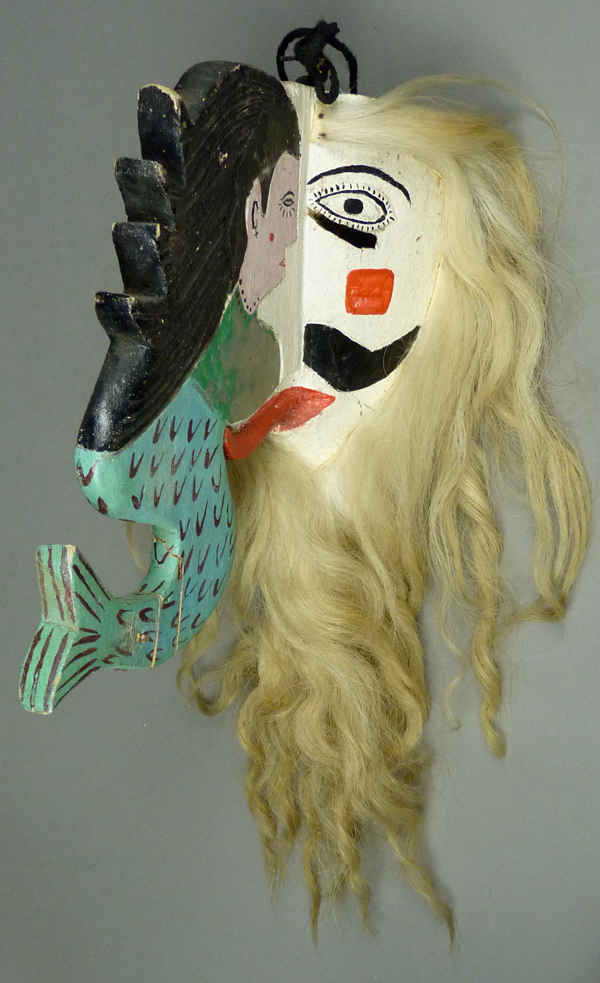 This mask is 10½ inches tall, 5½ inches wide, and 11 inches deep, from the back edge to the tip of the mermaid's tail (not counting the hair).
If you have read many of the earlier entries in my blog, then you are probably aware of my theory that such remarkable jokes can reflect important themes or beliefs. Is this Cortéz and Malinche? As yet I have found no formal explanation, but I am reminded of a line from a poem by John Berryman—"Not To Live (Jamestown 1957)"— "It kissed us, soft, to cut our throats, this coast."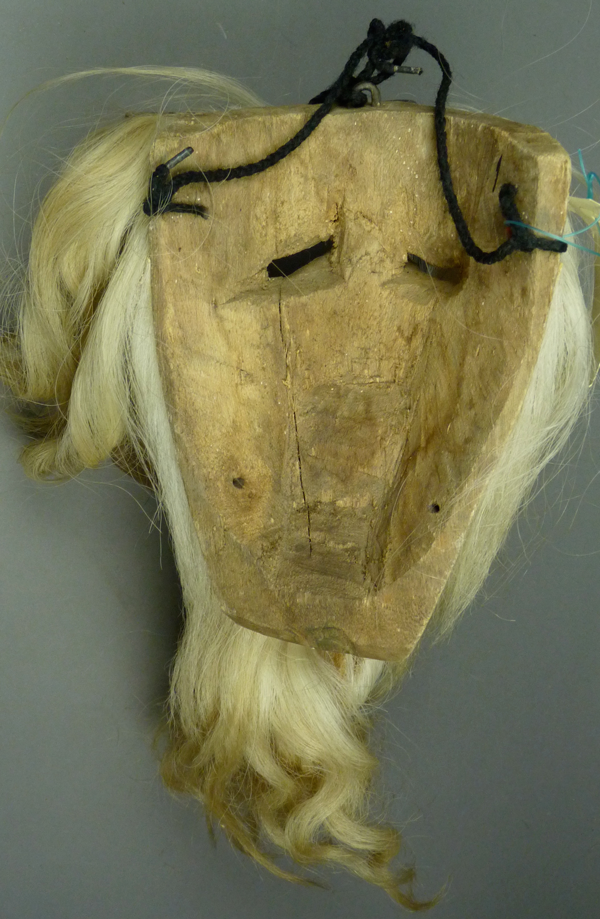 The back has been recut to fit a new dancer's face. That is why the sides of the back are lighter in color compared to the central and chin areas. The hair on these masks is horse tail.
Here is a second Azteca mask, illustrating the far more classic design in which the Spaniard confronts an Indian. One of the masks in the Mauldin photo looks just like this one.  I bought this mask from Robin and Barbara Cleaver in 1995. It was found in Cruz Ataque, in the Municipio of Huayacocotla, Veracruz.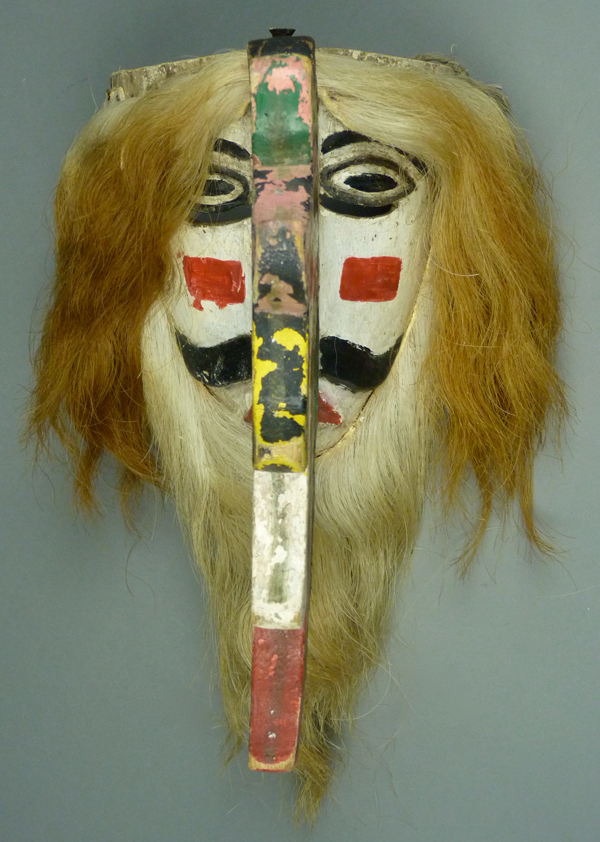 This is an old mask that has been repainted.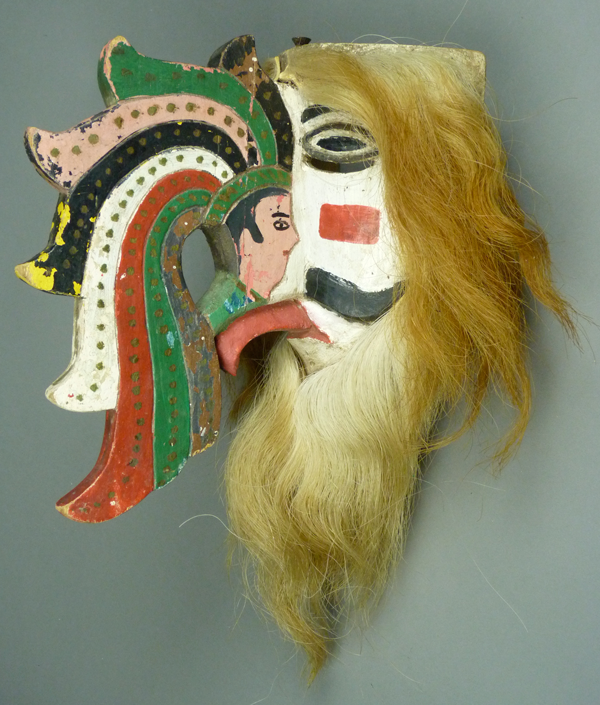 This mask is 10½ inches tall, 6¼ inches wide, and 8½ inches deep.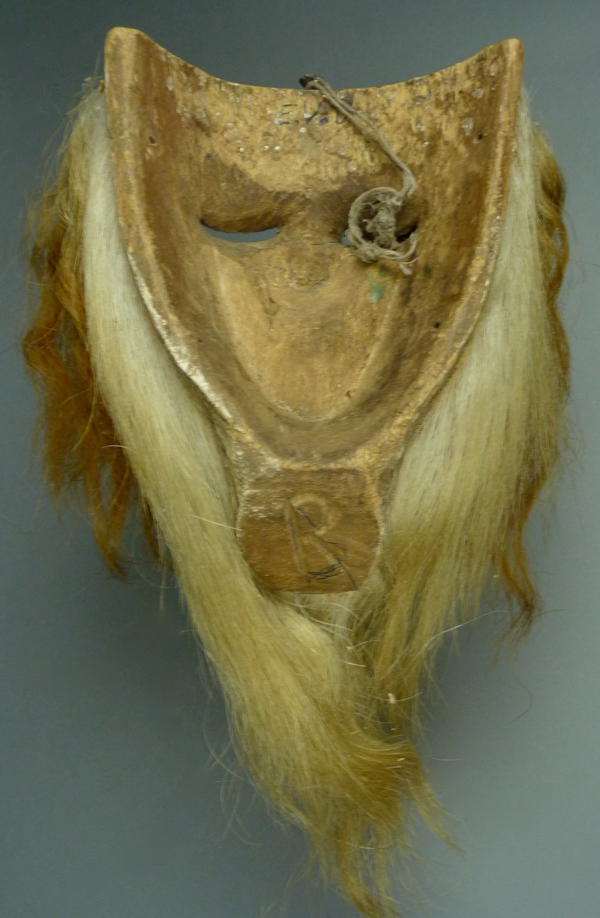 Either the dancer or the carver has carved his initial on the back of the chin—R. The wear on the back of this mask is obvious.
Here is a Youtube™ video of Carnival at Cruz de Ataque in 2015. If you look closely you will see that some of the dancers are wearing Azteca masks.
https://www.youtube.com/watch?v=dgRLa7cchkU
There are also a few in the video that follows:
https://www.youtube.com/watch?v=JoMC30gkISo
And in another from Zacualpan, Veracruz.
https://www.youtube.com/watch?v=LA0ehScKocE
The third Azteca mask pits a Spanish soldier against a rooster. This is another that I purchased from Kelly Mecheling of New Orleans in 1995.
Where will the rooster peck?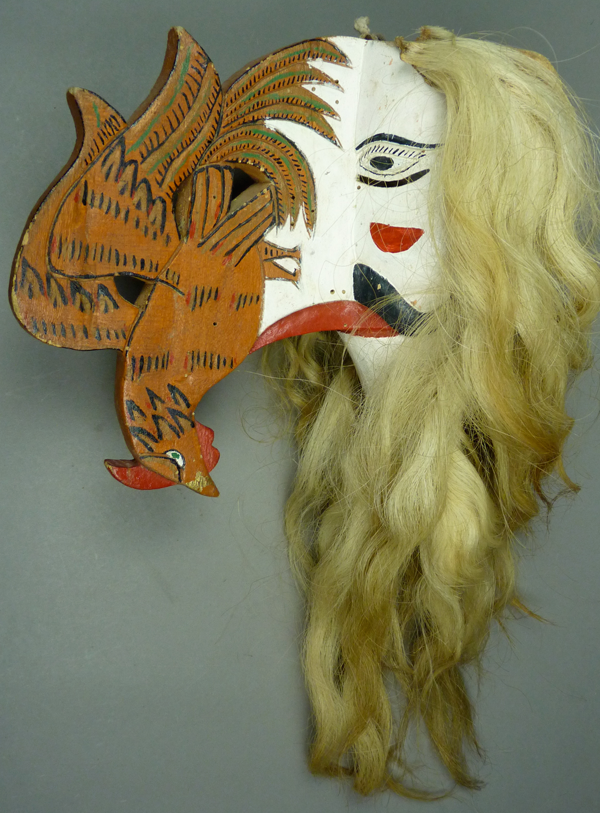 This mask is 10 inches tall, 6½ inches wide, and 9¾ inches deep.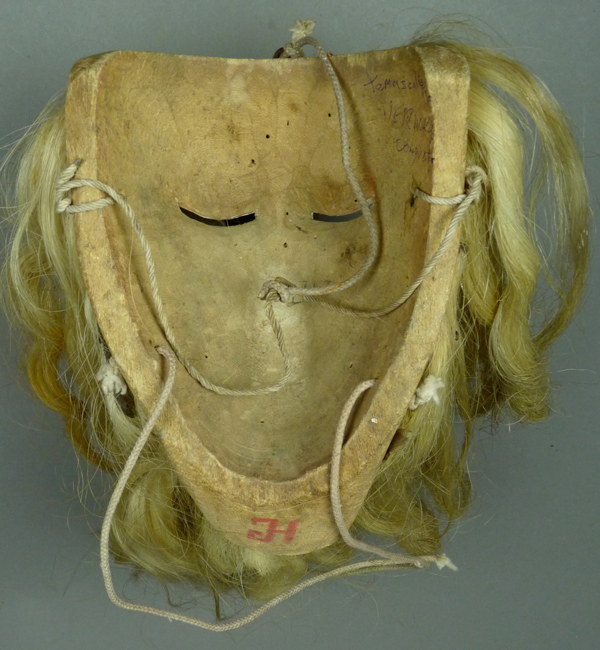 The dancer has drawn his initials (JH) on the chin.
Here is the fourth Azteca mask in this post. In this case the Spaniard is opposed by an egret, a snake, and a lizard. This too came from Robin and Barbara Cleaver, in 1995, from an unknown town. Isn't this a remarkable mask! The Conquistador is not opposed by an Indian, instead he must confront the Indians' animal allies.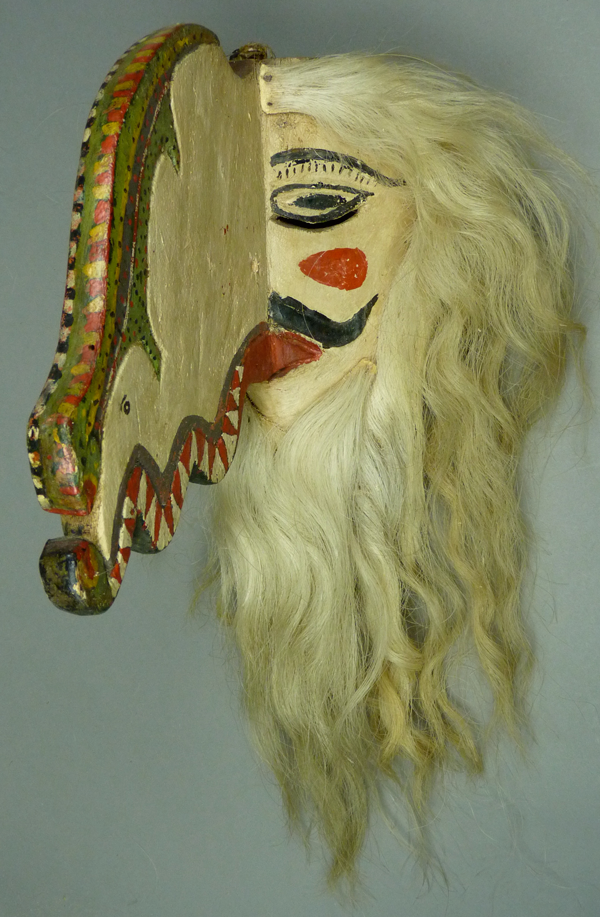 In its style, this mask resembles the two in Cordry's book.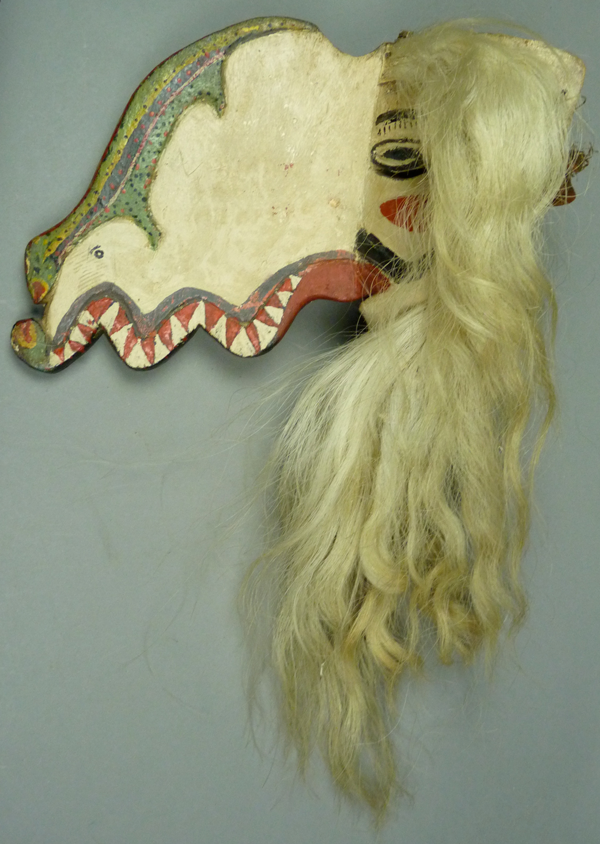 This mask is 9½ inches tall, 7 inches wide, and 11 inches deep.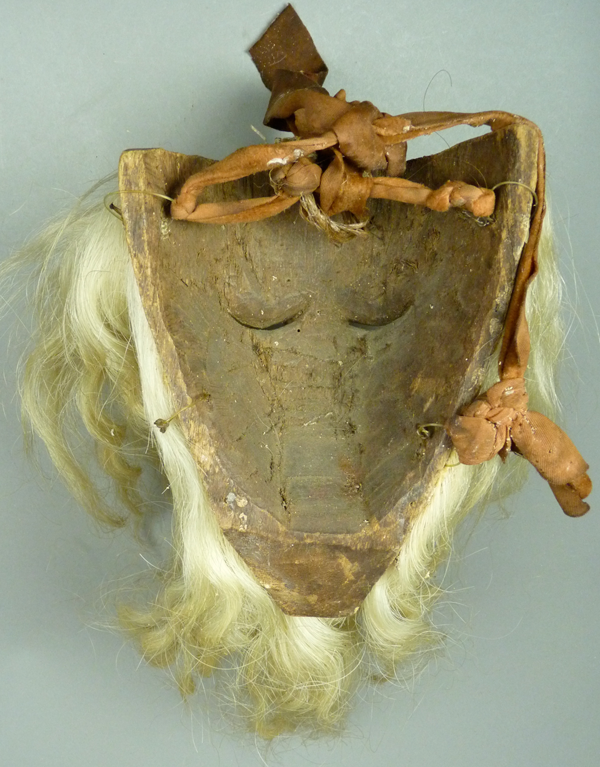 The back of this mask is worn and very dirty.
What are we to make of Azteca masks? In these four examples we find an obvious pattern—a Caucasian and probably Spanish face confronts an Indian, an animal, or a mermaid. Evidently all of those opponents are on the same team, opposing the Spanish.
Here at the end I will throw in a mask with a somewhat similar nose. It may or may not be another Azteca mask: I purchased it as a mask from the Conquest dance, so at least it is closely related.
This mask has a long nose with a complicated shape and it has the required red spots on the cheeks,  but the tongue is not extended and it used to have a prominent mustache.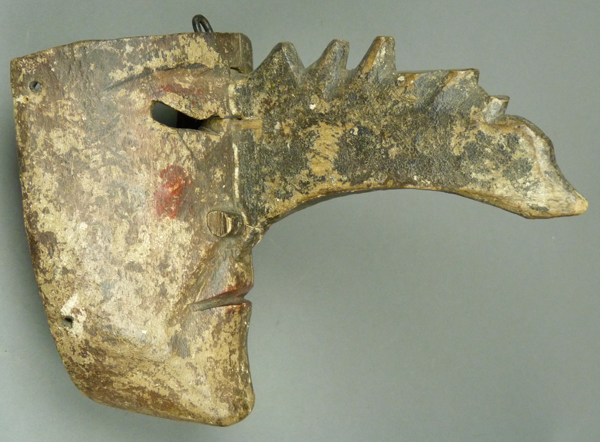 There was a relief carved mustache that is broken off on both sides. This mask is 7½ inches tall, 6½ inches wide, and 8 inches deep.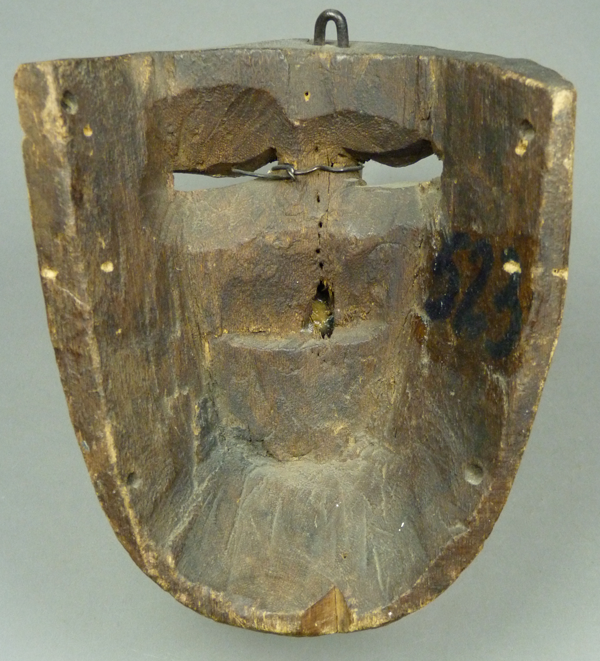 This is yet another old worn mask.
Next week I will discuss other masks with long or elaborate noses that are probably not Azteca masks.