Today I will introduce you to two more Yoeme (Yaqui) carvers from the Rodríguez family, Preciliano Rodríguez Cupis  and his brother, Conrado Rodríguez Cupis. Preciliano was the father of Rodrigo Rodríguez Muñoz and Jesús Rodríguez Muñoz, while Conrado is their uncle. There are various spellings for Preciliano, and this is the version used by this family. When we encounter the Pascola masks of these four artists, certain similarities are obvious, and it is not always easy to decide whether a particular mask was made by one or another of them. Undoubtedly they learned from one another, and it is possible that they sometimes collaborated on a batch of masks. Rodrigo's masks tend to be the most consistent in style, and those of Jesús frequently display a certain overall shape, but the masks of Preciliano and Conrado demonstrate greater variability. Either they are less formulaic or their styles have evolved over time. They are often wonderful, from an artistic perspective. I will continue to draw mainly upon masks from the Barney and Mahina Burns collection to illustrate these carvers.
I will begin with several masks that have been attributed to Conrado, whether by his family, Tom Kolaz, or me. The first (B/M 466) was sold to Barney and Mahina as a mask carved by Pedro Onamea in 1997, but Tom immediately recognized it as the work of Conrado. It is a spectacular mask. Unfortunately I neglected to take a side view that would have celebrated this nose.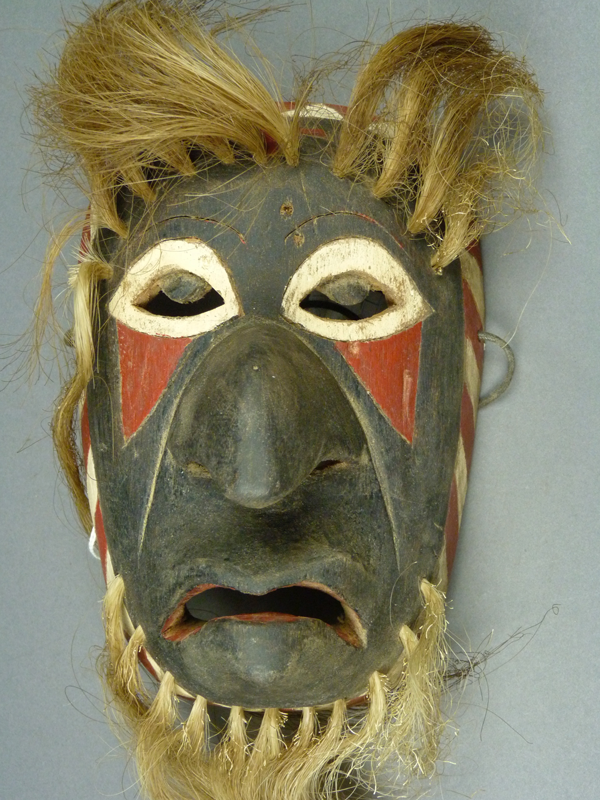 In addition to the obvious Rodríguez family features, this mask has some notable details; the eyes, although framed in the usual Rodríguez fashion, have carved irises. There is a dramatic oversized nose, a beaked mouth, and inscribed lines on the face, such as over the eyes. Beaked mouths on Pascola masks were in fashion 100 years ago, but here we observe that Conrado was participating in what would seem to be a living tradition.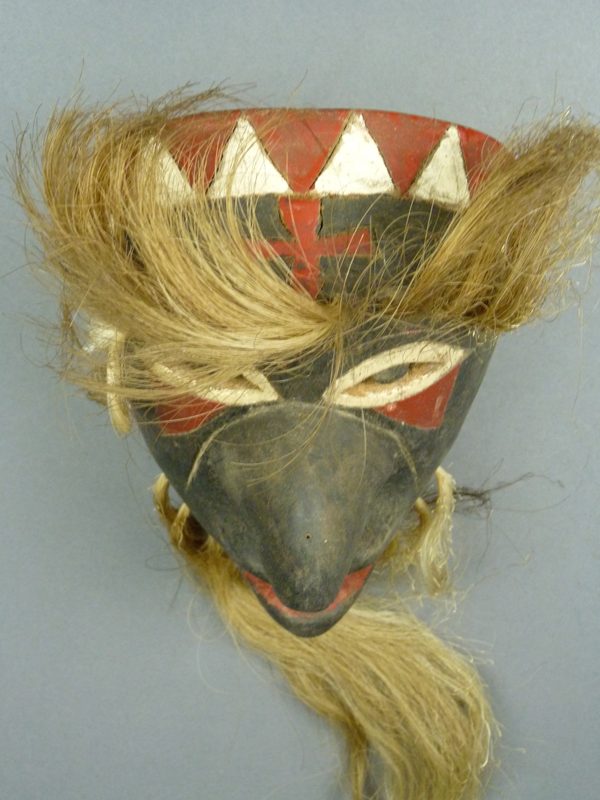 The rim design is generic, nor does the inscribed forehead cross seem remarkable, but OH the eyes, the nose, and the mouth!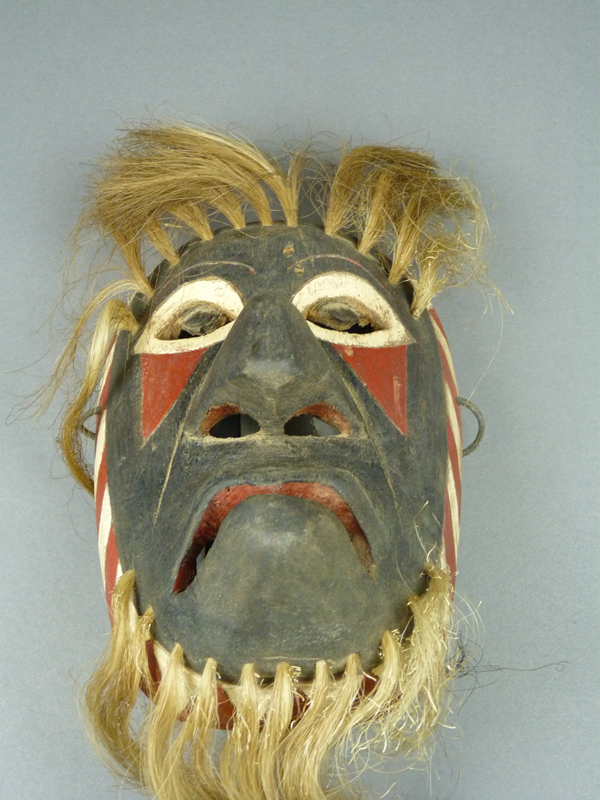 There is no chin cross. But what is apparent, even from this angle is this is a mask with mysterious nobility. That is, although the Pascolas are most obviously clowns, it is less obvious that they can also function as priestly figures or shamans.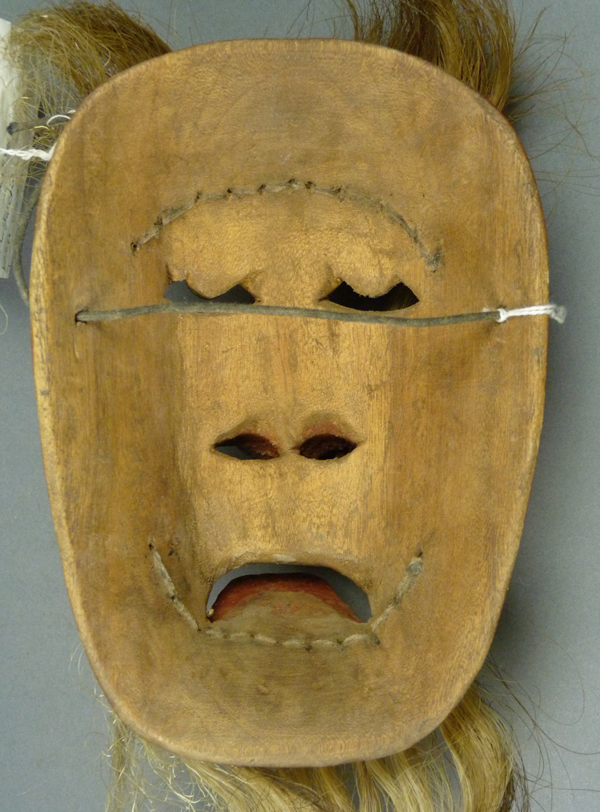 The back has a typical Rodríguez design, with generous air passages. It has moderate staining from use. From this view one can see clearly that the irises within the vision openings were carved in place, although from the front they may appear to be applied.
The next mask (B/M 340) was collected from a dancer, and as is commonly seen in such situations, he claimed to have also been the carver. However the mask has a strong collection of Rodríguez family design features. For example, we have seen this rim design (VvvvVvvvVvvvV) on a mask by Rodrigo Rodríguez Muñoz (September 5, 2016), and we will see variations of this pattern (such as VvVvV) on other masks by Conrado. Also this mask has a fairly flat forehead, nearly as flat as the masks of Rodrigo. However Rodrigo usually included an elaborate cross on the forehead, while this mask has a crude incised cross that appears to have been added later by a dancer. Jesús and Conrado were far more likely to omit the forehead cross. Conrado sometimes carved eyes in this style, so different from those on the last mask; it seems that his brother Preciliano also carved similar eyes.  This is Conrado's classic nose, according to Tom Kolaz. Therefore I am attributing this mask to Conrado.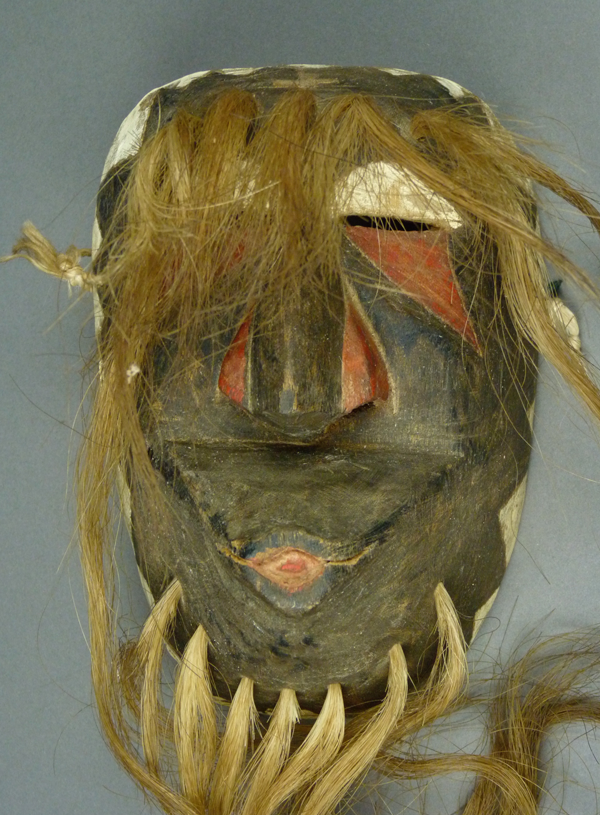 This mask has what one would call a snouted mouth. From the side, one can better see this rim design (VvvvVvvvV), a Rodríguez trademark.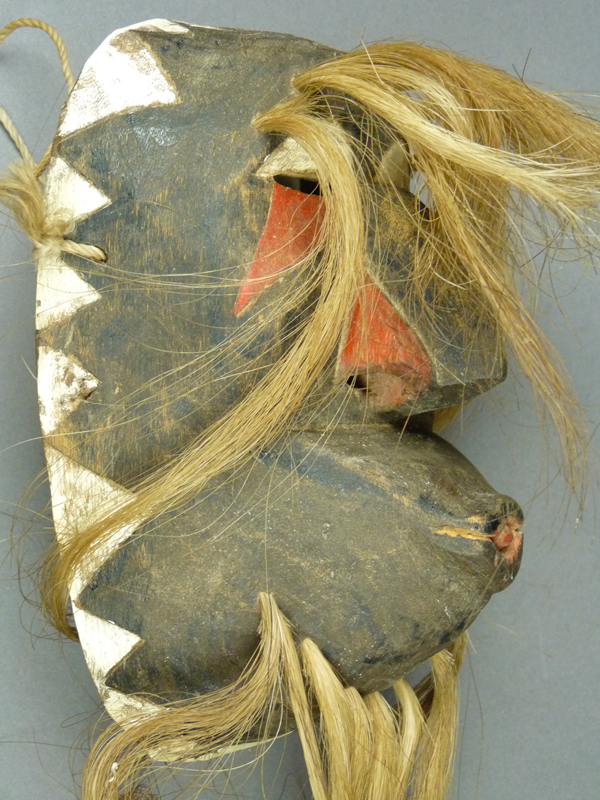 These eye and nose designs are particularly associated with Conrado.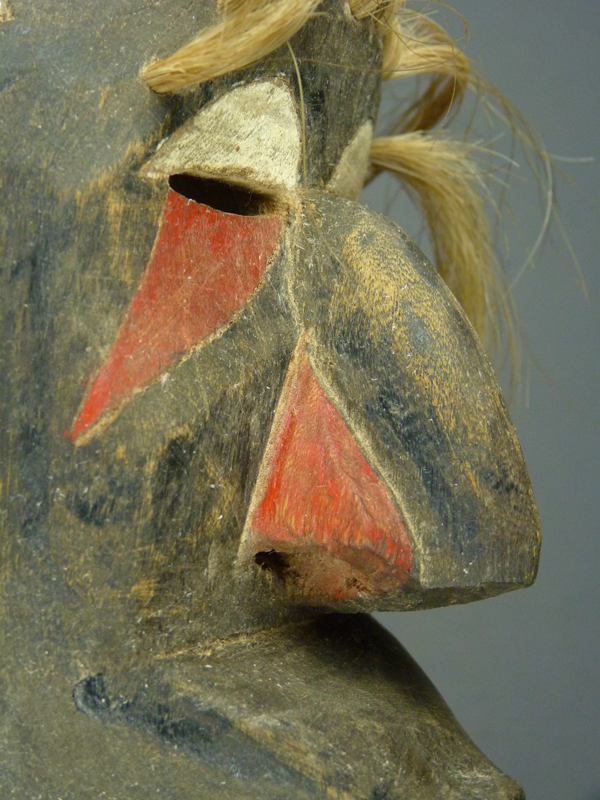 A tiny tongue-tip emerges from the snouted mouth—a playful touch. The Pascola dancer plays many roles, including that of a clown.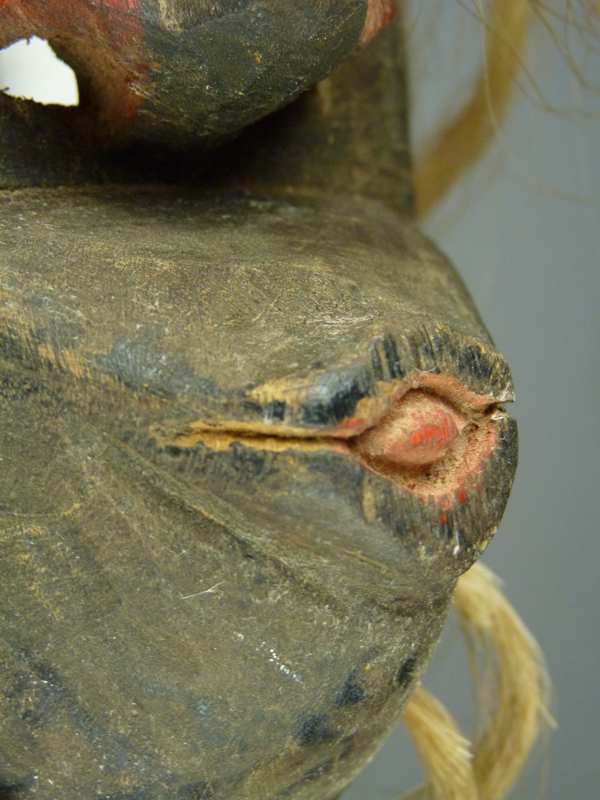 The forehead cross is an obvious afterthought, and by a different hand. Then again, it is not so different from the one on the previous mask.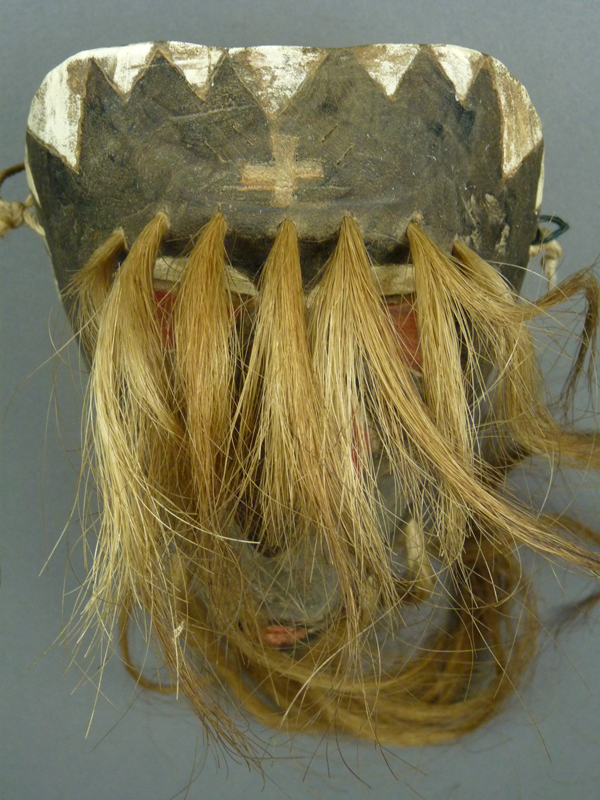 There is no chin cross, a common finding on Rodríguez masks.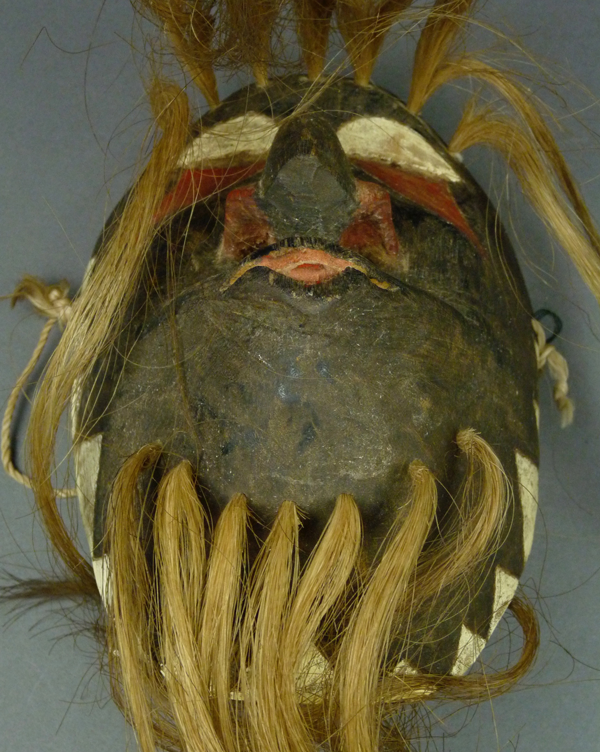 The rim design continues around the chin.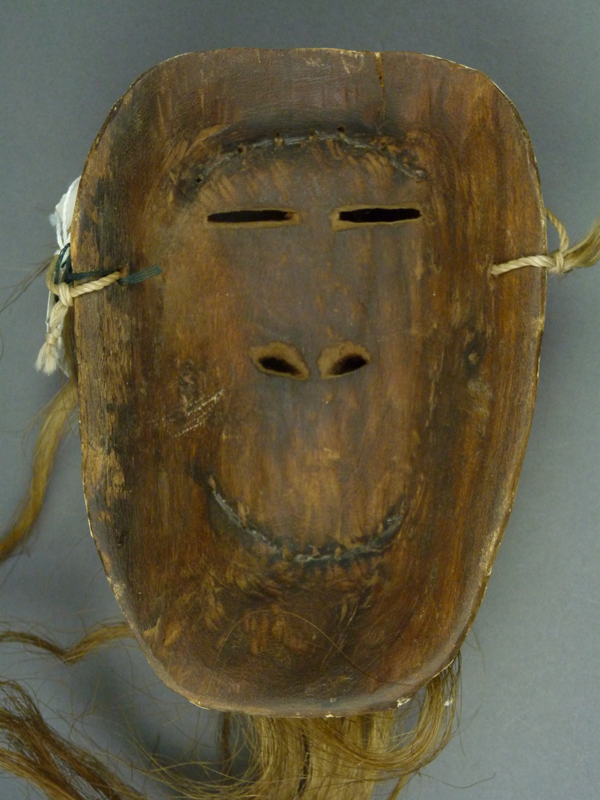 The back of this mask shows remarkable staining from use. The dancer, Luis Coronado, reported that he danced with this mask for 12 years. One finds this back on many Rodríguez masks, but the shape of the vision slits seems particularly characteristic of Conrado and maybe Preciliano.
The next mask resembles a made for sale mask in my collection that was carved by Jesús Rodríguez Muñoz (see post of September 19, 2016 ), and this one was attributed to Jesús by his family. Initially I too thought that Jesús was the carver. However, further examination reveals that it has eye, nose, teeth, and chin cross designs typical of Conrado (B/M 158).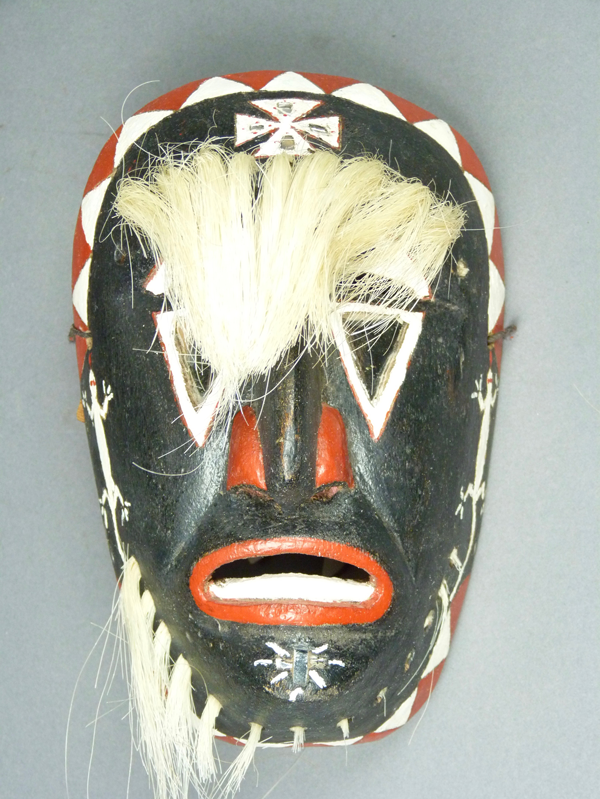 There is a vision slit under the eye, and inlaid mirrors in the triangles. The mouth has a slight frown.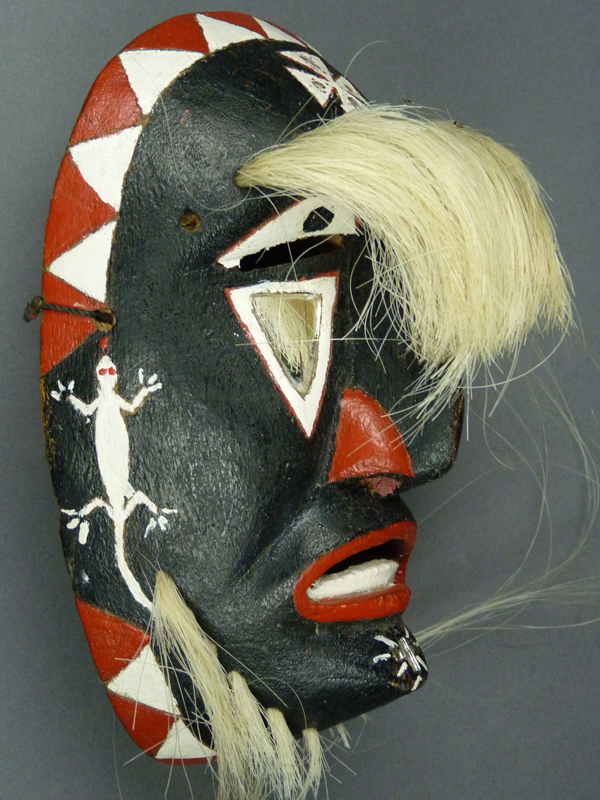 The hair bundles are thick, suitable for a danced mask.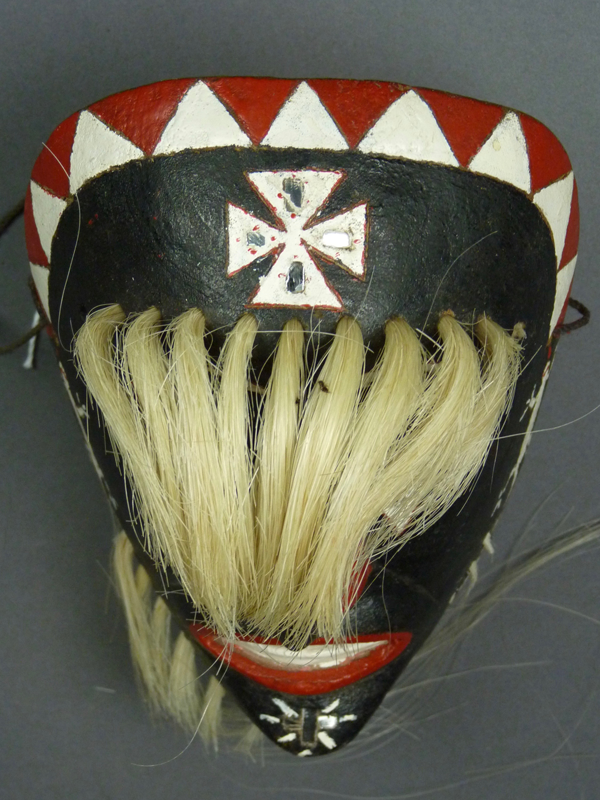 Note the cross on the chin, which we will see again in painted form on other masks by Conrado.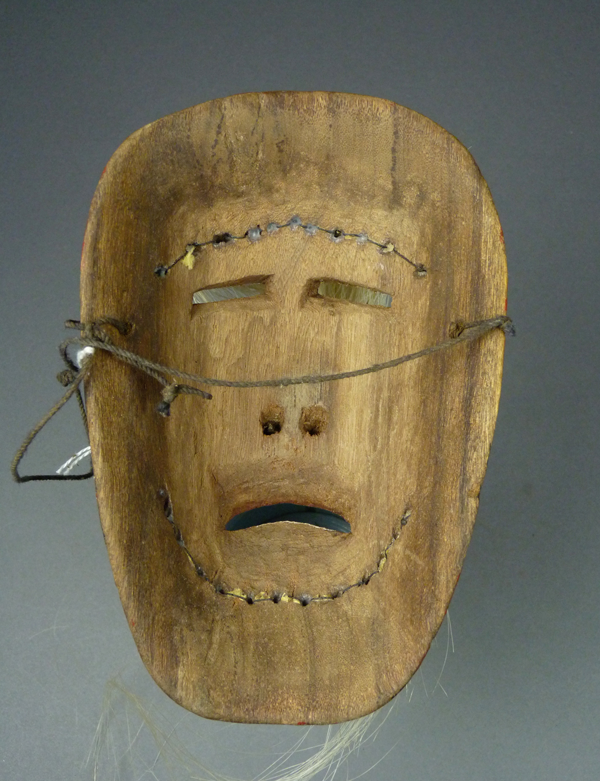 The back, in a typical Rodriguez shape, is worn.
The next mask (B/M 157) illustrates again the nose design that Tom Kolaz views as typical for Conrado Rodríguez Cupis. However, you have seen this scalloped rim design on various masks that were created by Jesús Rodríguez Muñoz. Confronted with such mysteries, Tom wonders whether such a mask might represent a collaboration between Rodríguez family members.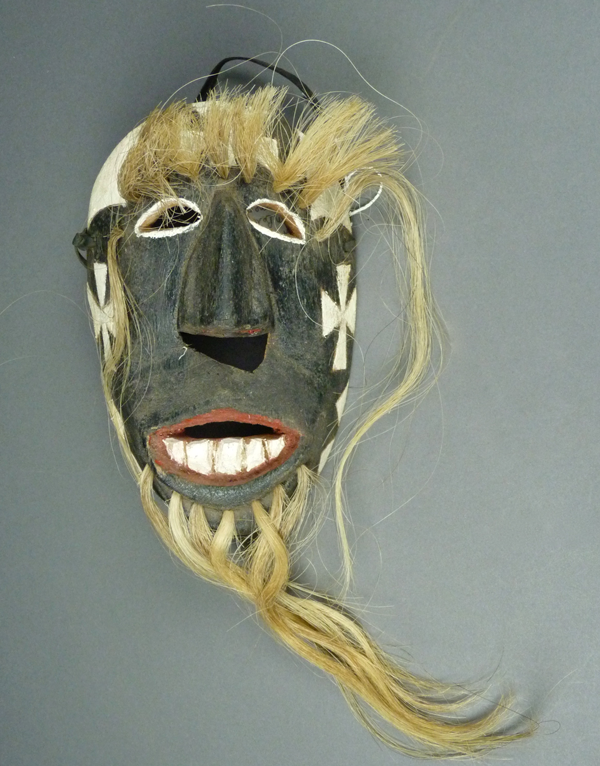 The outlining of the eyes, instead of the more formal framing of the first mask, seems to be a typical variation for Conrado.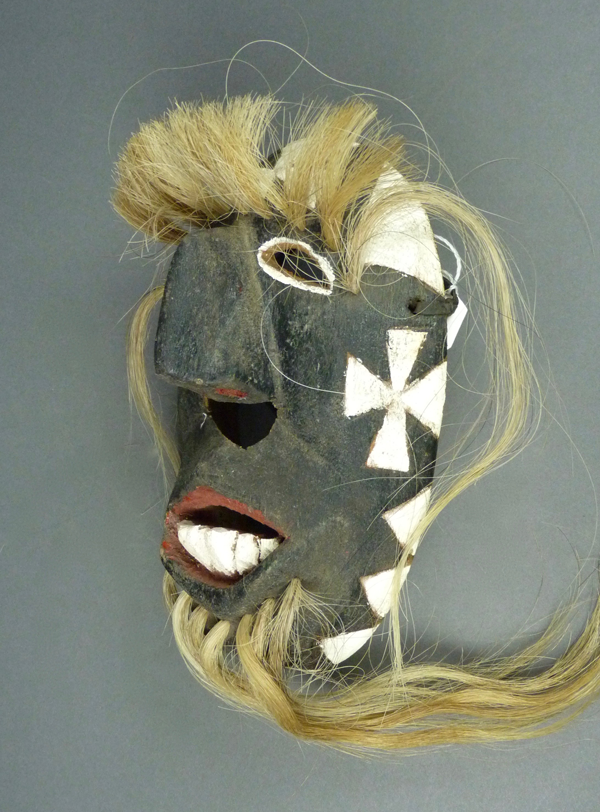 This style of cross is favored by Conrado.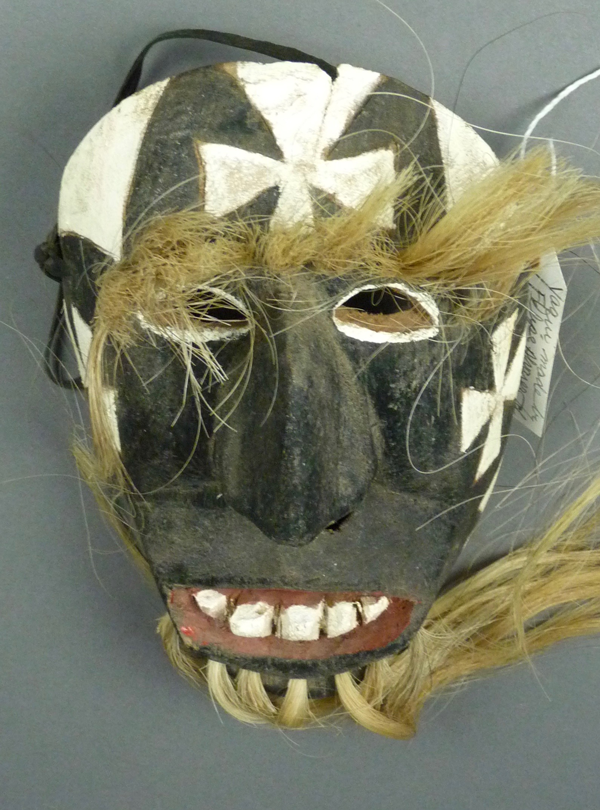 These photos provide excellent views of this style of nose, a marker for Conrado. The individual teeth are carved in three dimensions, as is sometimes seen on masks by Conrado.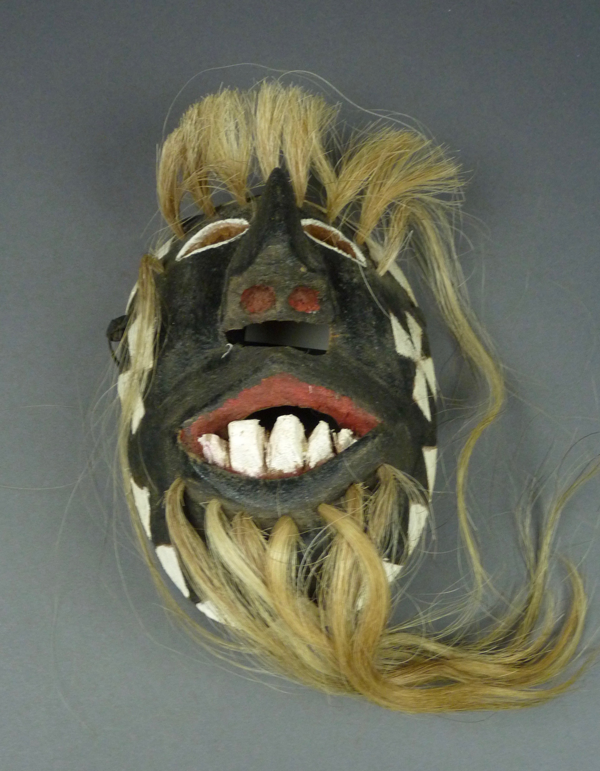 The opening under the nose is unusual for any Yaqui carver, and probably reflects damage rather than any conscious design.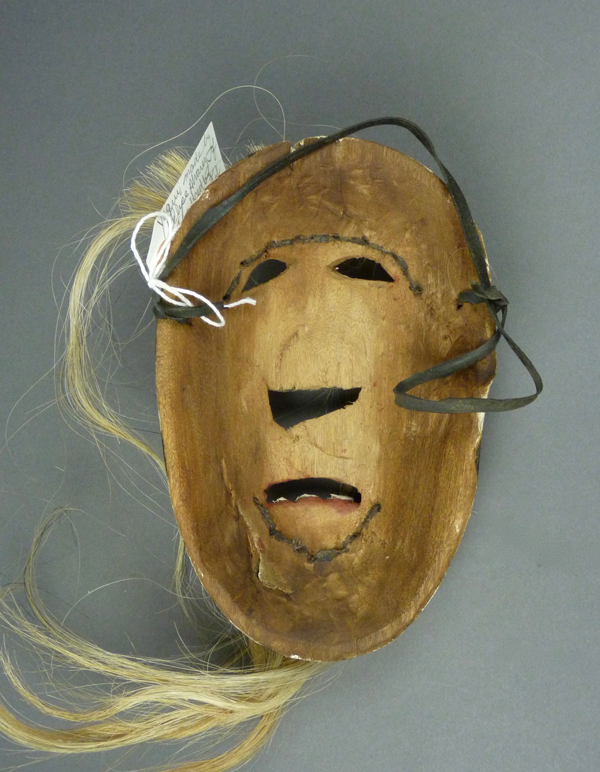 There is moderate staining on the back of this mask, indicative of significant use.
Now I will shift to a mask by Preciliano Rodríguez Cupis, the brother of Conrado and the father of Rodrigo and Jesús. This mask was actually collected by Barney Burns and Mahina Drees in 2003 as a mask that was carved by Preciliano (B/M 228). It had been danced for 17 years. I call your attention to the dramatic nose on this mask. Tom Kolaz and I believe that this nose design is a highly specific marker for the masks of Preciliano.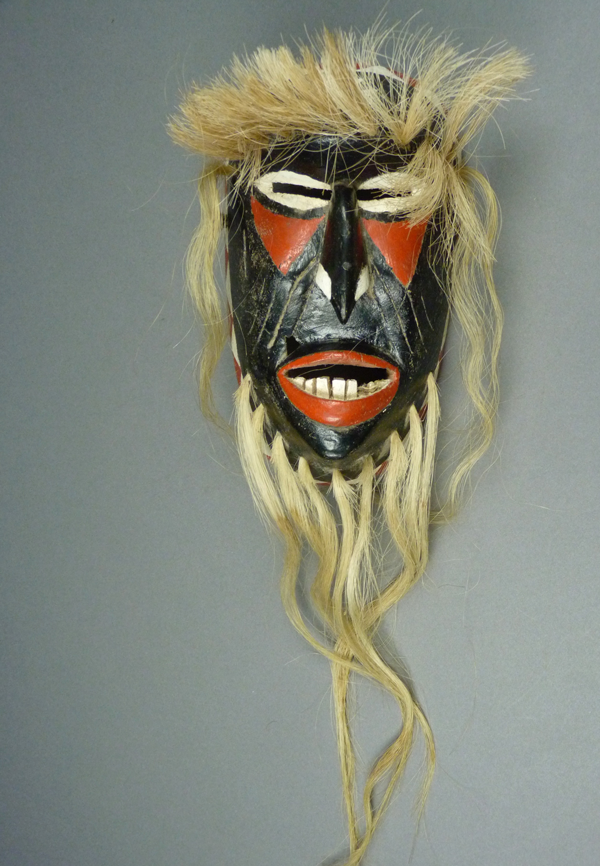 What is remarkable about this nose design is that these noses are long, thin, and hooked at the lower end (the bottom of the nose is slanted).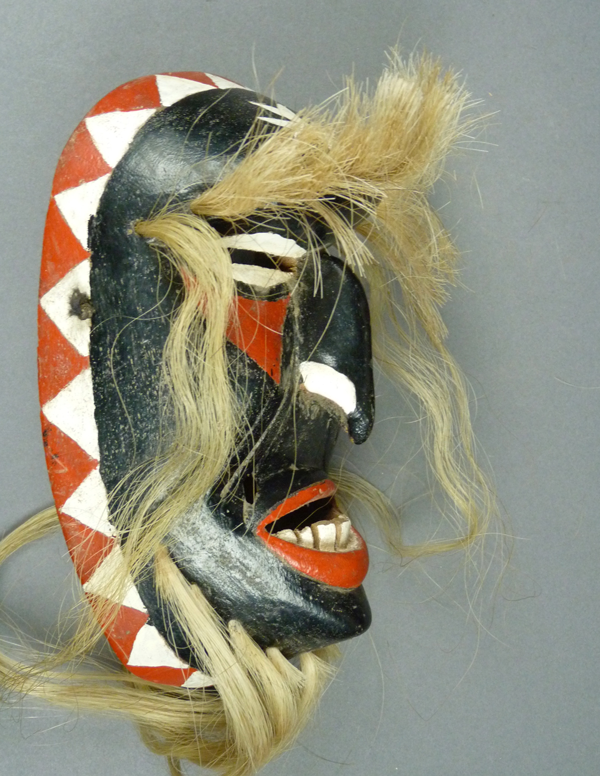 The eyes on this mask are thin rectangular slits, which resemble those of Conrado, but in this case the painted eye surrounds the slit, rather than lying above it as one often sees on masks by Conrado. These three dimensional teeth are less common for Preciliano, and more frequently seen by Conrado. On this mask one certainly sees some overlap between their two styles.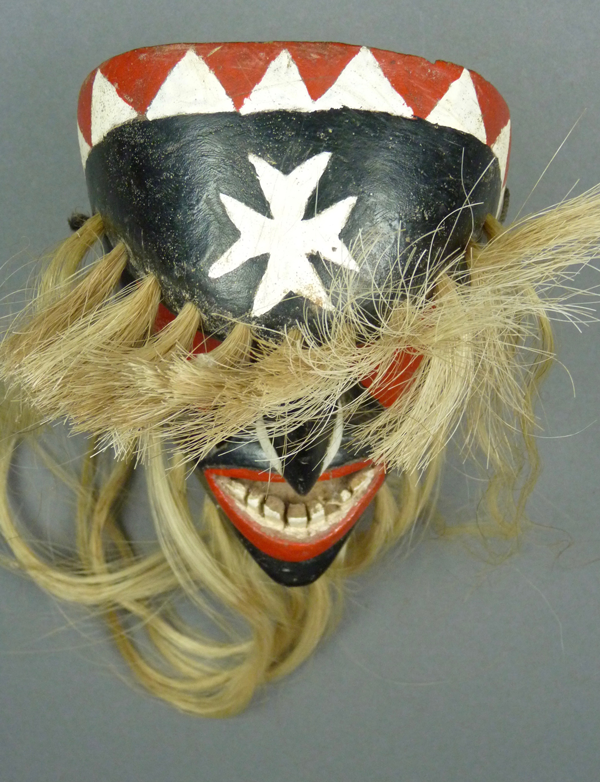 This cross design is apparently favored by Preciliano as well as the other Rodríguez carvers.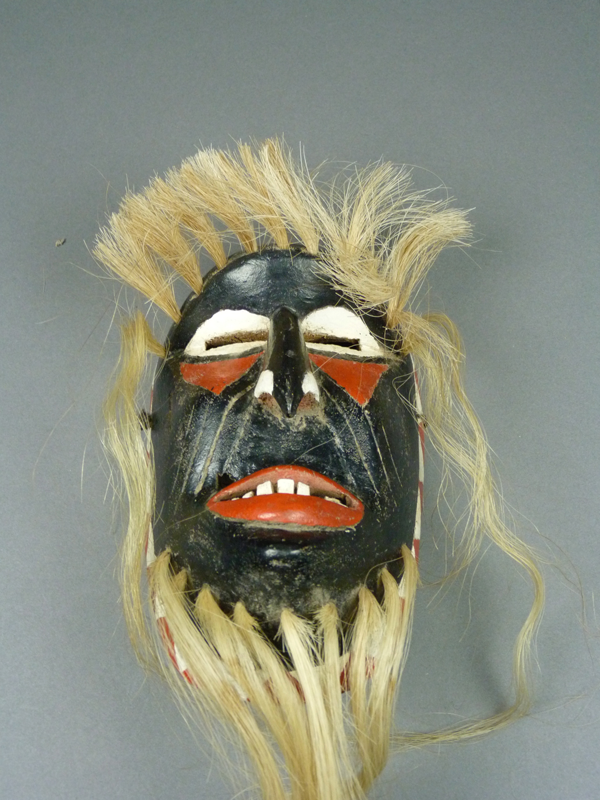 Note the carved wrinkles on this face.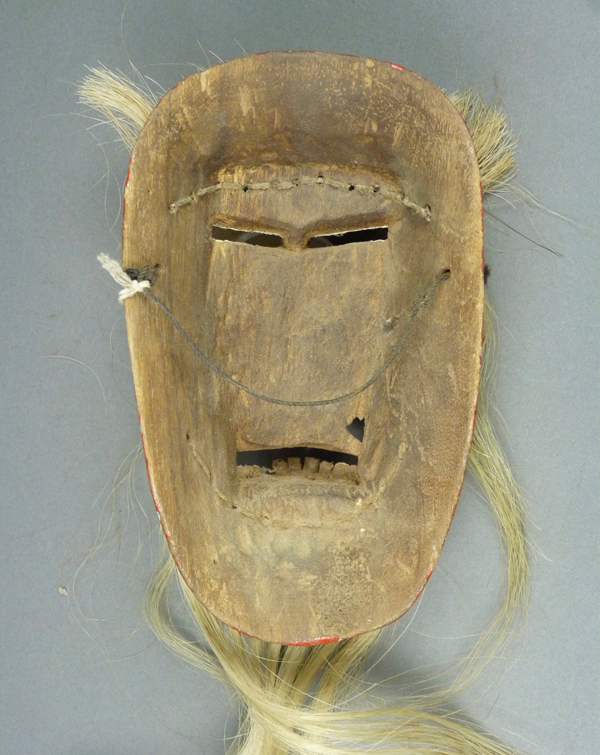 The back of this mask is heavily worn, in keeping with the history of 17 years of use.
Next week I will show more masks by these two carvers.