Today I will introduce you to the Pascola masks of Crisencio Molina Maldonado. Crisencio was born on 9/19/1957, in Pitahaya, Sonora. Presently he lives in Potam. As a young man, he was trained by his father to perform as one of the deer singers during Yaqui fiestas. His father, whose informal name is Miki Maaso, was the lead Deer singer and Miki's compadre, Luis Maaso, was the Deer dancer they sang for, when this group traveled from Sonara to participate in Tucson fiestas at the Barrio Libre community. Later they performed at Old Pascua. Some anthropologists recognized Crisencio as a valuable cultural consultant. In about 2004, my friend Tom Kolaz was pleasantly surprised to discover that Crisencio was also a talented mask maker. At that time Cresencio brought his masks with him when he attended Tucson fiestas, and I began buying his masks from Tucson merchants in 2006. Tom and I thought that Crisencio's masks were very well carved, and that he was a superlative artist, so we began buying directly from the carver. In a series of posts over the coming weeks I will demonstrate the quality that so impressed us.
Upon my discovery of Crisencio, I purchased a number of his masks, including those with the most traditional  Pascola mask style, masks with human faces. Here is one of those.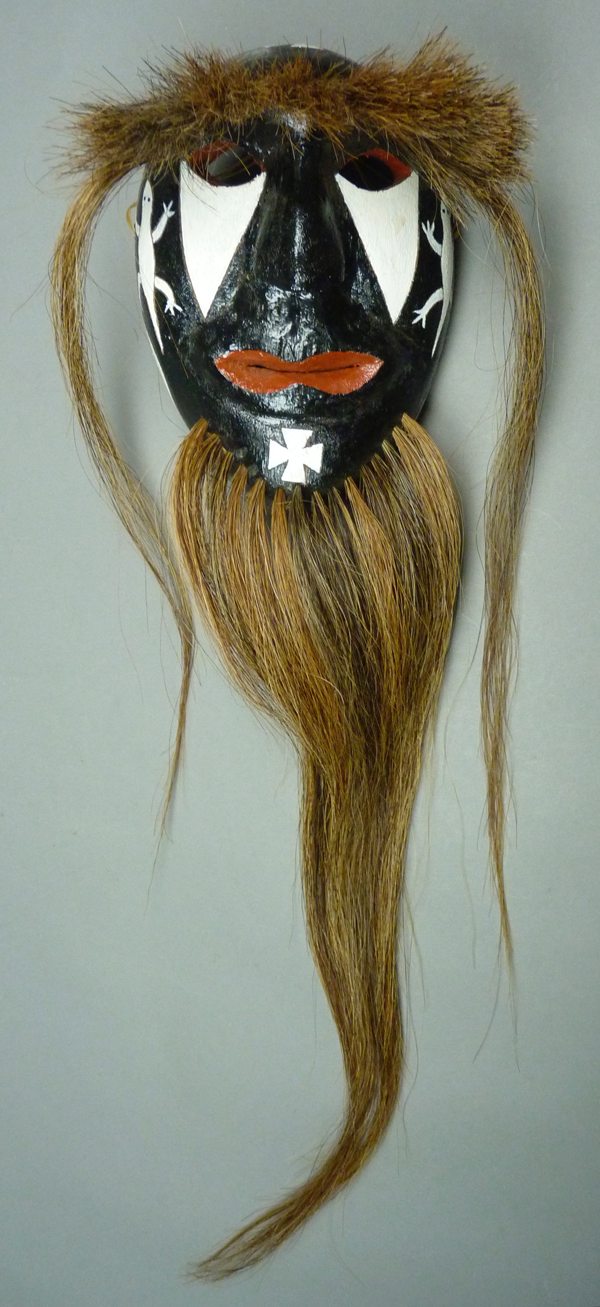 This one has a beak-style mouth, a feature that is found in masks from the beginning of the 20th century.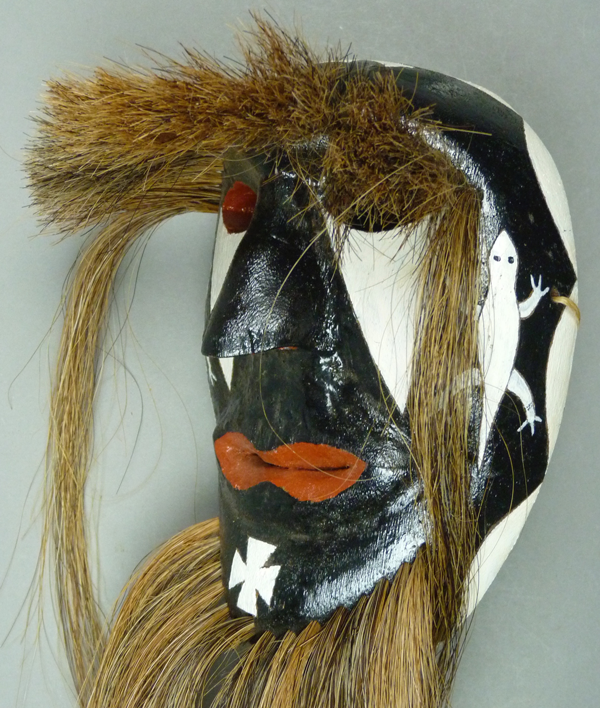 This mask has very traditional features. Note the scalloped rim design, which Crisencio often uses.
The crosses on the forehead and chin are highly traditional, and the hair is beautifully applied.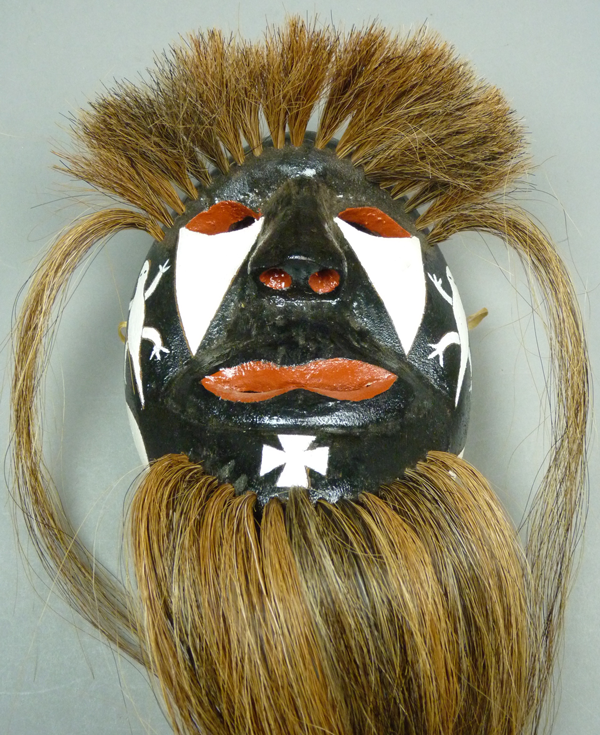 This mask is 7½ inches tall, 5¼ inches wide, and 2½ inches deep.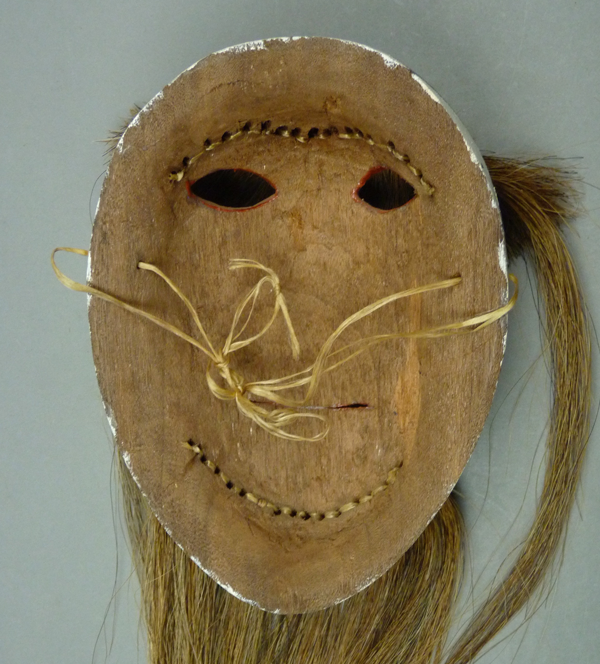 The back of the mask is smoothly contoured and carefully sanded. Crisencio's masks use the traditional material, raiz de alamos (cottonwood root).
Here is another mask from my initial purchases. This one is distinguished by the "morning star" design used for the crosses on the forehead and chin. Morning Star is another name for Venus, which of course we now call a planet. From the Native American perspective, Venus was the most prominent of the stars. This four pointed star is yet another design that can represent either a solar body or a cross.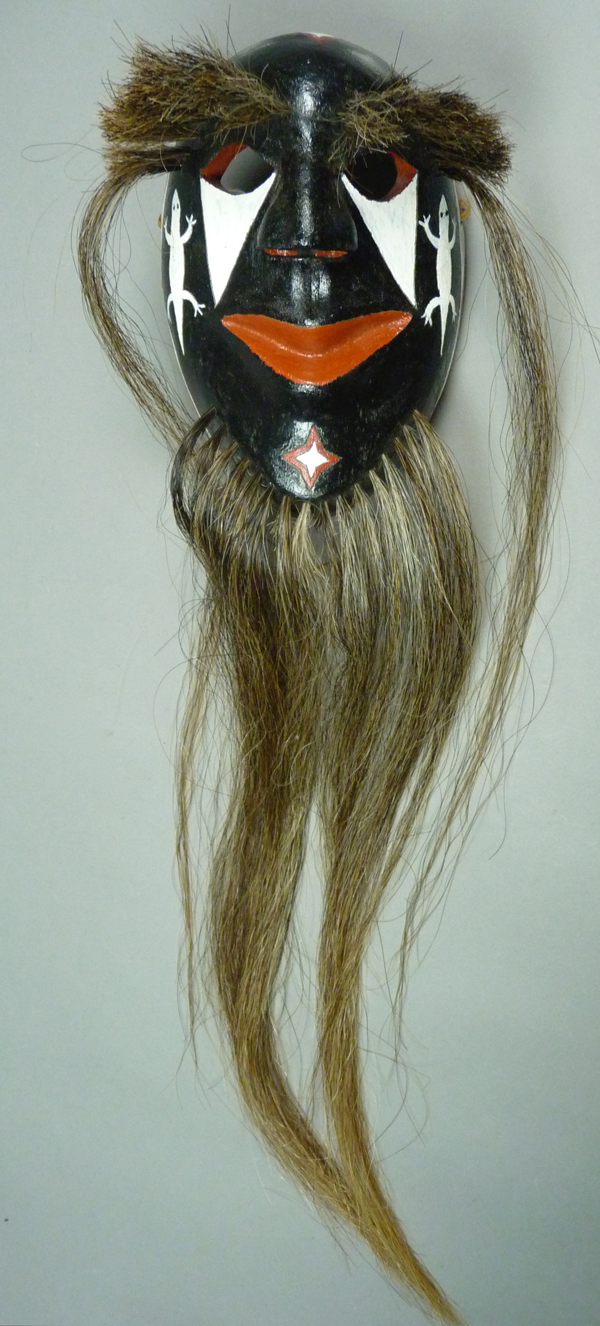 Crisencio often paints lizards on the cheeks of his masks.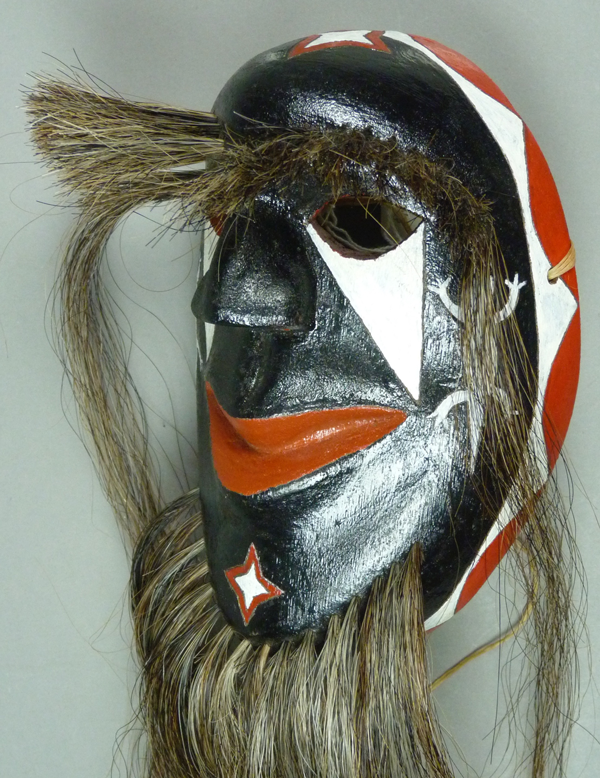 The hair on Crisencio's masks is generally very well done.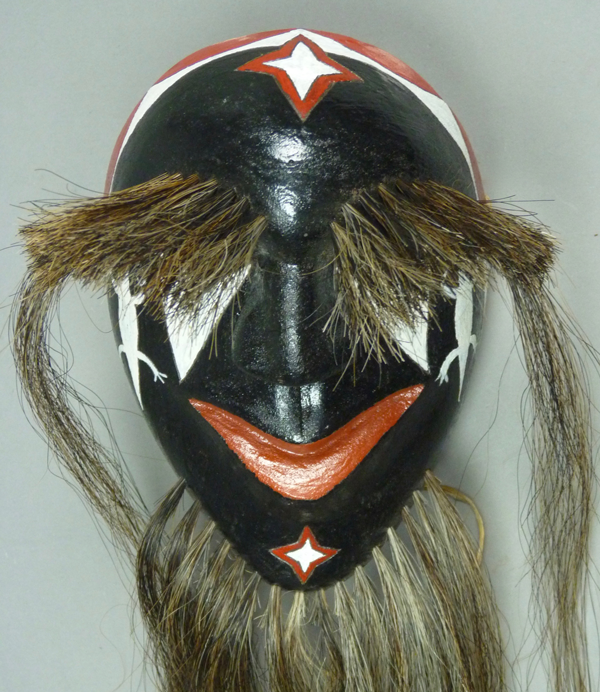 This mask is 7½ inches tall, 5¼ inches wide, and 2¾ inches deep.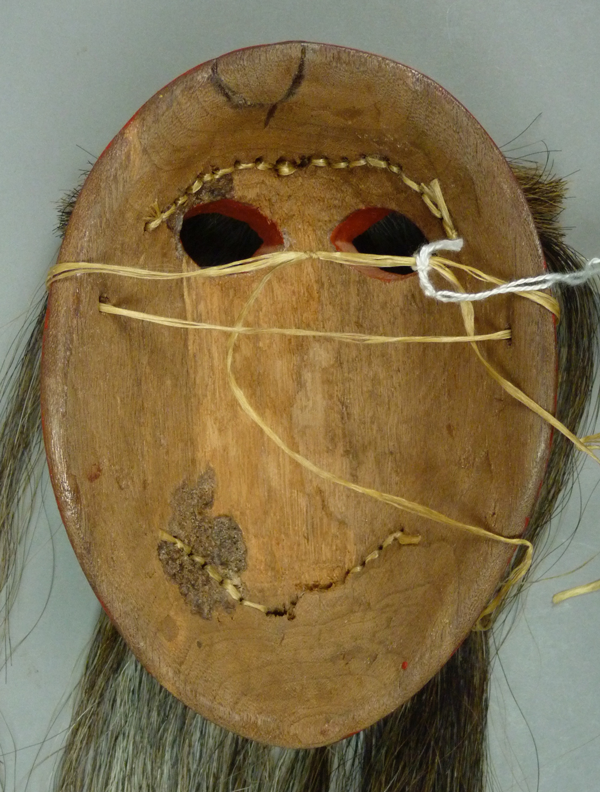 A broken area on the back has been smoothed with wood filler. The rim of this back appears to have been stained by use.
Here is a third mask from the initial group.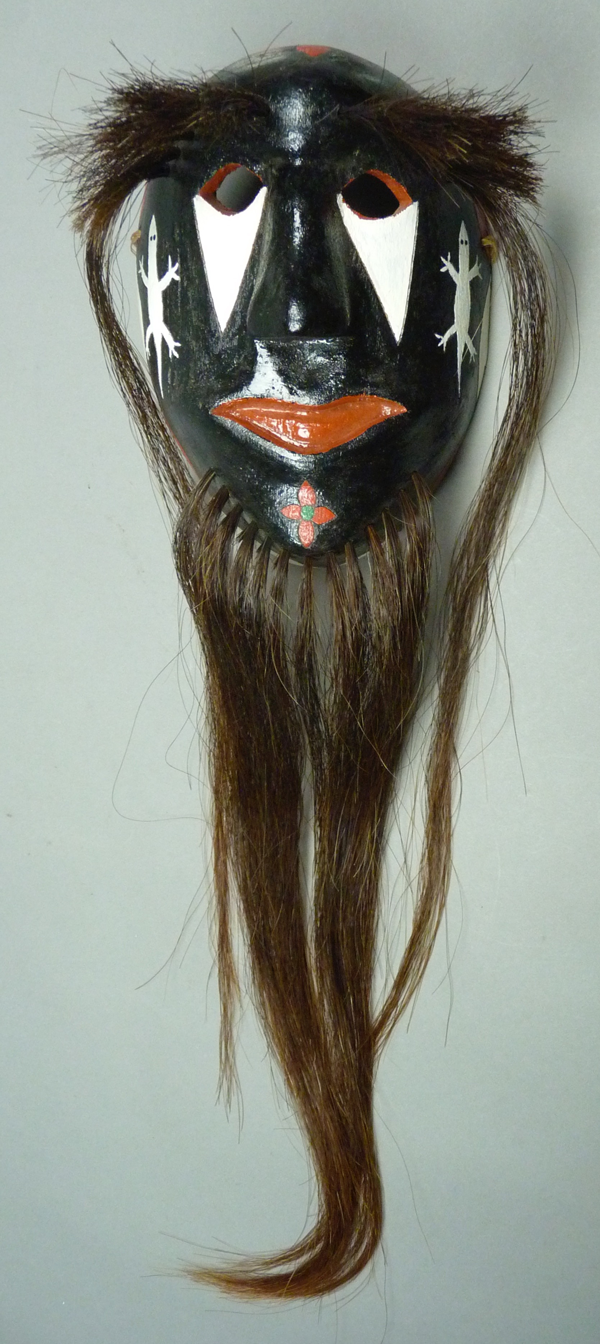 The tip of the tongue is visible in this mouth.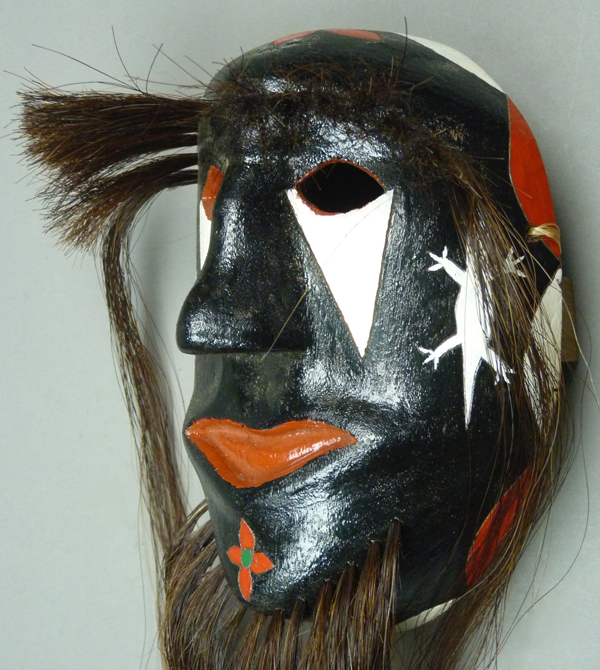 On this mask there are flower crosses on the forehead and chin.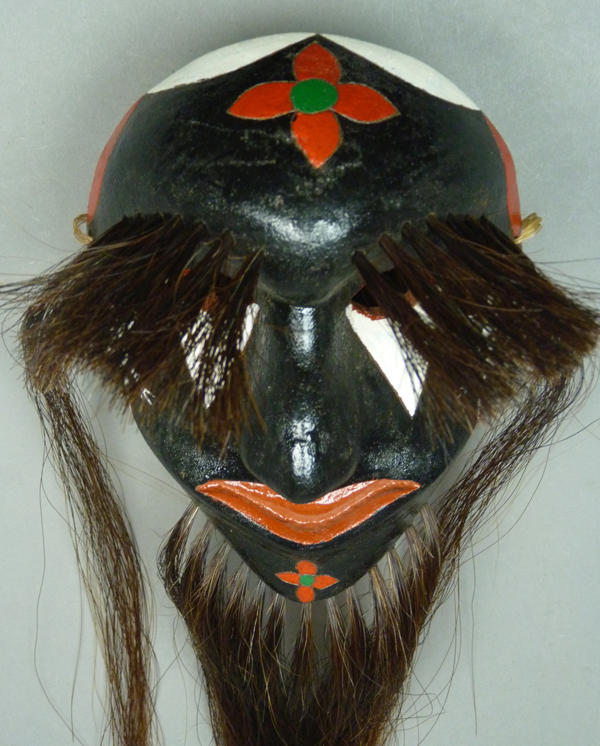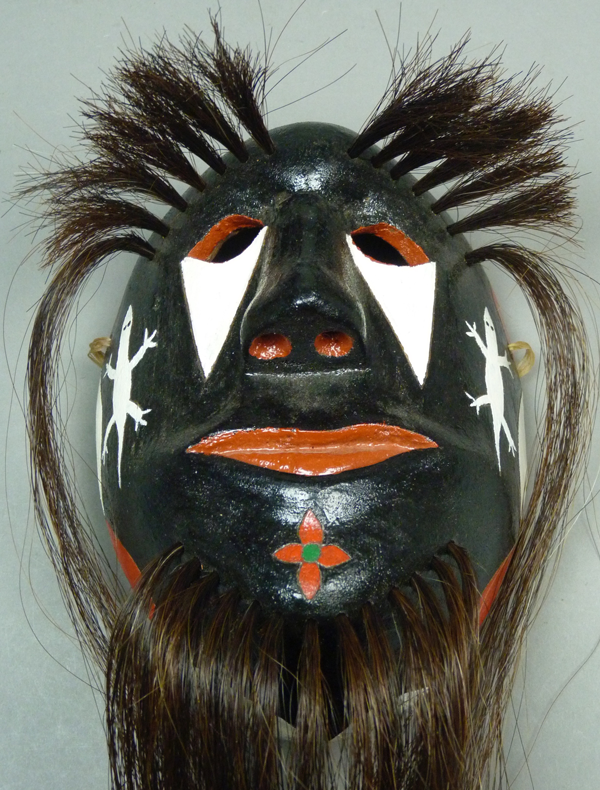 This mask is 7½ inches tall, 5¼ inches wide, and 3 inches deep.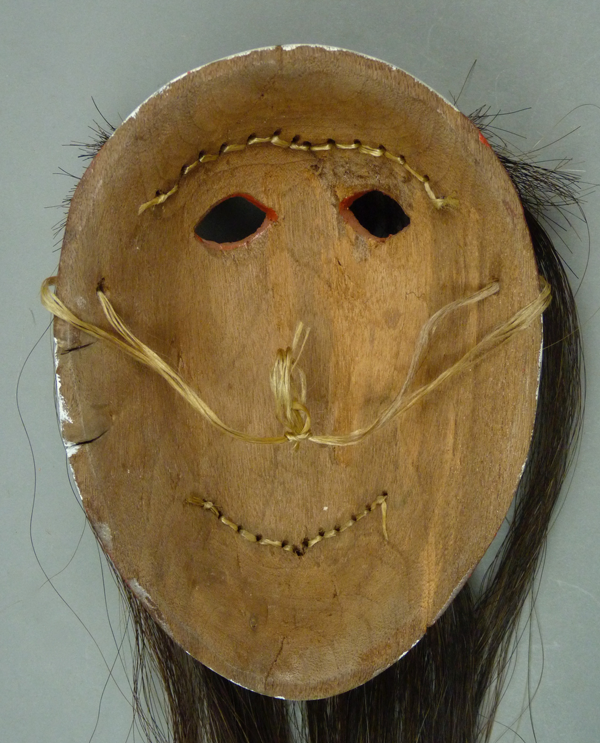 This is another characteristic back, which appears to have been stained from use.
The fourth mask is known to have been danced by a child at Barrio Libre and then collected by Tom Kolaz from the carver, in 2007.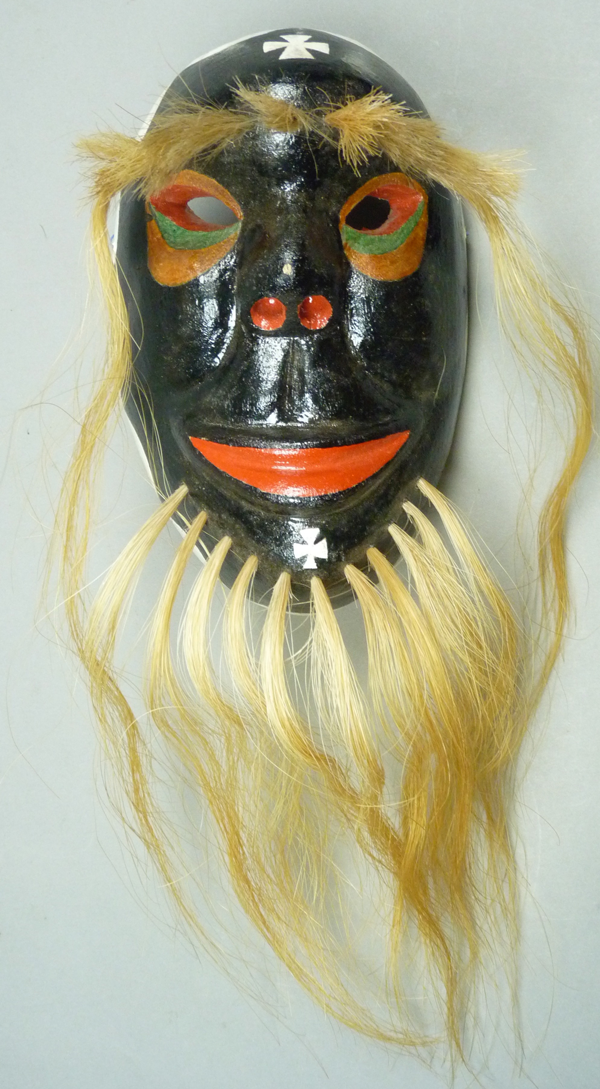 This mask is only a little different due to the painted crescents under the eyes, which replace the usual white triangles.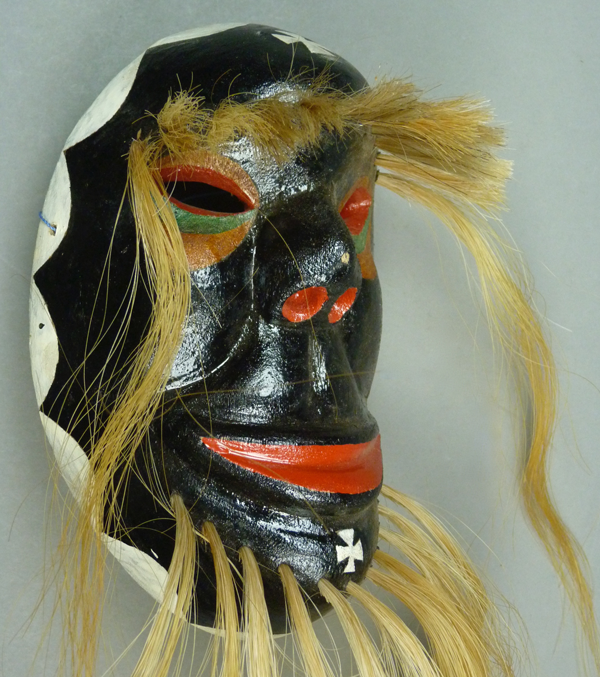 This mask has simple and classic Maltese crosses on the forehead and chin.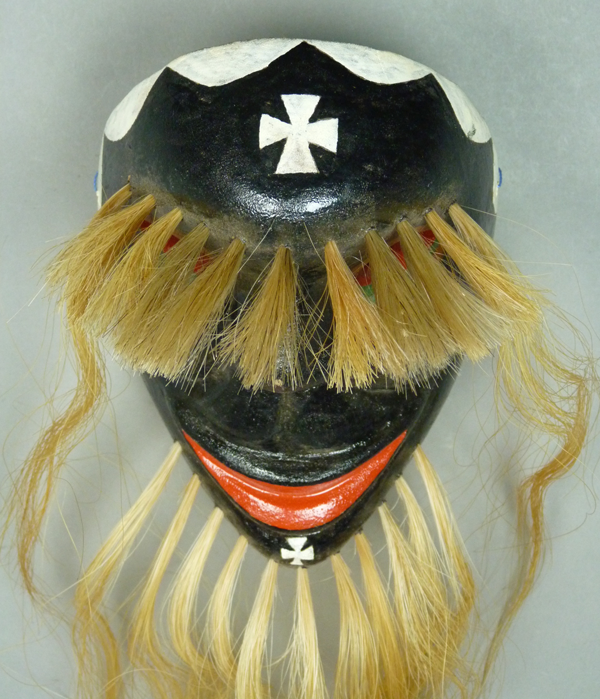 Crisencio tends to be highly perfectionistic in his carving.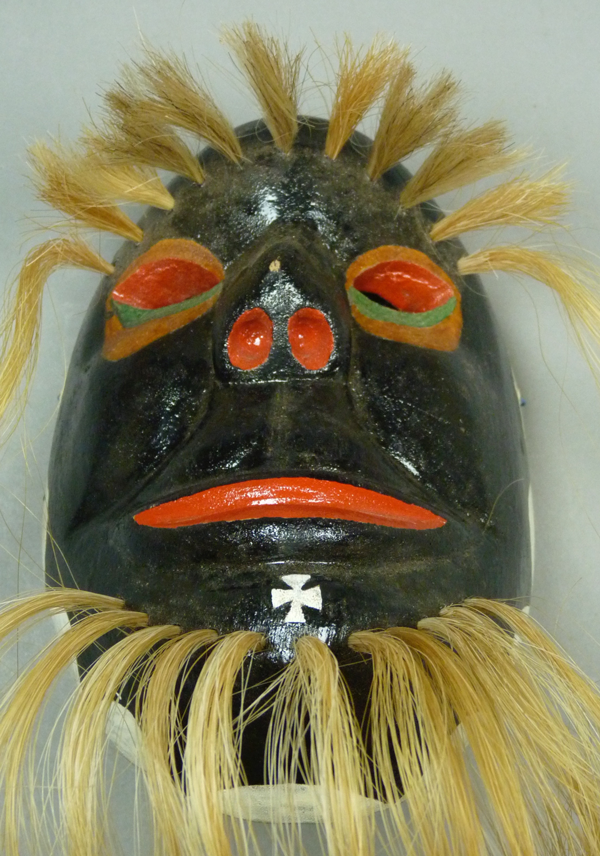 This mask is 7¼ inches tall, 4¾ inches wide, and 2¼ inches deep.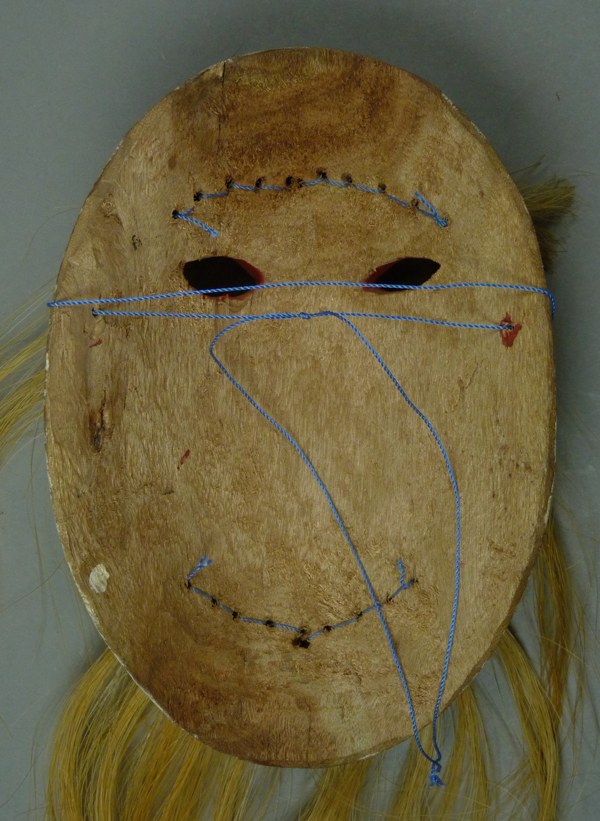 This back does not demonstrate very much use.
The fifth mask was collected from Crisencio by Tom Kolaz in 2006 and then sold to the author.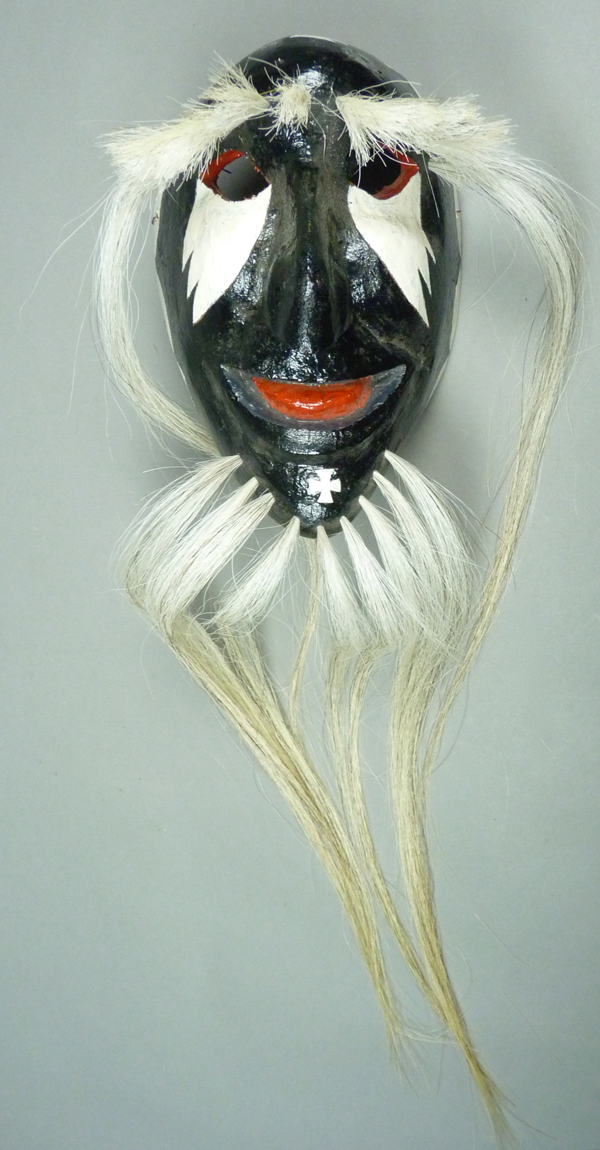 The triangles under the eyes are serrated, a feature we have already seen on some Rodríguez masks from Potam and we will see this again on other masks by Crisencio.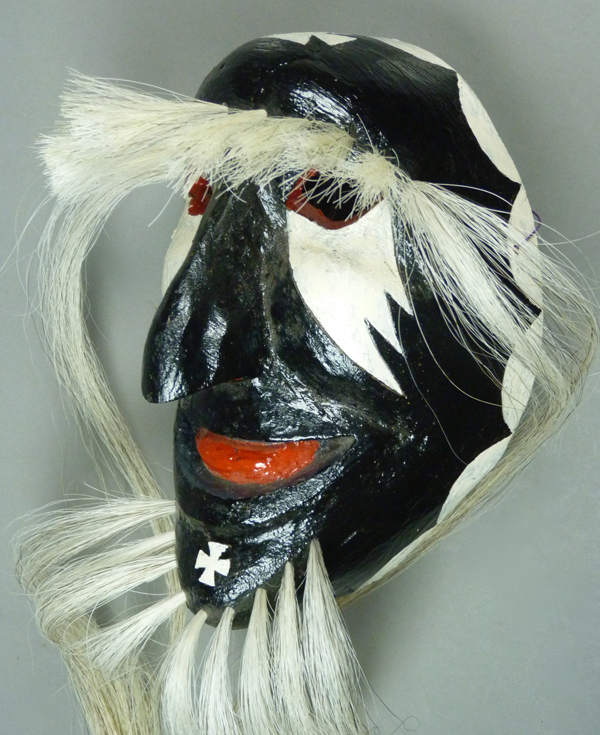 This is a really handsome mask. The tongue is slightly extended.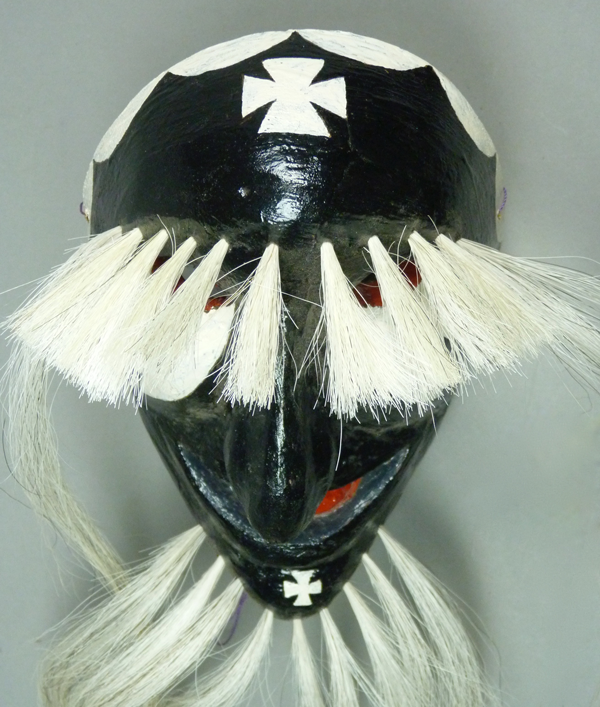 The designs for the cross and rim on this mask seem to be Crisencio's favorites.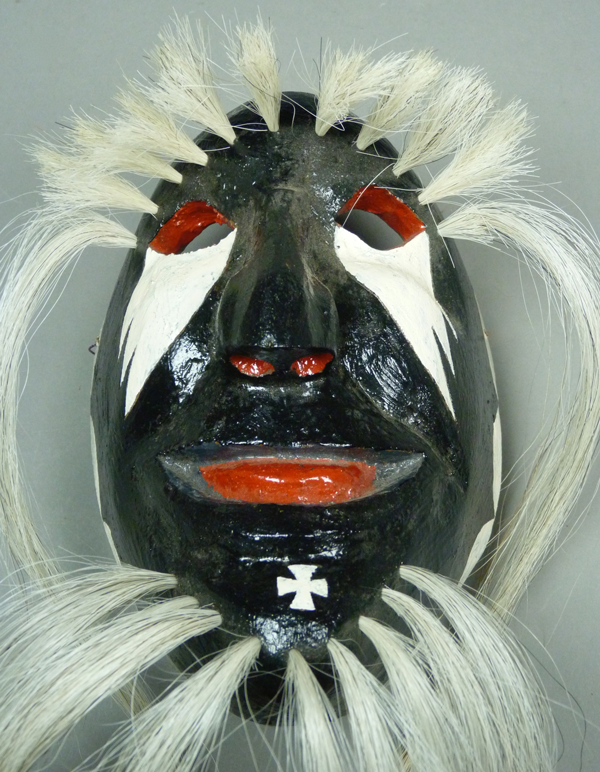 This mask is 8 inches tall, 5½ inches wide, and 3¾ inches deep.
This is Crisencio's usual well-carved back.
I have no record of when I bought this child's human faced Pascola mask, but it resembles othes that were made in 2010.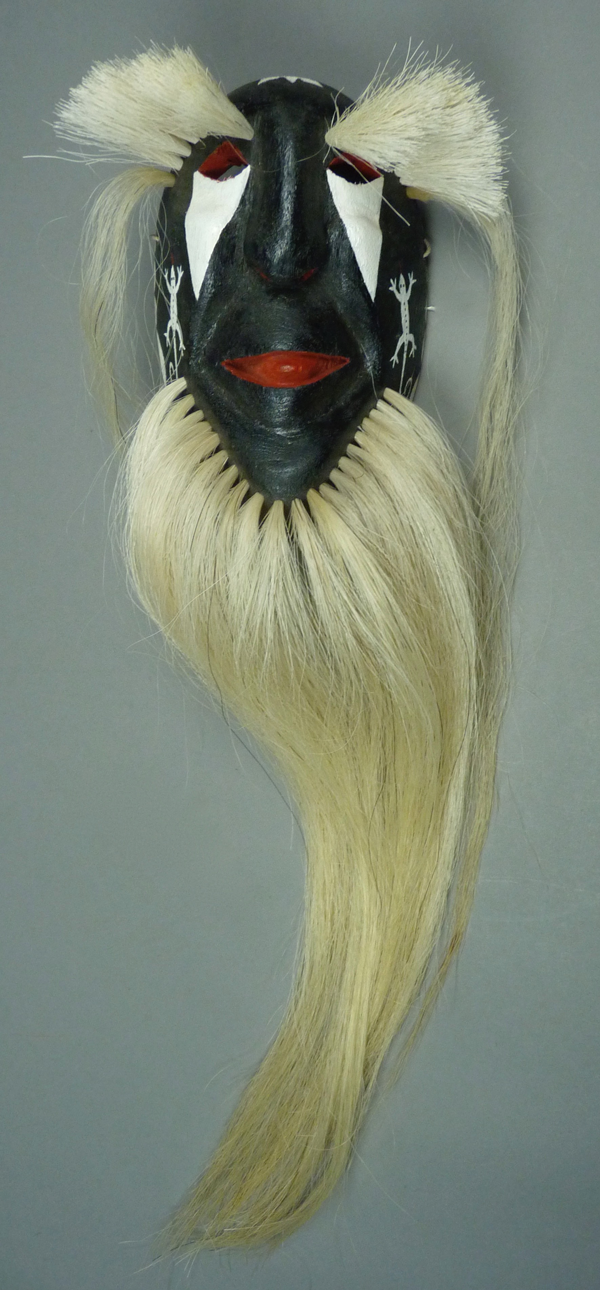 I especially like the dramatic separation of the brows, and the hair for the beard is particularly full.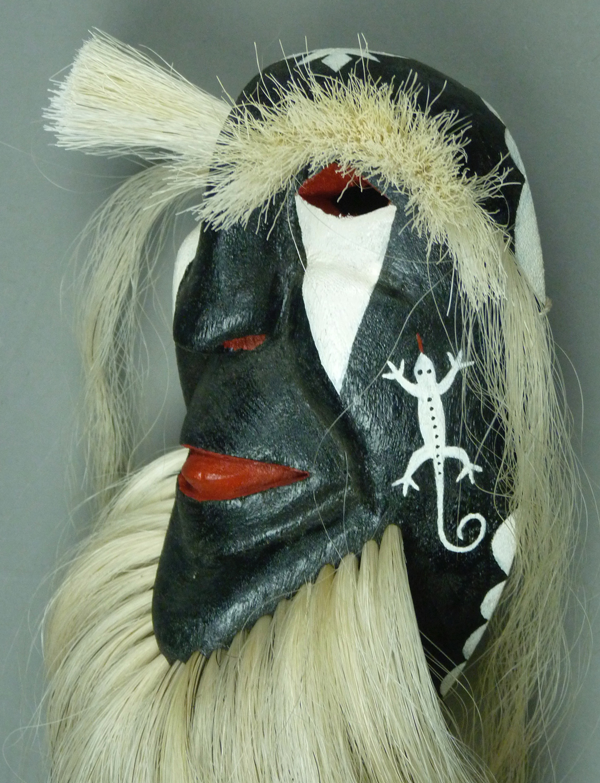 The forehead cross, which represents a morning star that is emitting rays of light, is more elaborate than Crisencio's usual design. This is a style that Crisencio uses only occasionally.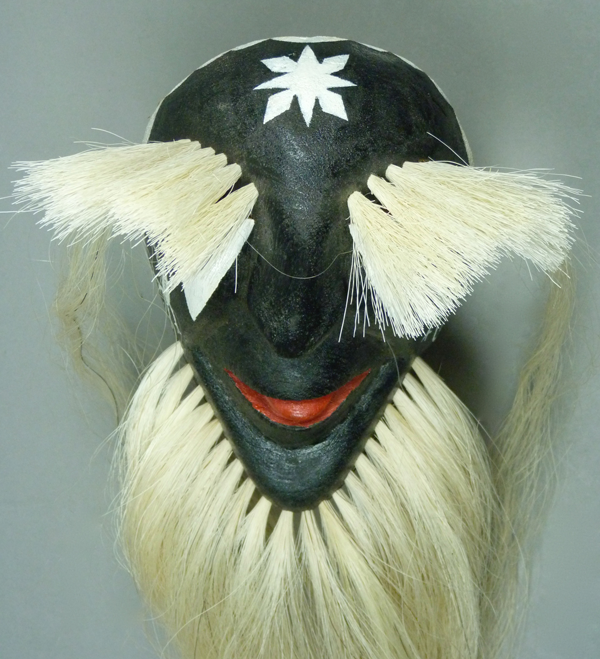 The tongue protrudes through closed lips. This mask is 7¼ inches tall, 4½ inches wide, and 2½ inches deep.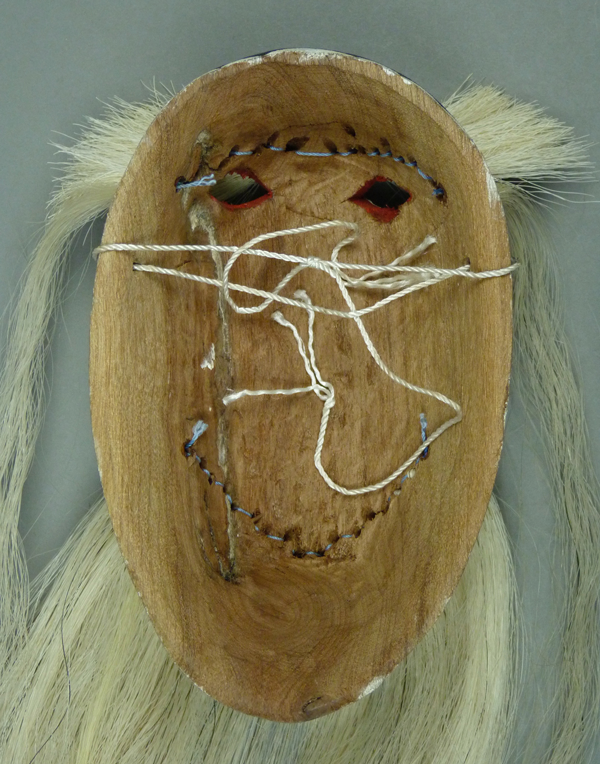 This is another mask that was never danced.
Next week we will look at additional masks with human faces by this carver.