In recent months I have described masks used in Purépecha (Tarascan) communities of Michoacán. In this post and one that follows I will shift to masks from a traditionally Matlatzincan Indian community in Eastern Michoacán, Paso Ancho.
Paso Ancho lies about thirty miles east of Pátzquaro in a fairly remote area. At some time in the late 20th century a paved road was constructed to connect this town to the county seat to the north, Tzitzio, and thence to Charo and then Morelia, the capital of Michoacán. This road opened Paso Ancho to the wider world, permitting Jaled Muyaes and Estela Ogazón access to this interesting, traditional, and previously hidden area. There they collected the five masks that we will examine in today's post.
There is a traditional masked dance in this region, La Danza del Torito. The bull in this dance has traditionally been called a torito de petate or "straw mat bull," meaning a bull effigy constructed from a wooden frame that has been covered with a woven sleeping mat. This bull is a body mask, which is animated by a dancer who runs while carrying the frame on his shoulders. The dance features the interaction of the bull with a group of clowns who function as feos (uglies), by performing comic and occasionally obscene behaviors. Here is a recent YouTube™ video from Paso Ancho that reveals the persistence of this dance and its masked dancers. Their Torito appears to be covered with painted fabric.
https://www.youtube.com/watch?v=kV3m5RtGmnw
I obtained most of these masks in the late 1980s from Robin and Barbara Cleaver. All five had probably been collected by Jaled and Estela 10 or 20 years earlier. As you may notice, there are very similar masks in the video. The first is a human faced mask with a long phallic nose and exaggerated lips.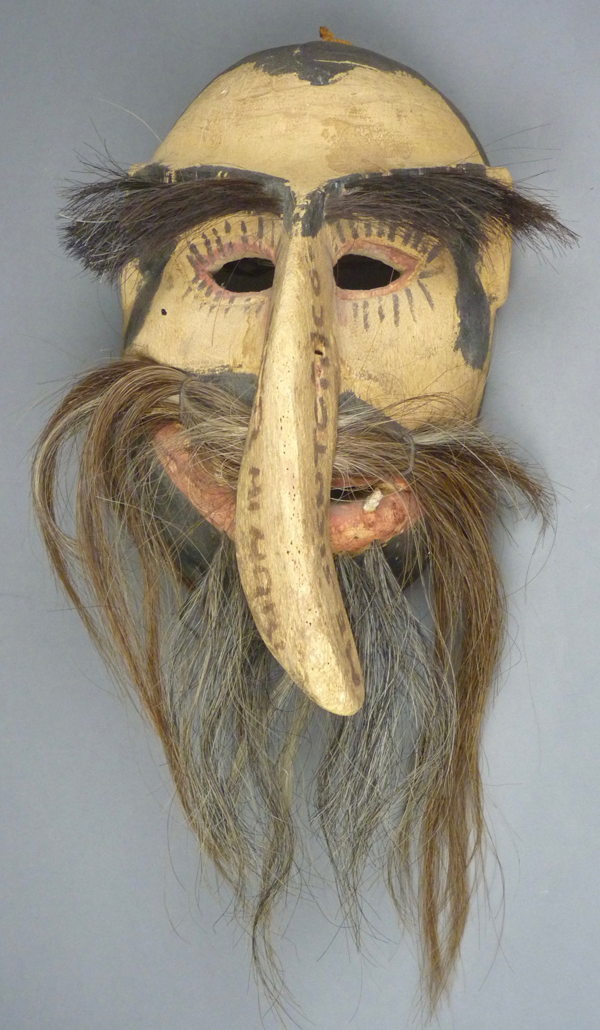 The words on the nose explain this character's lascivious nature.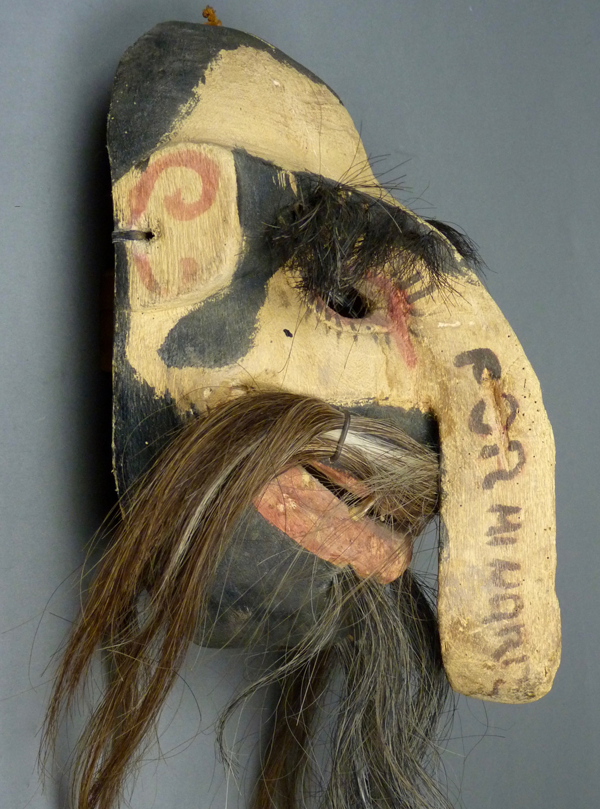 On the right side of the nose are the words "Por mi naris"; on the left side is the rest of the sentence, "me siento rico." [Because of my nose, I am wealthy.] That is, the wearer is well endowed.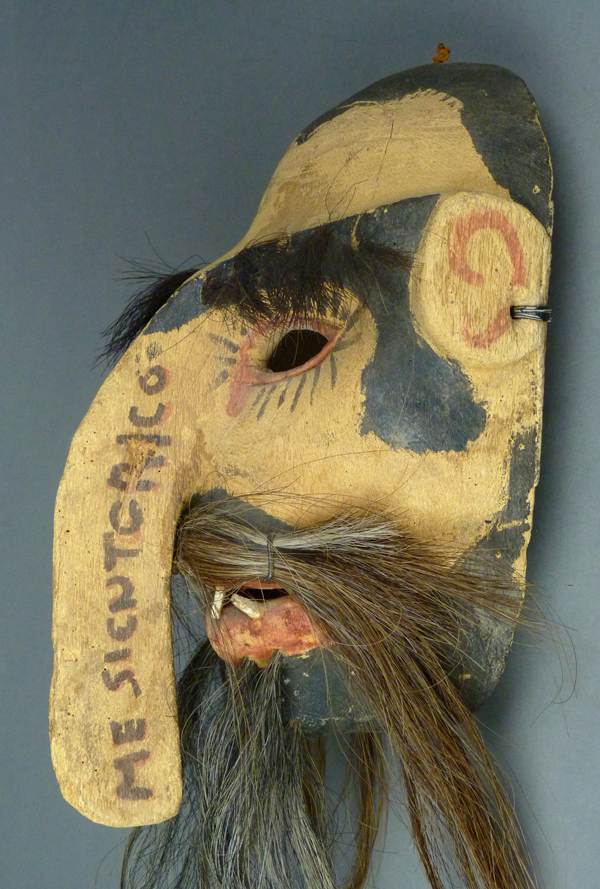 As is frequently the case for feo dancers, inappropriate sexual behavior is a major theme, along with impulsivity, carelessness, and lack of judgement. You would have seen all of this in the video.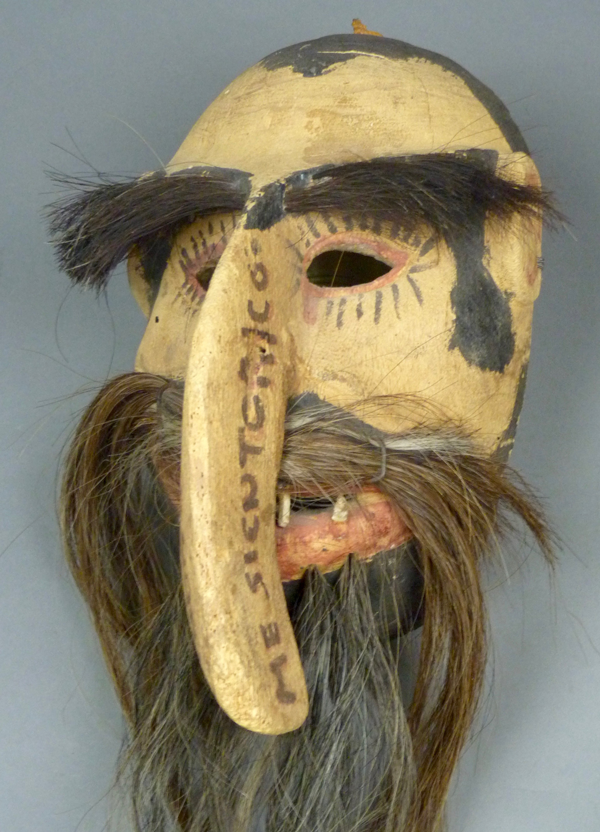 This mask is 11 inches tall, 6½ inches wide, and 5 inches deep.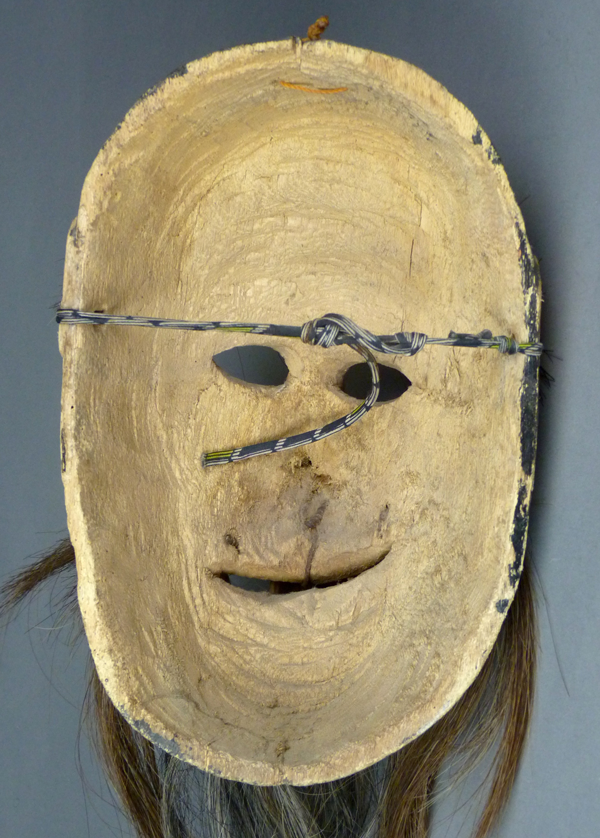 This mask has moderate staining from use and it apparently still has its original strap.
The second feo mask carries a name—"Lola." In the YouTube video a dancer wearing a female mask and a skirt sits with "her" crotch on the head of the dancer wearing the phallic mask.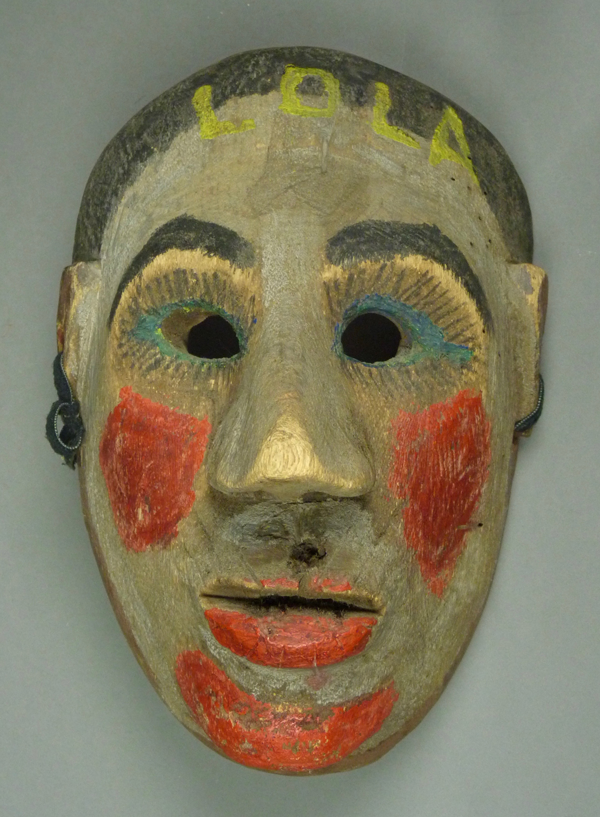 Lola too has a prominent nose.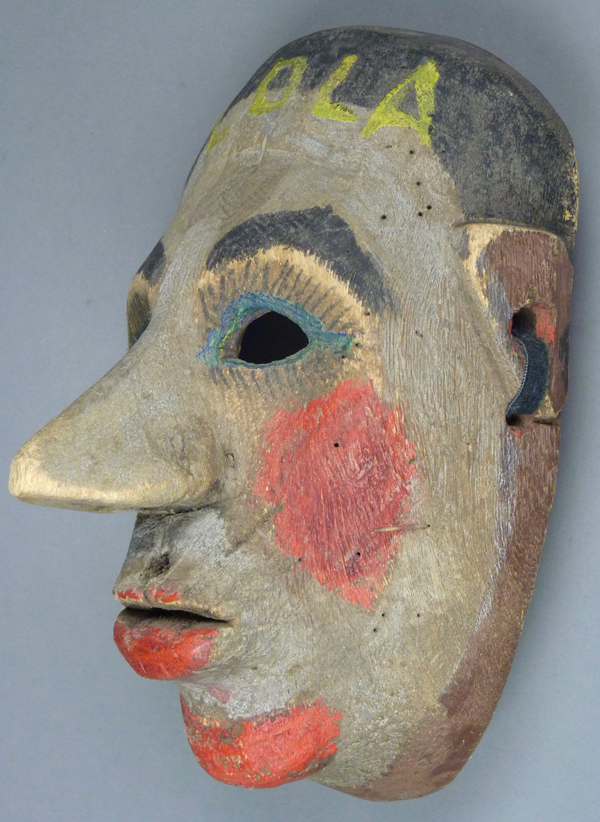 These feos are not so finely finished, yet they are dynamically carved.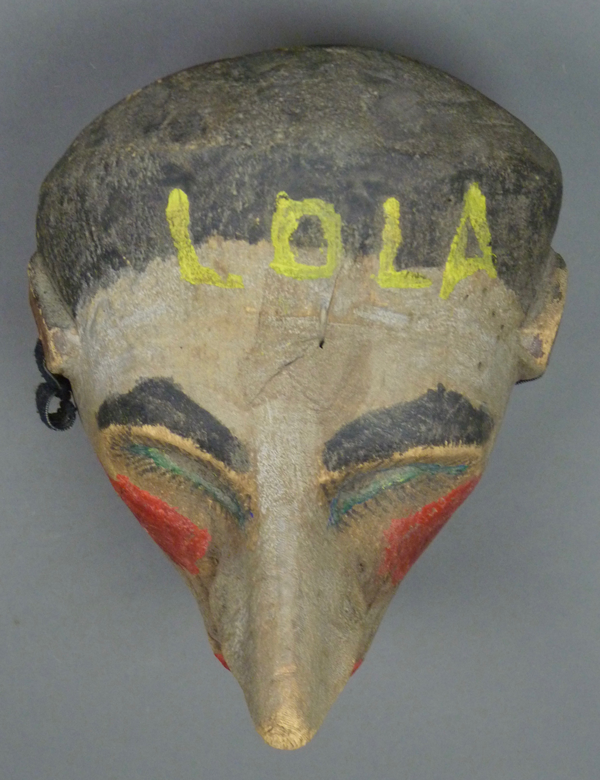 This mask has a strange gray complexion, combined with red cheeks. It is usually the masks of Spanish figures that have red spots on the cheeks, as if their light skin was sunburned. This allows one to wonder whether this gray paint serves as a disguise, to cover an Indian joke to the effect that it is the Spanish and the Mestizos who behave so badly. The Indians of Mexico have felt exploited by the Mestizos.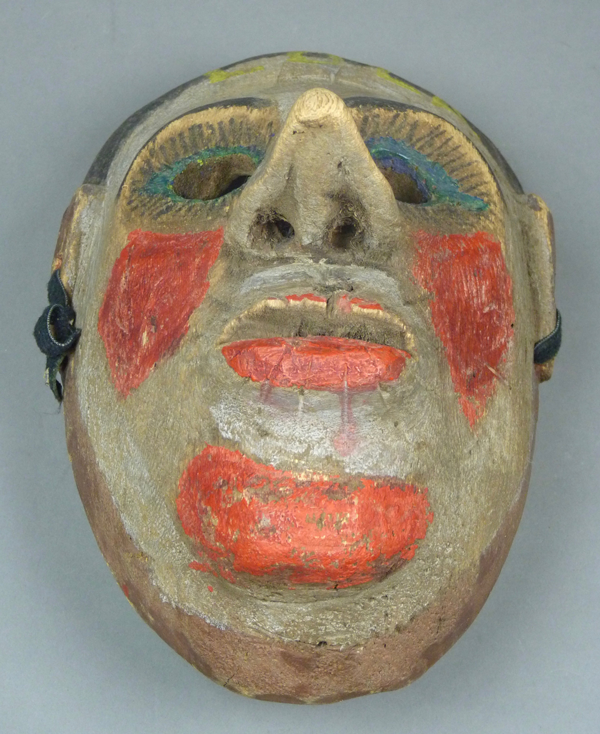 This mask is 10¼ inches tall, 7 inches wide, and 4¾ inches deep.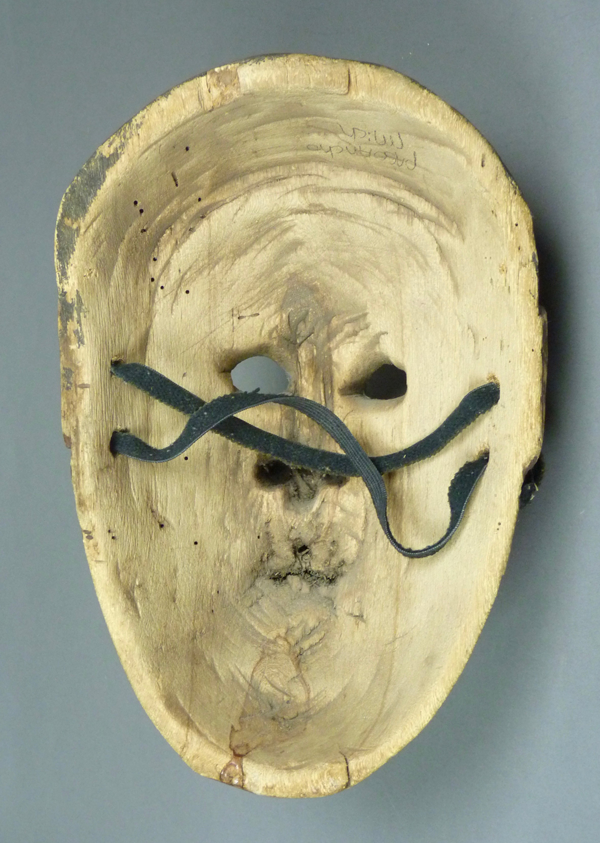 Like the first, this mask also demonstrates mild to moderate staining from use.
The third mask is an older and more heavily worn example of a fea (a female "ugly.")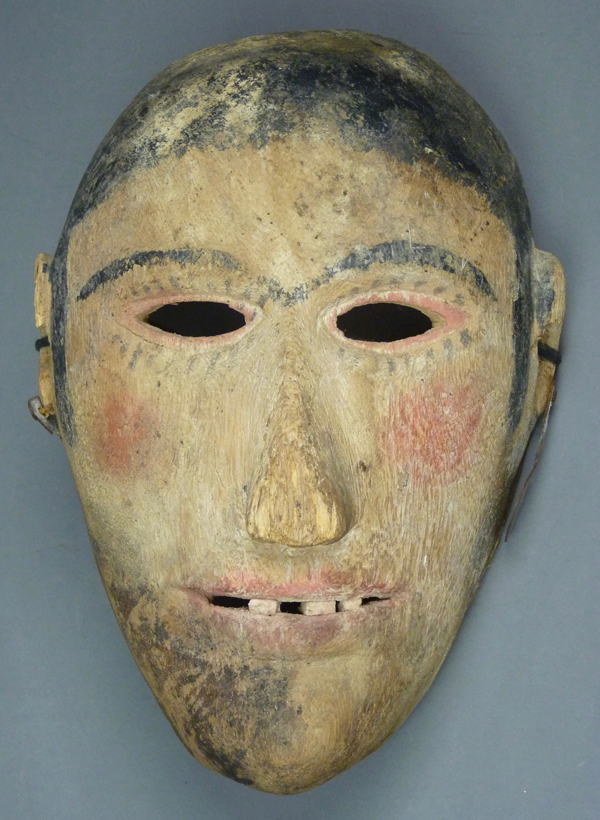 The paint has been nearly worn away and the wood is scuffed, particularly on the nose.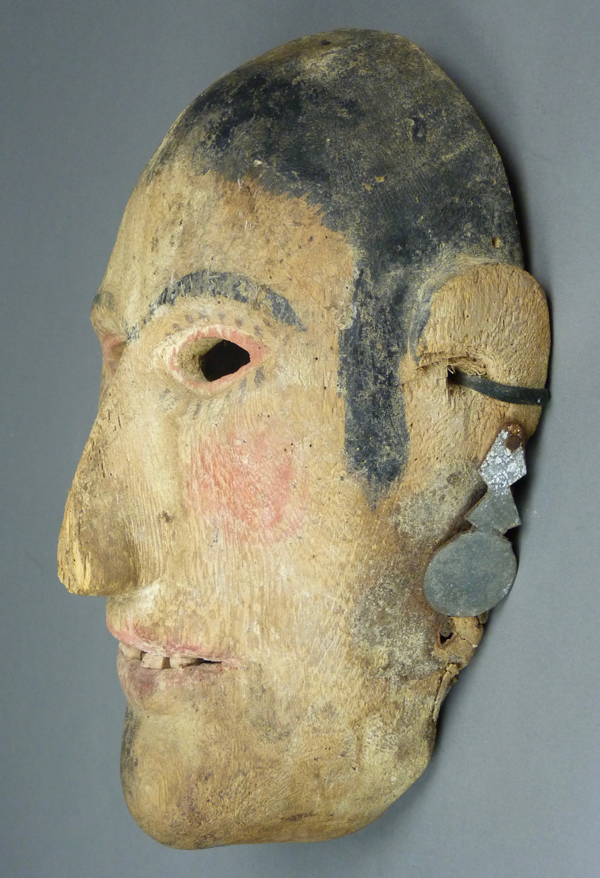 The earrings were made from galvanized tin. This mask is 10 inches tall, 7 inches wide, and 3½ inches deep.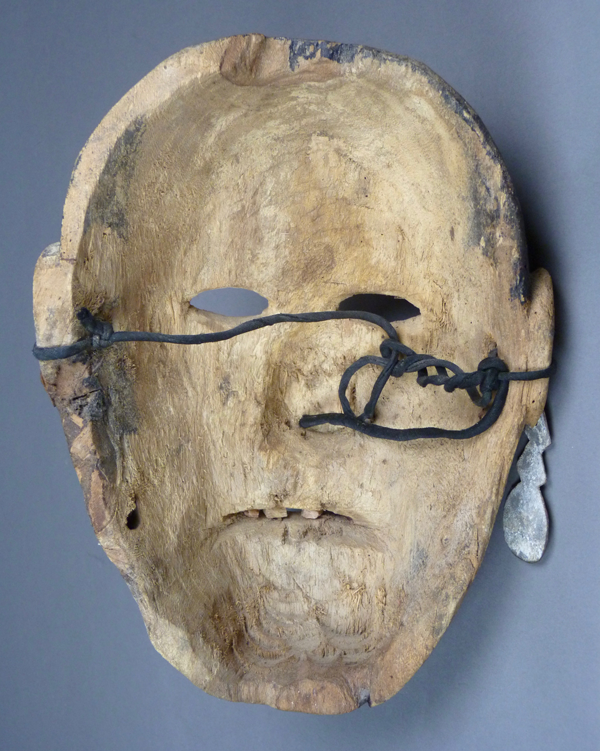 The wear on the back of this mask is extreme.
The fourth Feo mask has the face of a pig.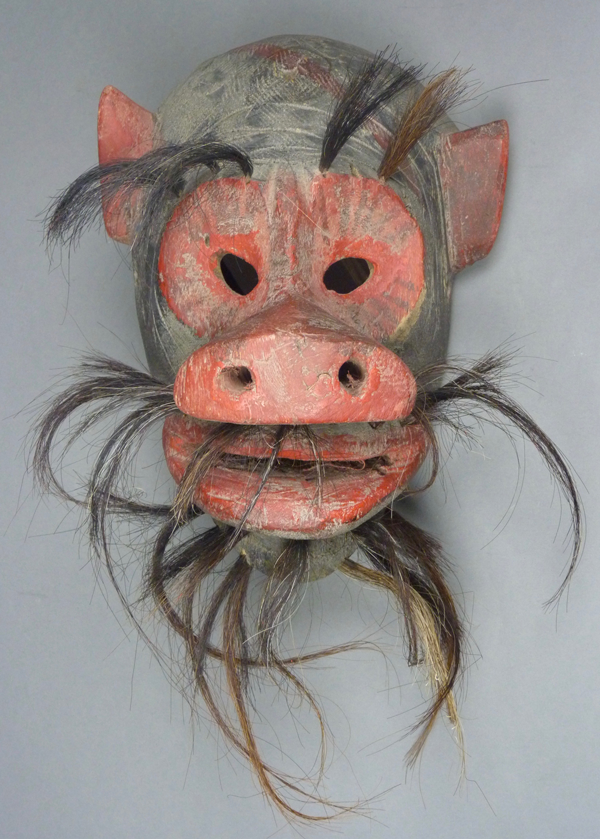 The mouth on the pig mask resembles that on the mask with the phallic nose.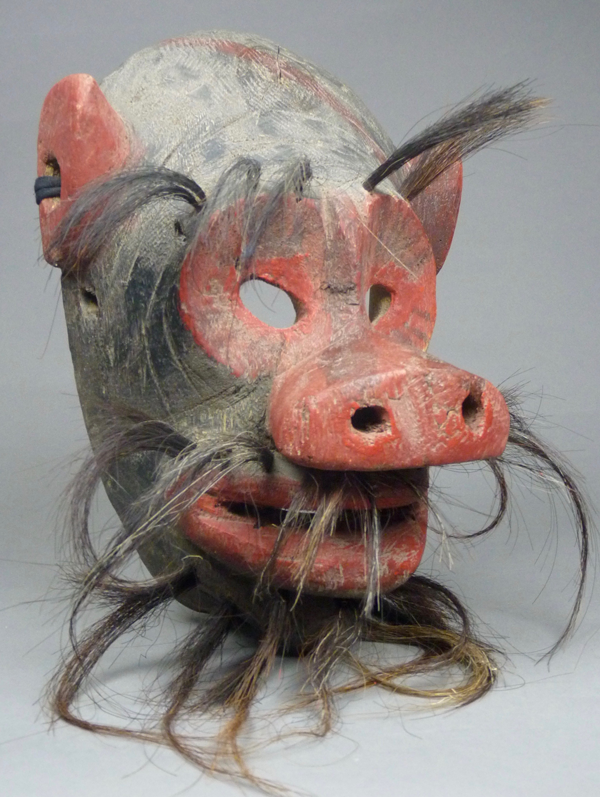 This is a wonderful carving.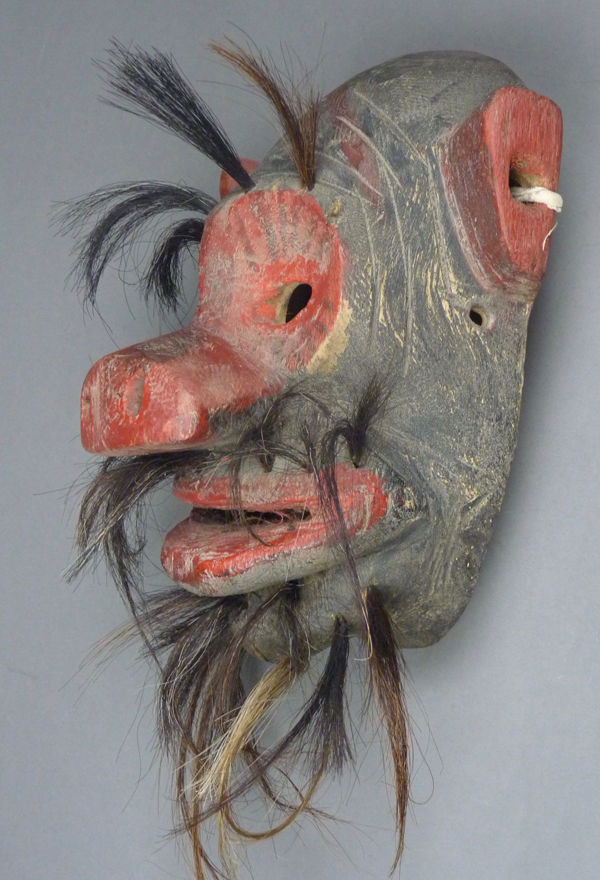 These masks dance with phallic men and loose women. Therefore I think that this mask and the next are meant to signal that "Men are animals!"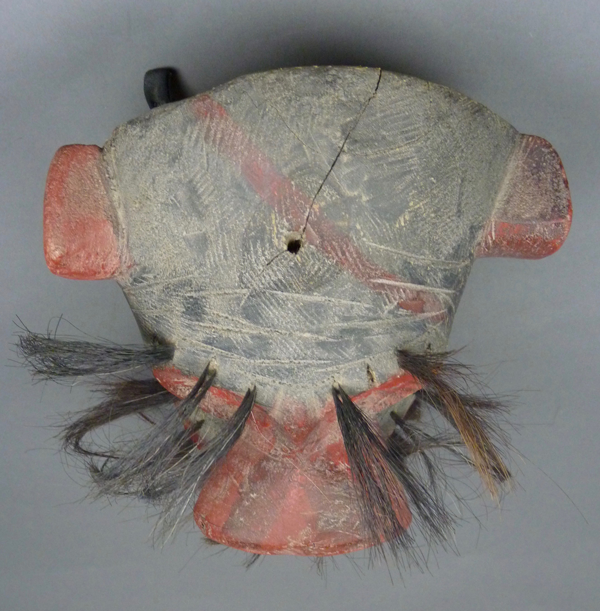 This pig too has an oversized nose.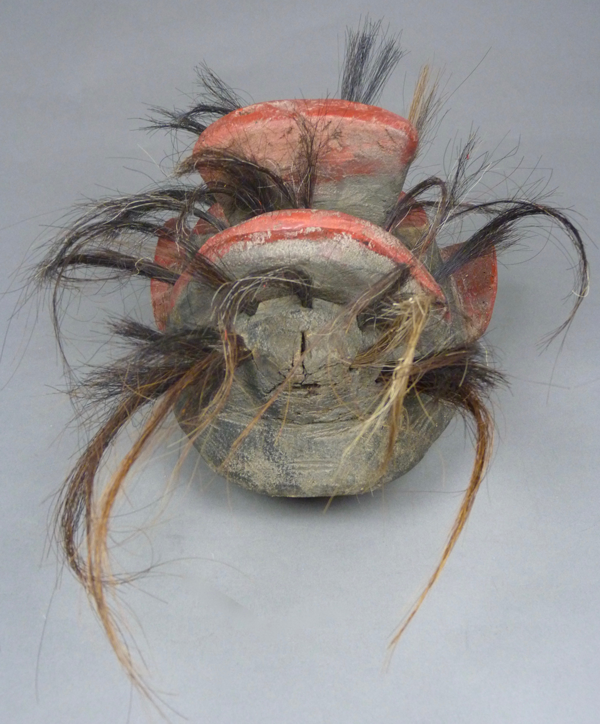 This mask is 10½ inches tall, 8 inches wide, and 5 inches deep.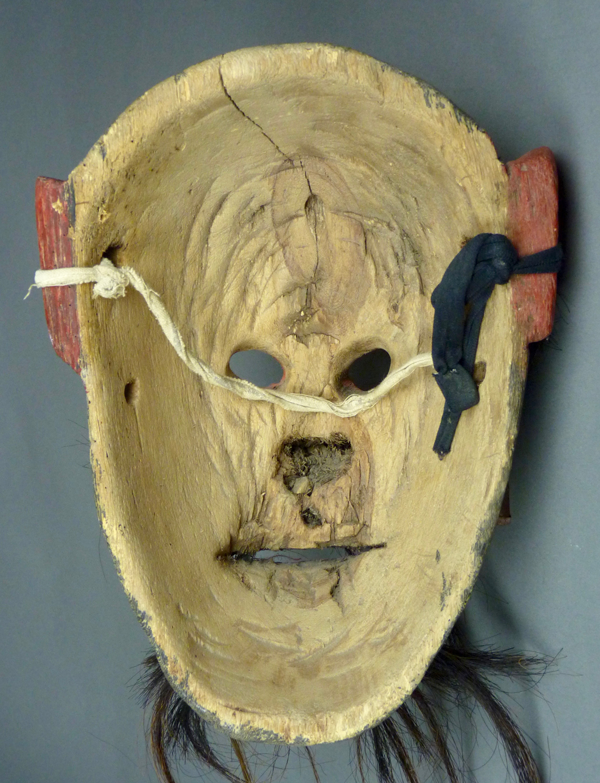 This back looks stained from use, but at the same time, scrubbed.
The last of this set has a canine face. It could represent a dog, coyote, or wolf.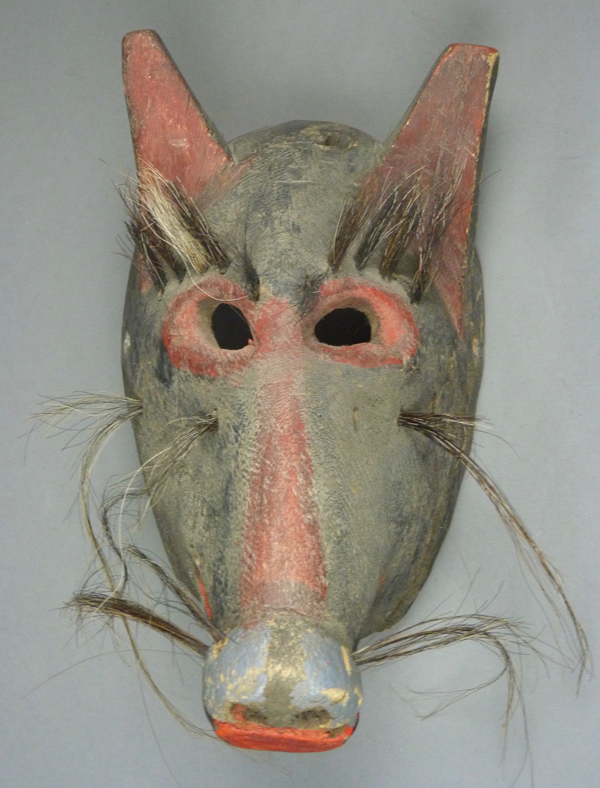 The ears on most of the masks in this group are abstractly shaped.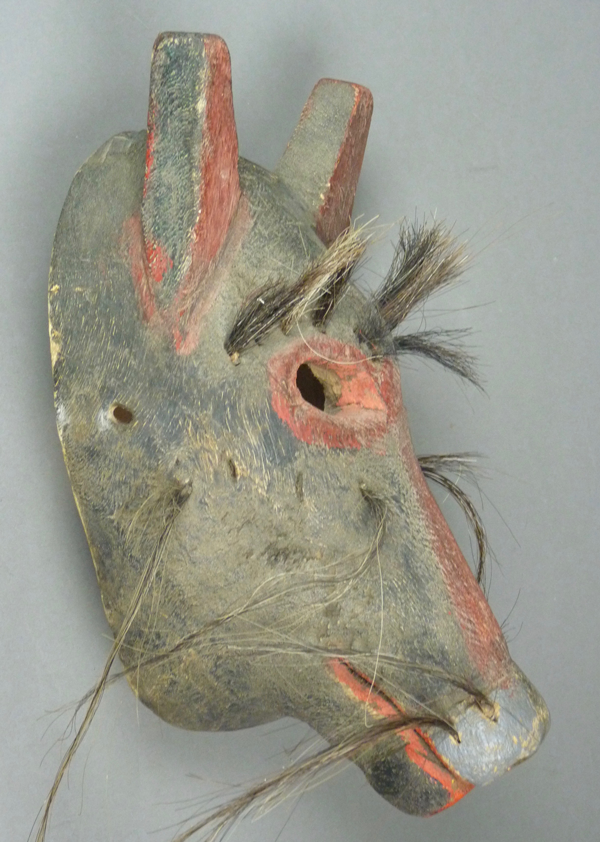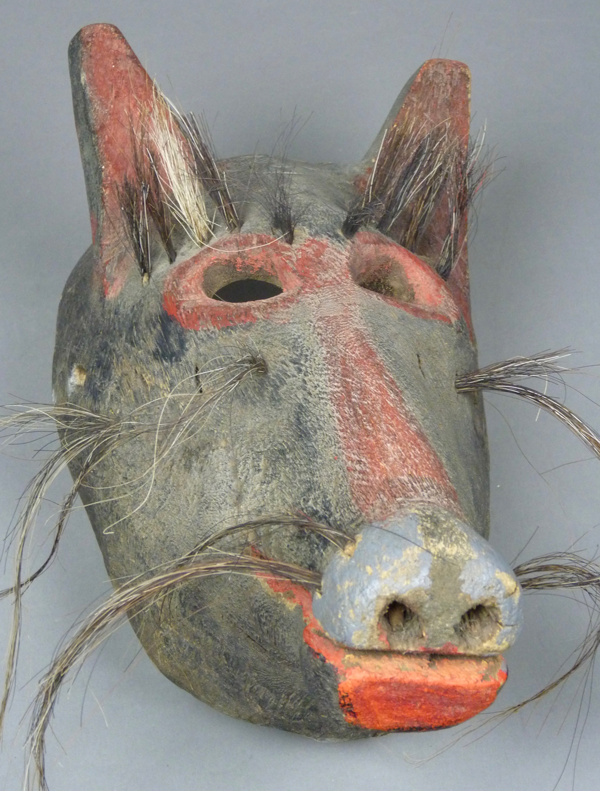 This mask is 11½ inches tall, 6¾ inches wide, and 5 inches deep.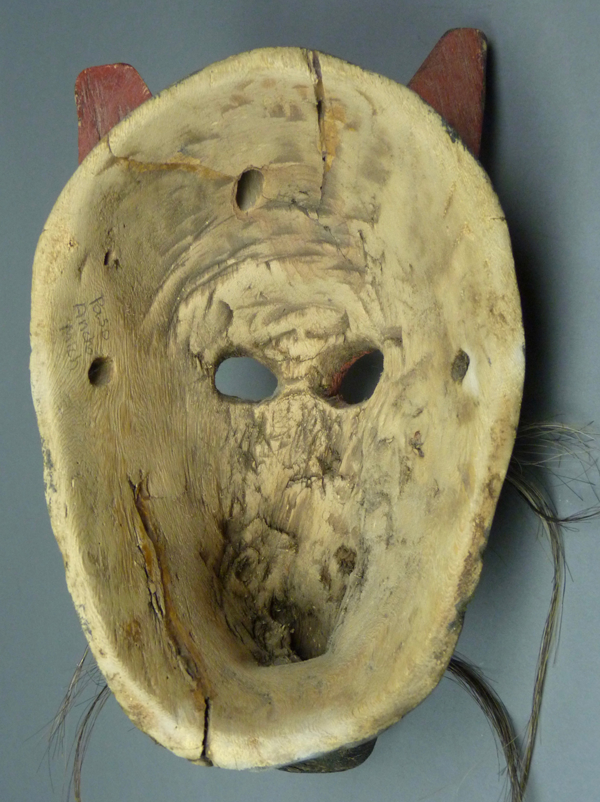 This is another worn back.
Next week I will start with some additional masks from Paso Ancho, Michoacán.