Today we will look at an unusual pair of Tlacololero masks that have blowing mouths—mouths shaped like funnels. Then we will examine another wonderful mask that is only somewhat similar. Next week we will see other Tlacololero masks that have smaller blowing mouths, but along with prominent noses that remind one of the those oversized bird's beaks on Mesoamerican carved images of Tlaloc, the god of wind and rain. It is possible that all of these "wind" masks are related to weather shamanism. Here is the first one with a blowing mouth. I bought this mask from Robin and Barbara Cleaver in June of 1988, when they held a remarkable show and sale in their Santa Fe gallery—Folklorico. It came with a limited provenance, a Tlacololero from the Mexican state of Guerrero.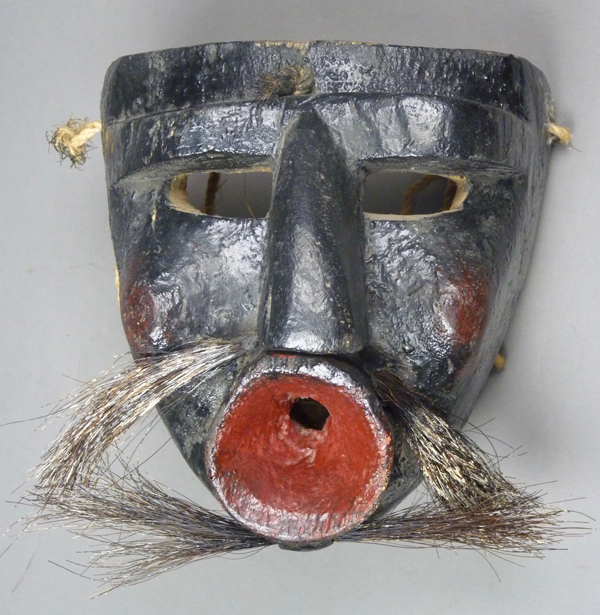 There is no mistaking the blowing expression of this mask.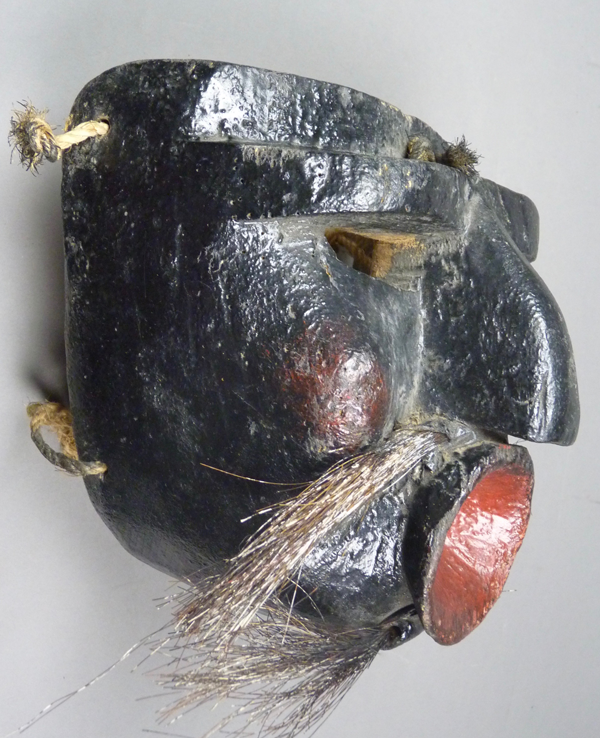 The mustache and goatee are constructed from bundles of applied hair. Note the eyebrow ridge and the shape of this nose. Next week we will see noses with this shape, and even some under such a ridge, but the noses will be twice as large.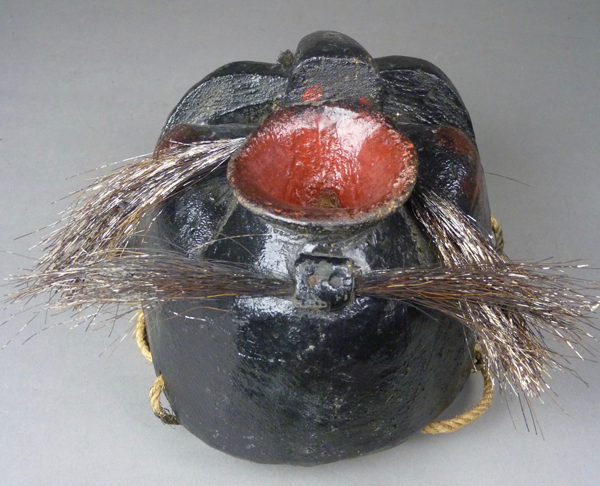 This mask is 7 inches tall, 7 inches wide, and 4½ inches in depth.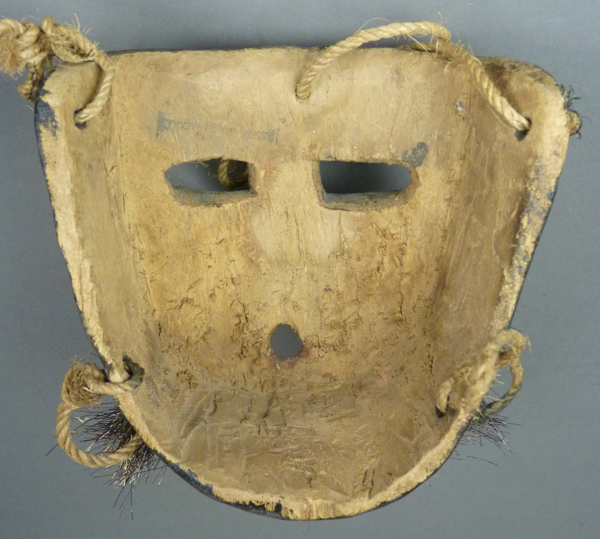 This mask came with its original straps, and it has moderate staining from use.
I purchased the second blowing mask from René Bustamante in 1994. René called it a Rastrero from Guerrero.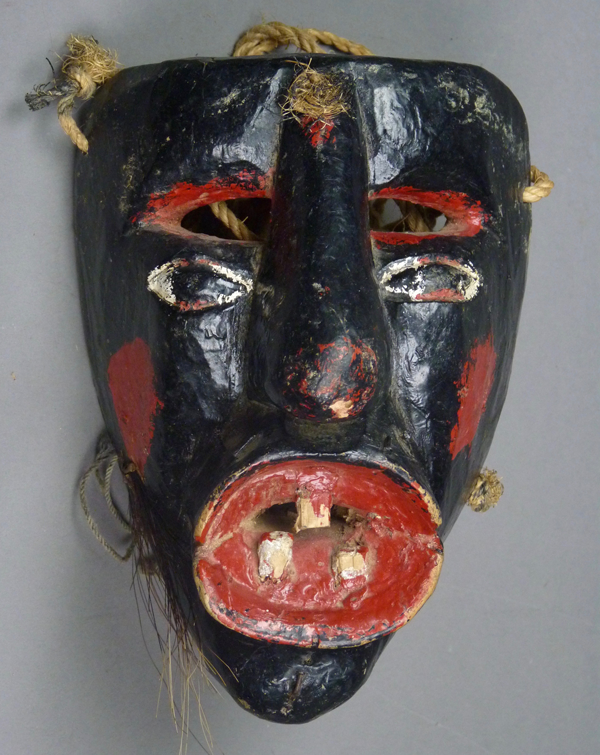 We see m/l the same funnel-shaped opening, but with prominent teeth and the corners of the mouth interrupt the funnel's shape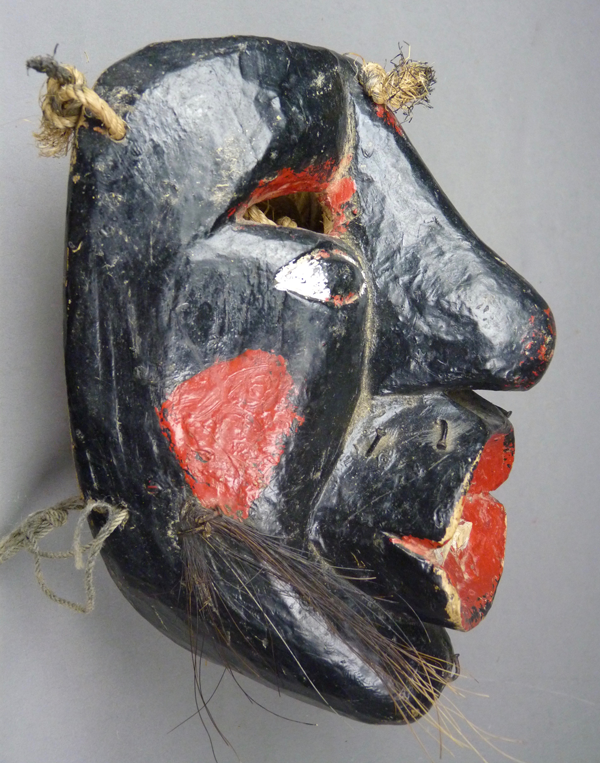 From the side view, this mask reveals a remarkable profile! It once had a tacked on mustache of horse tail, similar to that of the first mask, but all that remains are the small brads that once held the hair in place.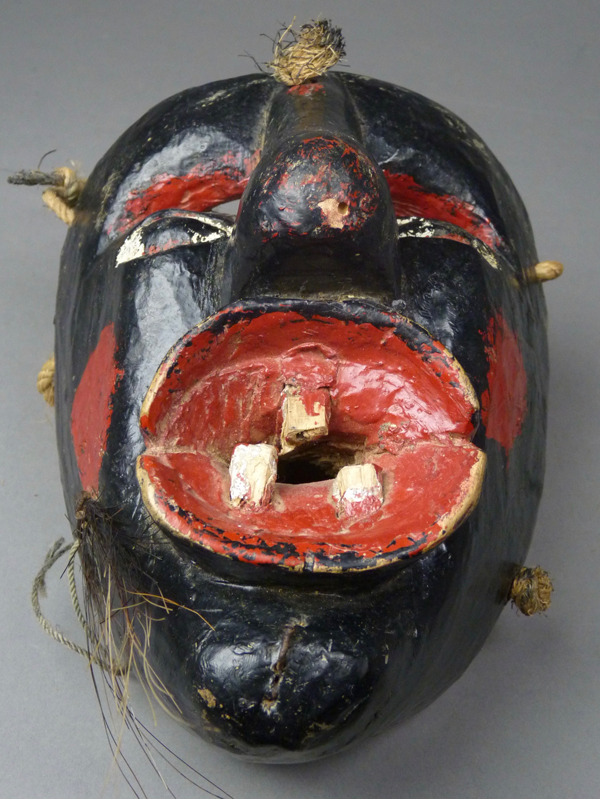 On the outside, this mouth is tubular.
It is 7 inches tall, 5½ inches wide, and 4 inches in depth.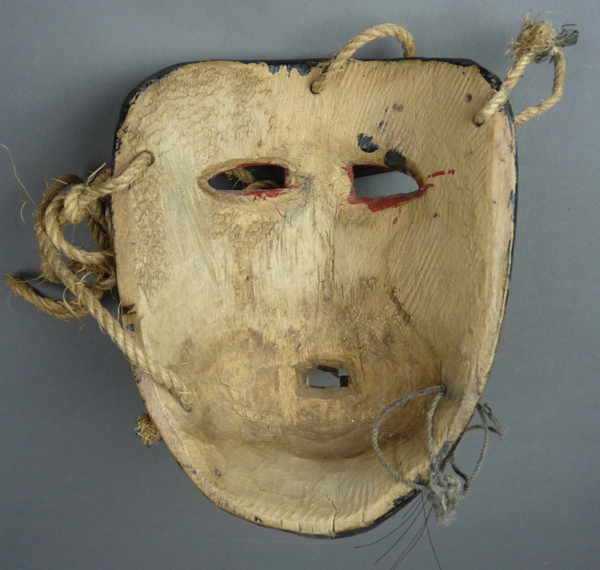 This mask has its original straps, which closely resembles those of the first mask. There is moderate staining from use.
Here is a third Tlacololero mask that has a black face and a similar overall design. It has a large nose, but lacks a blowing mouth. It is particularly striking for two features—a mustache/goatee that erupts from the base of the nose like a waterfall, and a painting on the back of the three crosses of Calvary. Such symbols on the back of a mask are uncommon and highly personal. I bought this mask from the Cavin-Morris gallery in 1995.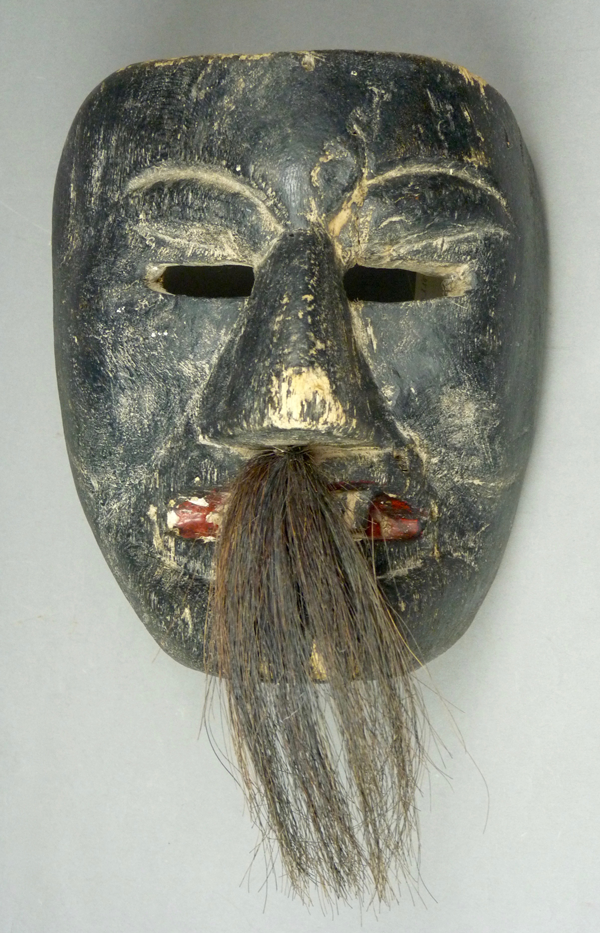 The face is dirty and worn and the nose is scuffed.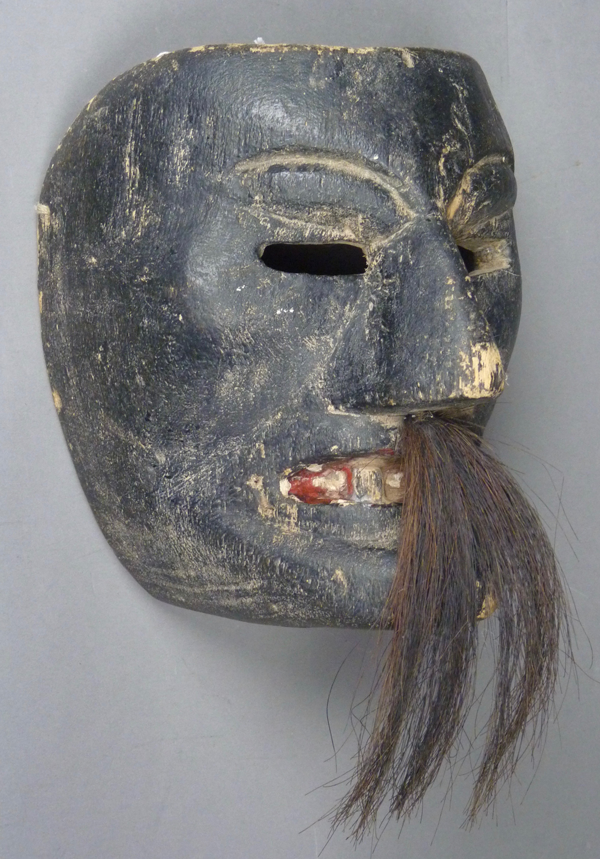 This mask is 8 inches tall, 7 inches wide, and 4 inches in depth.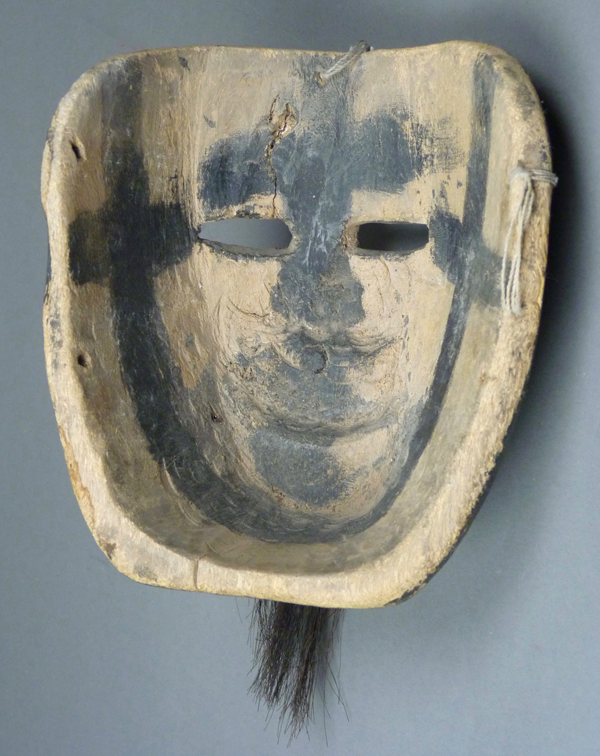 Here are the three crosses. I have never seen this design on the back of any other mask! I have seen several other masks with inscribed single crosses on the back. These may serve to remind us that the Mexican Indians who dance in fiestas often do so to honor a vow to God or some Christian saint.
Next week we will look at Tlacololero masks with noses like those on statues of Tlaloc or Ehecatl, the wind god.