Last week I began a series of posts about Moro masks from the State of Mexico, the state that surrounds Mexico City. I had a pair of masks from about 1970, and miraculously, I found a Youtube™ video demonstrating that such masks were still in use in their traditional setting, nearly 50 years later. Today we will examine other Moro masks from that era.
Today's trio of Moro masks all appear to be by the same hand. They are of three different sizes and the middle sized one seems less worn, while the other two could easily date to the 1940s. Despite their differences in size, they confirm one another as representatives of a type. I bought all three from René Bustamante, two, in August of 1993, which were found in Atlacomulco, and the third, from Agua Fria, in April of 1994. Such masks do not appear in recent video performances from either town. I discovered a fourth example in this style in a valuable reference book—Museo Nacional de la Máscara: Catálogo— a catalogue of the masks in the collection of Victor Moya Rubio (no date, page 108, plate 371). This near duplicate was said to be from San Pedro del Limón, State of Mexico. That town is about 150 miles south of Atlacomulco; these masks really travel! A Youtube video of the Moros y Cristianos of Limón in 2015 shows a variety of Moro dancers, some withe Lunar headdresses, some with conical headdresses, and others with crowns. Their masks are larger than today's trio, with very large noses.
https://www.youtube.com/watch?v=sBa1V1rvcgk
And here is yet another example of this type, from Pinterest™.
https://www.pinterest.com/pin/123567583496327056/
Here is the largest, complete with a helmet made of galvanized tin that René Bustamante supplied as appropriate for this mask; I believe that the mask was collected without any headdress.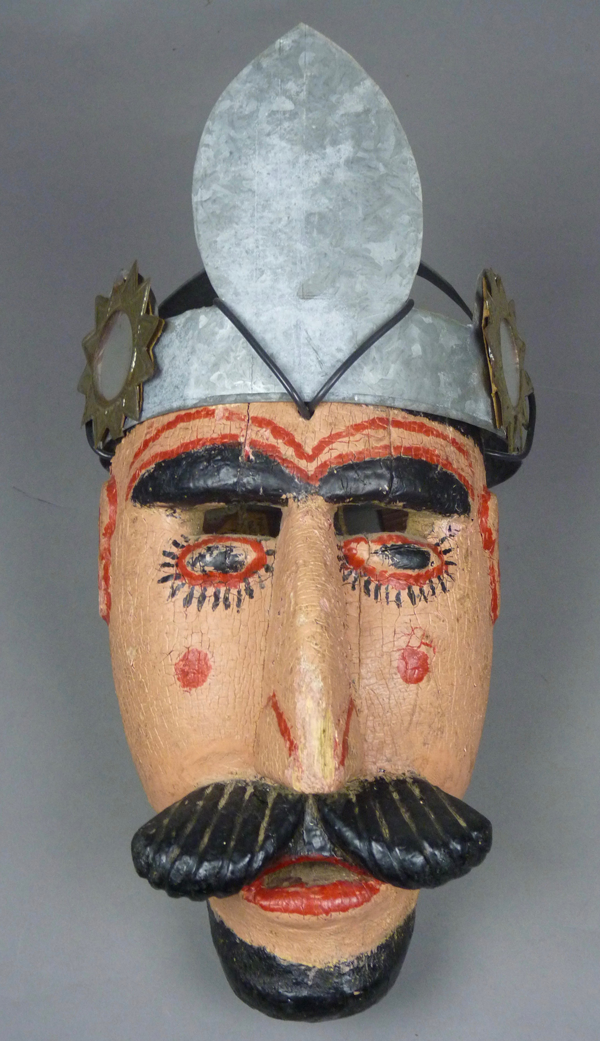 The headdress is decorated with tin and glass mirrors. The mustache is carefully carved while the ears are rudimentary.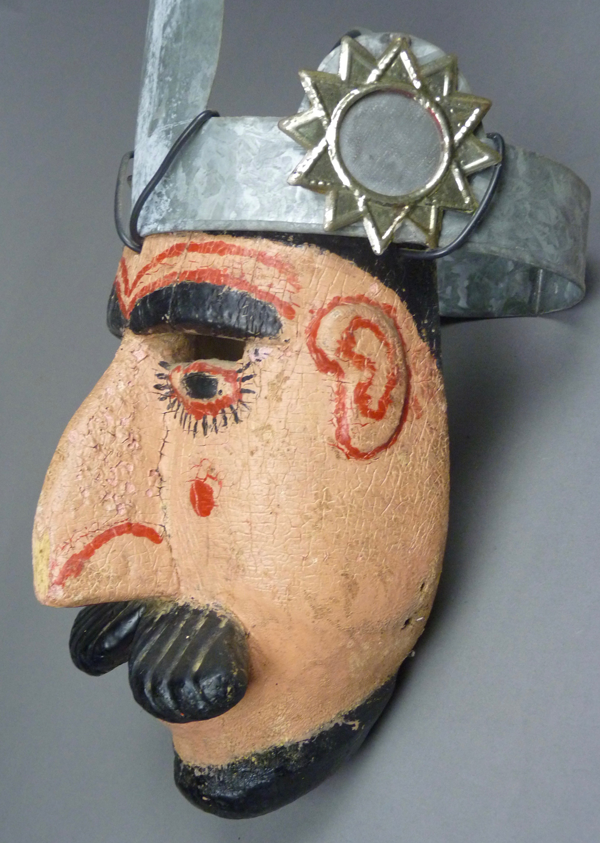 A tube behind the front of the headdress is meant to hold a feather plume. This mask is 9 inches tall (14 inches including the headdress), 6 inches wide, and 4½ inches deep.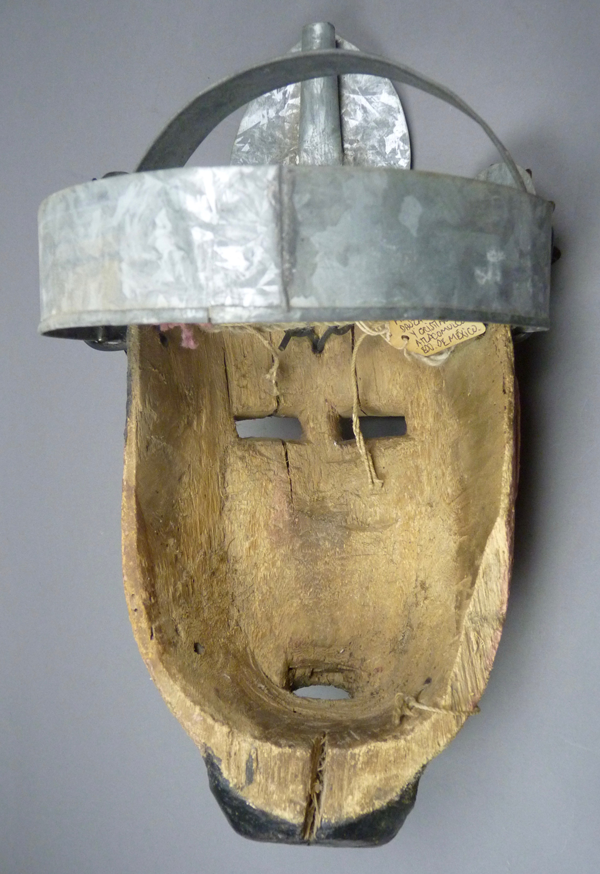 This back shows heavy staining from long use, and René's paper tag is yellow with age.
A dance film from San Bartolomé Atlatlahuca reveals masks that could have developed from today's trio, as they have similar design elements but they are larger and more elaborate. Note the very first mask in the video, the one the dancer removes and then replaces on his face. Also notice the Christian images on the central caps of the lunar headdresses—Christ and the Virgin Mary. When a Christian dancer portrays an evil character, such as a Moro, then a cross or some other Christian image on the mask or headdress is meant to reassure God of the dancer's actual beliefs.
https://www.youtube.com/watch?v=9MfeAo02D90
I am reminded of a broader observation that I have mentioned in earlier posts about the homogenization of mask designs that followed Mexican road building in the 1970s, 80s, and 90s. Before those paved roads, many small rural Indian towns were only connected to one another and to larger cities by dirt tracks or walking trails. In the 21st century, as these relatively isolated villagers have had the opportunity to more easily compare their related traditions, some mask designs seem to have become more popular than others. Furthermore, as the dances have become more public and social, the popular designs have been enhanced in size, variety, and complexity. In summary, we may be seeing a process of evolution in mask design, in which this older style has fallen into disuse, so that my posts serve as their imperfect archive.
Here is the "middle-sized mask" (only slightly smaller than the largest), which appears to be newer than the other two.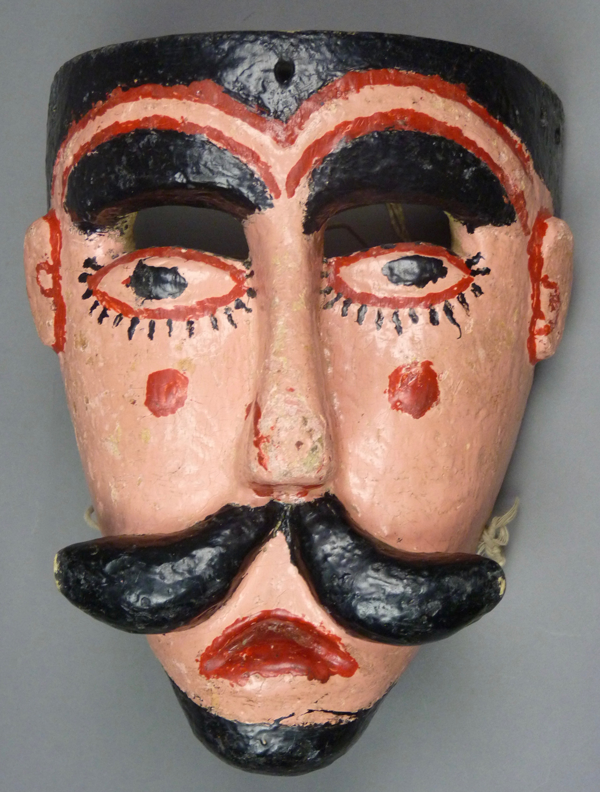 Older Moor masks tend to have unhappy mouths, as if portending their probable defeat at the hands of the Christians.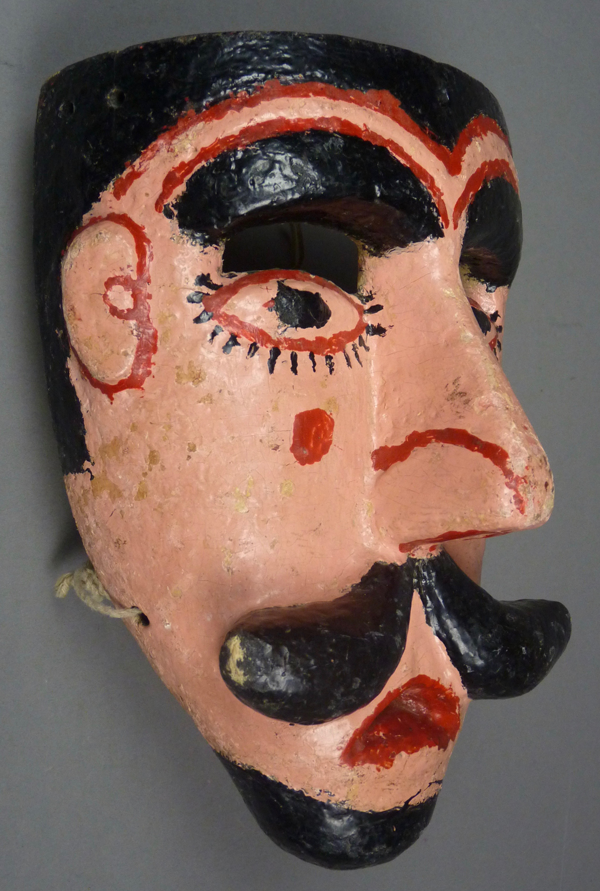 This is another nice mustache, along with another pair of rudimentary ears. This mask is 9 inches tall, 7 inches wide, and 3¾ inches deep.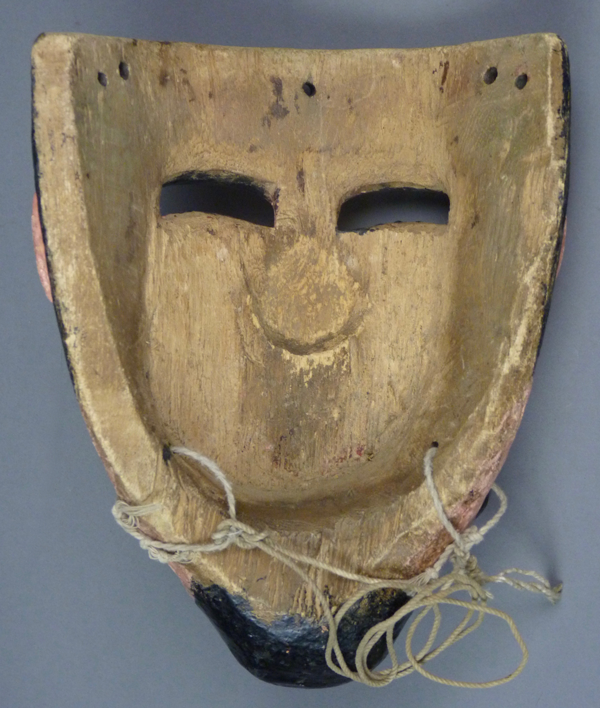 This mask looks newer than the other two, but maybe it was just more recently repainted, as it too has a very old and worn back.
This is the smallest mask of the three. The paint on the faced is crazed, as is that on the largest mask.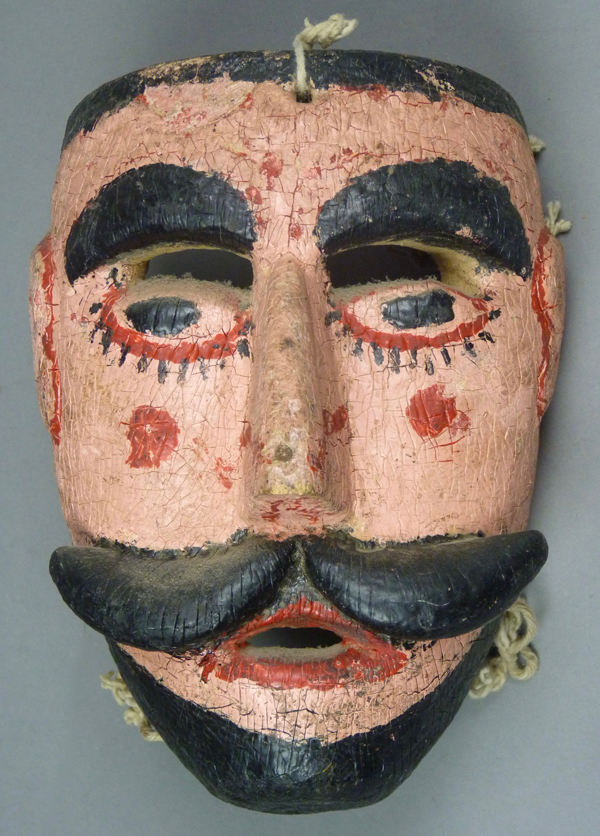 We see again a frowning mouth, spotted cheeks, a well-carved mustache, and rudimentary ears.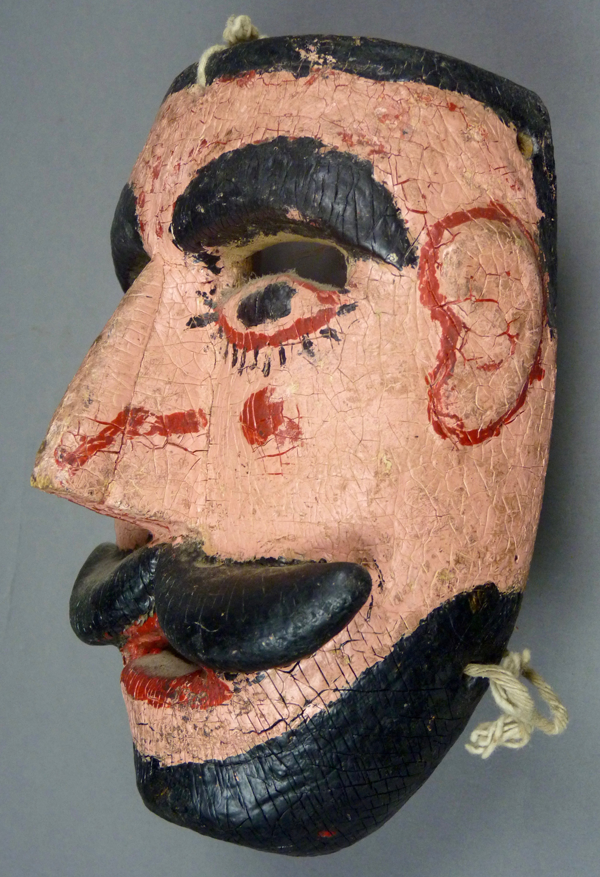 This mask is 8 inches tall, 5½ inches wide, and 3½ inches deep.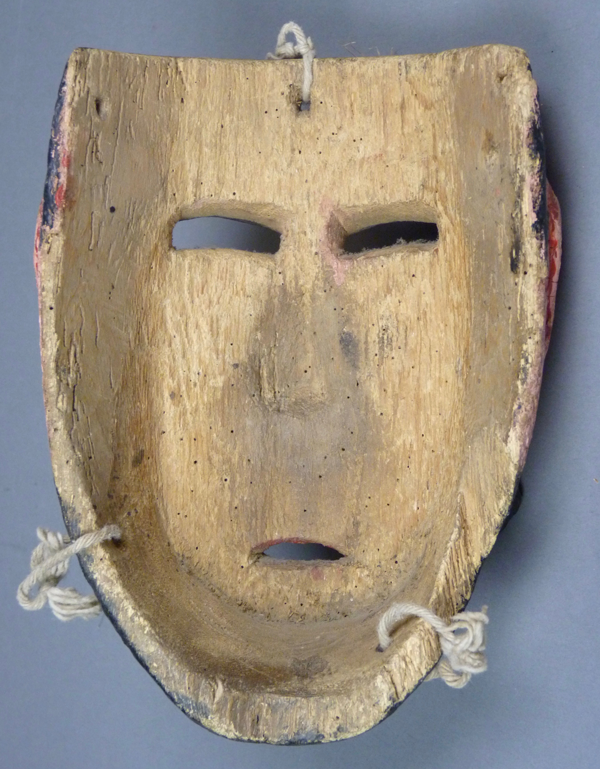 This mask too has a stained back, from significant use.
Here are the three masks together to demonstrate their relative sizes.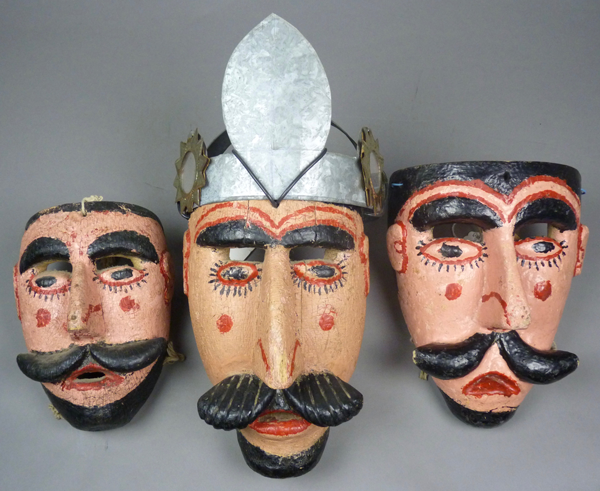 Next week we will continue looking at Moro masks from el Estado de Mexico.
Bryan Stevens