When I purchased the Tusked Negrito mask (post of August 13, 2018) from the Tesoros Trading Company in Austin Texas, I also obtained two other masks there that appeared to be from the Sierra Juárez area of the Mexican state of Oaxaca, but obviously from other dances. Both had neck straps, one held by a metal staple and the other threaded through a hole in the chin. Since then I have also acquired two other masks, which appeared to be Cubano masks (Negrito masks that lack tusks), from the same region. Today we will examine those four masks, beginning with the Cubanos.
I have introduced you to Barbara Mauldin's book—Masks of Mexico: Tigers, Devils, and the Dance of Life. On page 66 (the page facing the one about Tusked Negritos) there is a dance photo of the Cubanos dancers taken in 1964 in Tamazulapan, Oaxaca, wearing the same sort of elaborate costumes that are worn by the Tusked Negrito figures. There is also a photo of a Cubano (or Mulatto) mask from the collection of the Museum of International Folk Art. As you saw in recent posts, there are Negrito masks in the Sierra region that have snouts and tusks, and others which lack these features. It is the latter group that have sometimes been called Mulattos or Cubanos. Currently these masks have black complexions, although they may have been brown or black in the past.
Here is a link to an old photo from Tehantepec, Oaxaca, followed by a YouTube™ video of a Negritos (or Cubanos) dance group from Yalalag, Oaxaca.
https://huaracheblog.files.wordpress.com/2012/01/walter-reuter-tehuantepec.jpg
https://www.youtube.com/watch?v=9yGAUDfXMV0
And here is a Cubano mask from this region that I purchased from Bob Ibold in 2004. It appears to have great age.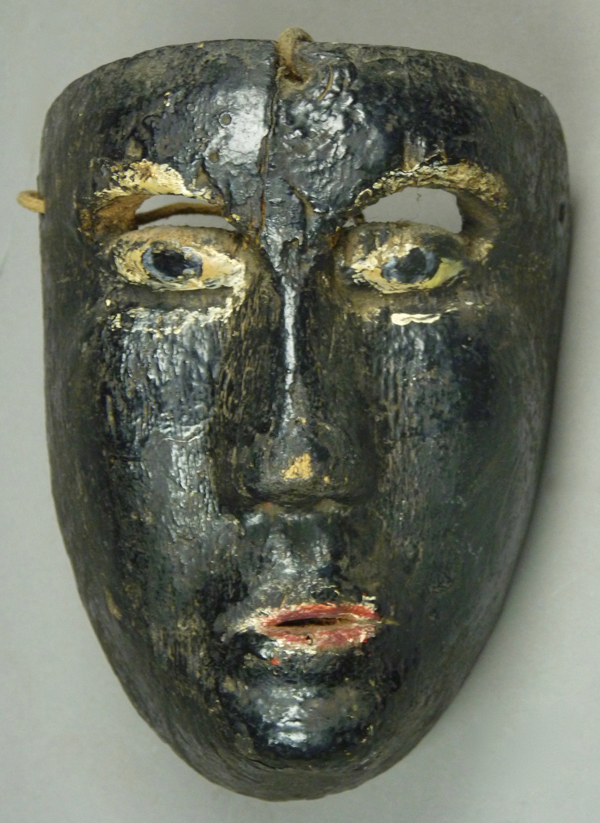 This is such a simple mask, and at the same time, such a superb old mask.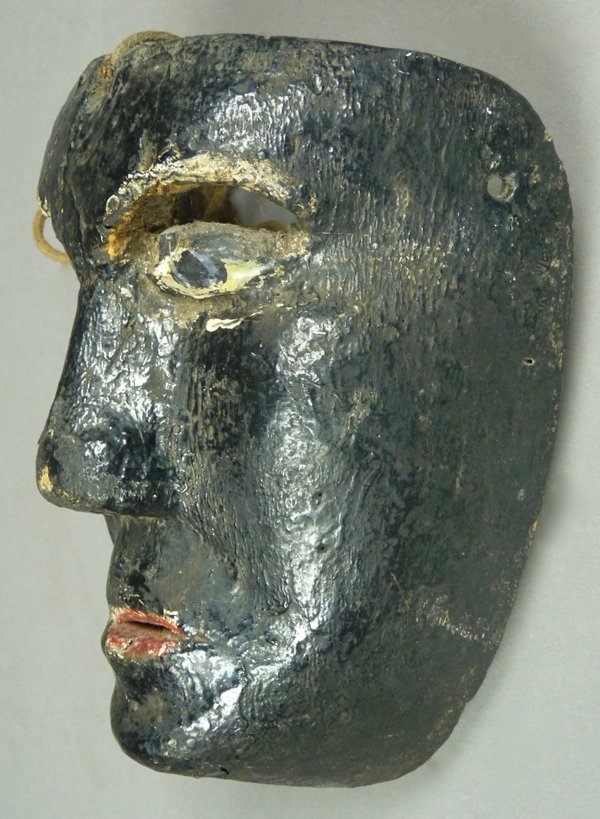 The patina on the face and back is striking. This mask is 7 inches tall, 5½ inches wide, and 3¾ inches deep.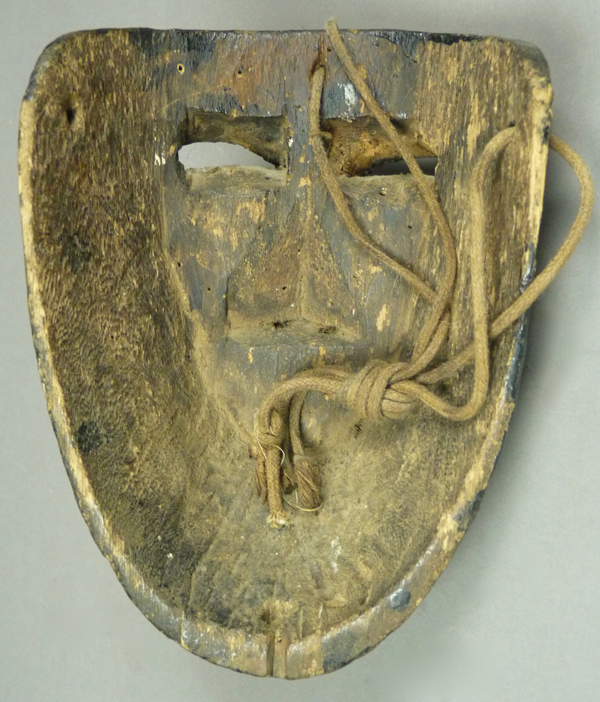 This is another example of a mask that had the back painted black. The worn quality of the back is obvious.
I have long thought of the next example, which I bought from Dinah Gaston in 2002, as another Cubano mask. I can hardly imagine that it could be anything else, but I do realize now that it lacks a hole in the chin for a neck strap. I suppose that it could be a female Negrito mask from Michoacán? The spot in the center of the forehead is an artifact, reflected glare from a light; it moves in the side view that follows.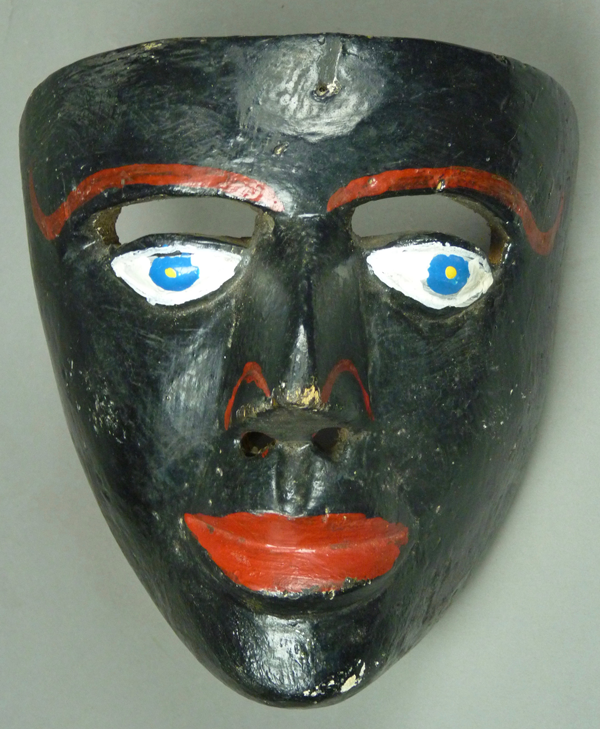 This is another mask that appeals to me due to its simple majesty.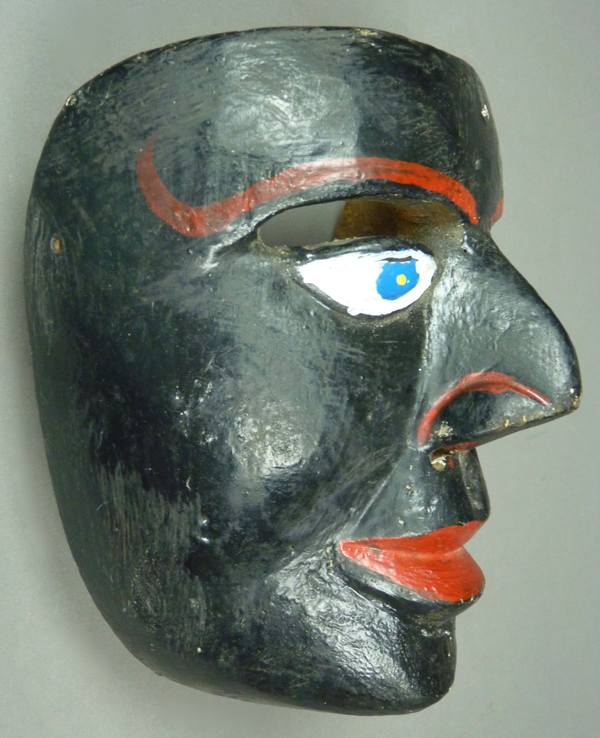 This mask is 7½ inches tall, 6½ inches wide, and 4 inches deep.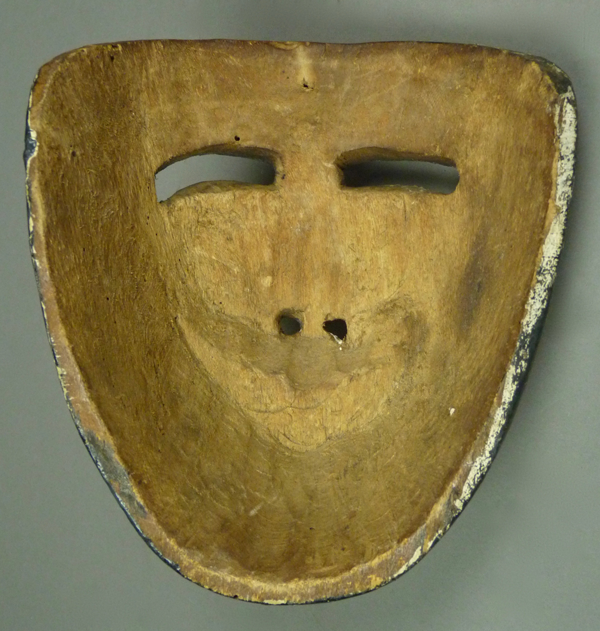 The back of this mask is heavily stained from use.
Now we turn to the other two masks that I bought from the Tesoros Trading Company in 1996. The first of those resembles a Viejo mask on page 68 of Mauldin's book. That mask was reportedly from the town of Vicente Camalote in the Sierra de Juárez. Like the Tusked Negritos, the Viejos also tend to serve as ritual clowns in this culture area, notes Mauldin.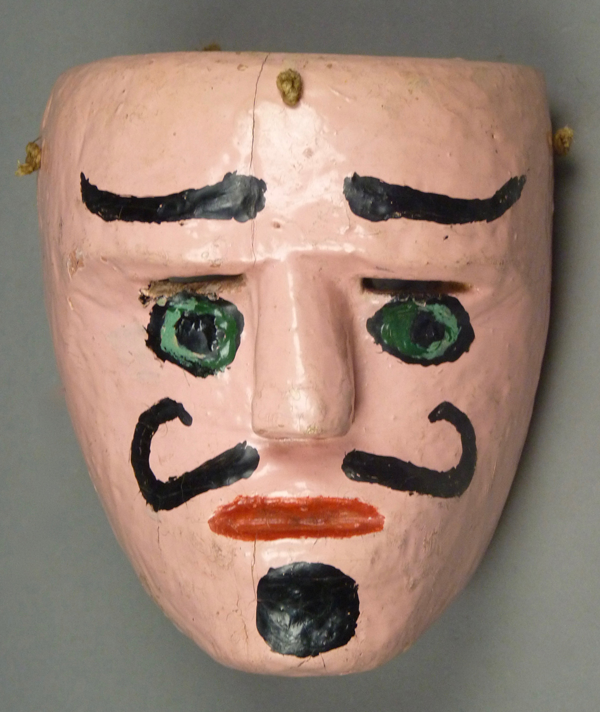 This mask was carved from some dense and heavy wood.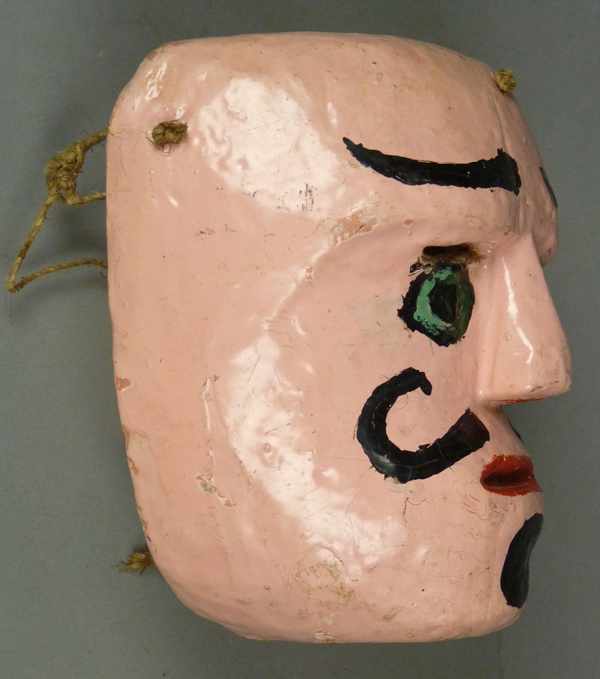 This mask is 6 inches tall, 5½ inches wide, and 3 inches deep.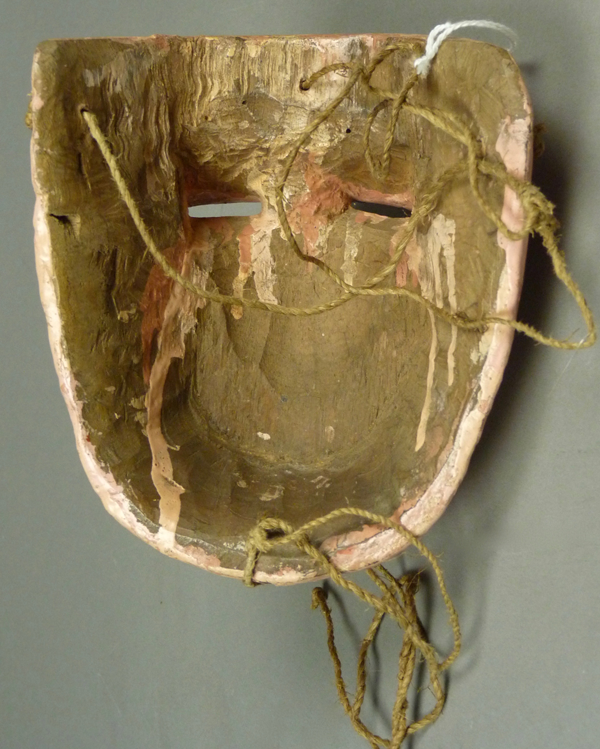 The back is heavily stained from use. Note the neck strap attached to the chin.
The other mask from the Tesoros Trading Company came with the most simple of labels—"Oaxaca."  I found a similar, although less elaborate mask, in Máscaras Mexicanas: Simbolismos Velados, a catalogue of an exciting show that took place in Mexico City in 2015. The masks in that show were supplied by a number of Museums and private collectors. One of those masks, with round eyes, pale paint, red spots on the cheeks, and a simple slab nose, was loaned by the Comision National para el Desarrollo de los Pueblos Indiginas, in Mexico City, and was said to be a Zapotec mask of a Moro, from the Danza de los Moros y Cristianos in the Sierra Norte de Oaxaca. It was estimated to date from about 1970. This mask looks to be by the same hand. To my eye, a mask with such an elaborate mustache was likely to have been worn by one of the leaders —Santiago or Pontius Pilate.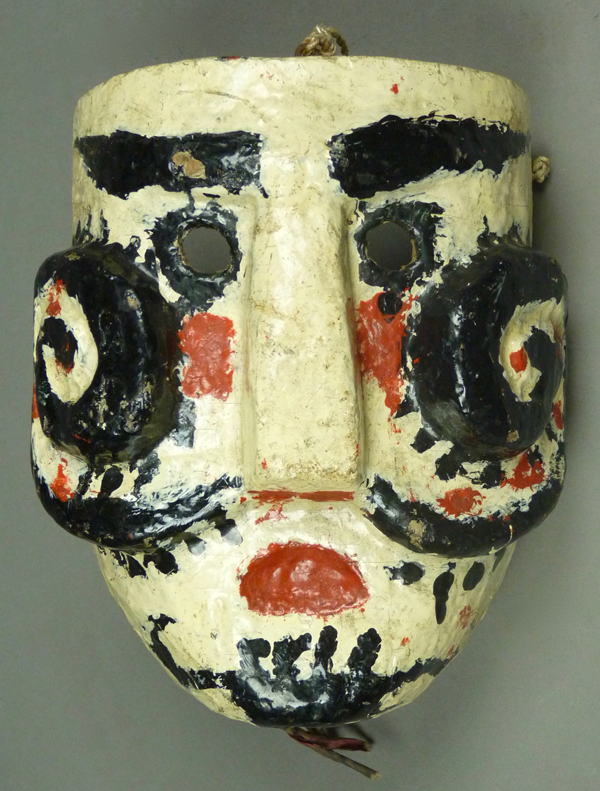 The mask is somewhat crudely carved and painted, but what an elaborate mustache! It too was carved from some dense hardwood.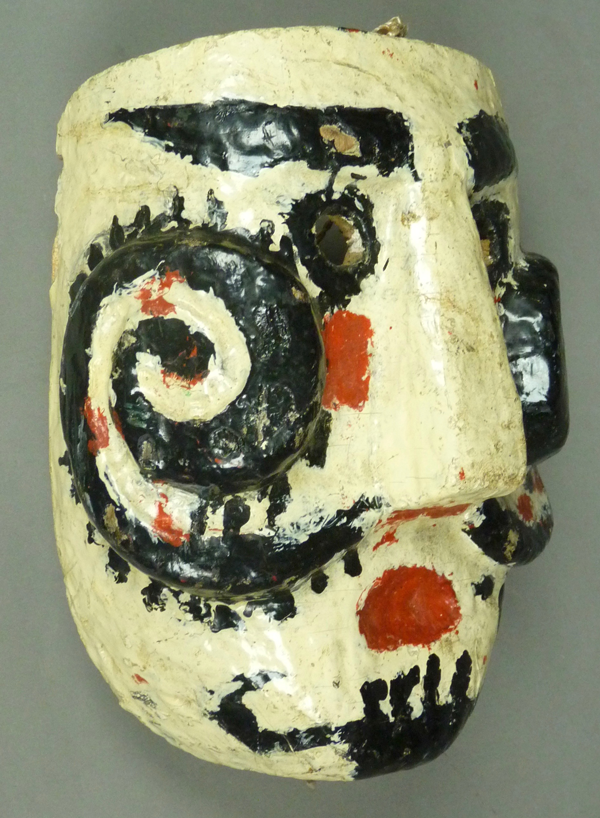 This mask is 7¾ inches tall, 6½ inches wide, and 3½ inches deep.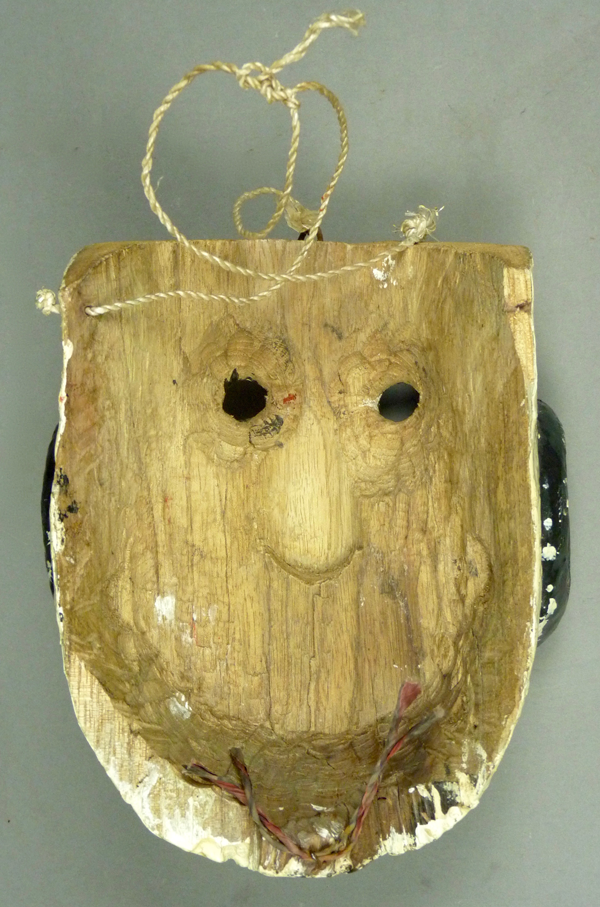 Fragments of an old neck strap are still attached to the chin of the mask by an iron staple. This mask has only mild staining from use.
Next week we will look at a few more masks from highland Oaxaca.
Bryan Stevens