Recently I purchased this old mask from the "HowOriginalStore" of Austin Texas, an Etsy™ vendor. An old tag on the mask simply stated that it was from the Mexican State of Puebla. To my eye it looked very similar to a mask in a special issue of the journal Masterkey—Mexican Masks From the Southwest Museum Collection (Volume 62, Numbers 2 & 3, Summer / Fall 1988, page 23, figure 31),  which was from Tuxpan in the Mexican state of Jalisco,  and appeared in La Danza del Chayacate. The mask illustrated has a male face with a painted mustache and carved ears. To my eye this mask was carved by the same hand as the one in the Masterkey issue, however it has a woman's face.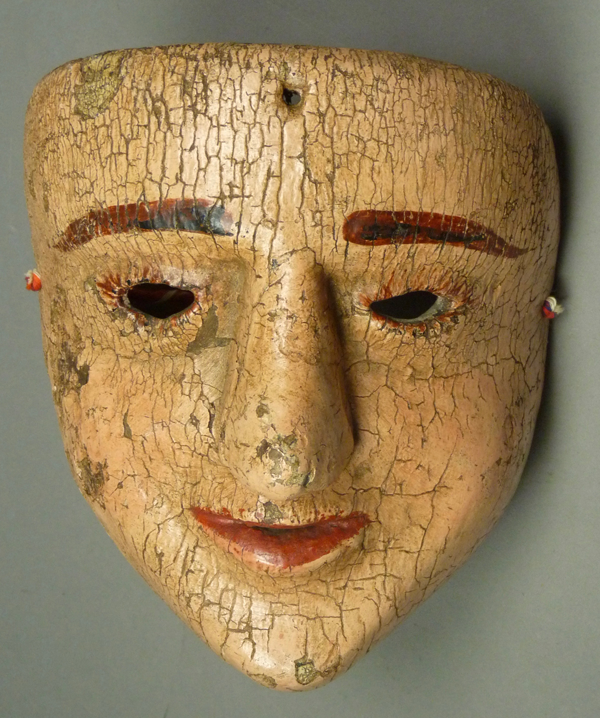 I discovered a number of YouTube™ videos from Tuxpan that featured this dance, but only one of them included an apparent female mask in the Chayacate dance, and that mask only appeared for a moment.
Here is a link to that video. The female mask flashes by at 48 seconds. The video begins with Concheros, dancers with stick shaped rattles. The male Chayacate dancers wear masks with mustaches, some have beards, and they all wear woolen helmets with deer horns. The dancer wearing the "female"mask does also seem to have a helmet with deer horns. Maybe this is simply a male face without facial hair.
https://www.youtube.com/watch?v=6zPVgkrb6WQ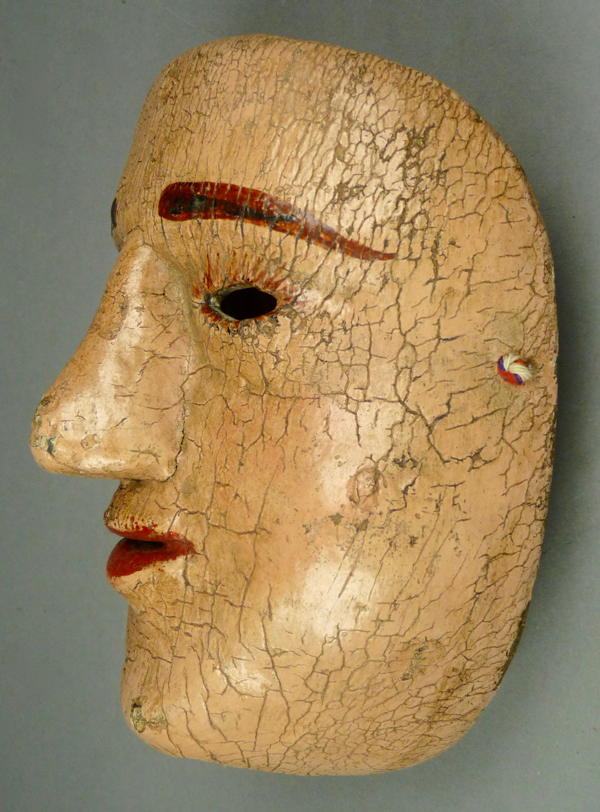 What does it mean when a single dancer in a sea of male masks wears one with female features? Or is this a male mask?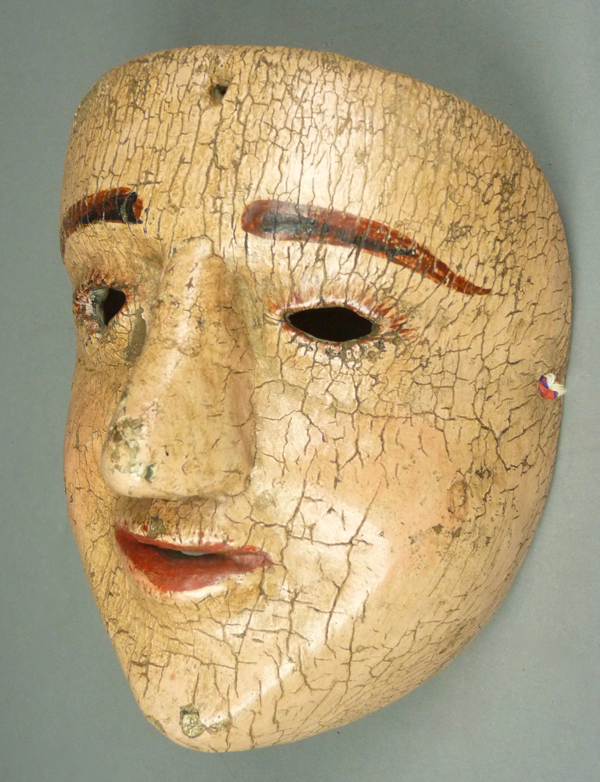 Male or female, I really like this mask.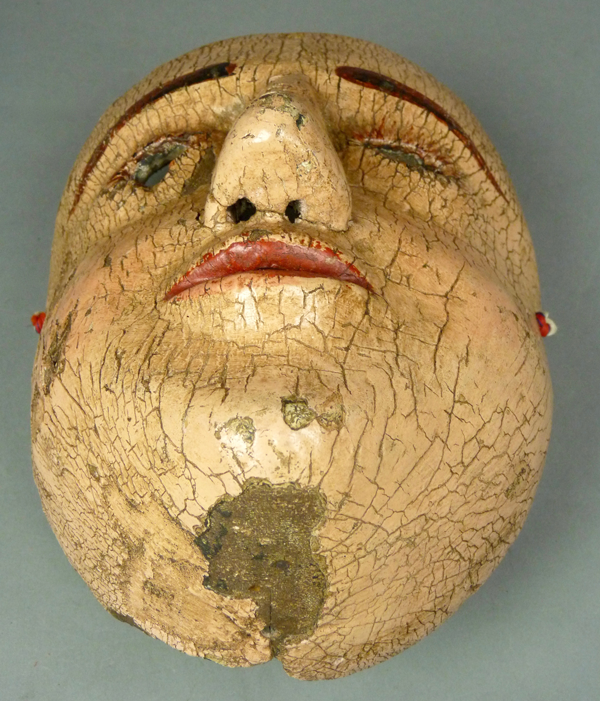 The chin is really worn.
There is a hole in the midline for a chin strap, an unusual feature that I associate with highland Oaxaca. This hole seems to be a replacement for an earlier hole that was lost when the edge of the mask broke.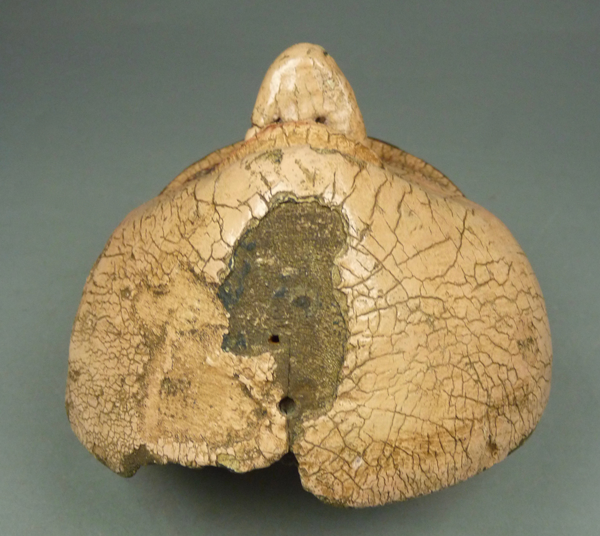 This mask is 8 inches tall, 6½ inches wide, and 4 inches deep.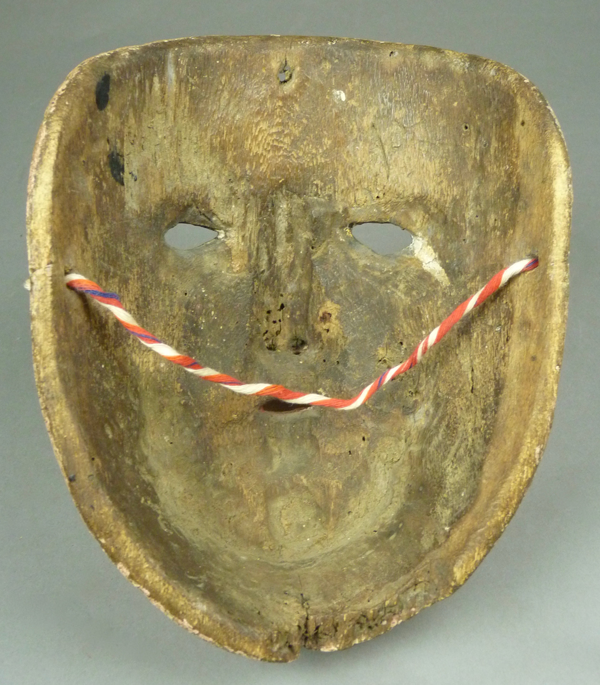 The back demonstrates extreme staining from heavy use. The strap  is not original.
Next week we will look at another Etsy find from the same vendor.
Bryan Stevens