Recently Michael Esson contacted me regarding his interest in masks with the faces of skulls. He lives in the area of Sidney, Australia, however he has collected Calavera (skull) masks from far away places such as Mexico and the Himalayas. His inquiry led me to review posts about Calavera masks that had appeared in my blog, whereupon I realized that there were these masks from my collection that I had intended to include, but never did. You will have seen those masks in three recent posts, as I attempted to correct these omissions. Today I am pleased to put up photos of some of Michael's skull masks from Mexico. As you will see, some of them came to him without much information. Fortunately a few had better documentation, and I will begin with those.
This wonderful mask came with an old tag- "Danza de las Tres Potencias (three powers), Guerrero." El Sueño, the title painted across the forehead, might be translated as "a dream or vision," in this instance possibly "your worst nightmare."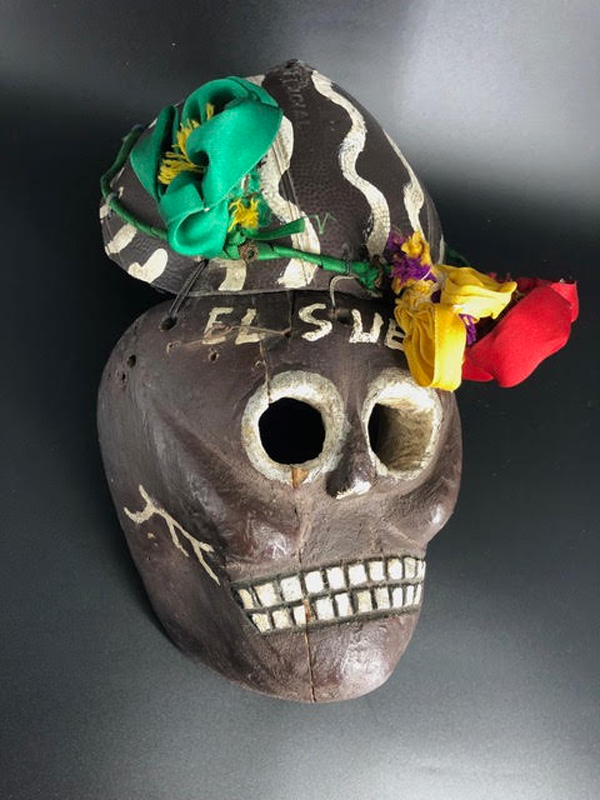 This mask has such a presence.
Estela Ogazon began her description of the Tres Potencias dance (in Máscaras, 1981, 87) by explaining that the soul has three powers—"memory, understanding, and will." In addition to the soul there are many other characters in the dance of the sort that one might have anticipated, including "sin,the angel, the devil, death, the flesh, the Virgin, Christ, and Lucifer." The dance ends with "the triumph of the soul which then ascends to heaven."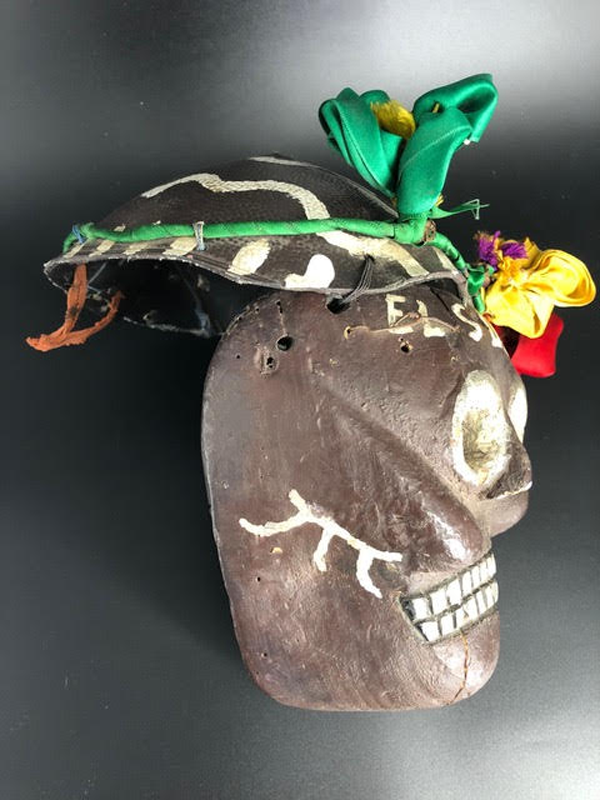 The rubber flap on top was probably cut from a soccer ball.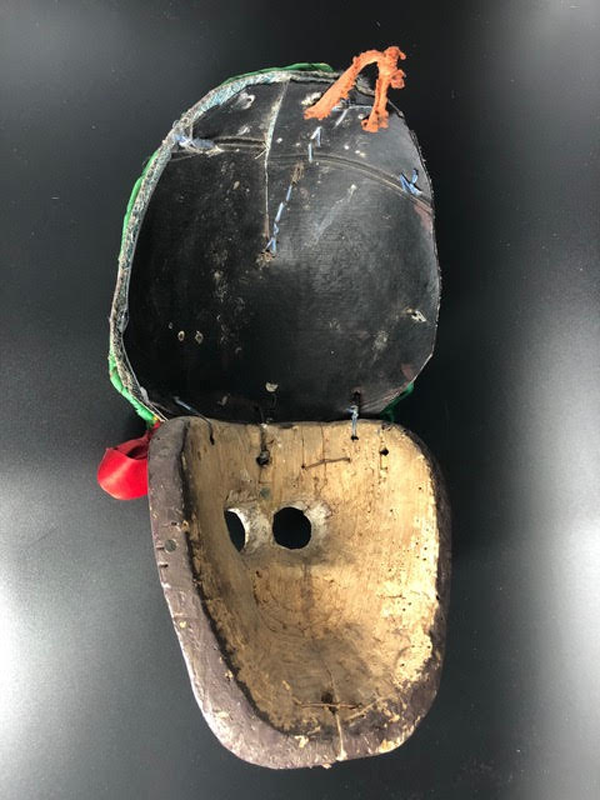 There is obvious wear.
The next mask, which was purchased from Vernon Kostohryz of San Miguel d'Allende, came with the sort of information that Vernon usually provided: "Xochitlan, Puebla, carved by Lucio Barrientos Iturbide, c. 2002." I believe that this mask is from the Moors and Christians dance.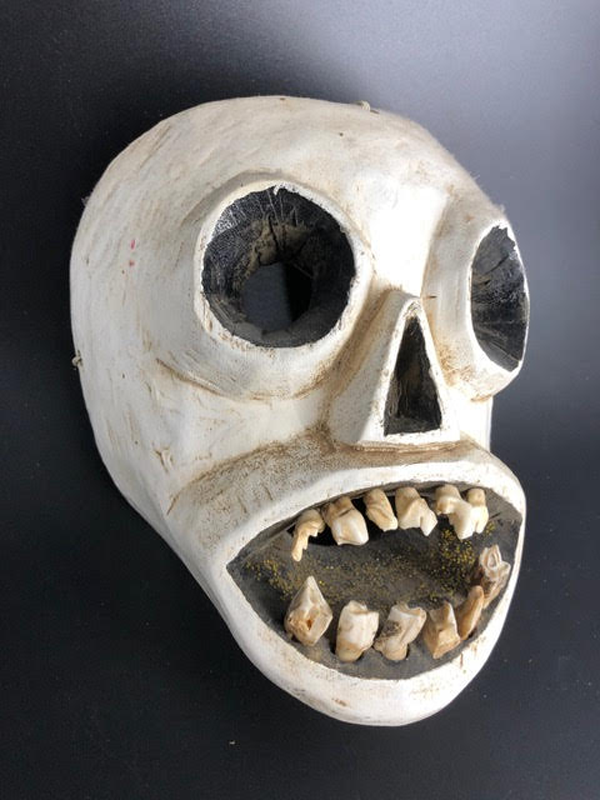 This is a dramatic mask, isn't it? The truly menacing teeth are from some domestic animal, such as a pig.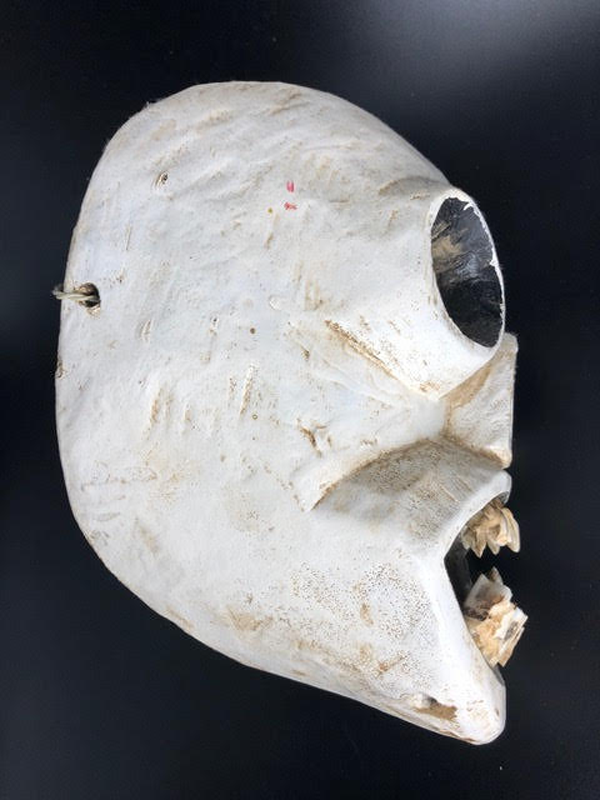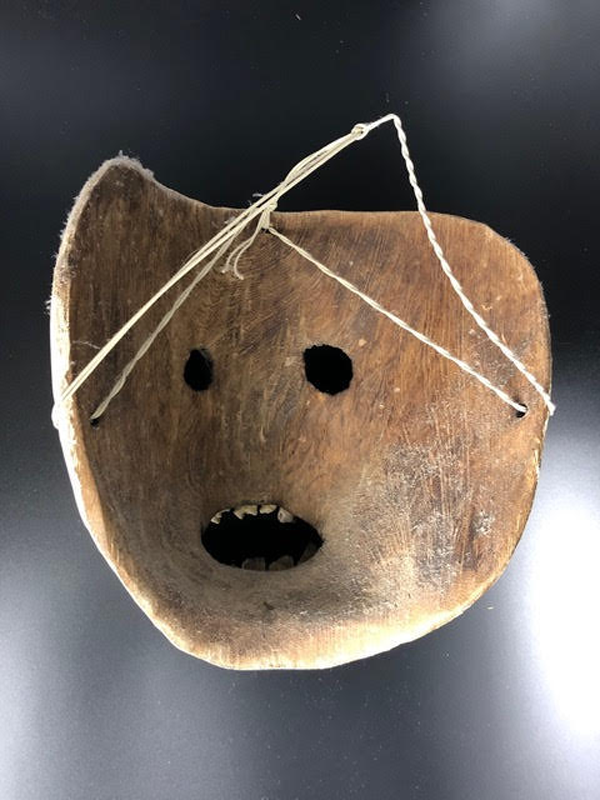 The back has moderate staining from use.
The next mask, which has a very simple design, is in a typical style for Calavera masks carved in the Mexican state of Guerrero.
Although there is no formal encyclopedia available that classifies such mask styles by state or region, there is a wonderful book that might serve that purpose for today's group—La Muerte en las Danzas Mexicanas: Colección de Máscaras de Estela Ogazón (2005), published by the Universidad Autónomo Metropolitana, in Mexico. Unfortunately this rare book appears to be out of print, and only sometimes available from online dealers. You may want to bide your time and shop around.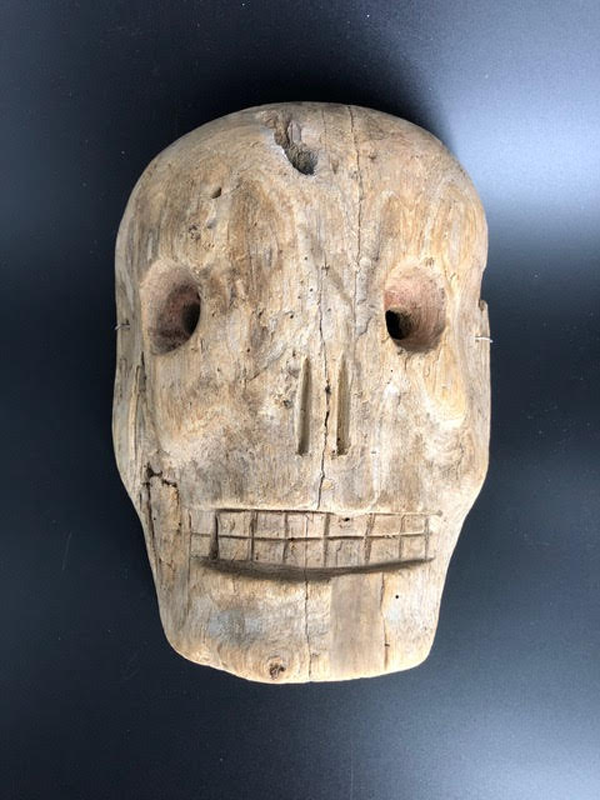 Masks like this one are found in the La Muerte book.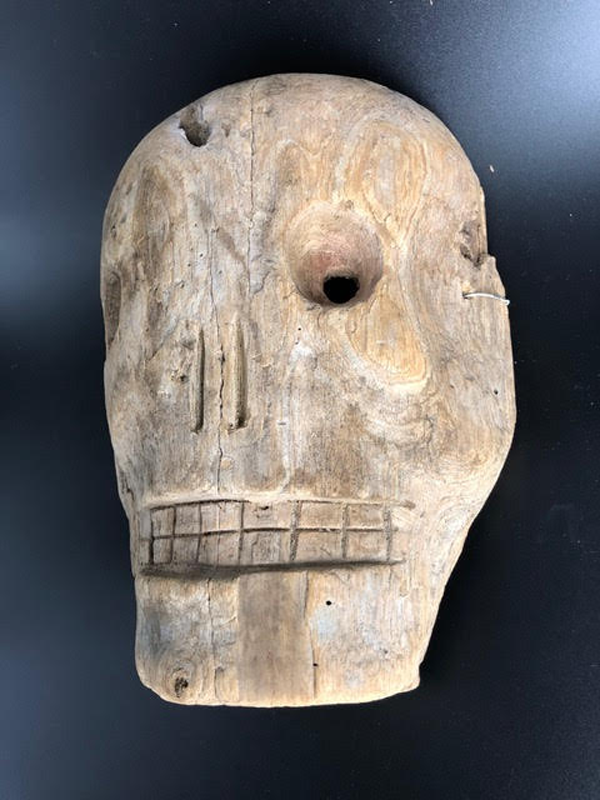 Note the hollow spaces lateral to the eye sockets; the shape is simple, but with specific features. Actually this would function as a very effective mask, with a good costume.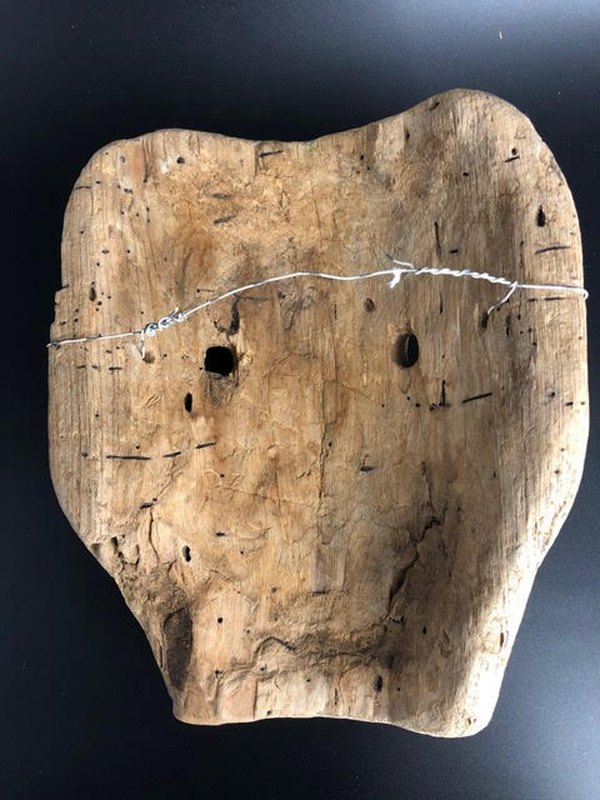 There is some staining from use, plus old insect damage.
Next is another that looks like those from Guerrero.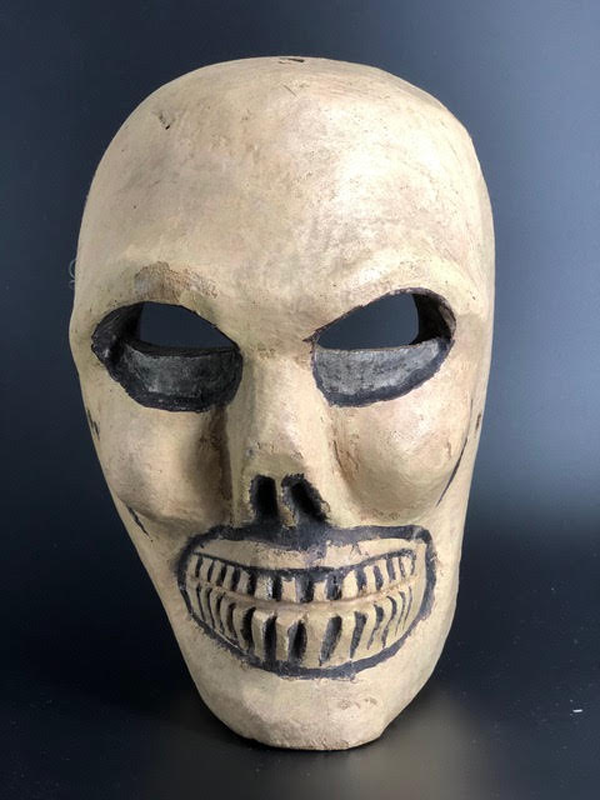 These are very attractive masks.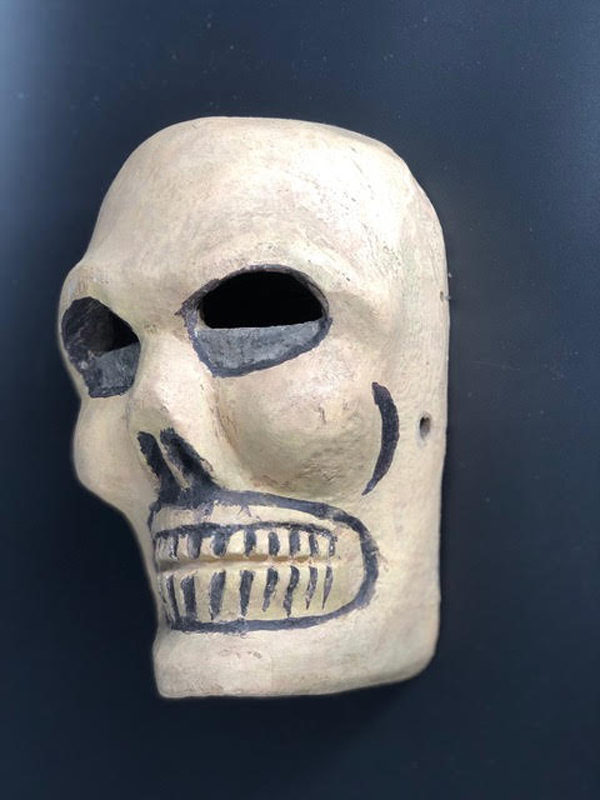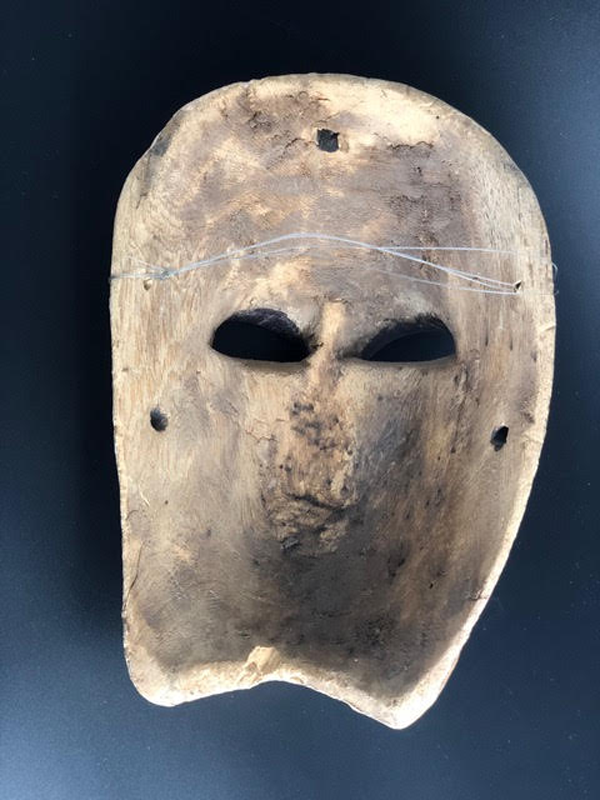 This back also has staining from use.
Here is yet another that seems typical of Guerrero.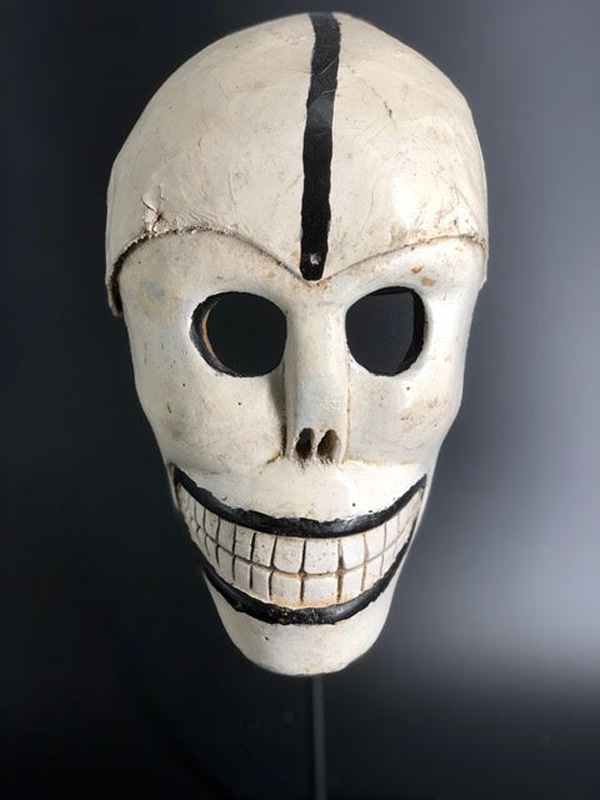 It too has a helmet that was made from a recycled soccer ball.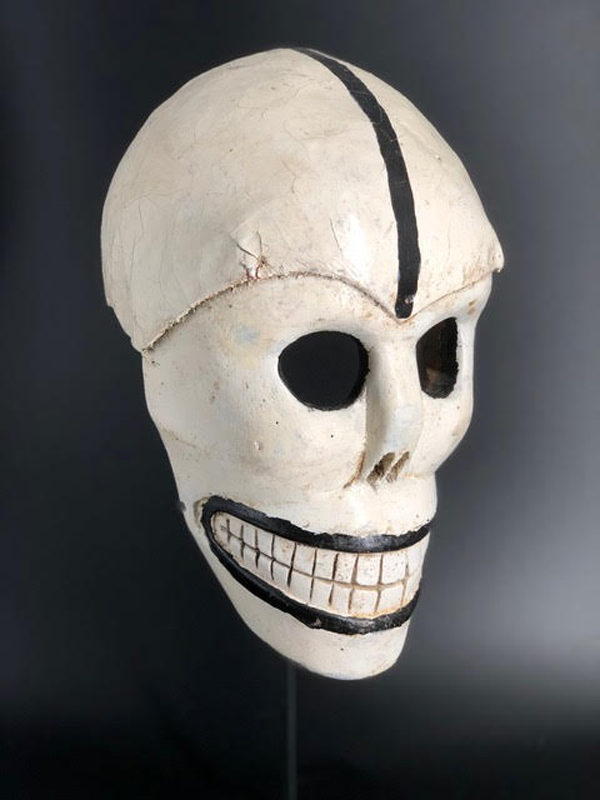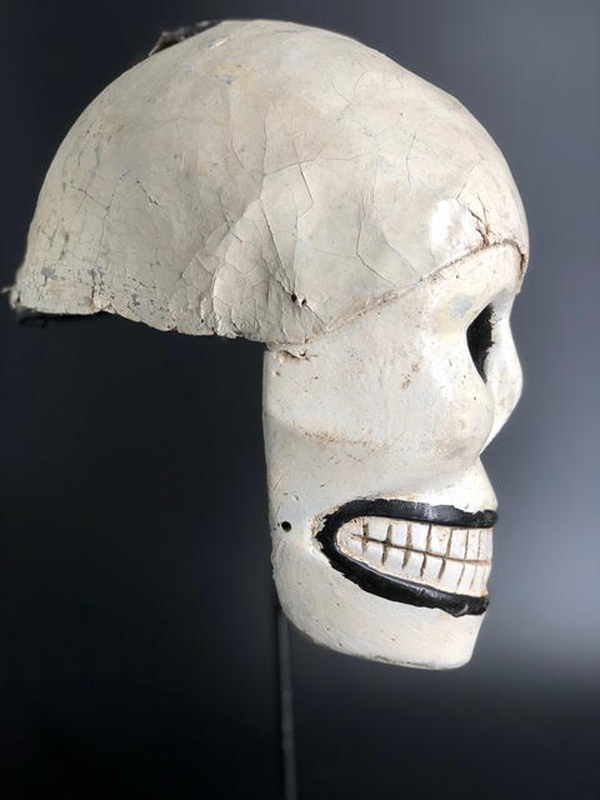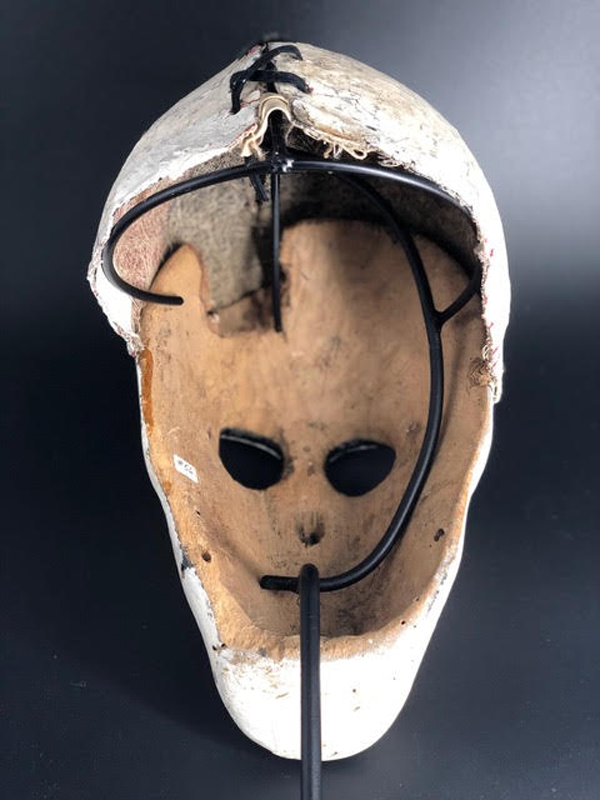 The ball had to be lashed across the back to reduce it's size. There is mild staining.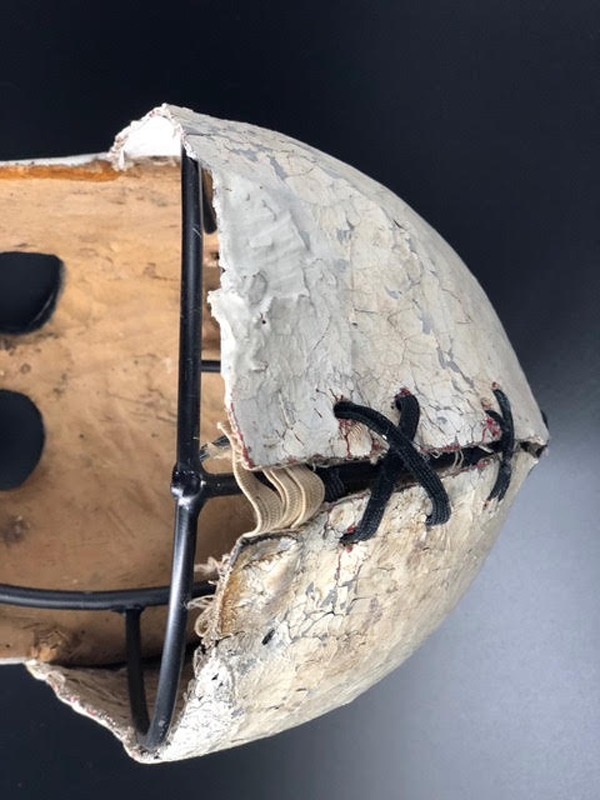 This one too could be from Guerrero although I am uncertain. It was purchased from Bob Ibold, and does appear in  Masks of the World (Robert Ibold and Troy Yohn, 2015, page 132, plate 730), but without any information.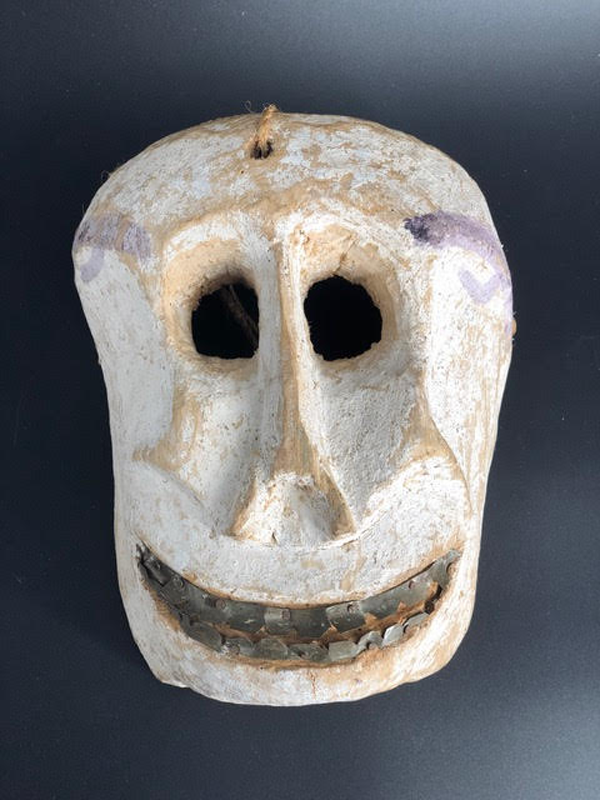 Metal teeth were applied over the  wooden jaw with tacks.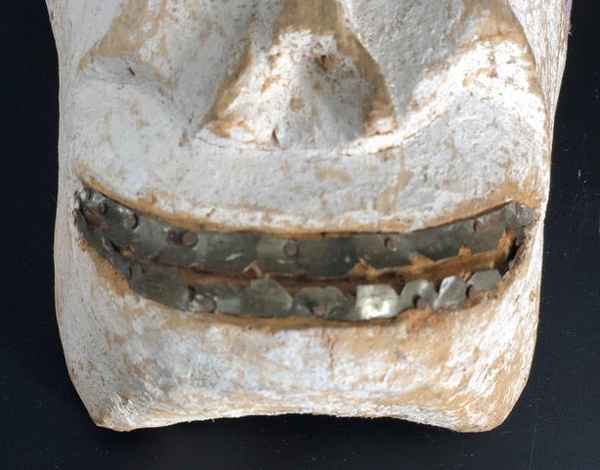 I like this mask a lot.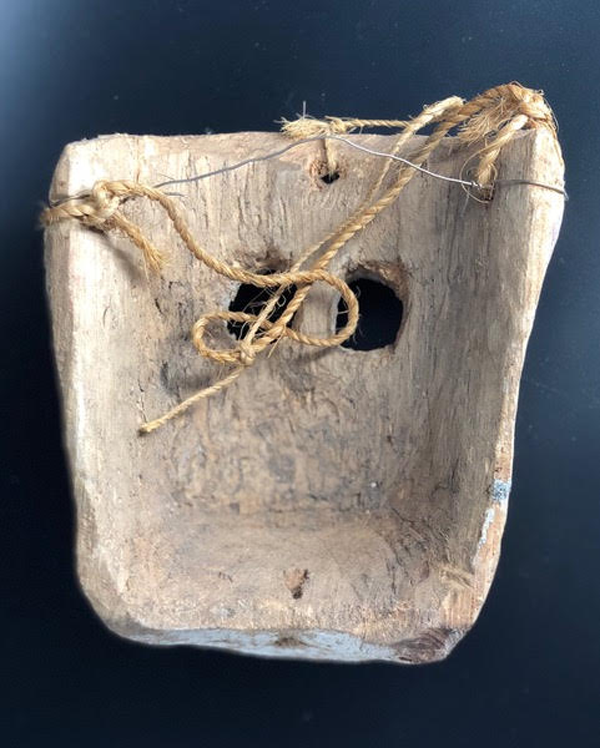 The back has mild staining from use.
I think this skull is from Veracruz. It is another that was purchased from Vernon Kostohryz.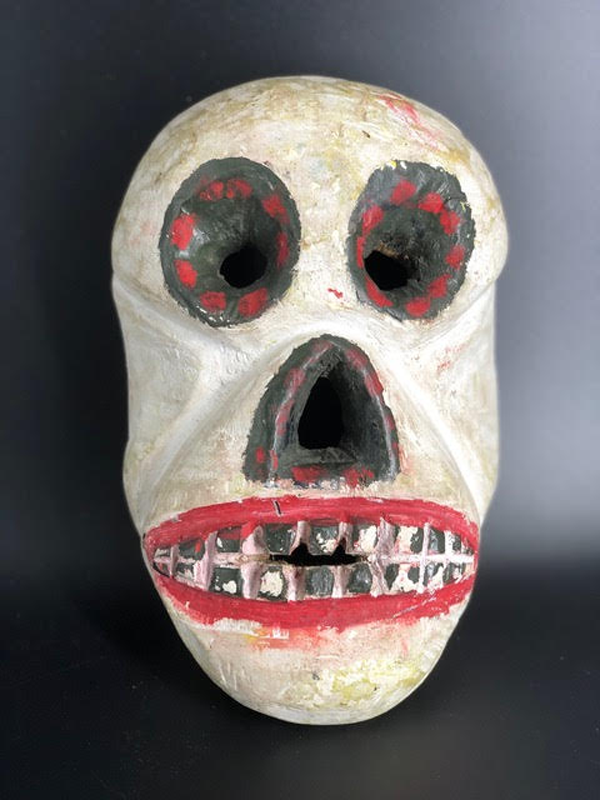 The red does not connote flesh, but blood.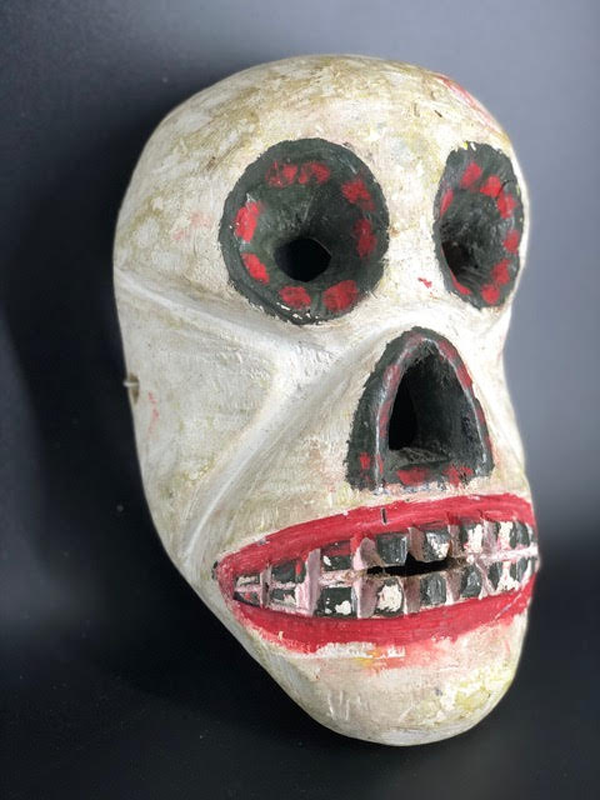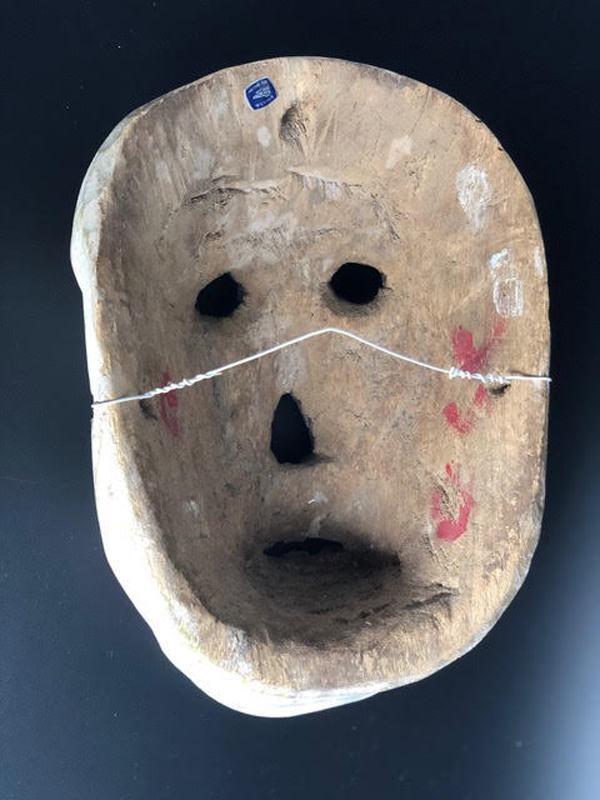 The back has good staining from use. The small blue tag says "Hecho en Mexico" (made in Mexico).
Next is an apparent pair. The one on the left has a label that  states "Tixtla, Guerrero." It too was purchased from Bob Ibold and appears in Masks of the World (page 129, plate 695). The other appears to be by the same hand, but from another source.
A larger view of the one on the right.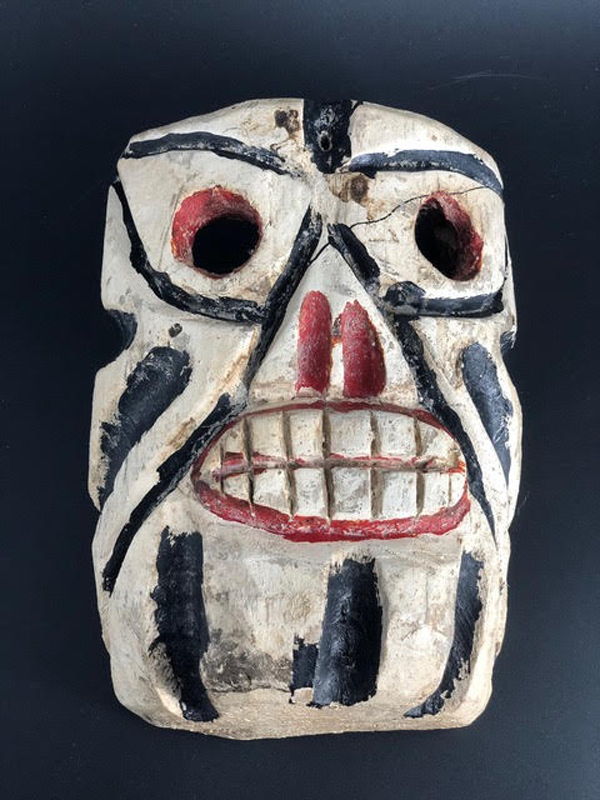 The back of the one on the right, with some sort of applied stain, lacks a tag.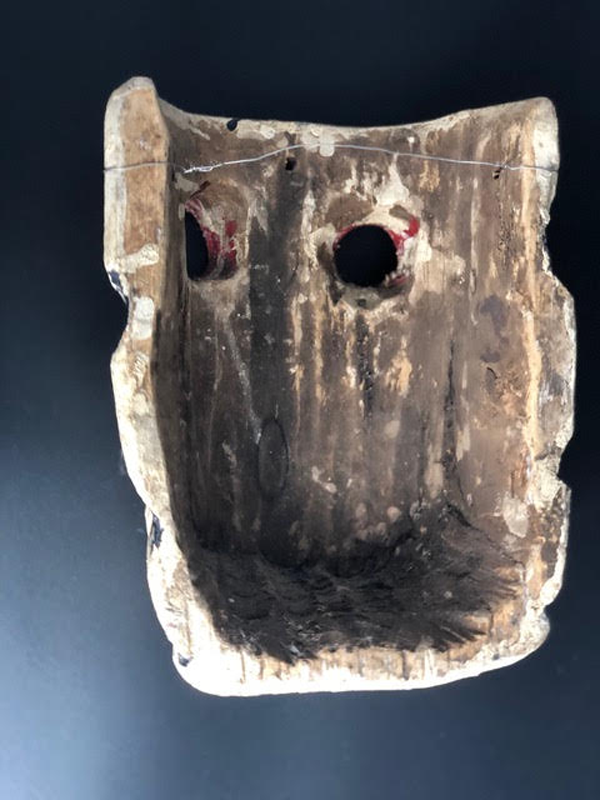 ________________________________________________________________
The back of the one on the left, with tag.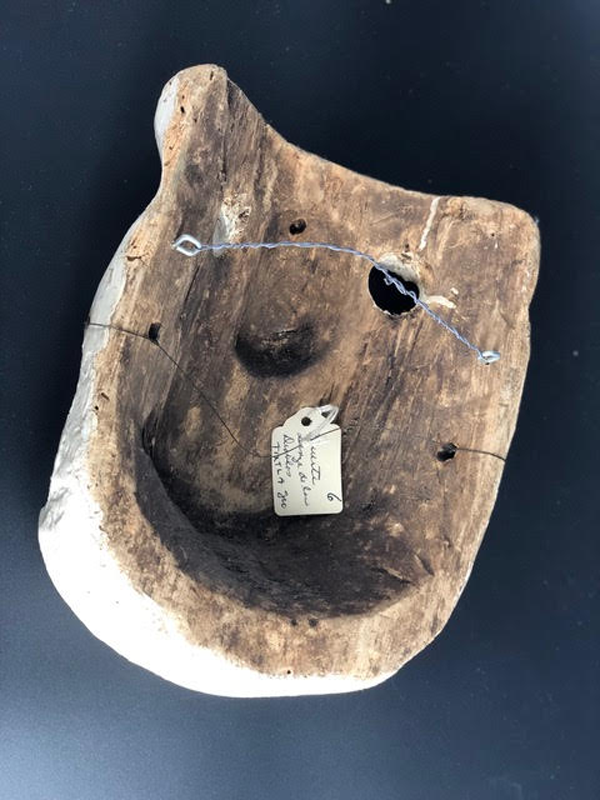 ______________________________________________________________
Here is yet another mask in this style that was purchased from Bob Ibold. It is also in the same book (page 127 , plate 683 ), said to be from Zacapaneca, Guerrero.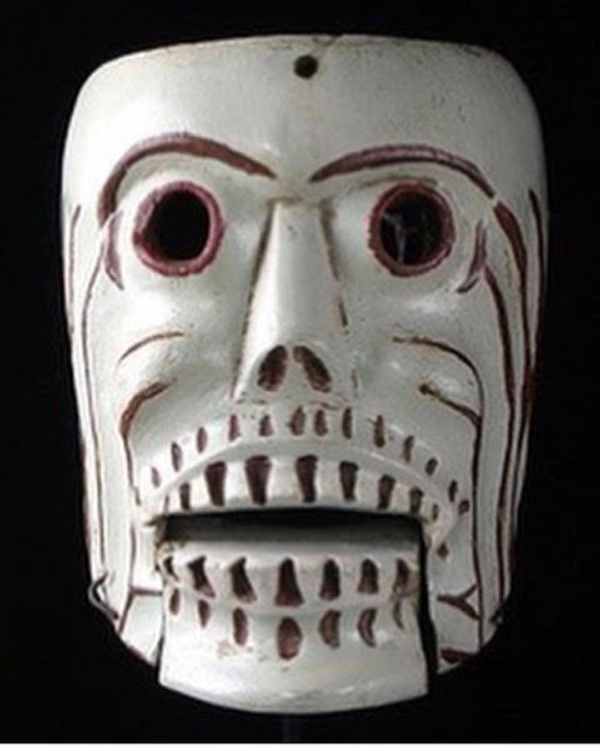 This one has an articulated jaw (it clacks).
Next week I will confess to once again yielding to temptation on EBay, when Pascola masks from one of my favorite carving families were offered for sale.
Bryan Stevens