Today we will look at the last of my overlooked skull masks. I purchased this one from Spencer Throckmorton in December, 1995, in Manhattan. Written in ink on the back are the words—Luvianos, Estado de Mexico. Luvianos is the name of a town located in a rural area that is about 130 miles Southwest of Mexico City.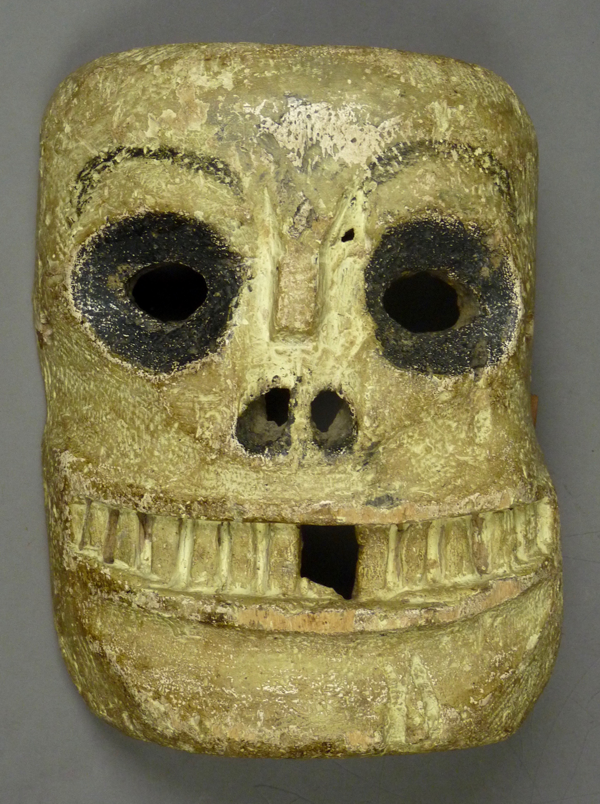 I don't know whether this mask originally had a gap in the teeth. Perhaps the gap was created by a dancer, to accommodate a cigarette or to enhance ventilation.
The mask came without information about the dance it served. The Calendario de Fiestas Populares, published in 1988, reveals that at that time there were many towns in the State of Mexico that still included a variety of masked dances. A few of the most popular dances included Los Moros y Christianos, Los Santiagueros, Los Doce Pares de Francia, las Aztecas, Los Pastores, and los Concheros. In the Sierra de Puebla the Moros y Cristianos performance sometimes includes a figure wearng a skull mask and a skeleton costume. Dances more likely to have included this skull mask were also listed—Todos Santos/ The Day of the Dead, Semana Santa (Holy Week), and Los Tecuanes (the jaguar hunt) , in which death is one of the dance figures. In Amatepec, Estado de Mexico, a town just 20 miles from Luvianos, we find the Moros y Christianos and the Tecuanes dance; if we went a little further, there would be Semana Santa performances. So who knows what dance required this wonderful old mask.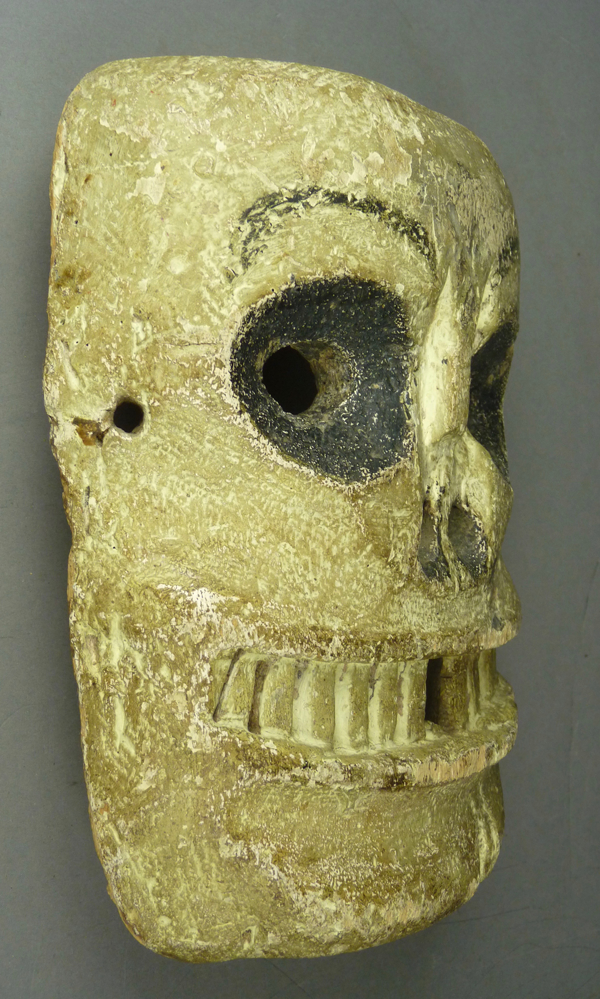 There is a small rectangular projection to represent the bridge of the nose.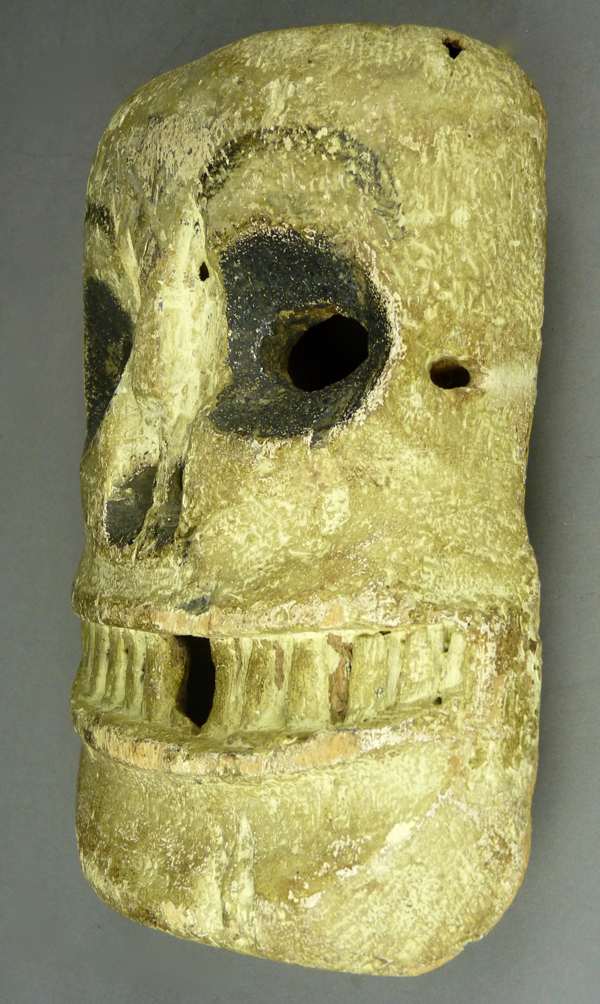 This mask has a flat top and an equally flat chin.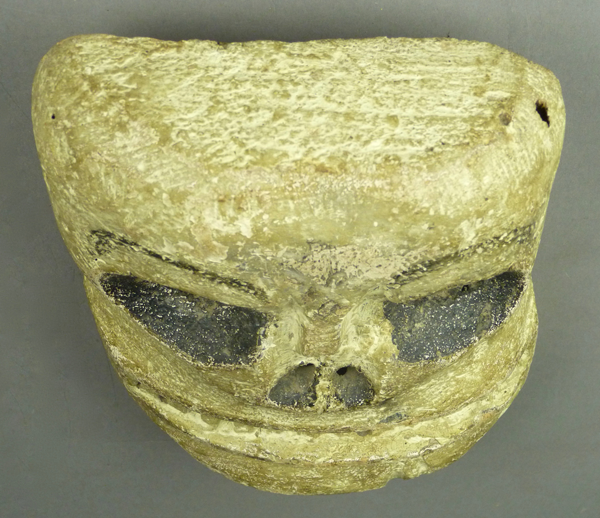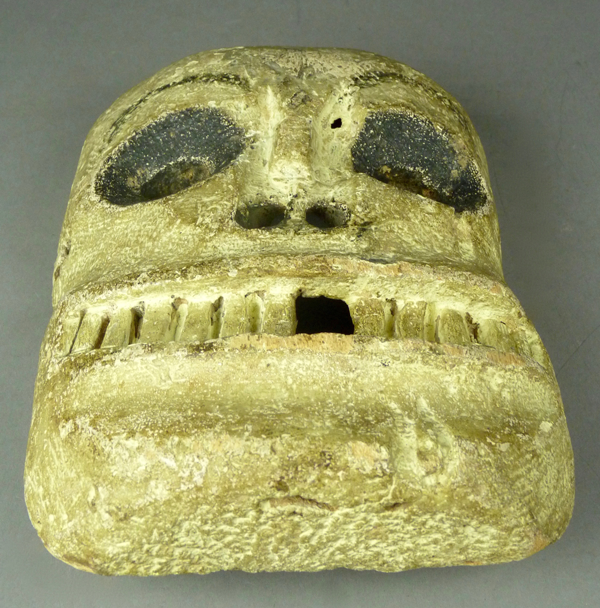 This is a rather flat mask- a hollow slab.
This mask is 8½ inches tall, 6½ inches wide, and 2 inches deep.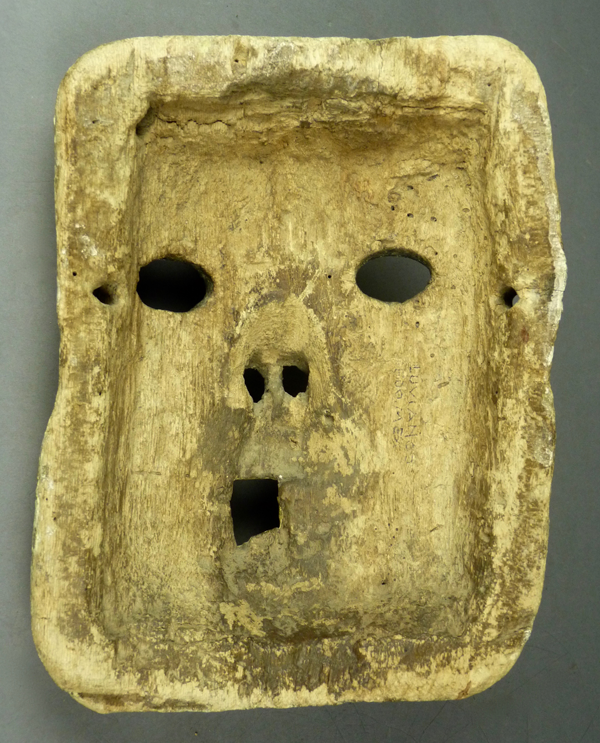 There is obvious staining from long use.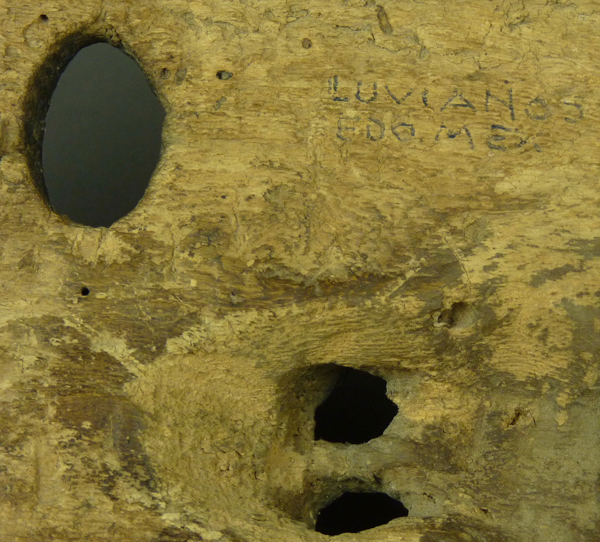 Under the right eye are the words Luvianos, Edo. Mex.
Next  week we will continue to examine old skull masks from Mexico that are in the collection of a visitor to this blog from Sidney, Australia.
Bryan Stevens