From time to time I have used a mask found on EBay™ as the starting point for a post, to illustrate that one can find amazing or interesting masks in unexpected places. Such finds are not without peril; one requires luck, knowledge and experience to sort out the Mexican masks offered on EBay, as these tend to be a mixed lot, with many reproductions that have been falsely aged, along with just an occasional gem. Nevertheless, I have occasionally bought something there due to curiosity alone, in the absence of any sure knowledge, to later wonder whether I have been either lucky or unlucky in this purchase. In fact this is often how one learns about such things, by taking risks and then engaging in a process of research and evaluation to assess the "damage." Today I will discuss a trio of interesting masks that curiosity alone prompted me to purchase on EBay in 2006. In preparing this post I have developed greater insight about them, particularly due to the recent appearance of Mexican fiesta videos on YouTube™ that broaden one's knowledge.
In order to set the stage for the trio of EBay masks, I will start with a mask and headdress (or cap) from Naranja, Michoacán. It was labeled as a Fariseo (pharisee) mask for use during Semana Santa (Holy Week/ Easter). According to an exceedingly useful book, Purépecha Masks: 2002 Catalogue, this can also be called a Judas mask. A duplicate in the Catalogue was carved by Eufemio Maya Zavala (of Naranja, Michoacan).  In other communities we find a range of similar terms for the masks used during Holy Week—such as Judios (Jews) in San Luis Potosí and Fariseos in Yaqui and Mayo performances. The Fariseos in the latter communities are also said to be the "Soldiers of Rome," and there are still other communities in Mexico where this sort of language dominates during Holy Week—for example Robenos (Romans) and  Centurions.
When I acquired this mask in 1989 it was in excellent condition. Much later it began to shed fine sawdust, indicating that an infestation with boring insects had reactivated. The insects tunneled extensively within the walls of the mask, and although they did not cause significant external damage, the surface of the mask was weakened in spots, So, for example, the tip of the nose became fragile. I treated the infestation with freezing and thawing, which seemed to stabilize the mask. The openings for the eyes are covered with glass on the inside edge, and behind the glass painted paper supplies the images of irises.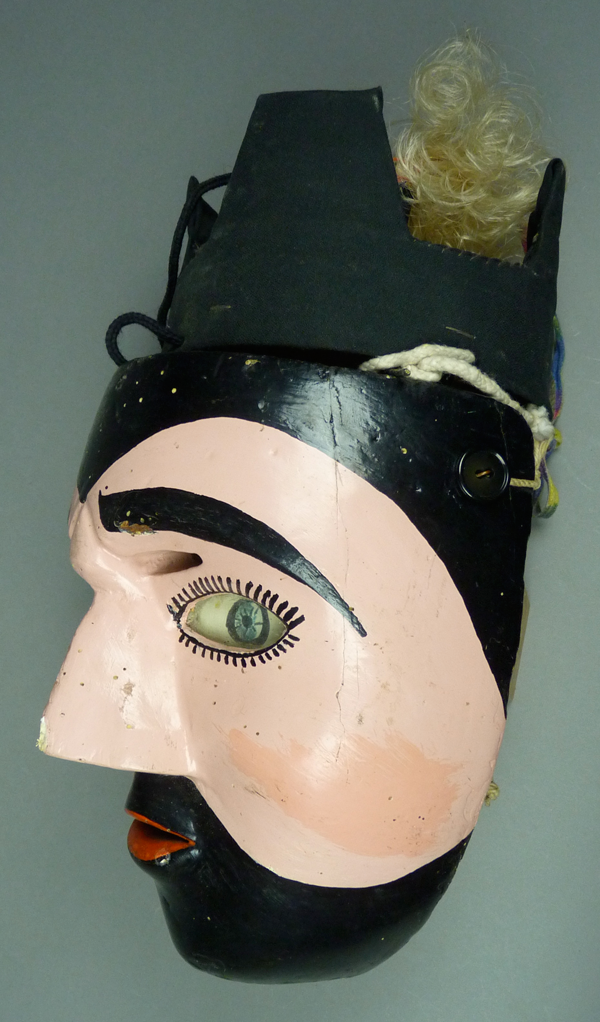 This mask measures 9 inches in height, 7 inches in width, and 5 inches in depth. The headdress, of cardboard covered with cloth, mimics the cap of a European curate (priest), to connote a Jewish priest (fariseo/pharisee). It is 6 inches in diameter and 3½ inches in height. I don't know what kind of hair forms the tuft on top. Note the design of the brow in this view.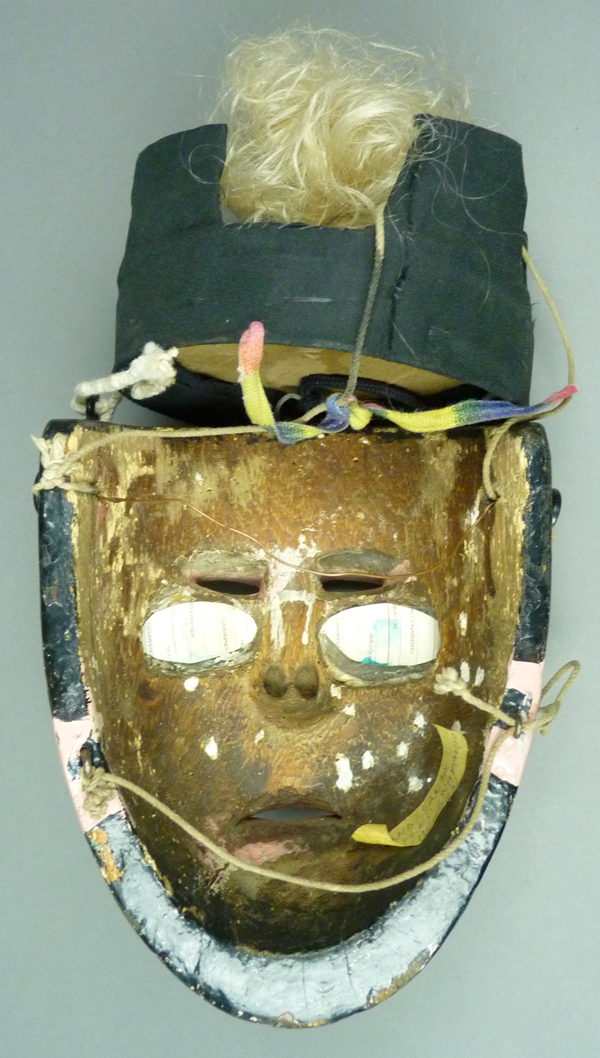 This appears to be an old mask.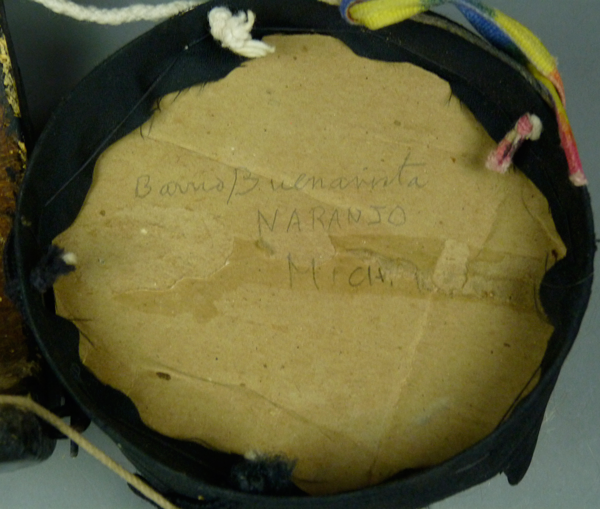 Inside the cap someone documented the neighborhood (barrio) of the dance group—Barrio Buenavista/ Naranjo (sic), Michoacán.
Here is a YouTube video taken in 2012, in the neighboring community of Ajolotes/Zacapu, of Las Judas (the Judas dancers). The Judas dancer in the video is wearing a mask and cap that are identical to the one in these photos.
https://www.youtube.com/watch?v=D4c6OvQqPuQ
In the video, a number of onlookers permit the Judas figure to ritually whip their legs. I have found no explanation for this, but in other Mexican fiesta settings such whipping is meant to expiate past sins or instances of misbehavior; by submitting to this punishment the victim acknowledges past wrongs, does penance, and asks God for forgiveness. In Yaqui communities, for example, families bring their children to be ritually whipped by the Fariseos; this is an obviously sacred Christian ceremony.
Now I will describe the mysterious trio of masks that I purchased on EBay in 2006. The listing was for three masks from the Pasión de Christo (i.e. the Passion Play) that relates the events of the crucifixion and resurrection of Christ. The seller went on to say that he had purchased these masks 35 years earlier from the family whose members had danced with these masks. The family said that the masks were already 100 years old at that time. Two of the masks had old tags in Spanish, written in ink. One of those tags is too faded to read, the other is barely legible. Here is the text of that tag—"Soldados (3 pcs). Semana Santa: La Pasión de Christo. Acachuén, Mich. Tarascan." On a map, I discovered that Acachuén is about 25 miles down the road from Naranja, in an area of small mountain towns that have a history of shared traditions. The locals call this area La Cañada (a valley hemmed in by mountains). In the performances related to Semana Santa in Mexico, Soldados (soldiers) is shorthand for Roman soldiers, the legionnaires who served under the orders of the Emperor, Pontius Pilate, to supervise the capture and crucifixion of Christ. All over Mexico the Spanish missionaries used this drama as a tool for the teaching and conversion of the Indians to Christianity. Sometimes the soldiers wear Roman costumes and helmets; in other places they wear veils or masks along with a great variety of local costumes. Whether we are speaking of Soldados, Fariseos, Judas figures, Judios (Jews), Romenos, or Centurians, in the end all these terms refer to the same thing—a group of devout Christians who portray themselves as powerful and dangerous enemies of Christ. Their actions emphasize Christ's gift of self-sacrifice and set the stage for the celebration of the Resurrection.
Here are the three Soldado masks from Acechuén, Michoacán.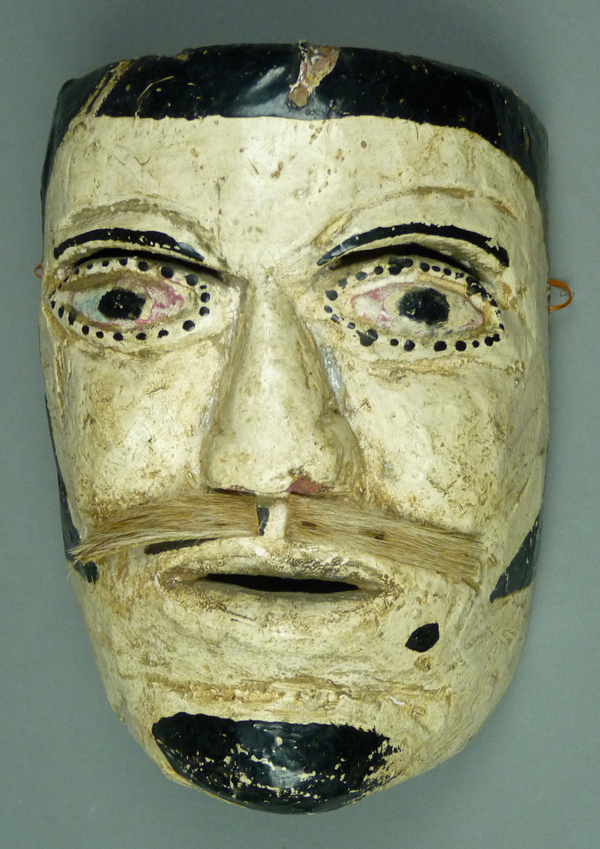 This mask measures 8 inches in height, 5 inches in width, and 3 inches in depth.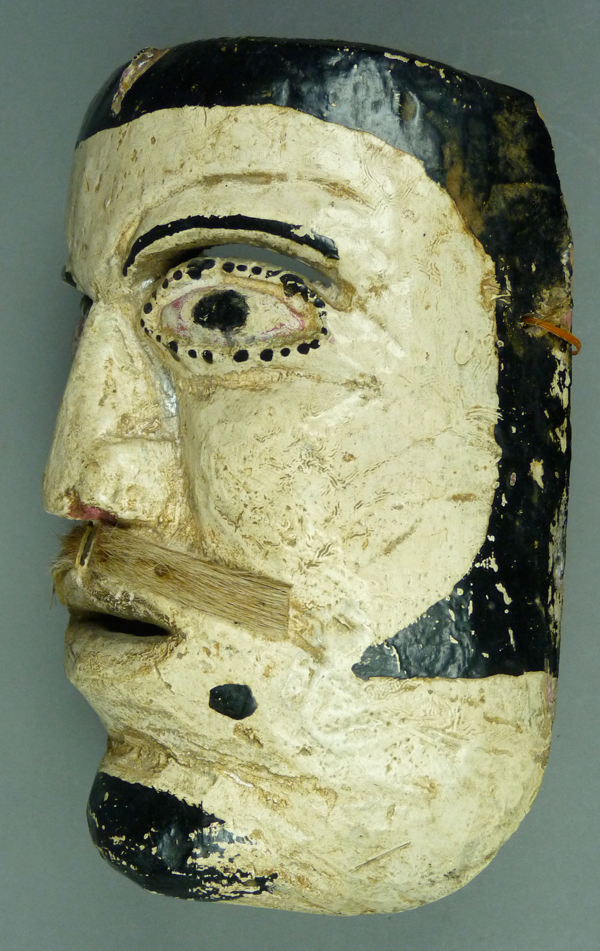 Two strips of hide have been tacked on to imitate a mustache.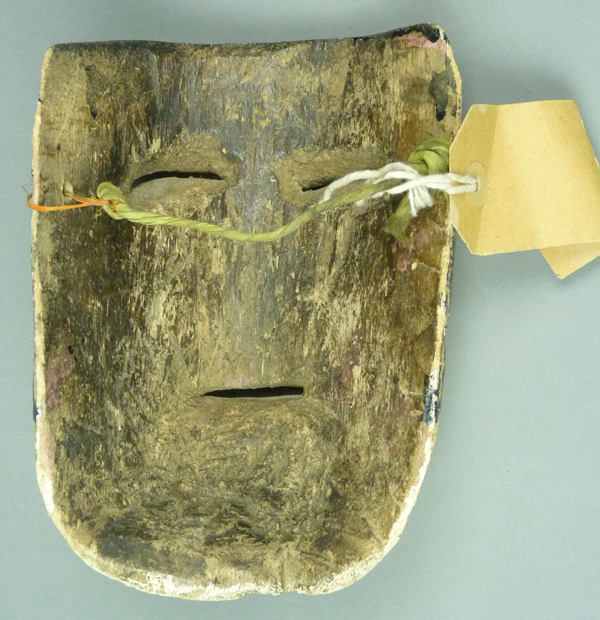 Examination of the back suggests that this mask has had considerable use.
The second Soldado mask is very similar to the first.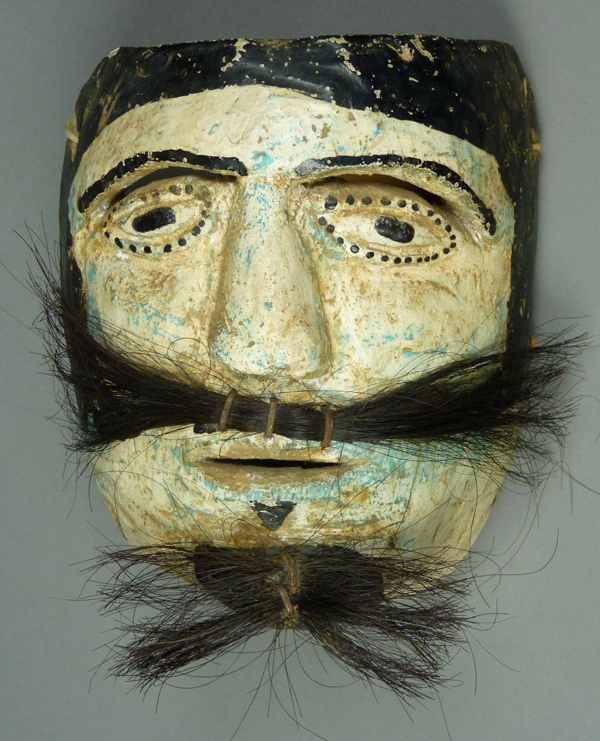 This mask measures 7½ inches in height, 5½ inches in width, and 2¾ inches in depth.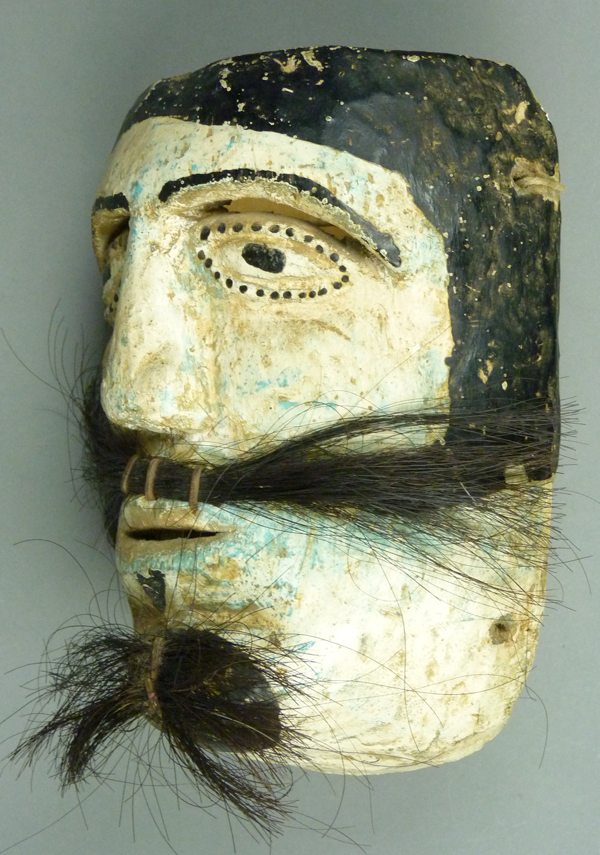 In this case bundles of horse hair have been attached with metal staples to provide the appearance of a mustache and goatee.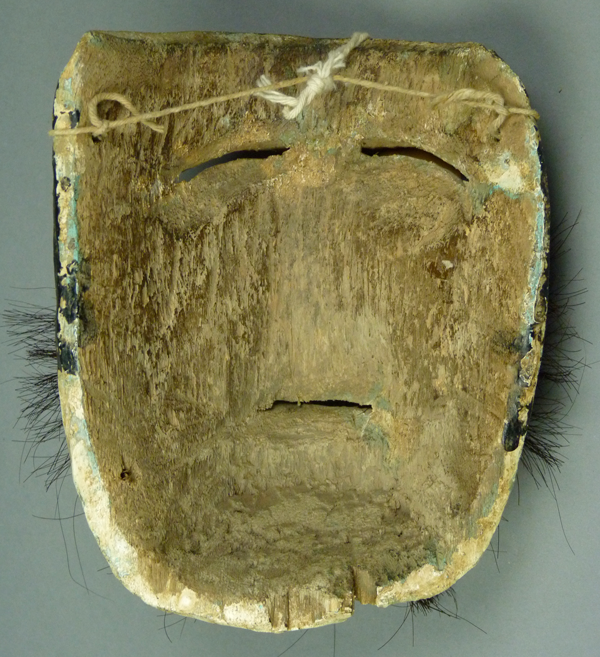 The back of this mask resembles the one above. One observes the wearing away of a protective coating due to long use.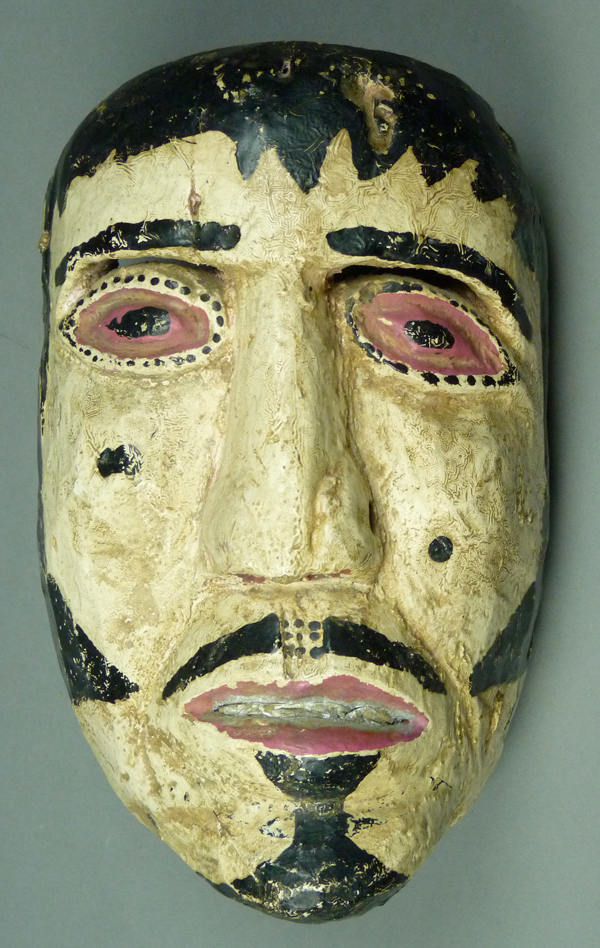 The third mask measures 8½ inches in height, 5 inches in width, and 3 inches in depth.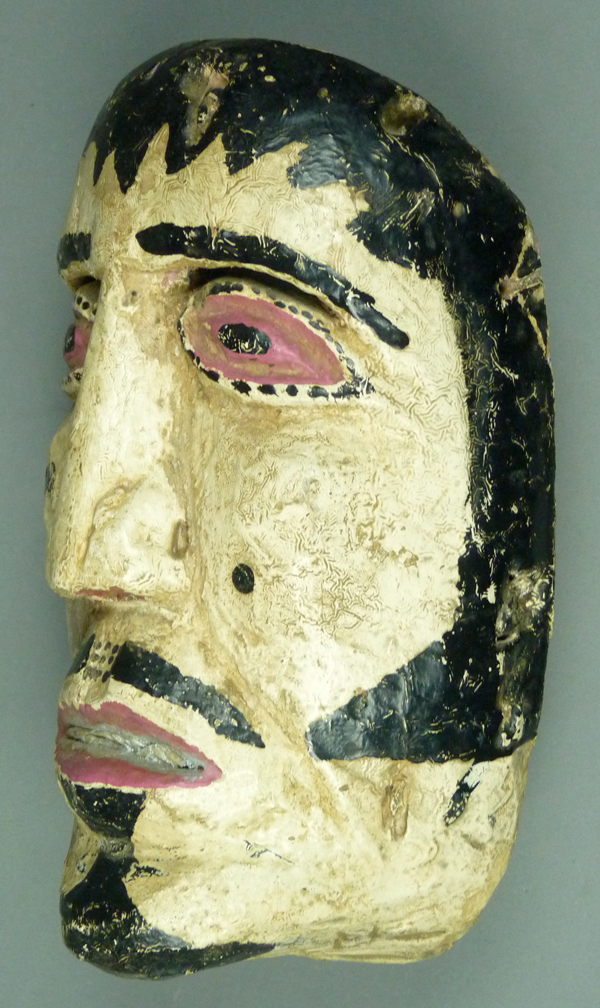 This mask demonstrates yet another method to depict facial hair, with painted mustache, goatee, and sideburns.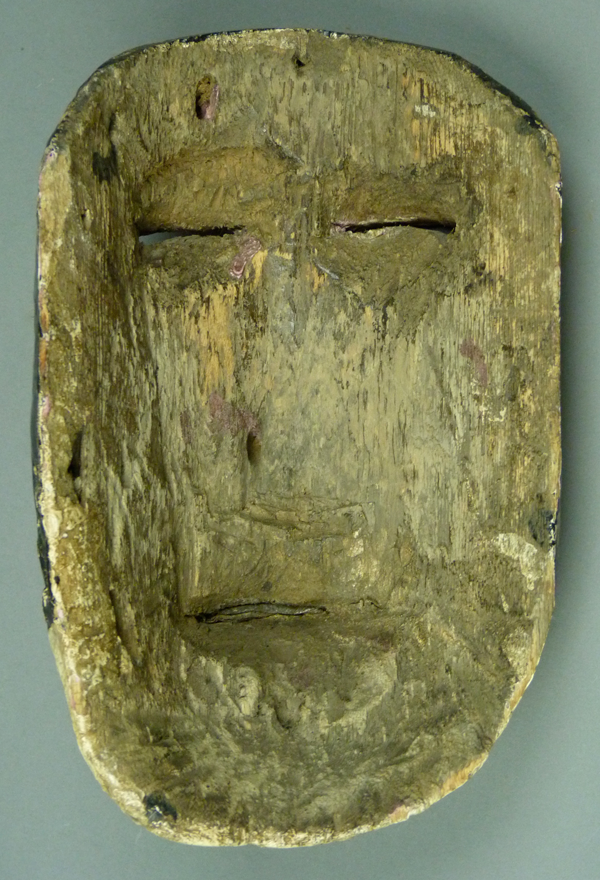 The back of the third mask resembles the other two backs.
In 1998 I bought a mask from Sergio Roman Rodríguez of Mexico City. It was said to be a Viejo from Michoacán. Later, noting that the back of the mask was so dark, I thought that this might be a decorative mask, so I showed it to Jaled Muyaes. He evidently recognized it at once, because he said- "They don't make decorative masks in that town." I didn't have the wit to ask the name of the town. But in my research for this post I found a photo of an identical mask; it was said to be a Judas mask from San Francisco de Uricho, Michoacán. You can see that photo on the following site, if you scroll down to the 4th photo below the one of the lake; it shows a masked man wearing a red and white shirt and a straw hat. The photographer reports the name of the town at the end of her post.
http://didyouseethewind.com/2013/05/09/omnipresence-of-judas-michoacan-mexico/
I subsequently noticed that one commonly sees the deliberate staining or coating of the backs of masks in Michoacán, evidently to protect against wood boring insects. The trio of masks from EBay probably had such treatment. In such cases one observes for the wearing away of the darker color as evidence of use (instead of darkening).
Here is my Judas mask from San Francisco de Uricho, Michoacán.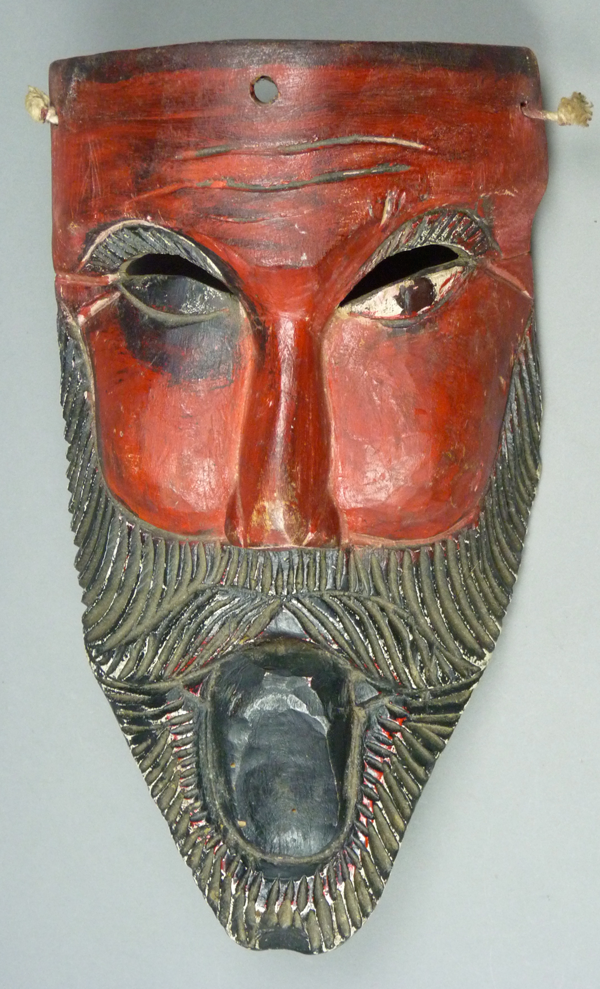 I had always wondered why this mask has the appearance of a "black eye" and I was even more puzzled by the black tongue. It recently dawned on me that Judas was said to have hung himself because he felt so ashamed that he had betrayed Christ. Evidently this mask is a representation of Judas after his death by hanging. This mask is 10 inches in height, 5½ inches in width, and 2¾ inches in depth.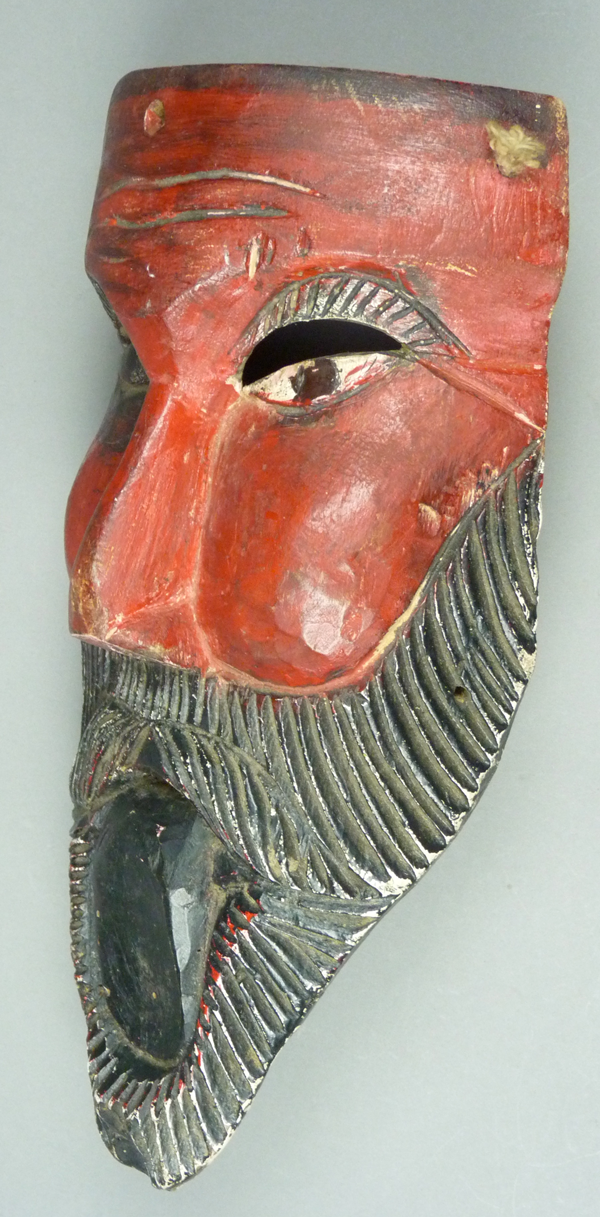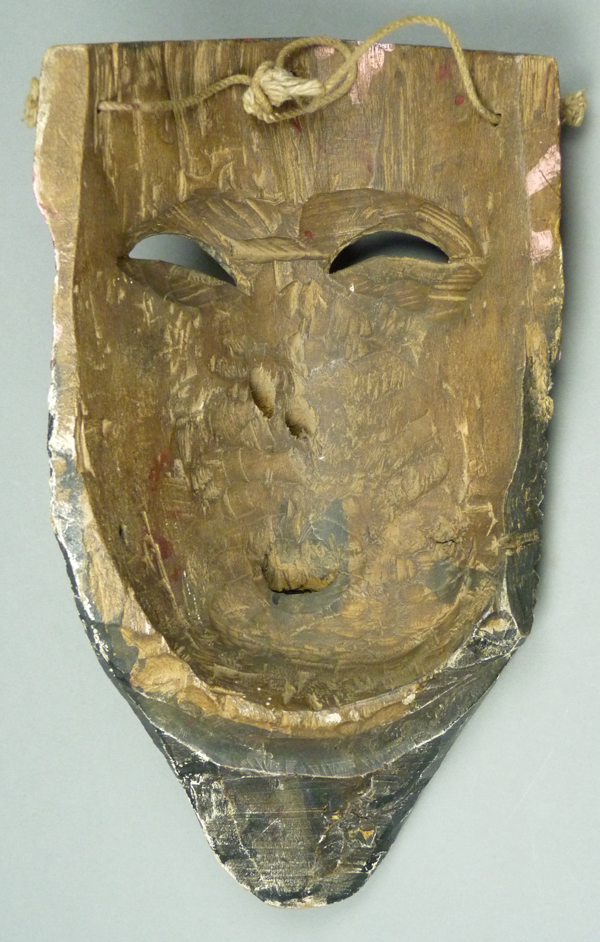 This is the uniform darkening of the back of a mask that results from the application of a protective coating. Of course such an application can be commonly seen in masks that have been falsely aged as well.
Enrique R. Lamadrid and Michael A. Thomas (1990, "The Masks of Judas: Folk and Elite Holy Week Tricksters in Michoacán, Mexico") observed a "clown troop" of red masked Judas dancers in San Francisco Uricho in 1986, during Semana Santa; they described " a two-hour period of near pandamonium." The dancers demanded donations from everyone—payment for their betrayal of Christ. The authors included a photo of a Judas mask that was carved by Juan Horta Castillo of nearby Tócuaro, Michoacan, and quoted his report that "Judas is not a devil; he is human. His face is red from the shame he feels for betraying Jesus." Here is a link to that paper.
 http://www.bsu.edu/classes/magrath/305s02/masks/lamadrid.html
In next week's post I will discuss Judas and related masks from other areas of Mexico.