Last week I showed masks associated with Holy Week in the Mexican state of Michoacán. Today I will follow up by presenting Fariseo masks from some of the  other states of Mexico—Guanajuato, Jalisco, and Queretero.
As I previously explained, the characters who threaten Christ in these passion plays can go by a number of different names, including Fariseos, Judios, Judas dancers, Centurions, Robenos (Romans), and Soldados. In next week's post I will discuss Centurians, Robenos, and unmasked Roman soldiers wearing tin helmets. Several posts will follow about the Judas dancers from Guerrero and San Luis Potosí to further explore this subject.
Today's first mask is a Fariseo from the state of Jalisco. I obtained this mask from the collection of Robert Lauter in 1988. Gesso (plaster of paris) had been applied to form the hair and sideburns. In contrast, the eyes and the mustache were carved in relief. The chin was painted blue to indicate a "5 o:clock shadow," a stylistic detail that one sees more typically in masks from the Mexican state of Chiapas and from Guatemala. This mask has marked patina, as if it is 50 or 75 years old, but it came with no documentation about its age.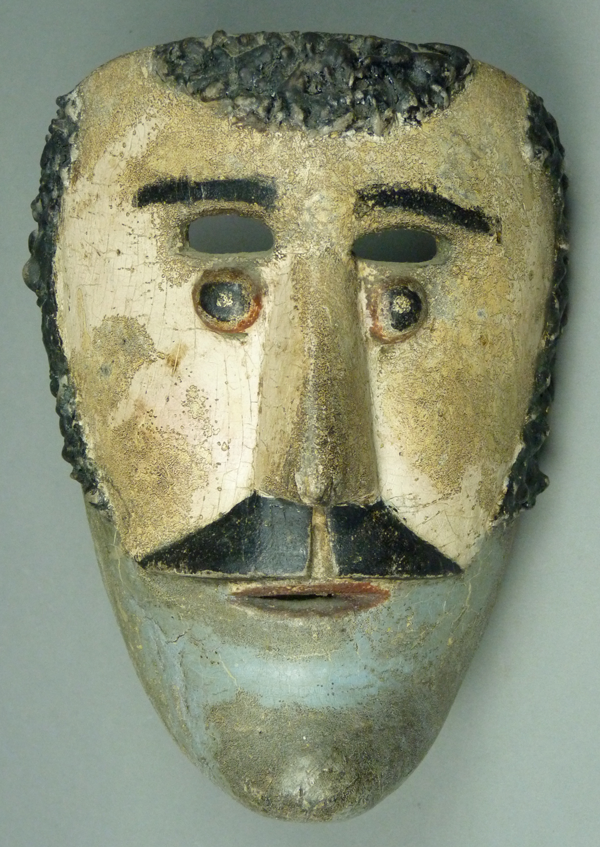 This mask is 8¼ inches in height, 6¼ inches in width, and  3¾inches in depth.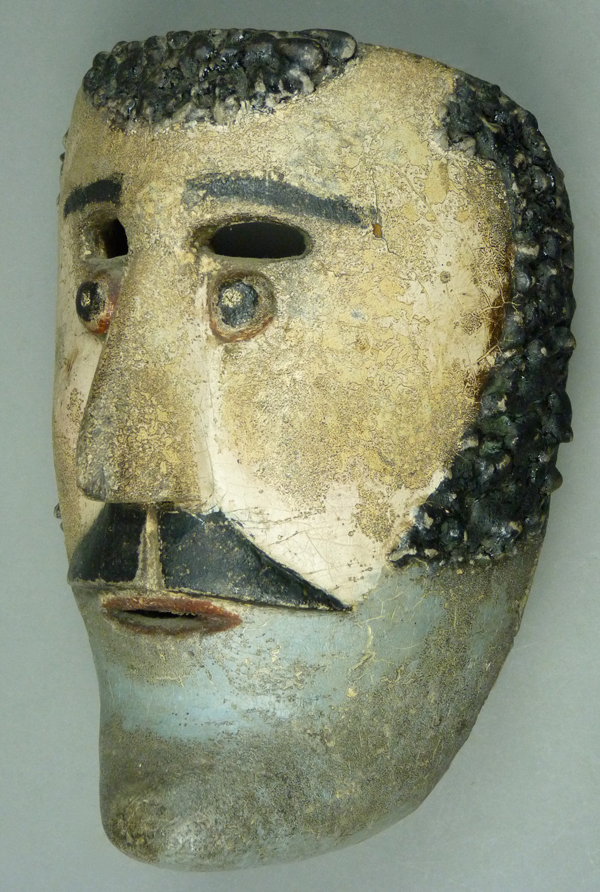 Last week we examined three Soldados from Michoacán; two of them had mouths that were exactly like this one in size and shape.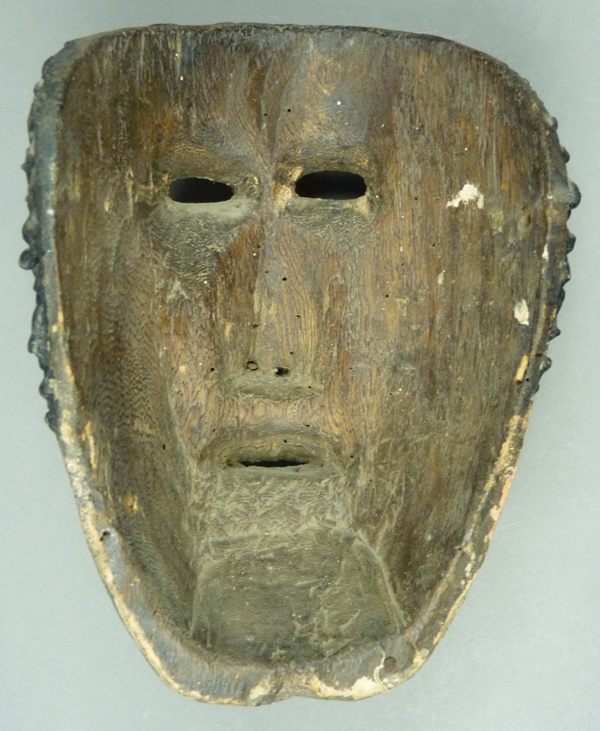 The back demonstrates marked differential staining from age and use, although it is only slightly less dark in the center, compared to the rim. Note that there are just a few of the pinholes that are associated with boring insects, suggesting that this mask had been carved from wood that was infested prior to use.
The next mask and the one to follow are from the village of San Bartolo Agua Caliente in the Mexican state of Guanajuato. They have several things in common, such as horns and silver paint.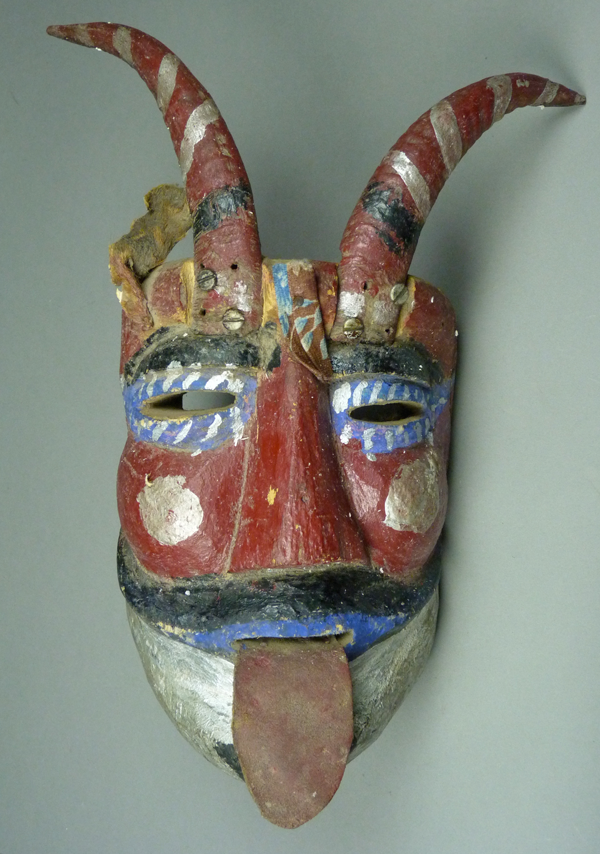 There were leather ears. The one that remains is dry and twisted.
The face of this mask is 9 inches in height, 6 inches in width, and  3¾ inches in depth. With the horns, the mask is 12½ inches tall, and there is a 10 inch span between the tips of the horns.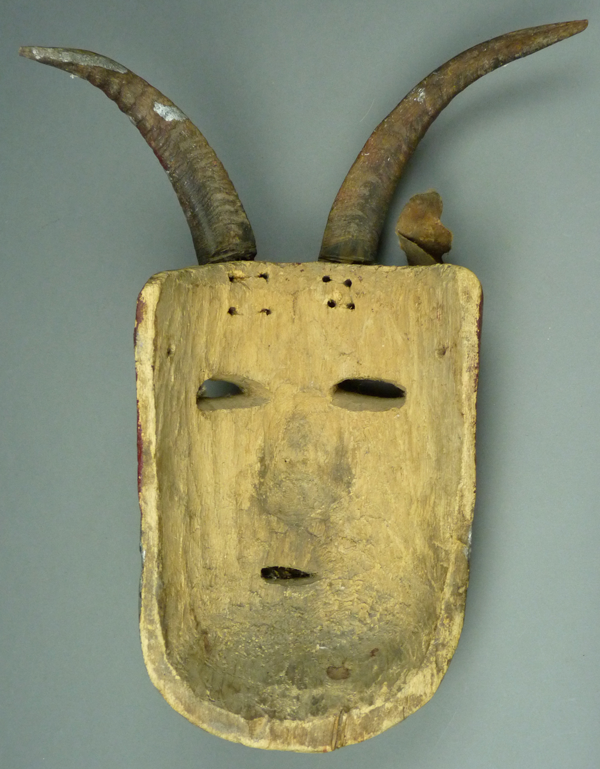 This mask shows only mild wear, as if it was worn for one fiesta and then sold.
The next Fariseo mask is also from San Bartolo Agua Caliente. It has a very unusual feature, a face that is divided down the middle to show two separate expressions, one from each side. If you examine the chin, you can see that this mask was at one time painted with different colors on the two sides.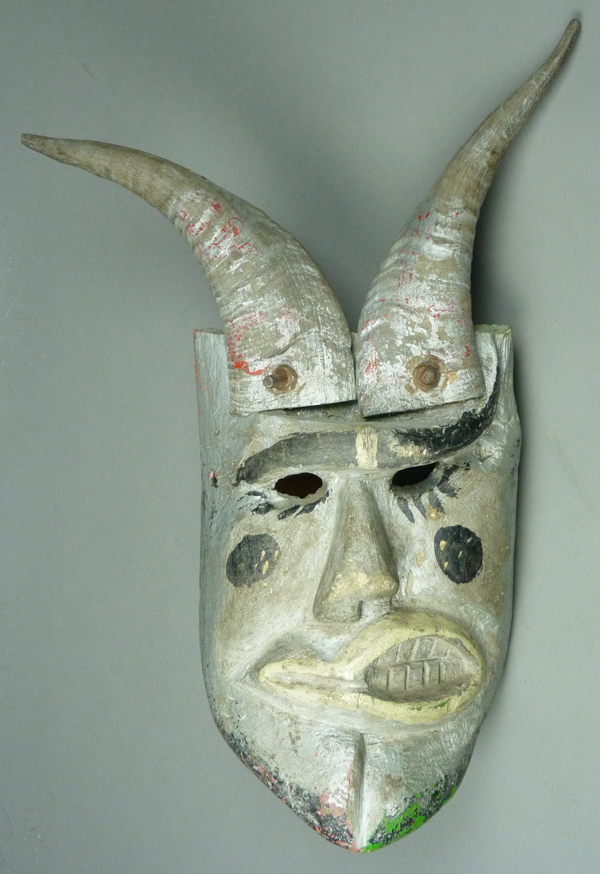 In my experience, this mask is highly unusual in the degree of asymmetry. Also unusual is the use of bolts or screws to secure the horns, although this seems to have been the norm in San Bartolo.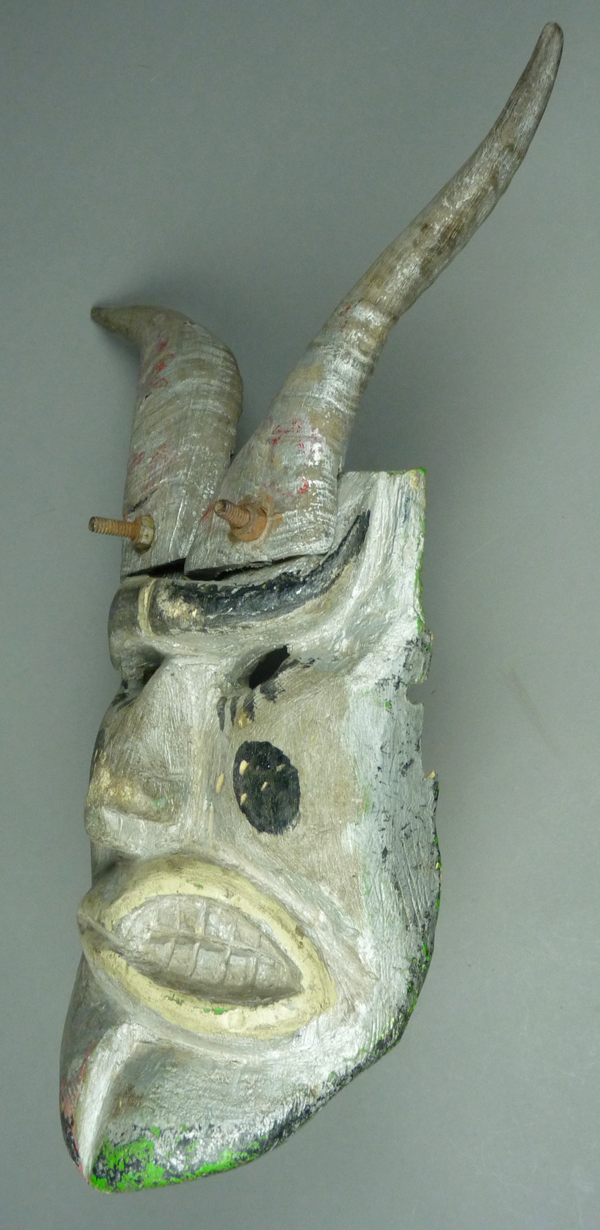 Even the nose is split into two parts, one for each side.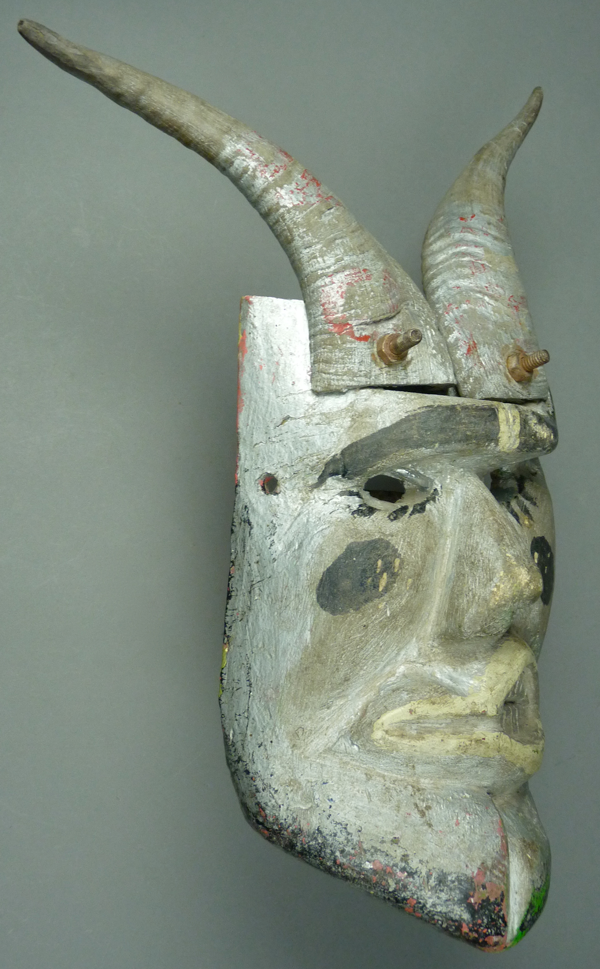 The face of this mask is 9½ inches in height, 6½ inches in width, and  3 inches in depth. Its height is 16 inches with the horns.
There is considerable staining from use.
The next two Fariseo masks are from the Mexican state of Queretero. The first, from an undocumented town, is the most surprising, with its long slender nose, which is attached to the face with a mortise and tenon joint.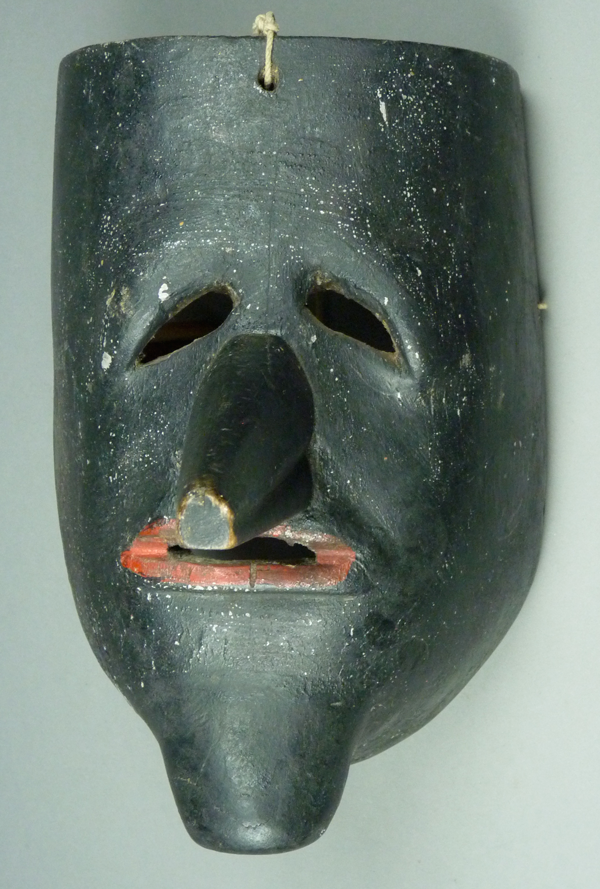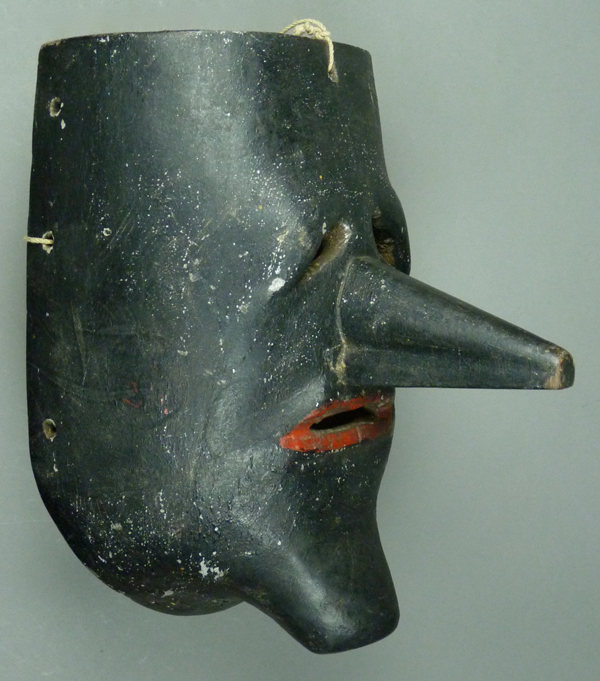 This mask is 10½ inches in height, 7¼ inches in width, and  7 inches in depth.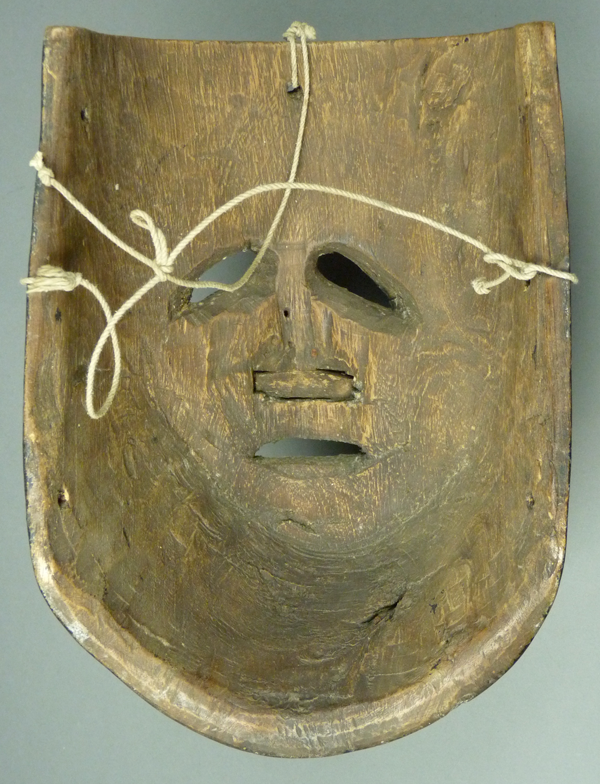 Note how the proximal end of the nose was shaped into a tenon in order to attach the nose to the face of the mask.
The last Fariseo mask in this series has the simplest design but the most elaborate paint. It was badly broken in the past so that it had to be glued back together. It is from El Pueblito, Queretero.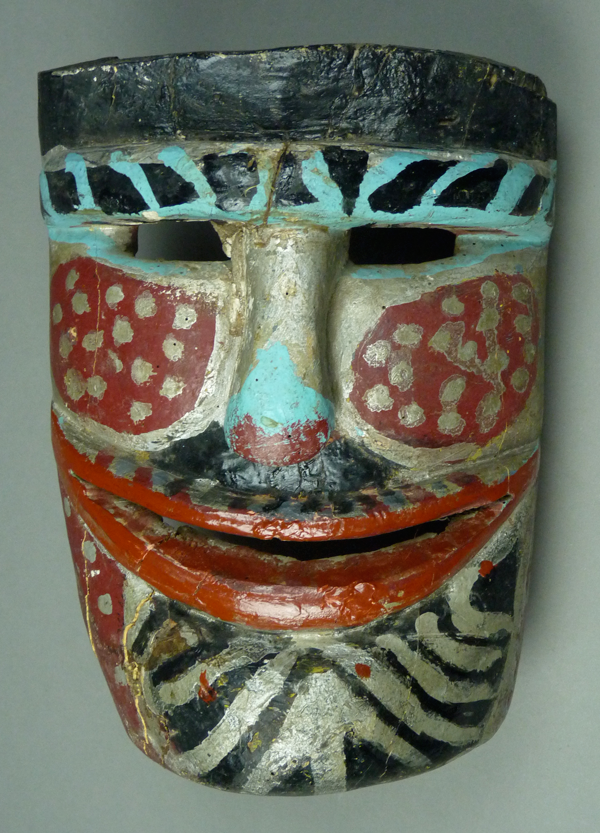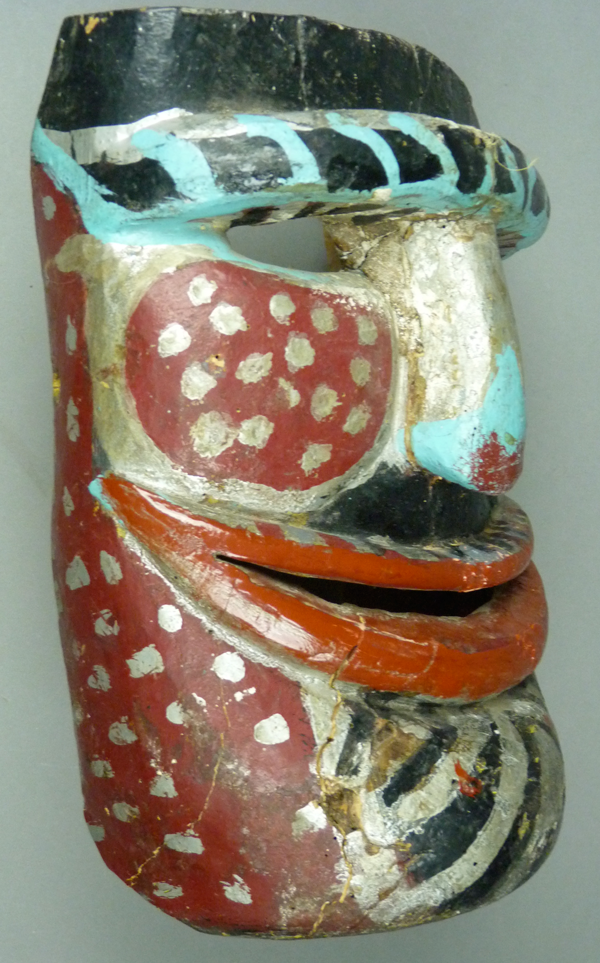 This mask is 9 inches in height, 6 inches in width, and  3½ inches in depth.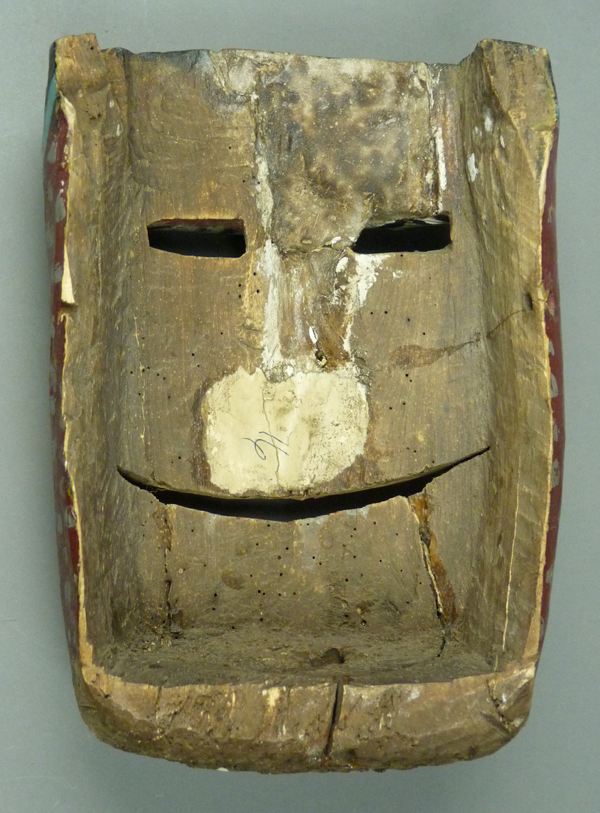 I hope that you have been impressed by the remarkable variety of Fariseo masks that you have seen today. Next week's post will feature masks or other costume elements worn by Roman soldiers in the states of Hidalgo and Mexico.