Occasionally I have devoted a post to a particular mask that I found on EBay™. Today I would like to discuss a handsome Huehue mask that was found there by Helmut Hamm, a mask collector who lives in Berlin, Germany.
Here is the mask.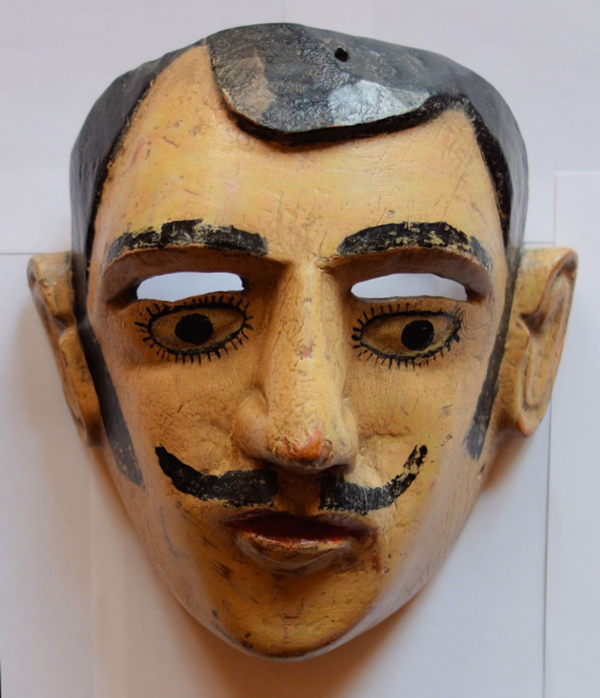 It has a dramatic hairline.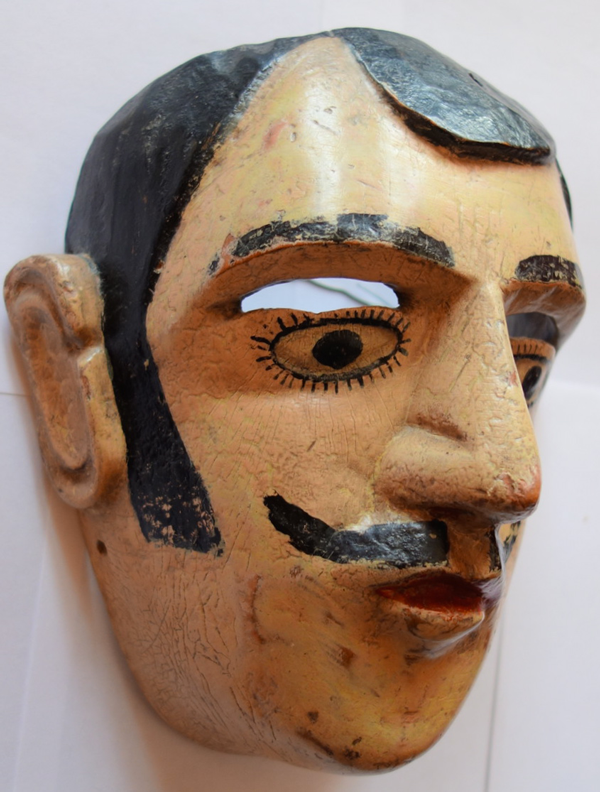 The paint is worn and cracked. The ear design makes one initially think of Benito Juárez and his relatives. The mask is 7½ inches tall, 7 inches wide, and 4½ inches in depth.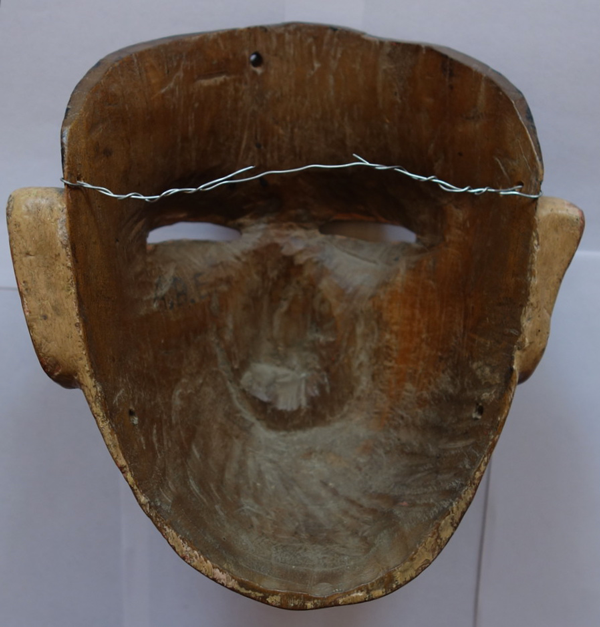 However, the back does not resemble the backs of Benito's masks. On the other hand, just look at the age of this mask, the extreme staining from use on the back. Spectacular!
Helmut began with several related questions—"I need to see it in person, but from the photos I was wondering if this was carved by Benito Juárez Figueroa? It certainly is very well done. The seller picked it up at a rummage sale in California, so there's NO history whatsoever. How do you date a mask like this?"
I replied—"The attribution of a carver is not so obvious. I agree with you that we can consider Benito Juárez, but I would add his father and a contemporary of Benito, Manuel Pérez. The oval recessed eyes are unlike any I have ever seen (because oval) and the hairline is unusual and remarkable." I attached photos of three masks:
1. a Manuel Perez mask (in my book pp. 154-5).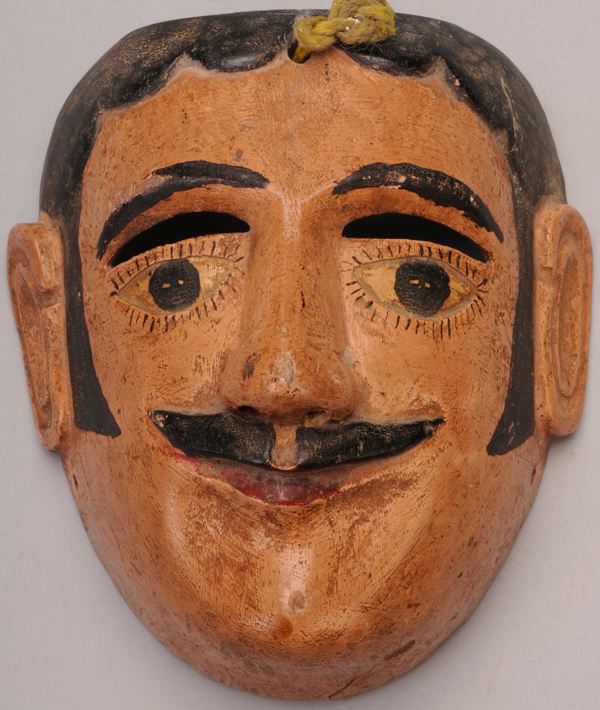 This mask is 7 inches tall and 6½ inches wide.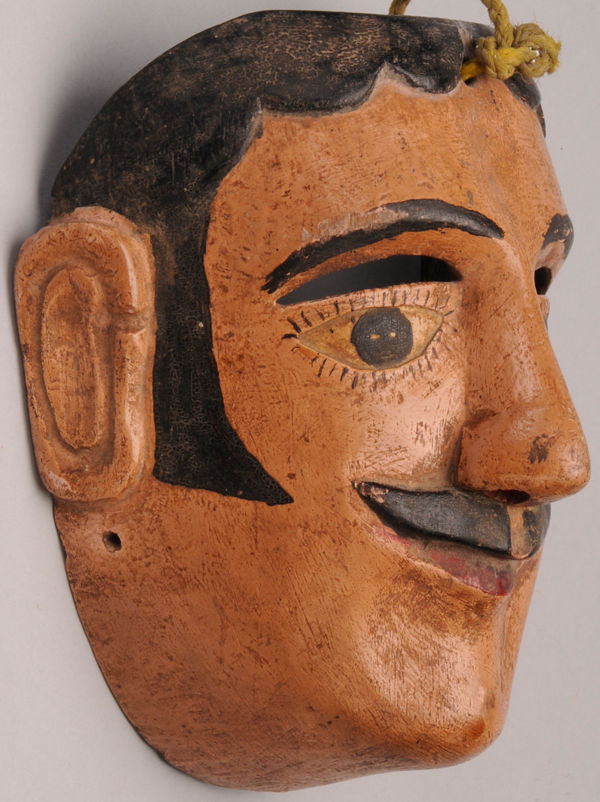 Compare this chin to the ones that follow.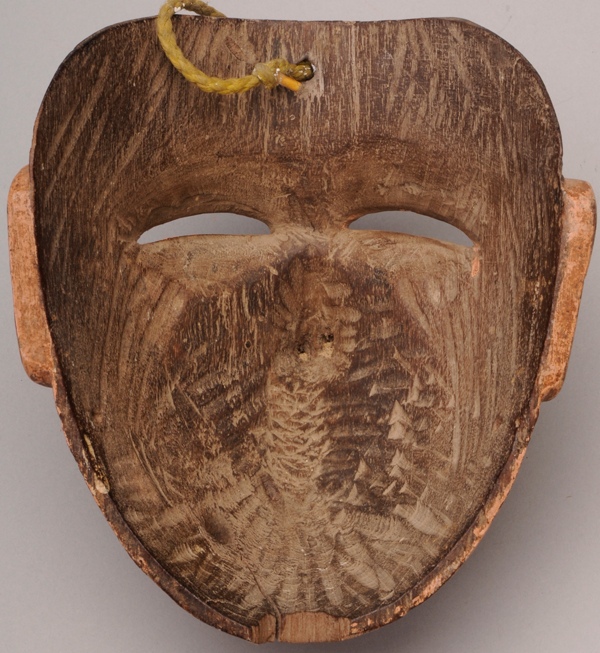 The Pérez mask has a great old back to go with the worn face.
2. a Benito Juárez Figueroa mask (in my book pp. 140).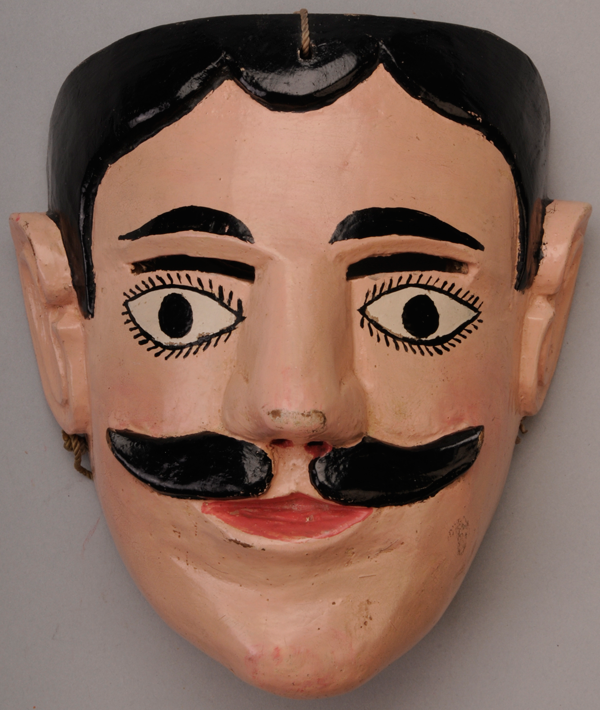 Do you see how different this chin is from the last one? Such stylistic details  tend to identify a carver.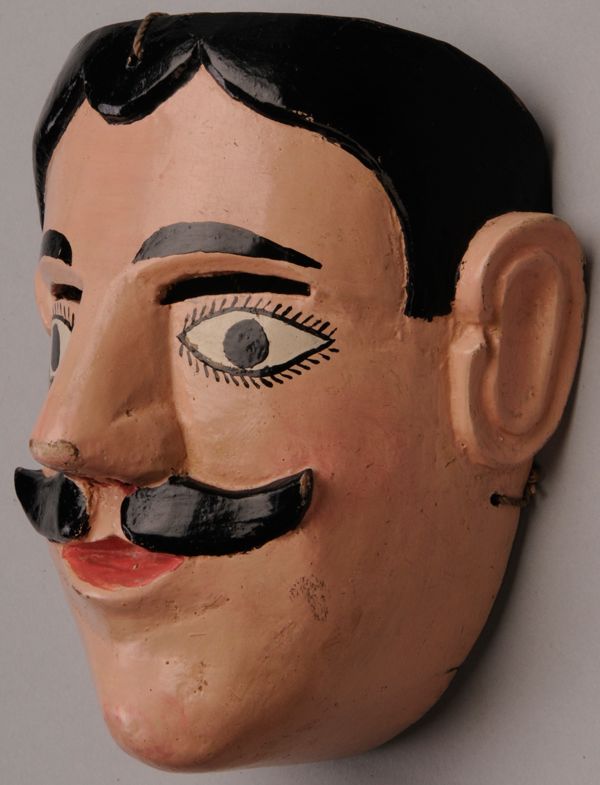 This mask is 7 inches tall and 6¼ inches wide.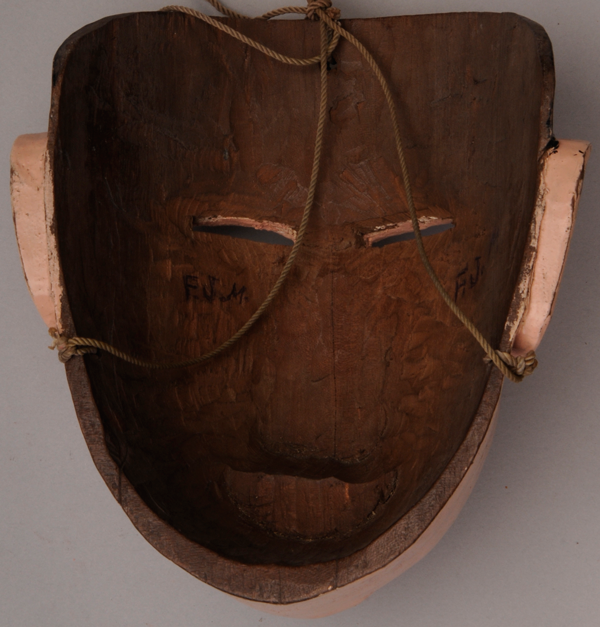 The carved shelf at chin level on the back of this mask is characteristic of Benito Juárez. I think it is obvious how different this back is from the back of Helmut's mask.
3. and finally a female mask that I bought later in San Miguel d'Allende because I assumed that it had been carved by either by Benito's Father or grandfather. Actually it has the recessed eyes of the Pérez mask. Why call this a female; couldn't it be a male face, someone might ask. The absence of a mustache is suggestive, although male masks without facial hair used to be in fashion in the Sierra de Puebla. More telling is the conventional feminine hairline. The last mask, by Benito Juárez, has a typical male hairline.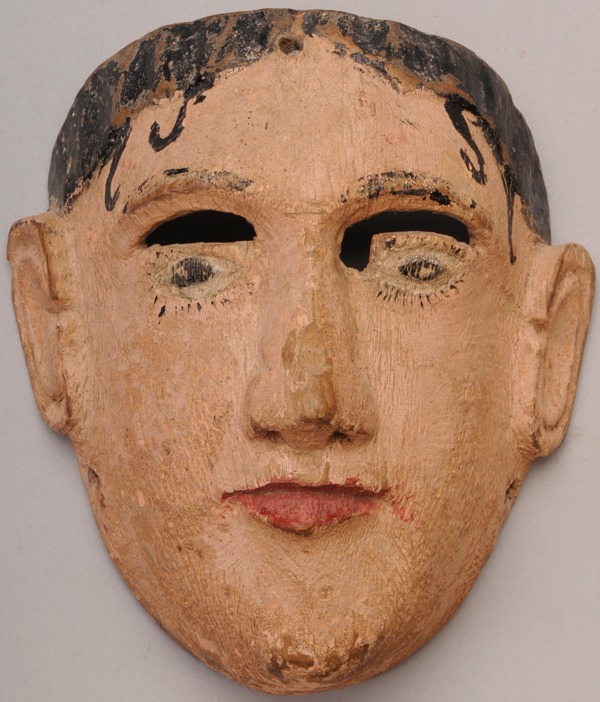 This mask is 7 inches tall and 6½ inches wide.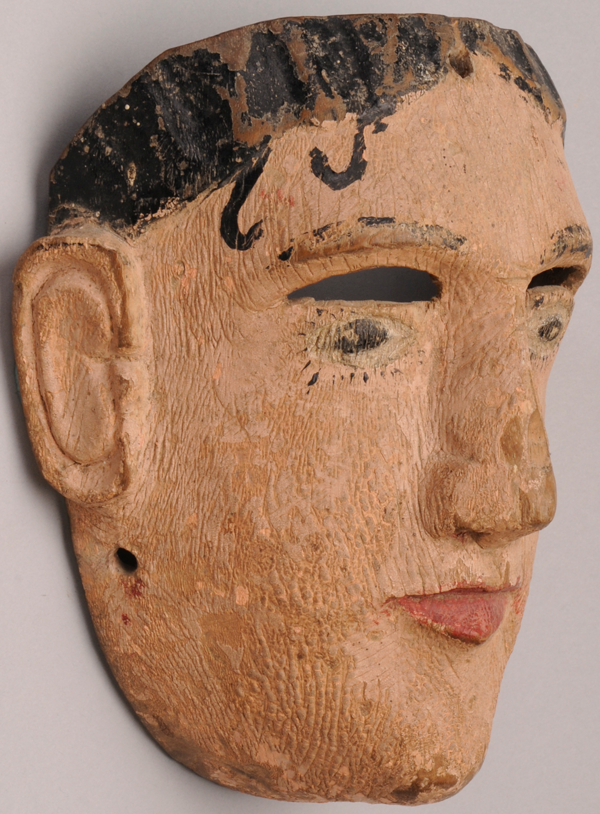 Although this chin is less dramatically carved than the Pérez, it has a similar shape with a subtle spine down the middle.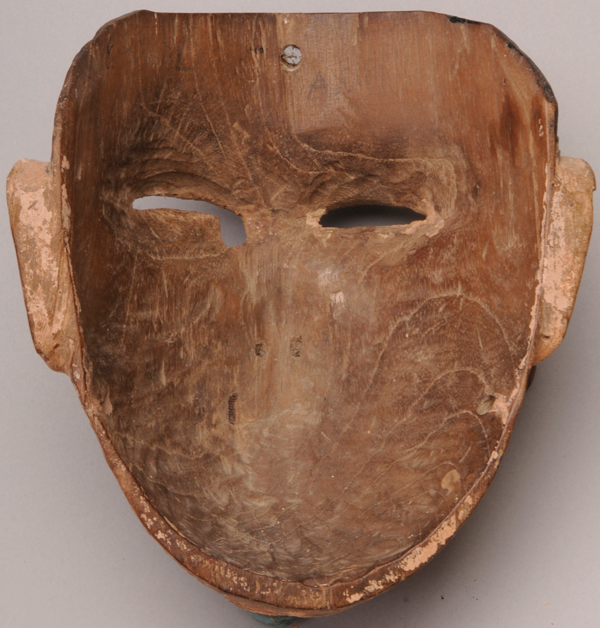 Another ancient and well worn back.
After we had compared the new mask to these three, we agreed that we were still uncertain. Helmut said—"Comparing images, I see the closest similarity to the old mask, that may have been made by Benito's father or grandfather [the third mask with the crackled paint]… There are obvious similarities to all three of them, and I don't see that we will find a definite decision at this point." But after further pondering, Helmut  returned to the puzzle—"Without any provenance, eventually it won't be possible to establish which member of the Juarez tribe carved this, but at this point, I'm reasonable sure that one of them did." Indirectly, Helmut was asking whether it was possible to tell the difference between the masks of Benito, his father, and his grand-father.
And indeed this was a question that I had struggled with as I was writing my Sierra de Puebla book, but that had been several years ago; what had I thought? I had formulated a theory, based on the available evidence (which was limited), about how to differentiate the masks of Benito Juárez from those of his father, José Juárez García, and from those of his grandfather, José Juárez. Although my memory of the details was foggy, I saw that I had laid out the evidence in my book, for instance on pages 134-135. Briefly, JJG (Benito's father) made knobby chins (p. 134),
This female mask was converted to a male mask with two strokes of a brush! However it still has a female hairline. This mask is 7 inches tall and 6½ inches wide. Photo courtesy of Vernon Kostohryz.
JJ (Benito's grandfather) made less knobby chins, where one is more impressed by lines that angle laterally from the edges of the nose, like the wake behind a boat, to define the territory of the chin(p. 135), and Benito's chins had yet again another shape. This mask is 6 inches tall and 6 inches wide; it has a male hairline but no facial hair..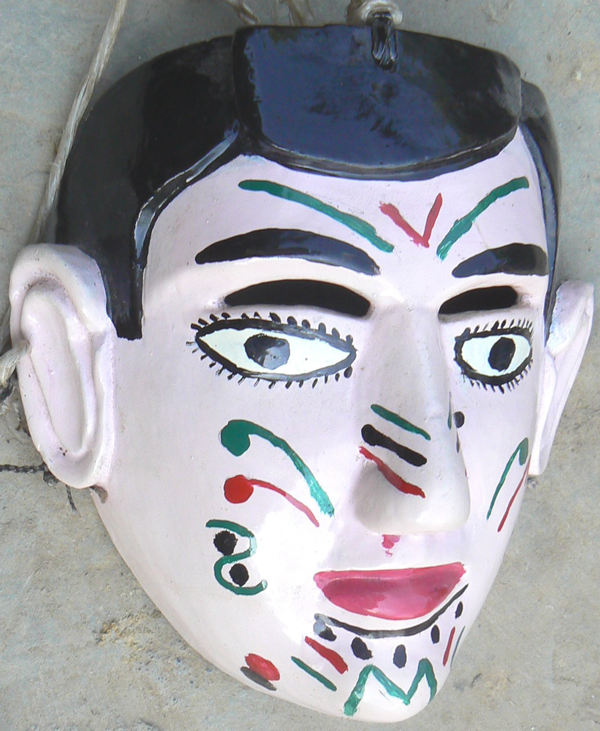 These were subtle but real differences. Helmut, I said, I remember the trick, so now I will look at your mask and determine whether Benito's father or his grandfather was the carver. This photo also courtesy of Vernon Kostohryz.
To my surprise, I didn't see either pattern! The chin looked more like those of Benito, but other features (the eyes, the ears, and the back) were very different if one compared the EBay mask to those of Benito. Nor could I see the chin of the father or grandfather when I looked at my old mask with the crackled paint. But I did agree with Helmut—of the three, that mask was the best match!
I won't drag this out too much longer. To cut to the chase, Helmut's EBay mask turned out to closely resemble one of the Don Manuel Pérez masks, not only when we compared their chins, but also when we compared their eyes, the painted lines around the eyes, their hairlines, their ears, and the manner of shaping their backs. Here is a Manual Pérez mask that seemed like a very close match.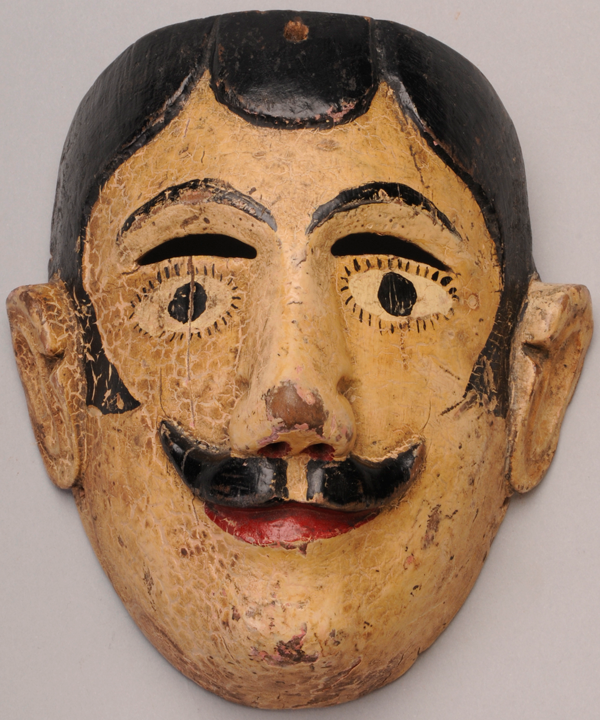 These eyes have the shape of those on Helmut's mask, but they are not recessed (carved to lie below the surface). The chin is not like any of the Juárez masks. The triangular valleys on the front edges of the ears look exactly like those on Helmut's mask.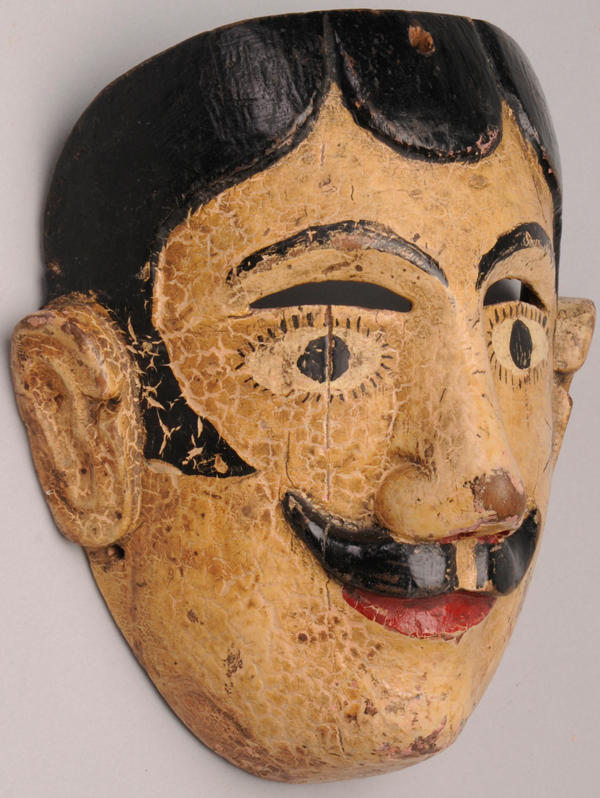 The hairline is very similar to that on Helmut's mask. From this angle one can see that the chin has the same subtle shape as the mask with crackled paint. The chin on Helmut's mask is similar. This mask is 7½ inches tall and 6½ inches wide.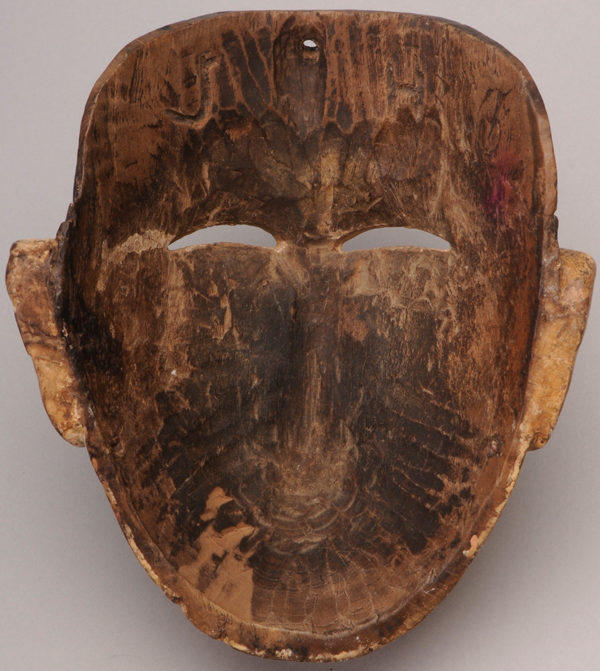 Yet another ancient back.
At this point Helmut and I agreed that our joint inquiry had led us to solve the mystery, really two mysteries—who carved Helmut's mask and who carved my old mask with the crackled paint. The answer was the same, of course, for both questions, as it now seemed that each had been carved by Manuel Pérez. This did finally answer Helmut's other question about the age of his new mask. I had learned that Manuel Pérez was at the height of his powers in about 1940, so this mask undoubtedly dated to around that time. Mask dealers and collectors are prone to speculate about the ages of masks, but the most realistic estimates are based on the identification of a known carver.
I hoped that you have found this interesting.
Next week I will present a mask that I recently found on EBay. Fortunately it was not as difficult to identify.