When I visited Jaled Muyaes and Estela Ogazón in Mexico City, in November 2001, Estela made a sad announcement—all building activity in the city had ground to a halt. The reason? Jaled had bought up all of the tools! Joking aside, Jaled had been collecting antique tools for many years, but in the late 1990s he began to construct sculptures by welding worn recycled tools into columns or other arrangements. These were very attractive; in his family courtyard one saw columns of pickaxes and totem poles of shovels. He made small iron animals that he called "bichos," Spanish slang for bugs or critters. He made masks from shovels; other tools provided the features.
Here is one of those critters.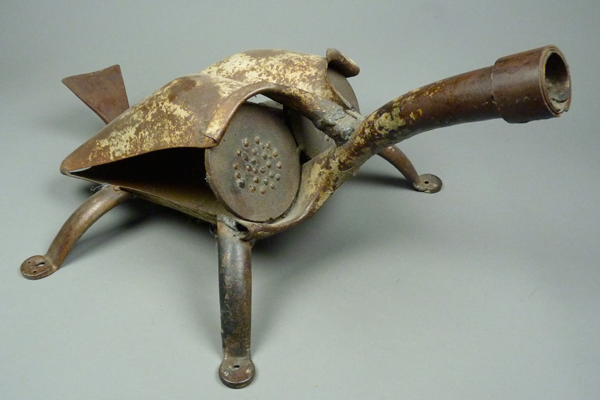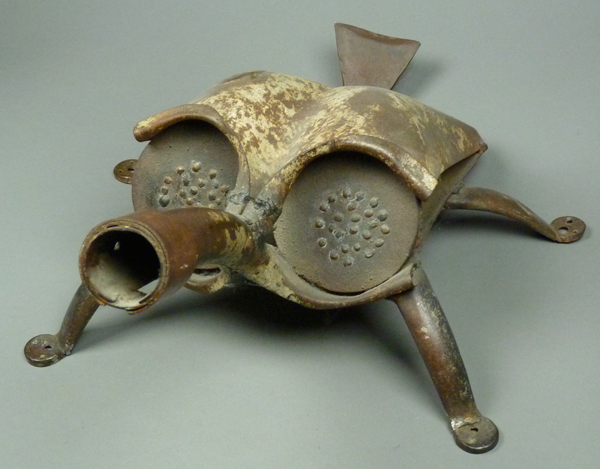 This measures 22 inches from the tip of the snout to the end of the tail, and 14 inches in width across the front feet.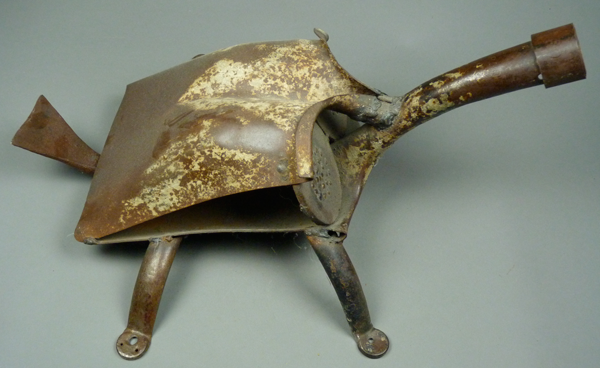 Jaled and his wife Estela began to collect Mexican dance masks in about 1960, or perhaps even earlier. Over the years they bought and sold many wonderful masks. After their deaths (Jaled in 2007 and Estela in 2009), they left a collection of about 4000 masks. As you may have noticed from my posts, I repeatedly visited them and bought a number of masks for my collection, including several that they had included in an exhibit in Mexico City at UNAM in 1981. But these masks were but one of many categories that had long interested Jaled. Today I want to particularly focus on his metal sculptures, which included masks. In the course of this presentation you will have glimpses of some of the traditional masks in their collection as well.
Here is a photo of Jaled and Estela that I took on one of my visits. They are standing in their booth at the Sabado Mercado (the Saturday market). Jaled is holding a Fariseo from San Luis Potosí.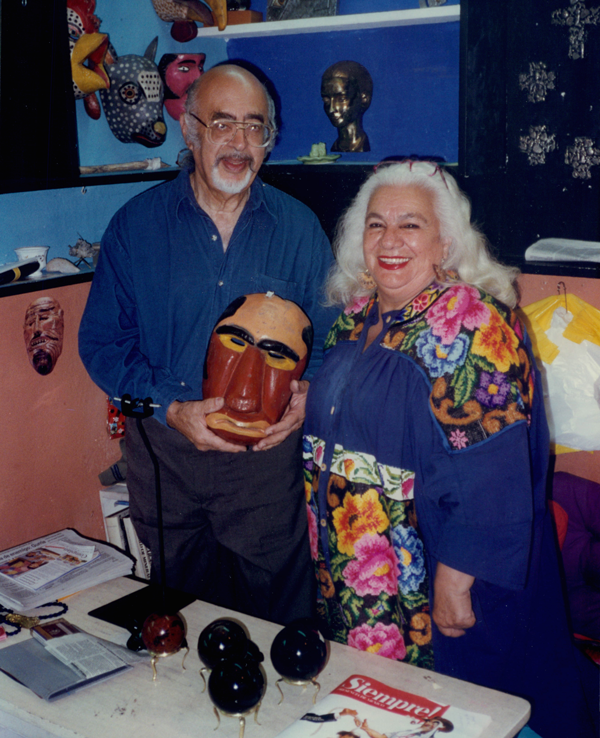 Here is a link to a documentary about Jaled's revived career as an artist in his later years. There you will see Jaled and many of his sculptures. To the right of the video screen you will find an option to see a video featuring one of Jaled's daughters, Karima Muyaes. If you click that screen (Entrevista de Karima Muyaes, Parte 1) you will see many of her paintings, you will get a brief tour of Jaled's house, and Karima (in Spanish) will tell about her father as a person who collected many different things. Walls of masks will flash by, for instance at 5 minutes 26 seconds and again at 7 minutes 50 seconds.
http://www.youtube.com/watch?v=yPpUANDFPwg
Next is a link to a new site where Kena Muyaes, Jaled and Estela's other daughter, has joined with  Rick Hall to offer Mexican masks, folk art, and antiques. I recognize at least one of the masks as from her parents' collection. The home page includes some wonderful dance photos, such as one from Michoacán of Maringuilla (Little Mary), flanked by Curpites dancers, and another from Michoacán of Diablos in the Pastorela (Shepherd's play).
There you can see a Diablo mask from Tanlajás, San Luis Potosí, to extend my series of posts on the subject of Fariseo masks.
http://laclandestinadf.com/product/diablo-or-fariseo-mask-mascara-diablo-o-fariseo-2/
Here is another video that features the traditional wooden masks.
https://www.facebook.com/fandelacultura/videos/vb.1440939596160012/1575521242701846/?type=1&theater
In conjunction with the 1981 UNAM mask exhibit, Estela had published a book—Máscaras—about their collection. There are a few photos of the UNAM installation in another book, Mascaras, Danzas Y Fiestas de Michoacan (pages 70-73), by Néstor García Canclina and Amparo Sevilla Villalobos. In the 1990s Jaled and Estela began to plan a larger and more comprehensive book about their masks. In anticipation of this, they created  Agenda 1998, a spiral bound datebook that featured some of their favorite masks; they handed this out to their customers and friends. However, Jaled revived other long-standing interests, and these led to his suspension of work on the book. Jaled and Estela did publish a dazzling but less ambitious book that focused on masks depicting the dead—La Muerte En Las Danzas Mexicanas: Coleccíon De Máscaras De Estela Ogazón, in 2005. But by then Jaled had long since redirected his energies to drawing, painting, collage, and sculpture.
Jaled Muyaes constructed a number of mask sculptures. Here we see him standing next to some of them, in 2001. Notice his debonair posture, standing on one foot. You may have noticed his daughter Karima in a similar posture in the video about her work.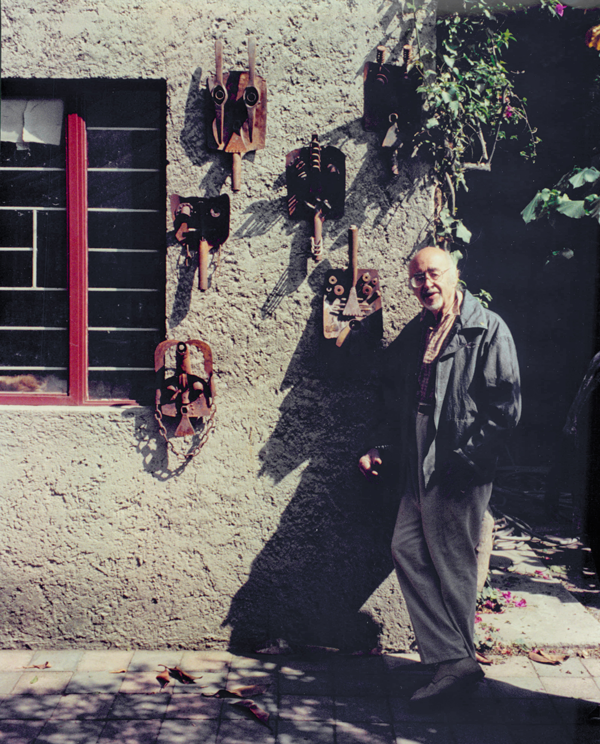 Next I will show two of these masks that I purchased directly from Jaled, along with the bicho, in November 2001. The first of these is visible in the last photo; it is m/l just above Jaled's head.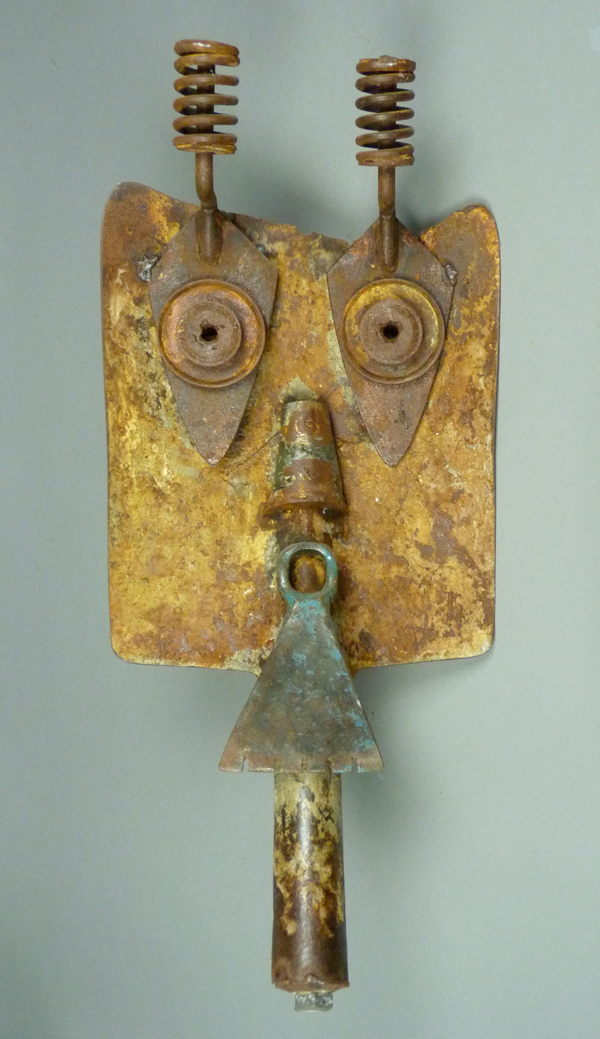 According to American folklore, such a personage is likely to say "Take me to your leader."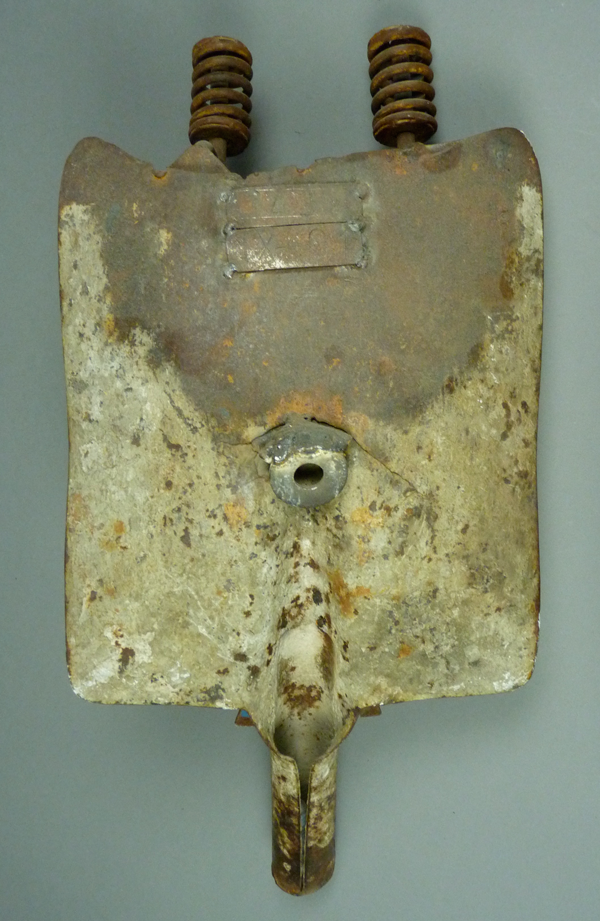 This sculpture is 18 inches tall and 9 inches wide.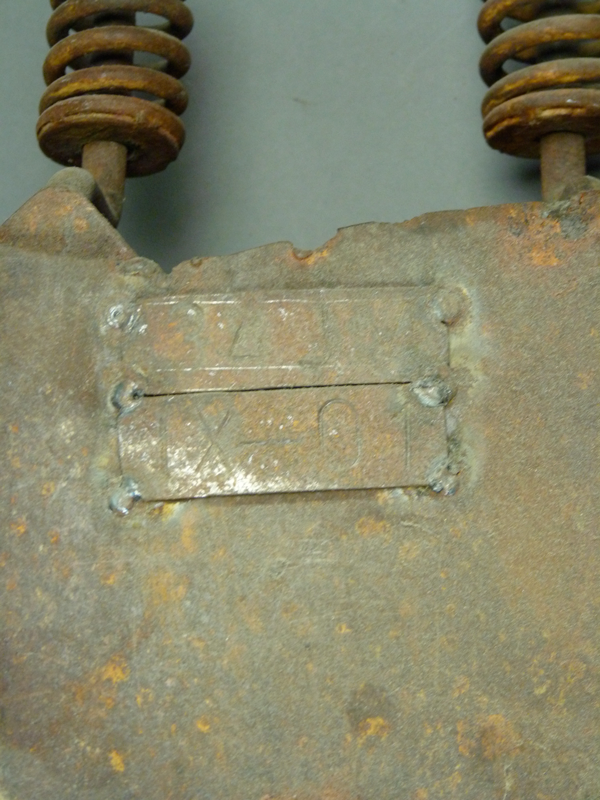 Jaled tacked some numbered plates on the back of this mask, as if it had been provided with a serial number in the robot factory
Here is the second mask.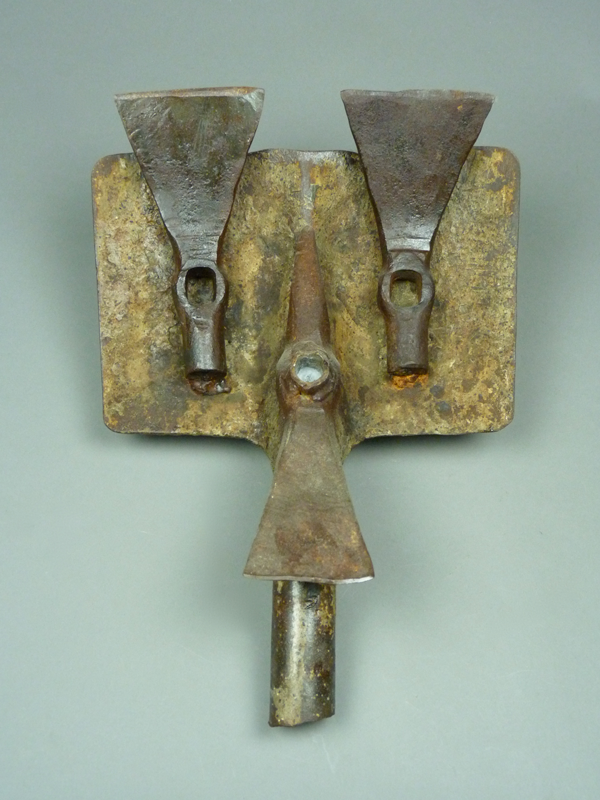 This sculpture is 13 inches tall and 9½ inches wide.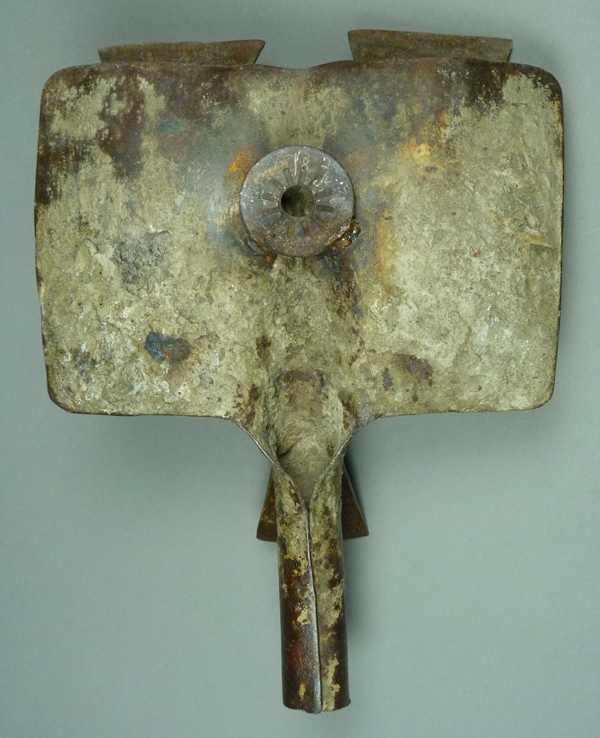 As you may have noticed in the video, Jaled made larger and more formal sculptures. There were many that I  admired, but particularly one with a welded frame that supported the wheel from a treadle sewing machine. He kept this on the steps leading into the kitchen from the courtyard. I hesitated to buy one of the larger creations, because I wondered how I would ever get it back to Pennsylvania. But eventually I bought the one on the kitchen steps, and had it shipped. This is the only one I ever saw with this design. Every one of his sculptures was unique, of course, but some fell into groups of related designs while this one always stood alone.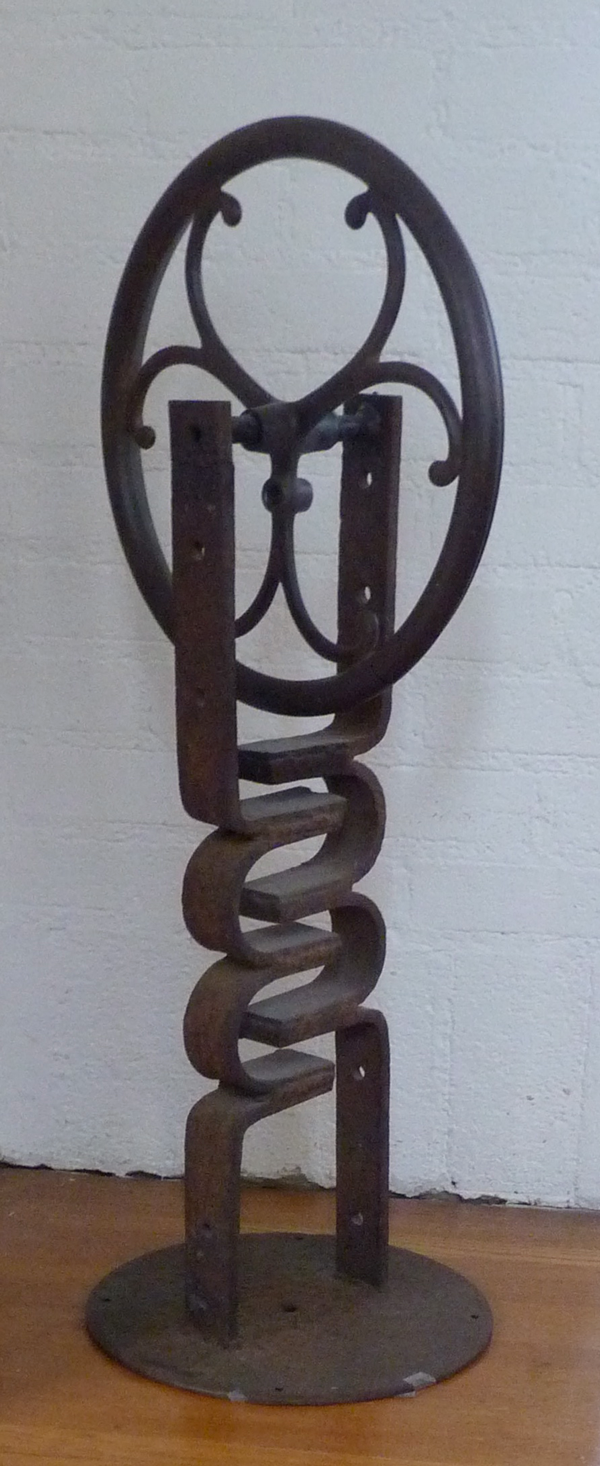 The sculpture is 30 inches in height and the wheel is 13½ inches in diameter. I know that Jaled constructed this in the 1990s, but when I see it, I think I am looking at something that was made in the 1930s, something original and wonderful. The 30s were, in fact, a formative period for the development of Jaled's interest in art. By the 1940s he was already making abstract drawings that he signed with a pseudonym- Kena.
The groove on the wheel engaged a leather belt that transmitted the rotation of the wheel to the actual sewing mechanism, which was mounted on a table above the wheel. The wheel itself was driven by a foot treadle.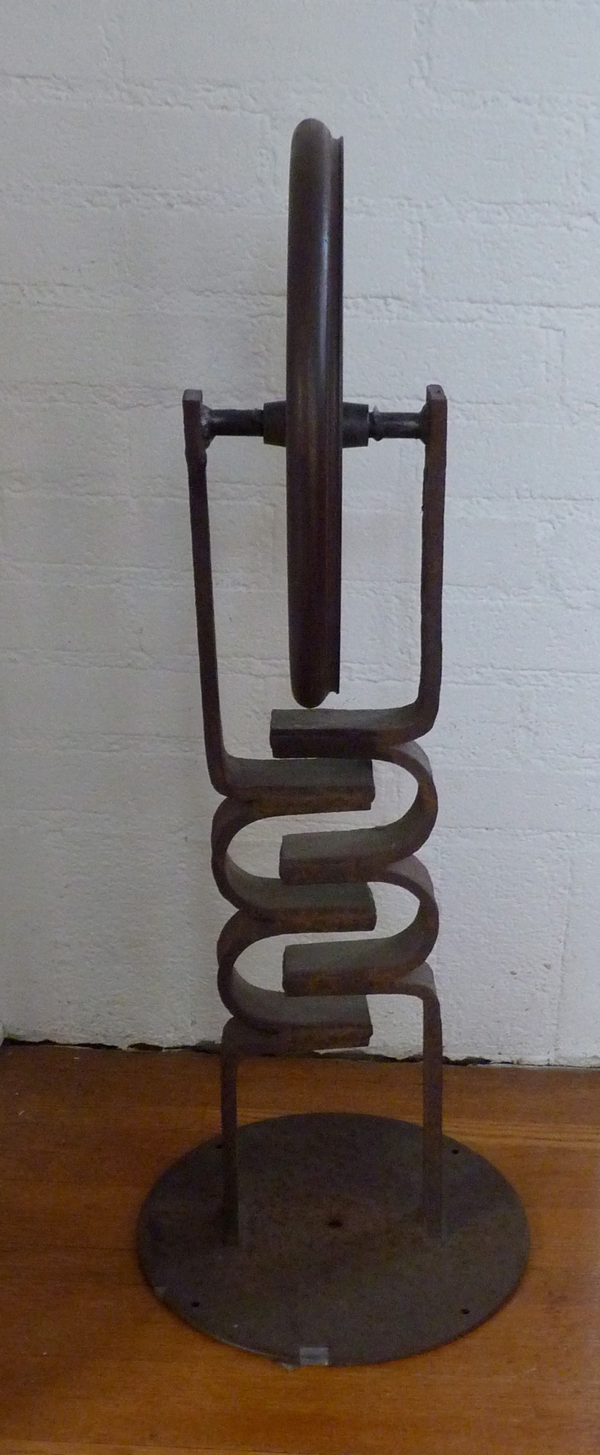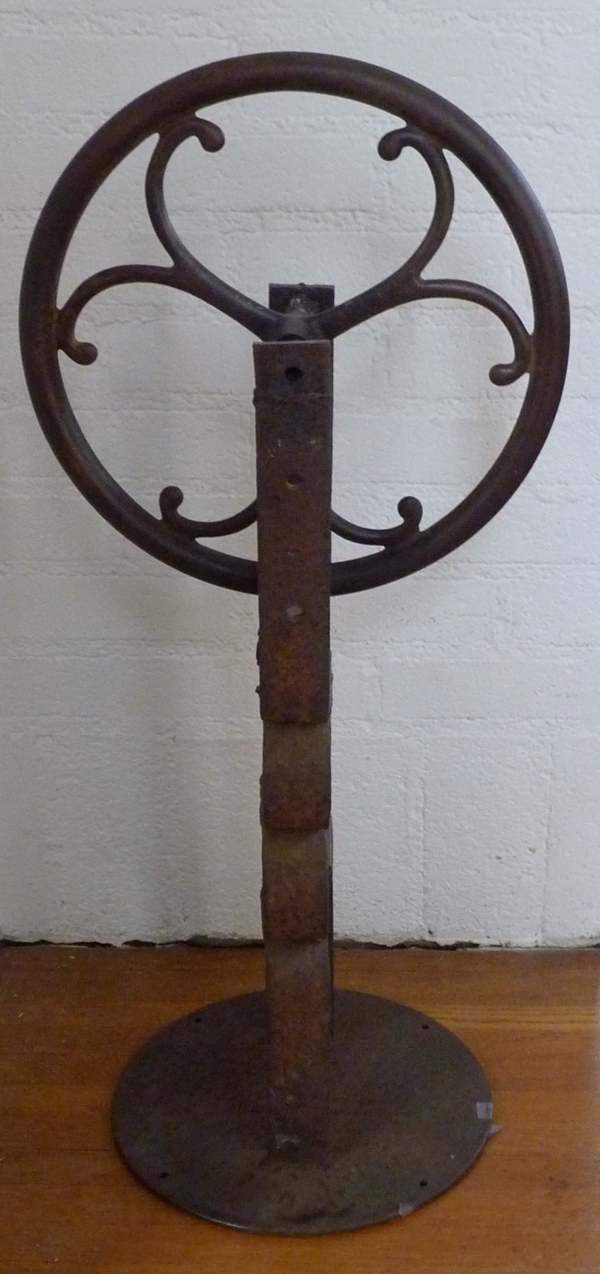 The cast iron wheel came from a Willcox and Gibbs sewing machine that was manufactured in New England beginning in the 1870s. In the link that follows you can look for the wheel, nearly hidden within the elaborate cast base of one of these old machines.
http://www.dincum.com/library/lib_willcox1.html
I wish that I had more of Jaled's sculptures to show you. There were so many that I liked.
Next week I will show you a terrific mask from the Sierra de Puebla that Helmut Hamm of Berlin found recently on the internet.