This series of posts about Yoeme (Yaqui) Pascola masks began on July 4, 2016.
You were introduced to the masks of Jesús Rodríguez Muñoz in my introductory post about Barney Burns and Mahina Drees. There you saw his mask of a bat with prominent fangs. Today I will begin to compare made for sale masks that were carved by Jesús with some danced examples. Today's made for sale masks  portray beings from the desert world, beings that are not portrayed by traditional masks, and then we will examine a danced mask with some similar features. I will begin with what appears to be a mask of a butterfly. You saw it here first!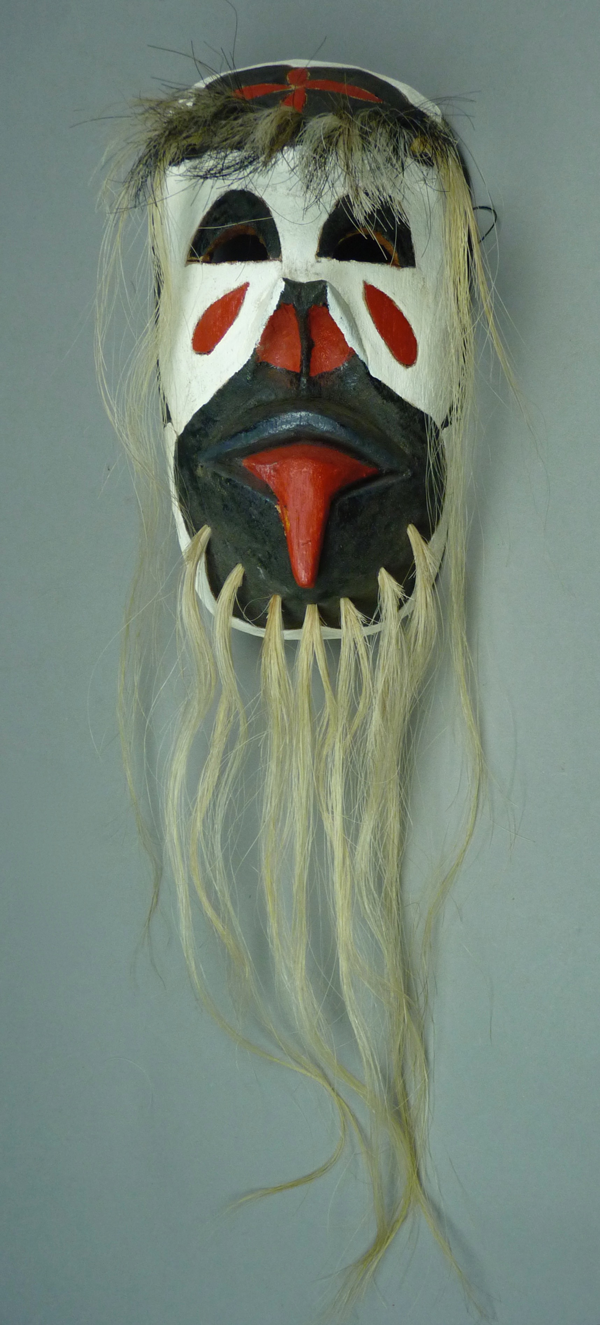 One hint that this is a butterfly is that the forehead cross has the form of a flower. But my eyes are on the proboscis tongue. This carver often neglects to provide a cross on his danced masks, while supplying his made for sale masks with forehead crosses that are unusual. In this respect he appears to cater to these two different markets, but otherwise not so much.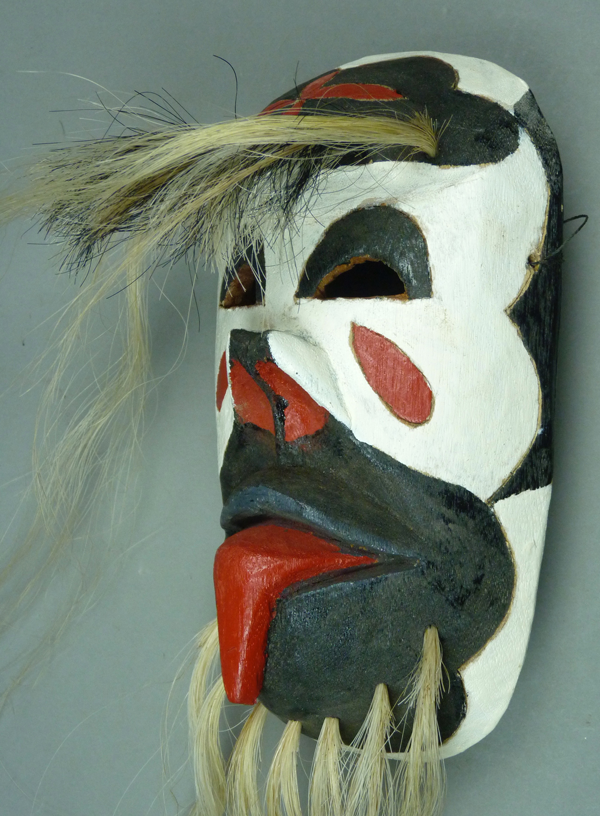 Note the scalloped rim design, sometimes found on this carver's made for sale and danced masks.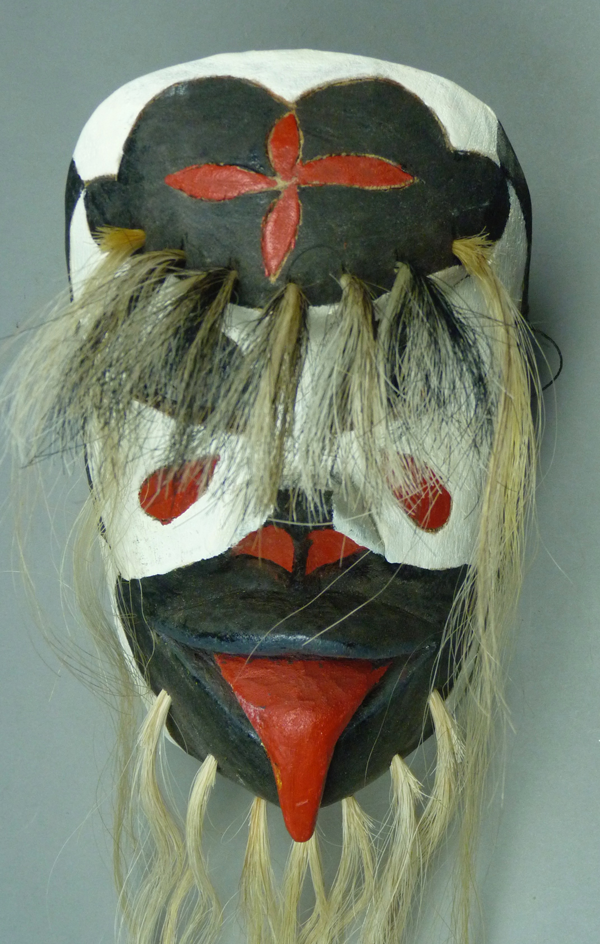 The nose of this mask is pretty strange, something like the nose of a skull. This carver can be quite fanciful.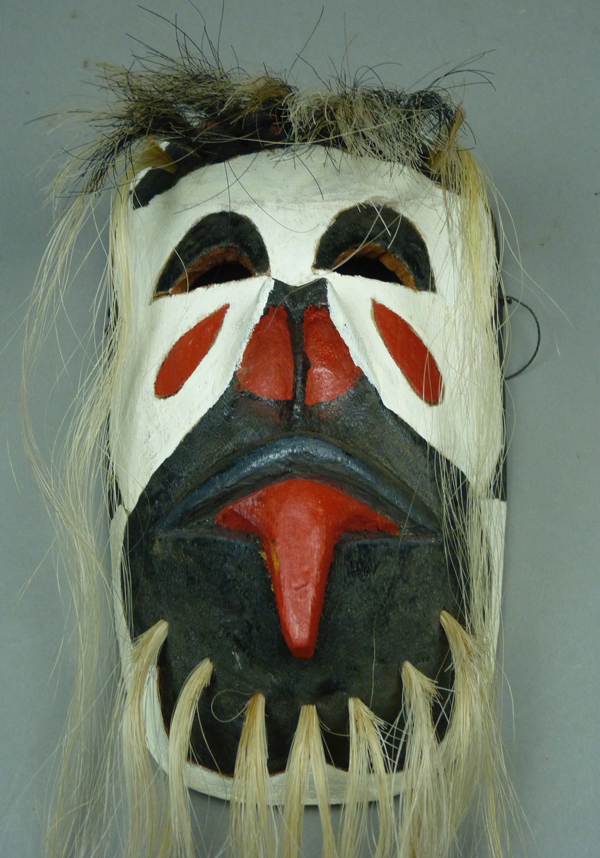 The hair is on the lightweight side. This mask is 8½ inches tall, 4¾ inches wide, and 2½ inches deep.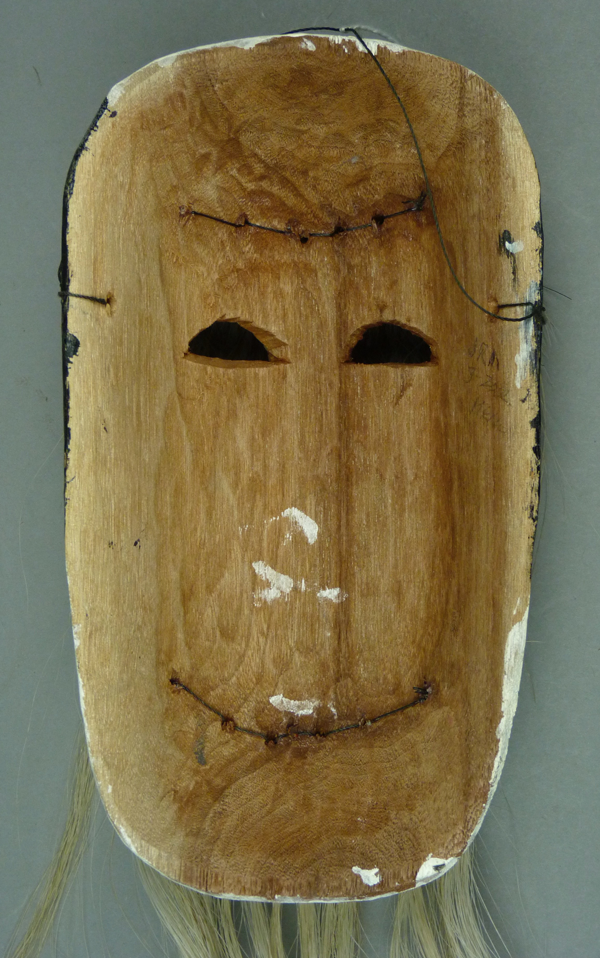 This is what the back of a made for sale mask often looks like. This is not a serious back to be worn by a dancer. as it is too narrow.
The second mask appears to portray a  lizard, although Alice Kyle, my salesperson at the Desert Son shop, stated that it was a fish.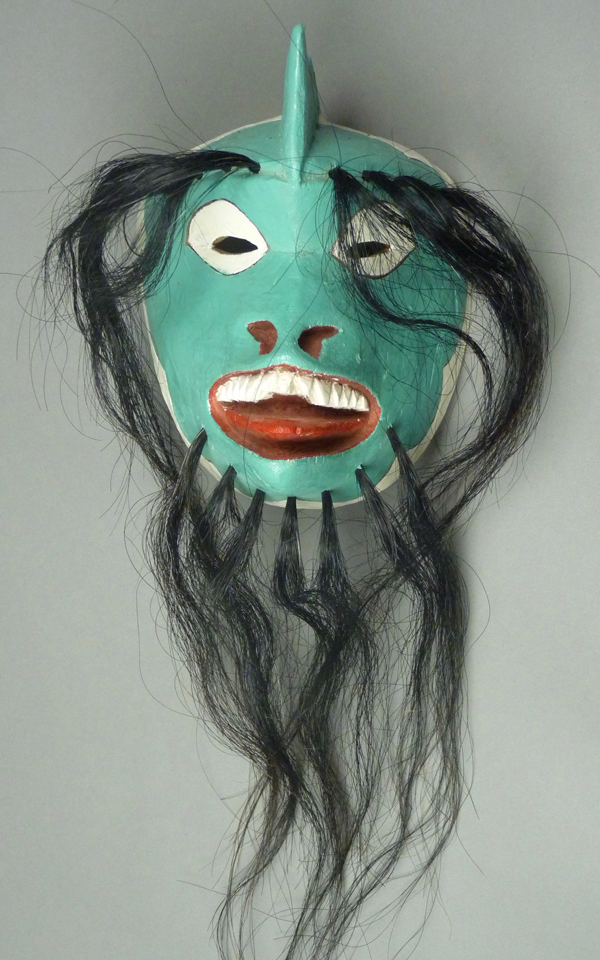 Note the scalloped rim design and the thin hair. In this instance there is no room for a forehead cross.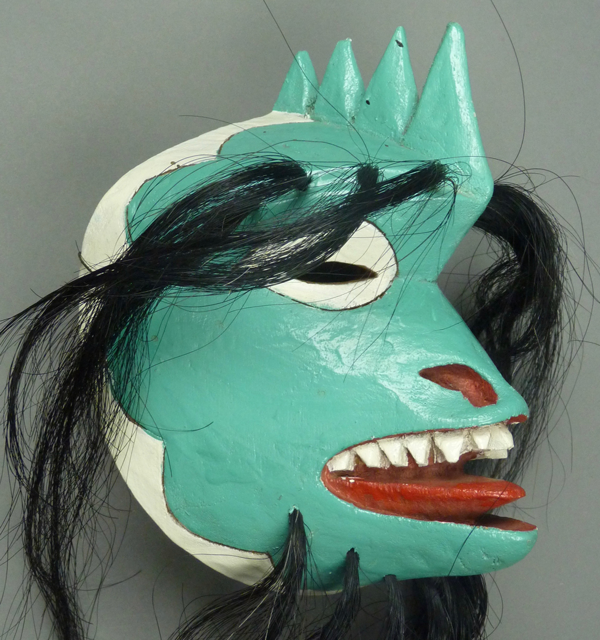 I see nostrils and a tongue, but I don't see gills. I believe that this was meant to represent an iguana lizard.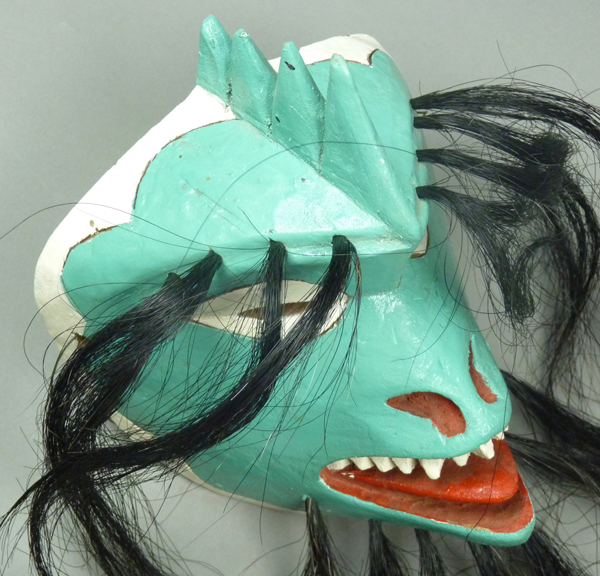 This mask is 7 inches tall, 5½ inches wide, and 4¼ inches deep.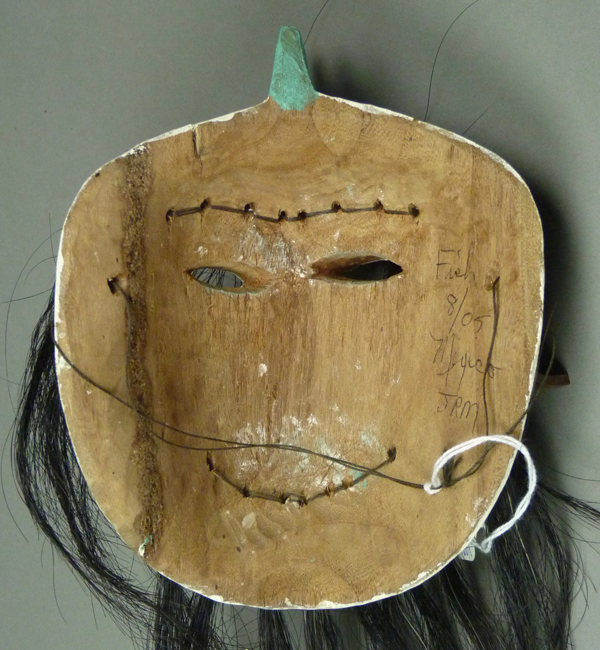 Sure enough, according to  the note of Barney and Mahina on the back, this was said to be a fish! In my opinion, this is an instance of misinformation.
In my experience of photographing the Burns collection of danced masks, I did encounter many instances where those collectors had not been provided with accurate information by their trading partners. Most notably, masks that were very clearly the work of a particular carver had been attributed by the agent who provided the mask and/or by the former owner to someone else. For example there were many masks that had obviously been carved by Rodrigo Rodríguez Muñoz or his brother Jesús, yet they were labeled as the work of others.
One of the main reasons that I am showing you this last mask is to demonstrate that the carver, Jesús, used a scalloped rim design on made for sale and danced masks and that he tended to carve both types with a similar stereotyped cone shape. Noticing such details permits us to correct misattributions because we can recognize the hand of the actual artist.  Jesús is one of those artists who does not draw a sharp line between his made for sale versus his made to be danced masks, so that we see his characteristic features used for both categories. Ulimately he creates as he pleases. I like his imaginative style.
Here is a danced mask that was collected by Barney Burns and Mahina Drees in 2006 (B/M 112).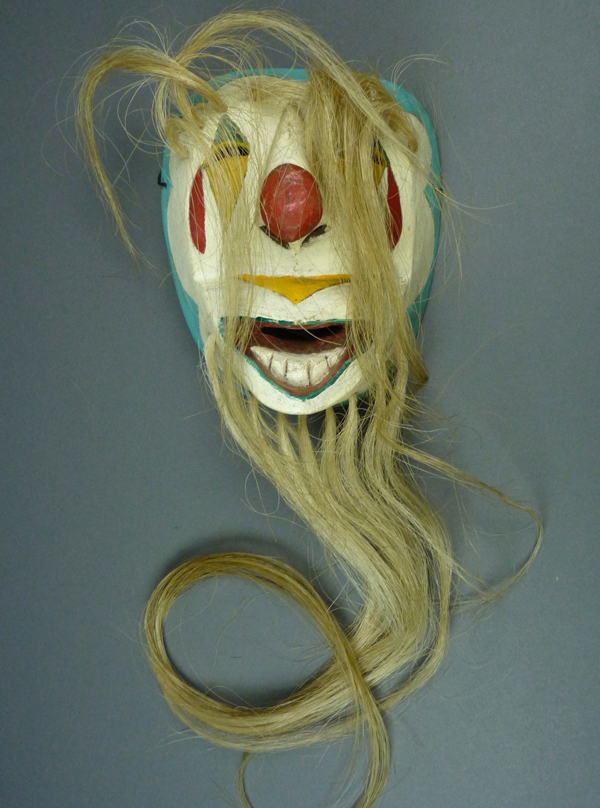 This is a colorful clown with a scalloped rim design.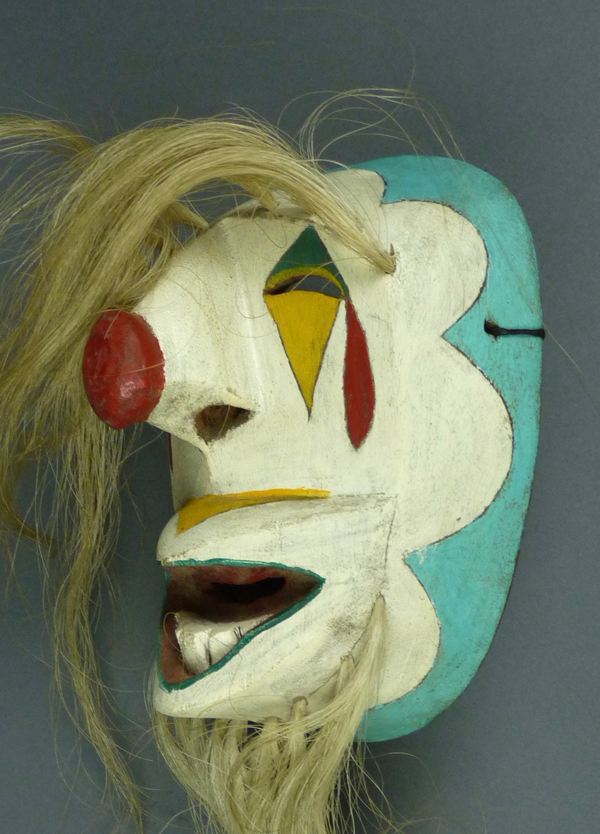 There is no forehead cross, a common omission on this carver's danced masks. Note the painted tears.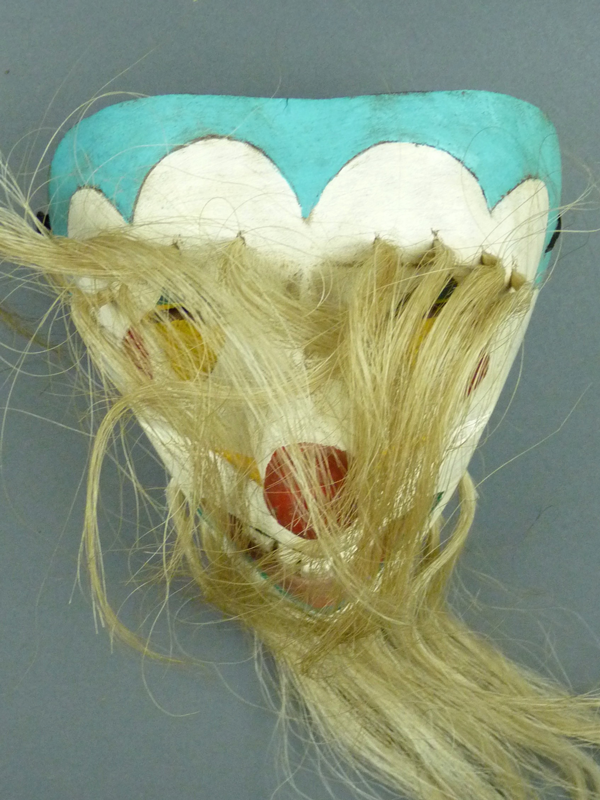 Jesús demonstrates a casual approach to the hair on this mask.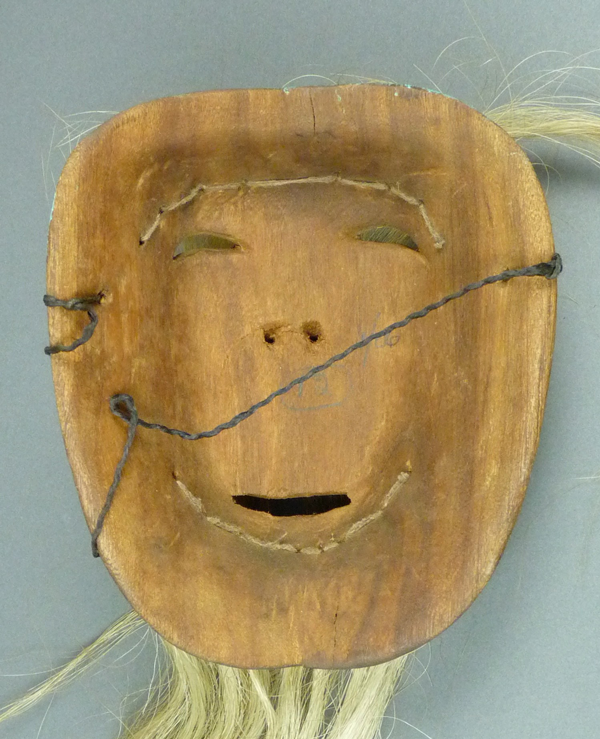 The pattern of staining on the back reveals significant dance use; according to the paper tag, this mask was danced for 7 years. Jesús reminds me of Antonio Bacasewa, in that he sometimes carves masks that could go in either direction—to a dancer or to a collector.
I will end this post with another danced clown mask by Jesús that has an unusual rim design of scattered decorative elements. This one was collected by Barney and Mahina in 1999 after seven years of use (B/M 150).

The forehead cross is unusual. There are tear shaped plastic jewel inlays under the eyes—a weeping clown.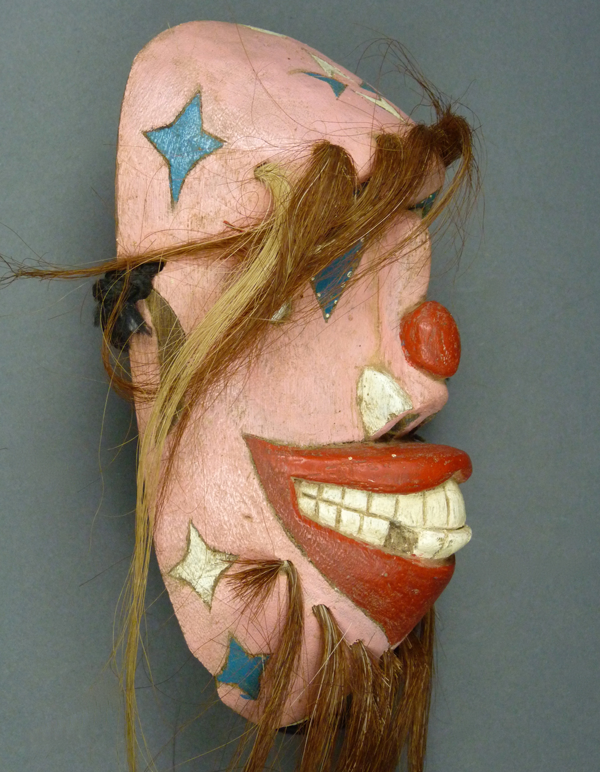 The mouth and teeth are very well carved.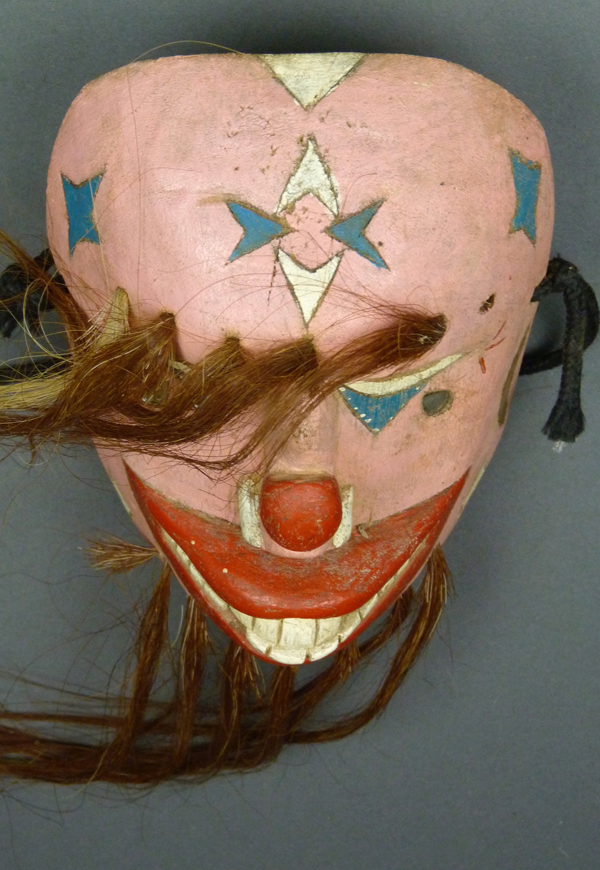 One often sees Yaqui masks where the forehead cross is constructed of four chevrons with their points together; Jesús has manipulated this standard design.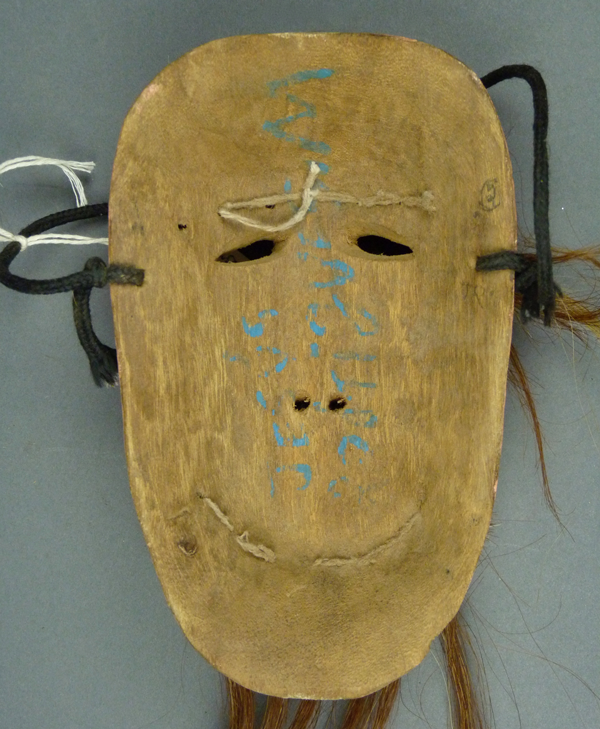 There is obvious staining from use.
Next week we will examine some other masks by this interesting carver.