This series of posts about Yoeme (Yaqui) Pascola masks began on July 4, 2016. Today I will continue last week's discussion about the masks of Jesús Rodríguez Muñoz.
I will start off with an undanced and apparently made for sale mask with a human  face that I found on EBay™. The major added embellishments were plastic jewels. Inlaid mirror elements also enhance this mask, but such inlay work does not represent a new novelty addition, as mother of pearl inlays were traditionally used on documented masks from the early twentieth century, and these gave way to shapes cut from glass mirrors and then from plastic CDs in recent decades. Last week you saw a danced clown with inlaid plastic jewels that created the appearance of tears. To add to the confusion, the white triangles under the eyes on a Pascola mask are also referred to as tears.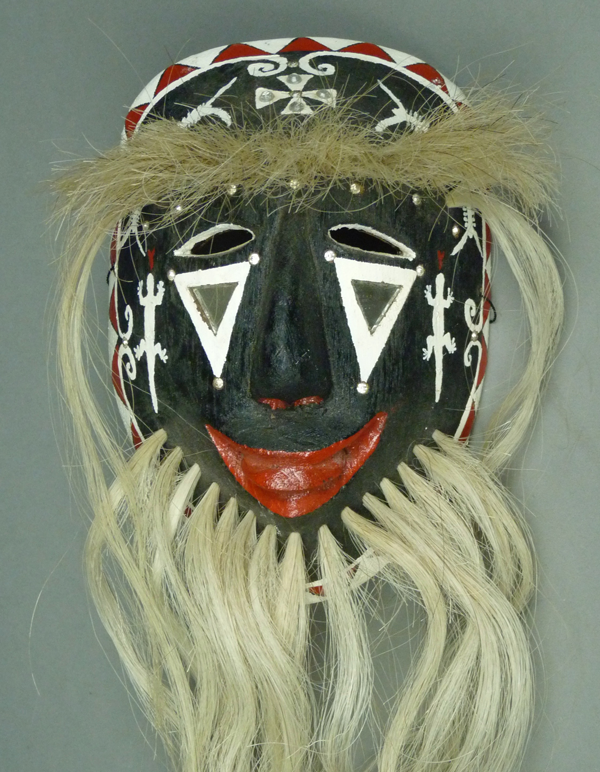 This is a rather nice mask, with many traditional elements.
Note the extended tongue, flanked by openings to provide air to the dancer. We see a traditional rim design as well as representations of creatures from the desert world—a lizard and a centipede.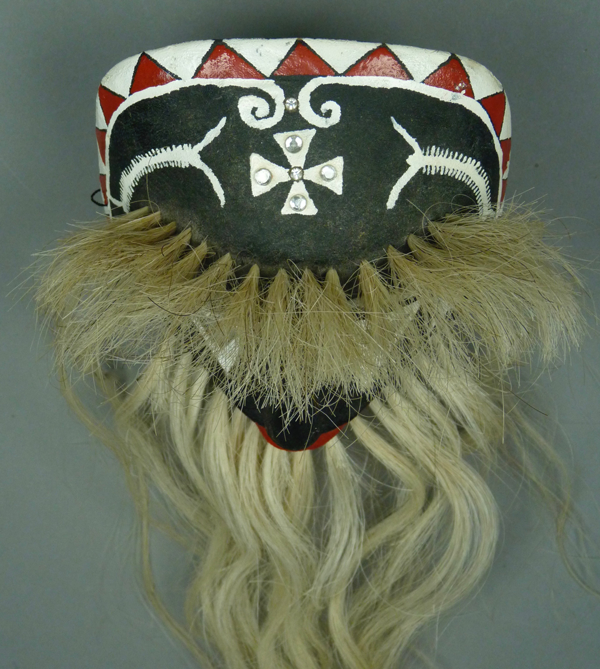 Furthermore this mask has well crafted hair bundles. The painted scrolls are commonly found on masks by carvers from the Rodríguez family.
This mask is 7¼ inches tall, 5 inches wide, and 2¾ inches deep.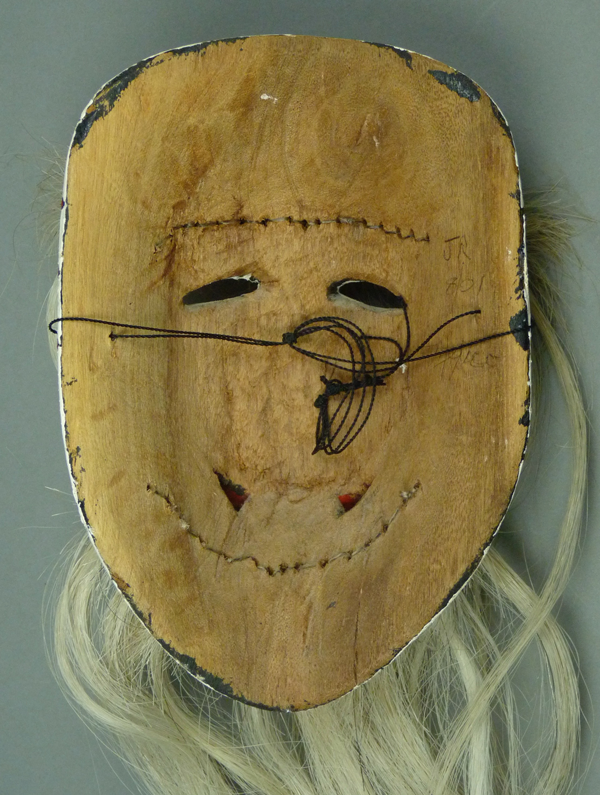 On the undanced (but dusty) back we read "JR, 8/01, Mexico." This mask could easily have been sold to a dancer, but instead it was collected by Barney and Mahina Burns.
Next is a made for sale mask that appears to portray a goat or a dog; I am guessing that it represents a goat.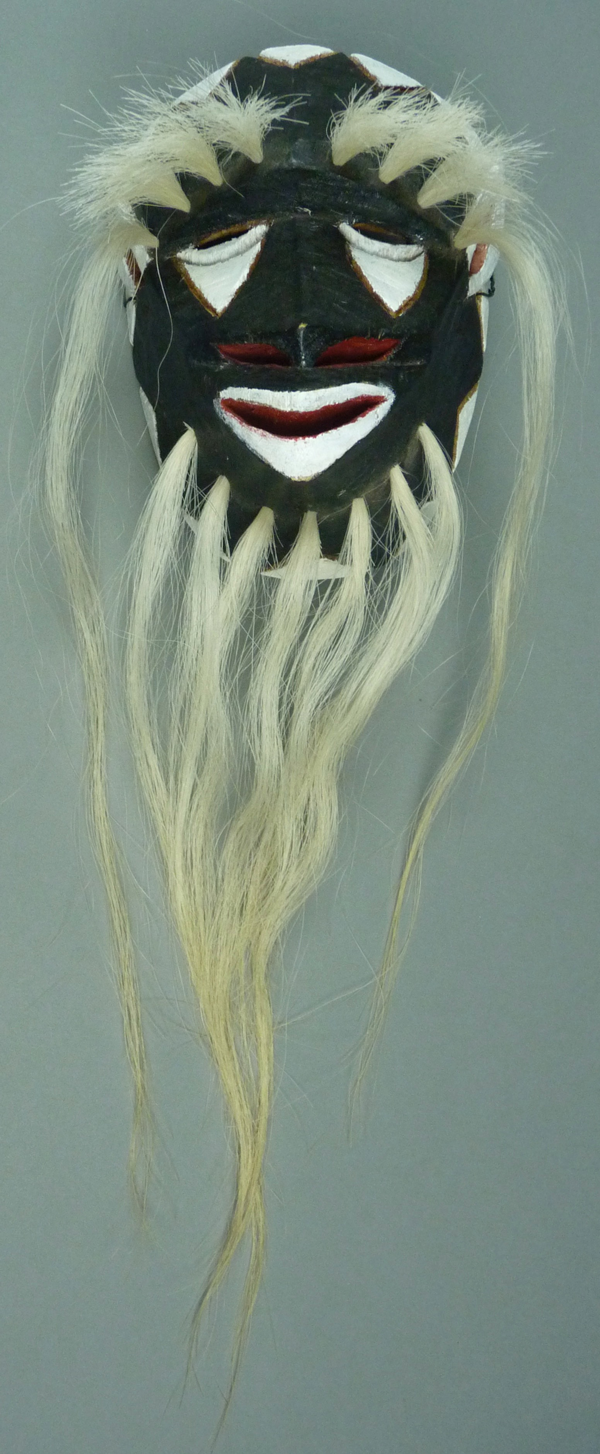 This made for sale mask has no forehead cross, but for Jesús this is a common finding on his danced masks. Like many other masks by Jesús, it has a conical shape.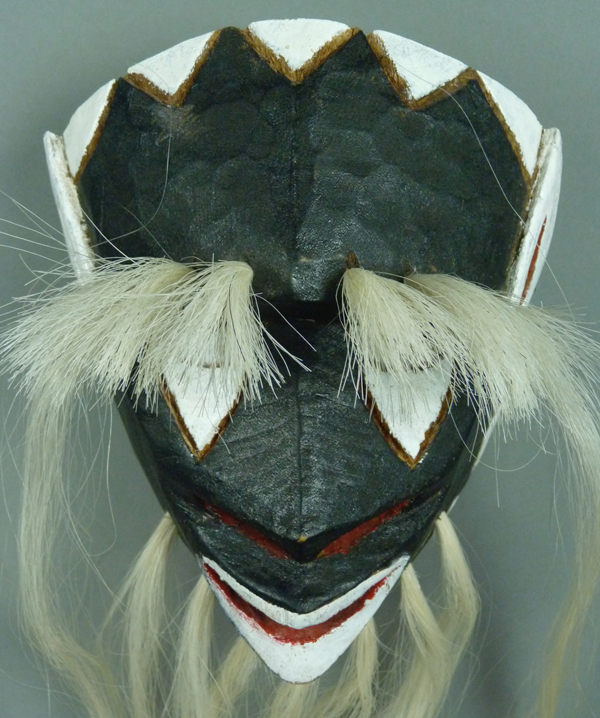 These seem like goats' ears.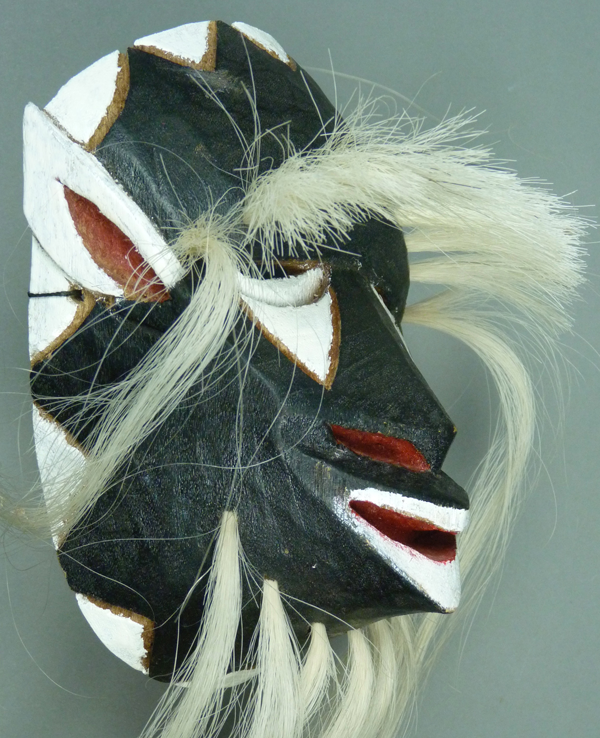 This mask is 7¼ inches tall, 5½ inches wide, and 3¼ inches deep.
A third made for sale mask has a pig's face. This is another example of a mask by Jesús that could have gone on the made for sale or the made to be danced pile. It was collected by Barney Burns and Mahina Drees in 2006.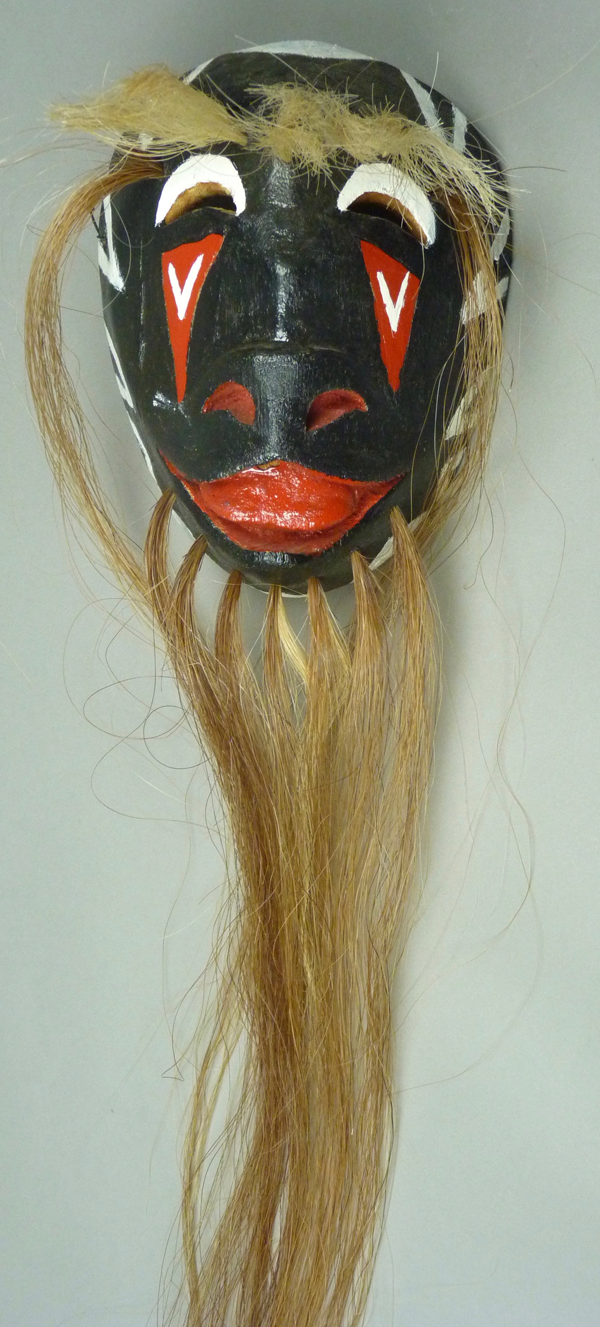 There is no forehead cross, but there is a conventional rim design and a nicely carved mouth with extended tongue.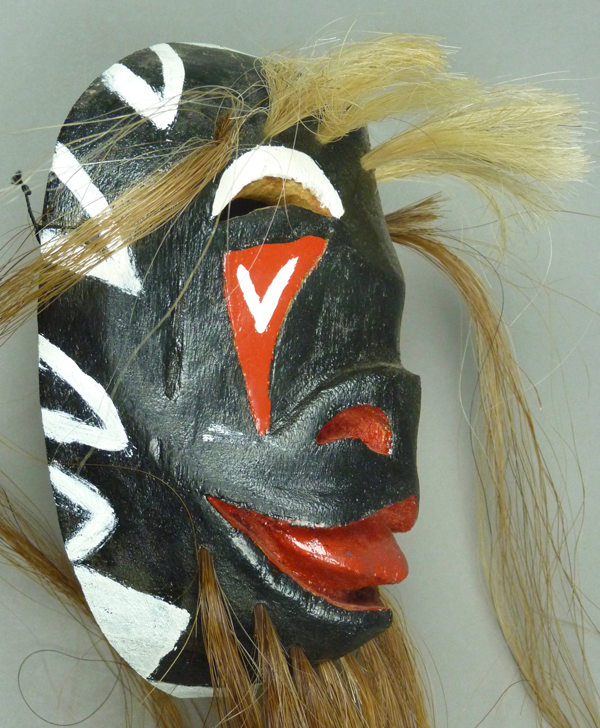 This appears to represent the nose of a pig.
This mask is 7¼ inches tall, 5½ inches wide, and 2¾ inches deep.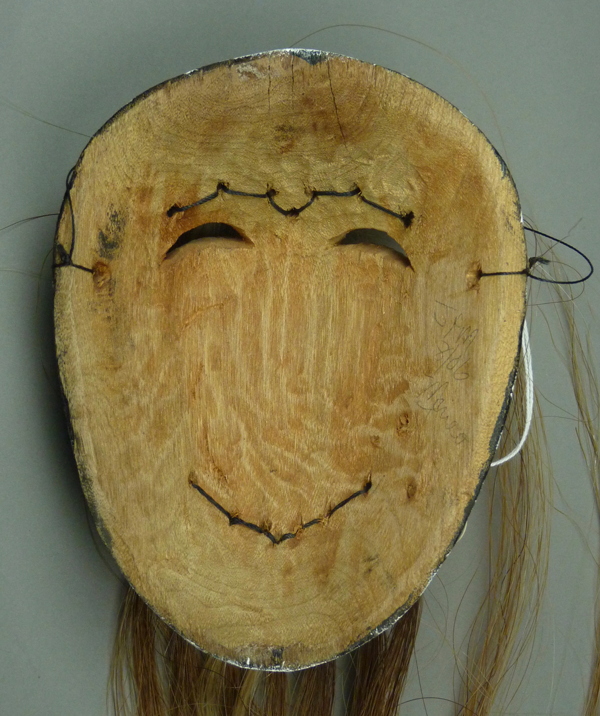 On the undanced back we read "JRM, 7/06, Mexico." The only clues that this mask was deliberately made for sale are the total absence of a ventilation opening at the level of the nose or mouth, a lack that we occasionally find on this carver's danced masks, but frequently on his made for sale masks. The size and shape of the back is also typical of his made for sale masks.
Next comes another danced clown from the Burns collection (B/M 283), so obviously the work of Jesús and so similar to the two danced clowns by that carver in last week's post. This mask had been attributed to Luis Jaime González by his widow, who said that he had used it for 6 years before his death in 2000.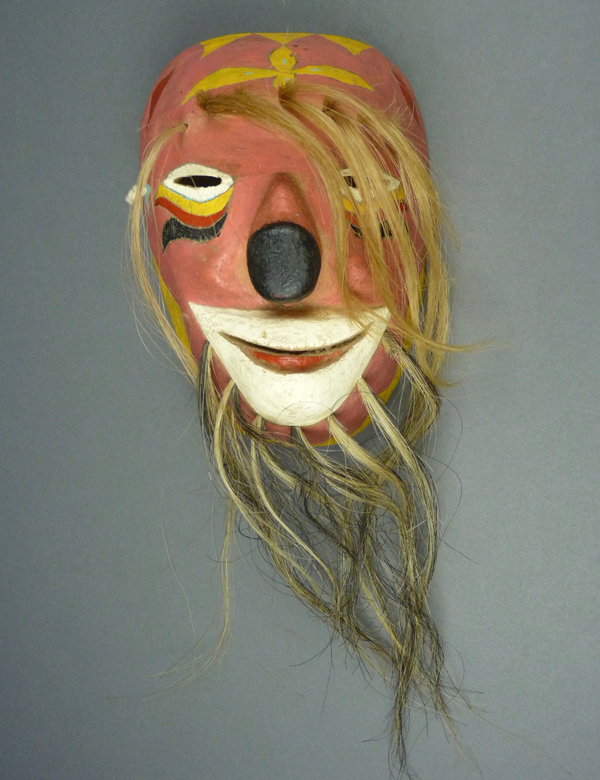 Design elements that are typical for Jesús include the forehead cross, the scalloped rim design, the blue morning star, and the flat clown's nose. The layered designs under the eyes can also be found on masks by Rodrigo Rodríguez Muñoz.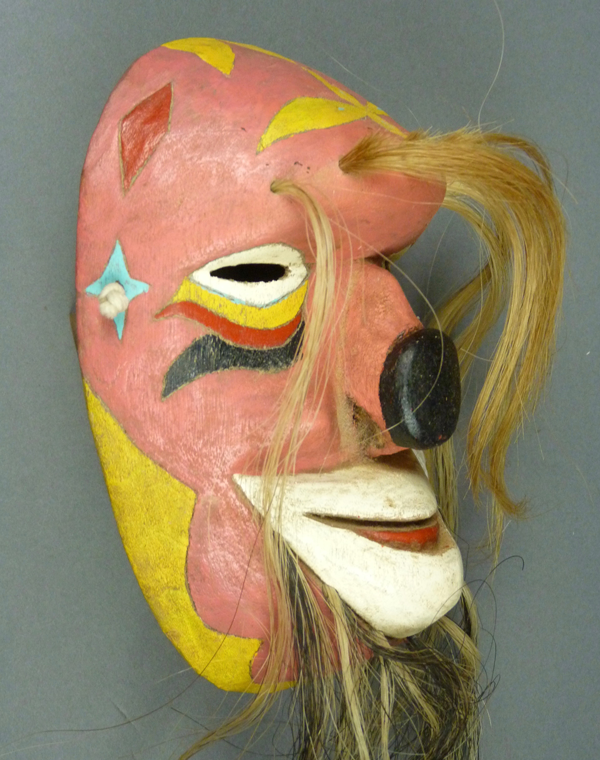 The mere presence of a rim design that combines such a variety of elements forces one to focus on the Rodríguez family.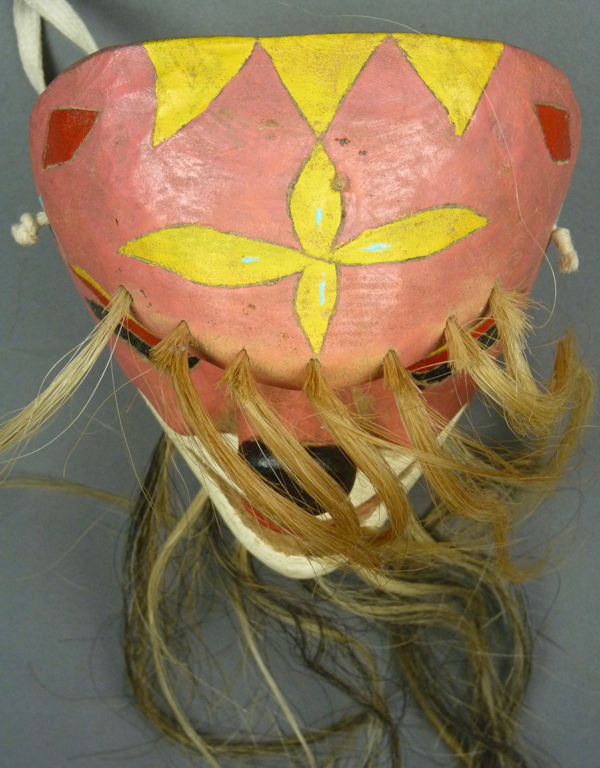 The clown masks of Jesús tend to have this sort of smile.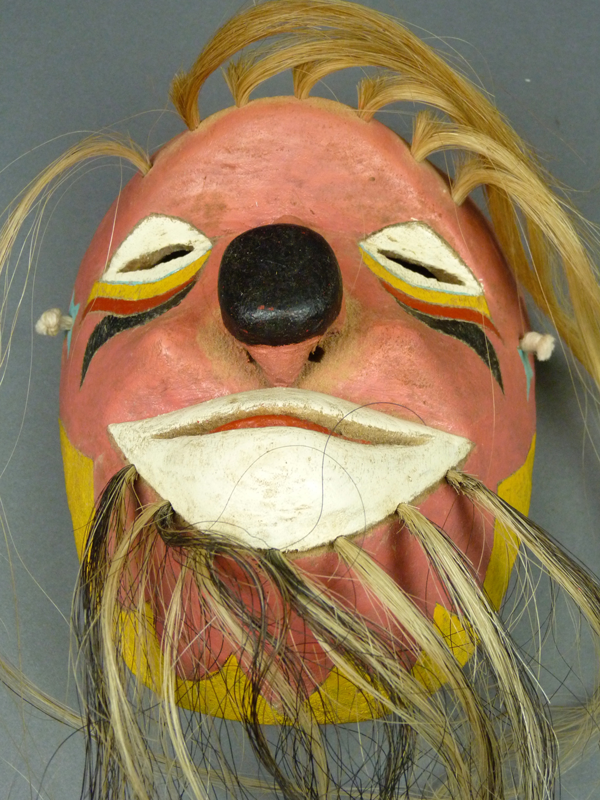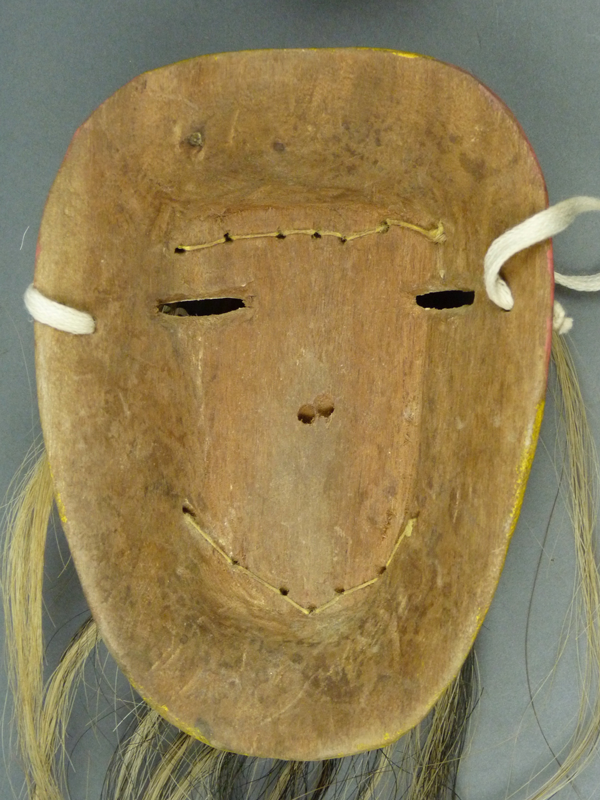 The back, which is also consistent with those on other masks by Jesús, does indeed show the kind of wear that would result from six years of dancing.
I will end with a danced goat mask that was collected by Barney and Mahina as the work of Carlos Valencia, while the form and style suggest that Jesús might have been the carver (B/M 345). I am not totally certain of this attribution, because there is such overlap with the other Rodríguez carvers, but I feel certain that it was carved by one of them. This mask was danced for 9 years.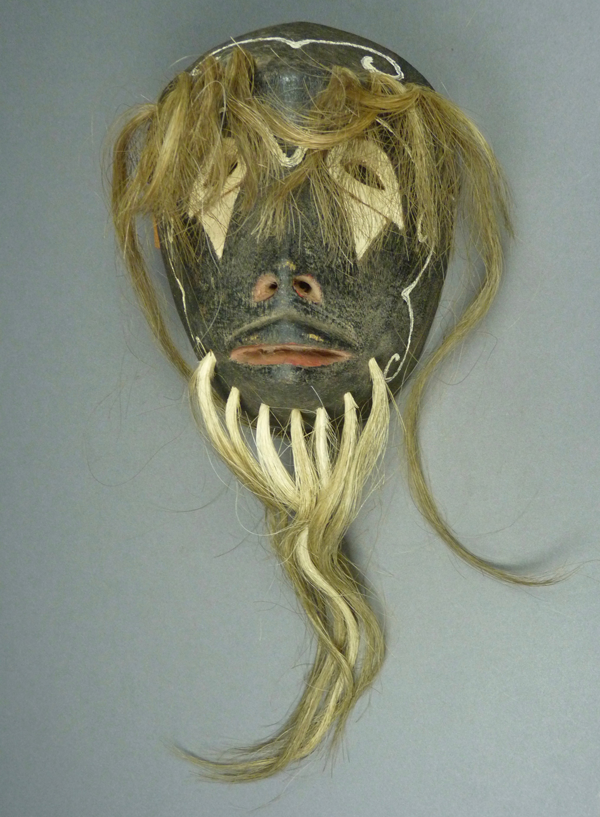 The features of this mask are strongly reminiscent of Rodriguez family masks, while the shape is most consistent with the masks of Jesús. This is a beautiful mask.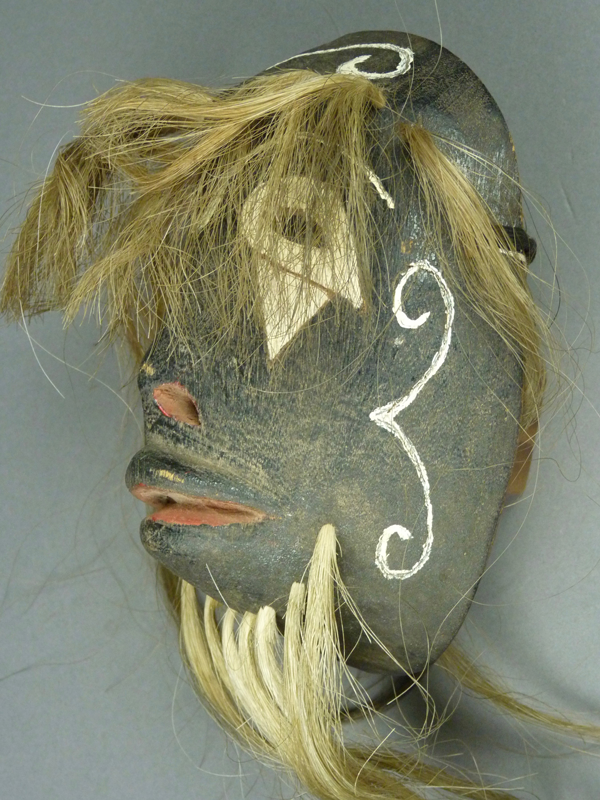 The arcs over the eyes and the mustache shaped scrolls are all incised.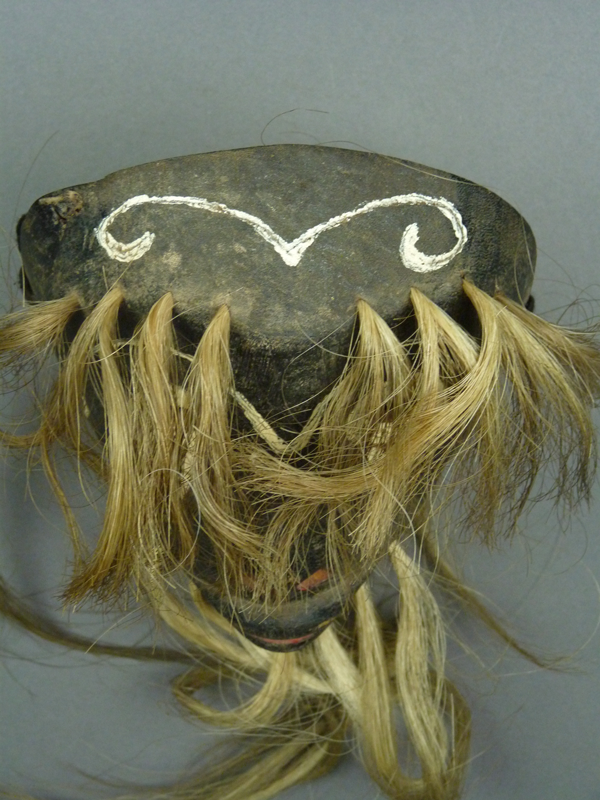 A scroll replaces the forehead cross.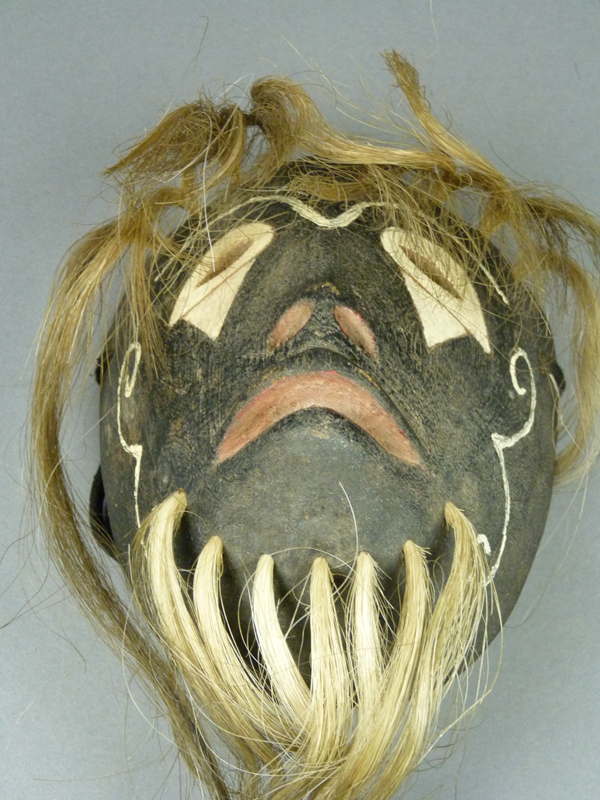 There is no chin cross.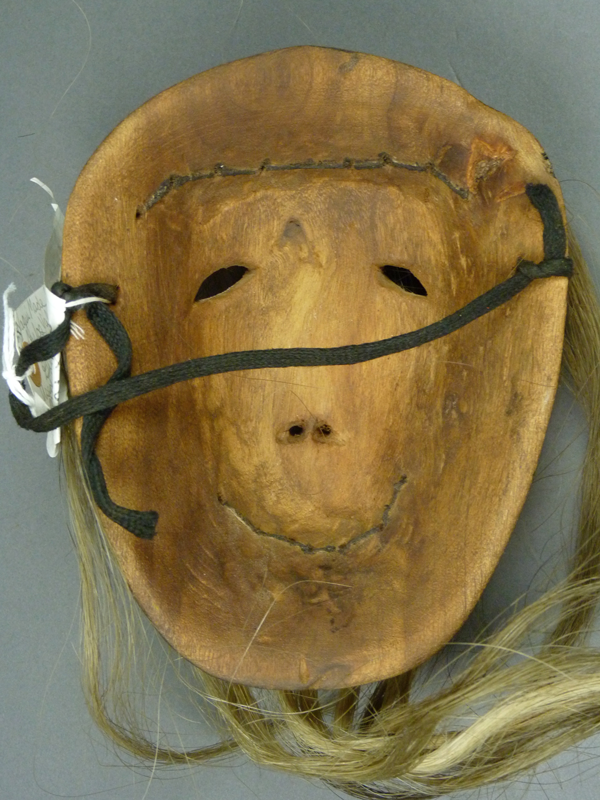 This is a nice worn back, and the form is like that of other masks by Jesús.
Next week we will examine a few more danced masks by this carver.