This week I will show some additional Negrito or Blackman masks from Michoacán.
In her chapter about the Dance of the Blackmen, in Behind the Mask in Mexico, Esser (1988, pp. 107-141) reported that there was a history of Blackmen dancing with wooden masks in the town of Sevina (p. 122), but that the dance was no longer performed there with such masks at the time of her research (1970-1975). In my collection are three wooden Blackman masks from Sevina that I obtained from Jaled Muyaes and Estela Ogazón, in 1997 and 1999. They had undoubtedly collected these masks in the 1960s or 70s, but obviously the three must have already been old and retired from use by that time.
Here is the one I bought first, in February 1997. It is the most refined of the three. I call your attention to the unusual shape of the mouth. Also note that there is a hole that might have held a representation of a cigarette. The chin is knob-shaped.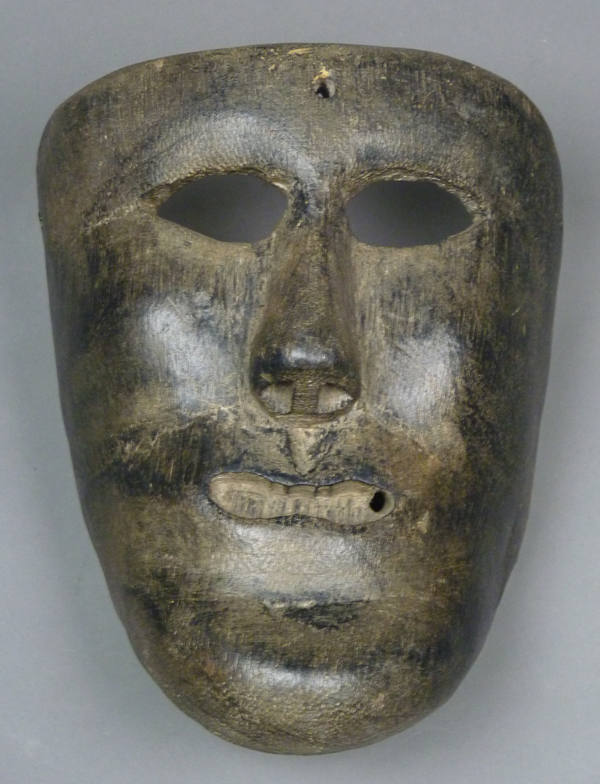 Long ago this mask was painted black, but it seems that that paint has nearly worn off. There are just three holes around the forehead.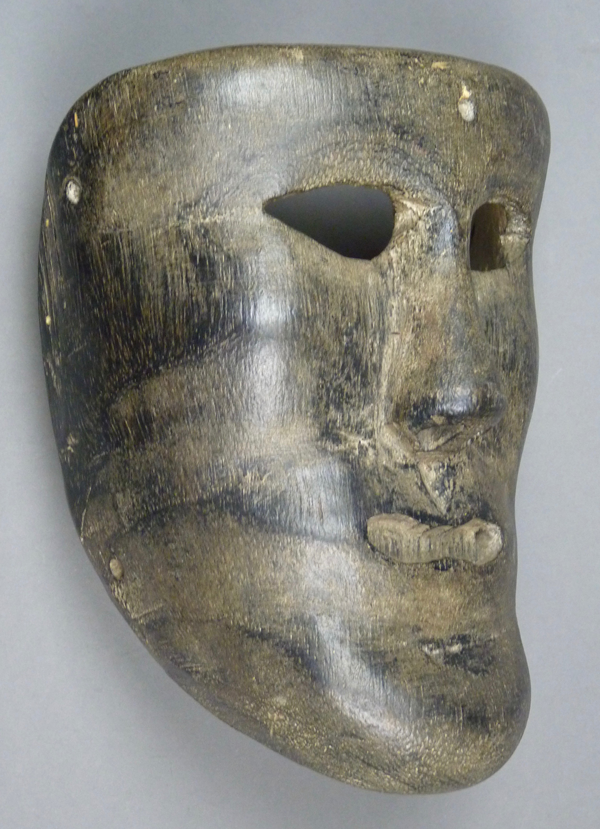 From below one can better see the knob-shaped chin. These Blackmen masks from Sevina lack relief-carved ears.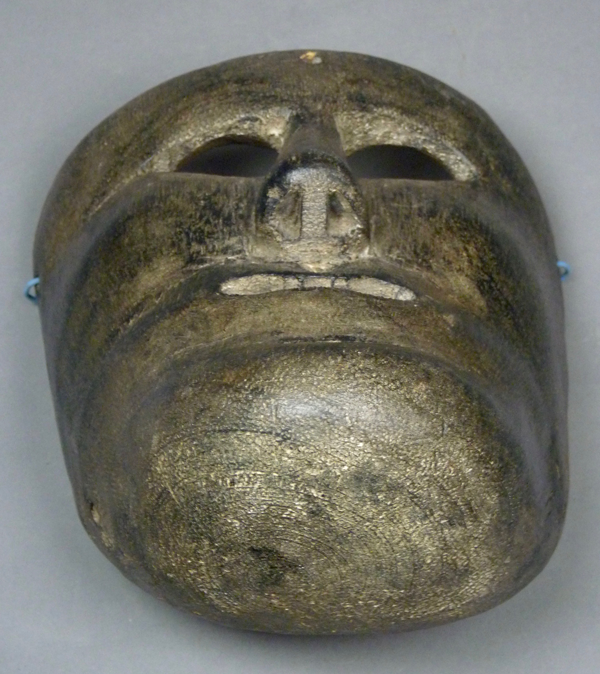 This mask is 8 inches tall, 6¼ inches wide, and 3¾ inches deep.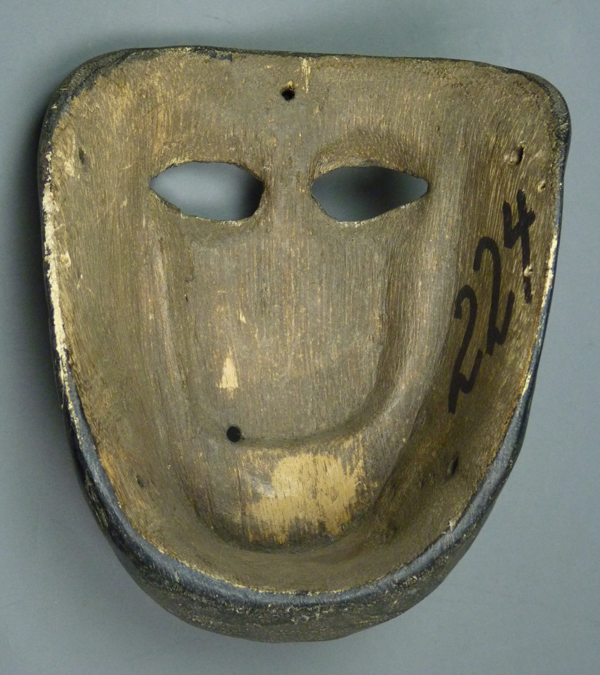 The number on the back (224) marks this as one of the masks from the collection of Jaled Muyaes and Estela Ogazón that appeared in their mask show of 1981. There is significant evidence of use.
I obtained the second of these from Jaled and Estela in July, 1997. As you will see, it too has a number on the back from the 1981 show. To my eyes, this mask is a bit of a sleeper—nondescript at first and then increasingly handsome as I continue to look at it. There is a photo that dates to 1970 or earlier of an attractive old Negrito mask "from Michoacán" in Lo Efímero y Eterno: Del Arte Popular Mexico/The Ephemeral and Eternal: Popular Art of Mexico, Volume II, p. 608, Plate 556, which has some features in common with this mask from Sevina, such as a beaked or infinity shaped mouth and a jutting chin.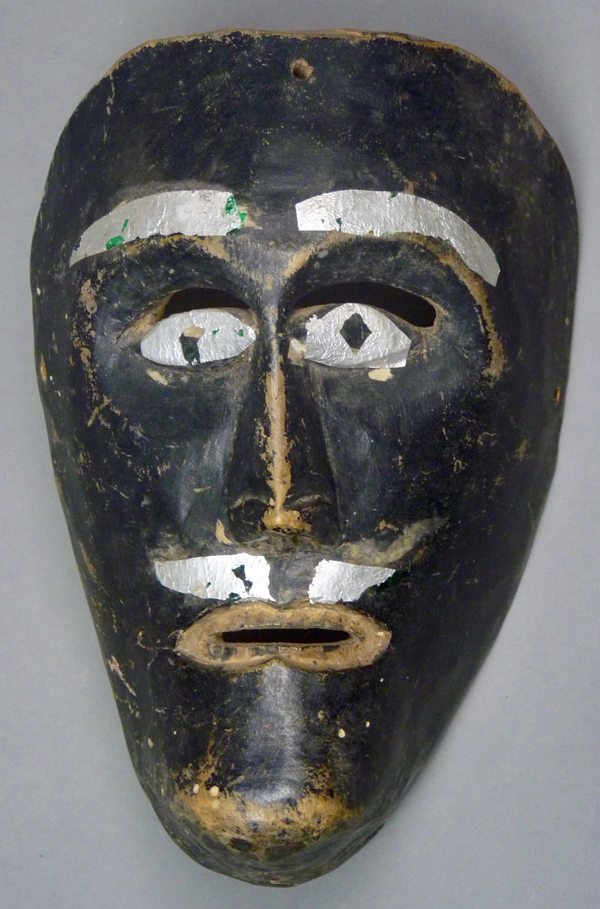 Like the first, this mask too has a beak-shaped mouth and a knob chin. The carving around the eyes is very beautiful; this is an elegantly carved mask. However, the cigarette foil that was applied later, probably by a dancer, tends to distract a viewer from the mask's grandeur.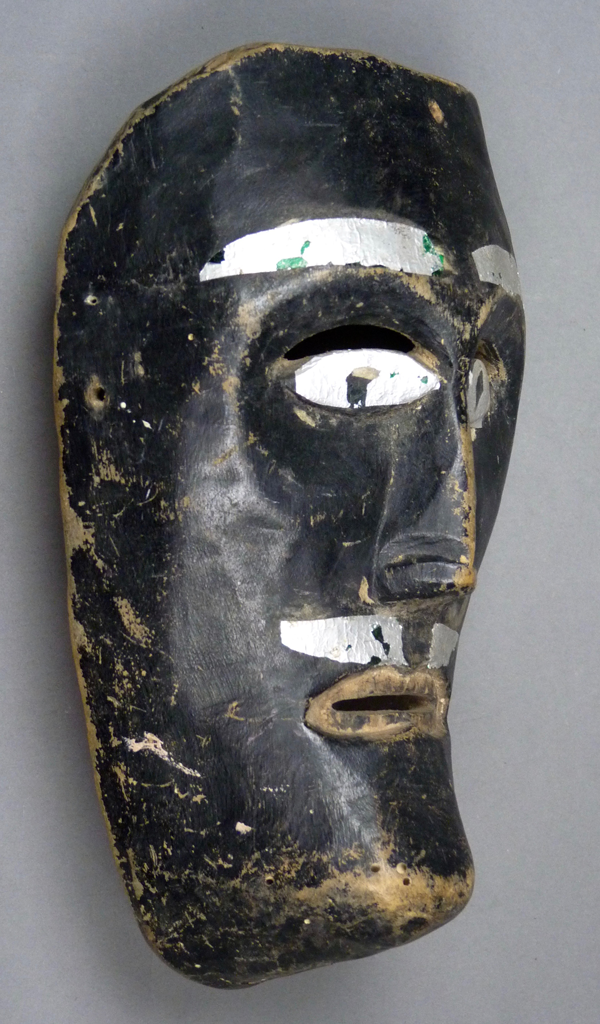 The side view underscores the shaping of the eyes, mouth and chin, as well as the marked wear on the mask's face.
This mask is 8 inches tall, 5½ inches wide, and 2½ inches deep.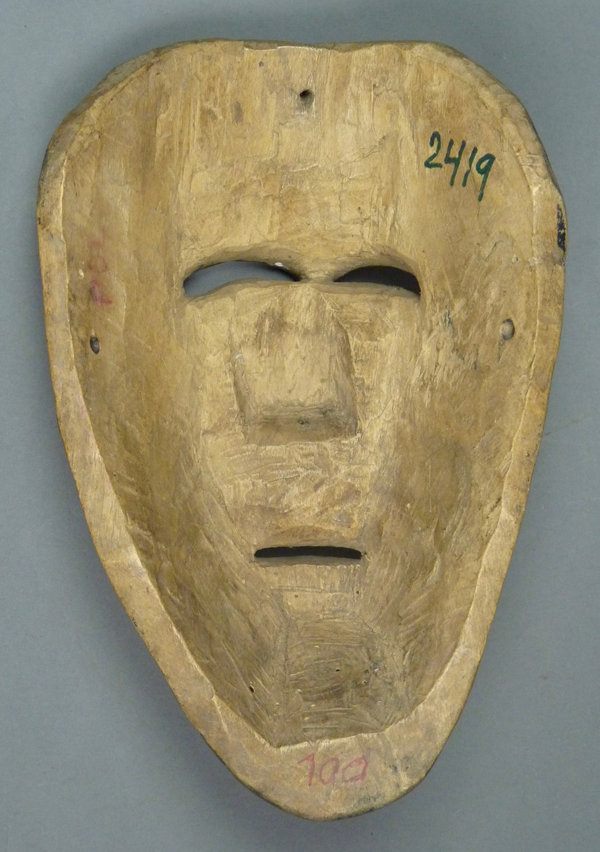 The back is heavily stained from long use. The number (2419) is easily seen. The number 700 is written in red on two places; I don't know its significance.
One's initial impression of the third mask is affected by its obvious asymmetry.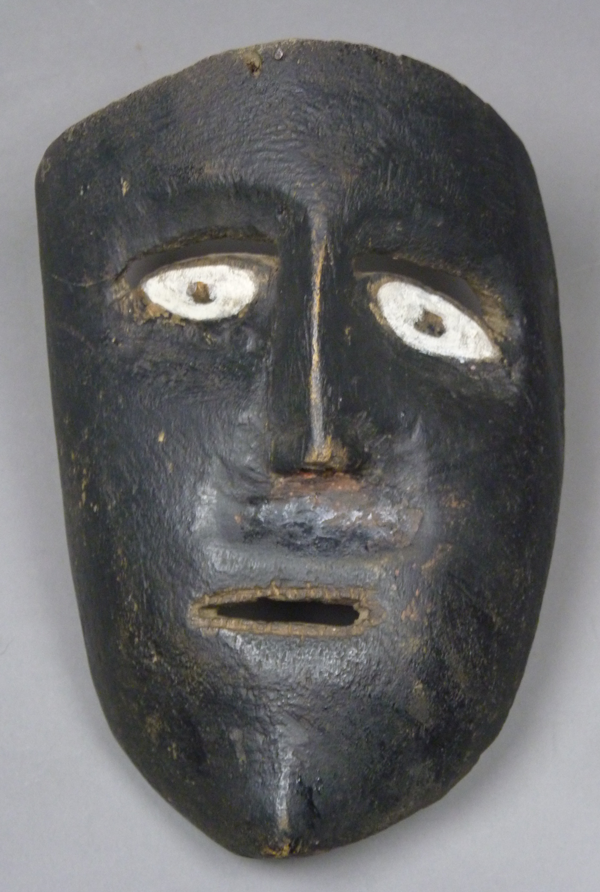 There is a similar recessed area around the edge of the mouth, but not in the shape of a beak, and the chin has a knobbed appearance. The eye sockets have a somewhat similar design when compared to those of the last mask.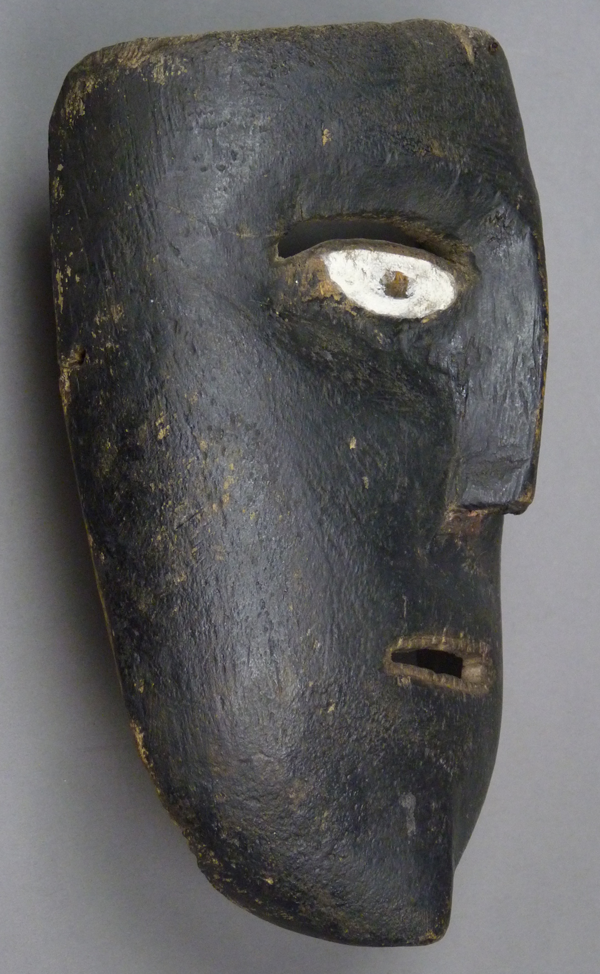 This mask makes me think of Picasso.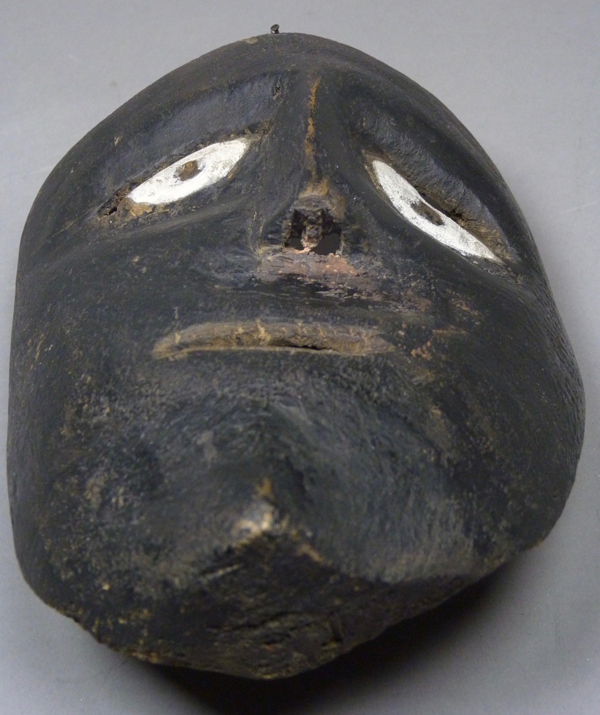 This mask is 8½ inches tall, 6 inches wide, and 2¾ inches deep.
The back of this mask is heavily stained from long use. There is a nailed-on wooden patch, reason unknown. I regret that I only have three Blackmen from Sevina, because they are so distinctive and attractive.
The last three masks in today's post have something different in common than their place of origin. Instead, all three are Negrito or Blackman masks that were converted from some other dance character. The first of these, a large mask that I purchased from Spencer Throckmorton of New York City in 2002, was reportedly from Michoacán and had previously been in the collection of Michael Robins, who was apparently a serious collector. Although it initially appears to be an oversized Negrito mask, on closer inspection I would call it a Maringuilla from the Curpites dance that has been repainted. Then again, probably it is a Maringuilla still.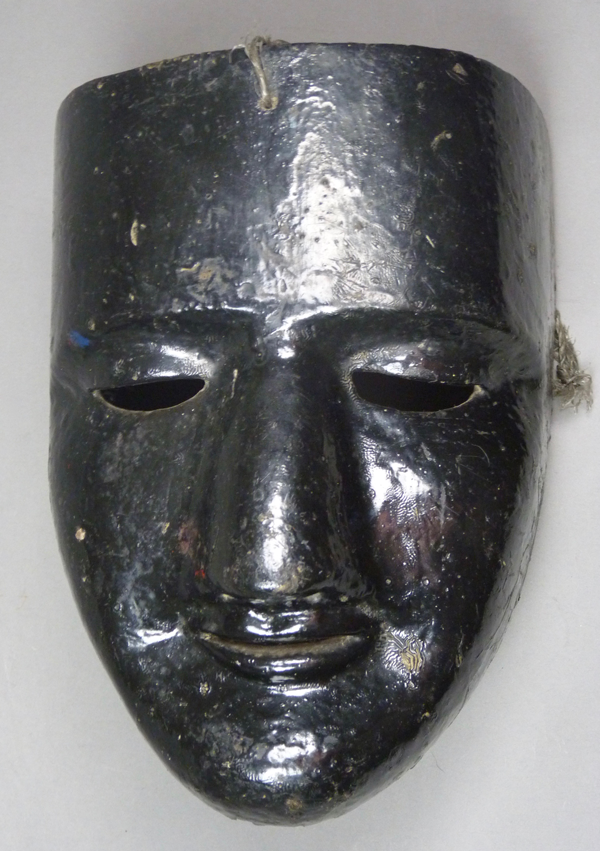 Note the beautiful face and the feminine lips.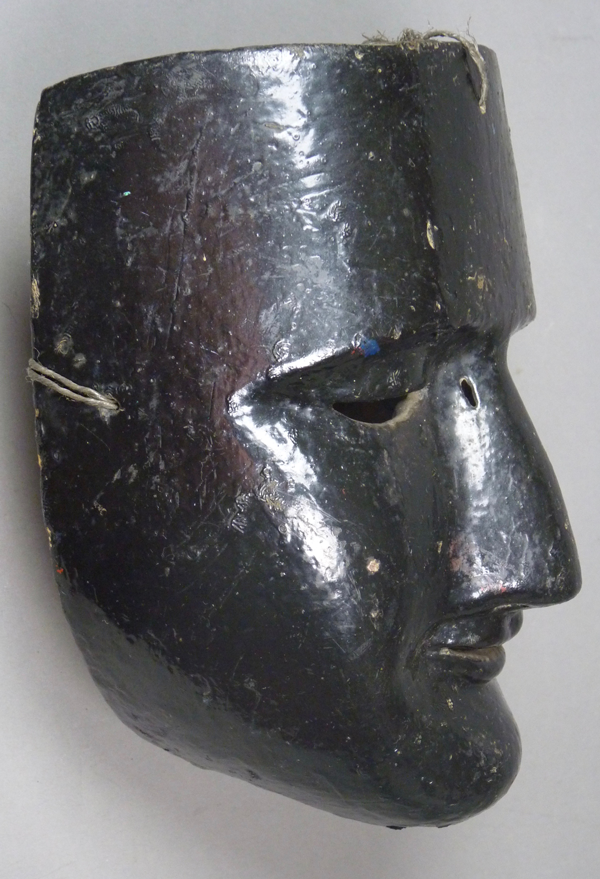 Female masks from the Negritos dance almost always lack ears. The photo that follows provides a clearer view of the feminine lips.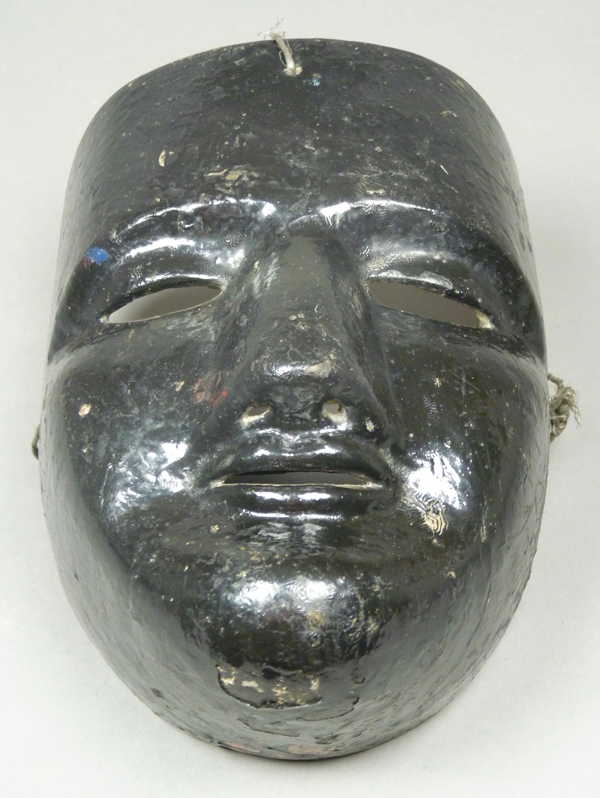 This mask is 9½ inches tall, 6¾ inches wide, and 4½ inches deep.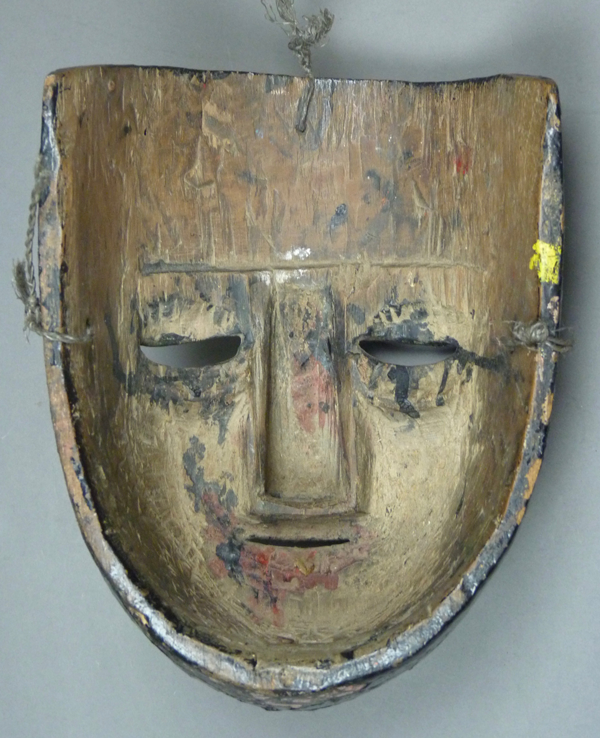 The back of this mask demonstrates the hand of a master carver. Note the stylized indentation for the nose, and the hemispheric indentations to provide space for the eyes. The back is heavily stained from long use.
The next mask, which I purchased from René Bustamante in 1994 as a Negrito for the Danza de la Candelaría, was reportedly from Curecuaro , Michoacán. When one searches for this place, it seems to be a synonym for Yurécuaro, a town on the Northern border between Michoacán and Jalisco. Is this actually a Curpite mask that has been repainted?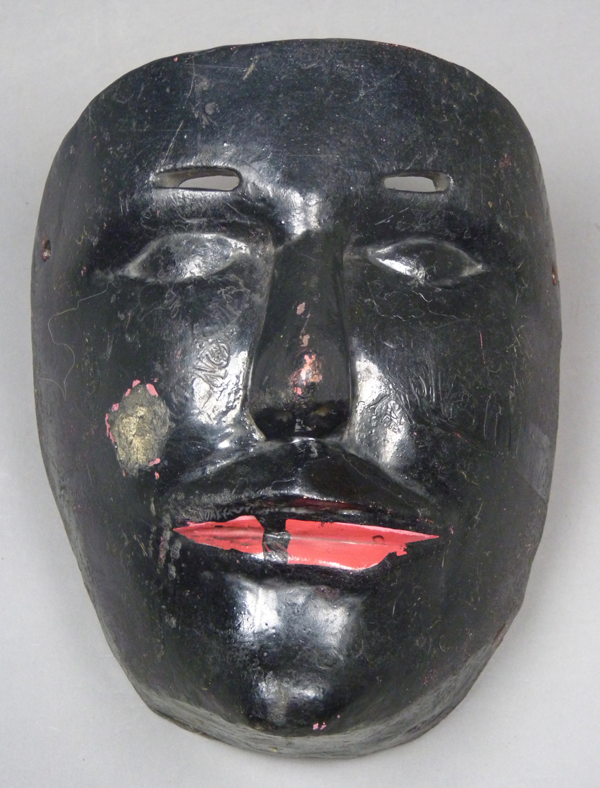 This mask originally had a pink face. It has a relief carved mustache.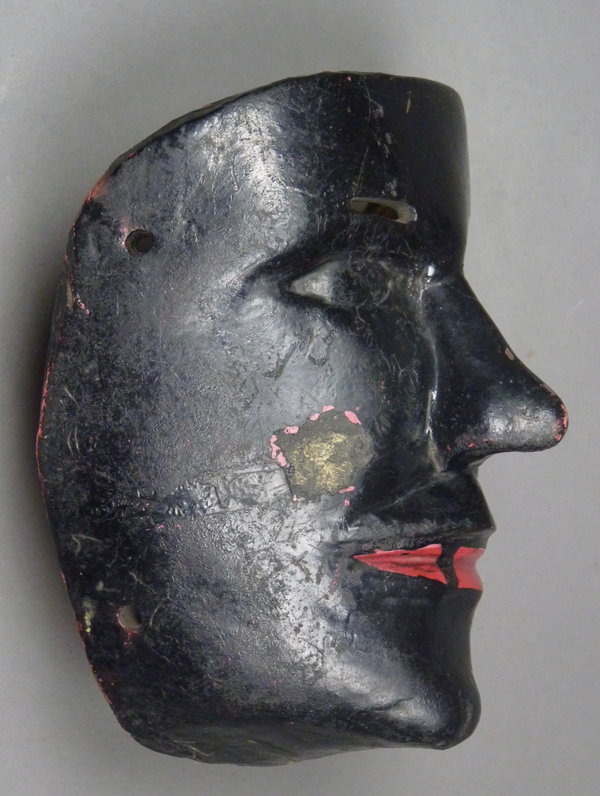 This face was originally pink. The black repainting was carelessly done. Paradoxically, the plain black paint allows one to better notice the handsome lines of this profile.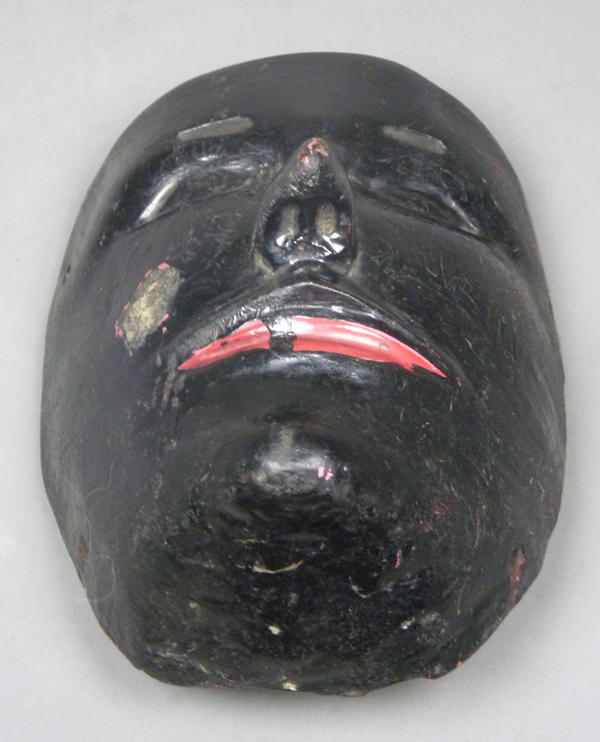 This mask is 7 inches tall, 5¾ inches wide, and 3¾ inches deep.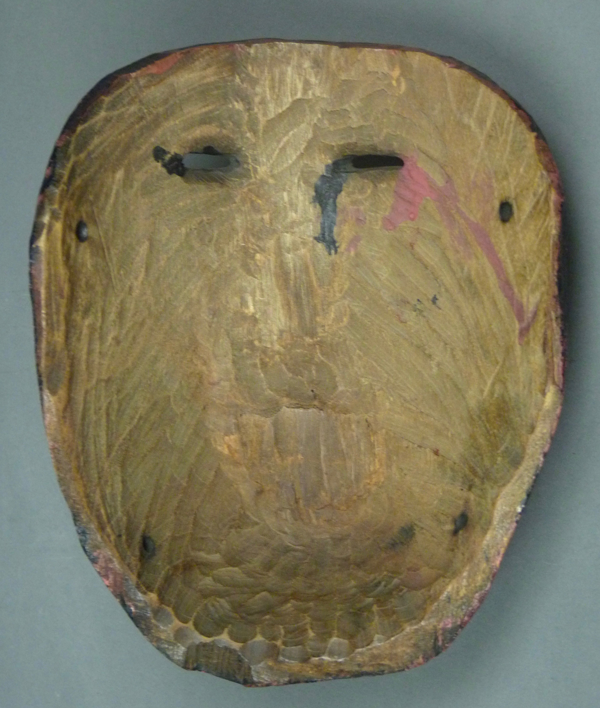 This chisel -marked back is typical of Michoacán. The back reveals marked staining from use.
The last mask in today's post, which I purchased from the Cavin-Morris Gallery in 1994, was reportedly a Viejo from Michoacán. At first glace one can see that it originally had a pink face, as one would expect for a Viejito mask, and that it was long ago repainted black.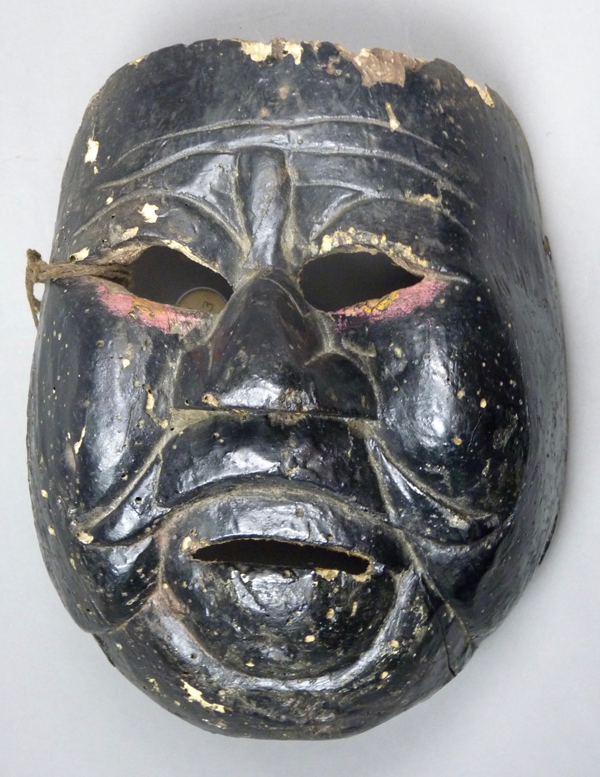 One finds such exaggerated noses on Viejito masks.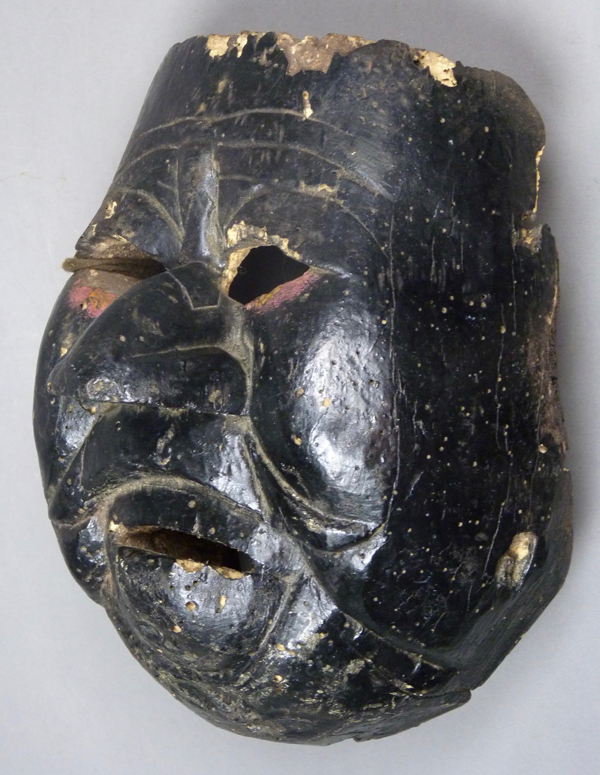 A closer view of this nose follows.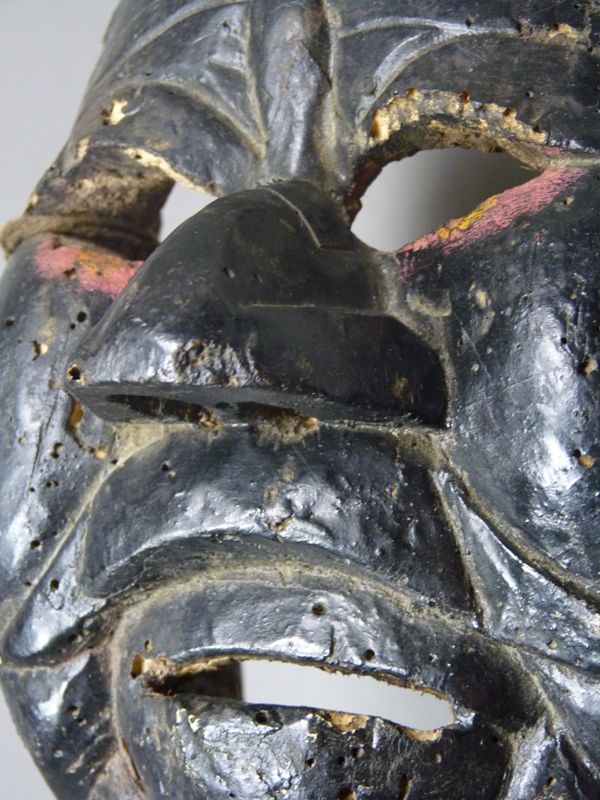 This mask has a knob chin.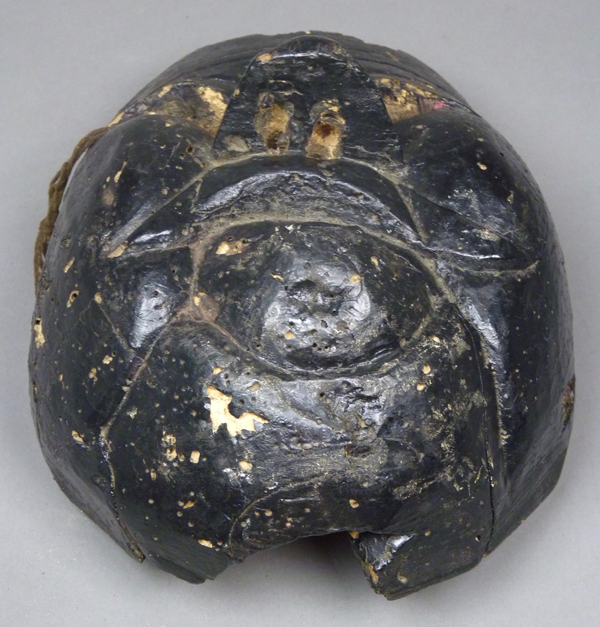 This mask is 9 inches tall, 7 inches wide, and 4¼ inches deep.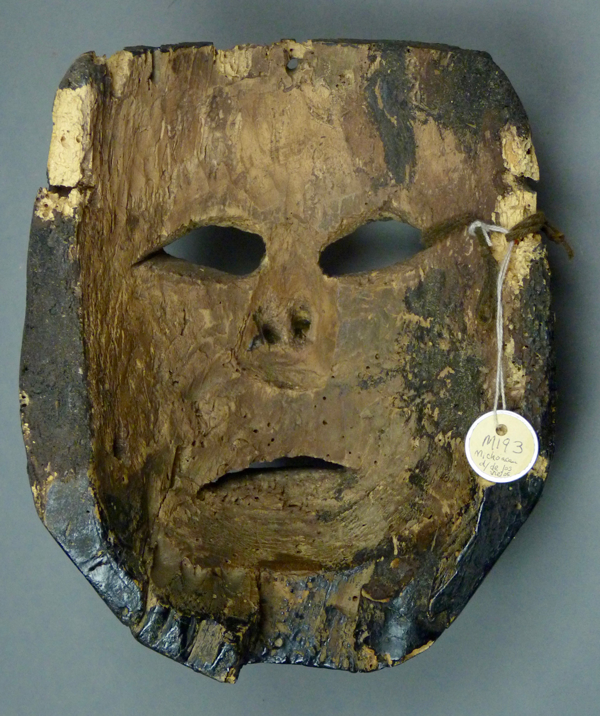 An old insect infestation caused serious damage to this mask. The Cavin-Morris tag says "Michoacán. D(anza) de los Viejos."
Next week we will turn our attention to less altered Viejito and related masks from Michoacán.