I bought this mask from Tom Kolaz in 1998. The carver was unknown, and the mask, which was found in La Union, Sonora (near Huatabampo), was thought to date to the 1930s. Many years ago, in the course of a fiesta, firecrackers (typically cohetes, or small rockets) were set off. One of these somehow flew off in the wrong direction, entered a sack containing this mask, and exploded. During a fiesta, individual skyrockets can be set off to communicate with God, or many rockets can be attached to a wooden framework that is carried through the fiesta on someone's back. These fireworks tend to fly off in many different directions, as I observed during a Rio Mayo fiesta in 2006. Probably it was such a rocket that damaged the mask.
Here is a photo that I took in the Sierra de Puebla of a celebrant setting off an individual cohete. He lit the wick with the smoldering wood that he is holding in his right hand, and his left hand will release the rocket when he fells it pulling against his grip. This one went straight up, as planned. If he had released it too soon it might have fallen to the ground and slithered off just above ground level.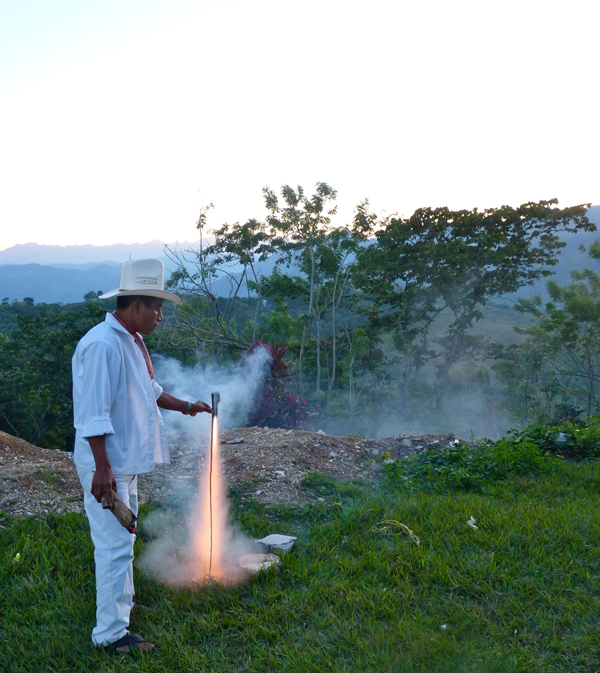 At any rate, such a rocket ended up in proximity to this mask, and the chin of the mask was damaged. Later, paper package tape was plastered over the the rough edges, and the mask remained in service for many years longer, so that the paper tape acquired its own patina. Here is this damaged old mask.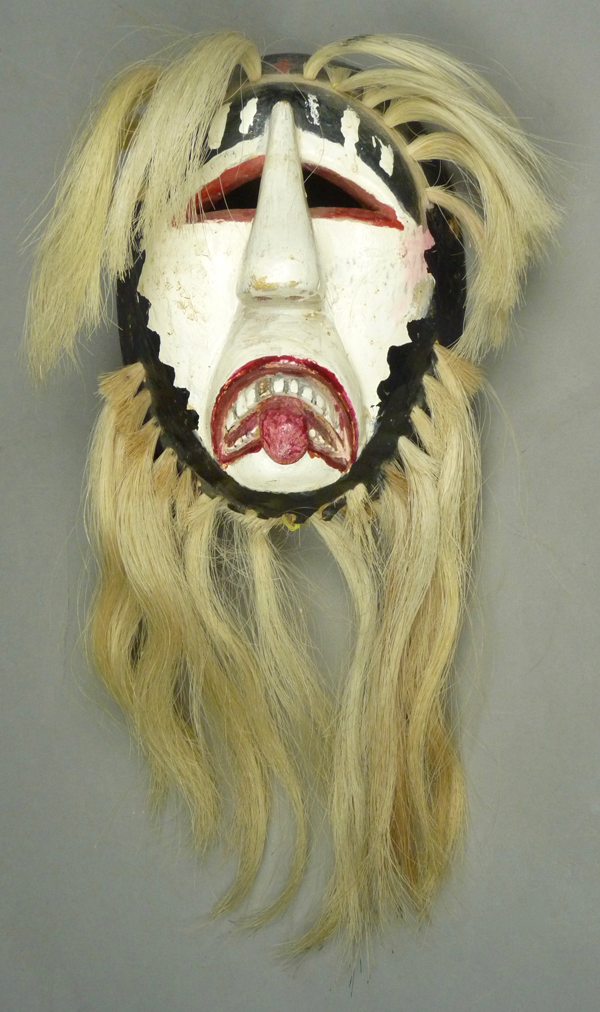 This mask has an oversized nose, and an extended tongue that is carved in high relief. The openings for vision are just a little different than most of the ones we have seen in this series, being horizontal on the lower edge and curved on the upper edge. There is a broad snouted area over the mouth.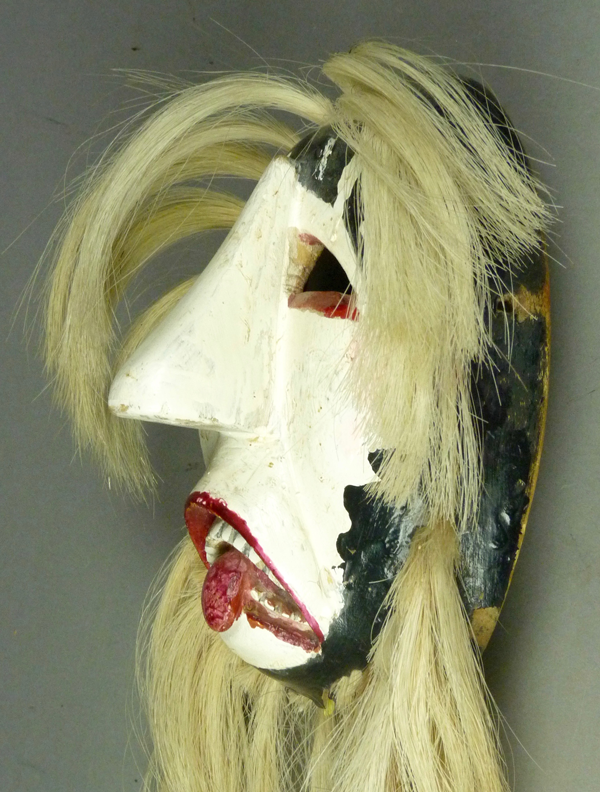 The rim design has been crudely repainted. There is a small painted Christian cross on the forehead.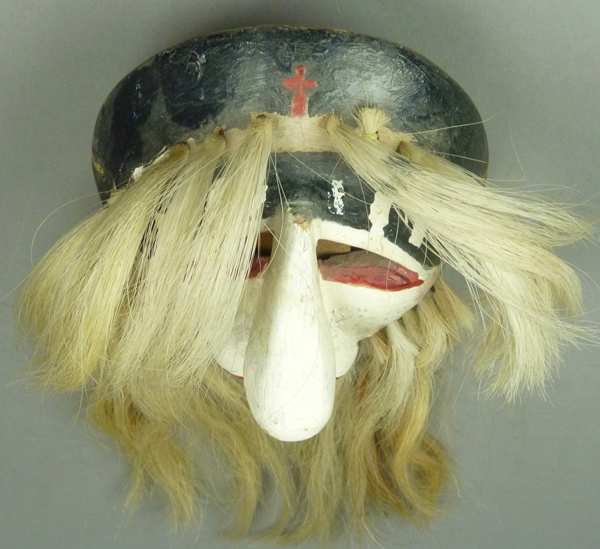 In the photos that follow one can see the damaged part of the chin.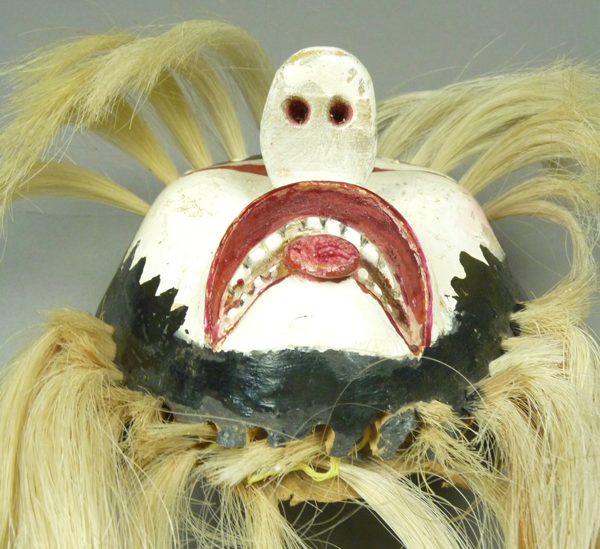 Paper tape was glued to cover the damaged edge. In these photos we see the tape as a flapping edge.
This mask was originally about 8 inches tall, 5½ inches wide, and 3½ inches deep.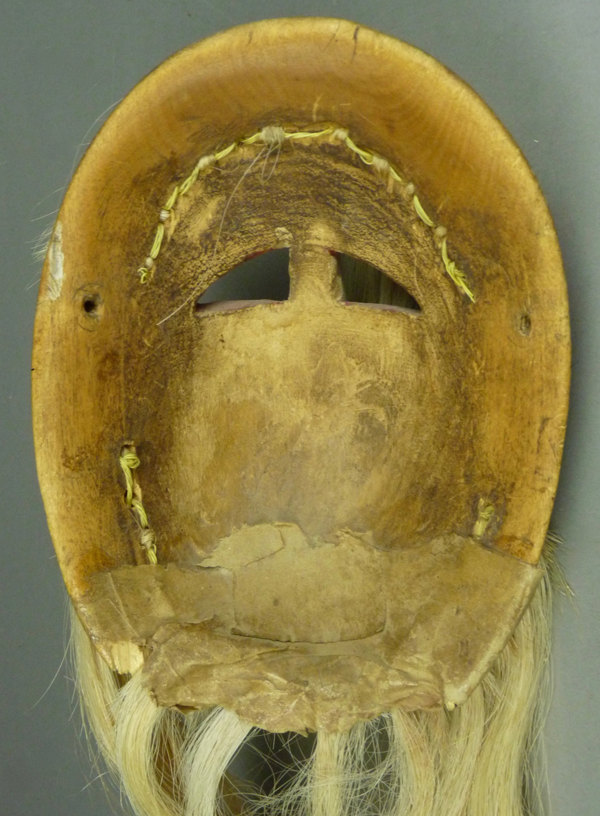 The back is darkly stained from use, as is the paper tape that was applied after the mask was damaged.
I hope you have enjoyed seeing this excellent and unusual Rio Mayo mask.
Next week we will examine a mask by an identified Rio Mayo carver, Arnulfo Yocupicio; I have no idea whether he is related to Manual Yocupicio.
Bryan Stevens