This is another post in a series about Fariseo and related masks from the Mexican state of San Luis Potosí (SLP). This week I will present masks with animal faces.
In 1993 I purchased this owl mask from the shop of Mary Jane Gagnier de Mendoza—Mano Magica— in Ciudad Oaxaca, although it was originally collected by Jaled Muyaes and Estela Ogazón. According to the tag, this is a Fariseo mask from Tanlajas, SLP, that was danced during Semana Santa.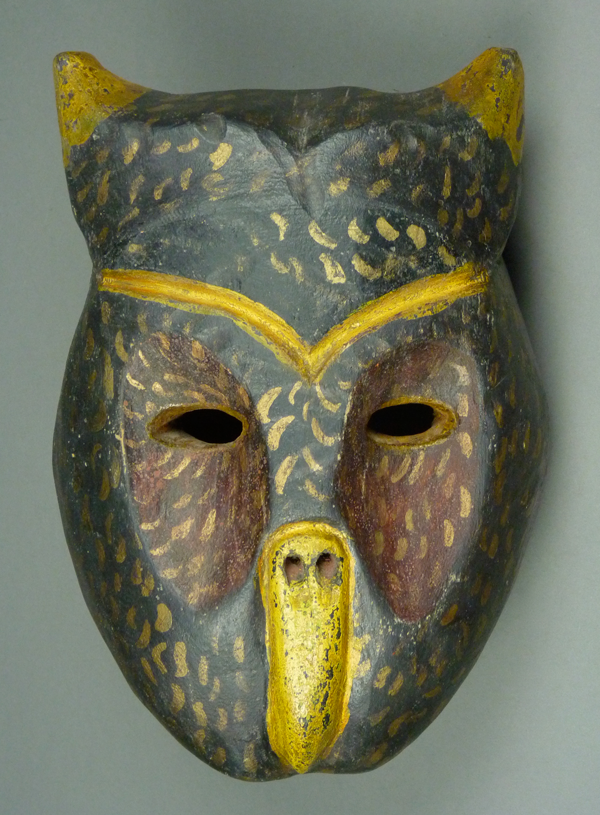 The Owl mask is particularly interesting because it has drilled holes in a rectangular arrangement on the top; these evidently held 18 feathers.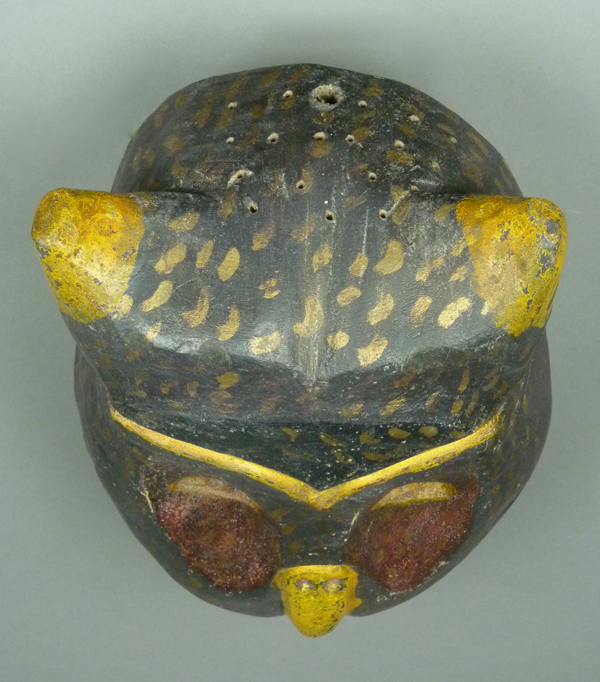 This mask is 11 inches tall, 8 inches wide, and 4½ inches deep.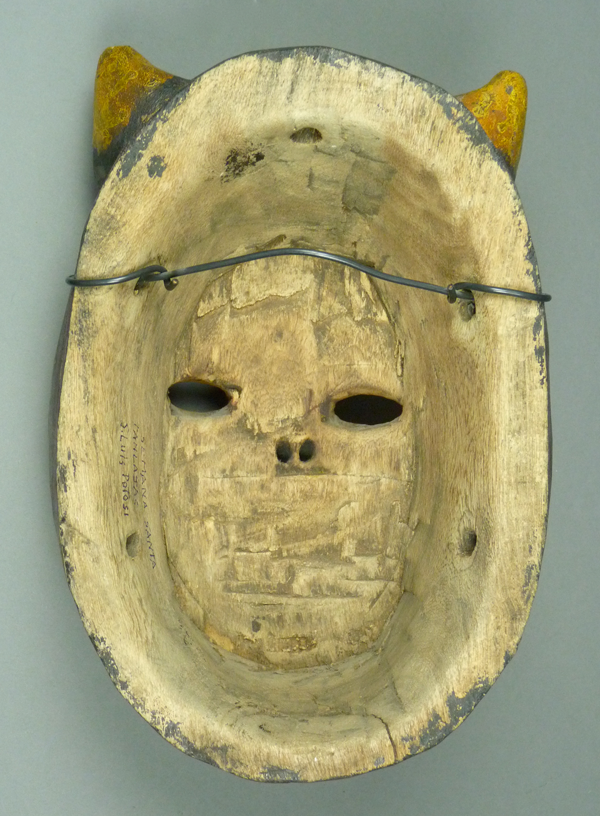 The back of this mask has marked patina, but this is not so apparent in lighting that was necessary to expose the writing inside the mask.
The second mask, an Ape, came from René Bustamante, who stated he was not told the name of the dance. For this mask, as is also the case for all of the animal masks to follow, it is my belief that the dance was probably for Semana Santa (Holy Week), although such masks could readily have also served in Carnaval (Mardi Gras). As you will see, René sometimes expressed a different opinion.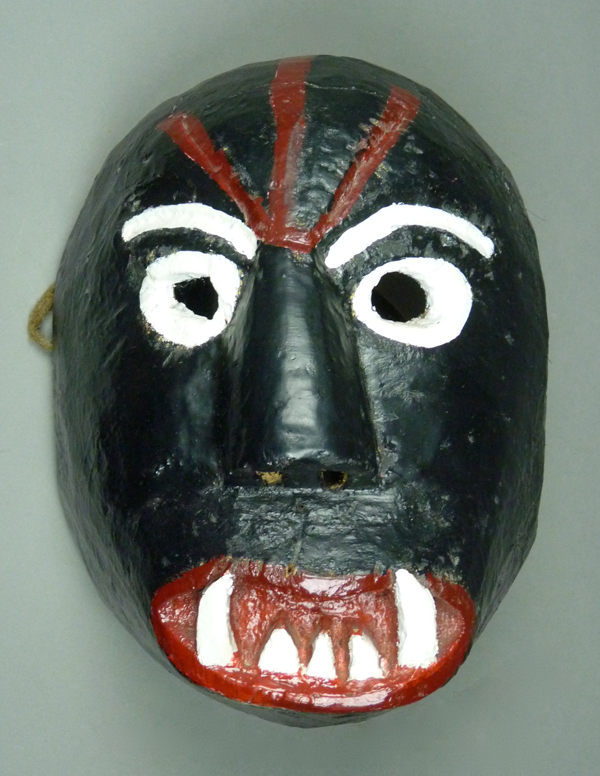 It has fresh paint but an old back. Given its similarity to the brawler masks in last week's post, I would think that the red grooves represent wounds.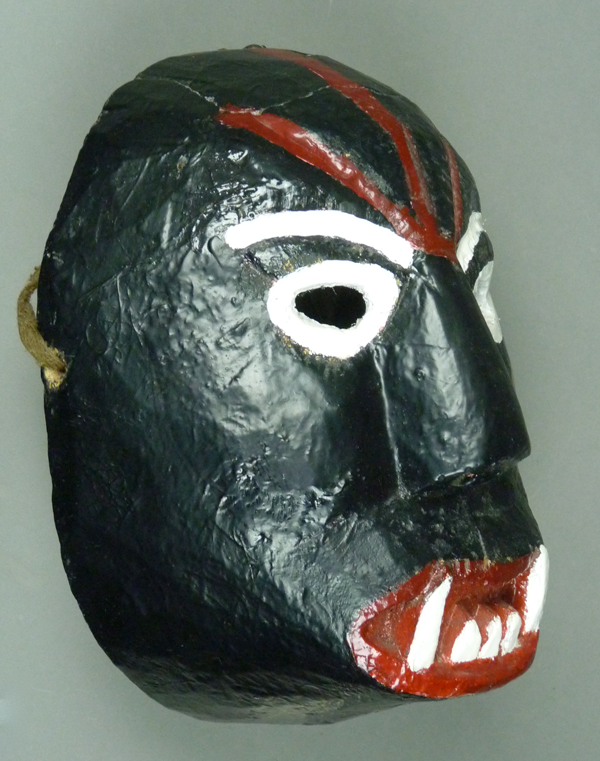 This mask is 9½ inches tall, 7 inches wide, and 4 inches deep.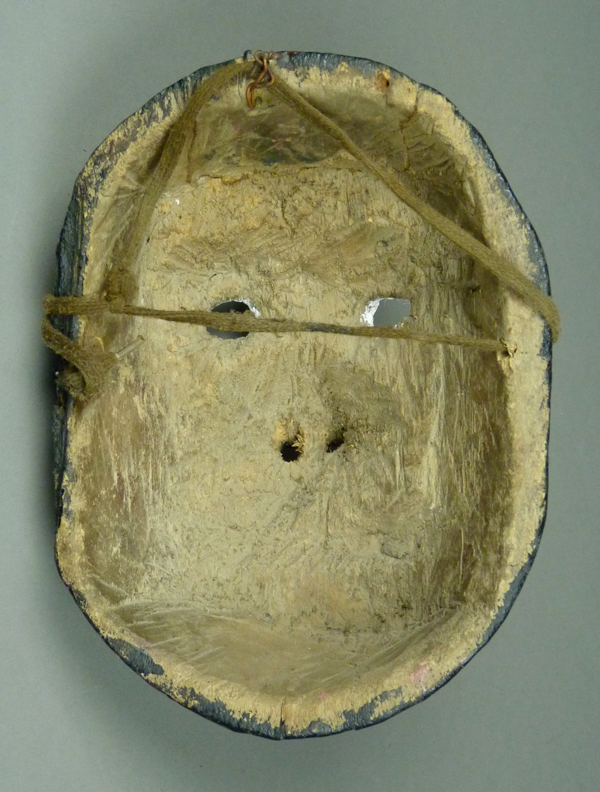 The staining from use around the rim is prominent.
Next is an ambiguous mask; is this a demon or a monkey? Like the Oriental mask in a recent post, this one also came from Robin and Barbara Cleaver, although it was probably collected by Jaled and Estela. It was found in Tanlajas, SLP. It has a somber expression, compared to the last mask. No dance was noted. One could easily imagine its use in Semana Santa or during Carnaval.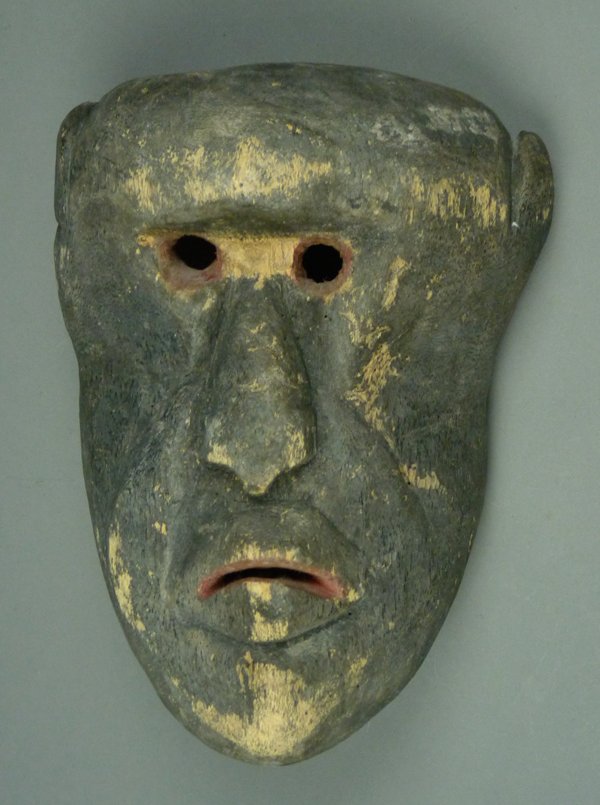 This mask has an anxious or unhappy expression.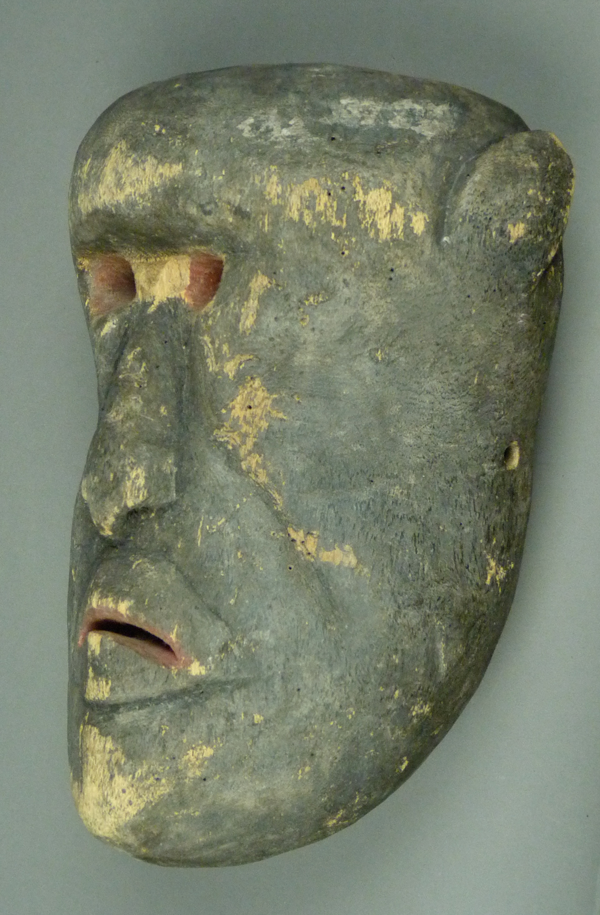 The mask is 10 inches tall, 8 inches wide, and 4 inches deep.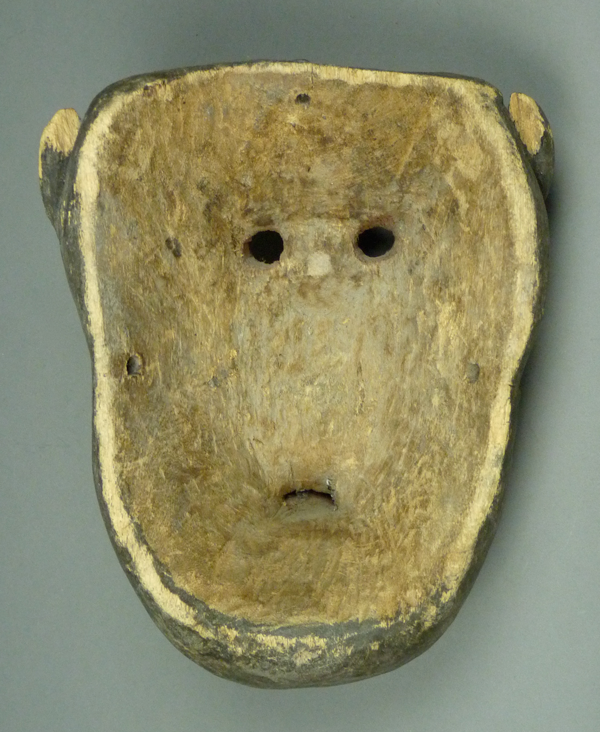 It has excellent wear.
Next we will examine two dog masks. The first Perro has a comic appearance, making one think of Mickey Mouse™. René reported that this was used in the "Dance of the Animals" in Cuzcatlán, SLP, and that it too dated from the 1940s. The name of the village may actually be Coxcatlán, but I could find no listing for animal dances in either place. I suspect that this is yet another mask that could have been used in the dances of Semana Santa or Carnaval.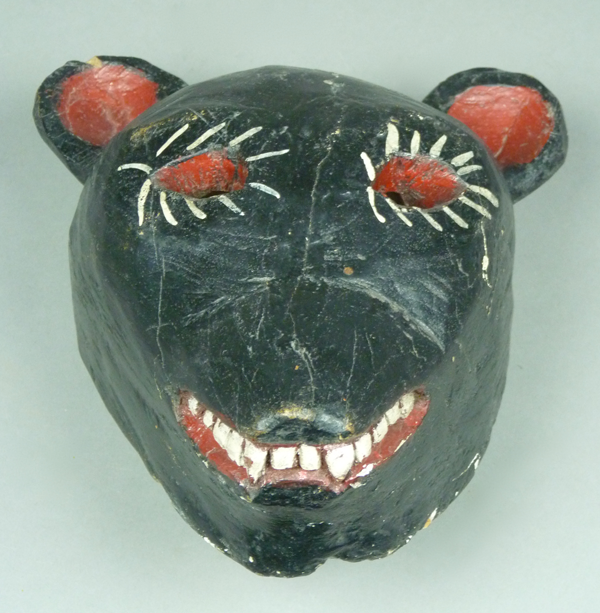 This mask has an appealing face.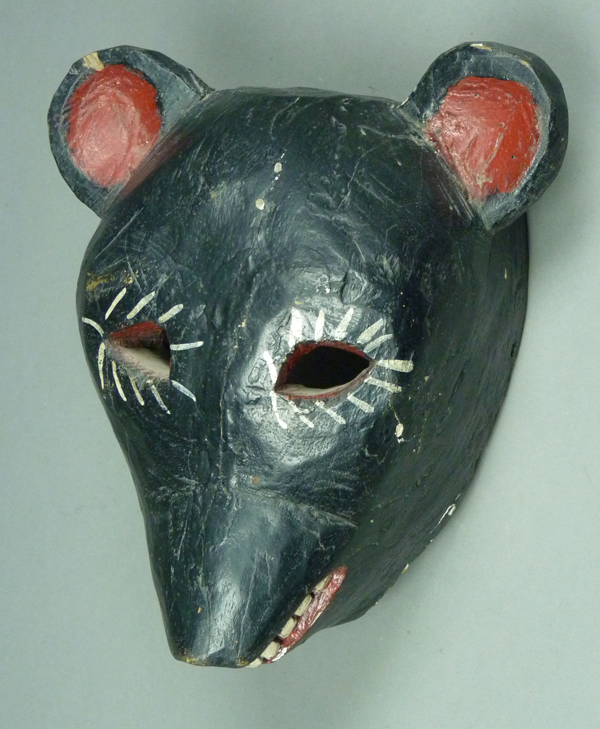 The Perro mask is 9 inches tall, 8 inches wide, and 3¾ inches deep.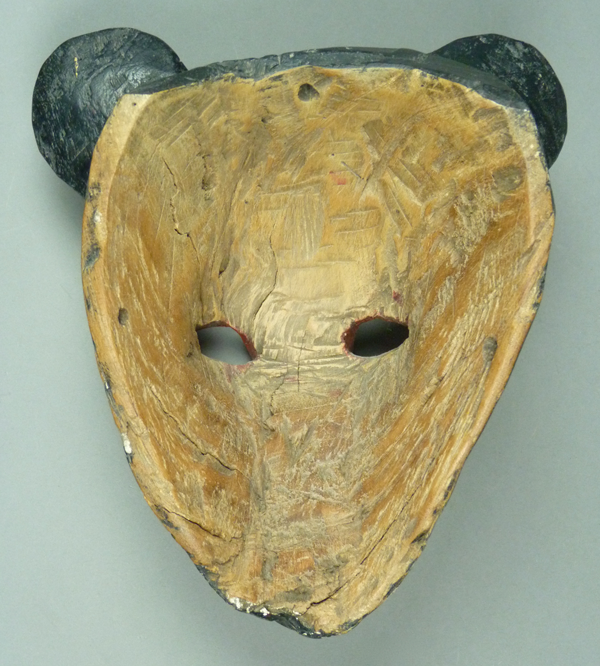 This is an old mask with evidence of heavy wear. Like the rodent and the frog masks to follow, this mask was carved from a very hard and dense wood.
The second Perro (dog) mask came without any provenance. My friend Tom Kolaz offered it to me as a mystery mask, but I thought it seemed a classic carving from SLP.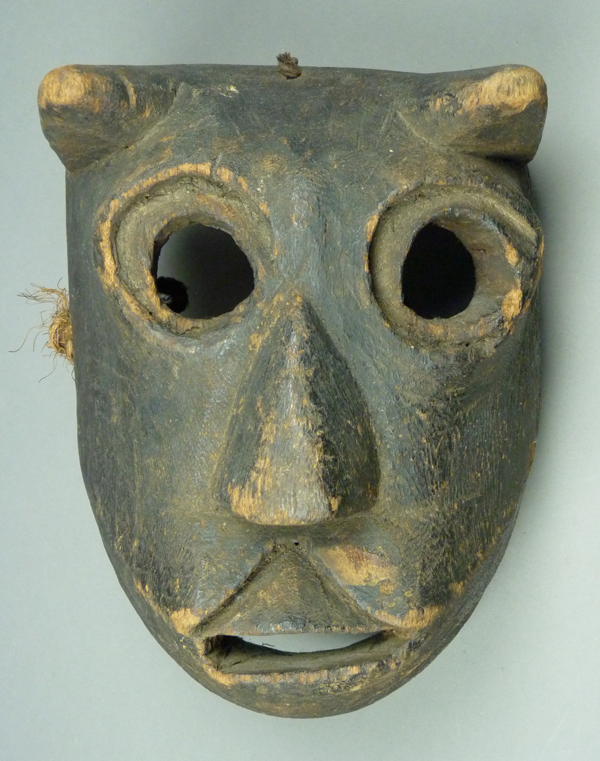 I particularly like how the  carver shaped the mouth, and also the recessed eyes. This is a very refined portrait of a dog.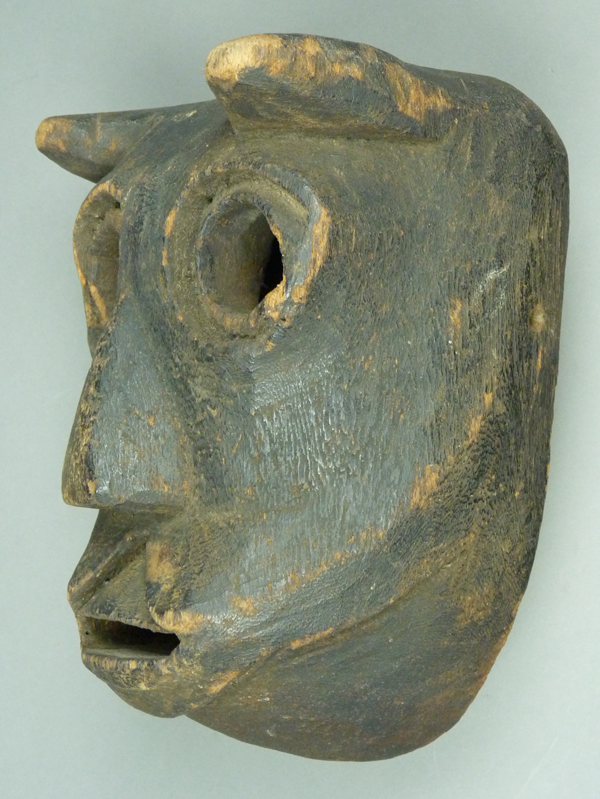 The ears resemble horns. The mask is  9½ inches tall, 7 inches wide, and 4½ inches deep.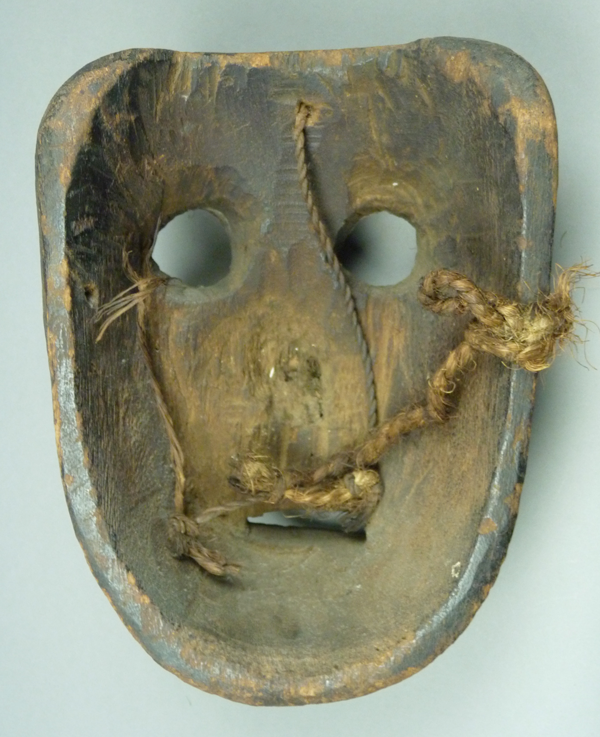 This is another mask that has seen heavy use.
The last two masks were obtained from René Bustamante. This one seems to portray a beaver, or perhaps a rat. To my surprise, research confirms that there are beavers in Mexico. René reported that this mask was found in Zapotlan, SLP, a place that I have been unable to locate, and that it was used in the dance of the Animales (animals). In the absence of further information, I also suspect this mask was intended for Semana Santa or perhaps Carnaval.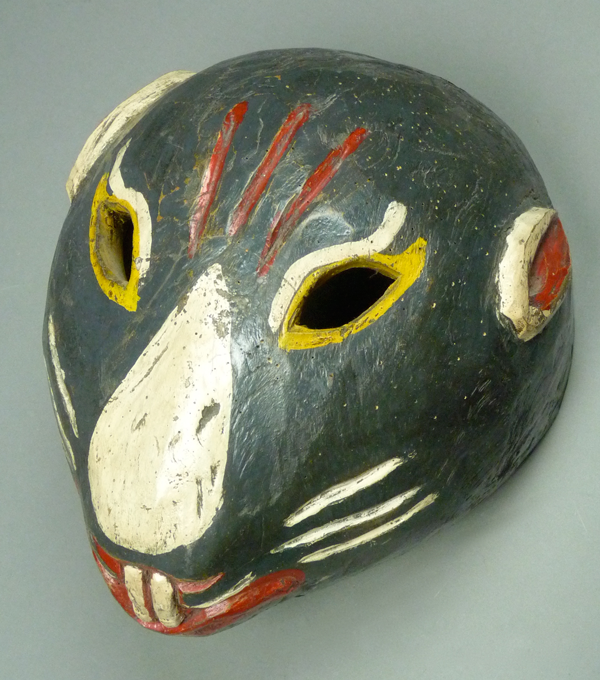 This is certainly a distinctive mask.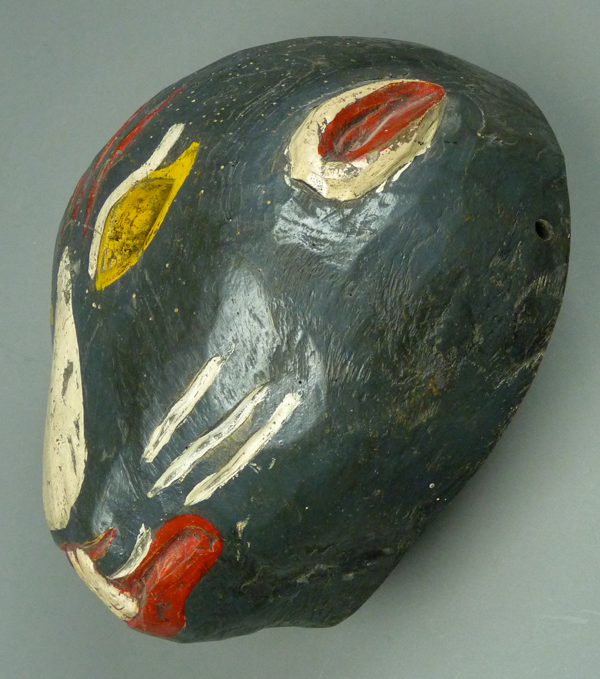 This mask is 9½ inches tall, 7½ inches wide, and 4¼ inches deep.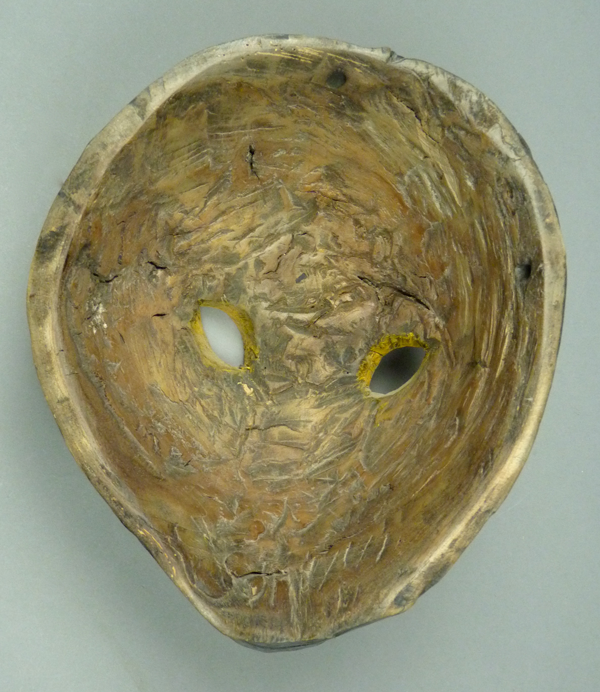 Again we see this beautiful hardwood, marked by deep staining from use.
The last mask in today's post, another from René, is a Ranita (frog). Isn't it handsome! This mask was said to be from Tancanhuitz, SLP, and from the dances of Carnaval there.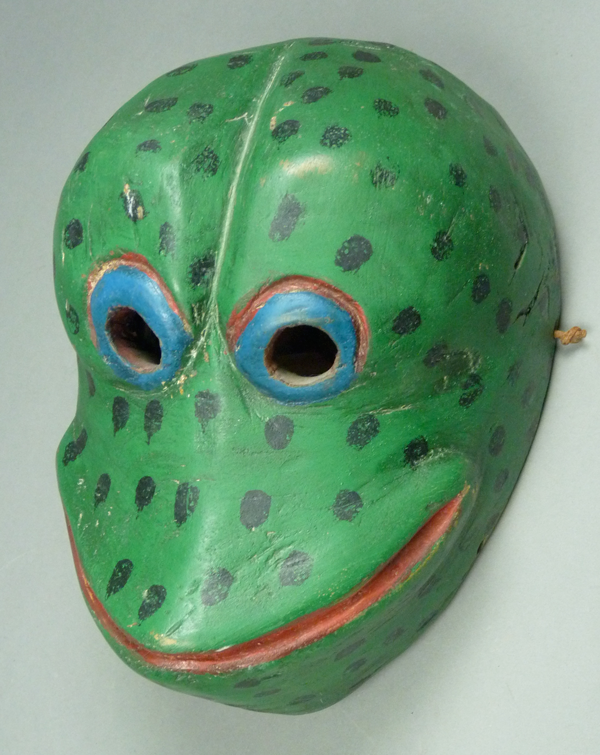 This is a mask to make one smile.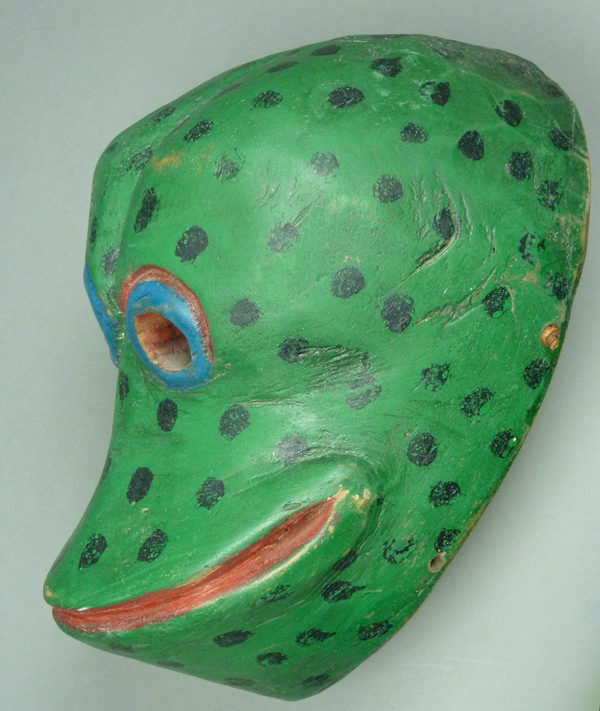 The Frog is 10 inches tall, 6¾ inches wide, and 5 inches deep.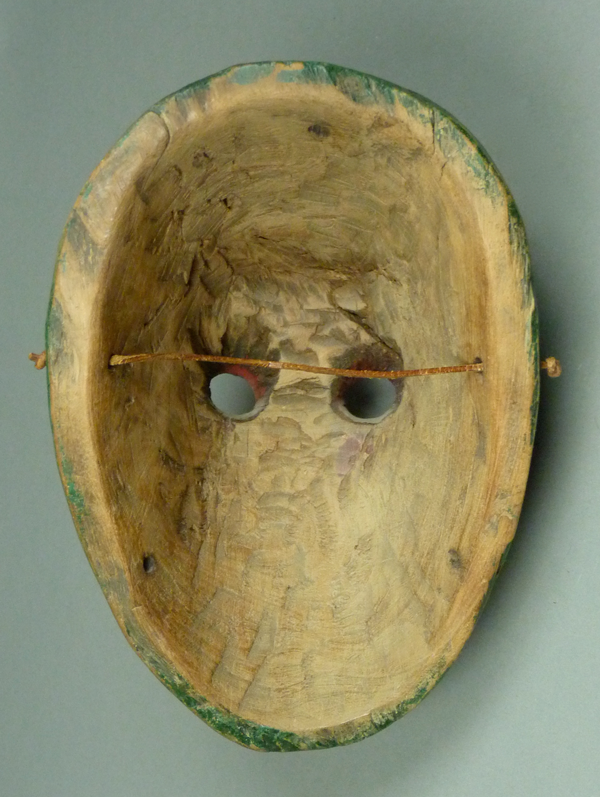 Here is that same wood. Whatever their history, I suspect that the last two masks and the Mickey Mouse look alike (Perro) were all carved by the same carver.
I had thought that this post would conclude my series on Fariseo masks from San Luis Potosí. However another collector, John Levin, has provided photos of a few more masks to extend the discussion. Those will appear next week.