John Levin, a Mexican mask collector who lives in San Francisco, California, has sent photos of some of his masks that are from  San Luis Potosí (SLP). I am pleased to share these with you.  In his day job John is a screenwriter; he has just published a book of his plays, Three Plays By John F. Levin. If others would like to contribute photos for display on this site, I would be pleased to explore that with them.
The first of these masks is an obvious devil, one of the Fariseos that perform during the drama of Semana Santa. Several aspects of this mask are notable. First, the features of the face are carefully carved, and enhanced by careful painting; I perceive the mask as having a glamorous feminine face. So I wonder if this is a Diablita, a female devil. Of course the beard argues against this, but that may have been applied by a dancer as an afterthought. Certainly there is a sharp contrast between this face and the faces of the brawlers in a recent post.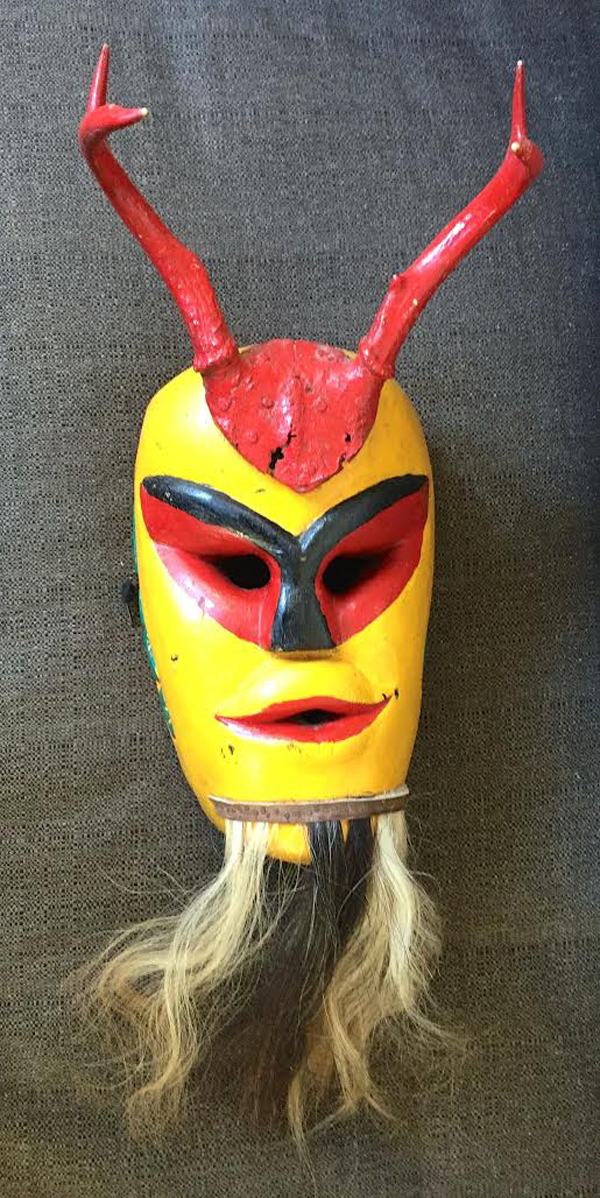 A second aspect is the decoration of this mask. As we saw with the leather Tastoane masks from Jalisco, decorative elements can be drawn from traditional or contemporary sources. This mask seems dedicated to the Nike™ brand.
This mask is 10 inches tall with the horns, 6 inches wide, and 4 inches deep.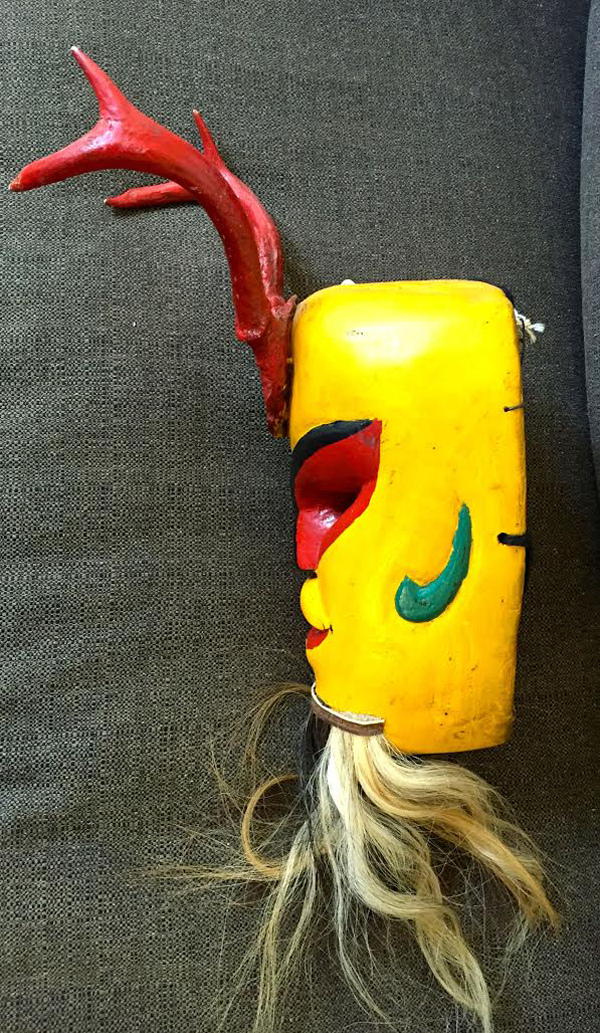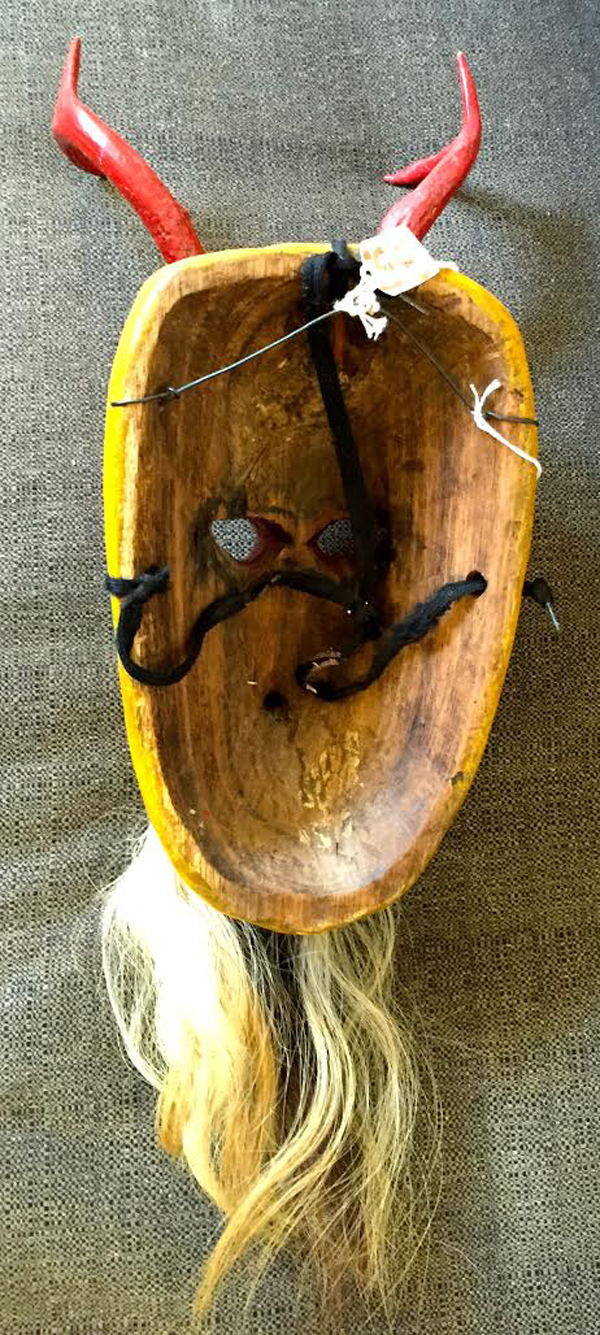 The back of this mask has a glazed appearance that may reflect the application of a protective coating along with significant use that has worn off some of that coating along the edges.
I found a link to a video of the Fariseos in action during Semana Santa in Tanlajás SLP. They whip the legs of those around them, like the Judios in Naranja, Michoacan in my post of February 23, 2015. Unfortunately I was unable to reliably reproduce the link to include here. I invite you to search for it.
Next is another devil mask from John Levin's collection. This one was sold to John by René Bustamante, who reported that the mask was danced in Tancanhuitz, SLP. It has a face that is half red and half black; such divided faces are commonly seen in Fariseo masks from San Luis Potosí.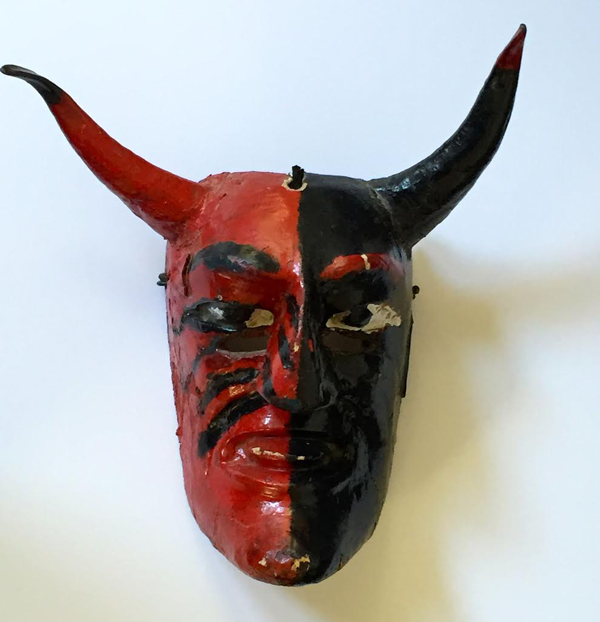 This mask is 11 inches tall with the horns, the face is 6½ inches wide, and 3 inches deep.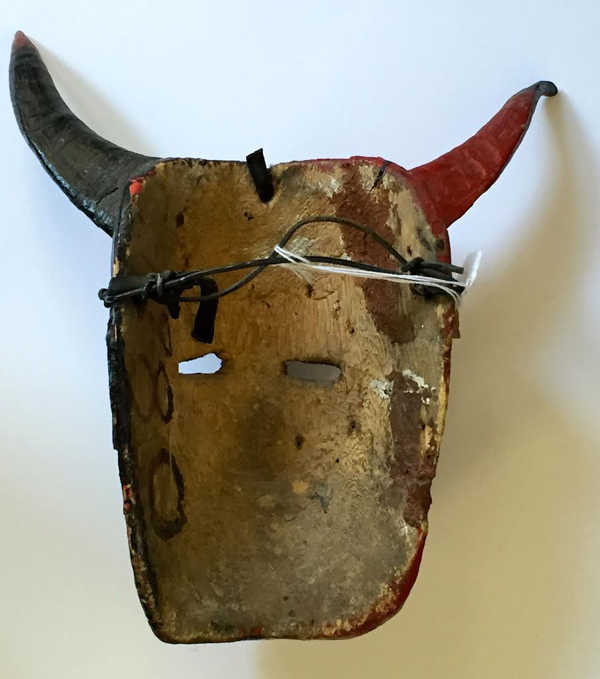 The back of this mask demonstrates significant age and use. Furthermore, once again we see one of those numbers indicating that this mask was probably in the UNAM show in 1981 and therefore from the collection of Jaled Muyaes and Estela Ogazon.
The mask that follows has the face of a ghoul, a dead person. In La Muerte en las Danzas Mexicanas: Colección de Máscaras de Estela Ogazón, a mask with a similar face (on page 8) is labeled as a "Muerte [dead person], fariseo." That mask is divided down the center into a side with red flesh while the other half has the face of a skull, reminding one of the last devil. I have noticed that masks of the dead are frequently painted blue or green in Mexico.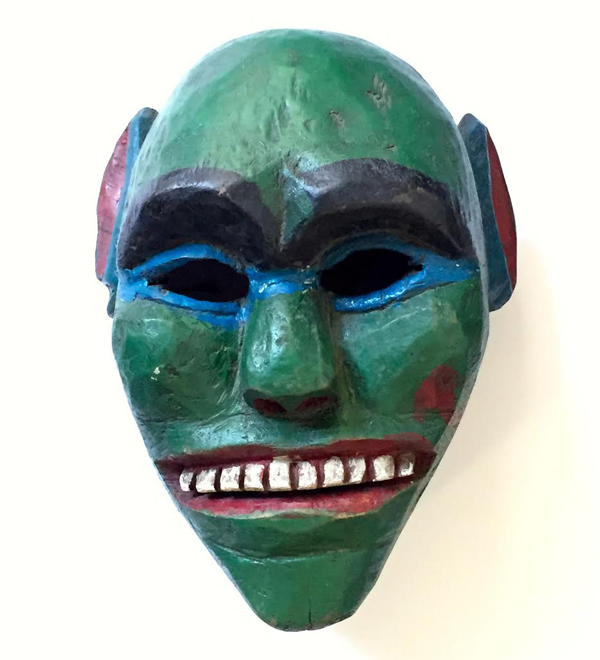 This mask is 10 inches tall, 6 inches wide, and 4 inches deep.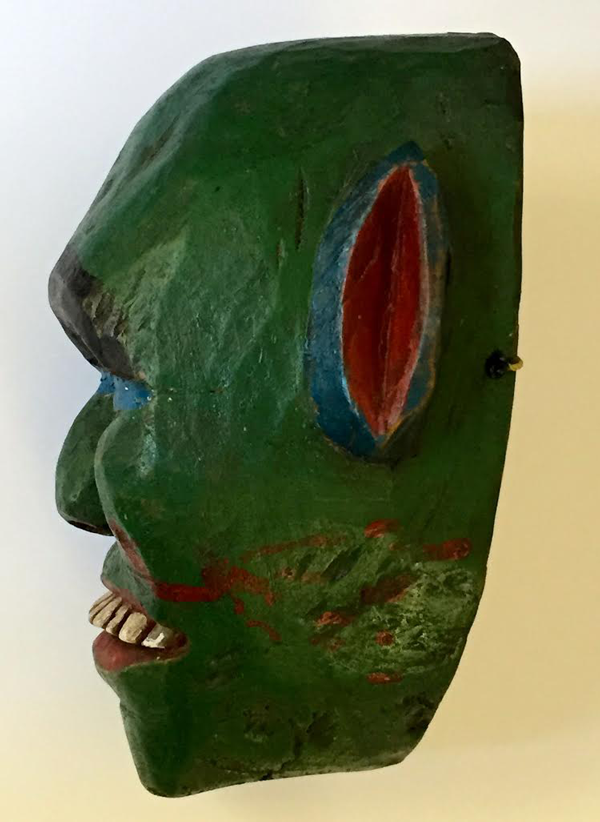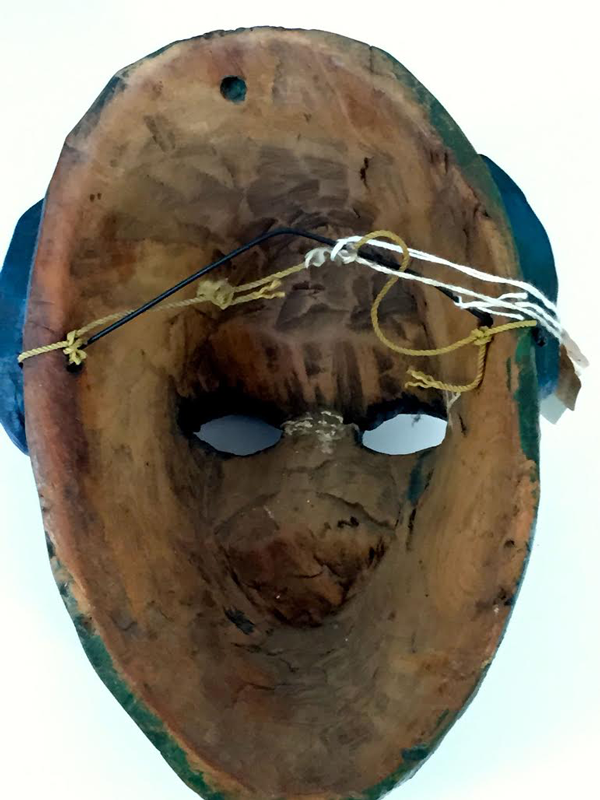 This is another mask with a worn back.
Next is another of John Levin's masks from San Luis Potosí. This one has eyes that are shaped like those on Mexican Luchador (wrestler) masks. It was said by René Bustamante to be from Carnaval. It is about 8 inches tall and 6 inches wide.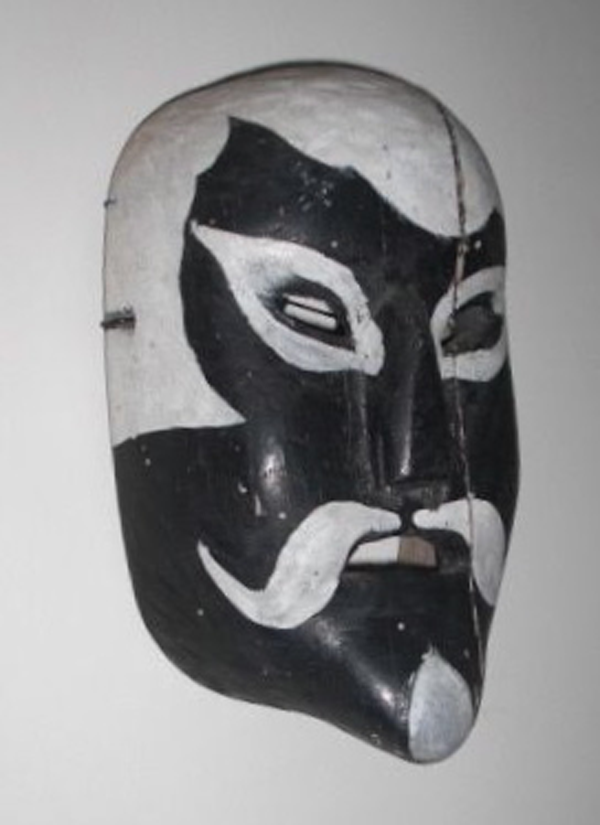 The last two masks in this series, still others that were sold by René Bustamante, were described as Professor Chango (monkey) masks. As you will see, these are charming masks. A dancer has added strips of hide to "improve" the first of these. If one collects Mexican masks for a while, one begins to notice how frequently such improvements occur, involving added features and extra paint. This mask is 8 inches tall, 6 inches wide, but only a few inches thick, not as deep as the other Fariseos.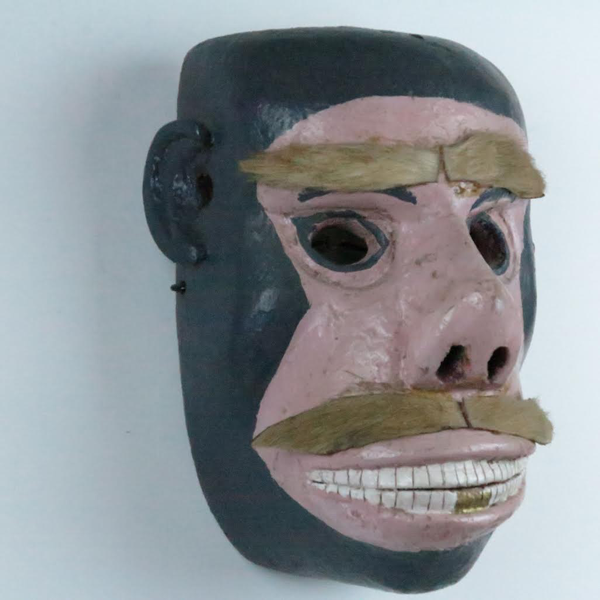 Here is the second Professor Chango mask from San Luis Potosí.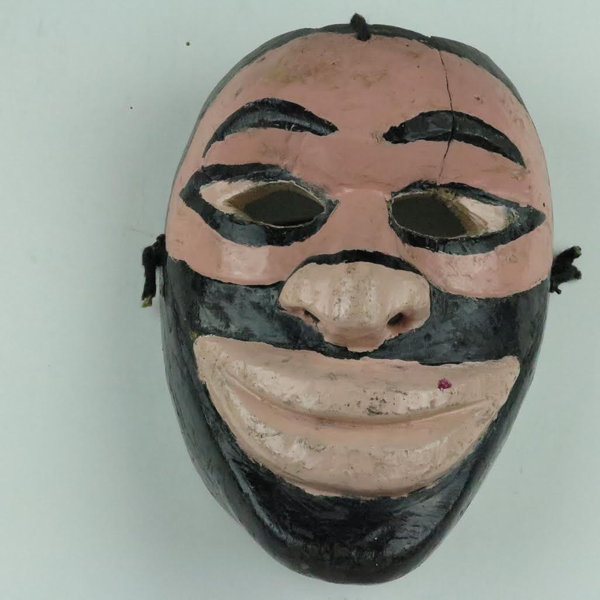 This mask is the same size as the one above, 8 inches in height, 6 inches wide, and 2½ inches deep.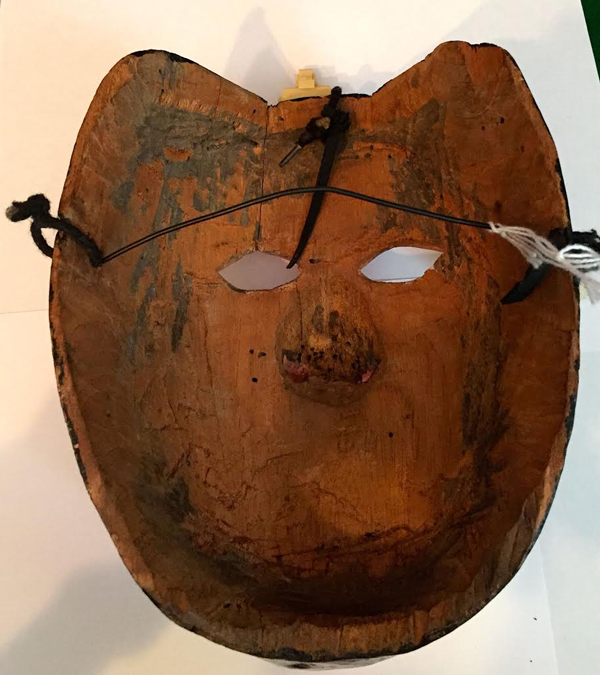 The back of the second mask shows significant staining from use.
I hope that you have enjoyed the vivid masks from San Luis Potosí. I collected so many myself because I thought that they were really great. John, the owner of the masks in today's posts, also likes them. Next week I will turn to a completely different topic, telling about sculpture and mask making by my late friend, Jaled Muyaes of Mexico City.