Today I will show some more unusual masks  that were carved by Crisencio Molina Maldonado, and then one of his necklaces, which are worn by Pascola and Deer dancers. I will begin with this Mouse faced mask. In 2007 Tom Kolaz told me that Crisencio had a friend in Potam, Sonora, a Pascola dancer whose nickname was "Mouse," so Crisencio decided to make a mask with a mouse face for that dancer. The friend liked this mask and wore it as a Pascola. Both Tom and I found this a charming story, and so Tom asked Crisencio to make copies of that design for us. Crisencio delivered this one for me about two years later.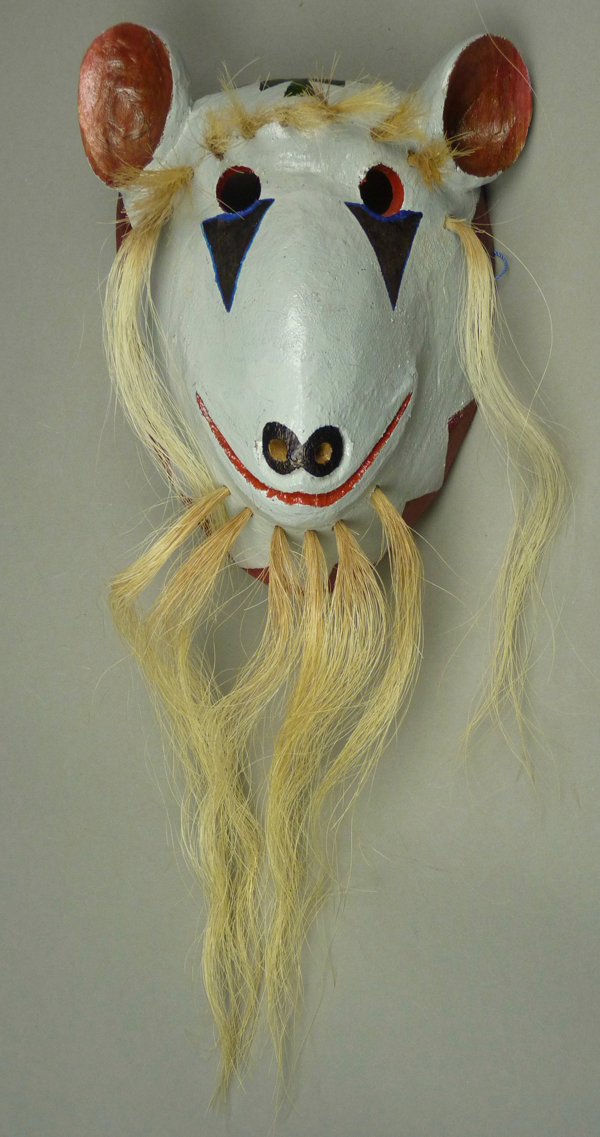 The ears are most artfully carved.
There is a forehead cross that is typical for this carver.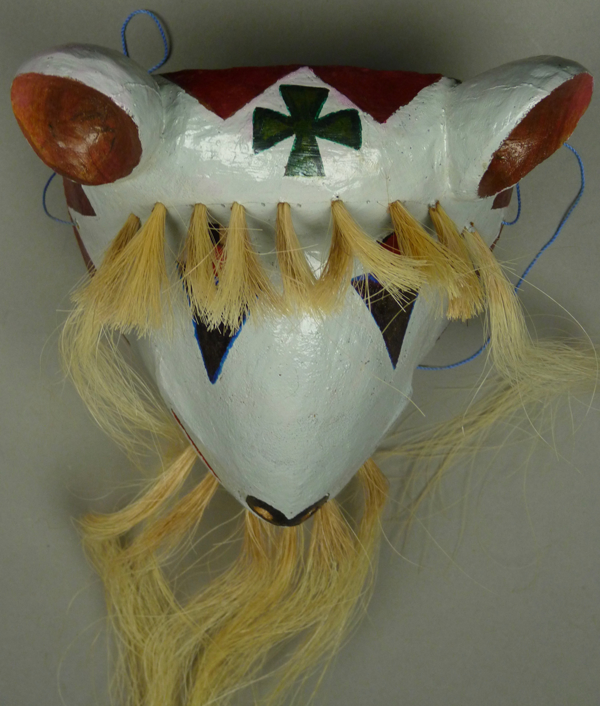 There is not a cross on the chin.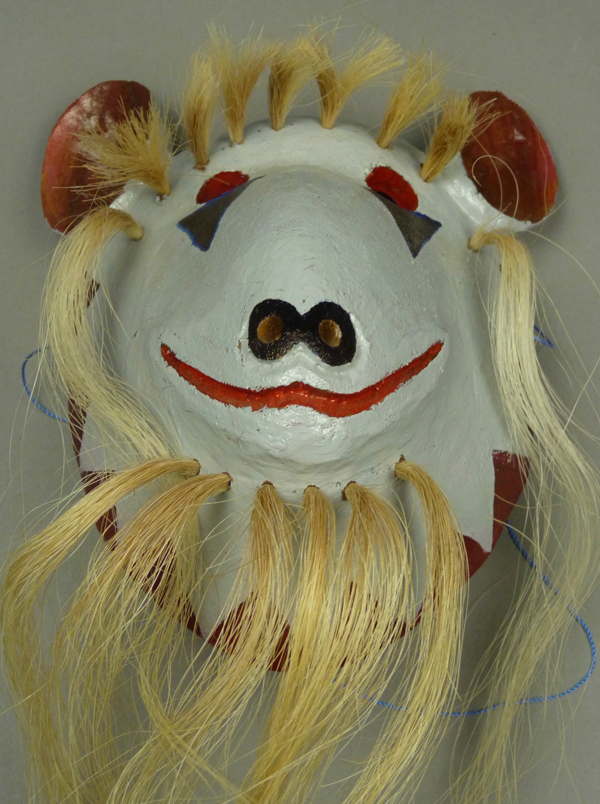 This mask is 8 inches tall, 5¾ inches wide, and 3 inches deep.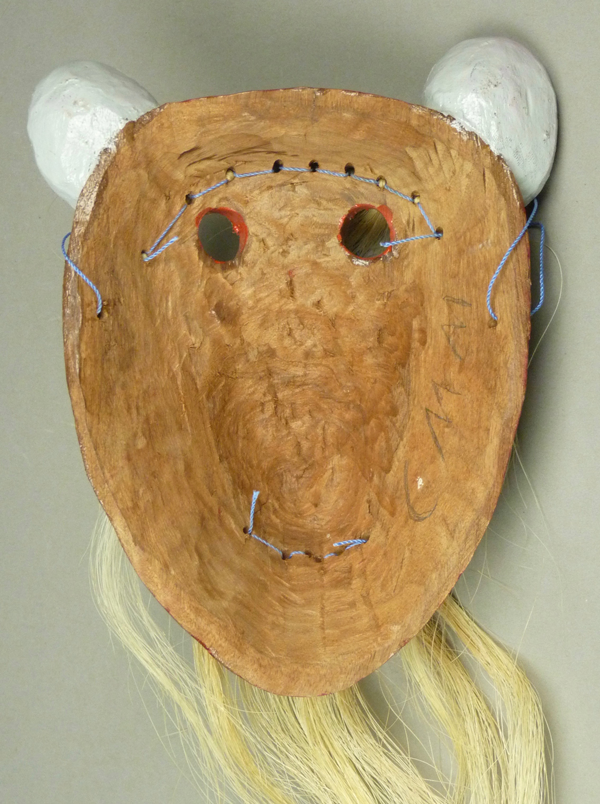 Tom Kolaz wrote CMM on the back.
I got this Frog Pascola mask from Crisencio in 2008. As far as I know, frogs and toads do not figure in dances by the Pascolas. However, such animals are featured in Yoeme beliefs, legends, and folk tales about rain.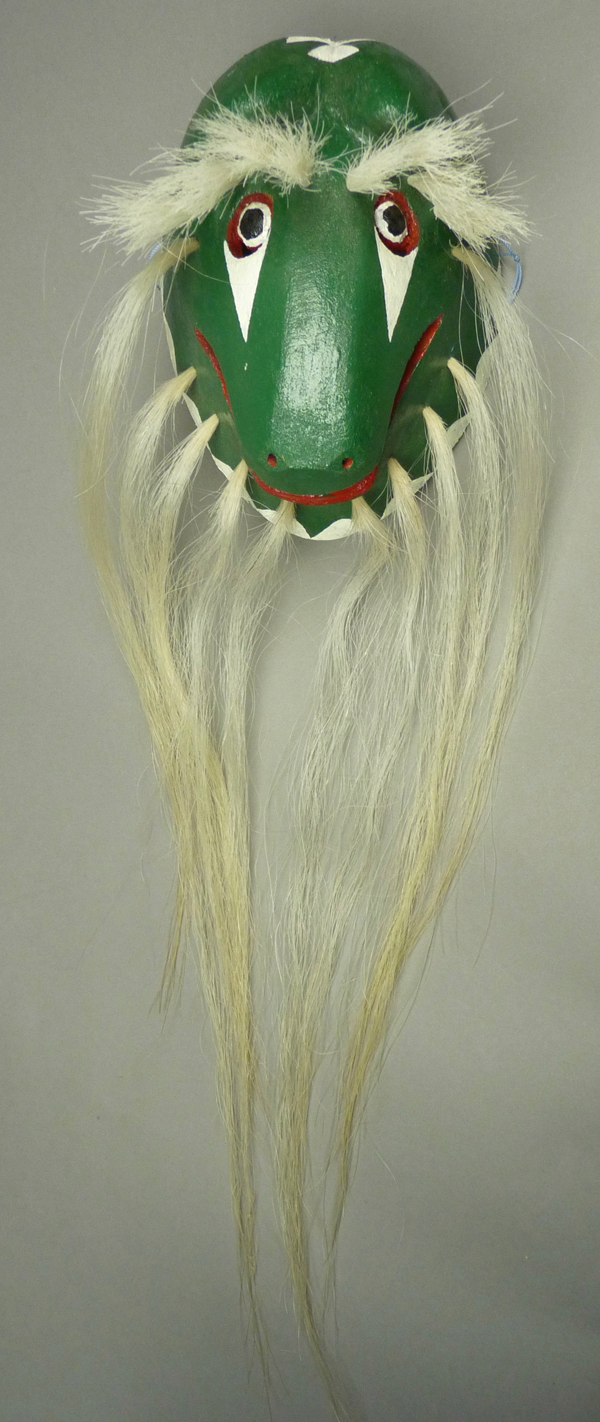 Note the crescent shaped vision slits that are nearly hidden under the carved and painted eyes. Crisencio is one of several carvers from Potam who sometimes use this variant.
Usually Crisencio's masks are cleanly carved with simple lines, as in this case.
Note the unusual twin domes on the forehead, meant to depict the features of a lizard.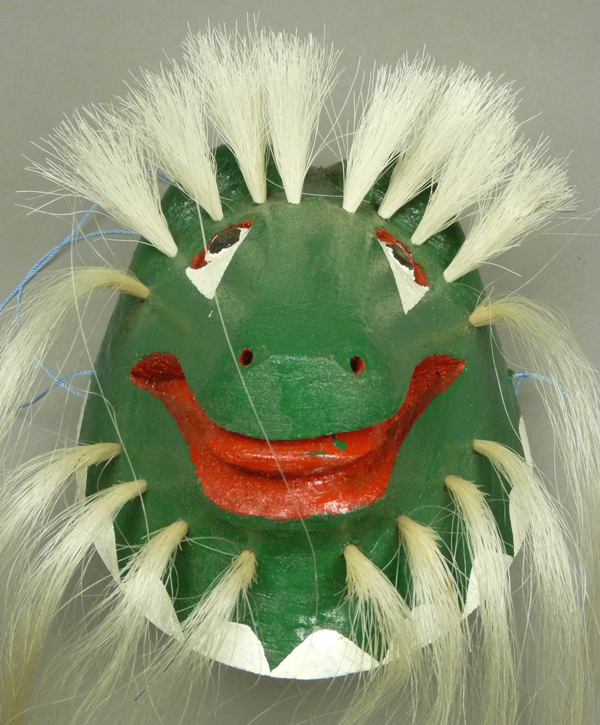 This mask is 7¼ inches tall, 5½ inches wide, and 3½ inches deep.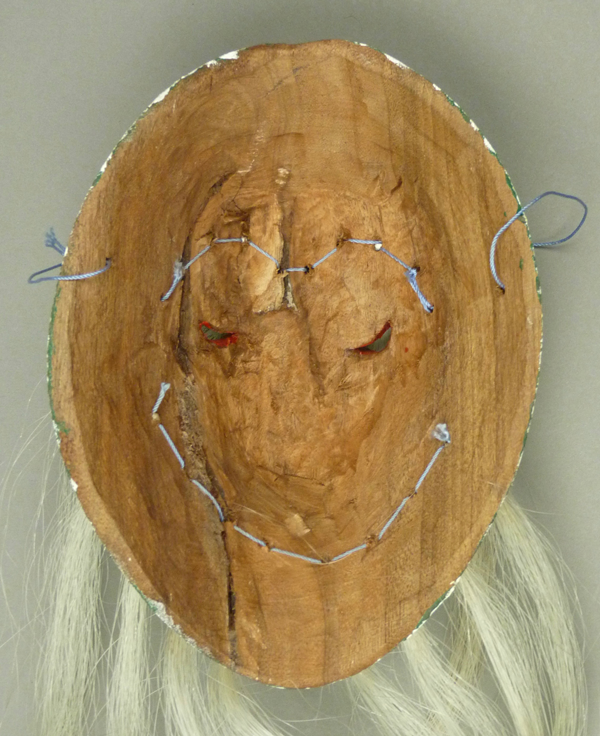 This is an undanced back.
In 2009 I bought a Pascola mask by Crisencio that depicted a Bear.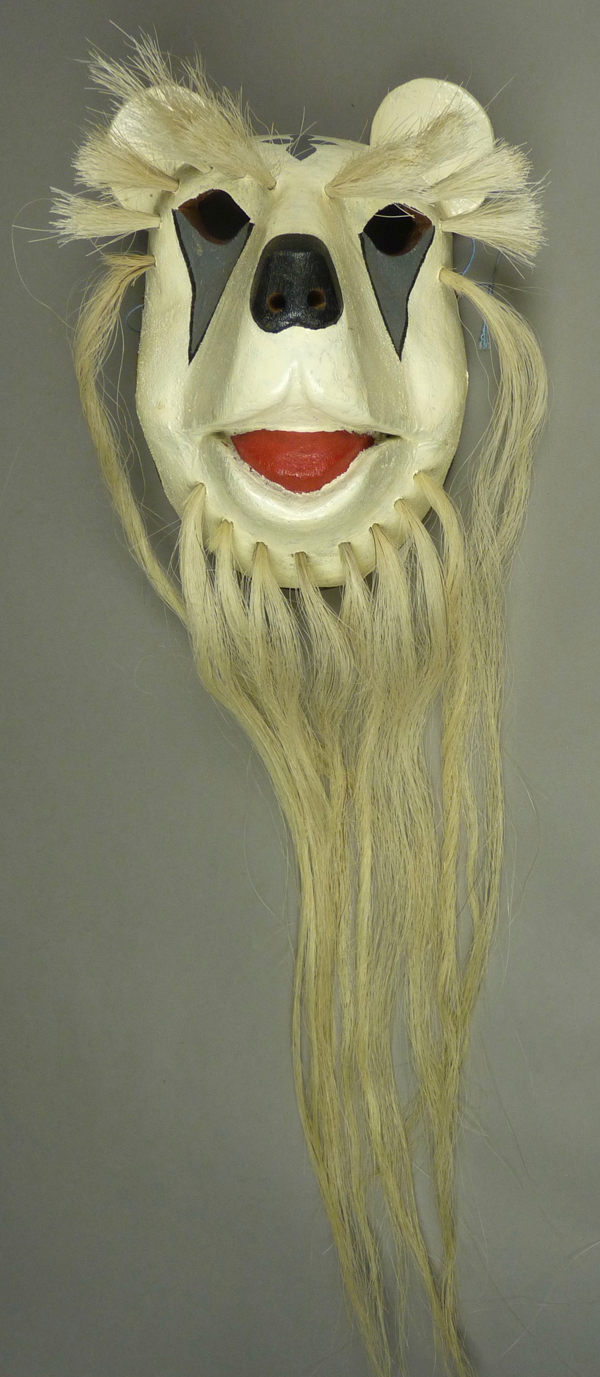 There are bears in Sonora.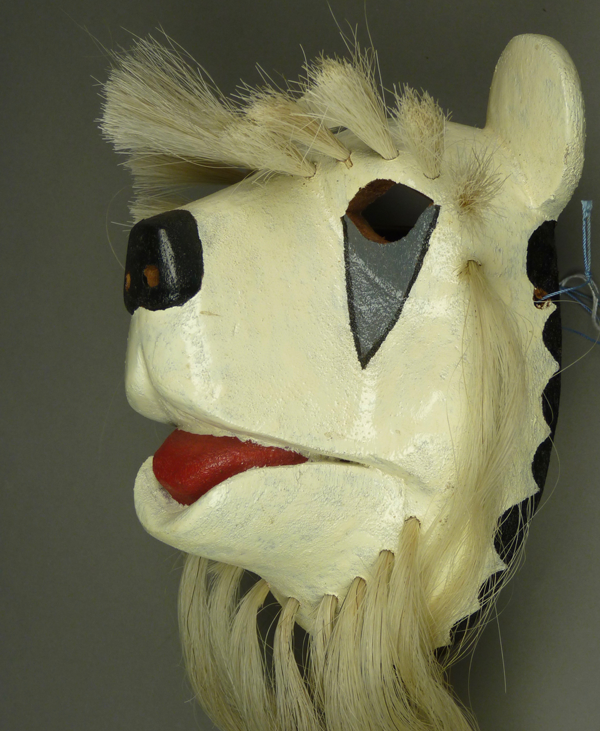 This bear has a friendly expression, rather than one that is menacing.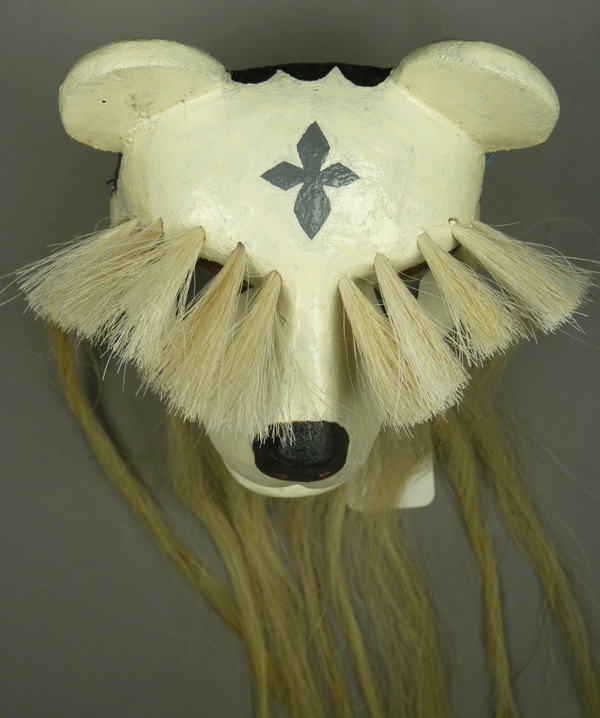 There is an attractive forehead cross.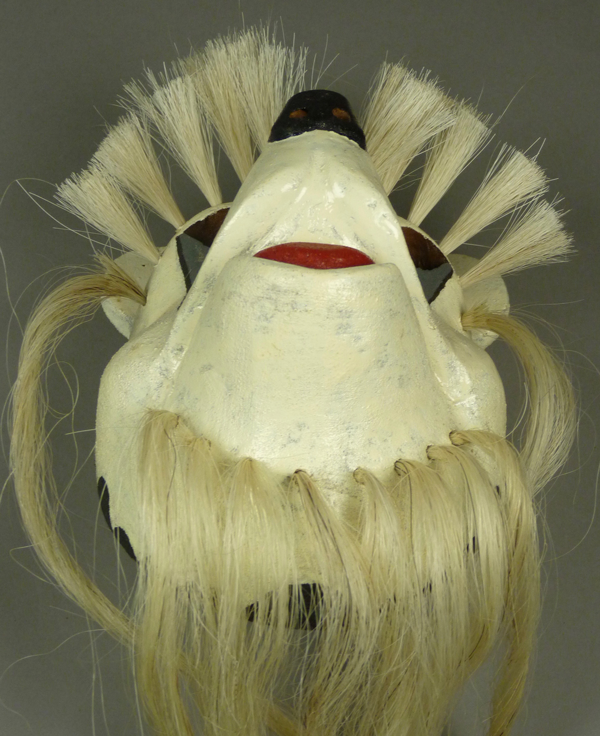 This mask is 8½ inches tall, 6¼ inches wide, and 4 inches deep.
The back shows no sign of wear.
In 2010, I was quite surprised to see that Crisencio had created a Horse Pascola mask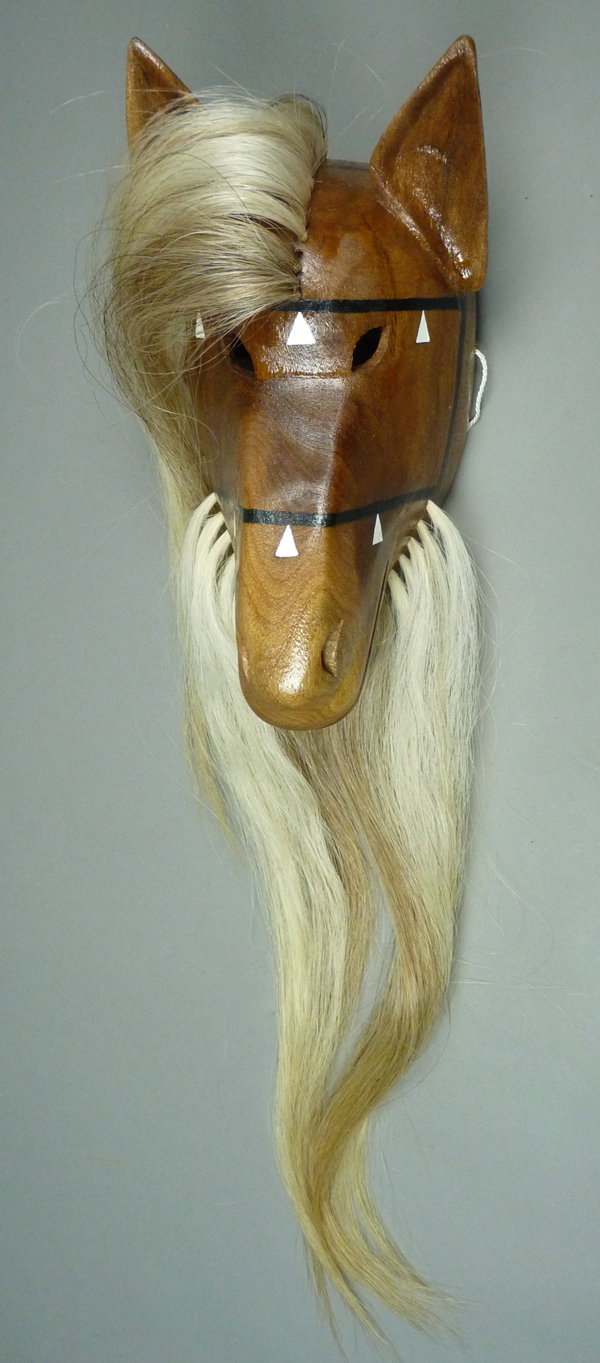 The bridle has decorative tassels. The natural color of the wood provides a nice color for a horse.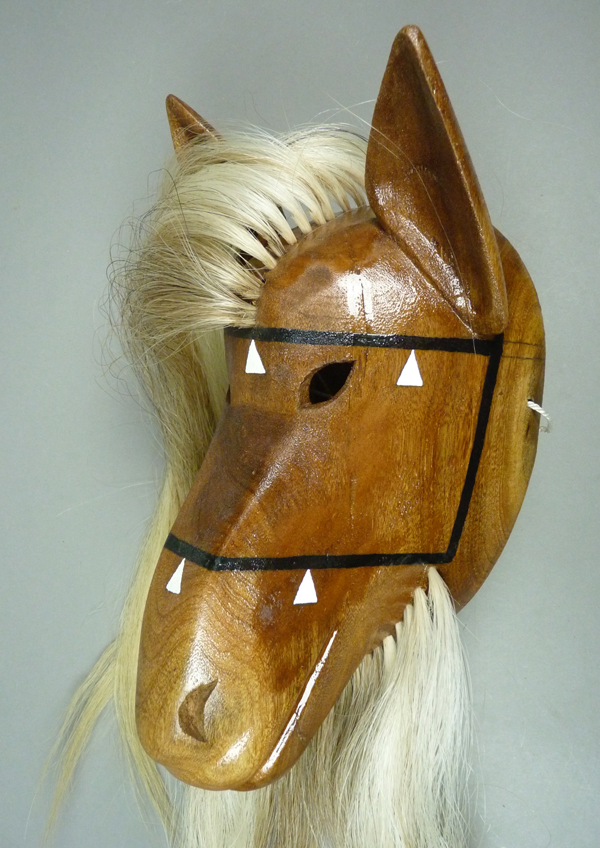 The mane leaves no space for a forehead cross.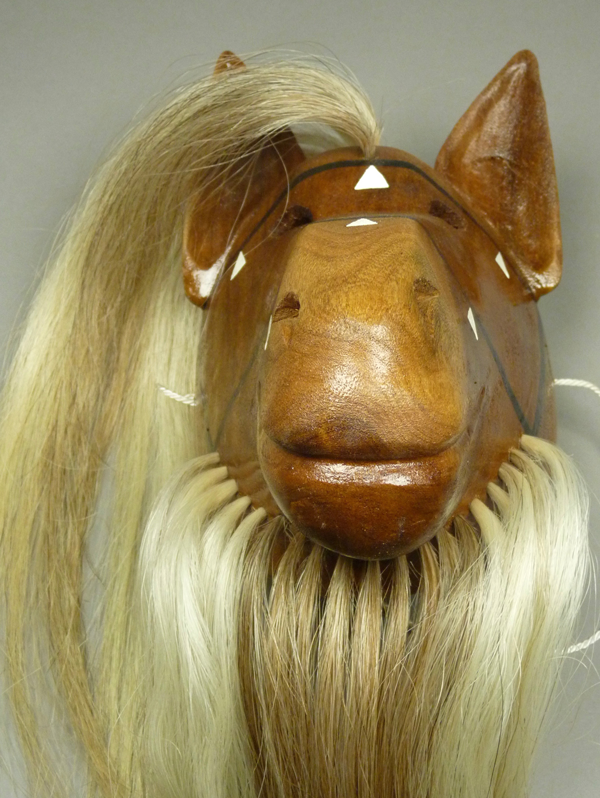 This mask is 12 inches tall, 6½ inches wide, and 5½ inches deep.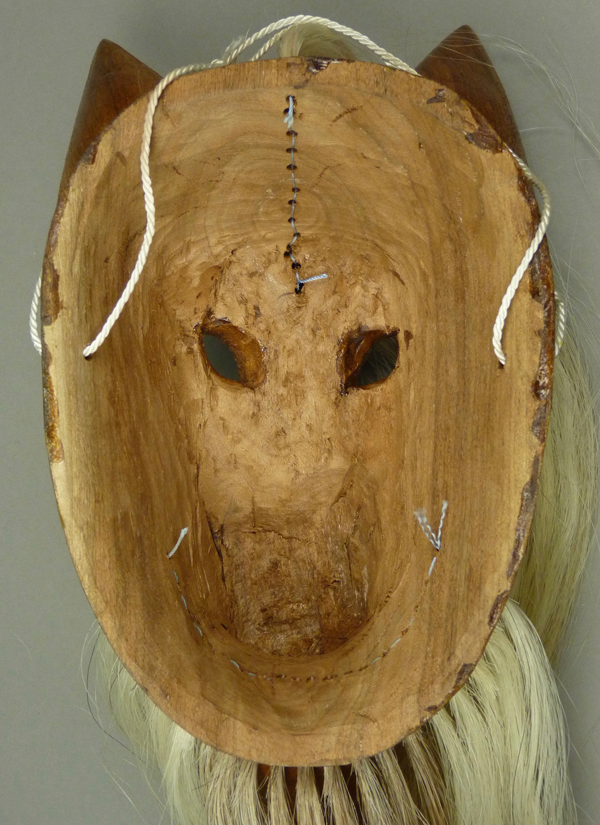 This is another mask that was never danced. I doubt that any Pascola has worn a horse faced mask in a fiesta. Tom Kolaz included a photo of a horse Pascola mask by Frank Martinez in his 2007 paper—"Yoeme Pascola Masks From the Tucson Communities: A Look Back." He didn't mention whether that mask had been danced.
In 2012, when Tom Kolaz informed me that Crisencio had made another Horse mask, I bought that one too.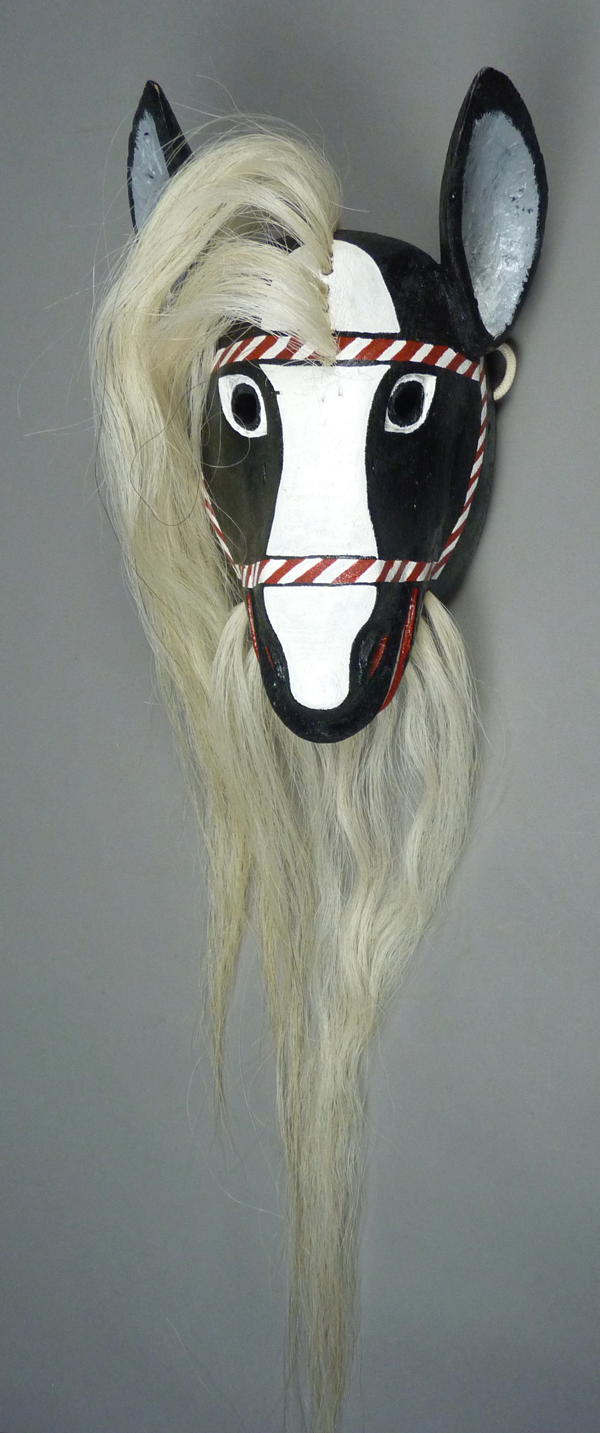 This mask portrays a black horse with a white blaze on the forehead.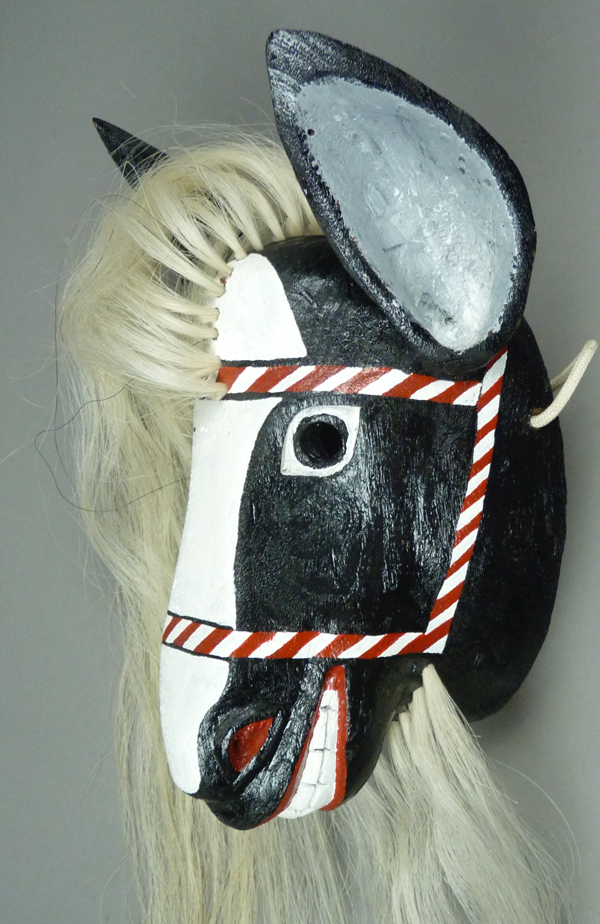 This horse has such a friendly smile.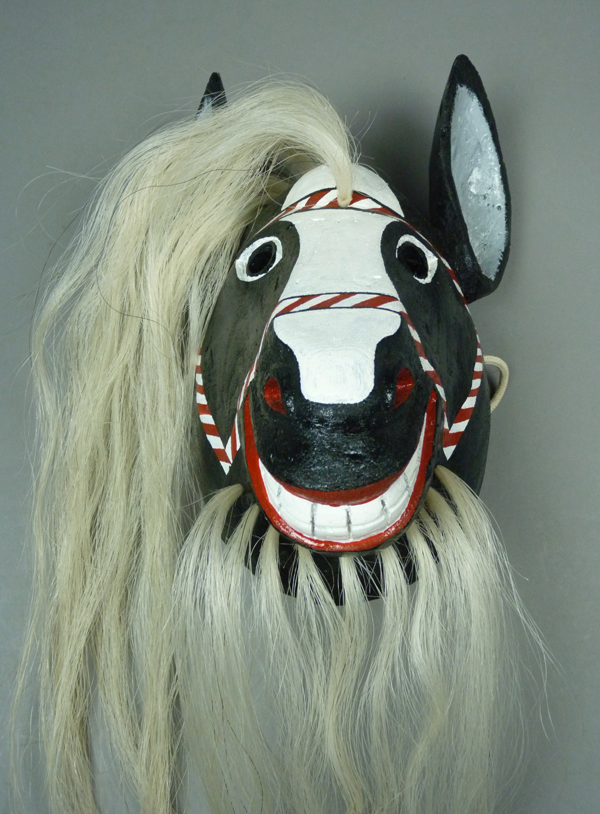 There are no crosses.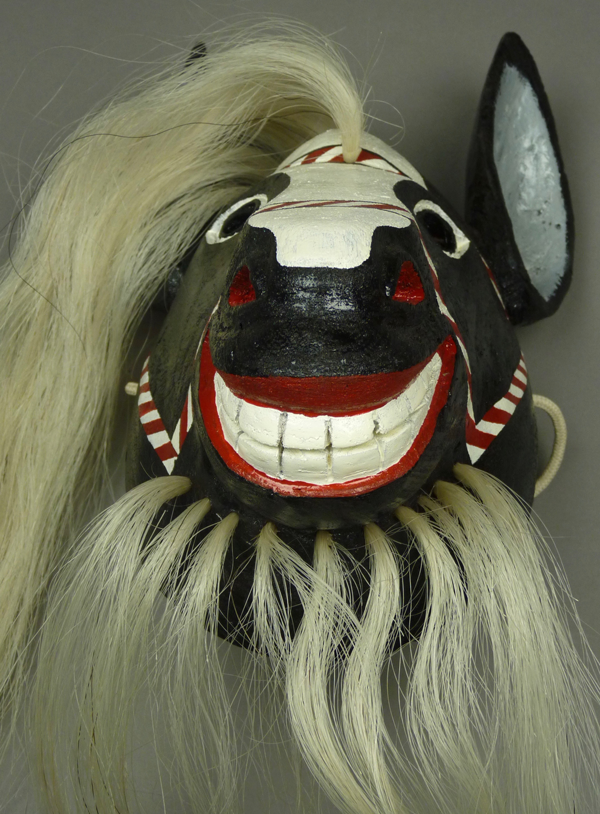 This mask is 10 inches tall, 7 inches wide, and 5 inches deep.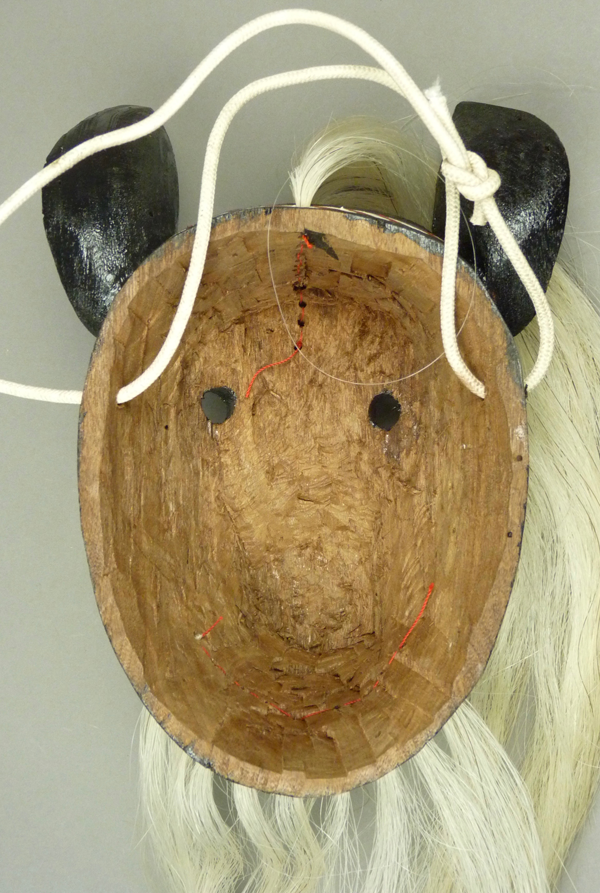 This is yet another undanced mask.
The last mask in today's post was commissioned by Tom Kolaz. Crisencio was asked to carve a mask with my face, and for this he was provided with a photograph. Crisencio also carved a mask that was based on Tom's likeness, and this is in Tom's collection still, I would hope.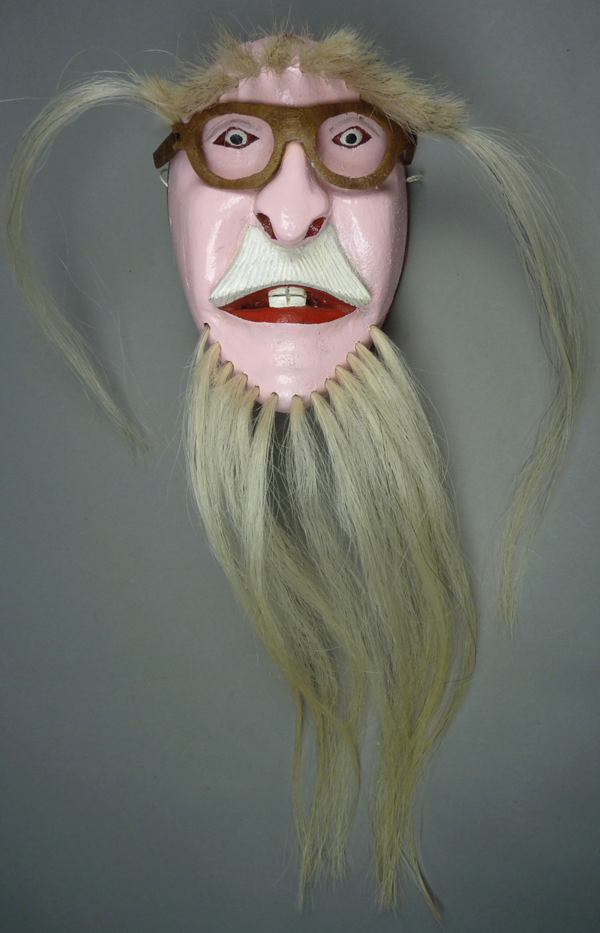 It is very satisfying for me to have this mask hanging on a wall in my house. My friends look at it and laugh.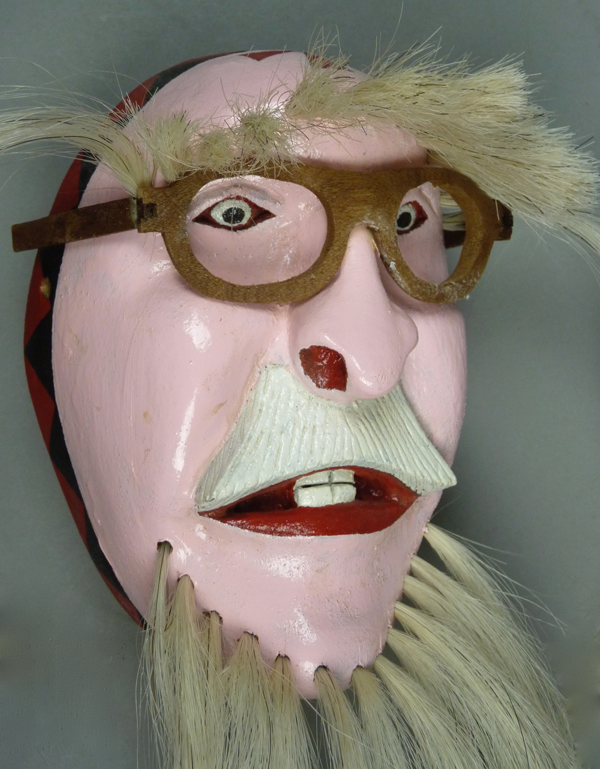 Strangely, this mask with my image has a cross on the forehead, as if it is meant to be worn by a dancer, however there are no openings in these beady little eyes to permit the wearer to see.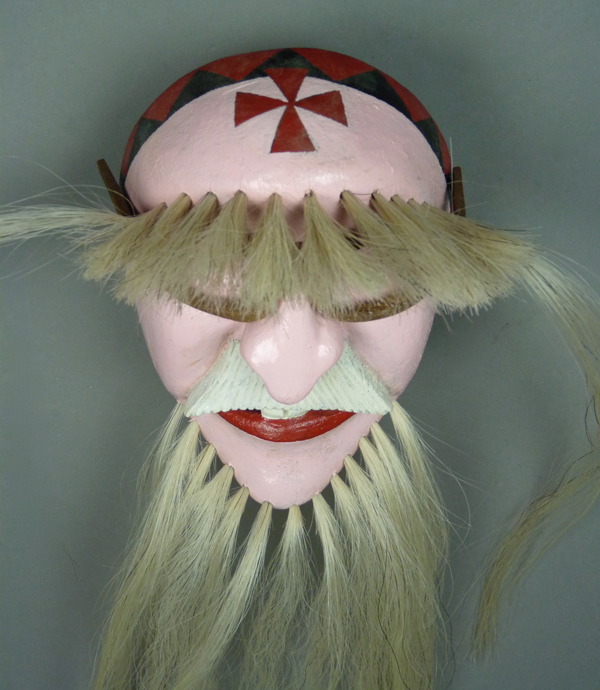 This mask is carved to Crisencio's usual high standard.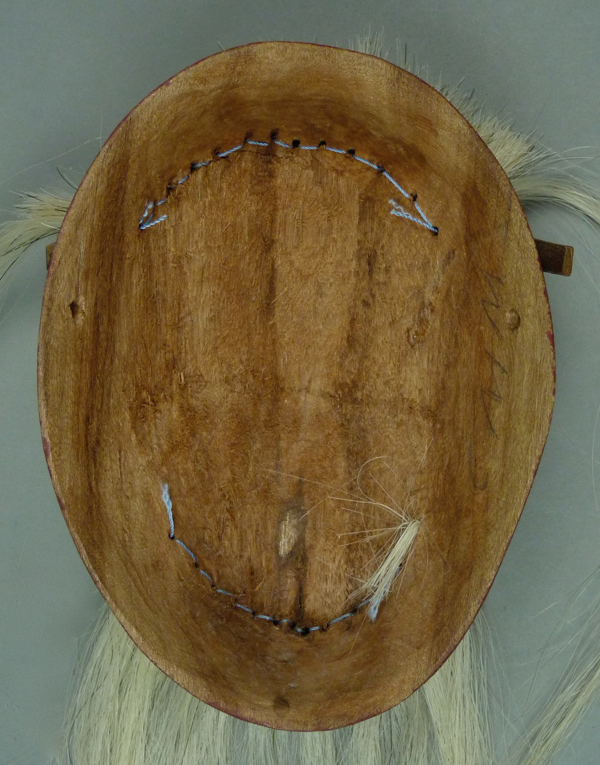 Tom Kolaz wrote CMM on the back to document the carver. There are holes for a strap, but no accomodation for either vision or air exchange.
I will end with a beaded necklace with cross and heart pendants, an elaborate rosary, which the Yaquis call the hopo'orosim. This one was made by Crisencio in about 2008. When I visited Tucson this April (2017) to see the Yaqui fiesta dances that celebrate Easter, I was impressed to notice how many of the Pascola and Deer dancers seemed to be wearing necklaces in Crisencio's style.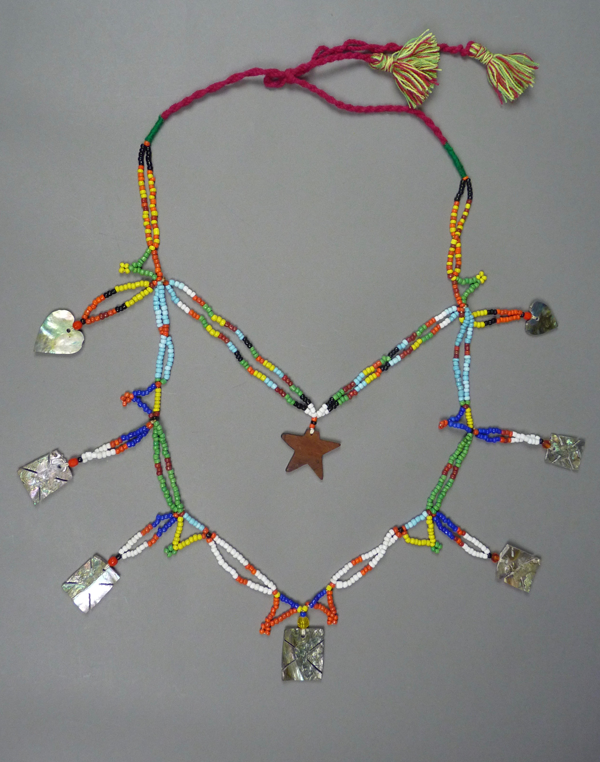 The crosses and hearts are cut from shell (mother of pearl). The star is made of some kind of wood.
With this necklace I will close my tour of Pascola masks carved by Crisencio Molina Maldonado. Next week I will present some old and worn Pascola masks that kept me curious for years.